In this lazy Susan dimensions guide you'll see the different cabinet sizes, space needed for corner cabinets and how to measure for a lazy Susan storage cabinet.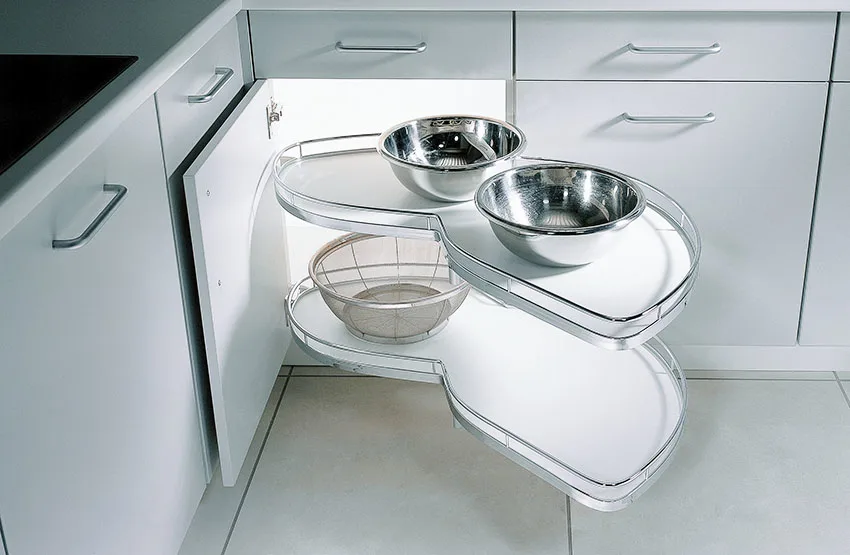 If you have storage problems especially for smaller kitchens or are just looking to organize more and keep everything clean, considering a lazy Susan cabinet might be what you need. This will allow you to utilize any corner cabinet that is usually left unused.
This article will provide you with both dimensions for lazy Susan cabinets and options for doing it yourself by introducing five types for you to install in your home and teaching you how to measure one for your kitchen cabinets. Let's get to it!
Standard Lazy Susan Cabinet Sizes
The lazy Susans or turntables that were a fixture at Chinese restaurant tables have now evolved to be versatile organizers that utilize the usually blind corner cabinet in your countertops.
Lazy Susans for rotating storage options come in five general types and have different sizes to fit every need, and the size range is usually measured in even numbers.
Buying one can easily be done since most stores have them specified for each cabinet or at least provide the minimum and maximum cabinet or kitchen counter height.
For example, for a 36 to 39 inches cabinet, a lazy Susan measuring 32 inches or 81 centimeters in height would fit perfectly. In comparison, a countertop corner cabinet with a height of 33 inches would require a lazy Susan with a height of 28 inches or 71 centimeters.
The types of lazy Susans are available for every need. For your regular cabinet that opens at a 45 degree angle, there are the D-shaped lazy Susans.
The full round lazy Susans are as versatile as they could get to fit any cabinet, while there is the kidney-shaped lazy Susan for your corner cabinet and the pie-shaped one for deeper corner cabinets. Attached to the cabinet are the half-round lazy Susans for easy access to blind corners.
Lazy Susan Corner Cabinet Dimensions
The usual lazy Susans for a corner cabinet are the kidney-shaped or the pie-shaped ones. Looking at illustrations, you might think that both are the same.
The main difference between the two is that pie-shaped ones have a cutout that measures precisely at a 90-degree angle, and they are usually attached to the cabinet itself. You have the option to use both for corner cabinets.
You use a kidney-shaped lazy Susan for corner cabinets with double folding doors. The great thing about them is they do not need to be mounted on the cabinet itself and are attached independently. This factor will make them perfect for older homes and minor kitchen remodels.
Measure a kidney-shaped lazy Susan by mapping out the size of the middle point corner to the back wall and measuring both the widest side of the cabinet left and right. A pie-shaped lazy Susan, on the other hand, is designed for inset doors, making two sides hug the length of the cabinet doors with maybe an inch allowance.
Although there is no standard size to a lazy kidney Susan, pie-shaped ones have the largest diameter of 28 inches not to hog the entire cabinet or countertop.
24 Inch Lazy Susan Cabinet Dimensions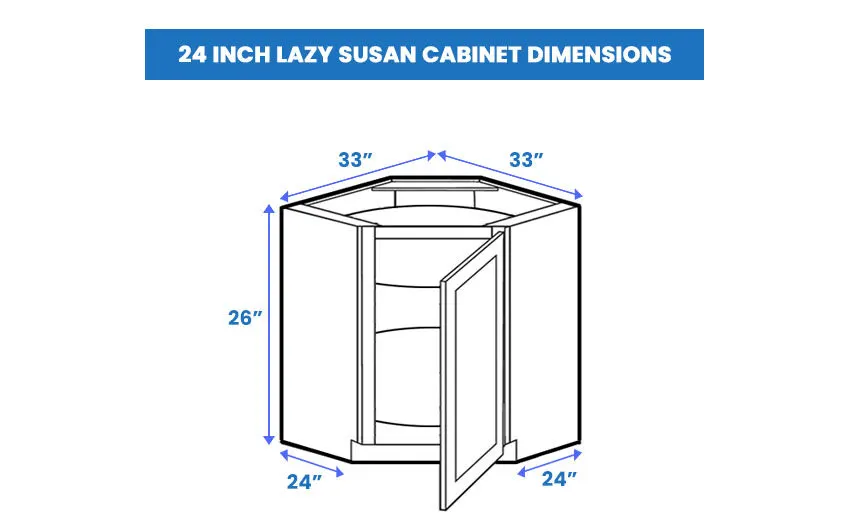 A 24-inch lady Susan is perfect for the smaller standard-sized cabinet. You can either opt for the fixed pie-shaped lazy Susan or the more flexible kidney-shaped one that can be detached for cleaning and reattached again.
24-inch kidney-shaped lazy Susans have a diameter of 24 inches or 61 centimeters and a radius of 12 inches or 30 centimeters.
You have the option to go for the standard two-shelf lazy Susans for your corner cabinet. If this is the case, the actual height of the most widely manufactured 24-inch lady Susan is 26 inches or 66 centimeters. It has a width and a depth of 24 inches or 61 centimeters.
Most of the manufactured ones are made of steel and plastic, materials that are relatively easier to clean than most custom wooden ones.
33 Inch Lazy Susan Cabinet Dimensions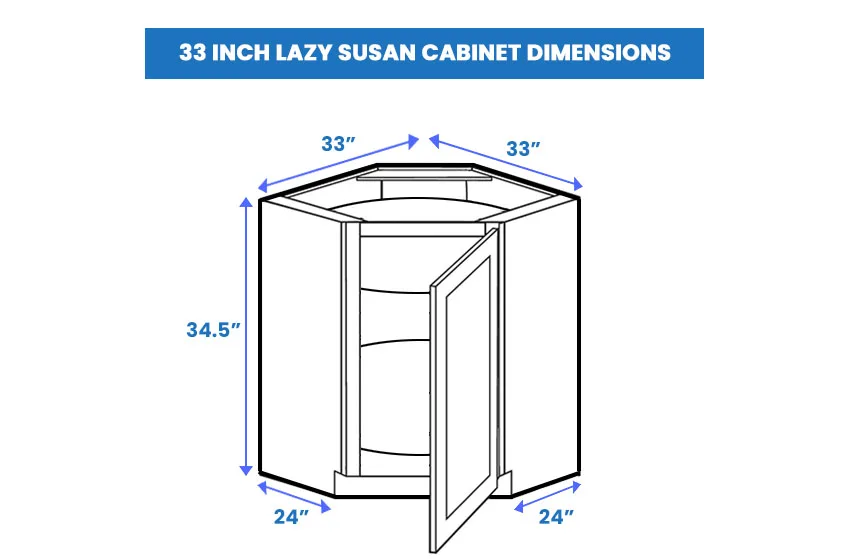 A 33-inch lady Susan would provide you with more than enough space to store everything you need, whether foodstuff, kitchen utensils, or even cleaning products.
You can buy separate units to be installed manually, but there are also cabinets you could buy that already have a 2-tiered lazy Susan built-in to the cabinet itself.
To accommodate a 33-inch lady Susan, a cabinet should have at least a height of 34.5 inches or 62 centimeters and a width of at least 33 to 36 inches or 84 to 91 centimeters, and a depth of 24 inches or 61 centimeters. This corner cabinet size will fit both a single and a two-tier lazy Susan.
36 Inch Lazy Susan Cabinet Dimensions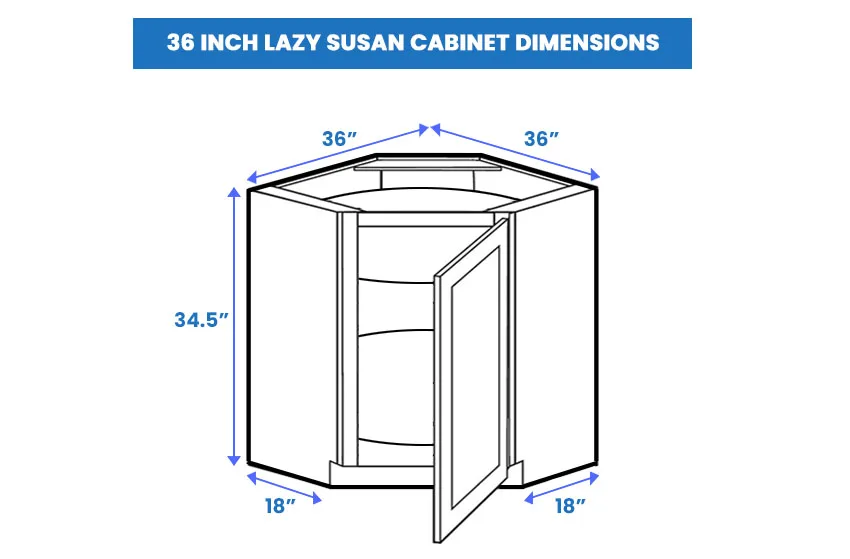 For the more oversized kitchen, counter spaces and cabinets should also be bigger to keep things looking proportionate and aesthetically pleasing. The bigger 36-inch lazy Susan corner cabinet will be perfect if you want to acquire one.
A one-door corner lazy Susan cabinet has hinges that would fold in the middle to make up for the 90-degree corner. It would take up 36 inches or 91 centimeters of two wall corners where the cabinet will be placed.
Most cabinets with a two-tier 36-inch lady Susan have dimensions of 34.5 inches or 88 centimeters in height, a cabinet width of 36 inches or 91 centimeters on two sides, a depth of 18 inches or 46 centimeters, and a midpoint size of 12 inches or 30 centimeters.
How Much Space is Needed For a Lazy Susan Cabinet?
Now that you have decided that the space-saving aspect of a lazy Susan is precisely what you need, it's time to know the logistics. How much space should you allow for a lazy Susan or a lazy Susan cabinet?
If you plan to install a lazy Susan on your cabinet yourself, remember that there should at least be an inch or two of clearance space for the lazy Susan to rotate smoothly.
The cabinet's depth minus 3 to 4 inches or 8 to 10 centimeters is the maximum diameter of lazy Susan cupboards or countertops will be able to fit.
How To Measure For a Lazy Susan?
Measuring for a lazy Susan can be done in four easy steps, and all you need is a measuring tape, a pencil, and any paper to write on. If you don't have a measuring tape, a regular 12-inch school ruler will suffice.
The first thing you need to do is measure your cabinets from top to bottom and take note of it. The standard cabinets usually have a height of 34.5 inches or 88 centimeters, but your cupboards or counter cabinets can be higher or smaller than the standard size.
The next step is measuring from the corner to both cabinet edges from left to the right. Once you have the measurement, jot it down. Doing this step will give you two added values.
The fourth measurement is the measurement inside the cabinet from the corner to the middle of the cabinet. This center point will be where the rod of your lazy Susan will be mounted.
Once you have those four measurements, you are now ready to head on or search for your perfect lazy Susan storage unit. If you are planning your room layout you can use kitchen cabinet design software to help with sizing and positioning based on the dimensions of the space.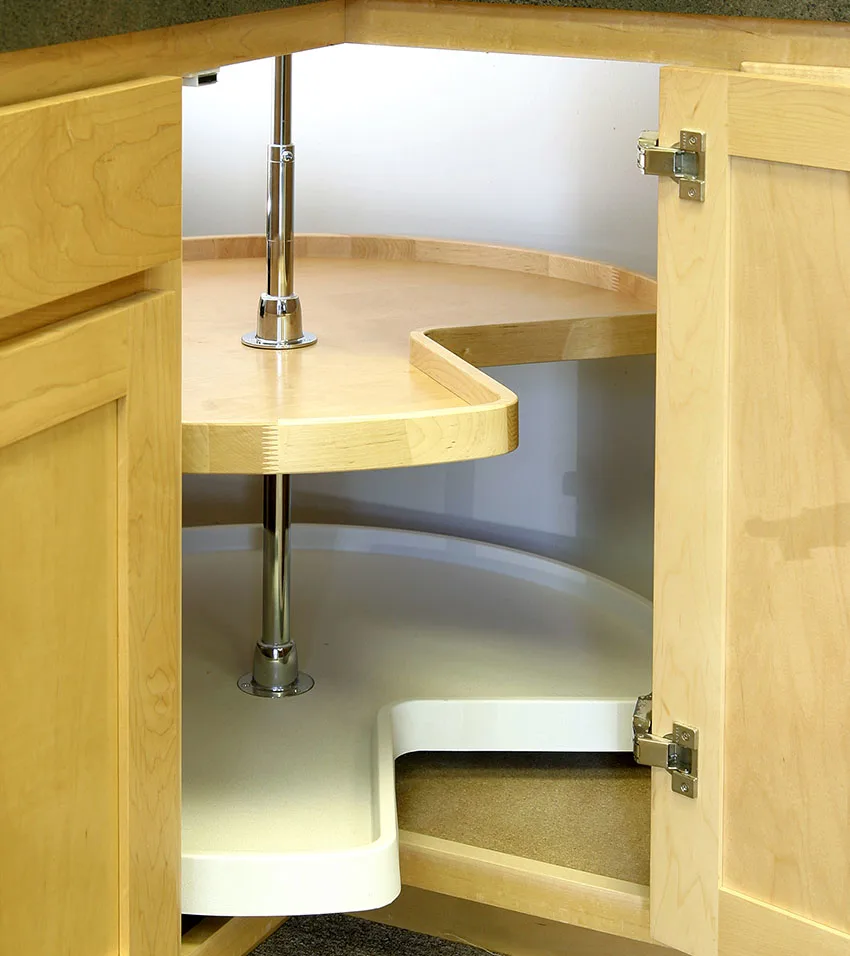 Should You Buy a Lazy Susan?

Lady Susans are versatile storage options for cabinetry. They come in five types that can perfectly meet any needs and are flexible enough whether you are looking to buy one built-in for your new house or opting to do it on your own with individual lady Susan units.
They usually are utilized for corner cabinets, but D-shaped ones can be adaptable to be used for ordinary cabinets that open 45-degrees. Remember to measure precisely, and you can have a storage option that will keep everything accessible and tidy!
Visit our guide to kitchen cabinet dimensions for more related content.