Find out if a kitchen with a built in cutting board design is best for you. This guide covers what it is, different sizes, replacement tips, if it's sanitary and ideas for built in cutting boards.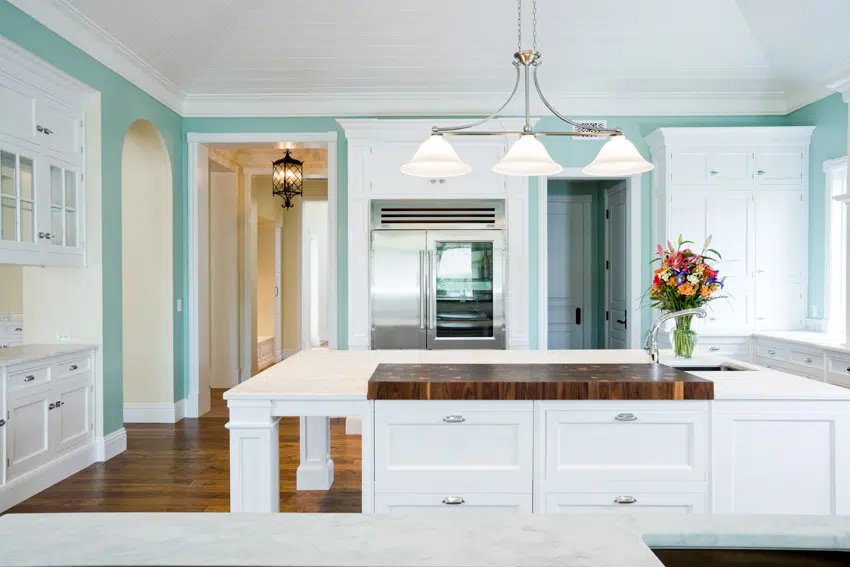 Built in cutting board countertops, also known as integrated cutting boards, are a great addition to any kitchen. Most cooks like to use their countertops as work-spaces, places where they can prepare food and lay out their ingredients. Built in cutting boards allow them to slice and dice ingredients without possibly damaging their countertops.
Many cooks also like cutting boards built into countertops as they find it convenient to have an integrated cutting surface already there and waiting on the counter. This is much handier than getting a board out of a cupboard and a great way to declutter countertops.
What Is a Built In Cutting Board?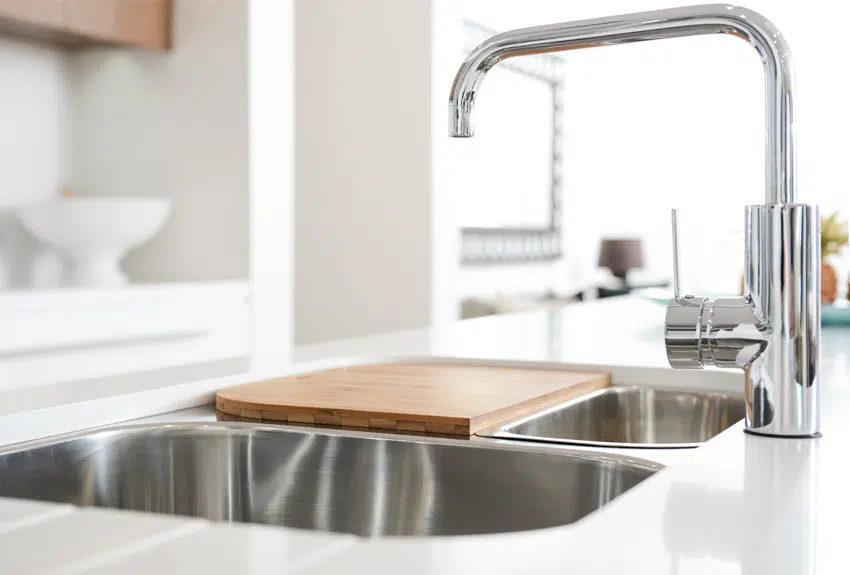 A built in cutting board is an integrated cutting surface built into the surface of your countertop. A built in cutting board can be part of your countertop or part of your kitchen island and is a portion of space that provides you with a good surface for cutting and chopping.
The idea behind a built in cutting board is that a cook can easily and conveniently prepare ingredients, slice, and cut anything from meat to vegetables, directly on the countertop surface, without damaging the countertop.
A built in cutting board is usually made of wood as wood has anti-microbial properties, making it a good surface for food prep. Though your knives may leave scratches on wood, it's generally better to do your cutting and chopping on a wood countertops, rather than a harder surface such as stone or concrete.
Built In Flat Board Sizes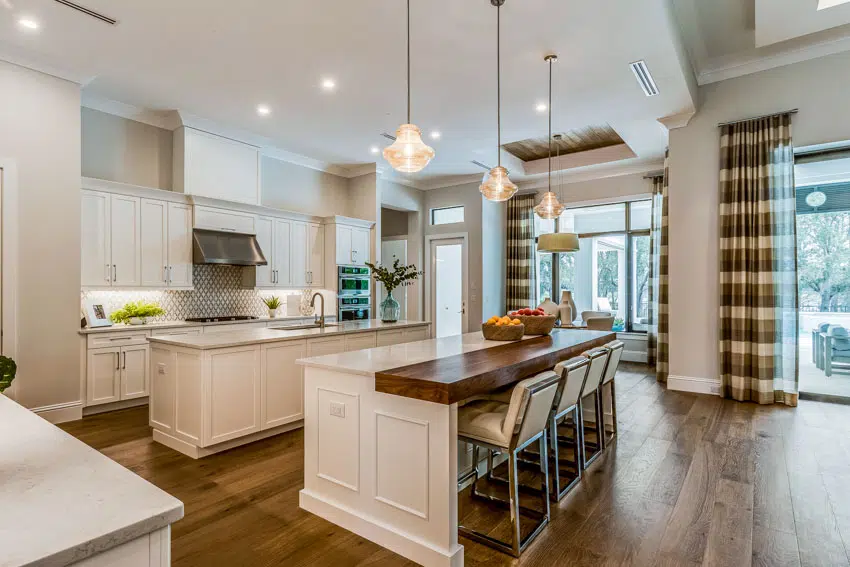 The sizes of a built in cutting board depend, of course, on your counter size and the amount of space that you desire. Most built in cutting boards run from the wall of your kitchen to the edge of the counter, though you can choose to have it smaller if you please.
Standard cutting board sizes are about 12 by 18 inches. Most professional cooks find this provides them with more than enough space to work on. They are large enough to cut multiple foods on and even space out an ingredient or two until you're ready to put them all together.
If you want a larger cutting board, maybe one where you can place bowls and dishes on as well as food items, then you should go for commercially-sized cutting boards. See out gallery of the different types of cutting boards here.

If you have the space for it, you can find commercial-sized cutting boards that are 7 by 23 inches, 198 by 18 inches, 18 by 24 inches, 18 by 30 inches, and 20 by 30 inches.
Built-in Chopping Board Replacement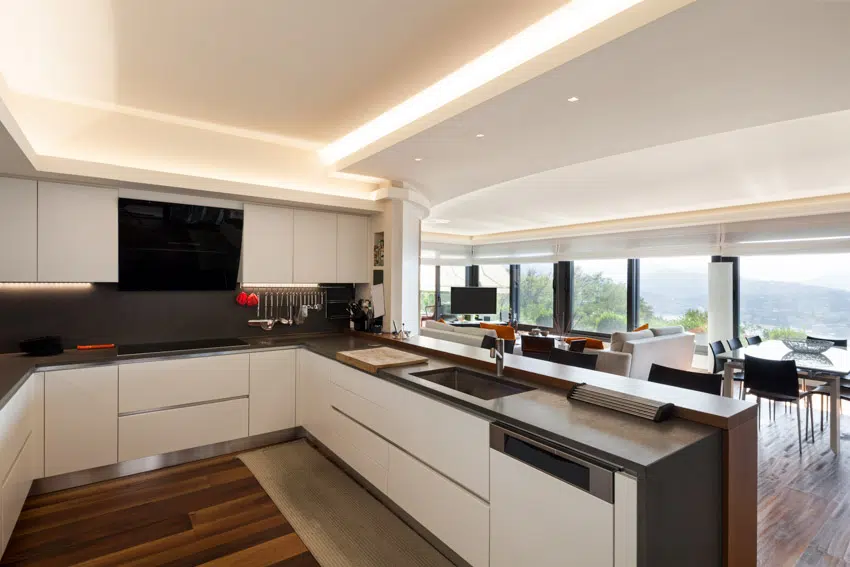 Built in types of cutting boards can last for several years if maintained properly. As long as you clean your cutting board and refinish it regularly, you may avoid having to replace it for as long as 10 years.
To keep your cutting board in good shape, make sure that you regularly clean the surface with mild soap and water. Make sure that you wipe off any excess water and let the surface dry before using it again.
While dish soap and water should suffice to keep your cutting board clean, to keep down odor and remove stains from food preparation, you can occasionally rub down the surface with lemon or salt. Baking soda is also a good cleaning material to occasionally use on your built in cutting board.
With constant use, your built in cutting board might start showing scratches or small dents. To remove these and extend the life of your cutting board, you can try refinishing your cutting board. First, clean it thoroughly and allow it to dry.
Once dry, take some sandpaper and sand the surface. Try and see if you can buff out the scratches and smooth the dents. Finally, oil or wax the surface. If your cutting board still looks bad, then you might have to replace it.
You should also replace your cutting board if you see that the surface has become cracked or warped. In general, a wooden cutting board will last at least five or 10 years. So, if your built in cutting board is "old" or in its last legs, you should consider replacing it.
Kitchen Cutting Board Ideas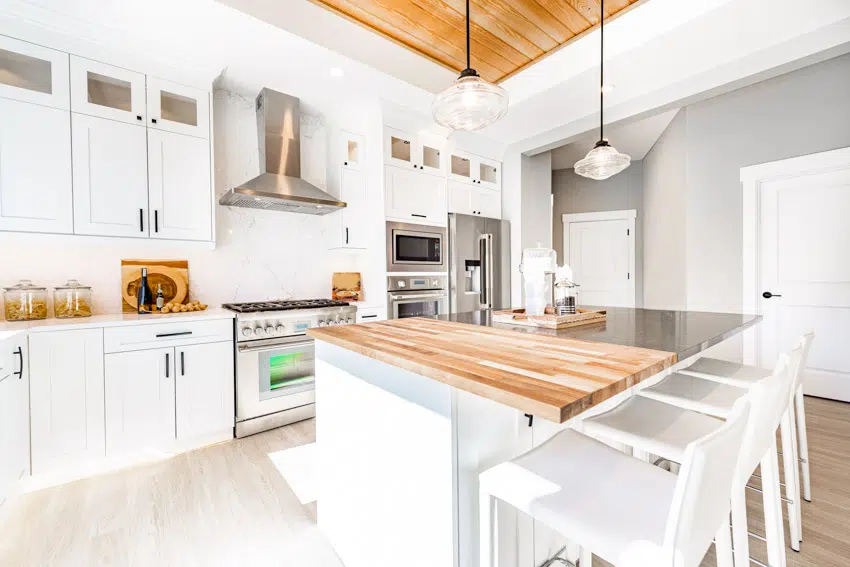 There are several easy ways to incorporate a built in cutting board in your kitchen design. The most basic way is to have it installed on the top of your kitchen counter, but you don't have to stick to that.
Here are some other built in cutting board ideas.
Built In Cutting Board Drawer: This is a space-saving idea for those with small kitchens. This is basically a drawer-mounted cutting board that you can pull out when needed and push back into the counter when you don't need it. All you need to do is make sure that you keep the drawer clean and that you have an extra workspace that you can conveniently stow away.
Cutting Board With Built In Knife Sharpener: This is a built in cutting board that has a knife sharpener installed right beside it. This is a great and easy way to ensure that you can do all your knife work in one specific area. It's also a great space saver for small kitchens.
Kitchen Island With Built In Cutting Board: If you have a kitchen island and intend to do most of your food prep there, you can consider installing a built in cutting board on your island instead of your counter. Whatever area of your kitchen is the best for food prep, that is where your built in cutting board should be installed.
Built In Cutting Board Cabinet: This is similar to a built in cutting board drawer in that it is basically a pull-out cutting board that is installed over a kitchen cabinet door.
This is another space-saving idea for your kitchen as it offers you an extra hidden workspace. It can also double as "extra counter space" or as an extension of your counter that you can place items on.
Kitchen Sink With Built In Cutting Board: For the busy cook, or for a small kitchen area, a kitchen sink with a built in cutting board provides a functional, central workspace.
One reason why this type of built in cutting board is popular is it makes it easier to cleanup afterward. After you've sliced and trimmed your ingredients, you can easily sweep the scraps into the trash or garbage disposal. Its proximity to the sink also makes this type of cutting board easy to clean and wipe down.
Are Built-In Kitchen Boards for Cutting Sanitary?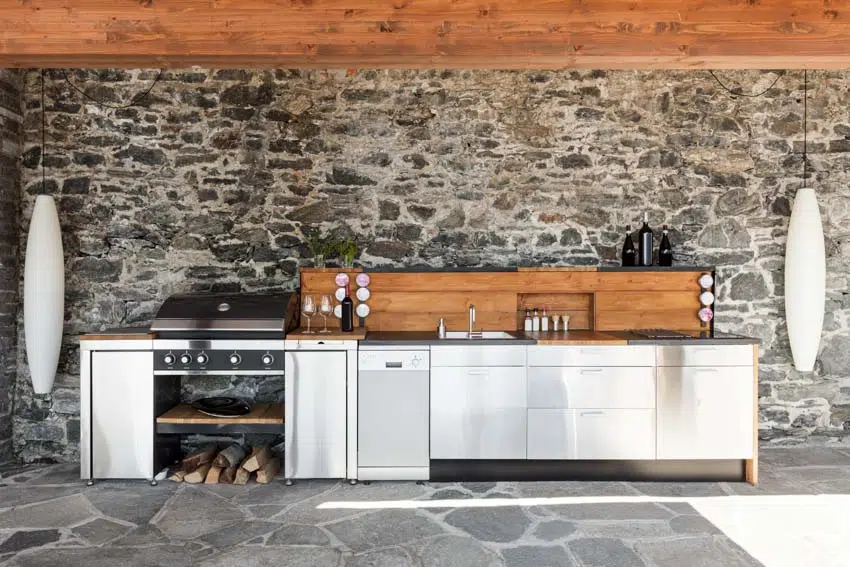 The short answer is yes, and it's mostly since built in cutting boards are made of wood. While wood is porous, which means that they do provide a surface where bacteria can breed, it also has natural antibacterial properties.
This means that most bacteria on a wood surface will die within a few minutes. Combine this with regular cleaning and you have a sanitary and safe workspace for your kitchen.
Also, many studies have found that, since the pores on the surface of the wood are naturally very deep they can keep bacteria away from your food. While germs and microbes can remain alive within the pores, they don't often come in contact with the surface, or anything placed on the surface.
In general, most types of natural woods make good, sanitary surfaces for food preparation, however, hardwoods are a little better at inhibiting bacteria growth. Keep that in mind when choosing your cutting board material.
What Kind Of Countertop Can Be Used As a Cutting Board?
Butcher block countertops, which are made of hard natural wood like maple, cherry, oak, walnut, or teach are the only type of countertop material that can be used as a cutting board.
Other types of kitchen countertops, such as stone won't really stand up to much cutting or slicing. They will get scratched or damaged and will be difficult to repair or refinish. Stone countertops are also rough on your knives and can dull the blade.
Butcher block countertops are basically made by bonding several pieces of wood to form a large sturdy slab. There are three ways these pieces of wood are laid out: edge grain (board laid parallel, showing their edges), end grain (small square pieces lined up vertically, showing their edges), and blended (different lengths of wood are joined, following no particular pattern.
Butcher block countertops can be installed next to your kitchen walls, and serve as counters. If you have a kitchen island, however, this can also be topped by a butcher block countertop or have a butcher block cutting board installed.
Butcher block countertops can be sealed or unsealed but, if you intend to use your butcher block as a cutting board, you shouldn't seal it as this will make it inappropriate for food prep.
An unsealed butcher block countertop is a sturdy and sanitary surface that you can easily and conveniently use as a cutting board. You just need to regularly clean it and oil it at least twice a year.
See more related content in our article about marble cutting board pros and cons on this page.