Discover the pros and cons of waterfall countertops, including the advantages, disadvantages, and general steps in installing this kitchen fixture.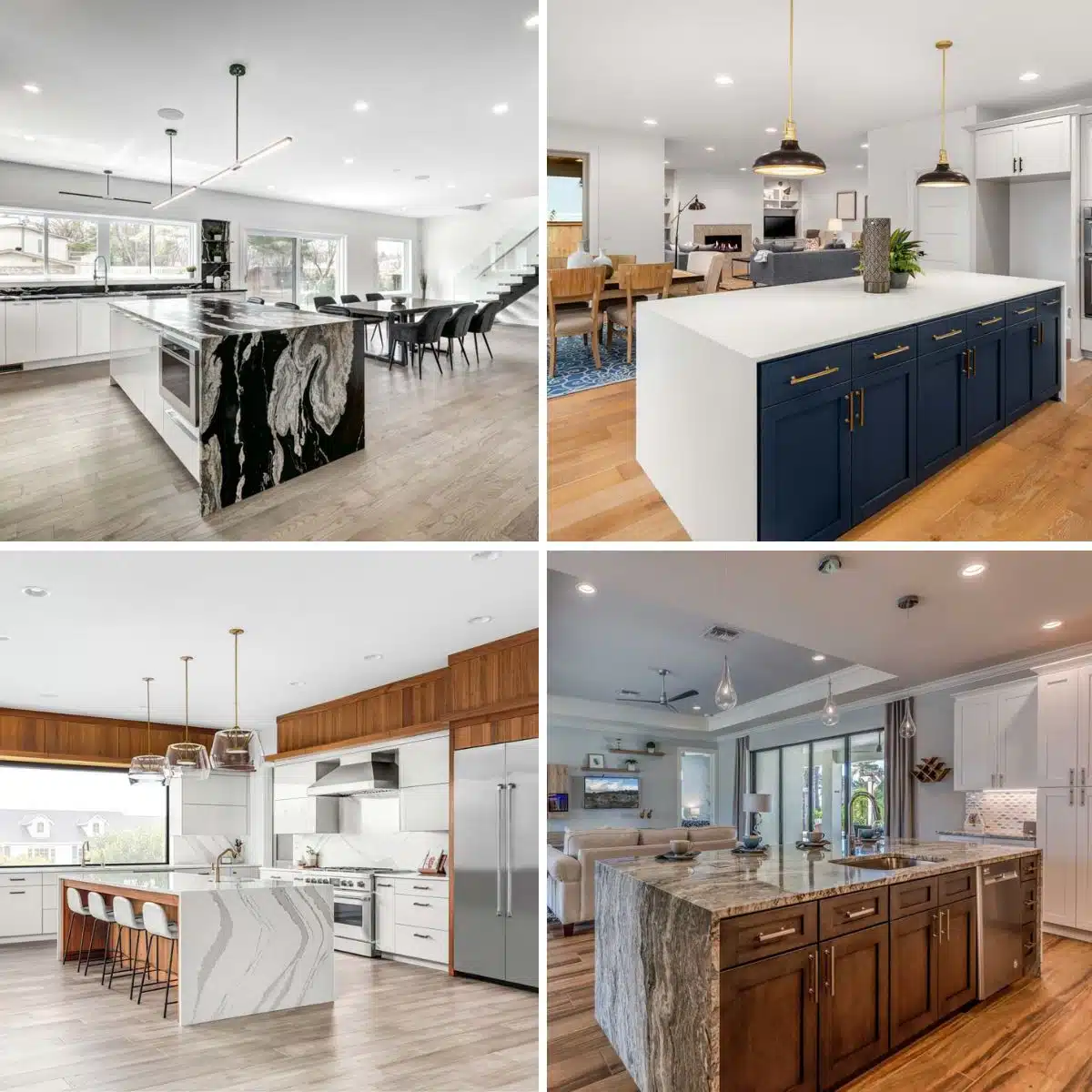 The waterfall countertop is inspired by the "jazze moderne" of the 1930s1930's, and '40s, where the tamed version of cubism exudes style and elegance. With its clean and sleek profile, it's associated with the modern or contemporary style, but it is a versatile design that works with transitional and even traditional designs.
But first off, what is a waterfall countertop? A waterfall countertop is a type of countertop design where the top slab is continuous on one side or both sides of the counter to create a 90-degree angle.
Thus, called a "waterfall" countertop. The type of edge to create the continuous material on the side or sides is a miter cut where each slab has a 45-degree laser cut and, when joined, forms the 90-degree edge.
Pros of Waterfall Counters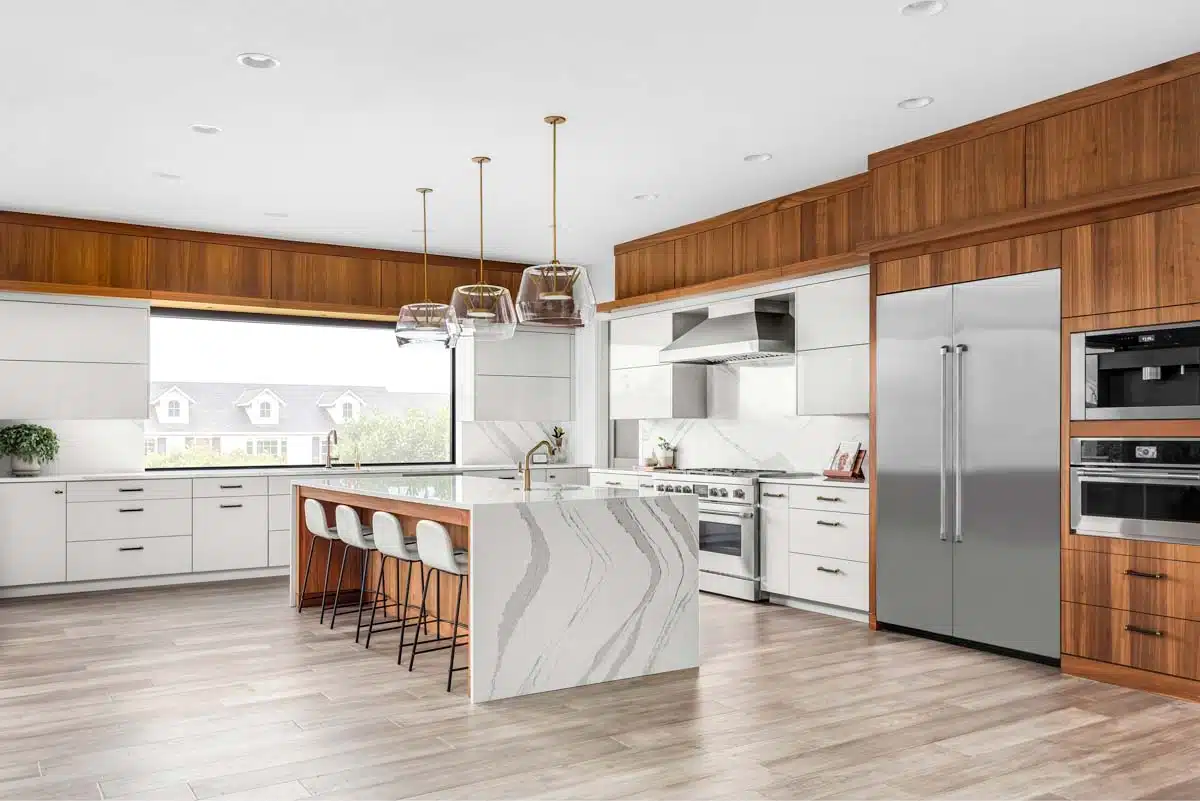 A Standout Design: Give your kitchen a style boost with a waterfall countertop. The continuous stone material gives a kitchen island or countertop a sleek appearance, which contemporary themes are known for. This showcase of a natural material finish is the perfect focal point in a kitchen setting.
Higher Return on Investment: More than just following the trends, waterfall countertops have great investment returns. According to Forbes Home, an outdated kitchen can detract potential buyers for the simple reason that kitchen renovations are costly and time-consuming.
Waterfall countertops are considered a modern aesthetic that's a luxury feature to entertain guests and is highly functional for prepping food.
Versatile Design for Many Themes: While waterfall countertops evoke that clean and minimalist profile, when the waterfall edge is paired with wood facings or carved details upfront, it can blend with traditional styles easily.
The type of stone with heavy veining, deep contrasts, and color choice, is another consideration to perfectly evoke that traditional themed kitchen.
Waterfall countertops are a subtle way to keep texture moving in your kitchen space. – Home Therapy: Interior Design for Increasing Happiness, Anita Yokota
Different Style Configurations: Another contributor to the versatility of waterfall edge types of kitchen countertops is that they can be configured in different ways.
For instance, a small kitchen can fit a one-side waterfall island where the countertop flows from a wall down towards the floor. The shade can be configured depending on your layout and needs.
This feature creates extra space for prepping food or acts as a table without taking up much space. The one-side waterfall countertop also works well with larger kitchens.
A kitchen island with a section with a through and through the opening below provides an extra space to tuck in stool seats when not in use and easily slide out when needed.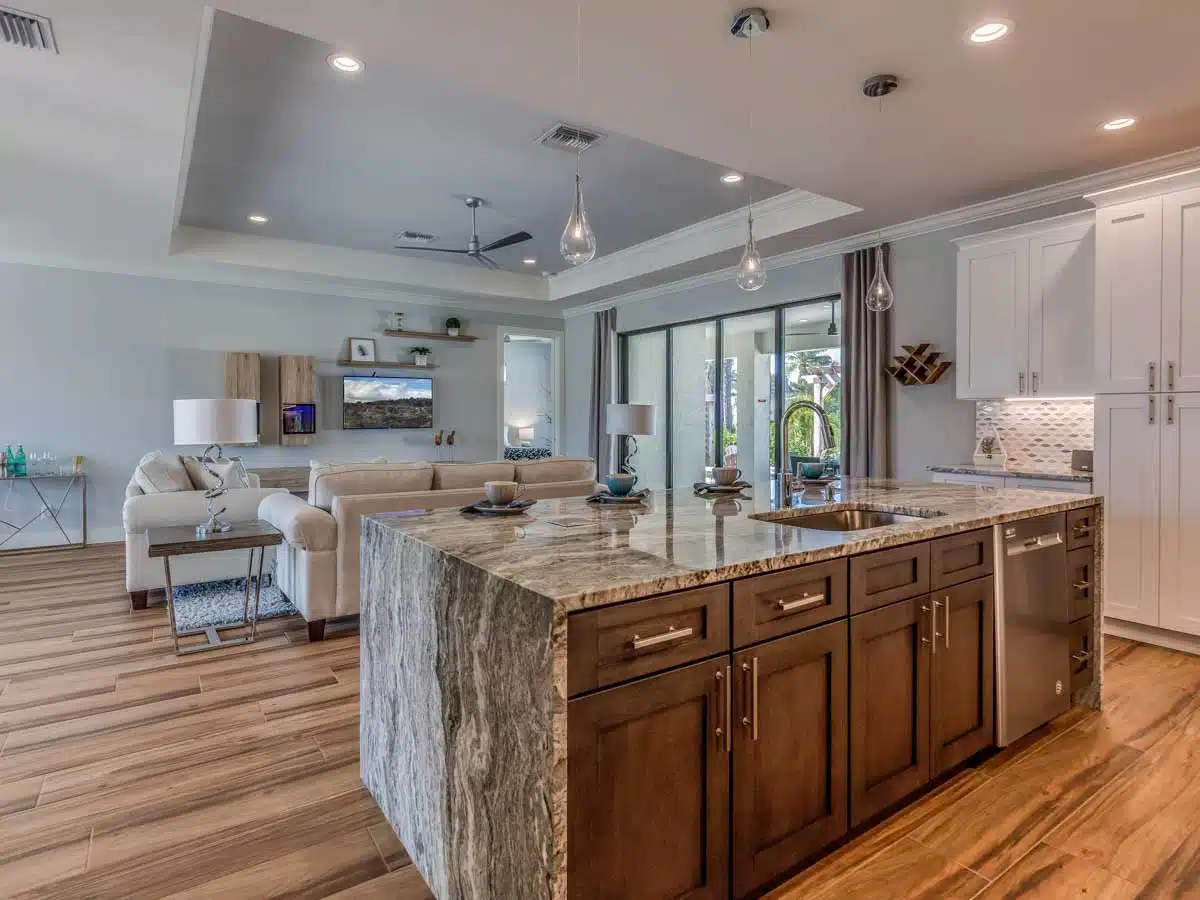 Protects Kitchen Island Cabinets: The continuous flow of stone material on the sides and overhang profile at the front and back of the waterfall kitchen island prevents spills from getting into the wood or any other cabinet material.
The sides of the kitchen island also create that impermeable surface finish that protects the sides from bumps, dents, and spills. This enhances the durability of the surfaces to protect areas from spills and stains.
This added layer of protection is particularly advantageous in high-traffic areas like the kitchen or commercial bathrooms, where accidents and spills are common.
The waterfall edge countertop acts as a barrier, preventing liquids from seeping into the cabinet's wooden structure and potentially causing damage over time. This safeguard is especially valuable for preserving the structural integrity of the cabinets and maintaining their appearance.
Provides Extra Storage: The unused space below the waterfall kitchen countertop, may it be from an island, L-shaped or one-sided configuration, provides a perfect shell for base cabinets. Since it has a sleek profile, the number of cabinet openings below won't look busy, or you can opt for a clean-faced front with handleless cabinets.
The combination of a waterfall edge countertop and integrated base cabinets offers a harmonious blend of style and practicality. It's a smart way to enhance your kitchen's storage capacity without sacrificing the modern and sophisticated design that the waterfall edge brings to the space.
Inspires Design Strategies: Undermount lighting, inset kitchen sinks, or two-level kitchen island are just a few of the design strategies inspired by the miter edge. These modern features can uplift the kitchen design and increase property value.
Cons of Waterfall Style Countertops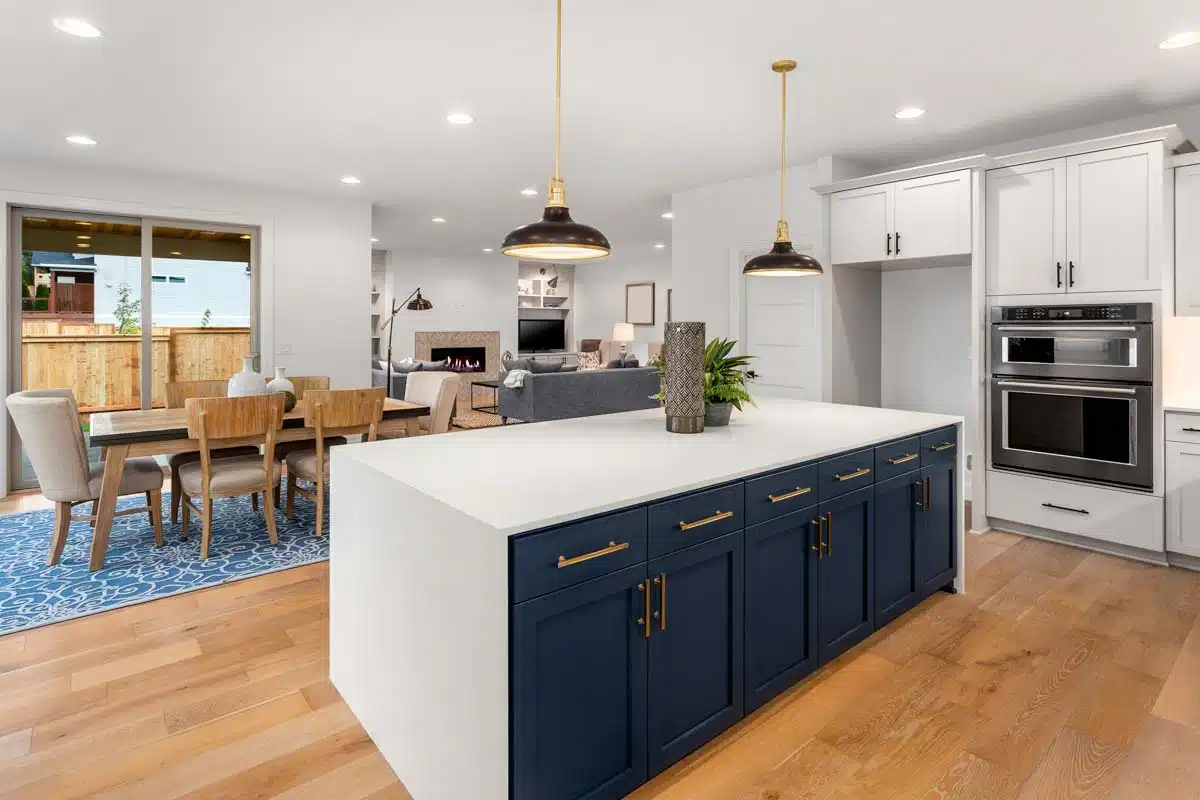 Costs More than Your Average Countertop: According to House Beautiful, building a waterfall countertop costs three times as much as a standard countertop.
Cost Per Square Foot:
• $75 to $120 – Granite, quartz, or marble stone slab
• $60 to $100 – Installation/Labor costs
• $1000 to $2000 – Fabrication Fee
Precision is crucial when installing a waterfall countertop, and before fabrication, the waterfall edge supplier will need your required measurements. To achieve the perfect 90-degree miter edge, a CNC or Computer Numerical Control Laser Cutter is used to input the measurements that will then be cut on the slab.
Complex Installation: A regular kitchen island installation involves advanced building skills, but with a waterfall countertop, the continuous profile and weight of the material involved add to the complex construction.
This means experienced installers and reputable suppliers are needed to ensure proper and quality waterfall countertops, especially for waterfall kitchen islands.
When looking for reputable fabricators, check for past projects or look for reviews from former clients. A waterfall countertop fabricator who is a member of the Natural Stone Institute is also a plus when searching for a waterfall countertop installer.
General Steps in Installing Waterfall Countertop:
• Preparation Stage: The typical taking of measurements, selecting materials, designing, and costing is needed to kickstart the installation process and serves as a blueprint for the next steps. These include other features such as the base cabinets, lighting fixtures, plumbing, etc.
• Fabrication: Generally, waterfall kitchens are customized designs and will involve laser cutting. The measurements done in the first stage will determine the design and size to be input on the computer, which will machine cut the stone material into precision.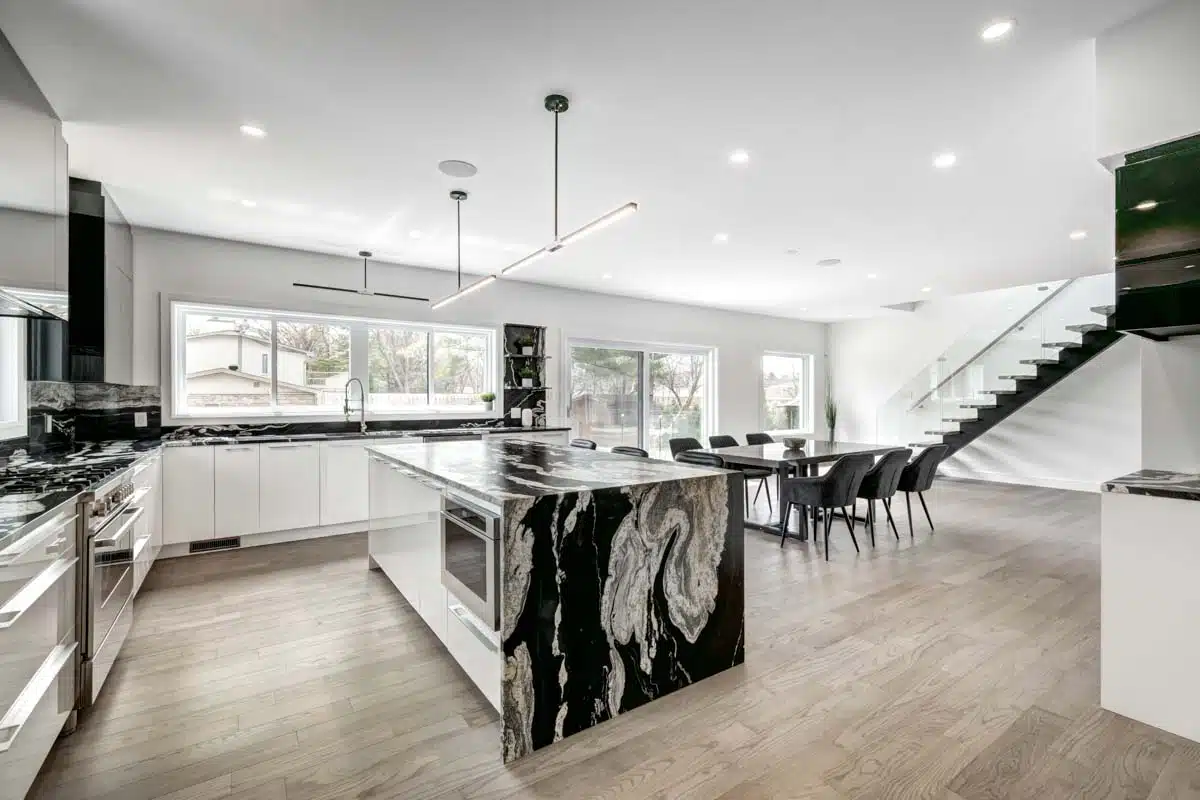 • Installing the Cabinets: The first to be installed is the cabinets. One of the reasons for this is to prevent dents or damages on the countertop; usually, the base part is where the structural framing is established. This process may take one to two days.
• Installing the Waterfall Countertop: The newly cut stone slab has been delivered to the job site and is ready to be installed.
The process of installation can take around 1 to 2 days, depending on the size and design of your waterfall countertop or island. Thus, the more complex the design, the more time it takes to install.
• Adjustments and Finishing: After installing the waterfall edge countertop, the horizontal and vertical levels are rechecked to ensure plumpness. Any sanding or any other adjustments might be needed. Then, the sealing off is done to add that layer of protection on the stone slab.
• Curing Time: Depending on the type of adhesives and sealing used, the waterfall countertop is left to cure. Usually, it takes one day to 3 days for the wet application to cure. Some manufacturers may recommend a longer period of time, especially for kitchen waterfall countertops.
Maintenance Challenges: While waterfall countertops provide added protection to the base cabinets, the natural stone that is running down vertically can receive dents or scratches, especially in busy kitchens.
Sealing off a waterfall island or countertop can help in reducing these damages. Quartz is an ideal stone material to use as it is very durable to withstand regular wear and tear as well as damage on the vertical sides of a waterfall island.
May Go Out of Style: The waterfall edge countertop is trending these days, and we are seeing many renovations, especially in kitchen interiors, to achieve the look. Like any other design style, the miter edge countertop goes through the 30-year trend style cycle; this trending style can go out of style in just a few decades.
However, the decision to include a waterfall edge countertop or any other design element should be based on personal preferences and the desired look and feel for your space.
See more related content in our article about teak countertops on this page.