Welcome to our gallery of designs featuring an L shaped kitchen with island including a variety of styles, finishes and ideas.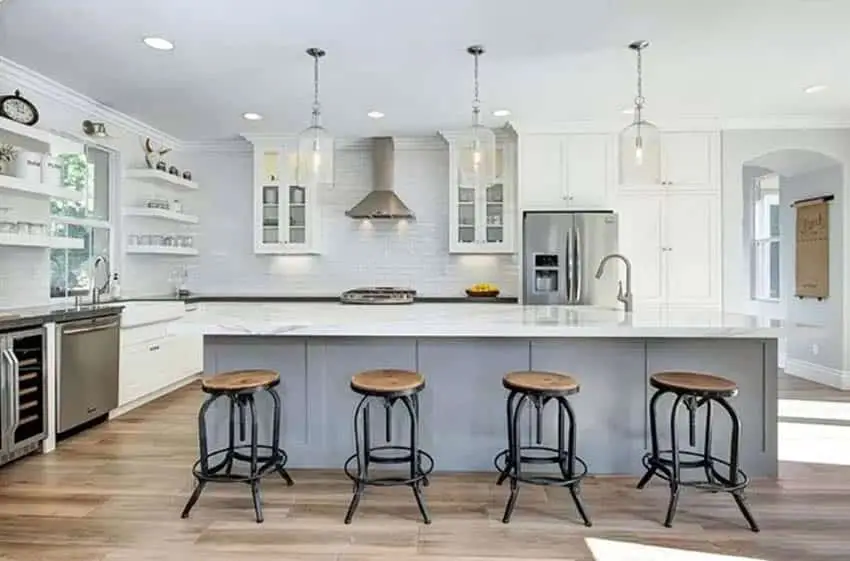 The kitchen island has always been both an aesthetic and functional element of the kitchen. Both small and large kitchens could install one, as long as it has sufficient space. But generally, larger kitchens enjoy the benefits and added functions of kitchen islands better. There are also many options if you're thinking to install one. Usually, people match the kitchen island to the existing cabinetry, or sometimes make it look different to serve as a focal point. You can also use freestanding kitchen islands if you want a more mobile option.
The kitchen island in the picture above serves as the centerpiece in this large L-shape kitchen because of its gray-painted base that contrasts with the all white wall cabinets. The kitchen island is equipped with an extra sink and dining space for four. You will also notice built-in appliances such as an under-counter wine fridge and built-in dishwasher placed just right beside the sink.
Functions & Benefits of Kitchen Islands
Dividing spaces – this is especially applicable to open plan spaces. The kitchen island helps visually divide spaces without obstructing the traffic and visual flow of the space.
Additional work surface – the extra countertop surface the kitchen island provides definitely helps during food preparation.
Better workflow – this is especially applicable for bigger kitchens. The addition of kitchen islands help create a good "working triangle".
Additional storage – The extra cabinet space definitely helps a lot if you need to store a lot of items. This also provides more space for other kitchen appliances such as dishwashers, or even an extra stove top or sink.
Additional dining space – the kitchen island is a pretty convenient extra dining space, especially for breakfast or light meals / snacks.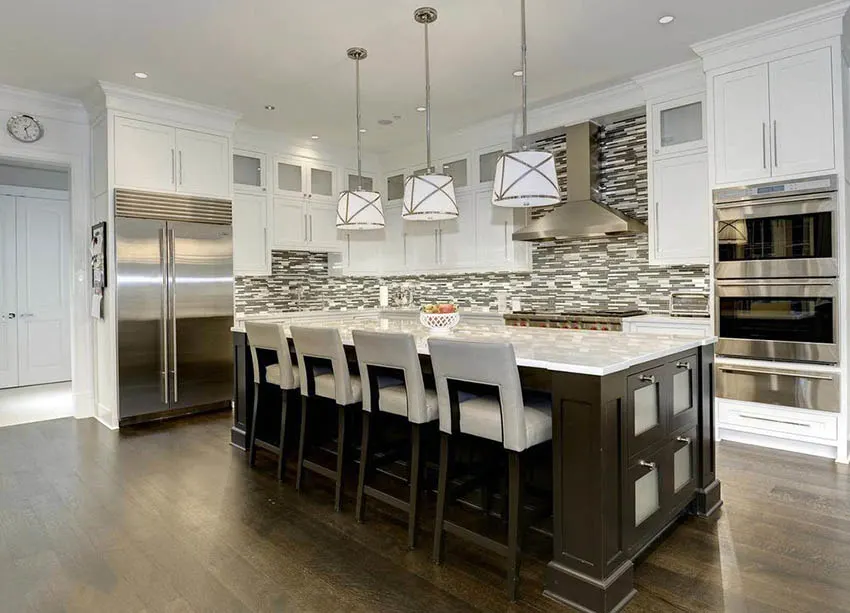 Featuring a neo-classical style, this L-shape kitchen features a kitchen island that maximizes its base for storage space. Even the sides of the kitchen was utilized as cabinet space. Another interesting feature in this kitchen is the magnetic side of the fridge cabinet.
L Shaped Kitchen Designs with Island
L-shaped kitchens are one of the most common kitchen layouts. The addition of a kitchen island to an L-shape kitchen design helps provide better traffic flow and accessibility for a more efficient work triangle. Large kitchen islands often have equipment or appliances installed on them, especially if the main counters are already cramped. Doubling kitchen features can also be seen often on kitchen islands.
For example, sinks – the larger work surface are of the kitchen island makes it more ideal for food preparation, so an additional sink is often installed mostly for cleaning the hands or washing the food. The stove top / cook top is also often duplicated in the kitchen island. This is particularly useful if you want to keep certain food heated or boiling as you prepare other dishes on the main stove, or you simply want an additional cook top to work on.
Here are some examples of L-shape kitchens with kitchen islands: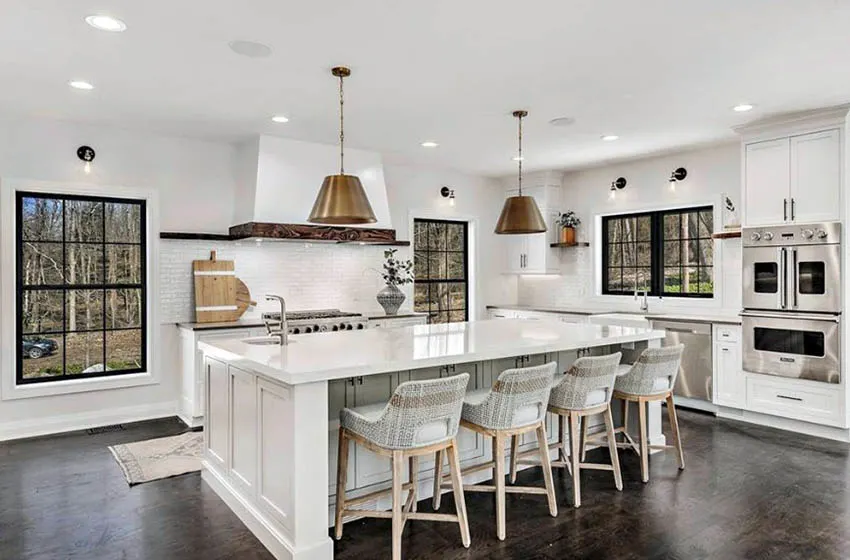 This modern transitional style kitchen combines old details with modern aesthetics perfectly. Dark wood floors and black windows give a nice contrast against the all-white walls and kitchen, while the addition of a few natural wood finishes, brass accents and woven fabrics give the space a more laid-back feel. A small undermount sink was installed on the kitchen island, and provides enough counter space for four big counter stools. The space under the kitchen island was also maximized with storage space, while the wall cabinets houses the built-in appliances.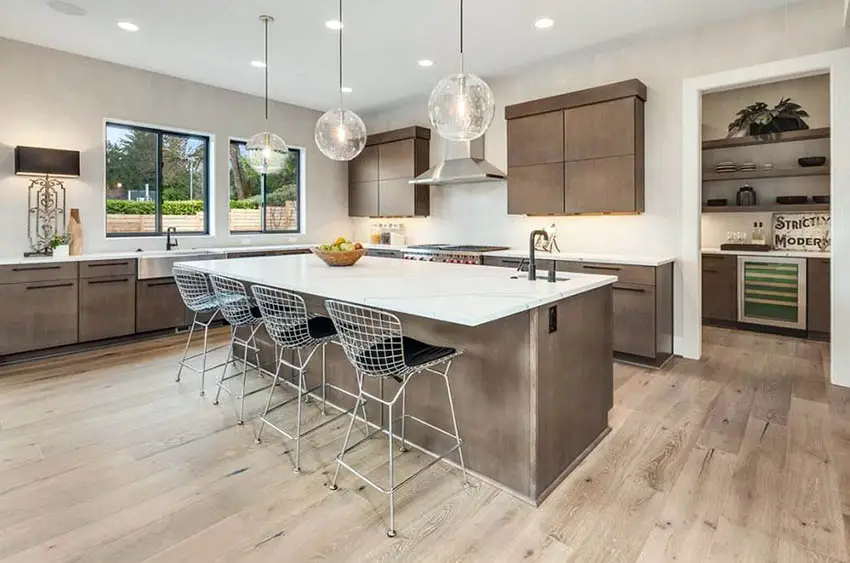 Going for a modern farmhouse aesthetic, stainless steel finishes were combined with rustic wood laminates on the kitchen cabinets. Bertoia counter stools grace the marble-topped kitchen island, creating a nice contrast of materials/textures. You will also notice nice small details such as the black powdercoated pulls on the base cabinets and the matching matte black kitchen fixtures.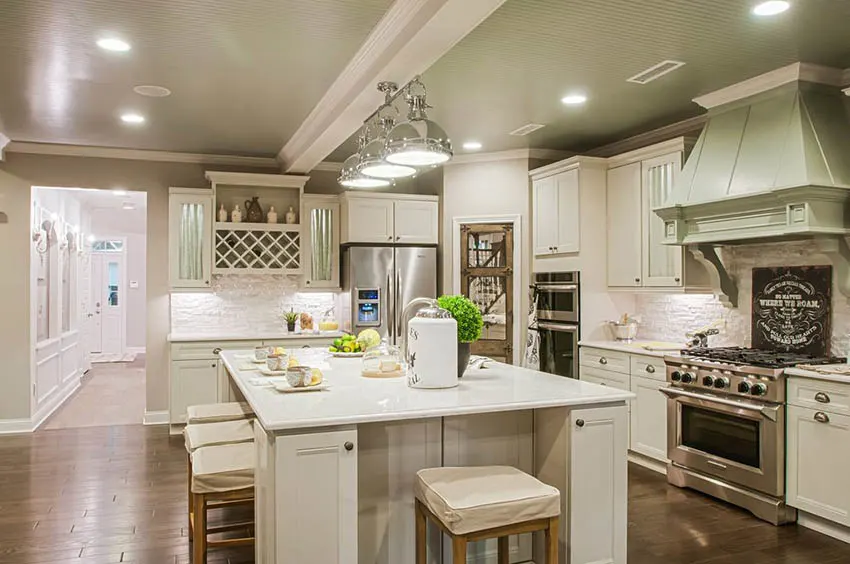 Another classic style L-shape kitchen that fully utilizes the kitchen island's base for storage space. Even the sides and the front of the kitchen island was used for cabinet space. It also features a small nook/overhang so you can push in your counter stools so it doesn't obstruct the way when not in use.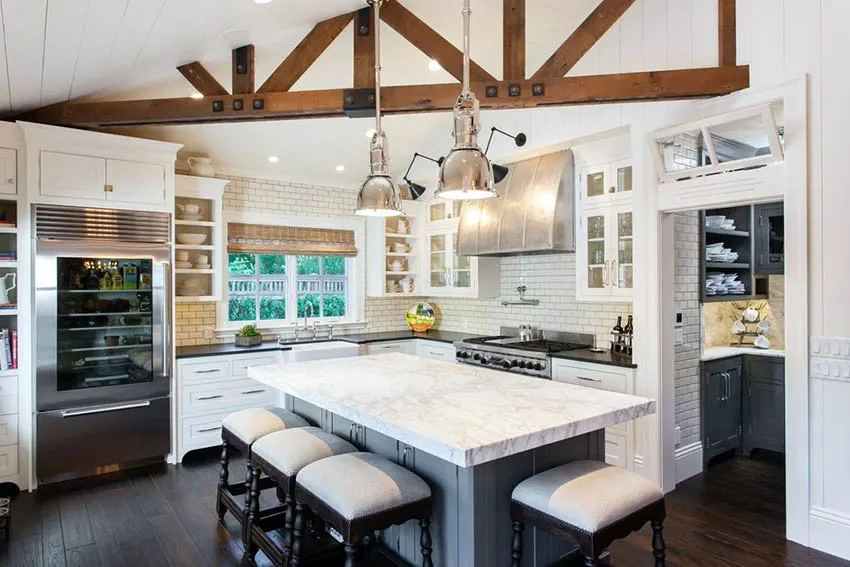 This kitchen island was designed to maximized the additional work top, dining space and storage it can provide. The kitchen island's marble top has an overhang all around so that all sides can be used as a dining space. The whole base on all sides was also used as extra cabinets for extra storage.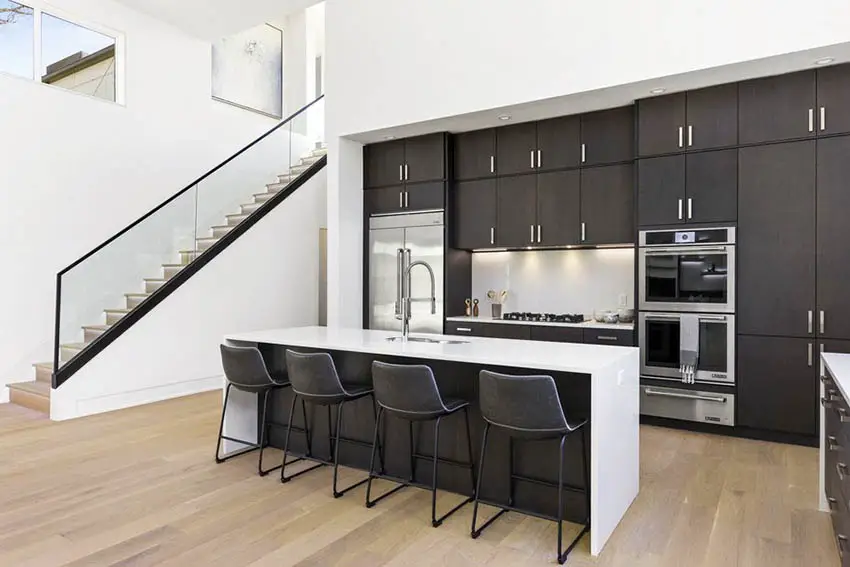 This gorgeous contemporary kitchen design highlights its sleek look with clean and crisp contrasts. The white monolithic solid surface used on the top and sides of the kitchen island adds a nice bold contrast against the dark wengue laminates used on the kitchen cabinets and the base of the island. The kitchen island serves as an extra work space/top as the main cabinets were mostly utilized for built-in ovens, cooking hobs and pantry storage.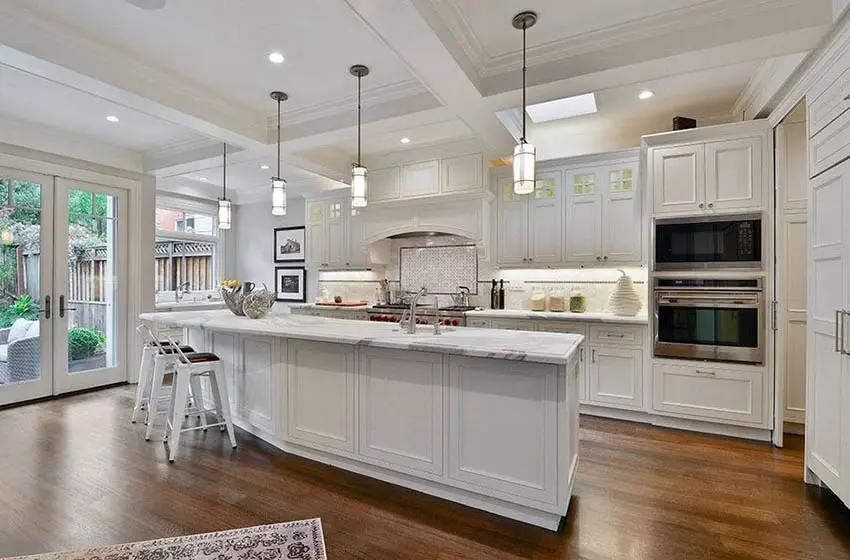 The kitchen island adapts to the oddly-shaped layout of this kitchen to maximize the available space and create a consistent hallway space. This kitchen sports classic style cabinets which were adapted to hold built-in appliances as well.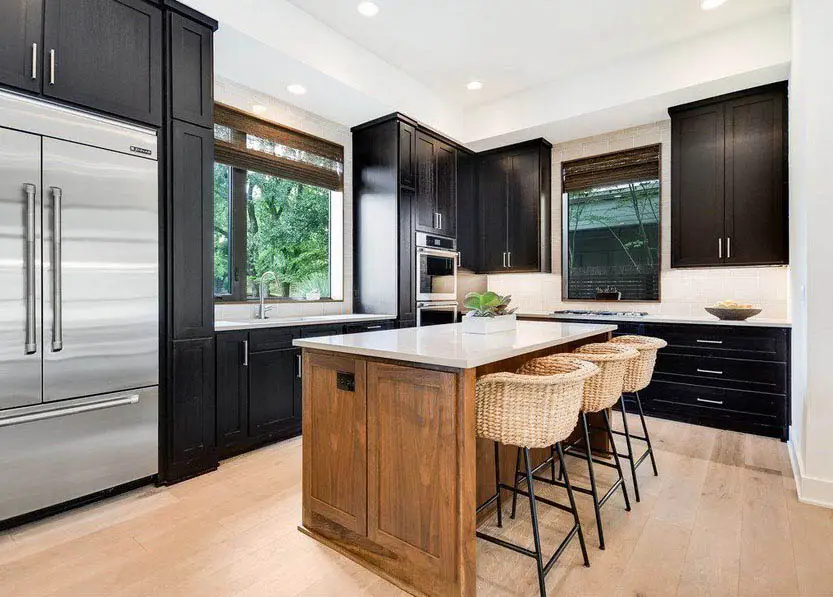 By using a natural oil finish for the Oak base of the kitchen island, it becomes the focal point of the kitchen which uses dark wengue stain for its cabinetry. The clean white quartz top ties together the look, while the woven jute counter stools adds flair and texture to the space.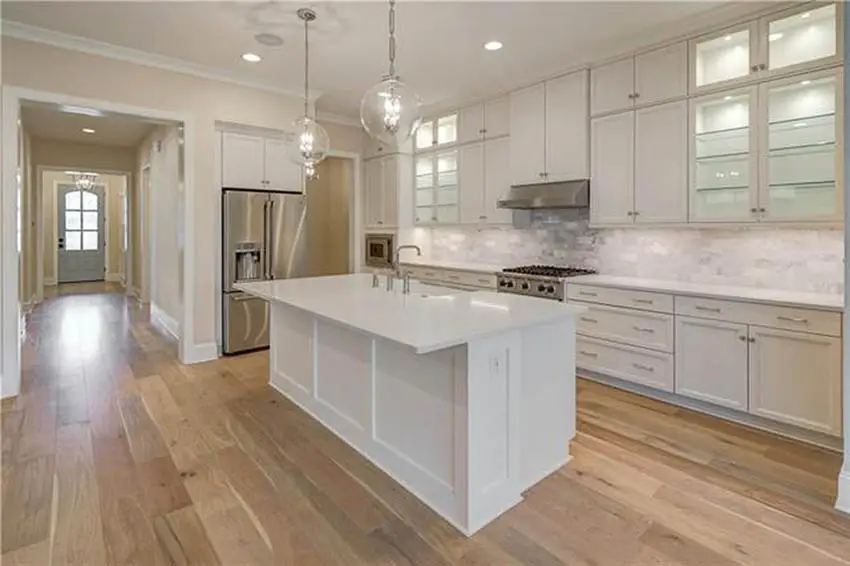 White is a common go-to scheme for kitchens as it's very timeless and easily blends in any design style. Additionally, white cabinets look great paired with silver/stainless steel, which is the most common finish for modern appliances. This classic style white kitchen is given a modern flair with its stainless steel built-in appliances, and its clear glass display shelves and pendant lights.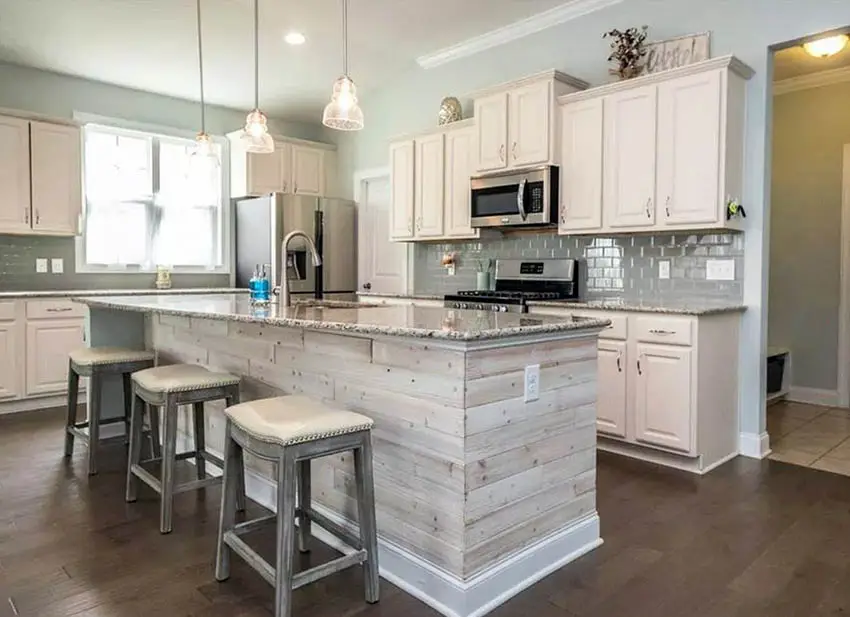 Using horizontal clapboards to add a textured finish to your kitchen island is a nice touch to add variety of finishes to the space. Combined with the antiqued finish of the counter stools and the shiny finish of the gray subway tiles on the backsplash, this kitchen gives an eclectic kitschy vibe.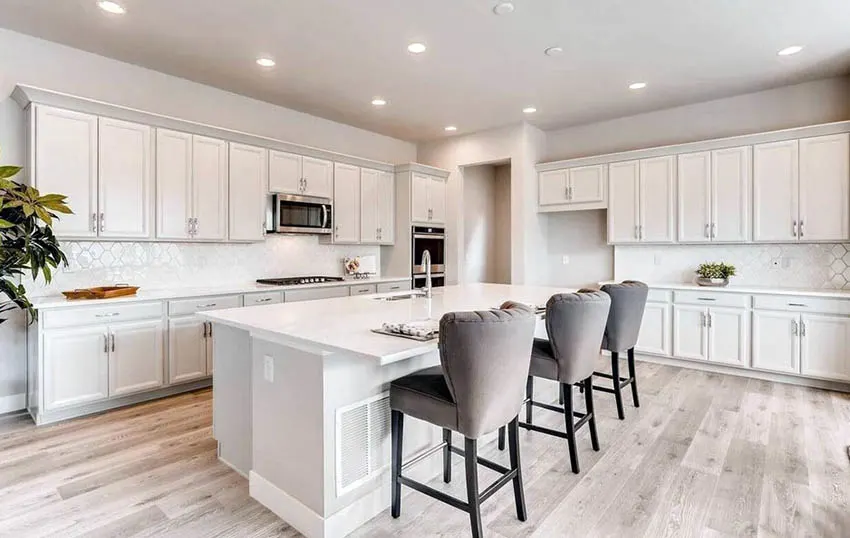 This is an excellent example of a transitional style kitchen with island and seating that plays around with subtle hue changes and textures to create a more fun look. Appliances are built-in for a cleaner look, and countertop items/accessories were minimized. The fully upholstered gray counter stools adds a pop of contrast to the otherwise soft-toned palette of the kitchen.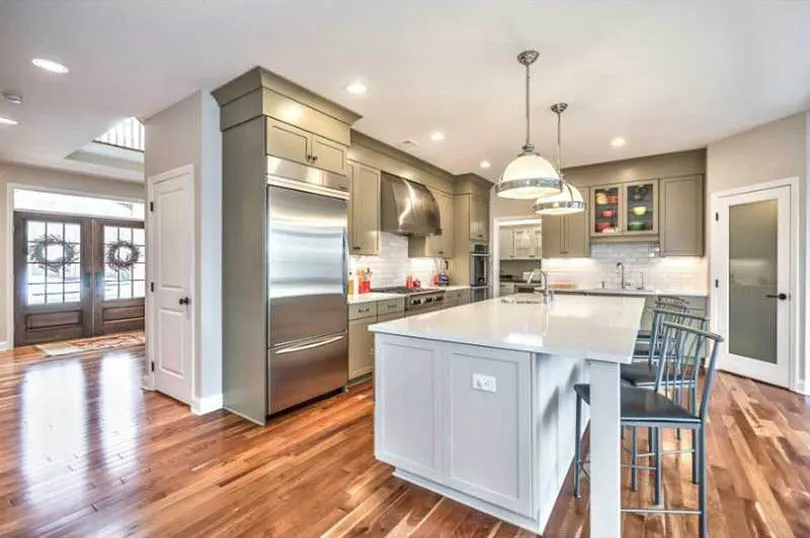 This kitchen design combines khaki-painted kitchen cabinets with a light gray kitchen island. Silver/stainless steel finishes serves as the accent color, which can be found on its built-in appliances (fridge, stove, range hood), fixtures, counter stools and lights.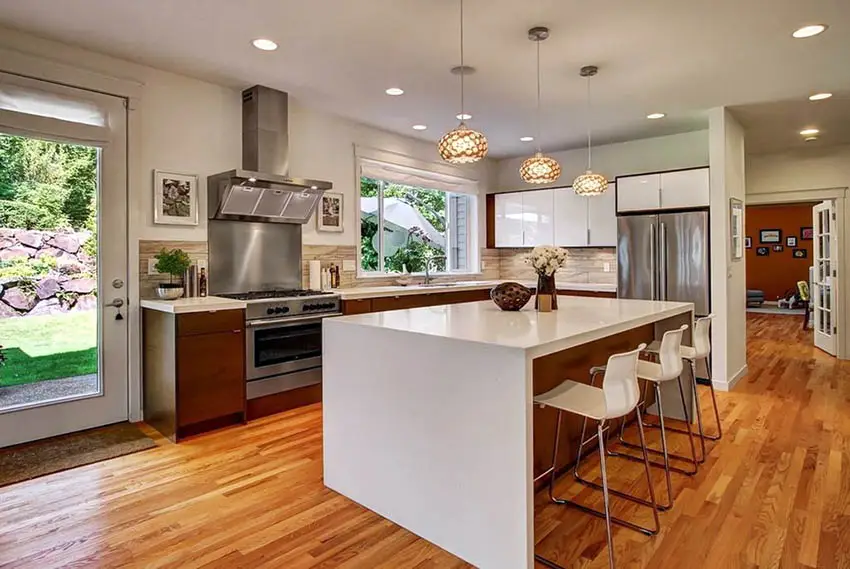 This modern L-shape kitchen combines glossy whites with matte mahogany laminate finishes to balance the warmth of the wood and the cool feel of glossy laminates. Other unique features in this kitchen includes its stainless steel splash board for the kitchen range that connects it to the range hood. This creates a very modern look that matches the overall theme of the space.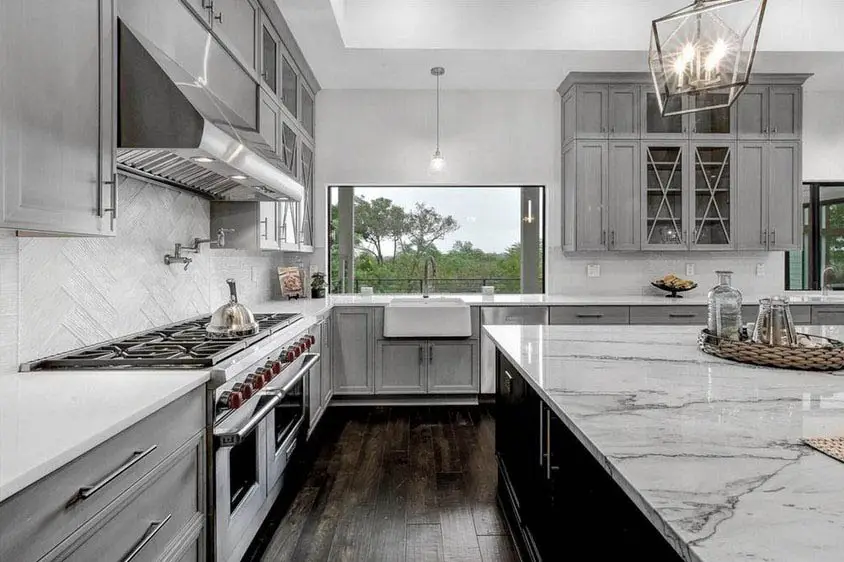 This massive country style kitchen uses an achromatic color scheme, playing around a bit with textures and patterns to make it more interesting. The main kitchen cabinets are stained in gray but with prominent wood grain texture, while the kitchen island base is in a dark wood stain, which makes it almost black. The backsplash uses white wood-textured tiles in various pattern combinations. To add to the textural variety, you also have the main countertop which is plain white solid surface and the kitchen island coutnertop which is a large slab or marble with prominent black veins.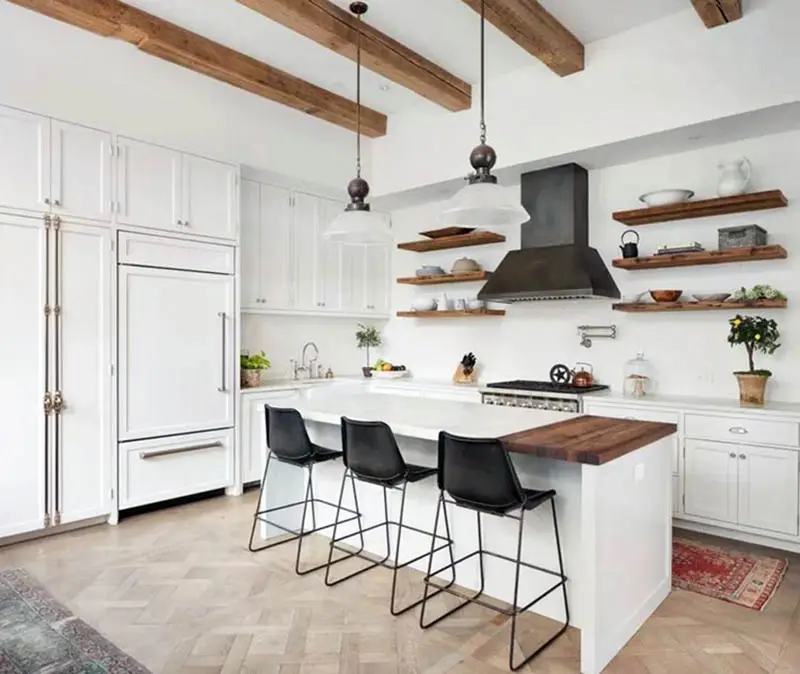 The combination of white and natural wood finishes instantly make this kitchen a Pinterest-worthy look! The L-shape kitchen looks extra sleek and clean because the built-in appliances were concealed inside the cabinetry, all except for the cooking range and hood. The open wood shelves and the small butcher's block on the kitchen island is a nice touch to complete the look.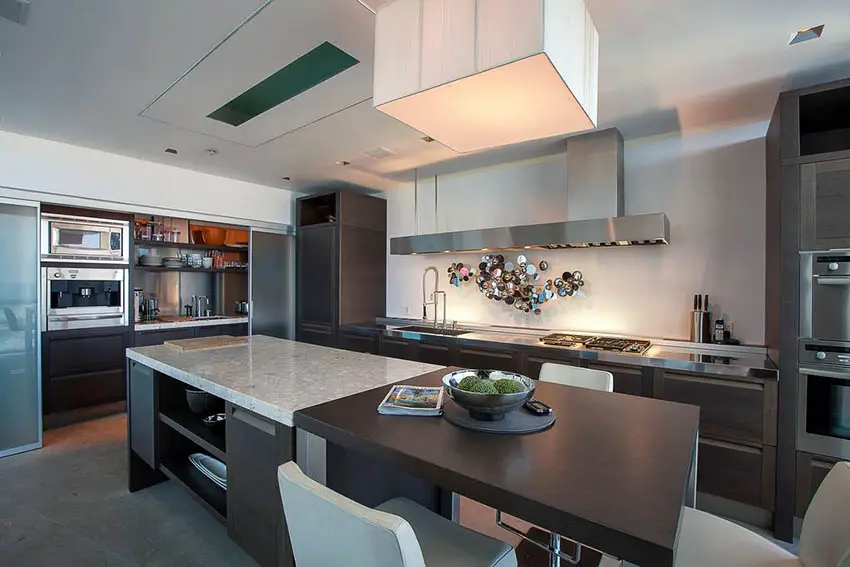 For this modern L shape kitchen, instead of using part of the kitchen island as a dining area, this one simple extends or connects the kitchen island to a wood-laminated counter-height table that serves as a small breakfast table in the kitchen. This goes well with the very cohesive modern color scheme which combines stainless steel with dark walnut laminates.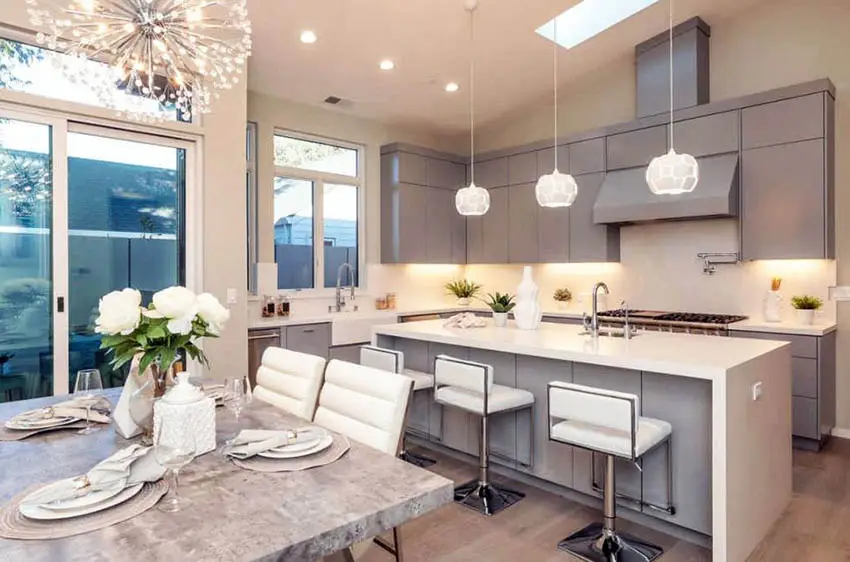 This is an excellent example of an open plan kitchen which directly connects to the dining area. The kitchen island in this case serves as a visual divider between the dining space and the kitchen space. Both spaces uses a white and gray modern scheme.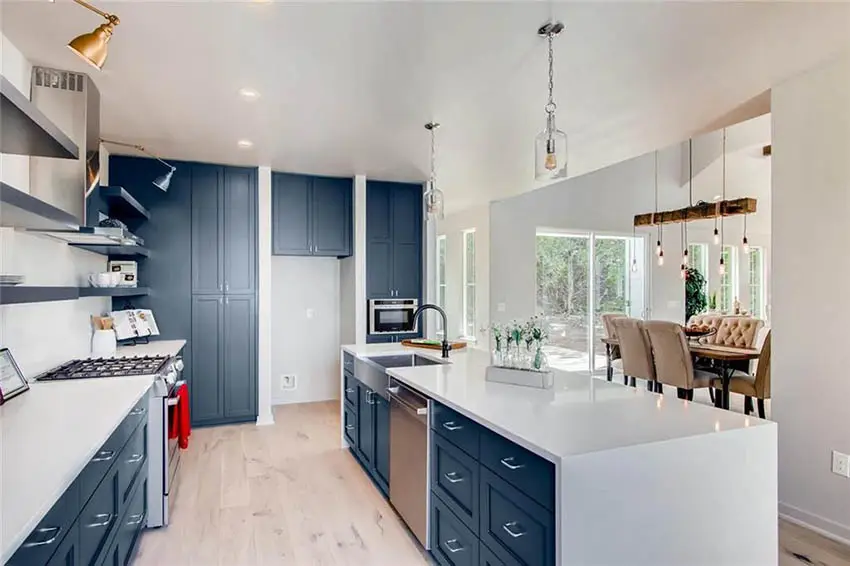 The massive kitchen island of this modern L-shape kitchen divides it from the rustic style dining area just across. The kitchen uses gunmetal gray cabinets paired with clean white solid surface tops. Appliances are all built-in to the cabinetry for a sleek look.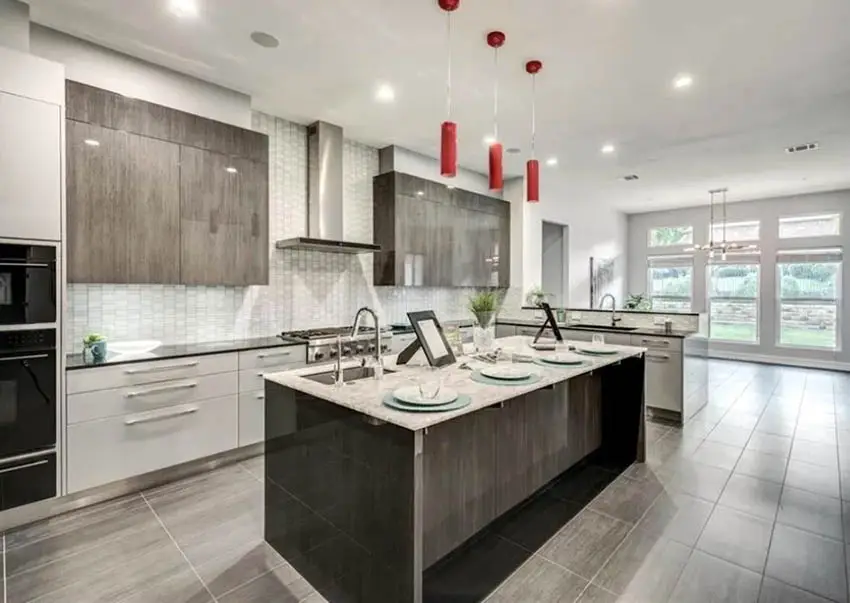 This modern kitchen uses a unique glossy wood laminate finish on its upper cabinets and the kitchen island, which is paired with white glossy laminates and marble counters. The glossy laminates creates a seamless transition to the built-in glass ovens installed.
White L-Shaped Kitchens with Islands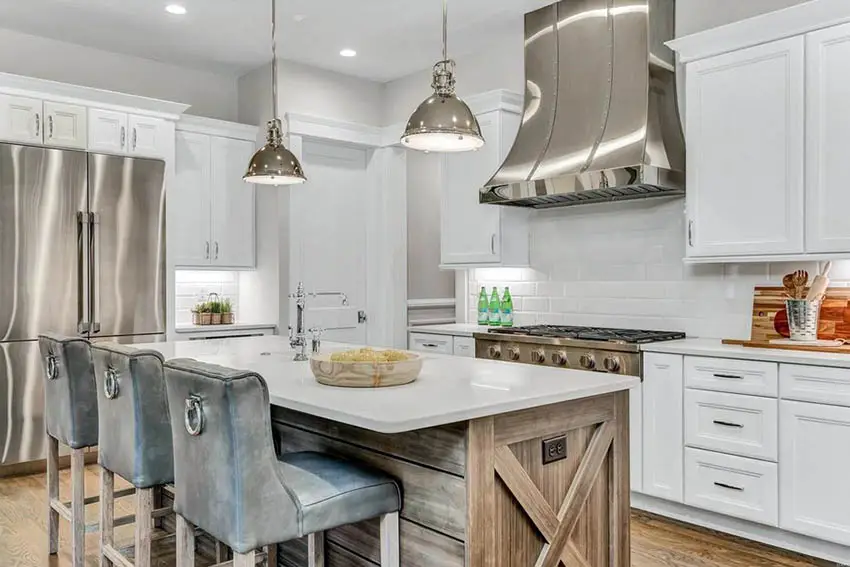 Going all-out with its country-style theme, this kitchen uses weathered wood boards to add a wooden accent to the small kitchen island. The kitchen also uses vintage style fixtures, as well as vintage style appliances and lighting to match the whole look.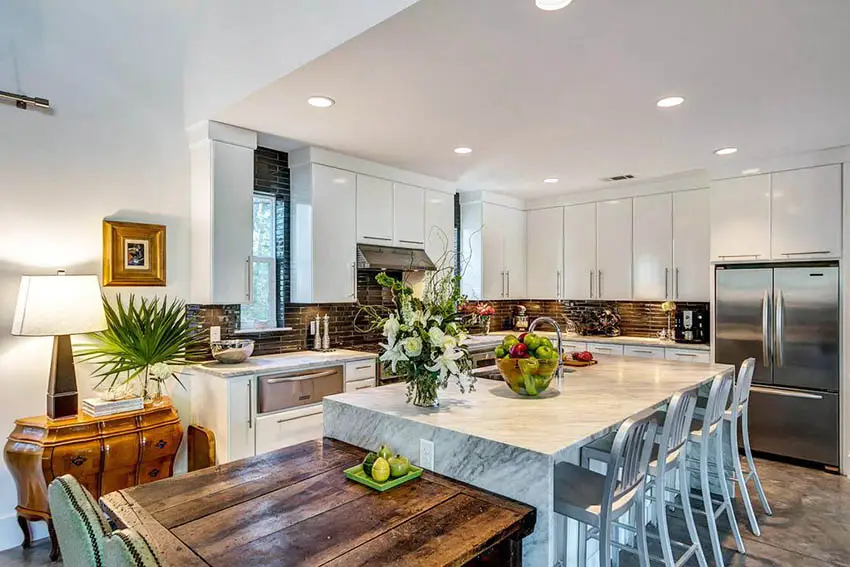 This open plan kitchen has a very eclectic mix of finishes and styles. Glossy modular cabinetry, a massive Carrara marble kitchen island, metal counter stools and appliances are all paired with vintage sideboards and vintage dining table, creating a very unique look.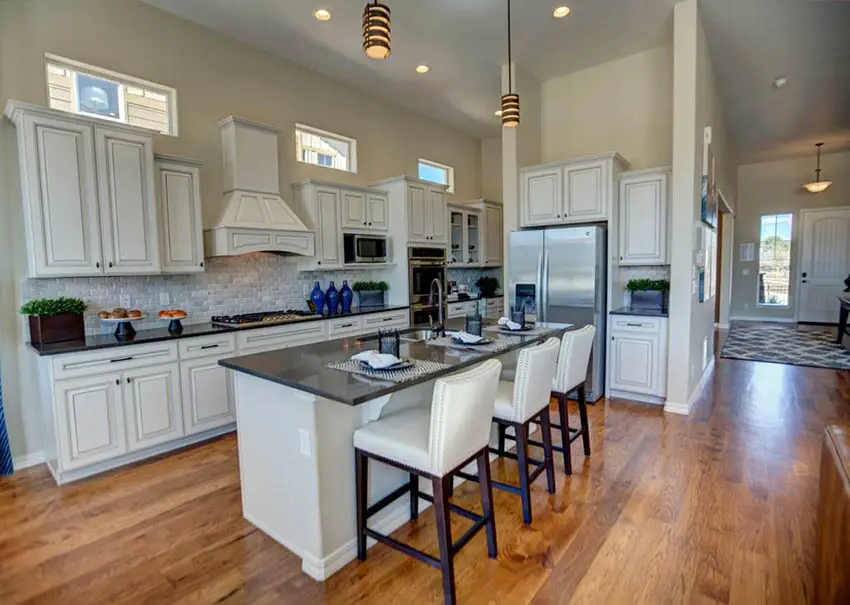 The kitchen island counter divides the L-shape kitchen from the living area, and adapts a cohesive classic theme that matches with the architectural style of the house. The distressed antique white kitchen cabinets provide excellent contrast to the dark gray quartz countertops.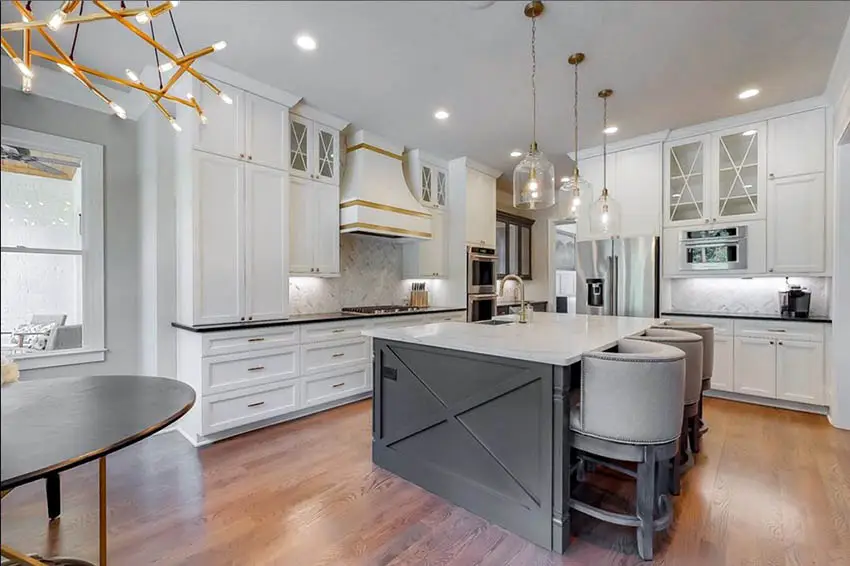 Gold accents adds an elegant flair to this country style kitchen. The space has an interesting combination of modern lights/accessories and classic furniture styles.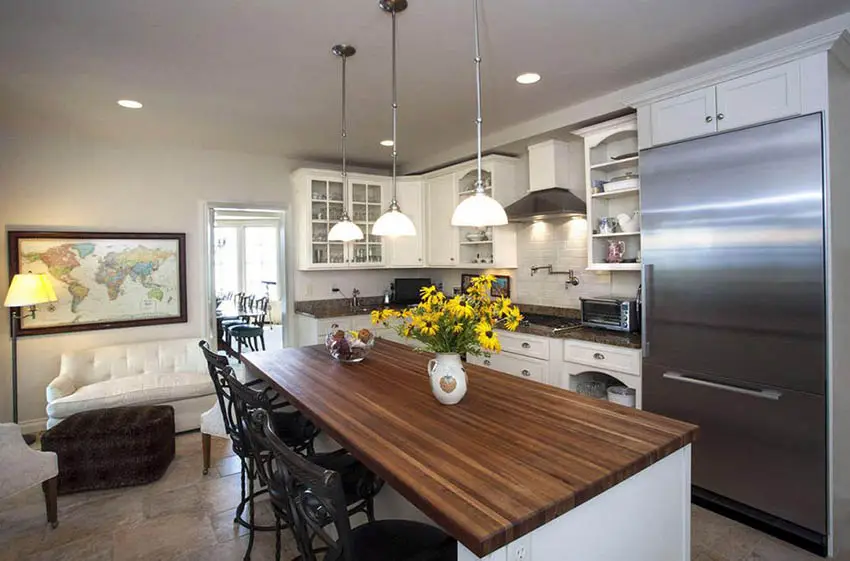 The solid wood butcher's block top used on the kitchen island makes it stand-out from the white-dominated kitchen. The addition of classic style wrought iron counter stools is a nice touch that complements the overall style used in the house.
Small L Shaped Kitchen with Island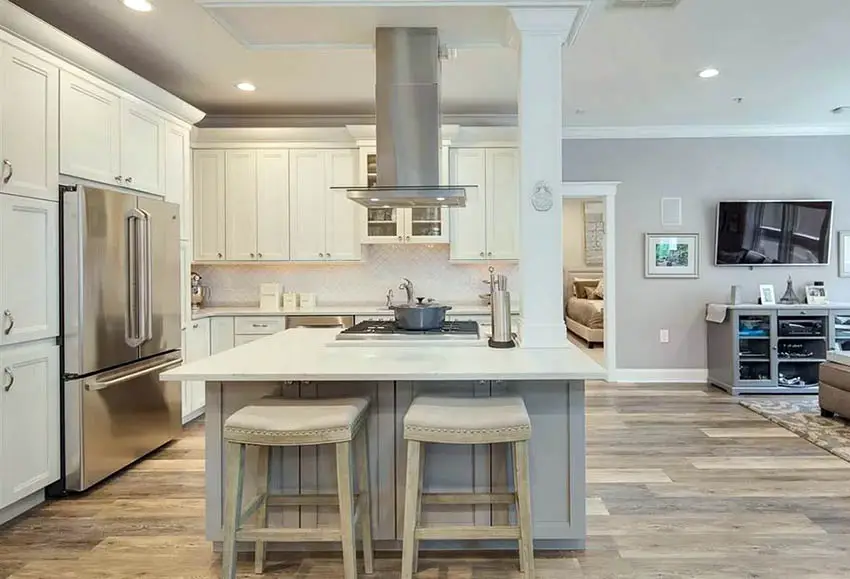 Partitions were taken down, the structural columns were embraced in this transitional style open plan kitchen. The kitchen uses a light color scheme of white, gray and light wood finish to match the light wood flooring. The square kitchen island worked its way around the column and made it look like its part of the design.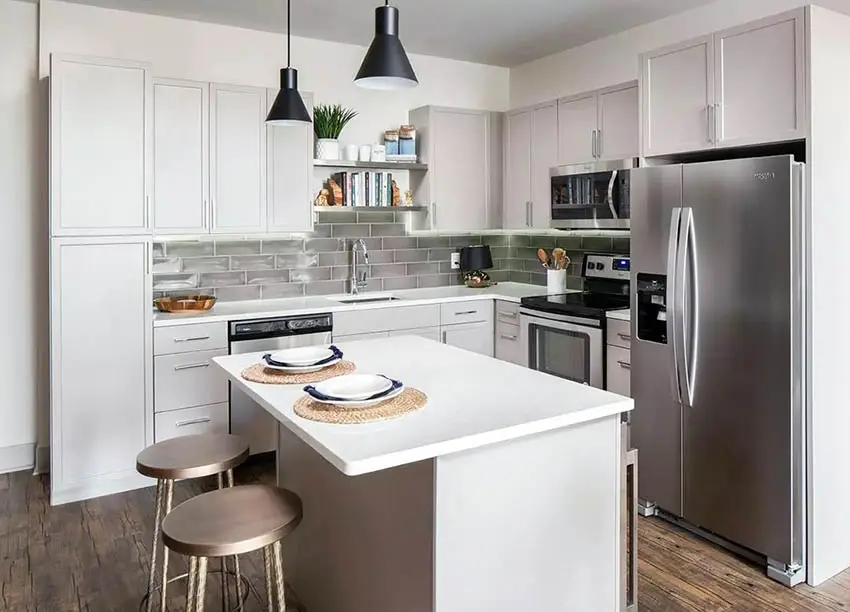 This tiny L shape kitchen managed to squeeze in an equally small kitchen island in order to house the under counter wine fridge and to provide additional dining and counter space.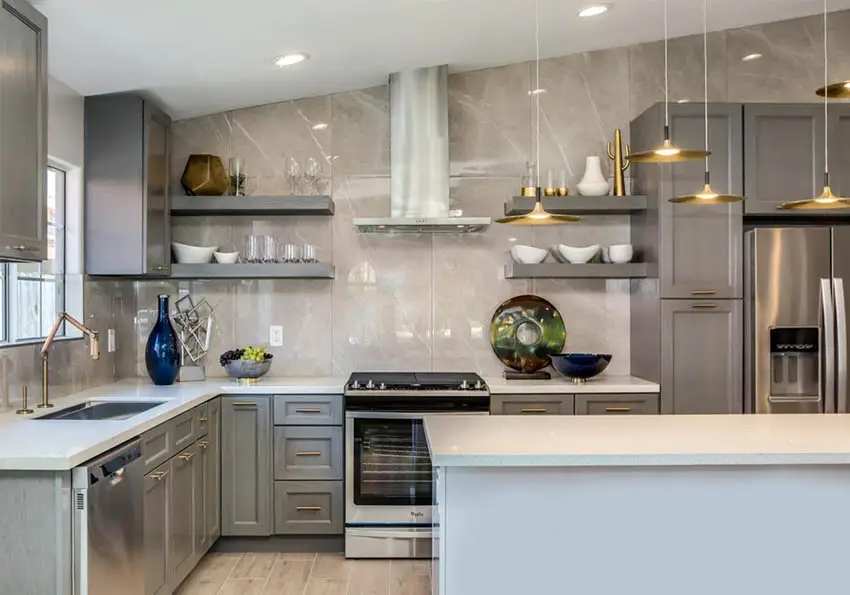 This gorgeous transitional style kitchen combines grays and whites with golden accents for a modern and elegant look that creates a home magazine-worthy look!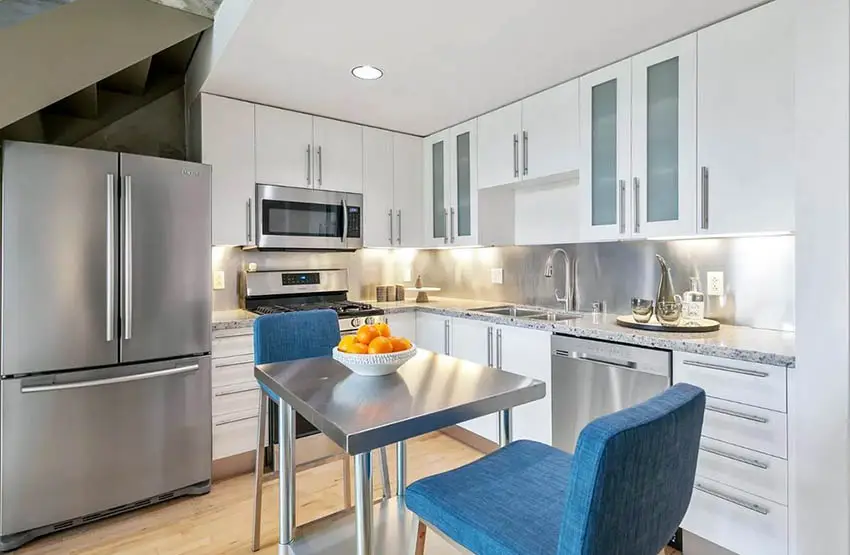 This tiny L-shape kitchen managed to add a very small freestanding stainless steel kitchen island. Because it is light and movable, you can easily move it around or relocate it as needed.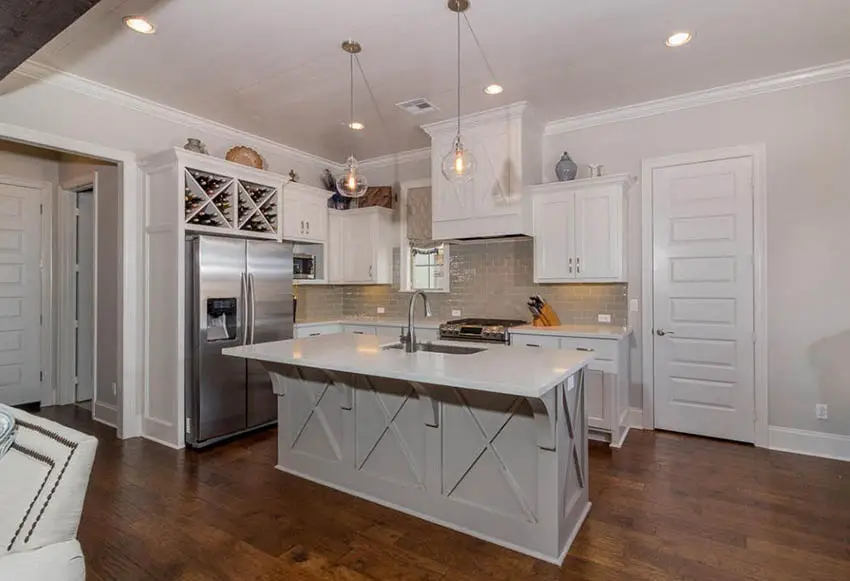 This whole space goes for a cohesive white and gray country style look. The small open plan l-shaped kitchen with island connects to the living room and dining room, so the colors are kept low-key in order to blend in. Space is very limited so storage is maximized and most appliances were also built-in. See more small kitchens with white cabinets here.