Here's our guide to Corian kitchen countertops with what they are, pros & cons, popular colors, cost and how to clean.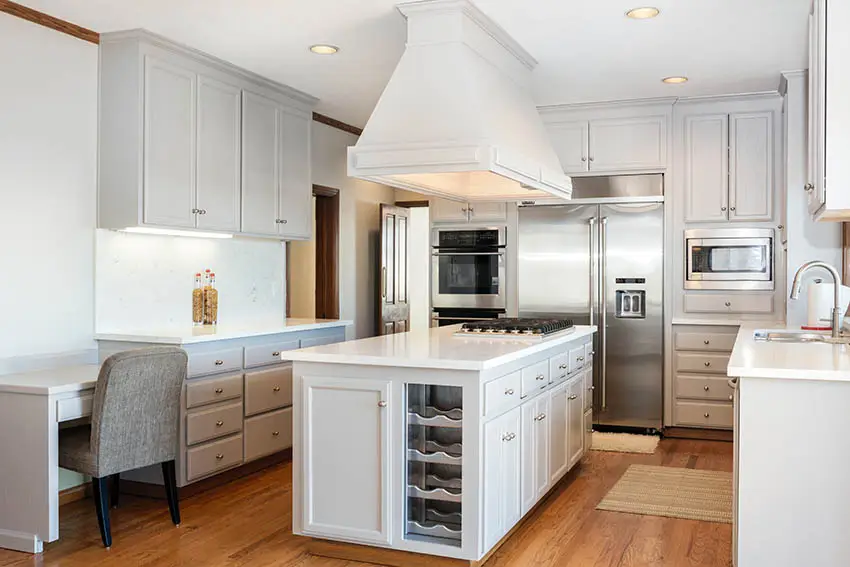 Kitchen countertops are an essential part of any kitchen, regardless of the overall kitchen design or style. Countertops aren't just important because of how they look, however, but also because of the function they perform.
Your countertops are a major work area. A lot of your food prep activities will be performed on and around your kitchen countertops. You need to take this into consideration when choosing the types of kitchen countertops to install.
The material you choose for your kitchen countertops is important to ensure that your countertops are not just attractive, but also so that they are functional.
You want to choose a countertop material that is easy to clean and maybe bacteria resistant. Corian kitchen countertops fulfill many of these requirements.
What are Corian Countertops?
Before we tell you why you should consider installing Corian countertops in your kitchen, we need to answer the question, what are Corian countertops?
Corian countertops are countertops or benchtop surfaces that are made out of a specific tyle of artificial surface material that was created by DuPont.
Corian as an original material was created by DuPont scientists back in 1967. It is made up of acrylic polymer and alumina trihydrate, but it is nontoxic and non-allergenic.
Corian material was traditionally made to resemble natural stone. It was in earth colors and patterned and textured to resemble materials like granite and marble.
Nowadays, while you can still get Corian materials that look like natural stone, there are also even more variations in the colors and patterns available. This makes it an easy material to incorporate in almost any kitchen design style.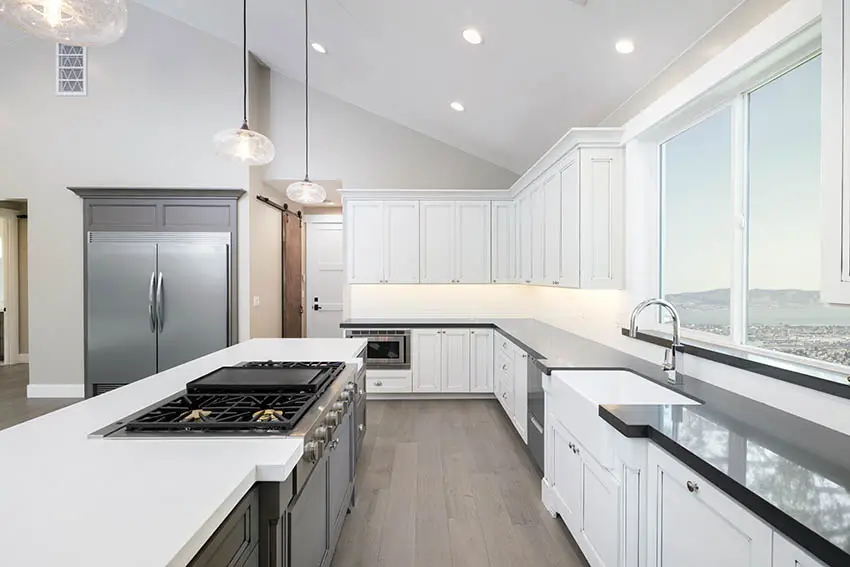 Corian is known for its "seamless" appearance which is a signature characteristic of the material. During the fabrication process, the joints are made nearly invisible because they are joined together with Corian's two-part acrylic adhesive that matches the color of the material. The seam is then sanded and polished till it becomes practically invisible.
Corian is manufactured and sold in three varieties according to thickness. You can buy Corian for your countertops that are either 6, 12, or 19 millimeters thick.
If you want genuine Corian countertops installed in your home, you need to look for a DuPont certified fabricator in your area.
However, since DuPont's patent for Corian has ran out, there are other similar brands of solid surface countertops out there. You can also search for similar material from Swanstone, , Formica, Meganite, Staron, LG, and Hanex among other brands.
Corian Solid Surface Countertops Pros & Cons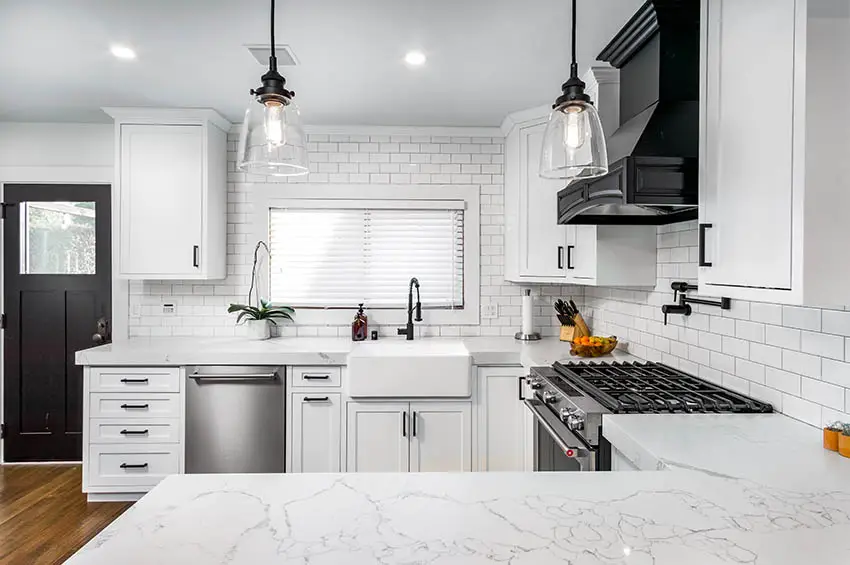 One big pro of Corian solid surface kitchen countertops is its appearance. The seamless appearance is attractive and so it the fact that it can come in a variety of colors and patterns.
No matter what the overall style of your kitchen, there is bound to be a Corian countertop that will match and blend in perfectly with the rest of your kitchen design elements.
Another big advantage that Corian kitchen countertops have is the fact that it provides you with a non-porous surface to work on.
Since Corian is a non-porous material, it is stain resistant. As there is nowhere for liquid to penetrate or collect on the surface, it makes it easy to clean. All you have to do is wipe up any spills or smears.
One of the best reasons, however, to install Corian solid surface countertops in your kitchen is because they provide you with hygienic work area. Because it is non-porous it inhibits bacterial growth and is resistant to mold and mildew.
Also, because it is seamless, there are not cracks or breaks where dirt and grime can collect and get trapped.
The major con to a Corian countertop is the fact that it is not as durable as other kitchen countertop material such as natural stone.
You have to take some care with the surface of your Corian countertop as it can be dented or scratched. So, take care when placing heavy objects on your countertop and when working with sharp objects.
For example, never try to chop or cut something on a Corian countertop. Make sure to always use a chopping board.
Direct heat can also harm your Corian kitchen countertop, so make sure that you never place a hot pan or pot directly on your countertop.
You should also make sure that, if you spill any hot liquid on your Corian countertop, you clean up the spill as soon as possible. Don't let the hot liquid sit on your countertop as it could damage the surface.
While your Corian kitchen countertop can be damaged or scratched, take comfort in the fact that it is relatively easy to get scratches out of Corian material. You can remove most scratches yourself, buffing it out with an abrasive pad or an orbital sander.
With proper care, genuine Corian kitchen countertops should last about 30 years. If you get your countertops from a DuPont licensed supplier, your genuine Corian countertops installed will be covered by a warranty.
DuPont offers a 10-year warranty for Corian countertops that are for interior residential applications.
Corian Colors for Countertops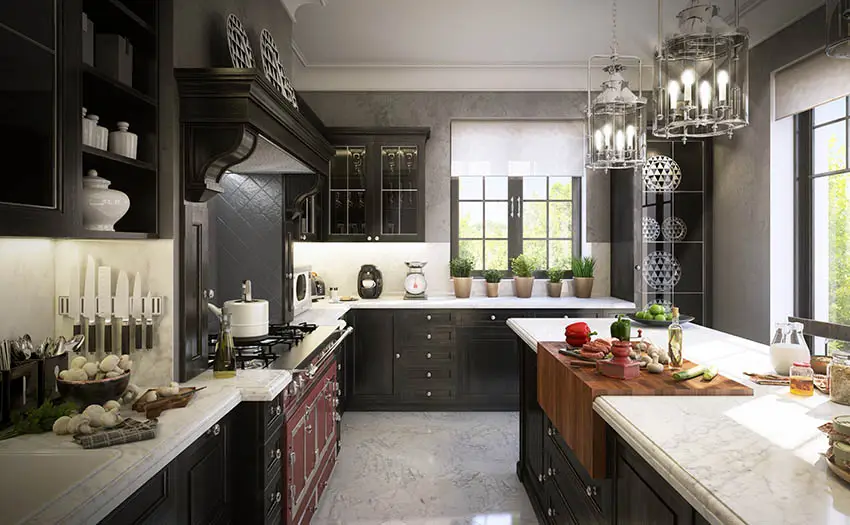 Corian countertops come in more than 100 colors and patterns. Traditionally, Corian is made to resemble natural stone like granite or quartz countertops. They came in earth tones with speckled patterns.
There are still a wide range of neutral earth colors available – shades of beige, brown, and grey. You can also find several shades of white and black.
There are also, however, more colorful and playful options like shades of pink, blue, yellow, purple, and red as well as metallic shades like gold and copper.
You should ask your Corian material provider about what shades they have available. You can, however, also request custom colors.
How Much Does Corian Cost?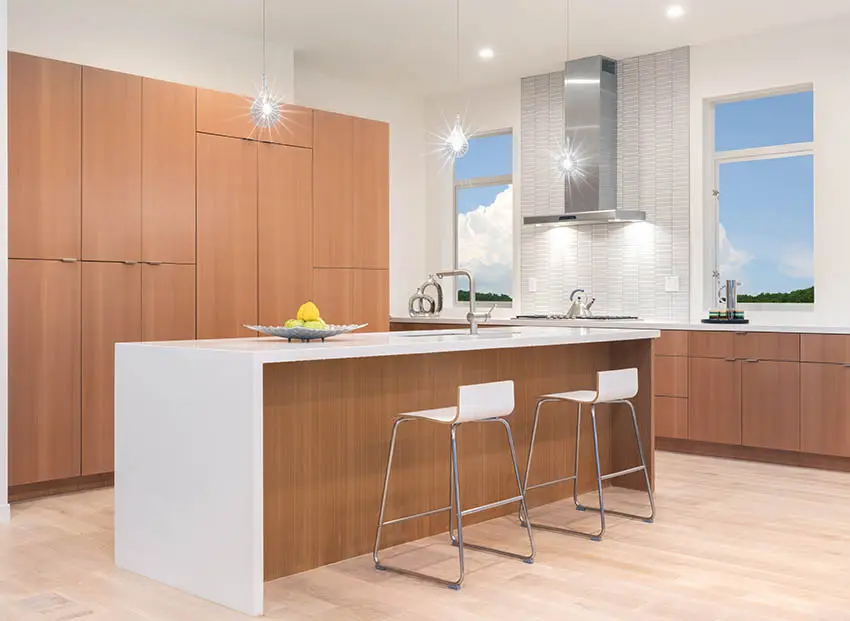 The average price of Corian material for countertops is about $35 per square foot. Most installation jobs for Corian Kitchen Countertops will cost about $45 to$65 per square foot.
The final cost will depend on the color or pattern you choose as well as the counter configuration. If, for example, you choose to have a sink mount or drain boards installed, this could bring up the cost of your Corian countertop.
The more complex the design specifications, the higher the price, so you could end up spending about $100 to130 per square foot.
Finally, the labor costs of installing Corian kitchen countertops may vary from city to city and even state to state. So, you should look at that and budget accordingly.
Bottomline, Corian kitchen countertops cost a little less than granite, quartz, or marble, though they can often be made to resemble these high-end materials. They are also easier to install countertops made of granite, quarts, or marble, so you will pay about 10 to 20 percent less in labor costs.
How To Clean Corian?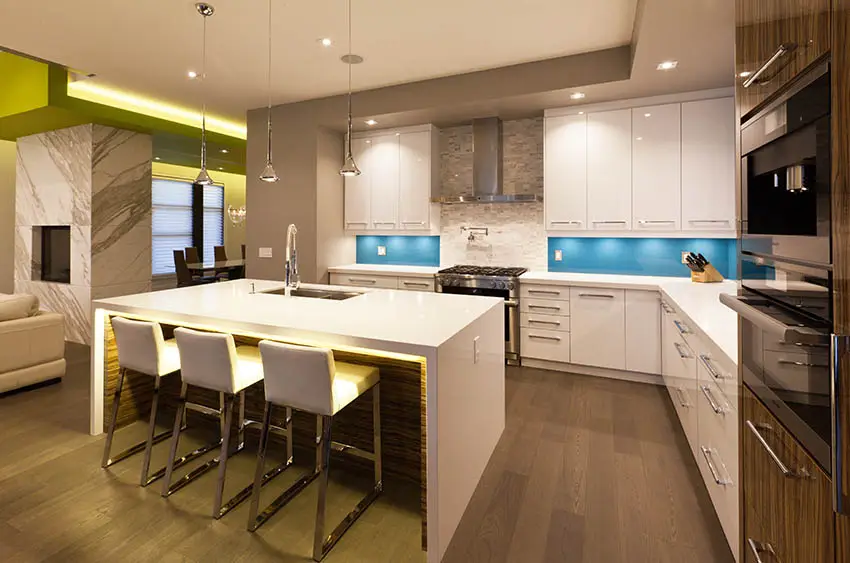 To maintain your Corian countertops, you should clean it once a day by wiping it down with either an ammonia-based cleaner or just some soapy water. You can use a cloth or sponge, or even scouring or scrub pads to clean a Corian countertop without fear of damaging the surface.
Cleaning products for solid surfaces, like granite and natural stone, are also good choices for cleaning Corian countertops. Make sure, though that they are pH neutral.
Take note that, you need to dry your Corian kitchen countertops and backsplash after you wipe them down. Letting water dry on your countertop will let a film develop on the surface which can dull the color.
Do not use bleach, as it could discolor the Corian. You should also avoid using window cleaners or other waxy substances as these will leave an unattractive film on your countertop.
How To Revitalize Corian?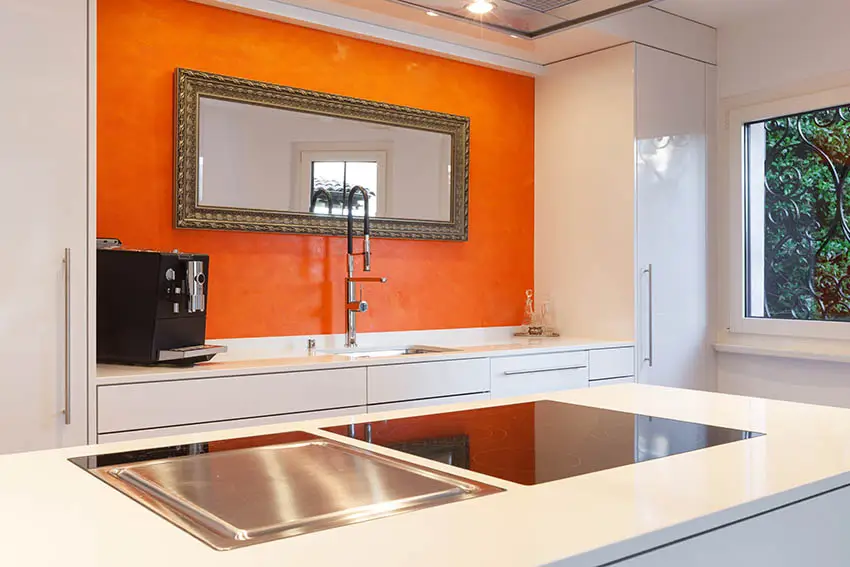 As we mentioned, though Corian countertops might scratch easy, it's relatively easy to repair a scratched Corian surface. You just need to buff out the scratches with an abrasive surface such as sandpaper or an abrasive pad.
After wiping the countertop clean give some special attention to the scratched area. Wet the abrasive pad with water and add some cleaner. Rub over the scratches, using a back-and-forth motion.
You can also buff the surface with a side-to-side motion. You can also try re-finishing the scratched area by applying a clear epoxy.
In general, buff your countertop about once a month. This will help the finish remain bright and glossy.
After buffing the countertop, clean it with a sponge dampened with plain water. You want to make sure that you remove any and all residue from the cleanser.
After buffing, you can then revitalize your countertop's shine by applying some commercial countertop polish.
With a clean microfiber cloth, spread the polish over your countertop. Use circular motions to polish the surface, reversing directions after every three to four rotations. Buff the surface again with another clean microfiber cloth.
If your own ministrations are not doing the trick, you can hire someone to refinish the countertop. They will sand down and repolish your countertop surface and have it looking good as new.
For more related ideas visit our article on the most expensive countertops here.