Here's our guide to the best roof color including how to choose for shingles and metal roofs.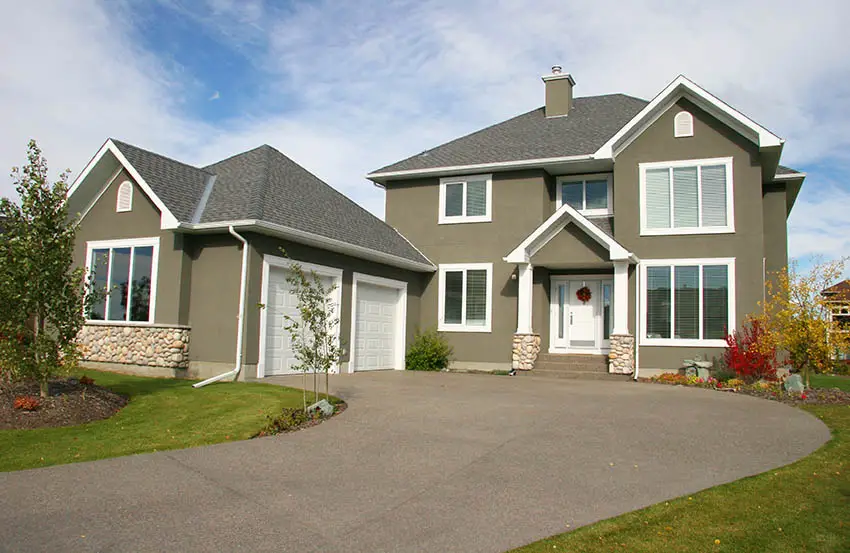 Since more and more homeowners are now considering investing in the outdoors of a home to increase its appearance, it has become the norm to update the roof colors of the home.
With exterior decoration being paid the utmost attention to – its associated materials, finishes and decorative features should all be considered. And there is no better way to create outdoor harmony than by choosing the best colors for the roof that exhibit a cohesive atmosphere.
Depending on the design style and the personality of the homeowner – it is important to wisely choose colors that not only speak the choices of the homeowner but also create a great curb appeal while adding property value.
How to Choose Roof Color?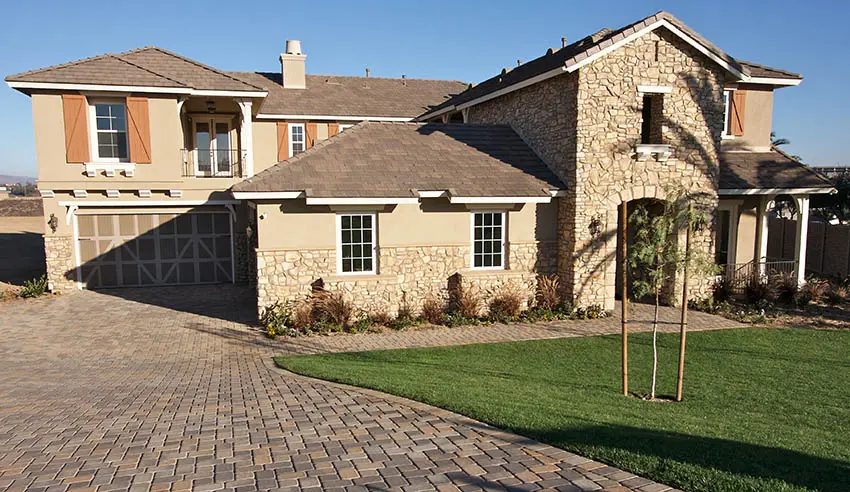 Choosing a color for your roof may get challenging. Although it is one of the most important steps, roof color is probably one of the most noticeable features on the exterior of the home.
And that is why it should be aesthetically appealing, cohesive, and yet contextual. Basically, it is crucial to first analyze the type of home and the roof style you have.
An old and traditional home will better complement the soothing and subtle colors rather than trendy and bold paint colors.
Hiring an expert at this point in time would be a smart thing to do. Or else, you can look through the color palettes of the paint manufacturers and check out their exterior color consultation portfolio.
The next thing to consider is the climate of the region. Is it extremely cold or tropical warm? Hence, based on this information it is better to choose lighter colors for warmer areas since they will tend to reflect away the light and on the other hand, choose darker colors for colder regions as they absorb heat.
Moving on, your next consideration would be the existing color, material, and texture board. Look through the shades and hues of the singles, moldings, and door, and window frames to analyze what best would suit the roof.
If you live in an area with row housing, it is always ethical to choose paint colors that create a cohesive backdrop. You might not want to go out of the place by simply painting a bold color.
There might also be some rules and regulations imposed regarding this. Also, remember that colors play an illusion. So, if you want your home to look bigger and brighter – choose lighter paint colors or else go for darker paints if you want to make it look smaller and enclosed.
What Color Roof is Best?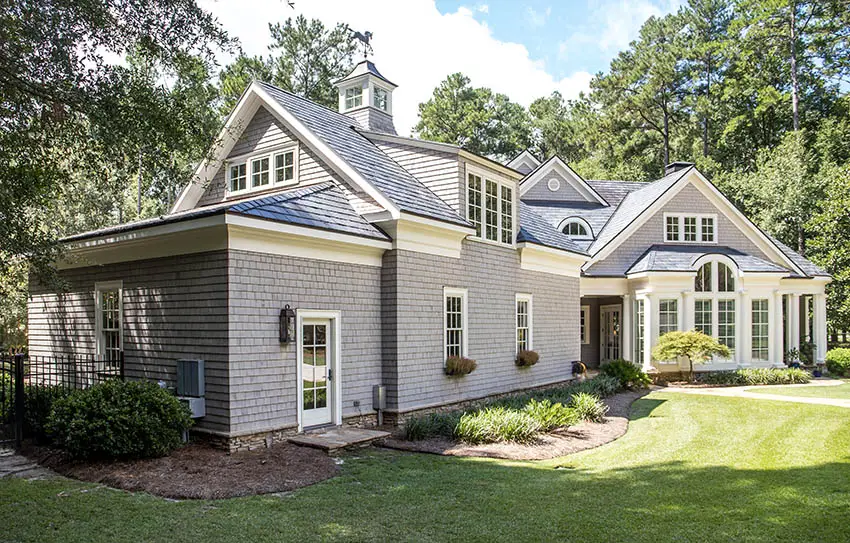 The question is quite subjective. Varying from region to region and climate to climate, the best color for the roof may vary. If you are residing in a warm region, it is notable to choose paint colors that have high reflectivity.
Generally, cool whites, blues, and greys make a great match here. Whereas on the other hand, in colder regions, it is wise to choose colors that absorb heat with extremely low reflectivity. For example, choosing earthy tones such as brown, green, and red-orange would seep in the heat.
Also, if you live in an urban environment, it is better to choose sophistication with paints like black or grey on the roof.
Additionally, you should consider the roof type you have, as specific designs may work better with a specific color.
Best Color for Roof Shingles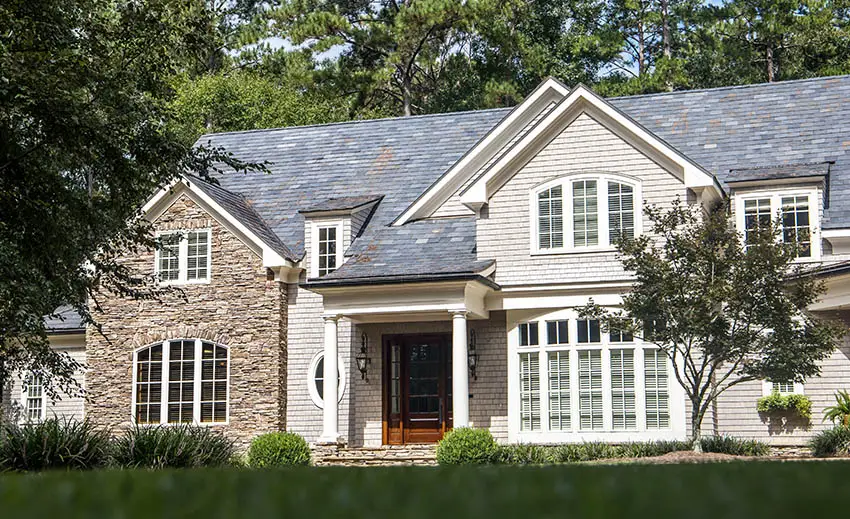 Shingles are one of the most commonly used building materials on roofs. Hence, at the same time, choosing a paint color is challenging. So, depending on the original paint color of your walls, you can easily determine the best color for roof shingles.
For example, if the exterior walls of your home are painted in white, it is the best to choose almost any color from grey, black, white, green, blue, and brown.
If you have beige, off-white, or taupe painted walls, choose roof shingles that are black, brown, grey, and green.
Moreover, light grey is another commonly used paint on the exteriors. In this case, choose white, dark grey, black, blue, and green. Other very common paint is red or brown that should be paired with grey, black, dark brown, and green.
Last but not the least, if you have a log home or wooden-cladded exteriors, remember to choose brown, green, black, and grey.
What is the Best Color for a Metal Roof?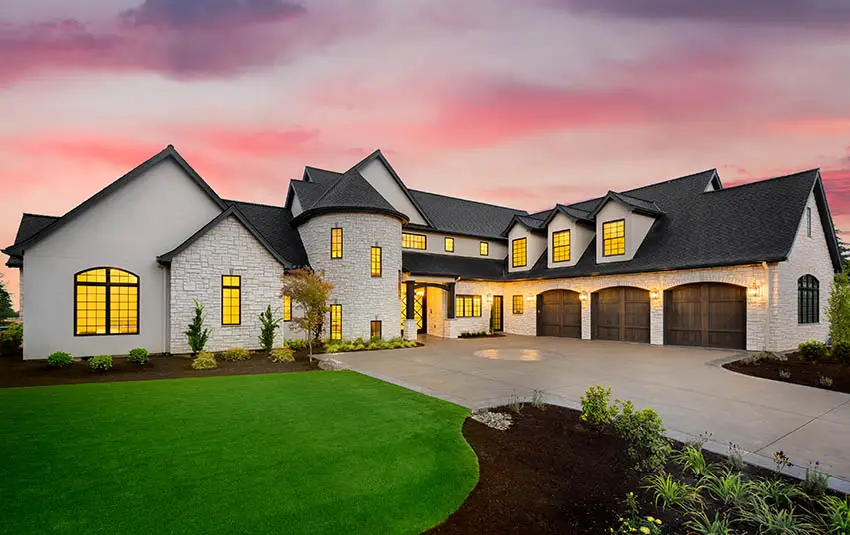 First and foremost, it is important to choose a metal roof profile that is durable and strong enough. Moreover, depending on the exterior design style and the local climatology, the paint color may vary.
At this point in time, you can also consider the aspects of energy efficiency. For example, choosing paint colors like grays, whites, and lighter blues will reflect away the heat – thus, saving on energy bills.
Even the local geography may vary – for example, the Southern states follow Latin architecture and that is why terracotta and Colonial Red are quite prominent colors on the roofs in these regions.
Moreover, in forests and plains, choosing evergreen hues like dark and medium bronze, green, and brown would be a clever move to create a cohesive backdrop. You can also choose from the following:
Matte Black
Copper Metallic
Mansard Brown
Charcoal Grey
Slate Gray
Regal White
Galvalume Plus
Best Roof Color for White House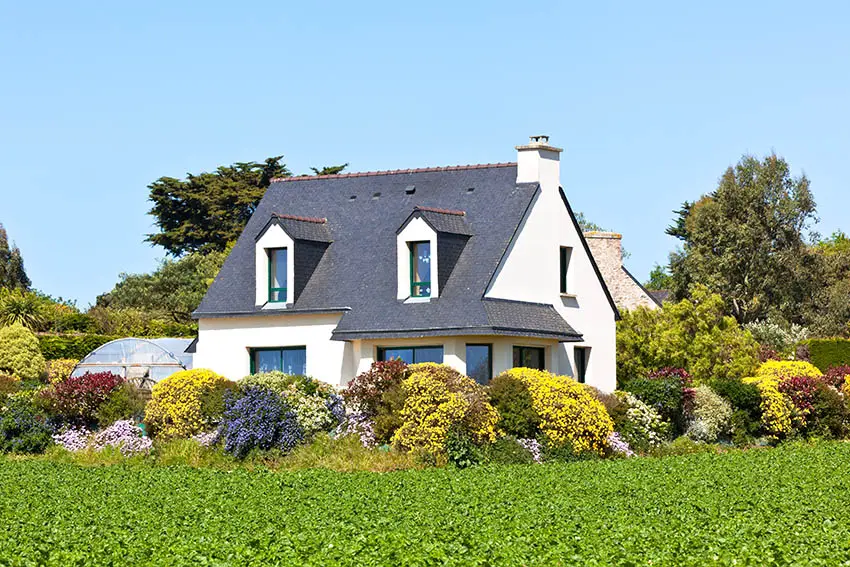 A white house looks utterly majestic and glamorous. However, it is important to know whether to choose a contrasting exterior color scheme or a monochromatic scheme for your white house.
For a classic and timeless appearance, it is vital to choose either whites or off-whites and pastels to create a classic yet charming appearance.
On the other hand, for a bold and authentic look, paint colors like navy blue, dark grey, black, green, red, and brown would make a great match. Also, if you want to exhibit a warm touch, it is wise to choose whites with warmer undertones and vice versa for the cool-toned paint colors.
So, now that we have discussed the recommended paint colors for the roof, are you confident about choosing one for your home? Do let us know your thoughts in the comments below! For more related content visit our article about the types of green roofs.