Find out what color to paint a house with a red roof including popular paint colors like white, gray, and more brands and different shades to match with your roof.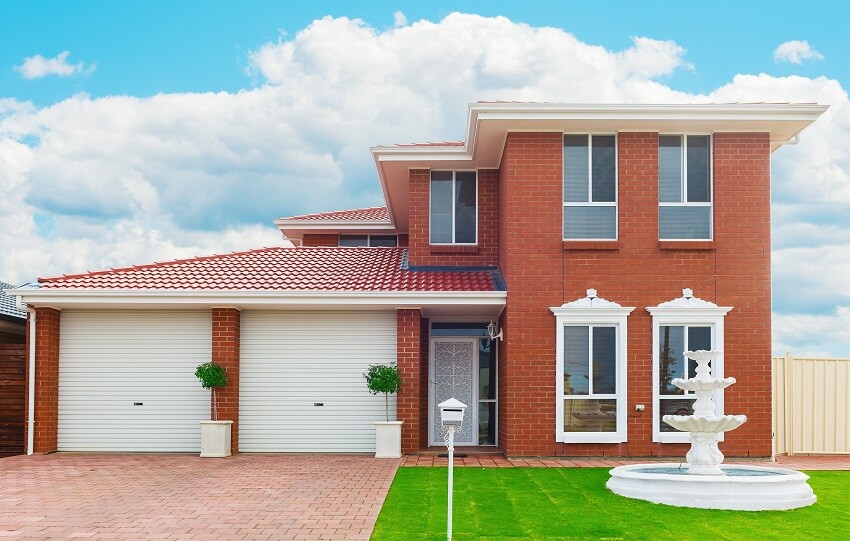 What is the first thing that is recognized in your house? The paint color of the exterior part of your house. The right color will create a huge impact on your house. It can either make your house look large, small, neat, modern, traditional, or dull.
However, there is one way to determine what could be the best paint color for your house – look at your roof color. Most houses with red roofs are matched with paint colors such as warm white, gray, pale yellow, etc.
But how exactly can you select the best paint color that complements your red roof? In this article, we will talk about the things you have to consider when selecting the right paint color for your house with a red roof. We will also give you some recommendations on what paint brands, colors, and codes you might use for your house exterior.
Red Roof House Exterior Paint Colors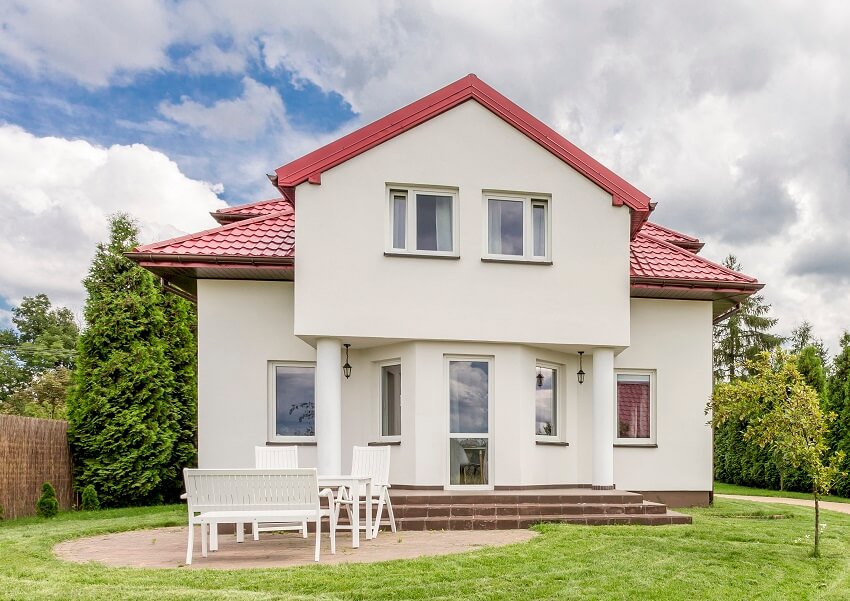 To choose the right exterior paint color that matches your red roof, you can try playing with various tones. Try to match colors and shades to help you identify what color matches well with your red roof design.
Generally, orange, brown, yellow, beige, and red are warm tones, while purple, white, and blue are cool tones. Learn more about the best finish for exterior paint for more related article.
Red is under the warm category, so it might be a great idea to pair it also with warm tones. Houses with red roofs normally use light brown, creamy yellow, and beige as their exterior paint, since they're all warm tones as well.
However, in reality, red can be matched with almost any color. You just have to pick the right one that will suit your preferences.
Furthermore, you can decide on which effect you would like – subtle or striking. If you add more contrast to your house exterior, the more striking or dramatic it can appear.
On the other hand, if you use less contrast, the more subtle or relaxed the exterior paint color will appear. So, considering the color effect is also important to help you decide what paint color you can use to your house with a red roof.
For instance, you can use blue paint color if you want a highly striking effect. Blue contrasts red. But if you want to keep the effect subtle, you can use neutral colors such as gray, taupe, or light brown paint color.
Nonetheless, here are some of the most popular exterior paint colors you can match with your red-roof house:
White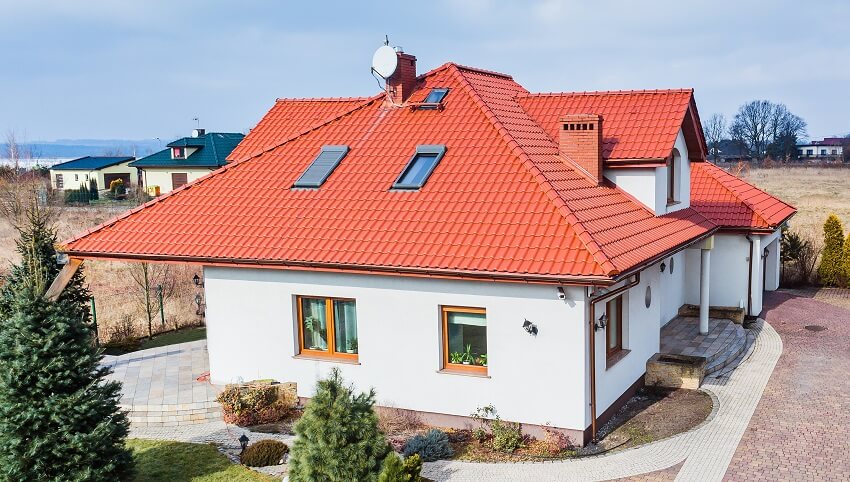 Actually, any roof color can go with white. However, partnering white paint with your red roof can truly look charming and fascinating.
A lot of classic houses located in large villages use this combination as it gives a striking yet neat effect. Indeed, white and red can create a very inviting atmosphere. See more examples of different roof colors with shingles on this page.

Gray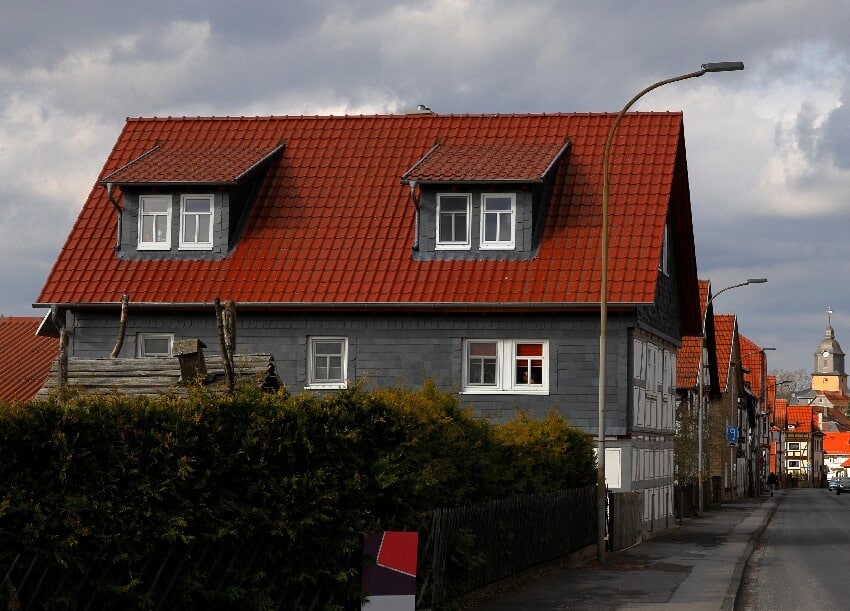 Gray paint colors can add a huge value and neatness to a house with a red roof. Gray is a neutral color that can truly enhance the overall appearance of a red-roof house.
Any shade of gray, either light or dark gray, is a great choice for keeping the red roof outstanding yet maintaining the subtleness of the house exterior.
Brown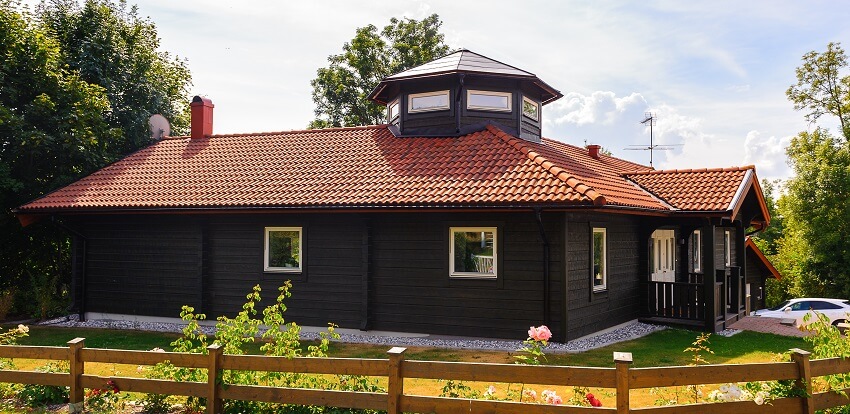 Red is under the warm tone category and it matches well with earth colors such as brown. Brown definitely complements any house with a red roof, especially if it is surrounded by plants and trees.
Moreover, it makes the house look more comfortable. A red roof partnered with a brown exterior gives a refreshing and earthy effect that is indeed pleasing to the eye.
Blue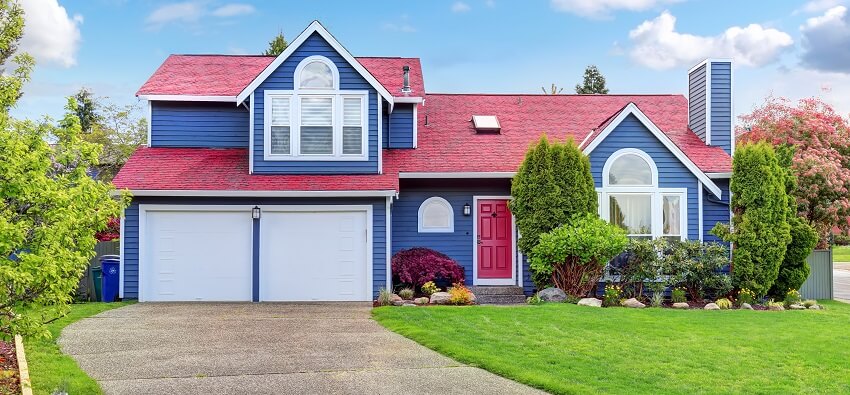 This could be an unpopular choice. But, blue is a color that contrasts red very well. So, if you want to opt for a more dramatic and striking look, you can pick blue as your exterior paint.
It might seem unusual, but the effect that this combination creates can truly make your house visually interesting.
Muted Yellow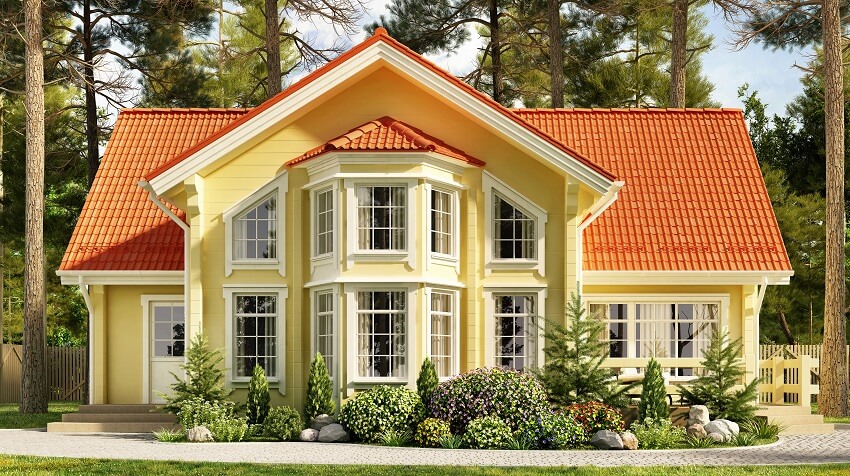 If you want to keep your outdoor ambiance energetic and joyful, you can always go for yellow. But, you have to make sure that it is muted.
Pure yellow can look really bright and saturated so it might hurt your eyes. Muted yellow paint color is a great way to increase the warmth of your house exterior.
Beige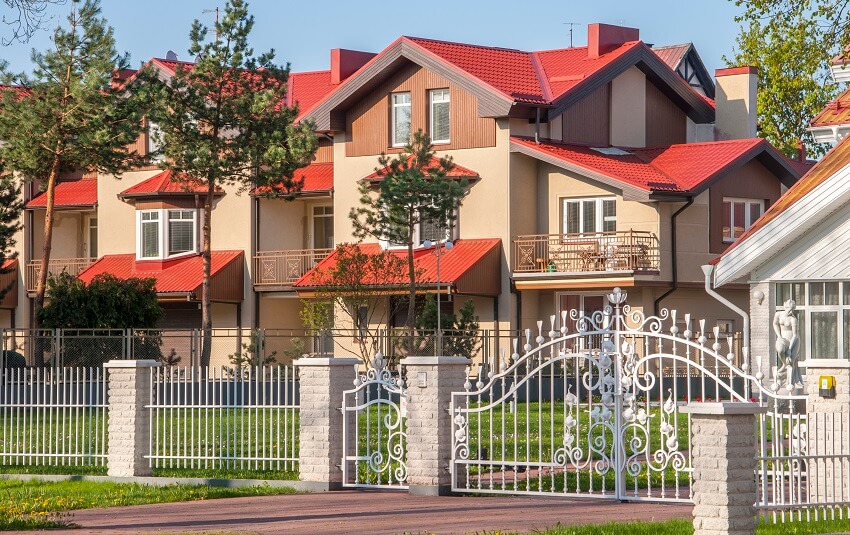 Do you prefer keeping it subtle? Then you can go for a neutral tone. Beige is one of the best neutral colors that go very well with your red roof.
The effect that it can give to your house with a red roof can generate a very interesting and eye-pleasing effect. It also creates a very neat and eye-refreshing appearance.
Red Roof House Colors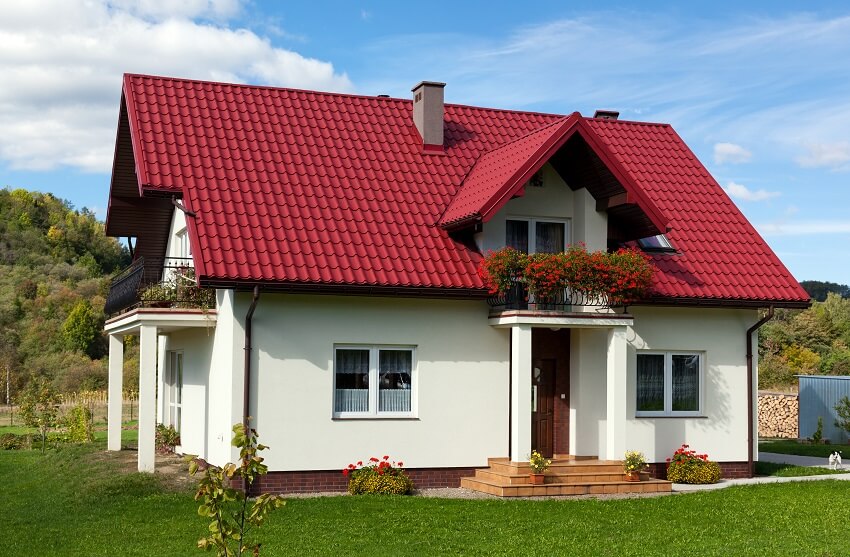 Here are some of the recommended brands, colors, and paint codes that you can use to match with your red roof:

Benjamin Moore White Diamond (OC-61). This option is under Benjamin Moore's Off-White color group. This white paint color is highly elegant and versatile. It can truly enhance the accents of a house, especially those houses that use a red roof.

Sherwin-Williams Evening Shadow (SW 7662). This gray paint is truly a sophisticated option to match your house with a red roof. It might appear dull on its own, but when it's partnered with a warm tone such as red, the effect would look very eye-pleasing and interesting.

Benjamin Moore Wilmington Tan (HC-34). This brown paint is under the Historic Color collection by Benjamin Moore. The effect that it can give to a house with a red roof is quite timeless and natural.
Behr Jay Bird (S490-5). This blue paint color is a great choice to contrast your red roof very well. It makes your house's exterior quite visually appealing and interesting.

Benjamin Moore Hawthorne Yellow (HC-4). This muted yellow paint color is one of the best yellow shades you can use with your red-roof house. It does not contain that much brightness and saturation but it makes your house look more sophisticated. The effect that it creates when it's combined with your red roof can be very inviting and energizing.

Sherwin-Williams Balanced Beige (SW 7037). This neutral paint color coordinates well with your red roof. When combined with red, the effect becomes well-balanced and subtle.
Visit our list of free paint color visualizer programs to help you find the ideal paint colors for your home.