Here's our shingle style house design guide covering popular architecture features & types.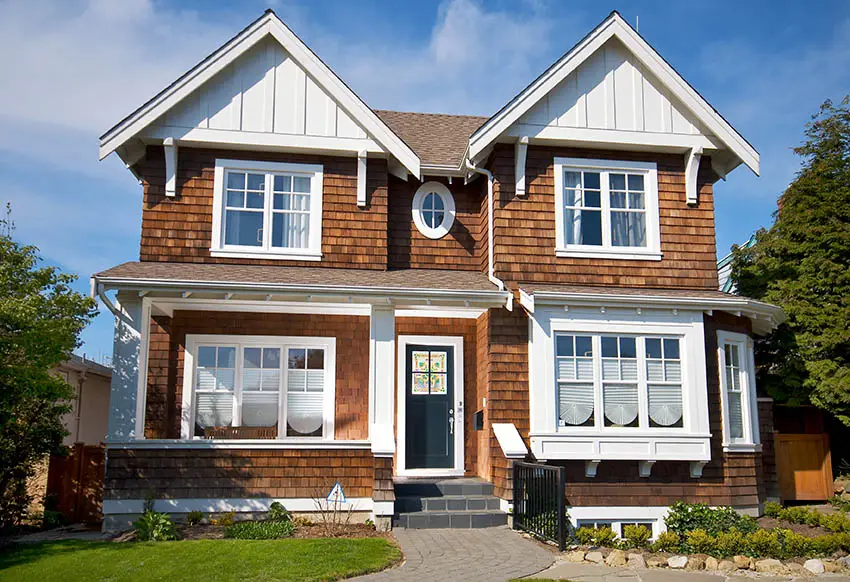 Known and designed for the wealthy in the United States, this "cottage" style home embarks its journey from New England and spans across the country up to the west coast.
Back in 1876 when the United States was celebrating the 100 years of independence, the Americans also glorified the newly added Shingle Style Architecture.
Reflecting a more relaxed and informal style of living, these homes thrived to become a highly imaginative yet comfortable solution for the population.
The beauty of blending with the existing panorama was foremost. These homes offered a seamless look amid the woods or the Countryside that well complemented the inside and out of the design style.
Rising from a stone foundation through the bedrock into an absolute casual styled wooden haven, these homes have paved the way as a characteristic American House Design Style that was later adopted by many.
These homes are quite popular in the Northeastern United States with their rustic-like qualities. It is doable to locate them where the Americans have become richer and the authentic American design style is well preached.
Symbolic of utmost honesty and purity, this design style doesn't incorporate over-the-top ornamentation or intricate exterior detailing. Rather a clean, monochrome, and seamless shingle covering on the entire façade of the house can be observed.
Shingle Style Architecture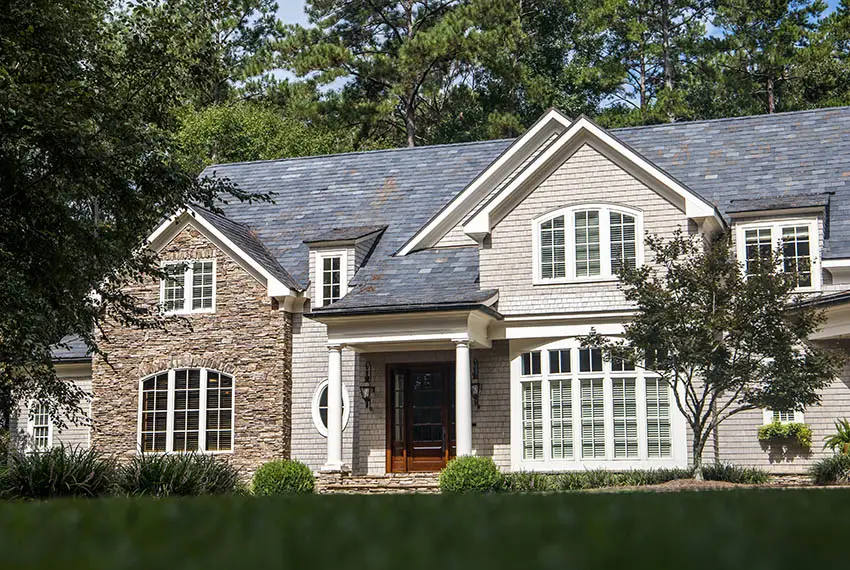 Borrowing noteworthy characteristics from the Victorian Style of Architecture, Shingle homes flaunt-off their open, casual, and unpretentious expressions that helped them distinguish from the other design styles.
Their rustic romanticism and the idea of individuality showcases an average American's way of lifestyle. From the roof to the wall openings, this home-style displays authentic characteristics that are definitely worth a glance. To name a few, let's have a look!
1. Asymmetrical Geometry
2. Extensive Wide Porches
3. Irregular Roof Lines
4. Brick Chimneys
5. Gables and Cross-Gables
6. Roof Overhangs
7. Tall Turrets
8. Half Towers
9. Stained Shingles
10. Wooden Structure
11. Palladian Windows
12. Cedar Shingles
13. Exterior Natural Color Palette
14. Steep Pitched Roofs
The complexity in designing and constructing a shingle style house is above that of an average home. Drawing inspiration from the Arts and Crafts Movement, the rambling structure of the house features shingles as their only ornamentations meanwhile, the interiors constitute an open floor space plan.
Features of a Shingle Style Home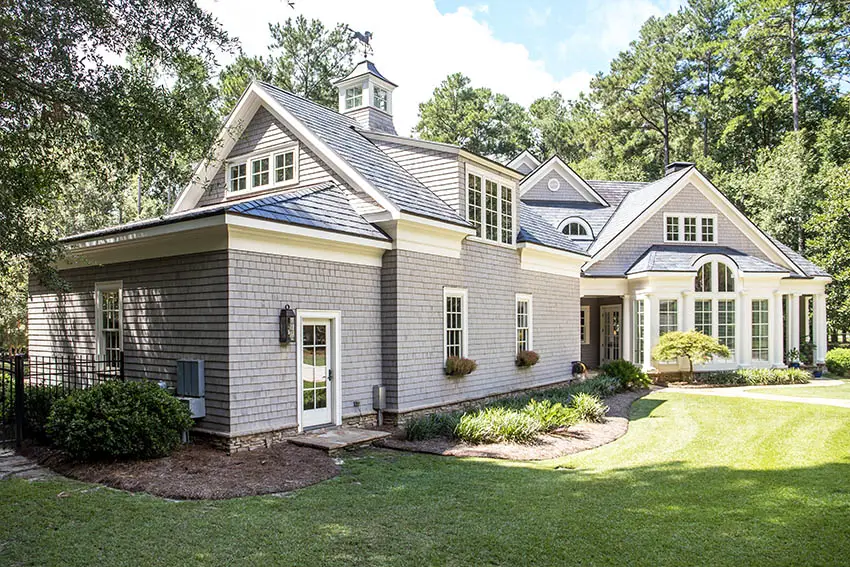 The best way to identify a Shingle Style home is the continuous use of wooden shingles on their facades and roofs. The irregular roof lines at different levels create a dramatic effect on the façade, sometimes extending on to the porches or roof overhangs.
These massive structures also pay a tribute to the Richardsonian Romanesque style that was quite popular at that time.
Differing itself from the other Victorian-Era homes, this style nullifies the extravagant ornamentations, pop decorations and intricate detailing. Instead, simplicity was worshiped.
It is exciting to know that not all shingle houses look alike. These homes take various forms and shapes, and even vary in the use of shingle material – surprising right? Well, not all shingle Houses have shingles! The façade cladding could either be wavy or patterned shingles, bricks, and even natural stone.
Shingle Style Roofs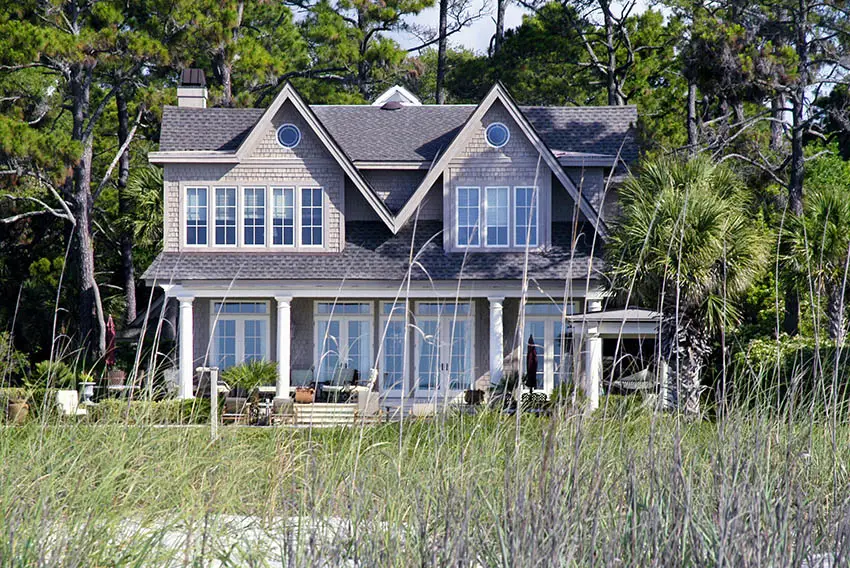 Shingle style believed in complex roofs. Several large, hipped roofs gambled and cross-gambled roofs, at different levels would together blend to create an aesthetical-yet-complex structure.
It is quite likely to identify a few dormers on the sides with an artistic brick chimney protruding from the house. The overall roof is steep enough to let go of the snow and rain and further provide mezzanines and double-heightened spaces in the interiors.
Dormers were mostly paired with hipped roofs, polygonal shapes double-hung windows, shed roofs and curvy tops.
Shingle Style Home Facade Design
The facades of a shingle style house displays various massive windows with a single-pane sash at the bottom meanwhile, double-sash in the upper floors.
Featuring Palladian windows, it's quite likely to observe asymmetrical rows of two, three and four windows aligned strategically.
In more complex structures, decorated square, circular and rectangular transoms in bay windows were considered as one of the characteristic elements that extend further up to three and four stories.
Another noteworthy façade element was the use of a mighty tower. Even though it's not a compulsion, but more than one-third of the shingle Homes feature a tower that is carved out of the existing roof to further add a visual complexity to the structure.
Leading to the interiors of the home, the wide porches add the factor of "casual" and "informal" living to the house.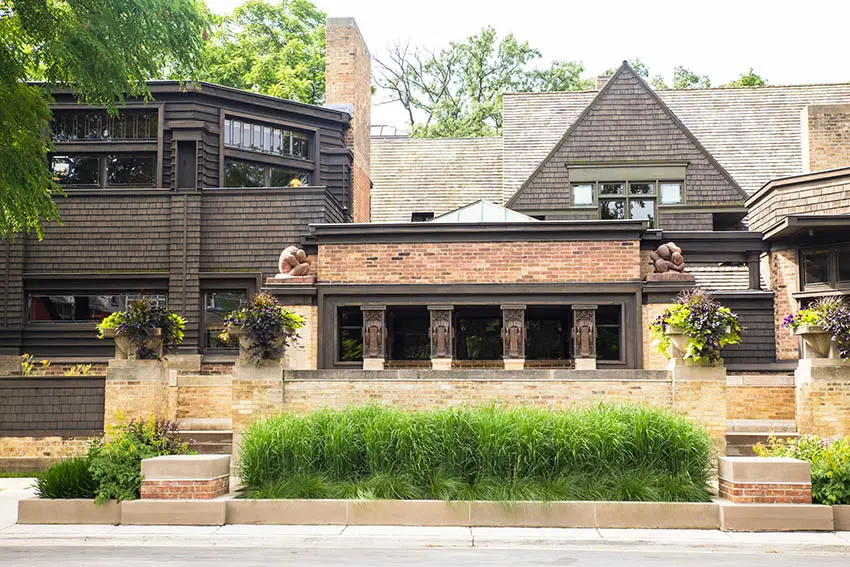 These porches are mostly decorated with classical, single-clad columns with stone highlights. The home of Frank Lloyd Wright in Oak Park, Illinois is a classic example of shingle Style Homes.
Types of Shingle Style Homes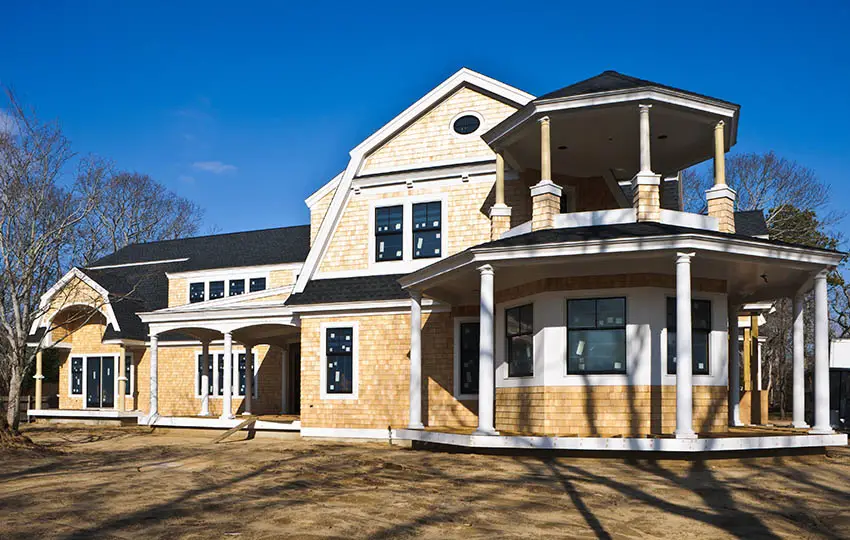 Shingle Style Houses are different for every design. There are some characteristics that could vary one from the other – and this is quite a common feature of these homes.
However, depending on the roof style, wall cladding materials, overhangs, structural form, and the height there are 8 different types of shingle style home designs.
8 types of styles for an average shingle house:
1. Stick Style
2. Folk
3. Shingle
4. Territorial
5. Queen Anne
6. American Renaissance
7. Richardsonian Romanesque
8. Second Empire
Many Shingle homes differ in exterior building materials. Natural materials like brick, stone and wood are used for the exterior. The roof and walls overall create a seamless look with the use of wood shingles and stone cladded pillars and columns.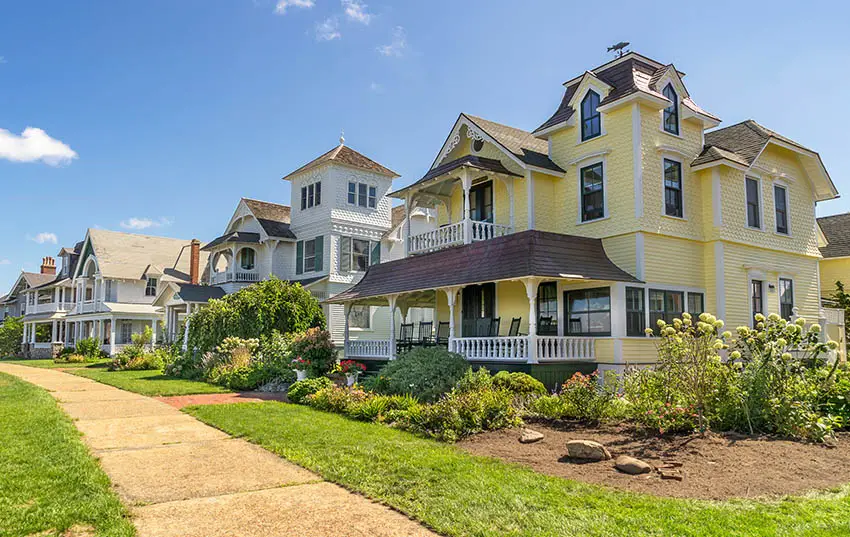 These homes seem to hug the foundation and rise like a massive piece of structure that indicated the beauty of the past.
Shingle homes have proudly defined a stratum across the country with a number of builders and homeowners preferring this design style over the others.
It's inviting porches, dramatic facades, neutral exterior colors, and historical importance makes it an exquisite example of house architectural style.
Deeply rooted in authentic American Colonial architecture style while reviving its glory – Shingle Style Homes have always been an inspiration across the country with a symbol of respect and purity indeed.
For more related ideas visit our page on Cape Cod house design.