Here's a beautiful shingle style house plan design with 2 stories, basement, 4 car garage with 4 bedrooms and 4 1/2 bathrooms.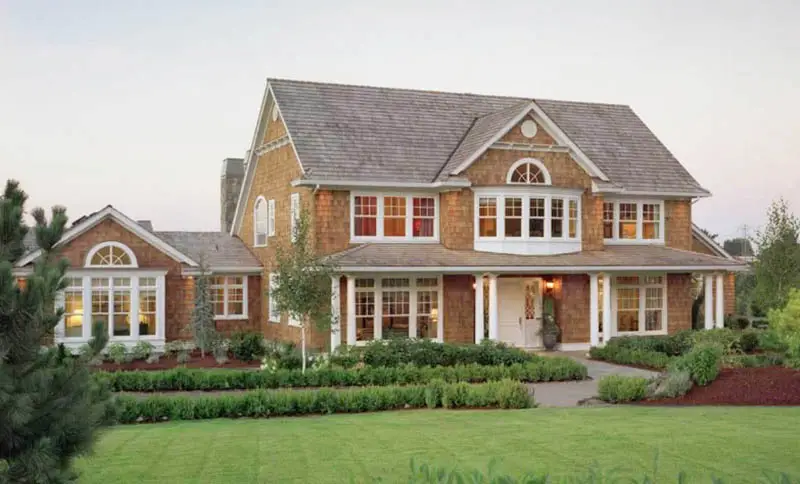 Like straight from the glossy pages of a home magazine, this brilliantly handsome modern Shingle-style home is made to capture that New England charm, a design that's enduring as its structure.
An epitome of strength and beauty, the design has 4,790 square feet of modern luxury on every inch of its rustic air. From its earthen palette and materials, it blends well with its natural settings while having that romantic flair of the Palladian elegance.
It's the perfect home to settle in and with its homey atmosphere, it's not hard to switch into a relaxed state of mind.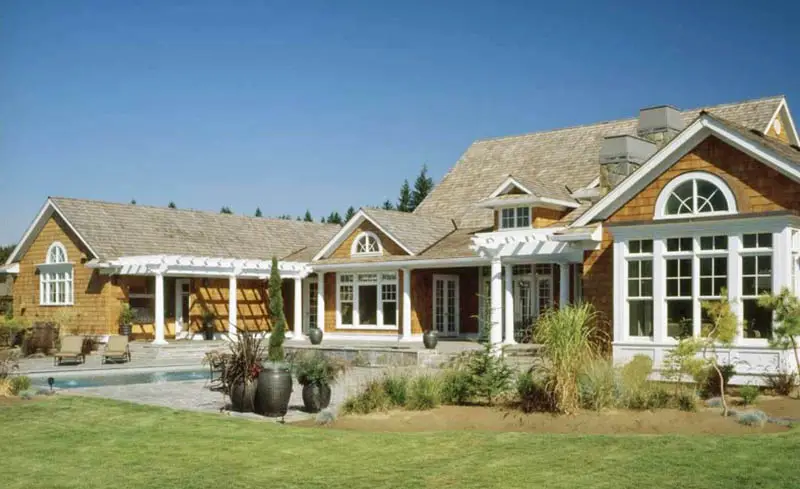 Harmonious and well-balanced as its exterior, the 4-bedroom property introduces a well-thought plan and configuration of spaces. Where communal areas are strategically placed at its core while private rooms are zoned on one wing for efficiency and comfort.
Buy Shingle Style House Plan 69079AM At This Link
At its heart is the great room that flows directly to a spacious veranda. The vast outdoor area offers you a relaxing personal space that's flexible for outdoor activities with family or friends. In addition to the outdoor fireplace is a barbecue porch easily accessed from the kitchen, it's another reason to enjoy this open area.
Designed to entertain in style, a wine cellar, and large pantry is inserted between the kitchen and dining area giving access and convenience to those busy nights of entertaining. Or, conclude that business meeting with a toast in the home bar access from the office and great room.
Aside from the classy entertainment features, the living spaces are equally indulging. The master bedroom and guest room both offer optimum privacy, each with its gorgeous full baths. The spacious master suite retreat has a his and hers bathroom topped with a large walk-in closet making every morning prep a breeze and ease.
For the gearheads of the family, they'll fall head over hills with the 3-car garage that has an additional storage room and shop.
As you walk up towards the upper level, you'll get a dramatic overview of the 32 feet vaulted ceiling of the great room. The overlooking balcony converges the two-bedroom suites and a media/playroom.
The set-up is perfect for your kids and creates a private space to play and study. A dream bedroom for any child, each sleeping hub has its full bathroom and a walk-in closet. While the adjacent media room is a versatile space where they can play instruments or install the latest media device.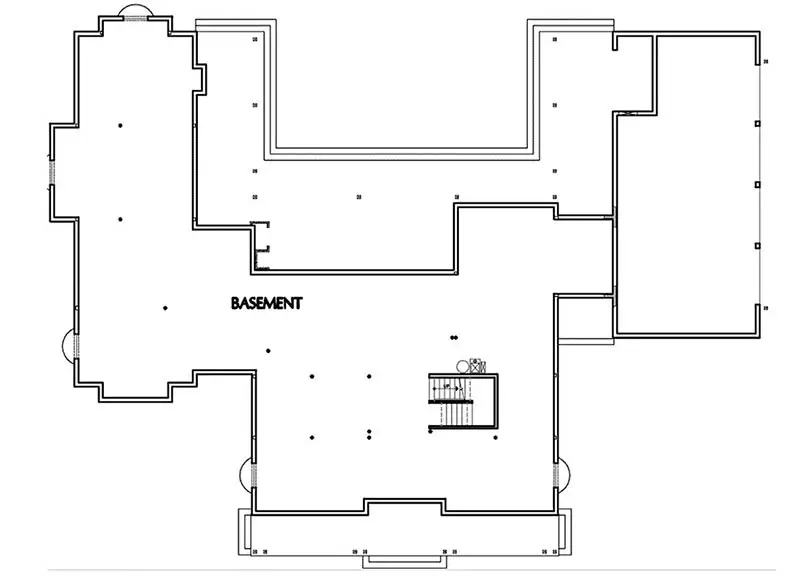 Thinking about the future, the basement is designed for expansion and versatility. A game room, an extra bedroom, or a men's den are only a few great basement ideas you can incorporate as your needs change.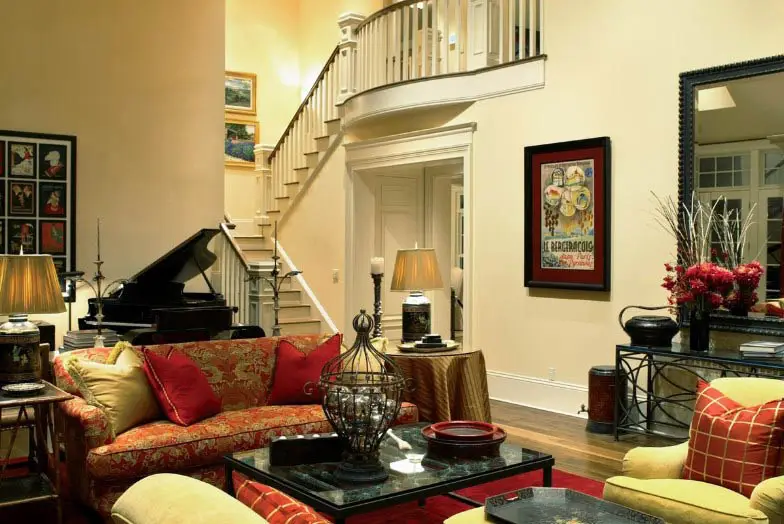 The great room is indeed a perfect space to converge and get lost in conversations. Inject some transitional items such as oriental pieces and patterned fabrics to add personality to your communal space.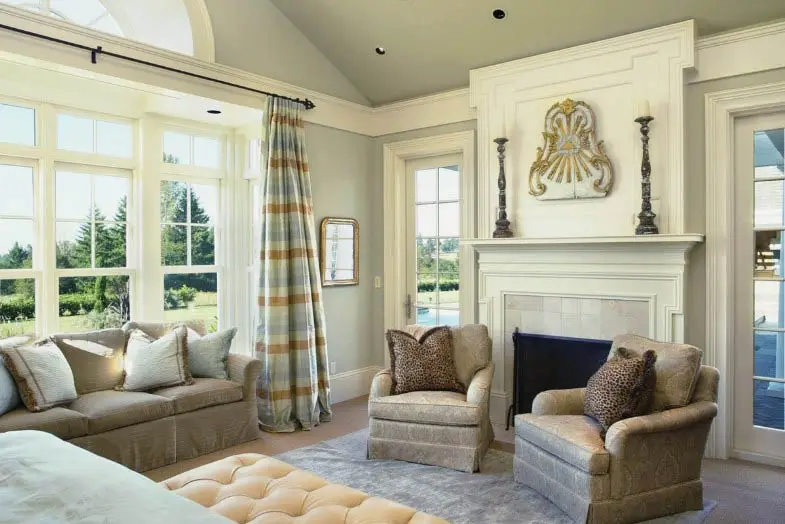 Architecturally rich, you'll appreciate the refined details of the space. French windows that allow picturesque outdoor scenes and natural light seeping through further brightening the soft colored walls.
The superbly crafted trimmings and the homey look of the mantelpiece creates an additional visual allure to the space. But the large Palladian windows are definitely the eye-catcher of the room, where its white frames outline the traditional charm of the classical home.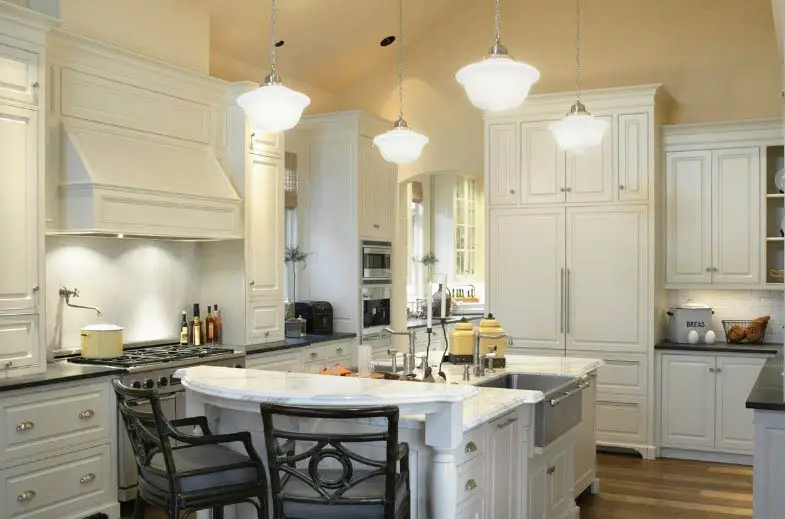 Around the sweet cozy country kitchen are whitewashed shakers cabinets detailed yet refined to keep a simple homey look. The centralized layout offers efficiency and an opportunity to get attractive statement pendant lights to brighten up the space and act as your focal point.
Aside from the plentiful storage, no more scraping off valuable space for your wine and spirit collection as the plan offers a butler's pantry where you can stash away your liquor and install a temperature-controlled wine cabinet.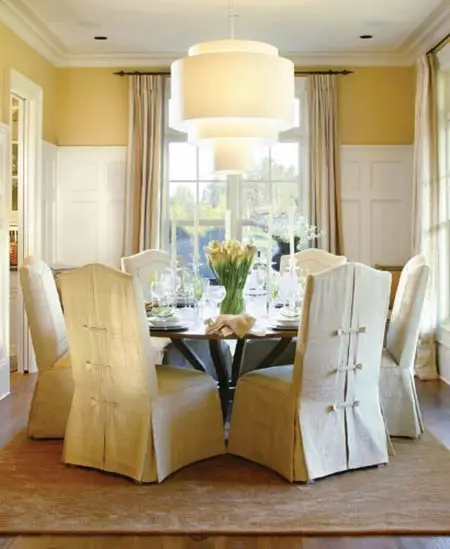 When you're not enjoying grab bites from the kitchen, this formal dining area is the perfect spot for your special occasions. Slipcovered dining room chairs can help you match fabrics and the color palette of the design.
Like most of its rooms, the dining area though spacious, its scale and proportion create an intimate area where it draws people together while the natural light pouring through makes it more inviting.
Incorporated in the dining area is a built-in hutch where you can add homey décor such as apothecary jars stacked books or showcase your artwork collection. A great inclusion to make your space more personalized.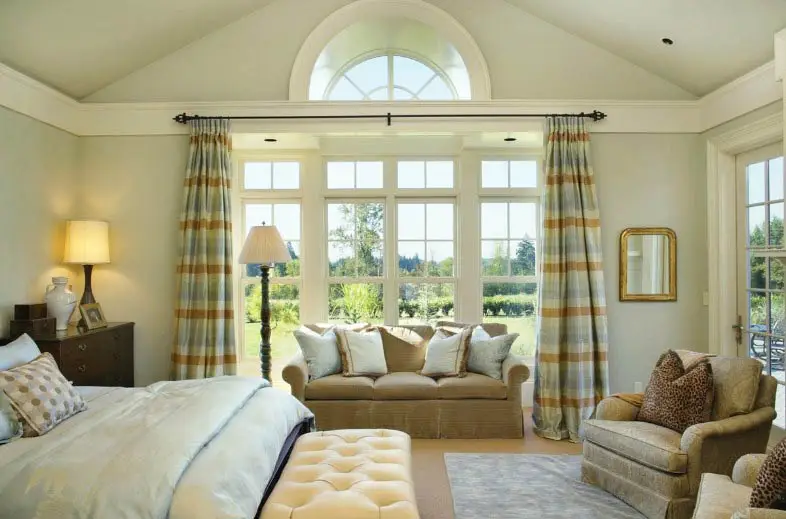 The old charm of the classics is timeless and always makes way to our contemporary homes and the reason for it is it is simply unrivaled with its homey allure. Bedrooms enjoy the charming Palladian and French windows that accentuate walls beautifully.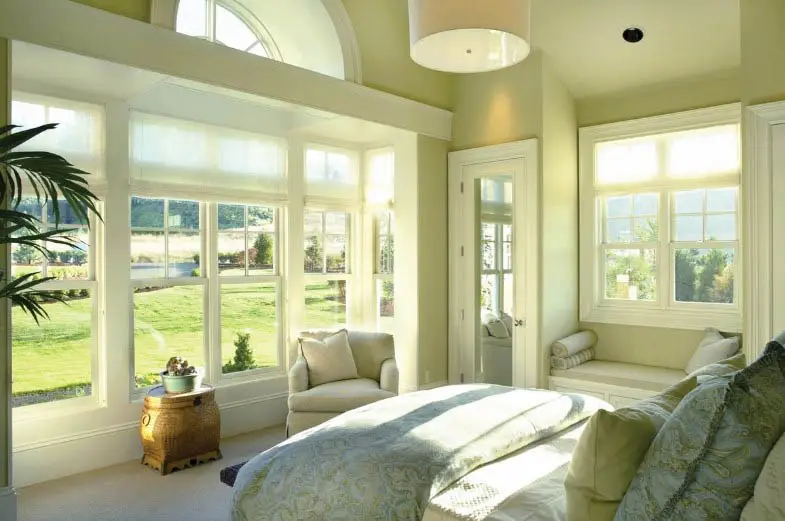 Spend your sunny Saturdays with some domestic bliss with this beautiful and efficient laundry and mudroom.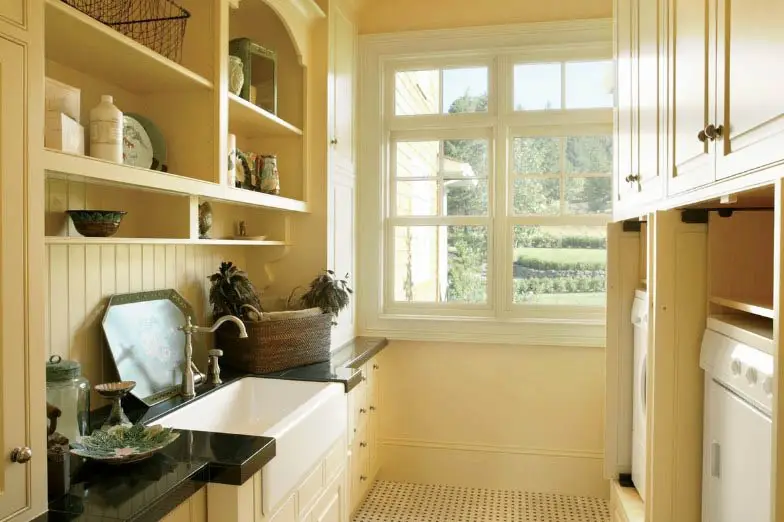 This laundry room is furnished with an apron sink and built-in cabinets for the washer and dryer. There's no gloomy space in this Shingle-style home, as this quaint space again lets in the energizing nature's light drench through the room.
Every girl's dream, this spa-like bathroom is so inviting looking on its gorgeous architecture and details is already relaxing.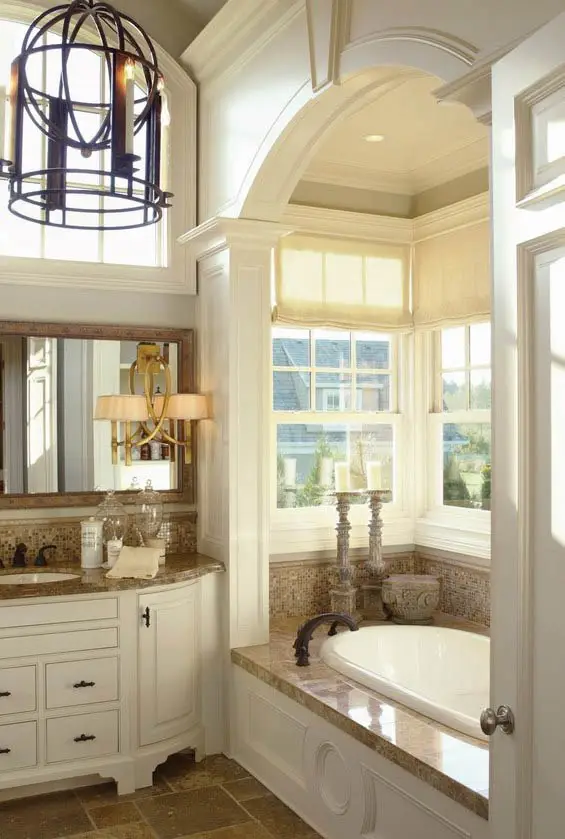 While every bedroom has its own full bathroom, the common spaces are catered by an easily accessible powder room and wardrobe closet just as you out from the foyer.
You can warm up the space with texture-rich tiles or add showcase pieces such as an opulent vanity and interesting lighting fixtures to add interest. Keeping up with the light-filled rooms, add white marble tiles and other prime materials to bring out that refined style to your bathrooms.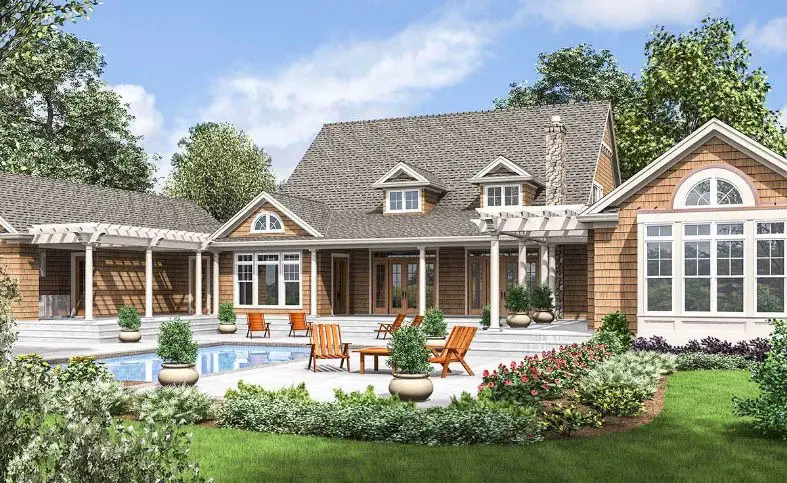 Like its façade, the rear exterior utilizes the charm of the roughhewn siding creating a cozy and relaxing setting. Add a pool to wrap around your spacious veranda and go with the Venetian air by adding attractive pergolas and trellises stretching out through the outdoors.
This Rambling and Rustic Shingle Style House Plan offers so much more than spaciousness as it exudes character and pristine design fitting for either your vacation or your next full-time home. What sets this gorgeous home apart is its wisely planned allocation of spaces and has the right amount of allure and intimacy that every family will definitely enjoy for many years to come.
Rambling And Rustic Shingle Style House Plan – Buy Plan 69079AM At This Link