Below is our guide to staggered kitchen cabinets including their comparison to straight cabinets and some tips and factors to consider when designing your kitchen cabinet layouts.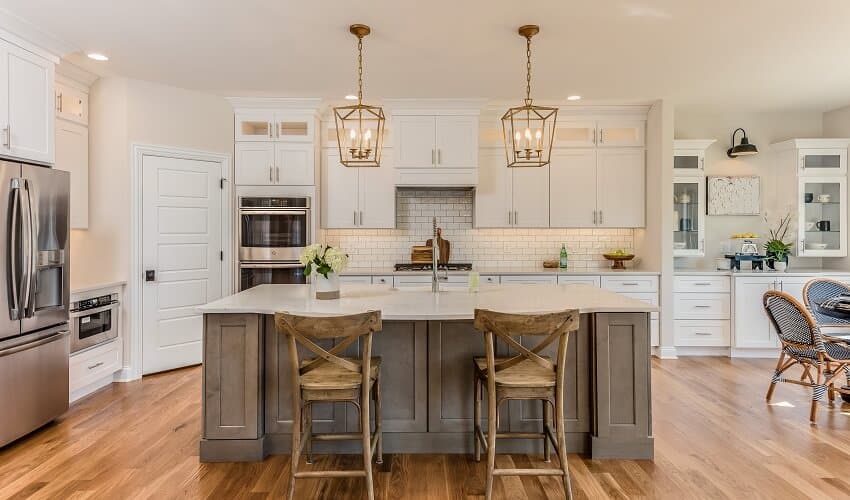 In the kitchen, you have two sets of cabinets; upper cabinets and lower cabinets. In many kitchens, these cabinets are uniform in size, giving the impression that the cabinets are one continuous block.
In reality, cabinets can be purchased independently. You can mix and match cabinets of different heights and depths in your kitchen to achieve the storage you need and the style you crave.
What Are Staggered Cabinets In The Kitchen?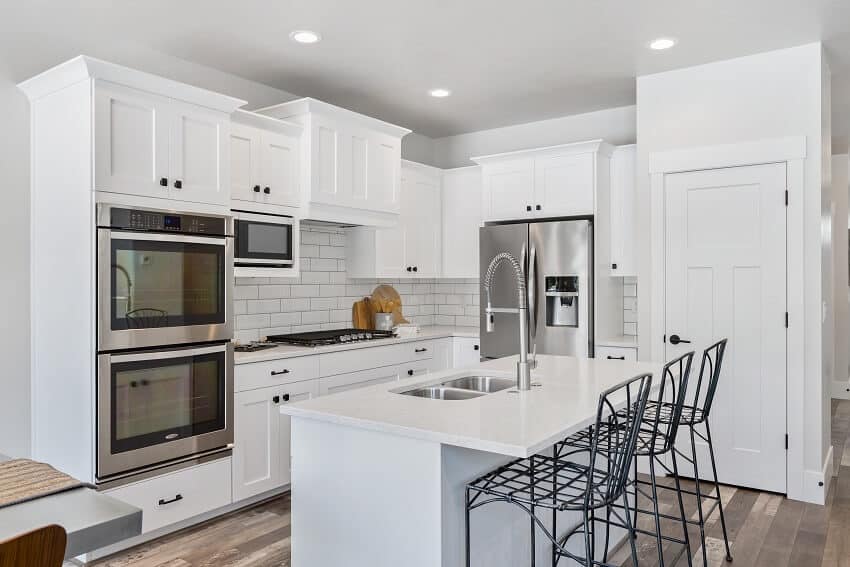 'Staggered' kitchen cabinets are cabinets in the same area or room, of the same style and color, but that are not uniform in size.
Staggered is an umbrella term that could include a number of different cabinet configurations. The most common way to stagger kitchen cabinets is to intersperse taller and shorter kitchen cabinets.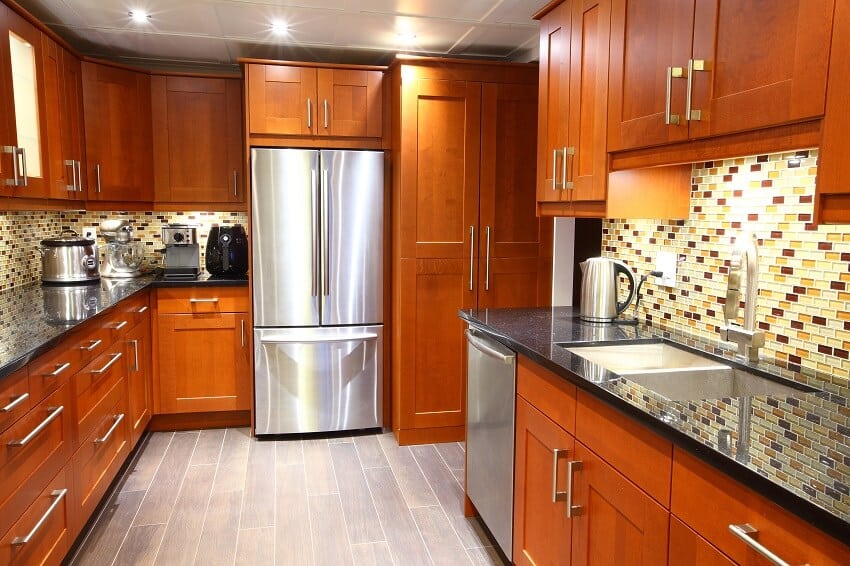 The cabinets might alternate, creating a turreted look at the top of your kitchen. Or, taller cabinets can anchor the design, with smaller cabinets connecting them.
Staggered cabinets are an opportunity to inject some personality and style into your kitchen without adding too much additional cost.
Kitchen Cabinets With Different Height Design Tips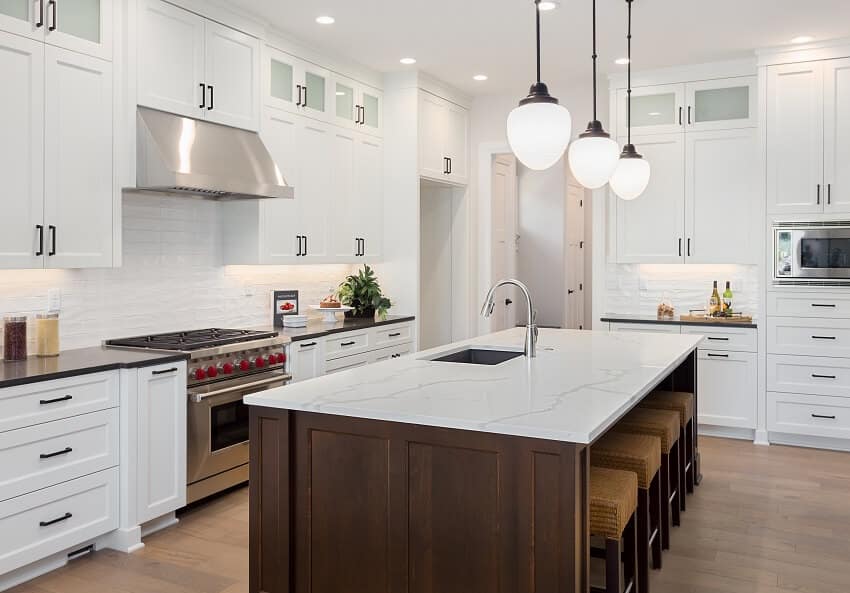 If you're designing a kitchen, take the opportunity to consider what cabinet heights will work best for you and your design goals.
From a design perspective, you want your eyes to travel easily from one corner of the room to another. Using cabinets with different heights in your kitchen can help guide the eye rather than interrupting your gaze.
A floor-to-ceiling kitchen cabinet can be a striking design feature and a source of valuable storage space. Full-length kitchen cabinets can contain refrigerators and freezers, simplifying the look of your kitchen.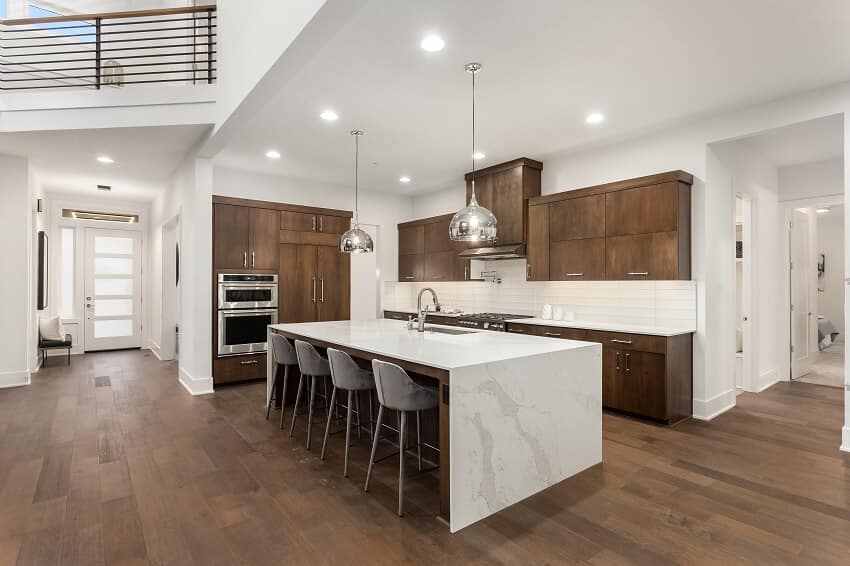 For small spaces, place tall cabinets in the corners of the room. This avoids breaking up the room too much, making it feel smaller and more crowded.
Shorter cabinets also have their use. Consider installing a half cabinet with a cushion on top as a place for your guests to sit and chat while you cook. Small cabinets can also be useful to connect one bank of upper cabinets to another over, meeting over a stove hood.
Staggered Cabinets Vs Straight
'Straight' is a term used to refer to upper cabinets that are all the same height and depth, hung at the same height. The top and bottom of the cabinets form two parallel lines.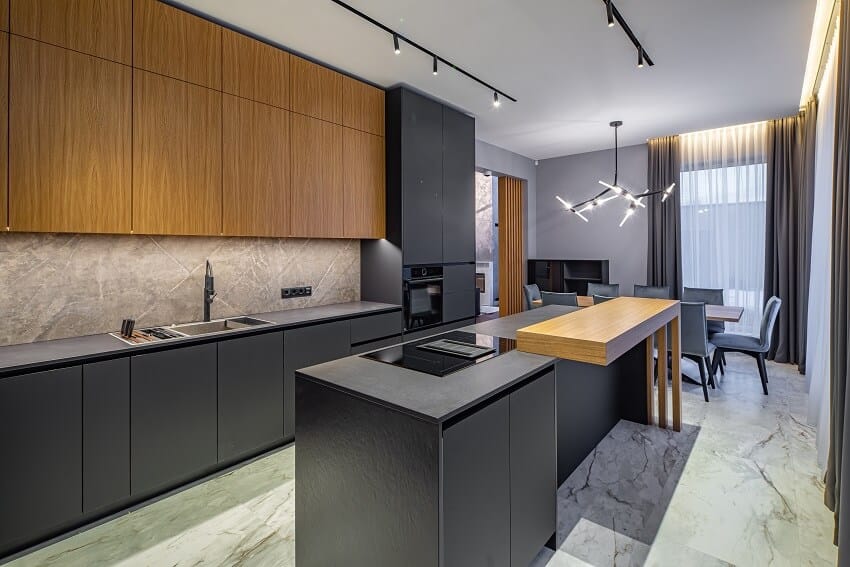 This design choice has advantages. It is a clean, minimalistic style, with the emphasis on function. But it is not the only design option you have when installing new kitchen cabinets.
Any cabinet arrangement that is not straight can be called 'staggered'. Staggered cabinets aren't bound by the expectation of uniformity.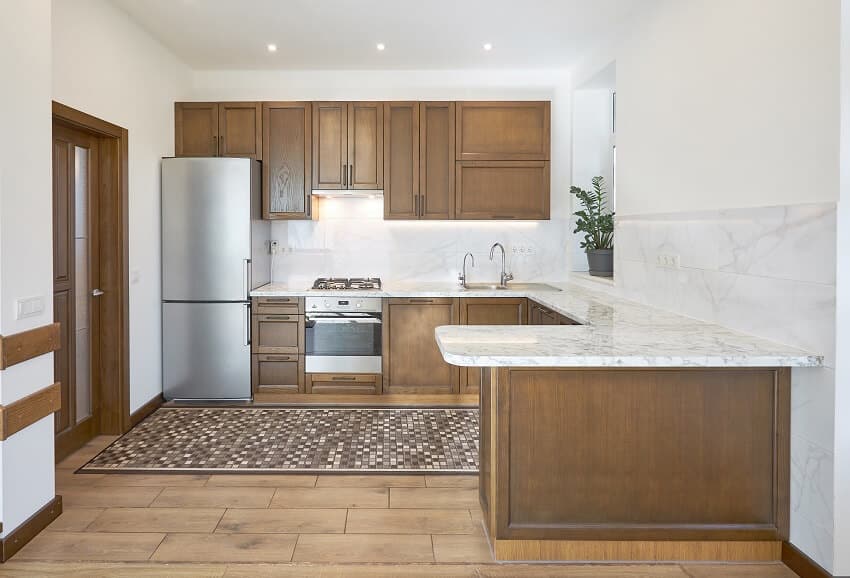 The design above has a smaller cabinet above the stove top to allow more room for using large pots and to avoid splashes from hitting the wood surfaces.
If you want to call attention to your tall ceilings, but don't want to overwhelm the space with cabinetry, scattering in a few taller cabinets could be the answer you've been looking for.
Maybe you want to hide your refrigerator behind a faux cabinet door. You could integrate it into the room by sandwiching it with tall cabinets.
While straight cabinets have their place, staggering cabinets is a fun and easy way to customize your space. The price difference between cabinet heights is usually fairly low, so staggered kitchen cabinets are a great way to stretch your budget and meet your design goals.
Do Upper And Lower Kitchen Cabinets Have To Line Up?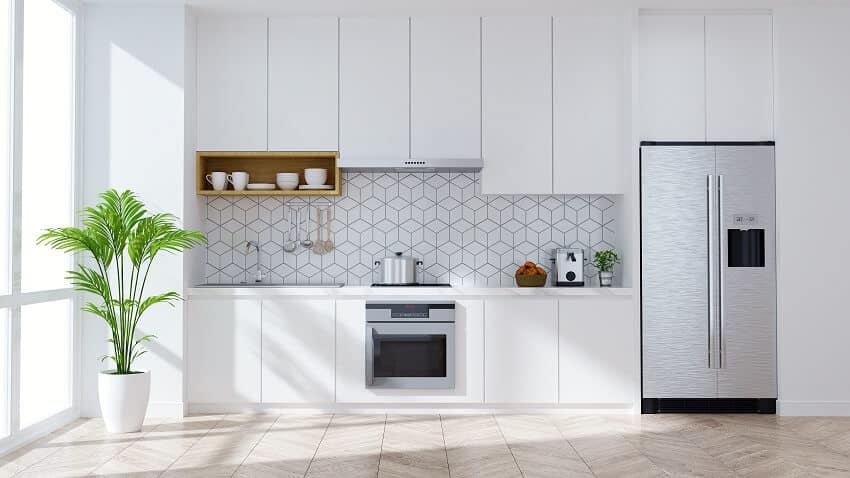 Upper and lower kitchen cabinets do not have to line up. The choice is purely an aesthetic one. There are, however, a few things to keep in mind when designing cabinet layout.
• Prioritize utility. Your kitchen is primarily a work area. Make sure you have adequate counter space for the preparation and cleaning that needs to happen in the space. To qualify as a work area, the countertop must protrude further into the room than the cabinets above it.
• Avoid stranded upper cabinets. Open cabinet doors are prime targets for knocking your head. Countertops, sinks, and stoves protect us somewhat from this hazard by steering us away from the upper cabinets.
A bank of upper cabinets with nothing underneath them not only looks odd, but you're also virtually guaranteed to hit your head.
• Keep it purposeful. The standard heights for upper cabinets are 12, 15, 18, 24, 30, 36, and 42 inches. Cabinets should differ at least three inches in their height to create a purposefully staggered look.
Greater differences in height will create a more dramatic look, but too big of a difference can look awkward. Know more about kitchen cabinet dimensions here.
• Try it on paper. Pull out some graph paper and make a mock-up of your kitchen. Cut 'cabinets' out of the adhesive part of a sticky note so you can move them around on your paper plan to see different configurations.
Should Kitchen Cabinets Be Different Heights?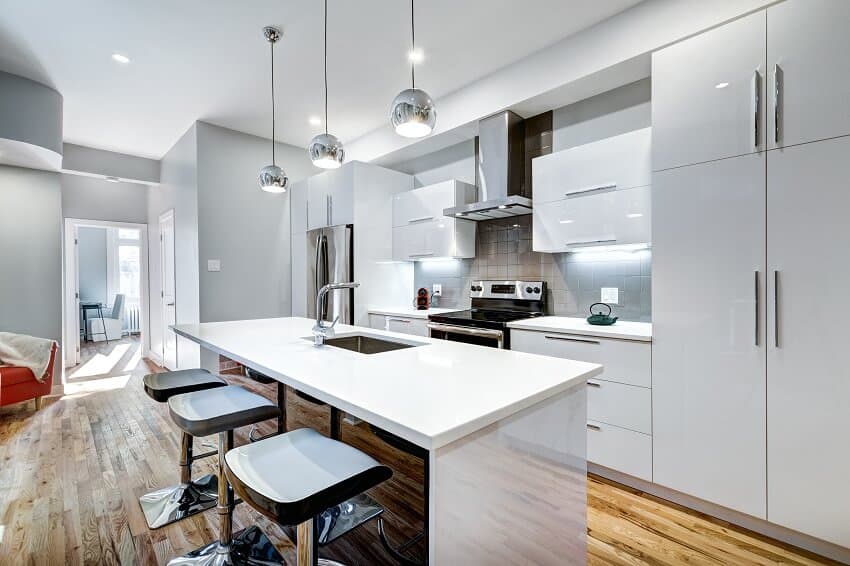 Kitchen cabinets can absolutely be different heights. Many people prefer the look of irregularly sized or staggered cabinets. Opening up to different height options may suggest different design options for your kitchen.
Mixing taller and shorter upper cabinets together can add interest to kitchens that don't have many architectural elements. Lower cabinets of different heights can be used to create spaces for work or gathering.
There's nothing wrong with a perfectly rectangular bank of cabinets. It can feel a bit utilitarian or impersonal, though, and many people successfully personalize their kitchen layout using cabinets of different heights.
Are Stagger Design Cabinets Out of Style?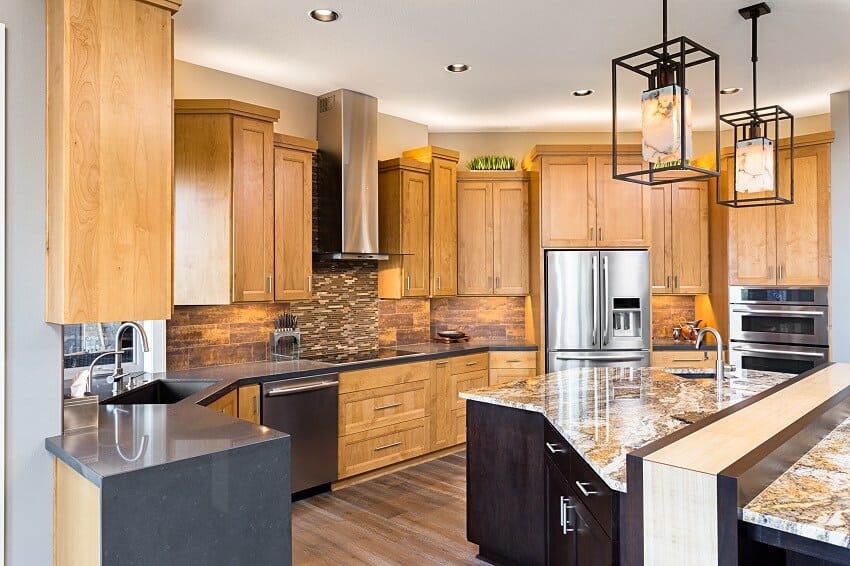 Staggered cabinets, like all cabinet trends, ebb and flow in terms of popularity. This style of cabinet design hasn't been getting much attention in recent years, either positive or negative.
While staggered cabinets may not be the next hot design trend, neither are they hopelessly outdated. Check out more styles of kitchen cabinets here.
'Staggered' is more like a method of thinking about cabinet design than a specific style. Many people take for granted that cabinets must be a uniform size, and installed at a uniform height, but this isn't a hard design rule.
When designing find pictures of staggered cabinets and start thinking about the features of your own kitchen and how they may be placed in your space.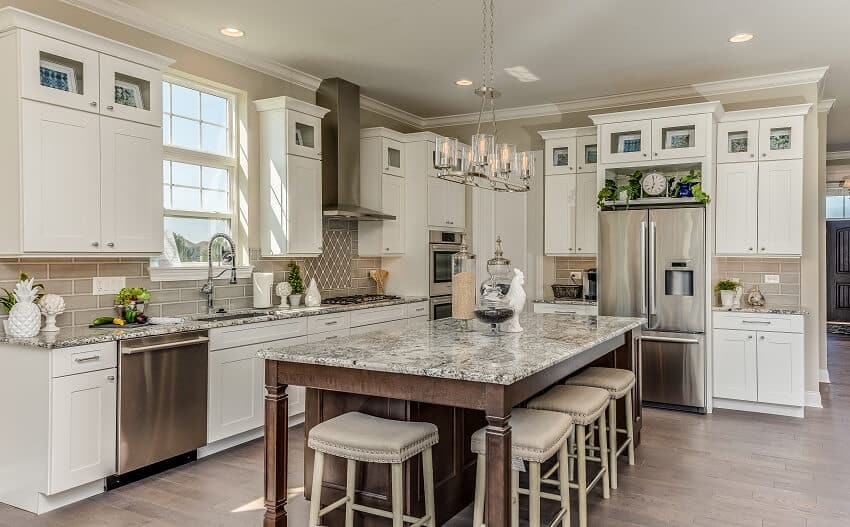 Staggering cabinets gives you an opportunity to work with the unique architectural features of your kitchen, and design a space that works for you and the other inhabitants of your home. Comfort and customization never go out of style.
For more related content, visit our guide to the types of kitchen cabinet materials to help you design your kitchen project plans.