In this guide we share the types of white oak kitchen cabinets including what are they, differences from oak wood and white oak cabinet designs.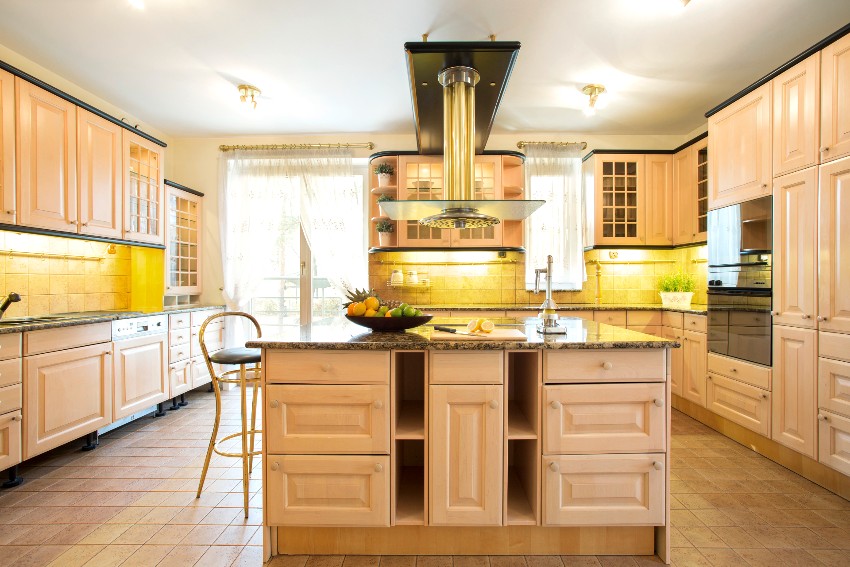 Classically beautiful, oak is far more versatile and could be a great option for modern kitchens where it can replace white-painted cabinets to add a little extra warmth. White oak cabinets deliver many of the practical benefits associated with the natural characteristics of oak wood. It offers an aesthetic that is more than trendy as it is by itself is visually pleasing with its clean, contemporary look.
What Are White Oak Cabinets?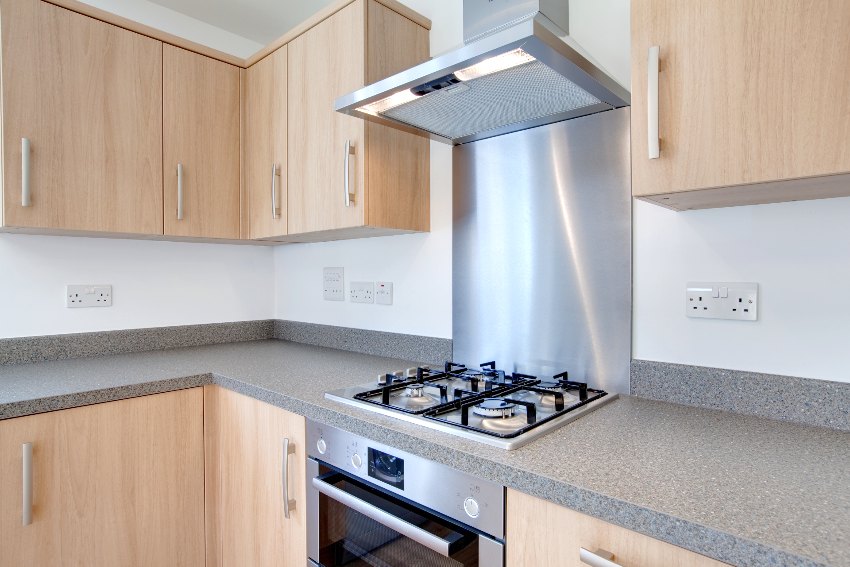 White oak is more durable than many other types of hardwood, which makes it a top choice for heavily used kitchens. White oak can retain a sophisticated look without losing its durability.
White oak has beautiful grain patterns that were flat cut which produces large cathedral grain patterns. Today, new styles of white oak are becoming popular such as the quarter sawn and rift cut milling that changes the board look from cathedrals to straight grain.
White oak's milder hues pairs well as contrast to dark shades of flooring, countertops, and tile to form an effortlessly trendy kitchen setting. Incorporating contrasting elements brings dimension to your kitchen.
There are a variety of wood stains that can be applied to give white oak kitchen cabinets a customized look and can also be incorporated in two-tone kitchens.
As the grain on white oak cabinets is visible through stains, it is still best to go for natural, glazed, or varnished oak cabinets to better show-off the natural texture of the wood.
North American white oak variety are in highest demand and the most popular is the white oak from Appalachia. It has the distinction of consistency, strength, and durability.
Is White Oak Good For Cabinets?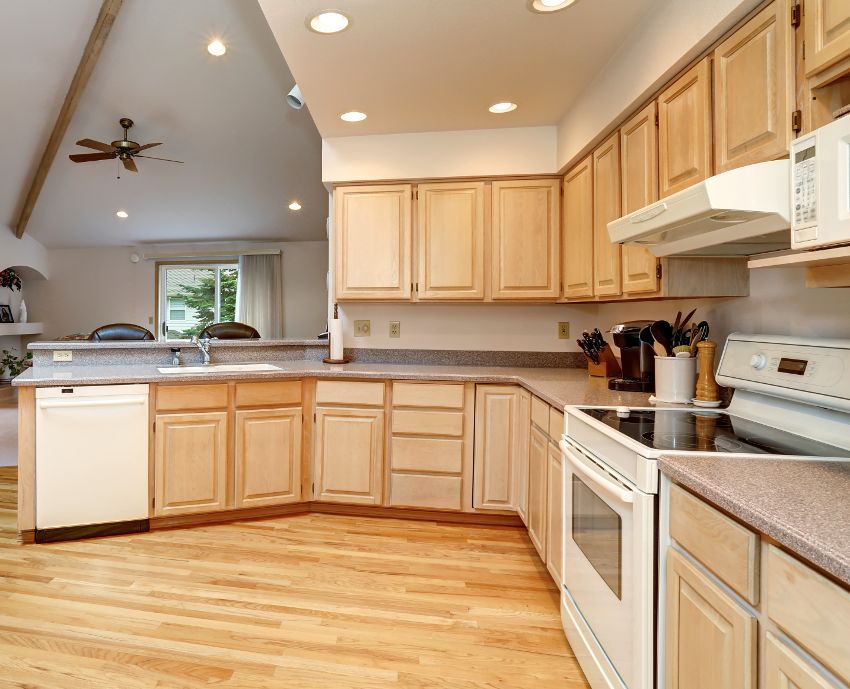 With white oak cabinets, you can expect a sharp, sophisticated look and exceptional wear-resistant that prevents dents, chips, or scratches. Durability is one of the most desirable aspects of white oak cabinets.
Unlike other hardwoods, white oak doesn't soak on water, instead it dispels water making white oak cabinets sleek and sharp. It is also rot resistant since it contains tannic acid which repels insects.
White oak has trendy color range including wheat to greenish and brownish tones that makes white oak cabinets fall perfectly in the color scheme and adds sharpness in a modern kitchen.
White oak cabinets offer balance with countless other design elements in your kitchen and other interior spaces including sleek stone countertops, brass light fixtures and matte black finishes.
White Oak Hardness (Janka Score)
The Janka scale ranks different hardwoods based on their durability and determines the resistance to dents, scratches, water damage, insect infestation and warping of a particular hardwood. The Janka test measures the force required to drive in a .444-inch steel ball into the wood by half its diameter.
It is also a good indicator of how hard a specie is to be manufactured. Boasting a hardness score of 1360 out of 4000, white oak is in the medium range of American hardwoods and the most durable of all the hardwoods.
What Is The Difference Between Oak And White Oak?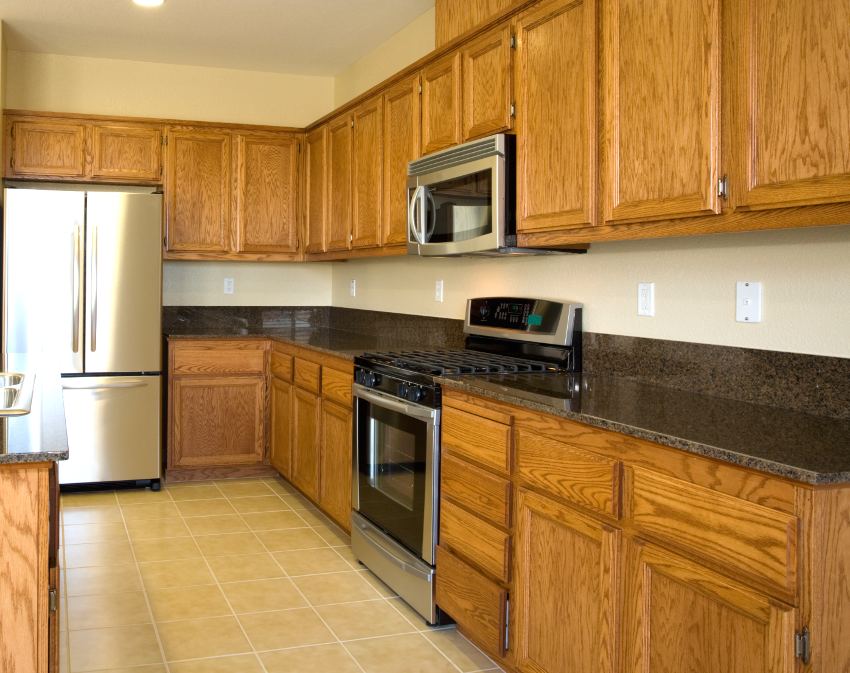 Oak is one of the most popular woods used in furniture and flooring in the US due to its high durability and easy to work with. Oak is one of the most efficient woods to burn due to the high BTU content. The grain pattern of oak wood makes it unique and at the same time one of the easier species to recognize.
The most common and popular choice of species are red and white oak. In order to easily identify red oak from white oak lumber, check the ends of the oak boards.
Red oak will have open pores found inside the growth rings on the end of the board, while the white oak, will have pores that are plugged with tyloses, or balloon-like swellings.
White oak has a clear advantage when it comes to durability due to its moisture and rot-resistant quality. This makes white oak viable for cabinets that may be subject to water or condensation.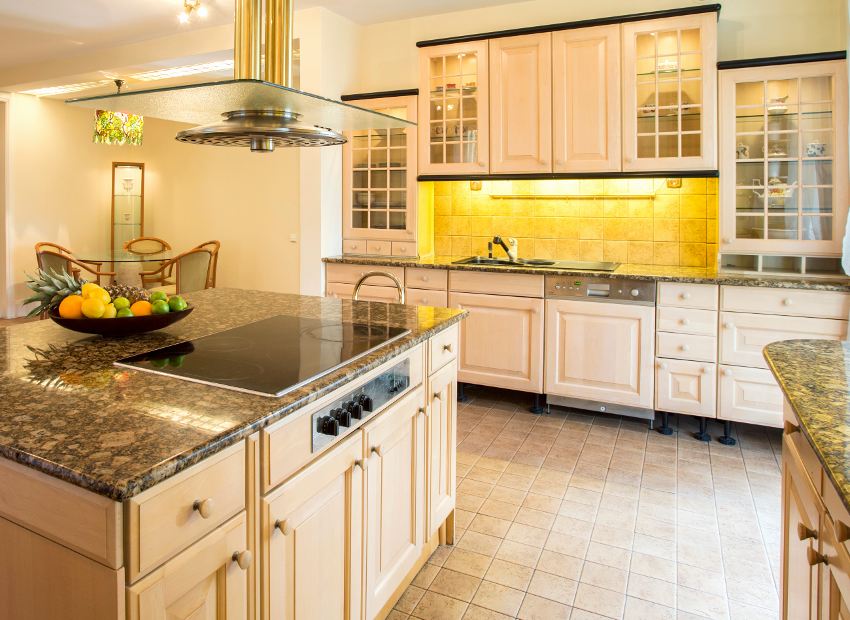 White oak is slightly harder than red oak according to the Janka hardness scale white oak has a score of 1360 while red oak is at 1290. White oak and red oak's hardness scores are solid enough, making both lumber a good choice for kitchen cabinets.
When it comes to staining, both red and white oak take stain easily. White oak is better suited with gray and lighter hues of stains, while using a medium to dark color will suit red oak due to its pinkish undertone.
White oak also has a unique ray fleck pattern often times called "tiger oak" when perfectly quartersawn, while red oak also has visible ray fleck patterns on its quartersawn surfaces, but it's not the same size as that of the white oak. Red oak has a much stronger graining than white oak that makes it appear smoother as well as helping hide scratches and dents.
In modern home styles, white oak offers more of a gentle hue and wood itself has as straight, even grain with clean lines that compliments well with the neutral style of a modern interior design.
On the other hand, the deep coloring of red oak is one factor that makes red oak the best choice for traditional homes. Red oak offers warmth that blends into the other classic and vintage elements of a traditional home.
The farmhouse design style that is characterized by practicality and comfort, which offers the best aspects of both the modern and traditional styles. It takes certain rustic beauty of a traditional design, and combines it with some tasteful, simplistic features of the modern design. Both red oak and white oak are good wood material to use in a farmhouse design.
Due to its strong wood graining, the red oak hides scratches exceptionally well and prides itself on being a versatile color that fits several different aesthetics. At the same time, white oak is easier to stain to personal taste, allowing you to dial in the colors and stains of your cabinets more precisely.
Are White Oak Kitchen Cabinets Expensive?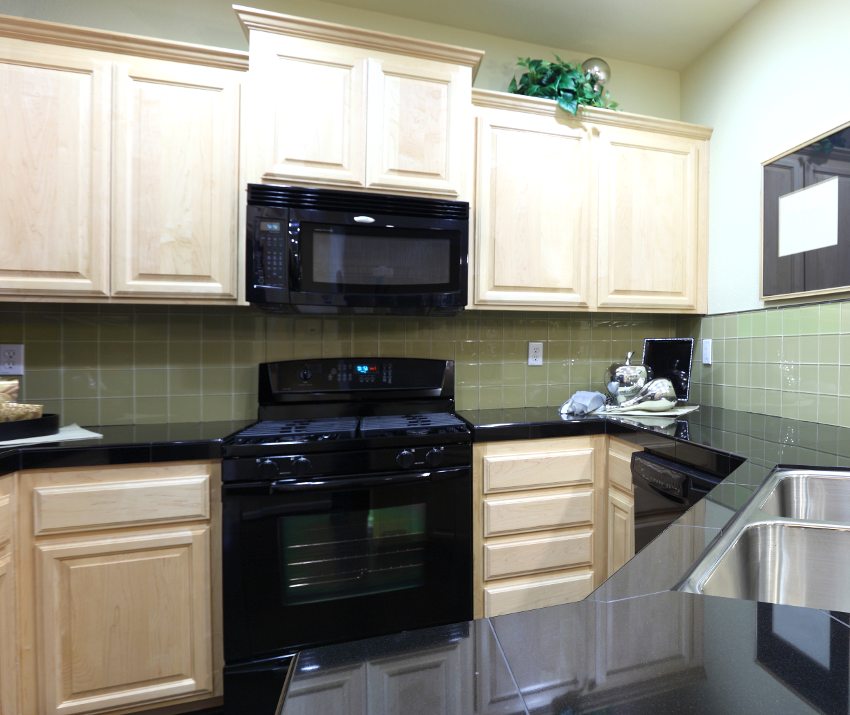 There are a number of factors that contributes to the cost of white oak kitchen cabinets including the type of cabinets purchased, the size of the kitchen, local labor, material, and hardware costs.
Stock oak cabinets for a standard-sized kitchen cost $4,000 to $5,000 while semi-stock or semi-custom cabinets cost $5,000 to $12,000.
Custom oak cabinets might cost a minimum $8,000 to $20,000 or more. Average installation cost would likely to be around 15 to 25 percent of the total cabinet costs.
It would almost cost $1,500 to $2,500 for installation if your oak cabinets cost $10,000. Other installers might charge $50 to $100 per cabinet, $50 to $100 per linear foot, or by the hour.
Types Of White Oak Kitchen Cabinets
White oak is included in a group of oaks of the genus Quercus in the beech family known as Fagaceae. White oak has longer grain rays and it is water-resistant.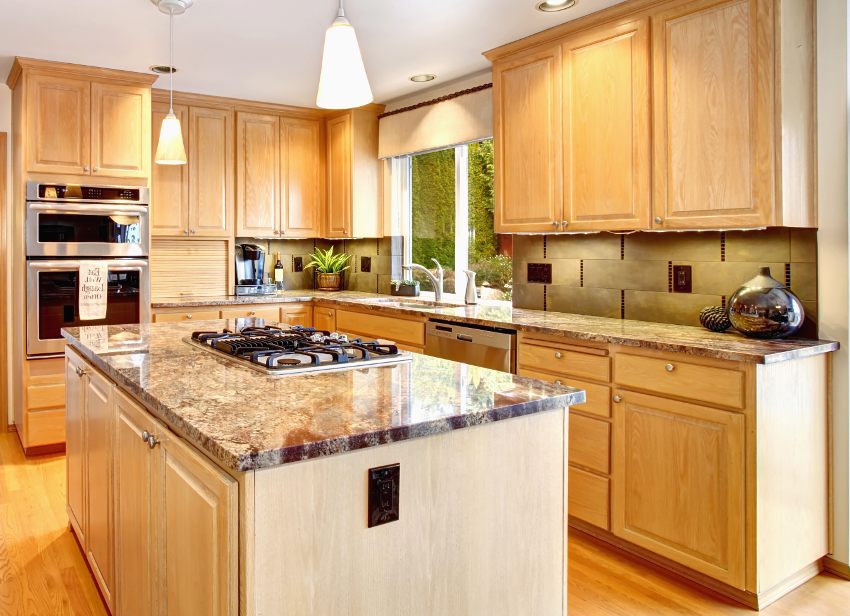 The types of oak wood that falls under the white oak group includes:
• Bur Oak – are found mostly in Saskatchewan east to New Brunswick, southwest to Texas, and north to Montana. cut for lumber where merchantable size is attained; uses similar to white oak for cabinetry and flooring. See pictures of oak hardwood flooring here.

• Bastard white oak – found along the southeast USA from North Carolina south into Florida and west into Mississippi. Known as "bluff oak" is used as white oak lumber for cabinetry.
• Chestnut Oak – found in southern Ontario, south to Louisiana, east to Georgia, and north to Maine. The wood is close-grained, heavy, hard, strong, and durable.
• Overcup Oak – are found mostly in Delaware and New Jersey south to Florida, west to Texas, and north through the Mississippi Valley and drainages to Iowa, Illinois, and Indiana. This oak species is often utilized as white oak lumber due to its hard, heavy and strong characteristics. Overcup oak grows largely in Bertie County, North Carolina.
• Swamp Chestnut Oak – are found in Illinois east to New Jersey, south to Florida, west to Texas, and north to Missouri.
• Swamp White Oak – are found mostly in Minnesota south to Nebraska, east to North Carolina, and north to Quebec and Maine. Its scientific name "Quercus bicolor" refers to the difference in coloration between upper and lower leaf surface.
This type of white oak produces a hard wood that has been used for construction, cabinet making, boat building, railroad ties, fencing, and cooperage.
Rift Sawn White Oak Cabinets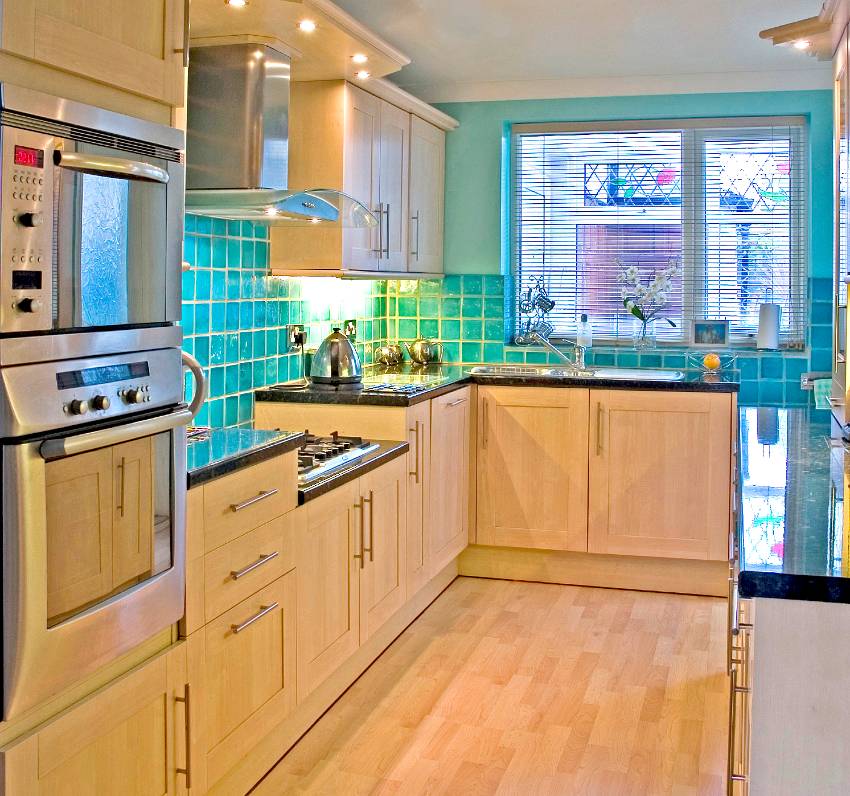 Typically, the way wood grains appear on cabinets has much to do with the type of wood. However, it also has something to do with how the wood is initially milled as well as the angle of how it is sawn. Sometimes upgrading to a different cut can be less expensive than choosing a higher-end wood species.
Opting for a rift-sawn oak cabinet shows oak wood in a whole new light that as it can mimic exotic species of wood such as bamboo and takes on a modern new look when designed with a slab front door style. Keep in mind that the rift sawn lumber is the rarest, and the most expensive since they are selected exclusively for their unique aesthetic.
It is cut at a 90-degree angle of a log's growth rings and then these pieces are milled again wherein the rings of the wood are cut ideally at a 45° angle or between 30° and 60° creating a linear grain pattern that contains minimal flecking.
This method of sawing produces a notable amount of waste in order to achieve those specific, desired angles. Thus, resulting to a higher manufacturing cost and may not be the best option for a sustainable building practice.
Quarter Sawn White Oak Cabinets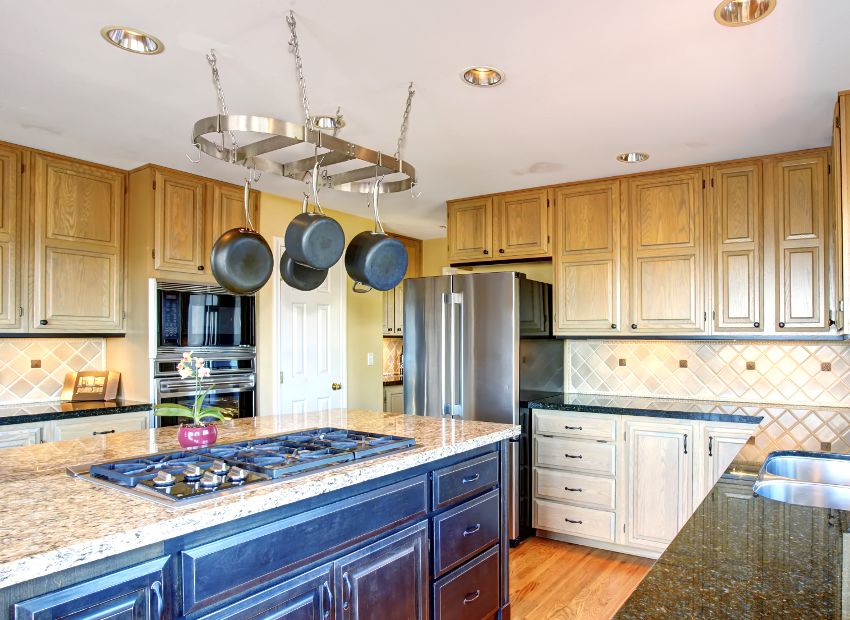 Quarter sawn white oak is desired for its strength and durability. It is a predominant sawn pattern used in Mission style cabinetry made popular by the Craftsman style that is associated with fine detailing and offers a timeless, classic look.
When milling for quarter sawn lumber, the round log is first divided into quarters then each quadrant is cut at a 45-degree angle to the radius of the rings. This creates a more consistent, tighter grain that adds medullary rays or pith rays in the grain.
These rays are also called flecking that is a feature unique to this oak wood species. This can add a layer of dimensionality to your oak wood surface, while still maintaining a uniform look. It is also a great option if you do not prefer the cathedral graining of plain sawn oak wood.
Keep in mind that this is a more labor-intensive process than plain sawing and produces more waste as the very last cuts will be too small to be usable making quarter sawn oak lumber more expensive. However, quarter sawn white oak is more stable, also less likely to warp and less prone to cupping and twisting which makes it perfect for cabinets making your pieces last longer.
Quarter sawn white oak has the look of wood lightened by exposure to the sun that adds subtle character, beachy feel, and softness to any room when mixed with other woods or paints. This long, straight grained wood ranges in color from light tan – gray to medium tan – gray, takes stains well in a variety of colors. See our kitchen paint colors with oak cabinets guide for more ideas.
Quarter sawn white oak cabinets has smoother surface and ages evenly over time. They are also more resistant to moisture penetration and enhances paint retention.
Quarter sawn also adds interesting flecks of cross ring growth to the look
Quarter sawn white oak reveals dramatic flecks and ray cells are running parallel to the face that creates an interesting pattern in oak wood.
Quarter sawn oak wood is cut across the growth rings that offer a unique appearance with its amazing straight grain pattern adding to the stability of the wood. It also features less chances of surface checking and raised grain.
Along with the wood grain, another distinctive pattern prominent to quarter sawn oak wood are the medullary rays and flecks also known as tiger marks or pith rays. These are plant cells perpendicular to its growth rings that primarily store starches and sugars in the tree throughout the trunk and contributing to the growth process.
These medullary rays and flecks create markings that stand out, often in wavy patterns which contributes a decorative nature and adds high-end quality to the cabinetry.
Farmhouse White Oak Kitchen Cabinets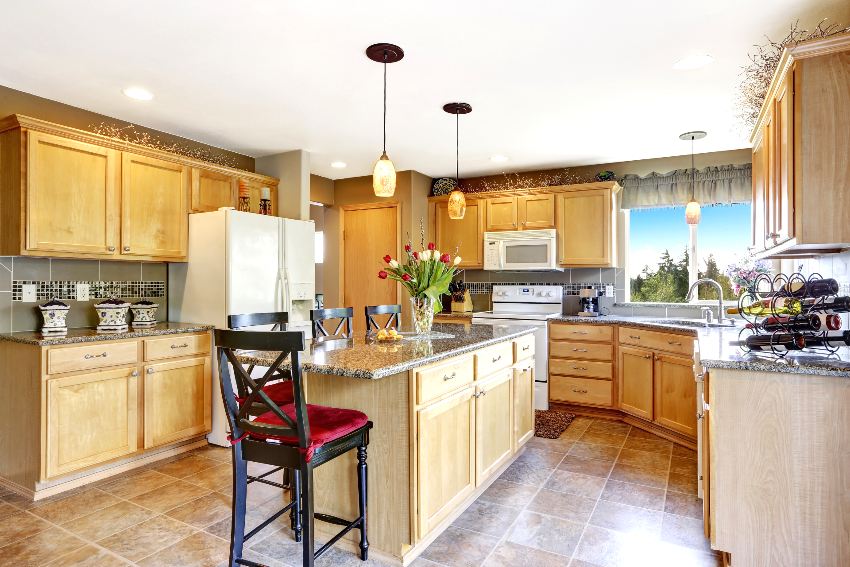 A farmhouse-style kitchen creates a warm, country comfort, and welcoming kitchen design in your home. White oak kitchen cabinets with its knotty, natural appearance can add to the authenticity of the look making it a perfect fit and a popular choice for farmhouse-style kitchens.
It offers practicality, simplicity, and rustic charm while embraces modern comforts, creating a look that feels both cozy and stylish. Farmhouse style applies both form and function in the construction of its kitchen cabinets.
Farmhouse white oak kitchen cabinets offers sleek, clean lines, natural materials and textures that create warmth and style. White oak cabinetry with its unique wood grain extends a bright, light, and clean feel in your kitchen space.
White Oak Shaker Cabinets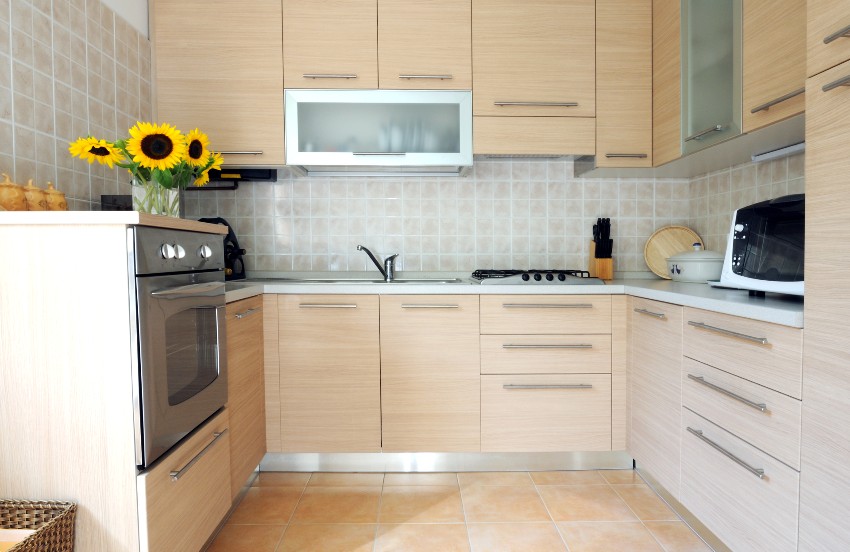 White oak Shaker cabinets features a recessed panel in the center and have more detail than a flat surface while still looking clean. These type of cabinetry offers a modern or classic design style depending on the hardware and other accents you use in your kitchen.
White oak Shaker cabinets are a great option for modern kitchens since they are classically beautiful and can well compliment your theme and interior design. This kitchen cabinetry adds elegance to your space with its timeless and traditional design.
Shaker kitchen cabinets complements a variety of themes such as traditional, country, rustic, modern and minimalist design styles.
Compared to other styles of kitchen cabinetry, white oak shaker kitchen cabinets are easily available in the market, and they come at an affordable price. There is no other style that can compete with the versatility of shaker cabinets.
There is flexibility in terms of styling white oak Shaker cabinets in addition to its cost-effective and easy installation. White oak Shaker cabinets are easy to maintain and clean due to its limited detail or profiling having a flat center panel and square edges.
How To Finish White Oak Cabinets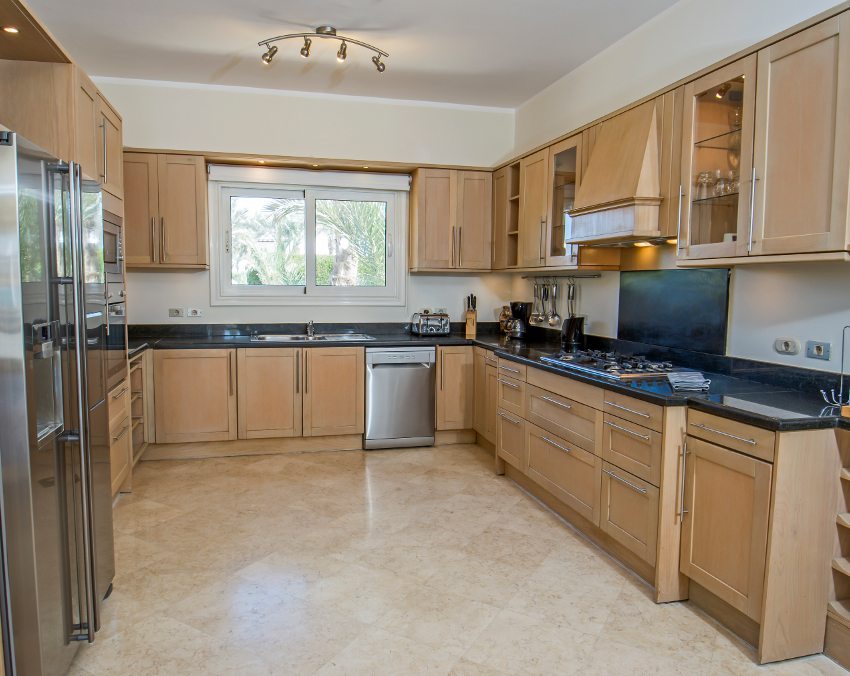 Oak being a traditional hardwood and considered as a standard in the building industry, can be finished light, dark, cherry, walnut, pecan or almost any tint. White oak cabinets are utilized in its most natural form that offers simplicity and minimalist look with wood specific to this type of cabinetry.
White oak cabinets add a full of depth and dimension to any space and it also creates a soft sense of luxury. They can go in any direction you take them; as a matter of fact, any type of dye such as water, alcohol, or oil soluble will highlight and emphasize the ray flecks in quartersawn or riftsawn white oak cabinets.
In order to get an even color as a result, try adding a pigment stain over the dye and wiping off the excess finish. Sealing the dyed wood with a thinned mixture of shellac and then adding a finishing coat toned with either a pigment or dye will give the wood more depth. Oil or varnished blend will penetrate well and adds an even color similar to dyed wood.
If you want the ray flecks in white oak cabinets for quartersawn and riftsawn white oak to really standout, try using aniline dye. For outdoor white oak cabinets, a weather-resistant finish such as spar varnish or exterior urethane will work well.
For more related ideas visit our honey oak cabinets design guide.