Here we share our drive through garage ideas including what it is, benefits, cost, conversion, design plans, and different types of drive through garages.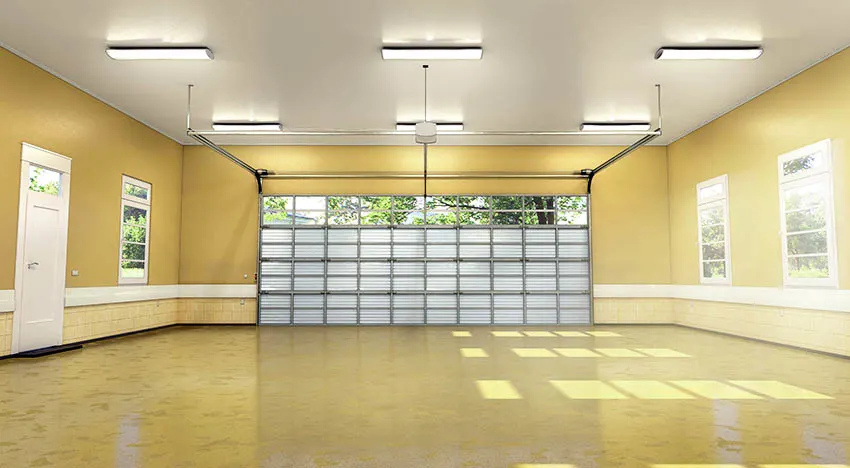 Have you ever considered having a garage with two doors – one in the front as well as one in the back, rather than side by side? Maybe it sounds unusual, but it could be one of those extremely brilliant garage ideas that should be recognized.
You might not have thought about building a drive-through element on your garage, which is simply installing an additional roller door to the back of your garage to provide accessibility to the rear of your property. Although it may appear old school to others, it is actually a very practical solution.
Let us understand the specifics of these drive through garage ideas to help you determine if you are interested in creating a path to unrivaled garage convenience.
What Is A Drive Through Garage?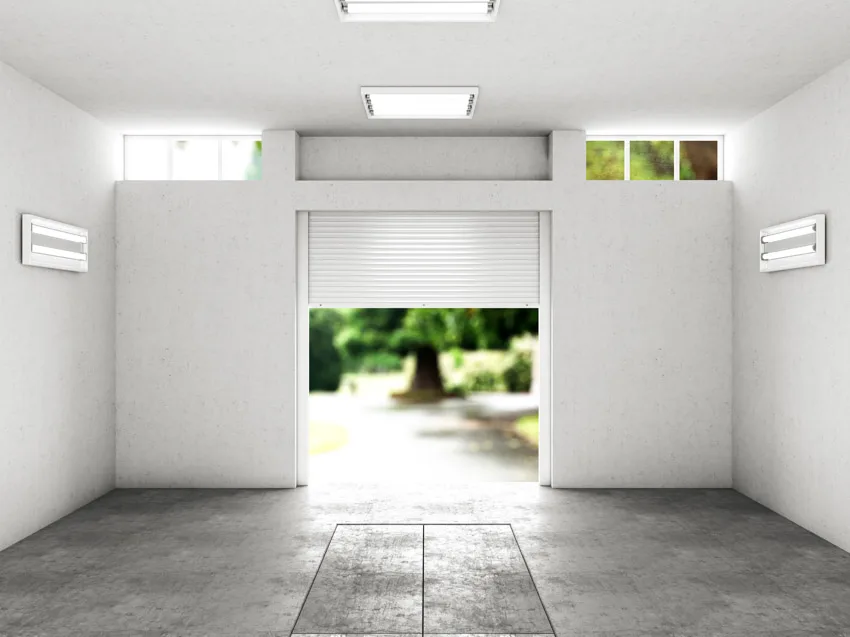 A drive-through garage, as the name implies, is a configuration of a garage that you can drive or stroll all the way through. It would feature a full-sized garage door on the front as well as the rear of the garage, allowing you to enter and leave from either end.
If the back and front of your property are both roadways, having street accessibility from both sides of your garage would be ideal.
A drive-thru garage differs from a standard garage. It is normally detached from the house and may be freely used to enter and exit the house at any time.
Drive Through Garage Benefits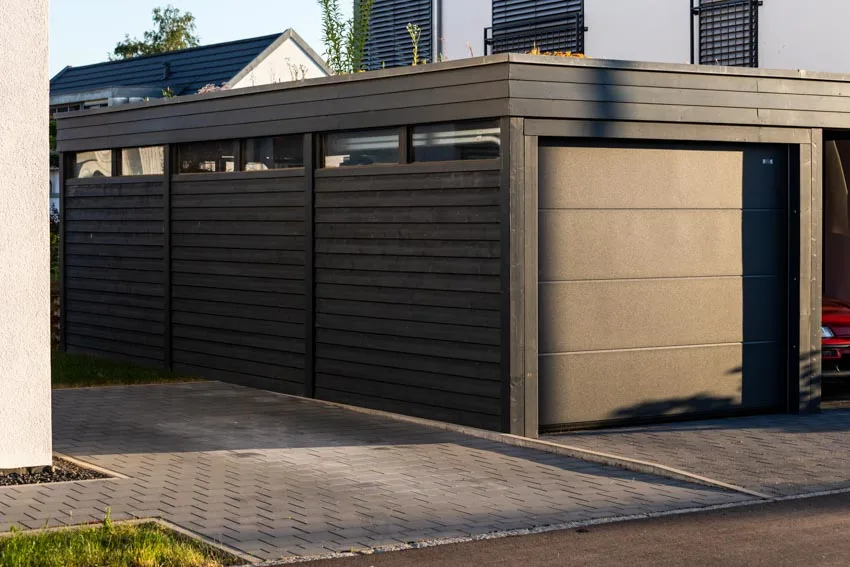 Indeed, a drive-through garage is not only practical but can also be used for a variety of purposes, each of which improves the garage. Without removing anything, these drive through garage ideas essentially add their own distinctive and practical features that are beneficial to the entire household.
Some might say that having these drive through types of garages does not make sense. Well, in fact, installing a drive-through garage or transforming your traditional garage into a drive-through model can provide major benefits to your vehicles, your property, you, and your family.
Here are the most crucial benefits of drive-through garages:
Effortless Accessibility for Storing Vehicles: If you park trailers inside your garage, particularly bigger ones like boat trailers, this construction solution would be ideal.
If you dislike reversing your vehicle, the second door eliminates the necessity to do so – simply drive in, disconnect the trailer, and lock it afterward.
You can easily pull a trailer or a boat following your car and pull it right in as well as right out. There will be no more challenging maneuvers or wishing that you do not hit the trailer into the garage sides.
If you do not prefer to detach your trailer, you can drive freely through the garage while leaving the back garage door open. Afterward, you can close the front door to lock the garage from the outside.
Improved Storage Access for Other Backyard Objects: A garage can be an excellent spot to store your outdoor equipment, tools and household items, as well as your automobile! Luckily, a drive-through garage model provides more inventive solutions to utilize space surrounding the residence.
Whether you have a car, a speed boat, or any other backyard objects, this kind of garage will give more storage. You will be able to effortlessly access all sides of your garage thanks to your entrance and rear garage doors.
In practice, a garage is a large enclosure that only opens on one side. To get to the entrance, everything placed in the back of the room must be transported past all others.
Getting large or heavy things, such as lawnmowers, garden products, and overflowing trash cans, frequently necessitate the pulling of the vehicle.
The addition of the back garage door to a drive-through garage, on the other hand, provides simple access to both sides of the garage area, requiring much less moving around to reach just about everything.
Improved Ventilation: Regardless of the garage door dimensions, garages can indeed be slow to ventilate. This is due to the lack of cross-ventilation, or the passage of air through the area. Fortunately, having two garage doors allows for maximum cross-ventilation.
This can transform the garage into a lot more spacious and convenient workspace. Fumes may be quickly vented, and a steady flow of air, along with the roof cover, makes the garage livable even in the harshest heat.
With adequate ventilation, your garage can be a beneficial and productive secondary workspace for automotive servicing like changing oil or replacing parts. It can also be ideal for tasks like car washing and vehicle repairs.
Expanded Safe Parking Space: The drive-through garage configuration may be customized to not only provide an additional parking alternative but also to allow you to store more vehicles safely at the rear side of your garage using the back garage door.
If your drive-through garage or tandem garage, has extra space on the back side, you might save money by placing your less-frequently used automobiles in garages while effectively protecting the entryway with a drive-through garage front door.
Remote-control devices and even computerized (automated) smart home systems can be added as well for ultimate convenience.
Can be Used as a Functional and Livable Outdoor Room: If you want to relax outside and establish a picnic table as well as chairs in the driveway alongside your main garage door, your neighbors will assume you are organizing a yard sale.
However, if you are going to install a rear garage door and set up an outdoor living space there, you will have a pleasant and private sitting area with easy access to the garage and its shade.
Whenever you are working inside the garage, you might want to leave the door open but not expose yourself to the neighbors. A back door allows for both openness and solitude.
Drive Through Garage Cost
Constructing a drive-through garage on your property can be similar to constructing a detached garage with an additional garage door on the back. So, here is how we are going to determine the cost:
A detached garage costs about $40 to $70 per square foot on average. A detached garage costs around $19,000 to $45,000 to construct.
Approximately half of the overall cost will be for the supplies and the other half for labor. A professional garage contractor can make suggestions and provide an estimate. The cost of constructing a detached garage will be 10 to 15% higher than the cost of constructing an attached garage.
A detached garage can be used for standard car and boat parking as well as extra living space, a private workplace, or a workshop. Several homeowners prefer detached ones because they keep automobile emissions away from their homes.
However, to make your detached garage a drive-through configuration, you have to install an additional garage door to the backside. An additional garage door will cost around $500 to $5,000. Since garage doors come in a variety of materials and styles, the pricing point would be so broad.
Here are some more details about the costs of building a drive-through garage on your property:
• Cost of a Detached Garage (1 Car): A one-car garage has a width of 12 to 16 feet and a depth of 20 to 24 feet. A single-stall detached garage will cost around $11,500 to $31,000.
• Cost of a Detached Garage (2 Cars): The price of a detached two-car garage spans from $16,000 to $46,000. A two-car garage has a width of 22 to 26 feet and a depth of 20 to 24 feet.
• Cost of a Detached Garage (3 Cars): A three-car garage has a width of 31 to 34 feet and a depth of 20 to 24 feet. A three-car garage typically costs around $31,000 to $77,000.
Convert Garage To Drive Through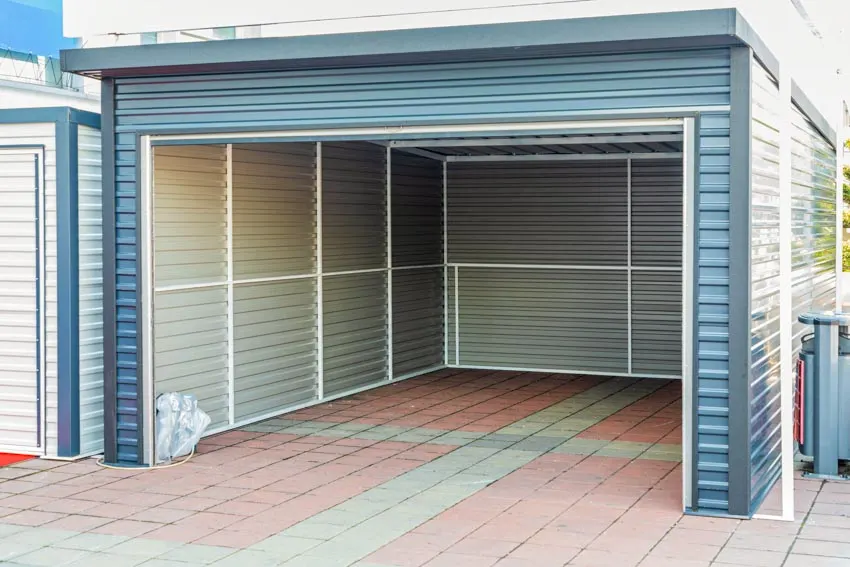 Basically, as previously mentioned, adding a back garage door to your current standard garage would easily convert it to a drive-through configuration. There are benefits to both standard types of the garage – detached or attached. Furthermore, either design can be turned into a drive-through garage.
However, there is more to that. To successfully convert your garage into a drive-through configuration, you have to make organized plans. That is what we are going to discuss afterward.
Another option is installing one of the different types of carports available next to your existing garage structure. This may be a good choice for those on a limited budget or who just need a covered canopy and not necessarily a completely enclosed garage.
Drive Through Garage Plans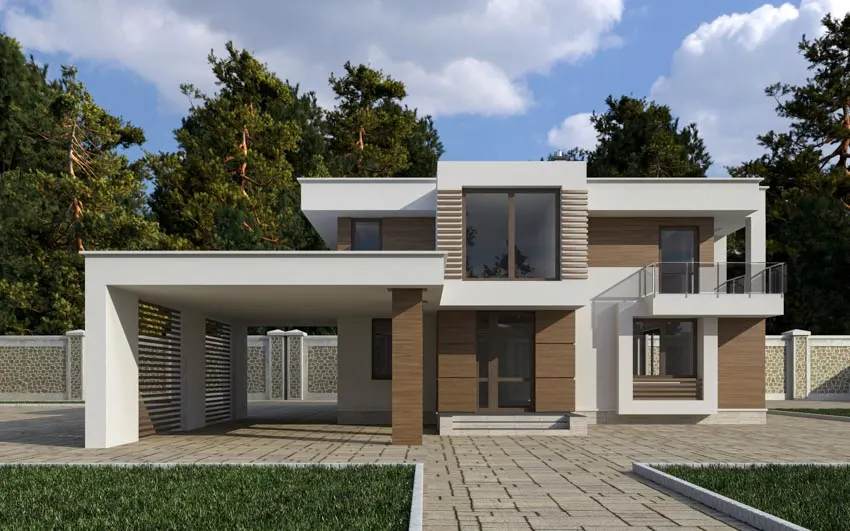 When selecting an additional garage door, you frequently have no control over its size: you simply locate one that suits the space available. However, what if you actually have a choice?
Maybe you are constructing a new garage or intend to update an old garage and convert it to a drive-through unit. How wide should your drive-through be?
There is no definitive solution, but there are some valuable plans and factors to consider that can assist you in making a more informed selection when entertaining these drive through garage ideas.
The Number Of Vehicles Are You Going to Store: The garage dimensions are determined first by the number of vehicles you intend to store within. If you plan to park two vehicles, the entrance will obviously need to be much bigger.
The kinds of vehicles you keep within will also influence your decision. For instance, if you have a huge 4×4 SUV, you will require more space than if you possess a smaller vehicle.
As a rule of thumb, if you only have one automobile in your garage, the aperture should be roughly 8 feet wide. If you plan to keep two cars in your garage, increase this to 16 feet.
Numerous Garages Are Not Sufficiently Large: The issue with many garages is that they were designed for smaller vehicles. Car sizes have grown in recent years, and the conventional 7 feet for a standard garage is no longer adequate for getting in and out of your automobile conveniently.
It may also raise the chance of damaging your car whenever parking it in the garage, contingent on the car you possess. Hence, you have to take this matter into consideration.
Consider the Height of the Drive-Through Garage You Are Planning to Construct: The height of the garage door you plan to add to your potential drive-through garage is indeed a crucial consideration when deciding on its size.
What is the average height? Well, 7 feet is commonly suggested as the best height. This, nevertheless, is contingent on the type of vehicle you have. Again, for a large 4×4 SUV, for example, you may require more, so consider this thoroughly before planning your drive-through .garage
Select the Most Ideal Garage Door Type for Your Potential Drive-Through Garage: You should also think about the style of garage door you desire since it will affect the amount of space allocated to park your vehicle. These days, garage doors are available in a multitude of sizes.
You may have doors constructed to any size you choose, but some may be better suited to your garage than others. Sectional garage doors, for instance, can be an excellent alternative for maximum height and breadth.
There is no definitive answer as to which classification of garage doors is ideal for your preferred drive through garage ideas, that is why it would be a smart option to discuss your alternatives with a professional before finalizing your plan.
Seek Professional Assistance: There are some broad guidelines for how wide and tall your drive-through garage must be to allow you to use it conveniently, but in the end, it will boil down to your current circumstances and requirements.
It is henceforth advisable to discuss these drive through garage ideas with a professional who can counsel you on the size you require as well as the type of garage door that is best suited to your drive-through garage. This will help you in making the best option.
House with Drive Through Garage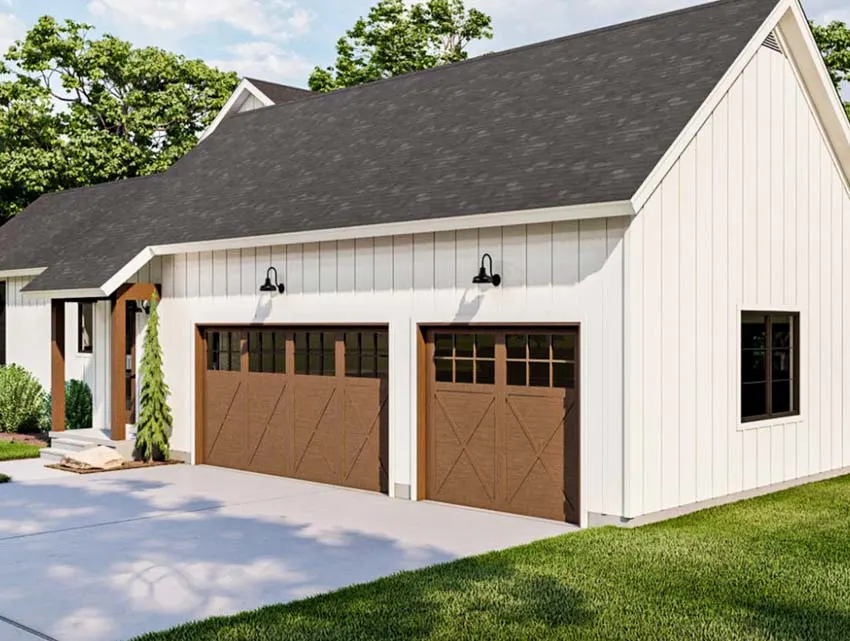 See this modern farmhouse with drive through three car garage plan at this website [sponsored link]
If you are looking for a new house for you and your family and you own a vehicle, it would be ideal to purchase a property with a ready-to-use drive-through garage in it.
Furthermore, these drive through garage ideas give you plenty of space for a workspace. If you have three vehicles, it is much smarter to acquire a house with a 3-car drive-through garage so you will not have any problems keeping your vehicles safe and secure.
Drive Through Attached Garage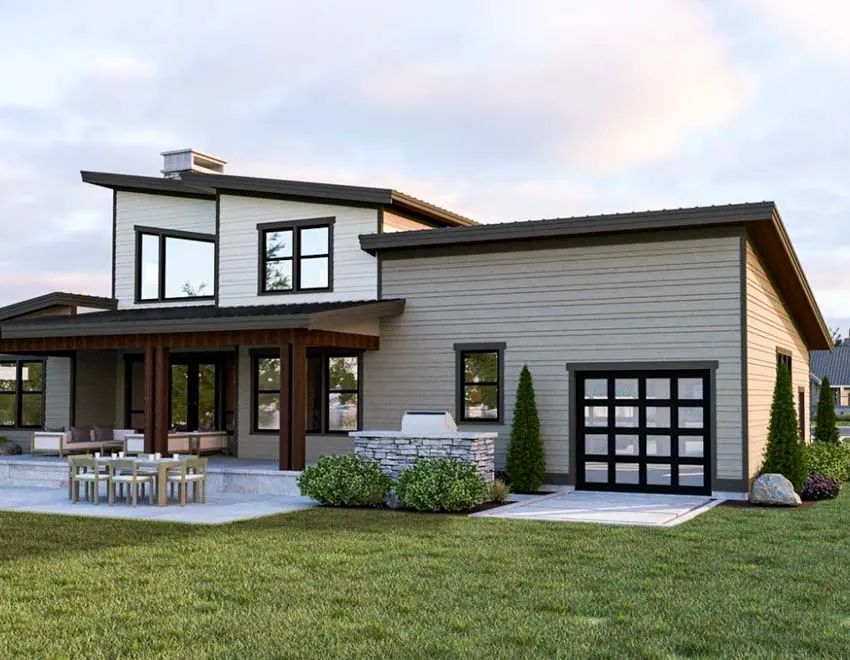 See this modern house plan with drive through garage at this website [sponsored link]
Detached drive through garage ideas, as the name suggests, pertain to garages that are attached to a house. Generally, a door in these garages connects to the interior of the house, providing an extension upon which to keep a vehicle and store various personal and household belongings.
Furthermore, drive-through attached garages are among the most frequent options for residences. They are normally pretty regular in design and size, but they also feature a garage door on the backside, not only on the front part.
Truly, drive-through attached garages can be extremely useful, particularly in inclement weather. They are also less costly to construct. In addition, with an attached garage, you can use the home's existing electrical and heating utilities. It also meets the homeowner's association standards and has the potential to increase the entire property's worth.
It is considerably easier to bring pets, children, and groceries inside with a drive-through attached garage, offering continuous access to your interior living space. However, there are several drawbacks to attached garages that deter homeowners.
Drive-through attached garages might be riskier in terms of security and fire. Frequently, the most significant disadvantage of a drive-through attached garage is slightly poor security.
An unprotected garage can provide a thief with immediate, uninvited access to your home. This is especially true if an electric opener is employed. If you neglect to lock even one of the garage doors, your home will be vulnerable to intruders.
Furthermore, expanding and renovating can be difficult with a drive-through attached garage. It may also harm a home's exterior attractiveness. Furthermore, when built, it may necessitate more costly building permits.
Drive Through Detached Garage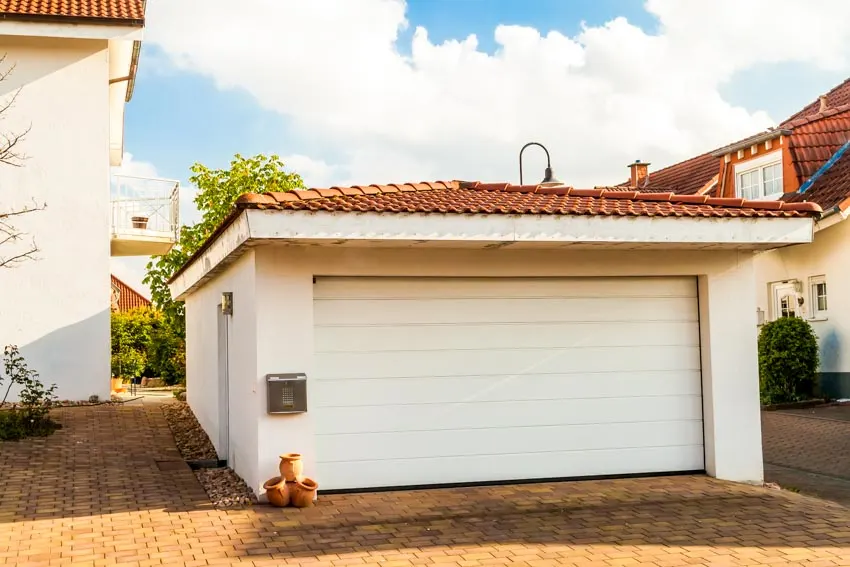 A drive-through detached garage is a separate structure that is not attached to the main house. There are also two garage doors, one in the front and one in the back. Such garages may only be beside the main house, but they may also be on the opposite side of the property.
Because of the freedom of a freestanding format, detached garages are often bigger and more imaginatively designed. Moreover, a detached garage with a drive-through configuration generally provides more advantages than an attached garage.
You will have more freedom in terms of size. You can personalize it to your liking. Because a drive-through detached garage can be built further away from the house, it can reduce fuel emissions into the house.
Drive through detached garages, on average, have significantly greater room than attached garages. A drive-through detached garage, for instance, can provide space that is slightly distant from the house for individuals who enjoy hobbies such as building, car maintenance, or metalworking.
Furthermore, these detached drive through garage ideas can be used to snuggle into the corners or sides of homes to minimize detracting from the size of the residence. With drive-through detached garages, the entrance and exiting of vehicles as well as other garage equipment will be so much easier.
Drive Through RV Garage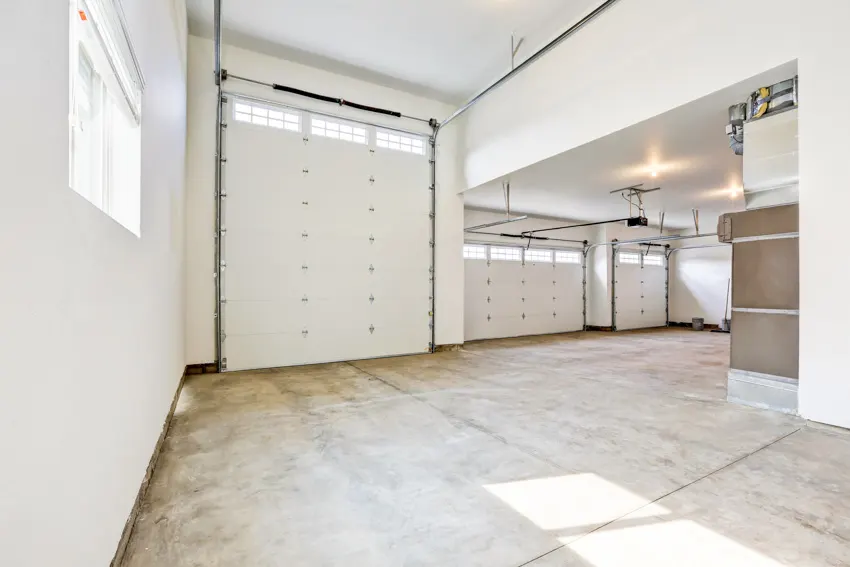 Some drive through garage ideas provide a good parking place for your recreational vehicle. A drive through RV (Recreational Vehicle) garage does that because it's bigger and taller than a standard garage and is intended to house an RV (Recreational Vehicle) or camper van.
You may not be the kind to use your RV year-round, but parking it on the street takes up a lot of room. You are also presumably worried that someone could unintentionally bump it.
Indeed, you do not want to leave your RV on the street, where it might be vandalized and wrecked. Because RVs are often considered premium vehicles, they can potentially be a victim of break-ins. You may keep your RVs safely in a drive-through RV garage, and you can easily keep and use them whenever you want because it has two garage doors.
You should prevent subjecting your recreational vehicles to factors such as rain or snow. Admittedly, you probably spent a lot of money on the RV, thus you want it to perform properly in the coming years. A drive-through RV garage would be a terrific idea for all of these factors and more.
When it comes to doors, you must choose an easy-to-use and convenient garage door. Drawing a manual door open and closed every time to get access to the garage is time-consuming and cumbersome, not to mention potentially uncomfortable. That is why we strongly recommend putting automatic garage doors (both rear and front) in your drive-through RV garage.
Buying A Drive Through Garage Kit
Buying drive-through garage kits, in fact, can provide extra parking and practicality to any home. Hence, we recommend purchasing one if you do not have it yet.
Drive-through garage kits are normally pre-designed detached garages (the majority are built from stainless steel or any rustproof metal) that have at least one bay with a garage door at the front and one garage door on the rear side.
This pragmatic design enables vehicles to drive entirely through the garage. Drive-through garage kits avoid the difficulty of backing into or out of the garage space by placing overhanging doors on opposite ends of the bay.
This kit is very cost-effective and is particularly useful when storing a boat, trailer, and many more. Drive-through garage kits offer additional benefits such as the ability to get the lawnmower or the children's bicycles out of the garage without having to move the car. When it comes to storing or transferring vehicles, the options with these unique garage kits are limitless.
Buying these kits will not be a burden as commercially available drive-thru garage kits come in a wide range of shapes and materials, encompassing single-level and multi-level configurations.
Furthermore, there are many architectural styles to pick from, making sure that clients discover the ideal outside look to match their properties. Exterior design can range from classic to country, with several rooflines and garage door options providing additional diversity and versatility.
Shallow bay garage kits are appropriate for standard-sized cars, but deeper bay garage kits are excellent for larger vehicles, trailers, as well as boats.
Some of these drive-through garage kits even have additional tall overhanging doors to accommodate RVs, whereas others have space on the main floor for a workspace or recreational area.
See more related content in our article about garage design software on this page.