From garage to living space – all you need to know about a garage turned into a living room.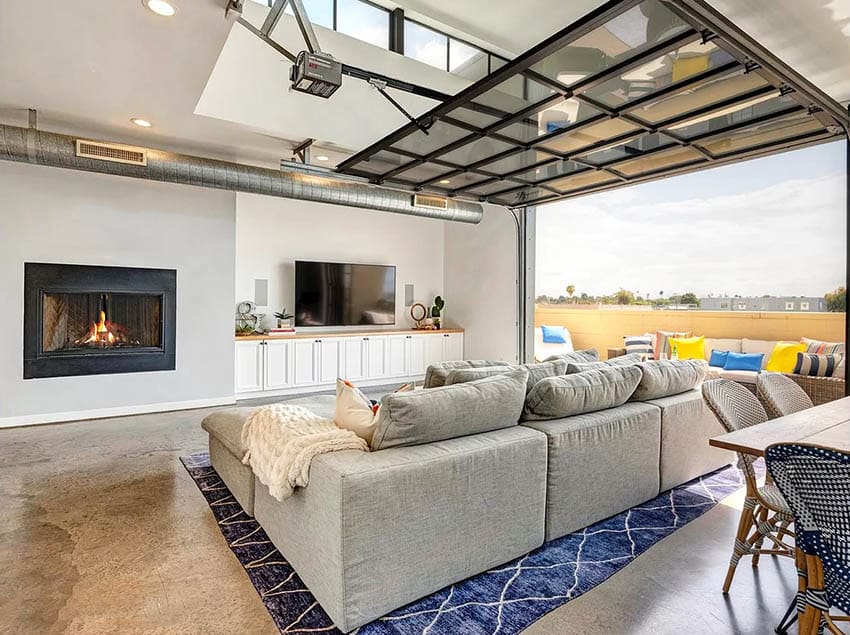 If you desire additional living space, it's easy to think the only real option is to move house. However, as purse strings tighten there may well be alternative (and cheaper!) options a little closer to home. If you're lucky enough to have a garage next to, or attached to your property – a more cost effective option could be to convert this space into an additional room.
Garage Converted to Living Room Design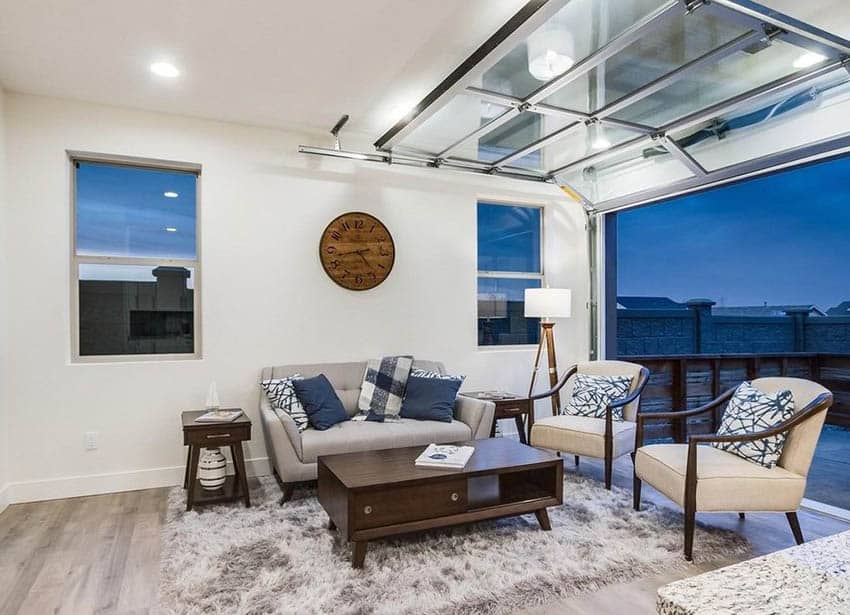 Before you discredit the idea, it's worth thinking about how you currently use your garage space. Is it a place to store everything that doesn't fit elsewhere in the home, or is it used for its purpose; to house your car, or other fitting items?
If you consider your garage a valuable part of your home as it is, then this might not be for you. However, if you're open minded and can visualize how the space could work to integrate with the rest of your home, it's worth considering. When you look at the costs of extending your home, the prices of a garage conversion are not to be snubbed at…
Before you go ahead and convert the space. Think about the following:
How will you use your new space? What are your plans for this new interior?
Firstly, you'll need to think about how you'd like to use the additional space. Will the room be used separately from the rest of the house, and be most appropriate as an office or study? Or does the garage adjoin the kitchen and therefore the main benefit of the conversion would be to increase the square footage of your kitchen?
You will also want to consider your garage size and whether it is large enough to accommodate your desired layout.
Pinning down the answers to these questions will help you to figure out the extent of work required. Will you need to knock down any interior walls to adjoin the space? Or perhaps increase the floor height so it sits seamlessly with the rest of your home? Maybe the ceilings will need heightening?
These factors will influence the proposed cost, and give you a rough idea of how much you'll be looking at spending before you part with any cash.
Quality of your Existing Garage
You'll also need to consider the quality of your existing garage, and whether it's actually suitable for conversion. Some garages constructed over 25 years ago may not be structurally suitable to be repurposed, although more recent builds made of brick and block should be fine. Check with a local surveyor to be sure.
Cost of Converting a Garage Into a Living Room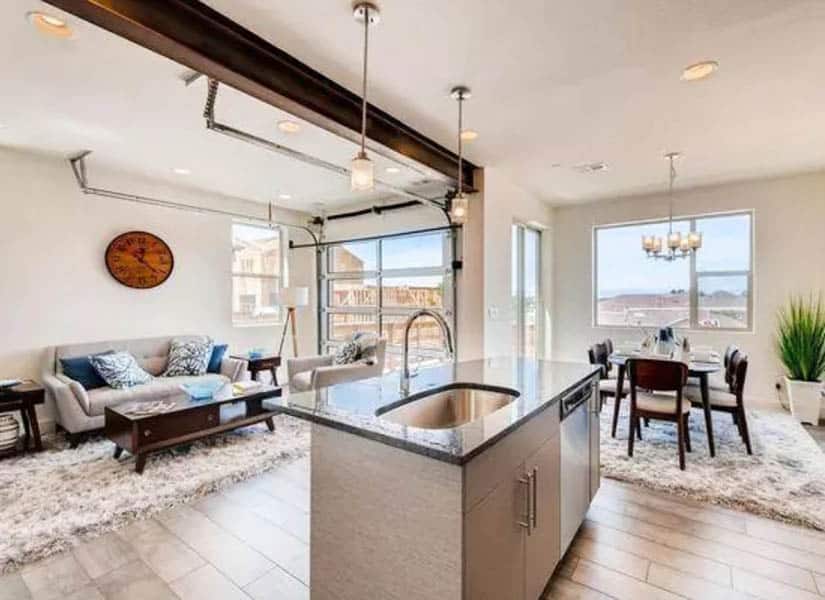 So how much does it cost to convert a garage into living space? For a standard garage conversion you can estimate spending between $6,300 – $9,500. However, garages are available in all shapes and sizes, with all manner of potential issues, so the overall costs to complete the project will vary depending on the individual case.
To create a truly comfortable living environment your existing garage will need some work, and this is where costs can quickly add up. The garage door in the living room conversion will need replacing with a weather-tight option, and you'll want to incorporate natural light into the space too.
Depending on the quality of door and window finish (and quantity) you choose, you could be looking at spending $600-700 – and this is at the lower end of the scale. The floors and ceilings will also need looking at. To achieve the desired finish on your floor, it's likely you'll first need to pour in a concrete base to even out the floor and raise it. This will cost around $1,200.
Cost to Raise a Garage Ceiling for Living Room Conversion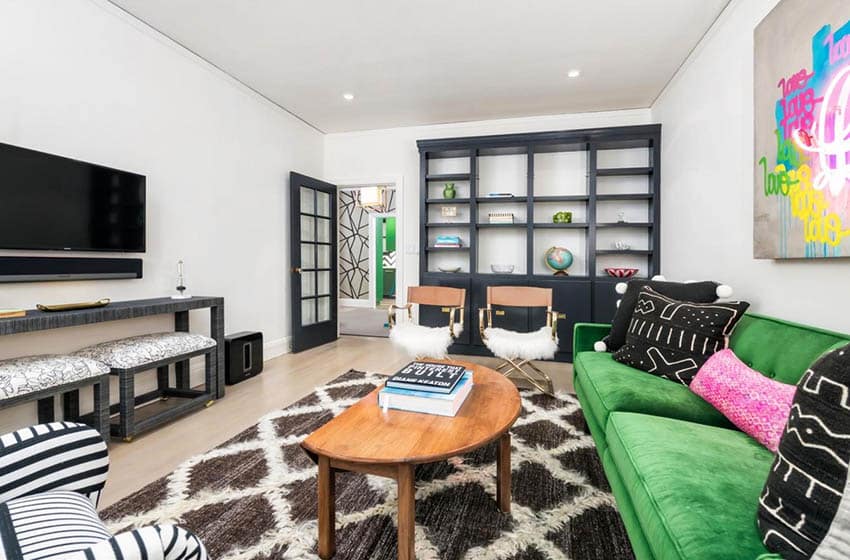 Your garage is also unlikely to have the desired ceiling height you require to integrate it effectively into the space – this means you'll need to pay for the ceiling to be raised.
On raising the floor to 6 inches (15cm) above the external ground level, you'll require 7-8ft (2.2-2.4m) of headroom, which will need to be factored into the budget too. There's also the utilities… Most garages will already have electricity, but few will have gas and water installed.
While this shouldn't prove a problem if you're planning on using the space as a lounge or bedroom, the same cannot be said for a kitchen or bathroom space. Adding electrics isn't too costly – a new socket shouldn't cost any more than $120, but gas and water installation will. If there's pipes that need moving, costs will range from $1,200 – $3,700.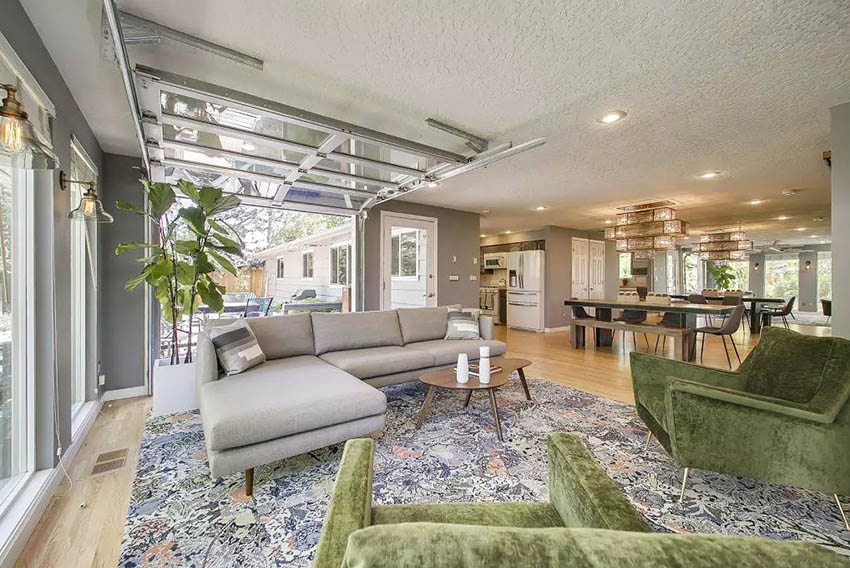 With an integral garage, converting the space could be a DIY venture although if you have a detached garage with structural changes required, it's worth bringing in a builder. If you use a specialist firm, prices can range from $12,000 to convert a single garage and $18,000 to convert a double.
While this figure might feel steep, it's useful to remind yourself of the comparably high costs to extend or convert your loft. Converting your garage is one of the most cost effective solutions when it comes to extending your space.
Don't forget, there's also the potential planning fees to factor in. You should check with your local authority planning department to find out more information about this for your area.
Does Converting a Garage Into a Living Room Add Value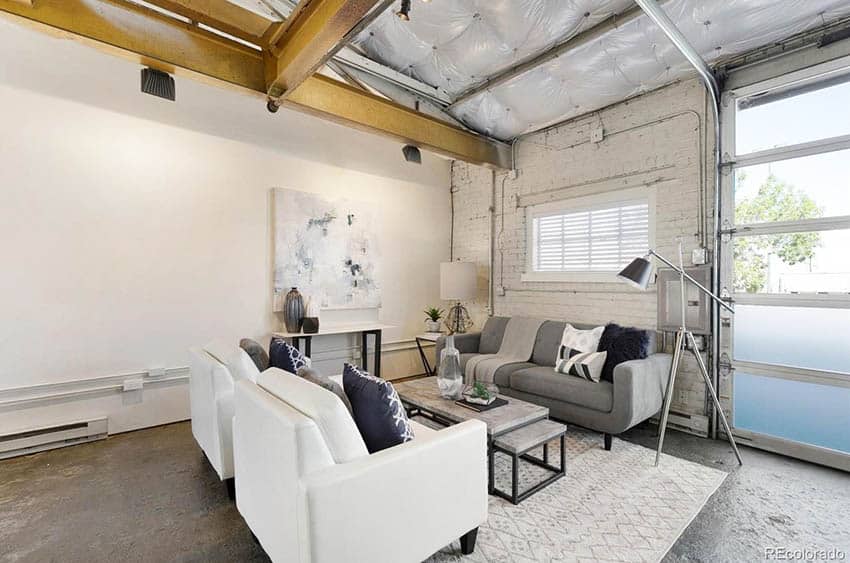 This really depends on the properties in the surrounding area and the availability of parking. If you live in an area where parking is limited or at a premium, then your garage will be a desirable asset when trying to sell. However, if there are no concerns re parking, or the garage isn't sufficiently used as it is, a garage conversion is the way forward.
Proceeding with converting a garage to a living room could add an average of $56,800 to the value of your home. This approximation is based on average house price figures per square footage, including the average square footage added by a garage.
It's no secret that increasing the square footage of your home adds value, and a garage conversion is one way to achieve this. It goes without saying that the cost benefits are striking – for a relatively small investment, you could make significant financial gain should you decide to sell.
To experiment with your own designs you can check out one of the available garage design software programs to plan your own layouts.