Welcome to our garage door ideas ultimate guide including the most popular types, features & pros and cons.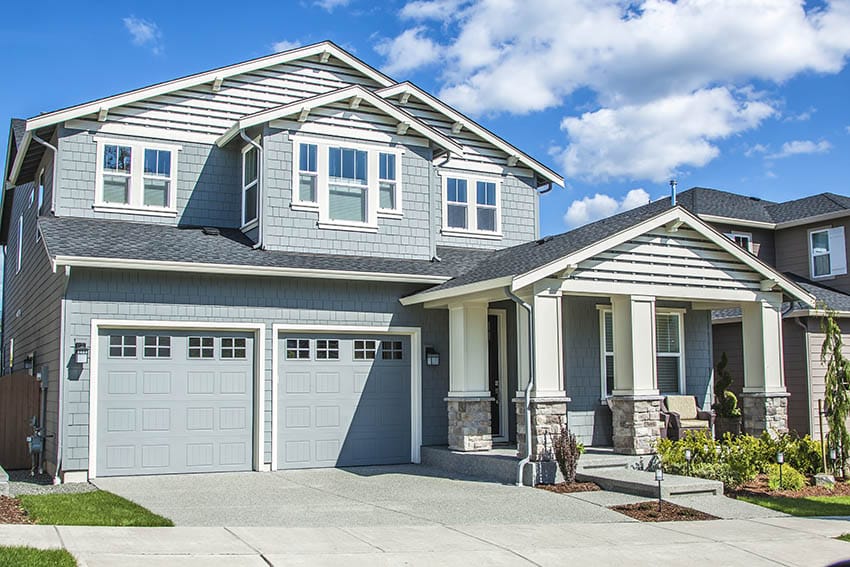 A garage door can significantly improve the aesthetic value of your home in so many ways. It comprises one third of your home's facade, so it has to be chosen well to complement the overall look of your home. And since it is one of the most visible features in your home's exterior, a poorly chosen garage door can create a negative impression. Just as any part of your home, deciding on the design, type, material and style of a garage door needs careful thought. 
Below we have compiled our very own ultimate guide on garage doors to help you decide which one suits your home best.
Garage Door Styles
There are a variety of garage door styles which homeowners can choose from. Whether your home is traditional, rustic, modern or contemporary, there is a specific style and design of garage door that can match its facade. Once you have an idea of the type that's best for your home, you can use one of the garage design software programs to create and visualize it. Here is an overview of the most popular garage door styles:
Raised Panel Garage Doors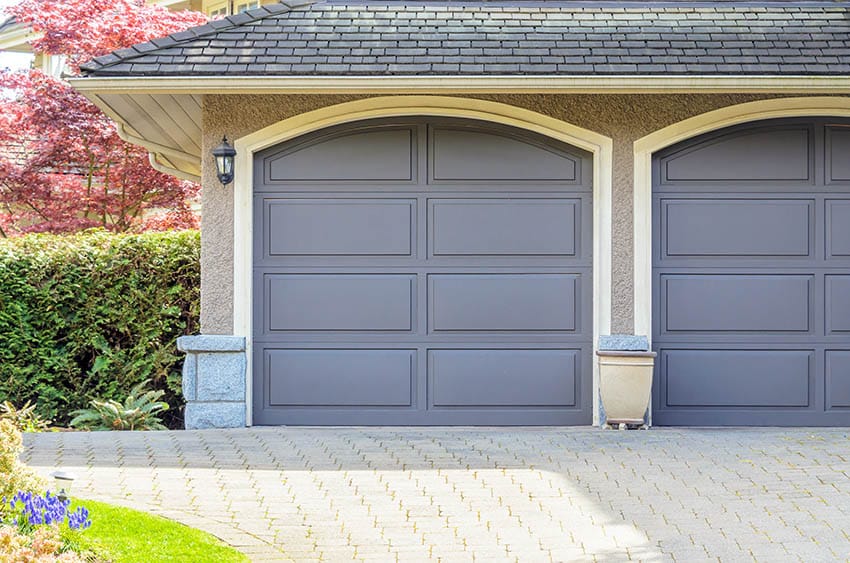 The most  common garage door style is the raised panel. It has become the standard style and design of garage doors available in the market. Originally, raised panel garage doors feature floating panels that are encased in a rail and stile frame. Throughout the years, there have been some minor changes on its material and appearance to update its design. The more modern versions of raised panel garage doors are made with fiberglass which are basically solid and molded to resemble the classic "rail and stile" raised-panel door. 
Although fiberglass is commonly used for the newer versions of the raised panel door, you can buy this type of garage door in all kinds of material such as wood, steel or aluminum.
Carriage Style Garage Doors
Carriage style garage doors derived their name from the design of doors found on old carriage houses. The original carriage style door was around even before cars were invented and horse drawn carriages were used as a primary mode of transportation. The carriages were stored in barns and in order for them to fit, the doors used were wide and swings large enough. This was the inspiration for carriage style garage doors – big, wide doors that swing outwards. 
The original design of carriage style doors made use of solid wood that have an intricate woodwork on the facade as an embellishment. Common designs include decorative window inserts, barn style criss-cross planks. Timeworn hardware like iron hinges and  large handles complete the look of this door design. 
Carriage style doors are hinged at the sides and swing outwards so they open wide enough. Traditional carriage style garage doors also swung from the center, but there have been some updates and the newer models now feature automatic openers that fold open. Modern carriage style doors combine the old world charm of traditional swing garage doors with the efficiency of modern technology. 
Although carriage style garage doors have a very traditional look, they are popular choices for a variety of house styles, ranging from classic to contemporary and modern ones. The strong yet elegant look that this garage door design has is what homeowners get drawn to. Additionally, its timeless appeal is a look which will surely last for years. 
Contemporary Garage Doors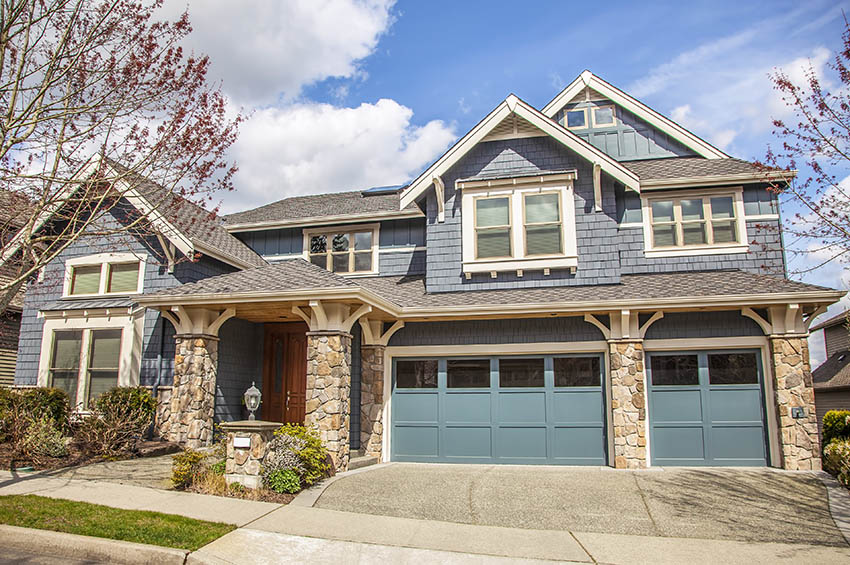 Contemporary home design is all about creating a seamless look using clean forms, strong lines, uniformity and mixed materials. To create a minimalist facade, it is important to use a garage door design which would flawlessly blend with the exterior of the home, and that is where contemporary garage doors are used. 
The most common garage door style used for contemporary homes are slab style doors. This type of garage door style opens by folding up as one single panel, contrary to other designs which open into three or four separate horizontal panels that bend at hinges as the door raises. Slab style doors make use of specialized automatic openers.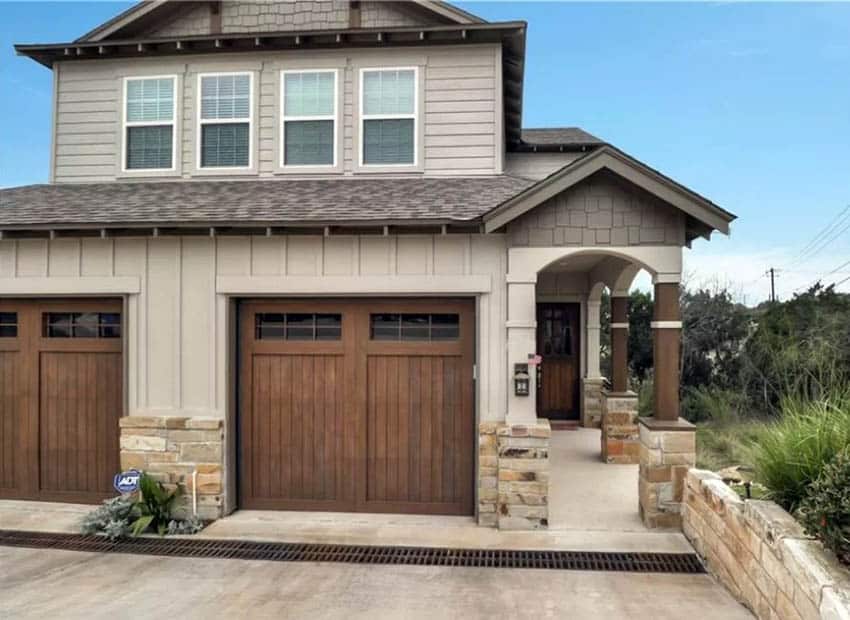 When it comes to materials, there is actually no limit for contemporary garage doors and they range from wood, steel, aluminum, composite, fiberglass and glass — it just depends on what material matches the facade of the house. 
Designs for contemporary garage doors are much simpler than the traditional ones. The lines are more prominent, often straight, there are no embellishments but it may include rectangular or square glass panels on the top or sides of the door. In some cases, the whole garage door may come in glass panels. 
Modern Garage Doors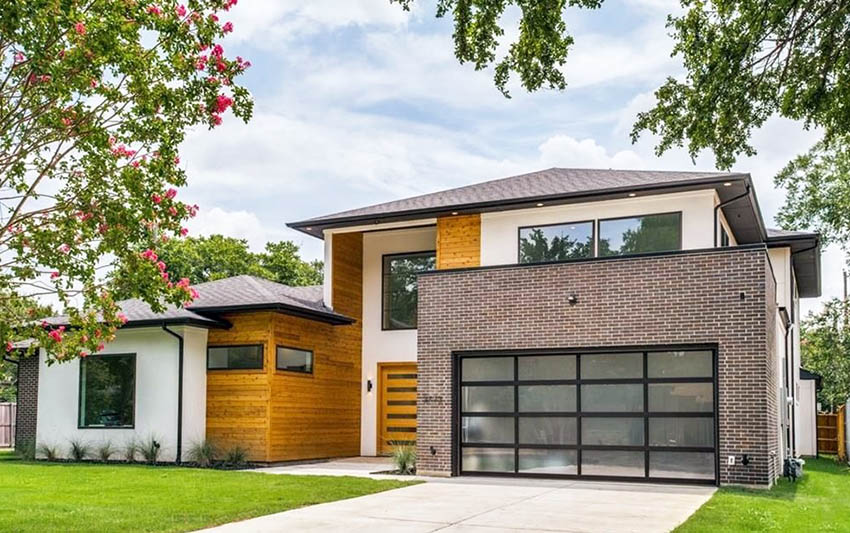 Modern garage doors are very much similar to contemporary style garage doors. Their designs are both sleek, striking, seamless and features strong, sharp lines and clean forms. 
The most common design for modern garage doors usually feature tempered glass panels encased in strong, corrosion resistant aluminum frame. Frameless garage doors are also a hit in modern homes as they have a more seamless and clean look.
There is also a variety of glass panel finishes which is used for modern garage doors. Aside from the standard clear finish, homeowners can choose from frosted or tinted glass. Mirrored glass in gray or dark bronze, opaque white or opaque black glass and translucent black glass are also other glass finishes offered by manufacturers for modern garage doors.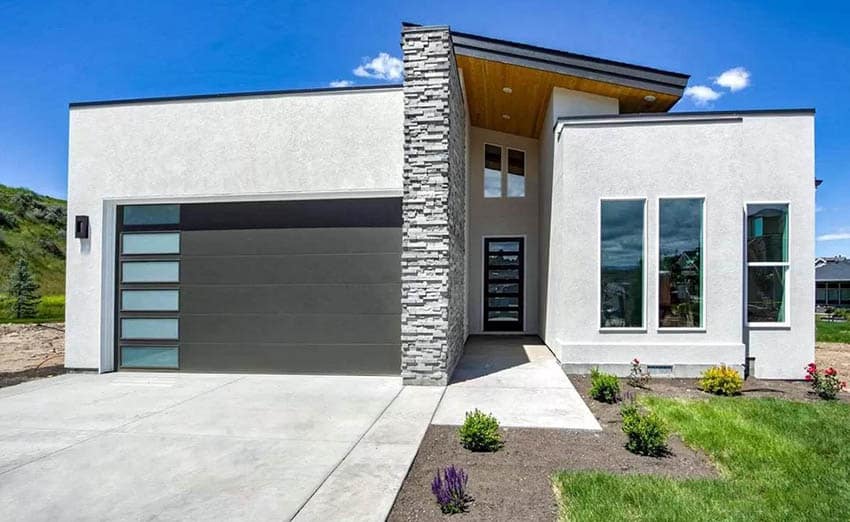 Aluminum frames, on the other hand, are available in powder coat finish in white, black or bronze or anodized finish in bronze or black. If neutral colors do not suit your home's facade, powder coating for aluminum frames of modern garage doors colors come in approximately 200 variations
Modern garage doors are considered to be the "high tech" models too, since they often include smart and special features.Some glass panels come with advanced light filtering features which moderates the amount of UV light that goes into your home. Another popular material used for modern garage doors is the  Low E glass or Low Emissivity glass which is a type of glass that had a special thin metallic coating that helps reflect heat equally during summer and winter. 
Garage Door Designs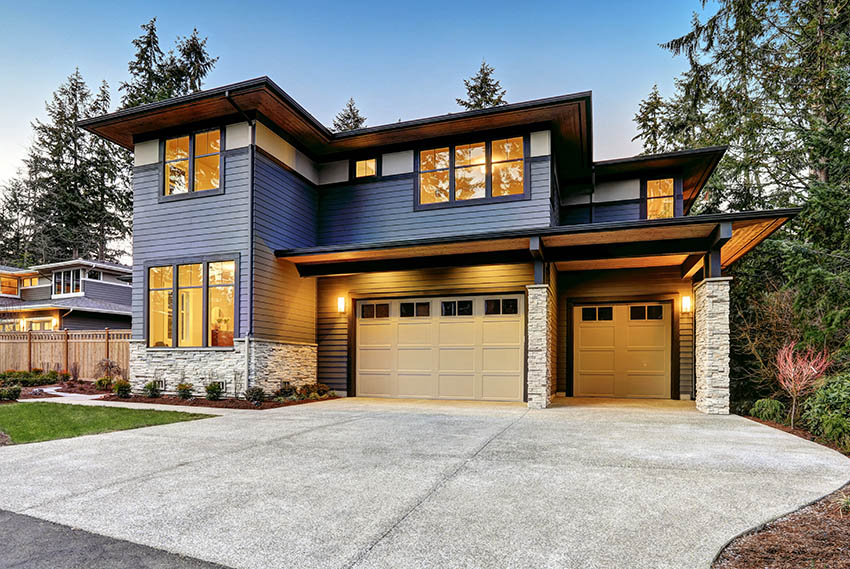 Now we'll cover the types of garage doors based on  how they open. Aside from the different sizes, styles and mechanisms, garage doors can also be classified according to how they open. They may swing out, slide to the side, open upwards or roll up. Additionally, they may also come in single panels, double panels or broken down into sections. 
Here are the most popular types of garage door designs:
Side-Hinged Garage Doors and Swing-out Garage Doors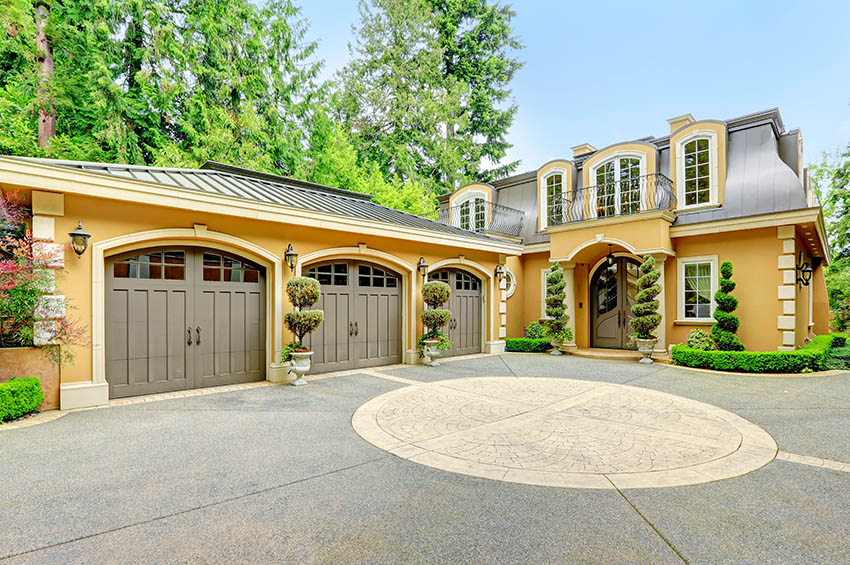 A side hinged garage door is very much similar to any standard door in a house. This garage door design operates by swinging open and close from a hinged frame on either side of the door. It is the simplest and most old fashioned design available for garage doors. Side hinged doors are also known as swing out doors because as mentioned, they swing out to open. 
Side hinged garage doors are also very much similar to large barn doors or carriage style doors which are made of two pieces of door, hinged at one side each and opens from the center. These are usually made from wood and come in a variety of styles that may include glass inserts, panels, grooves, slats, transoms, etc – practically anything you can think of can be customized. Aside from wood, there are also commercial type side hinged garage doors which are made from galvanized steel. This style has a more industrial look compared to the homey and more classic aesthetic of traditional solid wood. 
Side hinged doors are highly suitable for garages that have limited headroom and clear floor spaces. Since they swing out, there must be no obstruction in front of your garage door or driveway.  
Sectional Garage Doors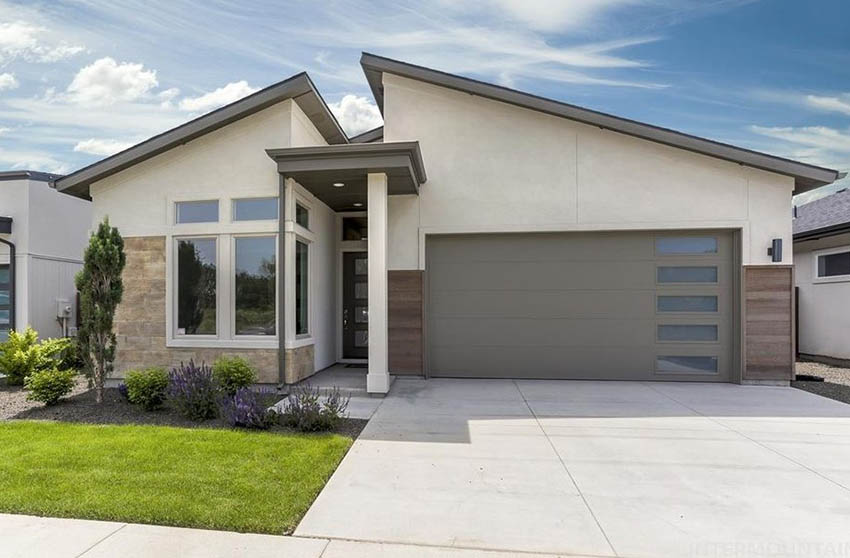 Sectional garage doors are the most common type of garage doors used in American homes. As its name suggests, this type of garage door is made up of four to five panel sections that are connected with hinges. This type of garage door opens vertically and the panels hinge back inside the garage as the door rises in order to open. Once the sectional garage door is fully retracted, the panels are gathered horizontally within the roof space or ceiling.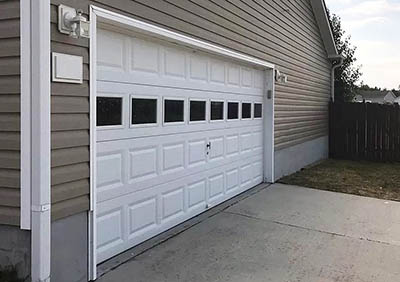 Sectional garage doors are a top choice for most homeowners because unlike a one piece door, they do not require a lot of space for its arc of travel as they open and close.
This makes sectional garage doors a very ideal choice for homes which have a short driveway or a limited garage space. It allows you to maximize your floor area and you can also park your car right up to the door. It is also well suited for homeowners with large vehicles. 
Sectional garage doors come in a wide range of designs that match a variety of architectural styles – from traditional to modern ones. Some include window inserts and it can be customized into different colors. These are typically made from steel and come in both insulated and non insulated variants.
Roll-Up Garage Doors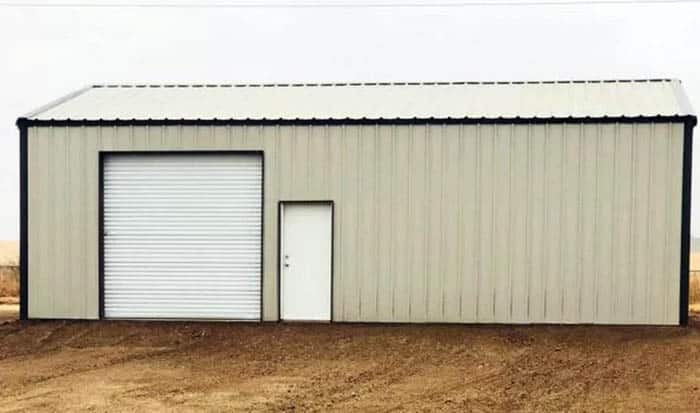 Although more commonly found in commercial applications, roll up doors are another garage door design which are offered for residential use. This garage door style is typically made with sections or slats of steel in 2 inches or 3 inches size. The sections roll around forming a drum on top of the door opening. Because its compact when it retracts, this type of garage door design is perfect for homes with limited floor or ceiling space. 
The no frills and easy to operate design of roll up doors are what makes them preferred by homeowners. Additionally, this garage door model is also built for heavy use, so you can expect it to last for decades. Heavy duty roll up doors are also classified as high performance garage doors and they can withstand the force of outside elements such as frost or snow, while also not being prone to rust and corrosion. 
In general, roll up garage doors are more costly than sectional garage doors because of their heavy duty nature. 
Slide to the Side Garage Doors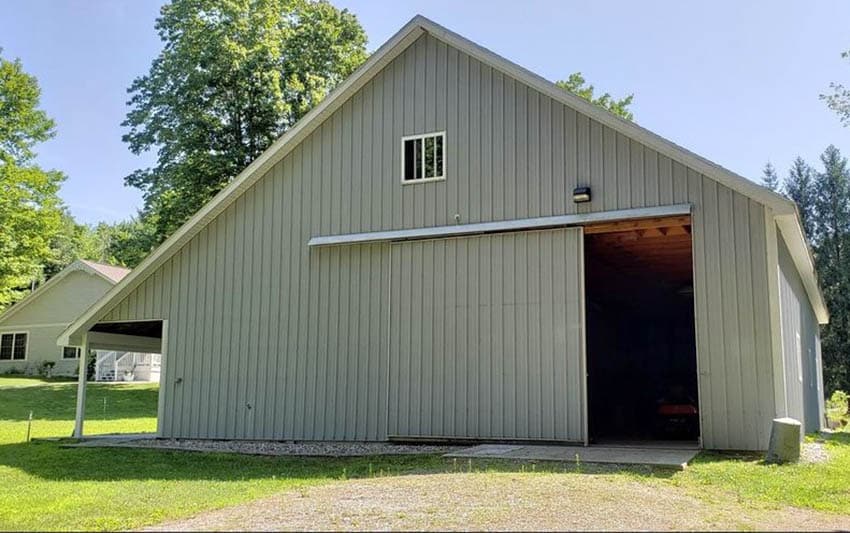 Another garage door which is among the early style and first operating method is the slide to side design. As its name suggests, the slide to the side garage door operates by sliding or bending to one side of the garage and sitting parallel to the wall. It can be made of panels that run along a trolley track. They are usually flexible enough to follow a slight curve or minimal slope in the ceiling or floor. This type of garage door design is automatic and comes with a built in retractable motor.
Slide to the side garage doors are ideal for garages with low ceilings or little headroom. 
Tilt-Up/Up and Over Canopy Garage Doors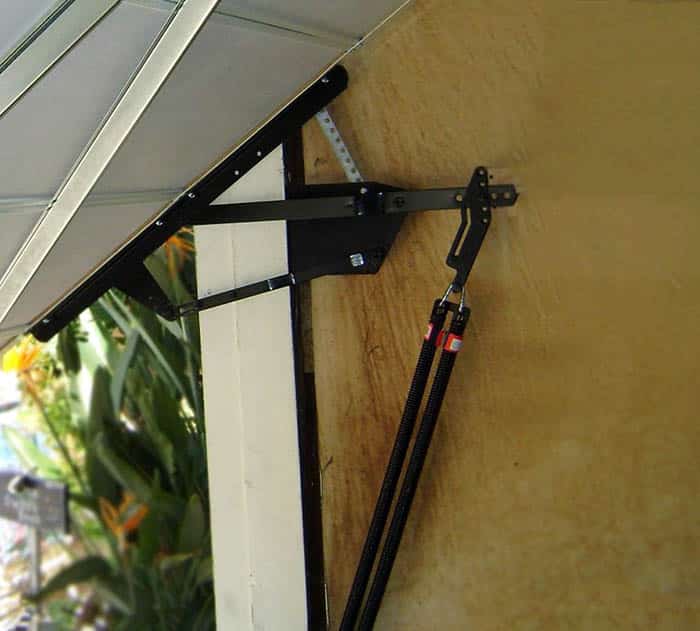 Similar to side hinged garage doors, tilt up canopy garage door do not have sections and they also come in one solid piece. But instead of being hinged to the side, the hardware or mechanism of operation for this garage door design is attached on top or the overhead part of the door. Rather than using a regular hinge, this type of garage door design utilizes a pivoting hinge mechanism which allows the garage door to tilt up.
There are two types of tilt up garage doors: 
Tilt-up canopy garage door:  Canopy garage doors are the more common type of two tilt up designs. Tilt up canopy garage doors make use of a pivoting hinge mechanism that lifts the door upward . The door then slides back parallel to the ceiling of the garage, while a small part of it extends past the facade of the house.
When the door is open, it then sits parallel to the ceiling into your garage. Because of such, there must be no obstruction in your garage's ceiling and the garage door itself  or driveway since the door will extend past the front of the house when open. This type of garage door design is ideal for garages that have limited floor area since they are more likely to take up space from the outside rather than the inside. 
Tilt-up retractable garage door:  Tilt-up retractable garage doors are very much similar to their canopy counterpart, however in this design, there is no part of the door which extends or protrudes to the facade of the home when its open. This type of garage door design is ideal for garages that have large floor areas since they are suspended independently from the frame
Single vs Double Garage Doors
Aside from the way they open, garage doors can also be classified according to their size, namely : single and double garage doors. 
Single Bay Garage Door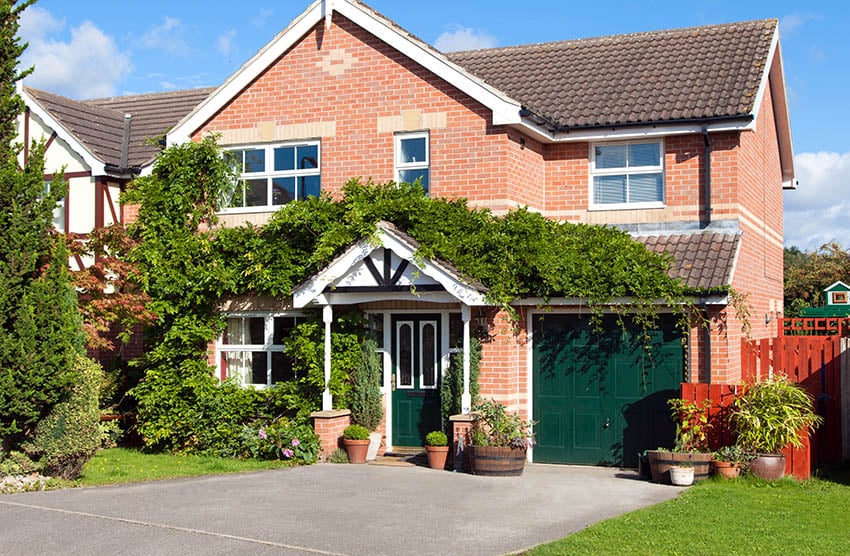 A single bay door is a general term for garage doors which are made with a large single panel. This type of garage door size is only large enough to accommodate one car. The typical standard size for single bay garage doors is 8 feet wide.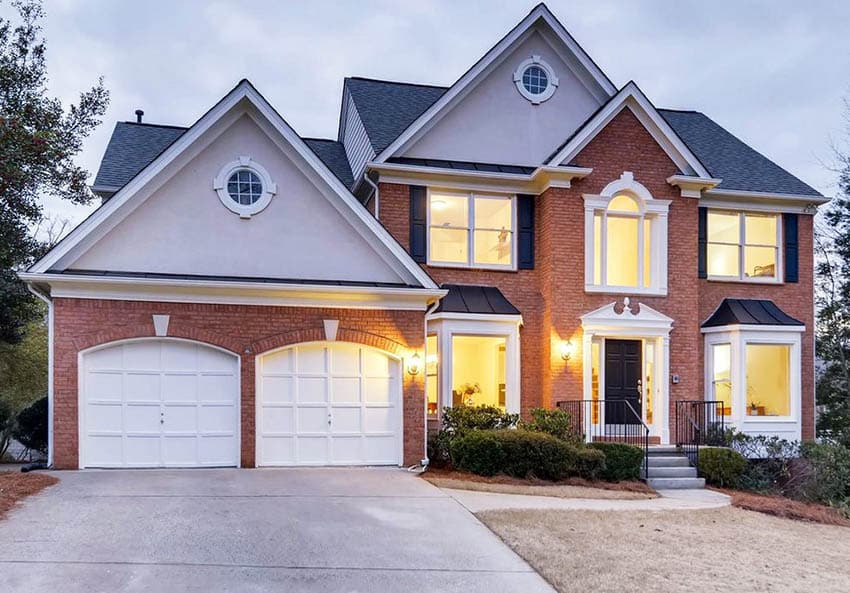 The example above features a large two car garage with two single bay doors.
Double Garage Door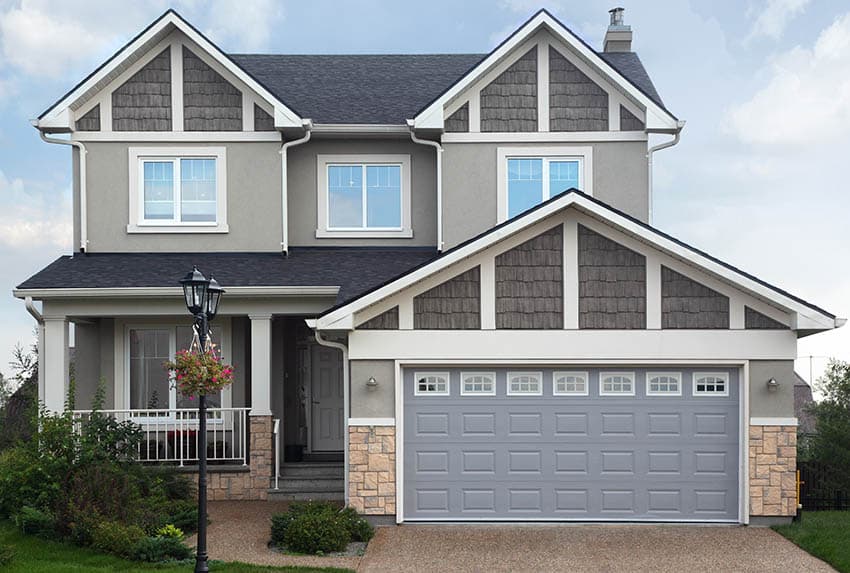 A double garage door is a general term for garage doors which are made with two panels. Some examples of double garage doors include carriage garage doors and swing out doors. This type of garage door size is big enough for two cars to pass. The typical standard size for double garage doors is 16 feet wide.
Garage Door Materials
There are several materials used in making garage doors and each makes a significant difference on how it performs. Likewise, the material used for you garage doors affects its function, lifespan, your home's value , appearance and curb appeal. 
Just like any other door at home, garage doors can be made of wood, steel, glass panels or more modern alternatives like vinyl, composites or fiberglass. Below we break down each of these options along with some of their greatest advantages and disadvantages.
Wood Garage Doors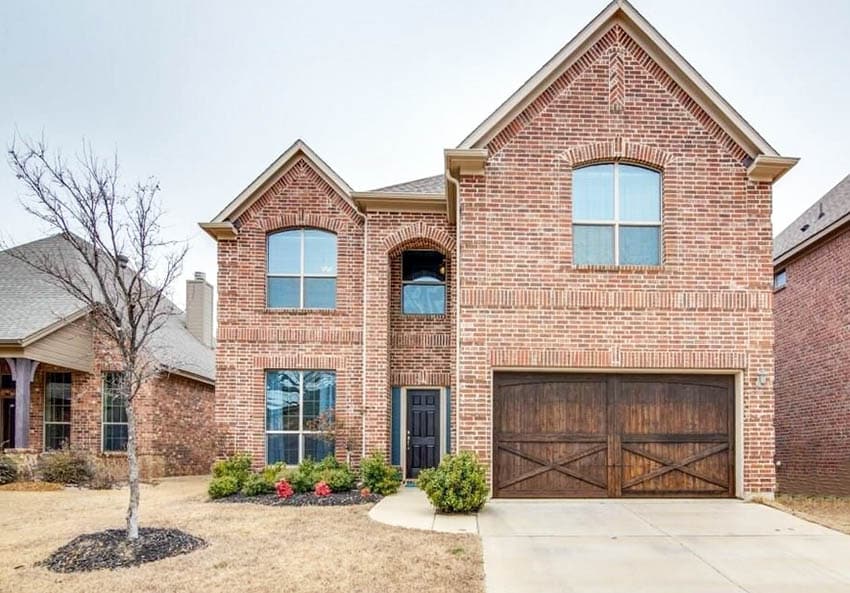 Wood, in general, is still considered to be the most common material used in interior and exterior construction. If you want a garage door which can effortlessly serve as a focal point of your house's exterior, then this material is the right choice for you as it projects a strong traditional, warm and inviting look. This type of garage door is highly suited for houses with a rustic, country or traditional style.
Wood garage doors are available in different species, the most common being mahogany, fir, hemlock, meranti, redwood and cedar. These species are known for their adaptability to different changing conditions which make them last for decades. Cedar is best known for being heat tolerant while redwood can stand up to high humidity. You can have wood garage doors customized into any design and size you like.
When it comes to cost, wood garage doors tend to fall on the mid price to very expensive range. The price greatly depends on the size, design and composition. Mid price wooden garage doors are usually made up of a lightweight wooden frame filled with foam insulation and wrapped in plywood or hardboard, while the more expensive wood garage door counterparts are made of true solid frame and panel doors. Typically, a standard wood garage door costs a few hundred dollars, while the custom options can go up to thousands of dollars.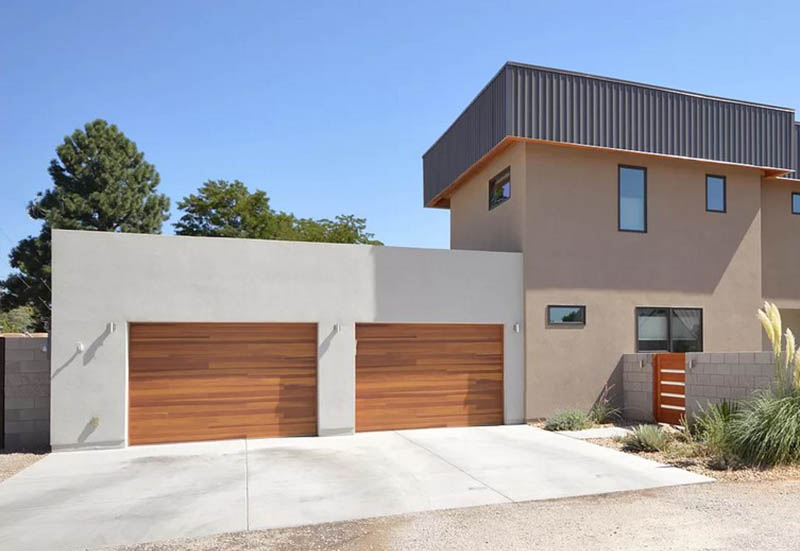 Advantages of wood garage doors: Most homeowners tend to choose wood garage doors over any other material because of its unmatched natural beauty. It offers a genuine charm and authentic distinct aesthetic which no other material can mimic. Aside from this benefit, another advantage of wood garage doors is its extreme durability. It is a very reliable material which can stand up well to bumps and dents.
As mentioned earlier, wood is a very flexible and versatile material, which means it can be customized into any design you like to fit the overall style of your house. It can also be modified into any size and can be treated with a variety of finishes like paint, varnish, wood stain and polyurethane. 
Wood garage doors are also very energy efficient too. Wood is a better insulator than steel.
Disadvantages of wood garage doors : Although durable, wood garage doors struggle when exposed to too much humidity and moisture. This type of material does not stand up well to rain, hail and snow. Wood is prone to warping, expanding and rotting when exposed to moisture. It is also prone to bug and termite infestation and can harbor the growth of molds and mildew. Once these problems develop, they tend to drastically alter the natural beauty of your wooden garage door – the most prized quality which wood garage doors are known for in the first place. 
Another downside of wood garage doors is that they require high maintenance. They'll need frequent repainting, restaining and regular finishing every few years to maintain their beauty. But if you live in a region with a damp climate, you'll have to do this more often. The upkeep of a wooden garage door translates to additional costs and requires a lot of effort and time. In some cases, wood garage doors also carry a short warranty – most ranging only to one year. But you can verify this with your trusted supplier before purchasing. 
The added finishing and maintenance is required to rectify the weaknesses of wood garage doors. Finishing and treating it properly will protect it from the elements as well as pests. Along with proper care, this maintenance procedures can significantly extend its lifespan.
In terms of handling, wood garage doors tend to be heavy, so when installing, you'll probably need an extra hand. 
Steel Garage Doors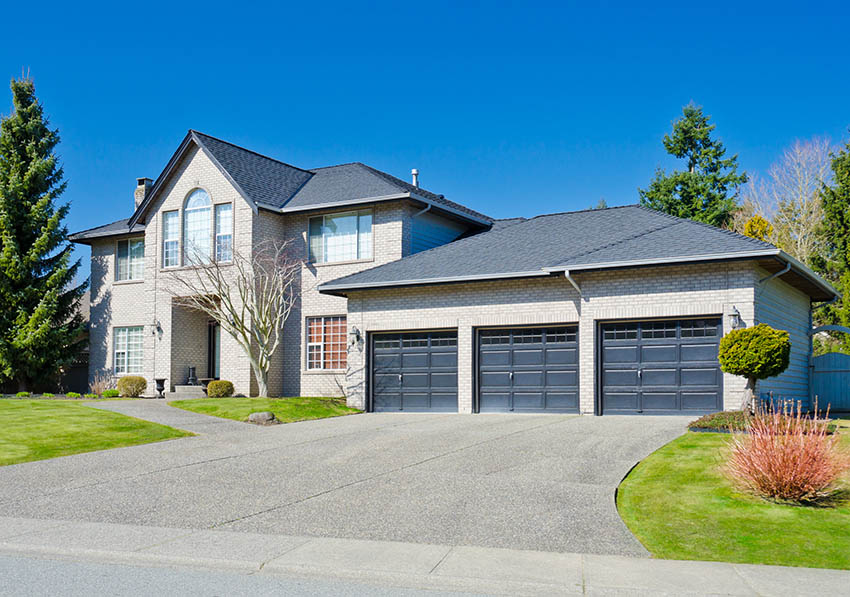 Metal is another popular material choice for garage doors. There are two most common types of metal used in garage doors, namely steel and aluminum. Steel is an alloy of carbon and iron, which is best known for its high tensile strength. It is a major construction material used in both architecture and industrial design because it is inexpensive yet very tough.
When shopping for a steel garage door, there are two major features that you have to consider, namely insulation and gauge or thickness .First, steel is naturally a poor insulator, so you have to buy doors which have insulation to improve energy efficiency and noise cancellation properties. Most of the time, steel garage doors are made of layers of galvanized steel with insulation sandwiched in between.
Next is the gauge or thickness. Steel is typically produced in different gauges or thickness which range from 0 to 38, but for garage doors in residential applications, the most commonly used panels fall between the range of gauges 24 to 28 (the higher the gauge number, the thinner the metal). Commercial grade garage doors are thicker. 
Garage doors which have this thickness are more reliable and have a more minimal risk of denting. Low cost doors have thinner panels which have a gauge of 27 to 28. Although durable, this thinner variants do not stand up well to impact. The midlevel steel garage doors, on the other hand, typically have a gauge of 25 to 26, while the top quality steel garage doors have at least a 24 gauge. Some manufacturers also produce steel garage doors with a fiberglass overlay in order to rectify the weaknesses of the metal such as oxidizing, rusting and denting.
The best steel garage doors are made of two layers of galvanized steel with insulation in between. The surface is typically treated with a primer, covered in paint or given a tough top coat. You can also buy steel garage doors which are clad with a composite material, however, this option will cost you a little more.
Advantages of steel garage doors : Steel is a much better material choice than wood if you are looking for a garage door that does not require high maintenance. Unlike wood which is prone to decay when subjected to moisture, steel garage doors can withstand changing elements like humidity and heat.Steel garage doors do not warp or rot and would seldom need repainting or restaining.
Extreme durability is also one of the top qualities of a steel garage door. It does not dent easily and won't budge from bumps from a little hail. It is proven to stand the test of time and can last for decades. In fact, most high quality steel doors in the market come with a lifetime warranty.
In terms of design and aesthetics, you can find a wide array of options for steel garage doors in the market. It can be customized into different colors and can have panels, window inserts and other details. Aside from a myriad of colors, steel garage doors can also be treated with a wood grain finish, which means you can still have the beautiful look of wood minus the problems commonly associated with it. 
For homeowners that are concerned with energy efficiency, steel garage doors also lead the pack. This material is energy efficient all year round. Most steel garage doors come with a foam core that helps keep the garage air tight, so the space is constantly heated or cooled. In the long run, this translates to savings in your energy and electric bills, while also protecting anything which is stored in your garage.
Cost wise, steel garage doors are also a good option since they are generally inexpensive. You get a good value for its price.
Over all, steel garage doors combines beauty, low maintenance and energy efficiency into one material. 
Disadvantages of steel garage doors : Although steel garage doors do not rot, decay or dent like wood doors, they can get scratched or dented. Untreated or base steel is sensitive to oxidation and corrosion, which means it can rust, making them a less suitable option for homes located near coastal areas. However, you can treat it with a protective coating to prevent rust from building up. Scratches would also need to be touched up quickly.
In itself, steel is naturally not a good insulator, that is why most garage doors made up of this material comes with an added insulation.
Composite Garage Doors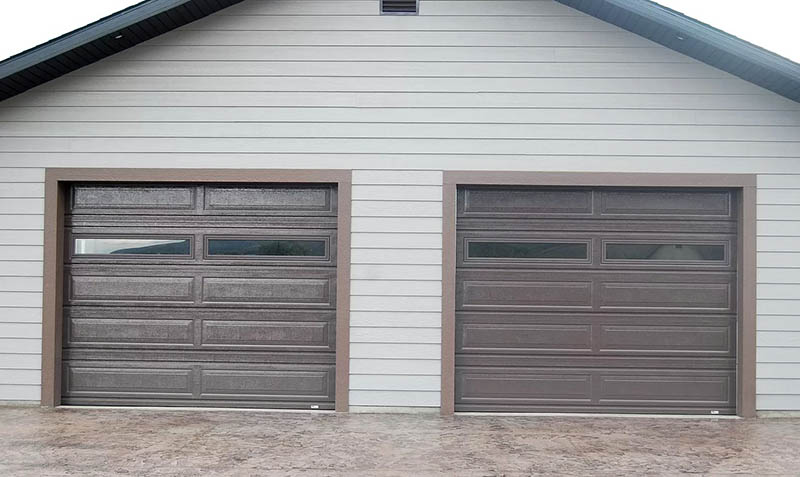 If you are looking for a less expensive alternative to wood, you can consider getting a composite garage door. Composite garage doors are typically composed of a wood frame covered with sheets of fiberboards. The fiberboards are made up of 80% recycled wood fibers and a bonding agent. The core of a composite garage door is filled with polystyrene insulation.
You can also find high end composite garage doors in the market, but for a more expensive price. This option is typically made with  high-density fiberboard skin and has a more realistic look, almost similar to real wood. Some even have more detailed designs that includes overlays and grooves. 
Advantages of composite garage doors : The best thing about composite garage doors is that they offer a good yet cheaper alternative to wood. Although they do not have the same level of beauty that a solid wood garage door has, they are available in designs which are as close as the real thing. Think of it as a 'discount wood garage door', minus the weaknesses like the tendency to rot, split, decay or get infested with termites. 
Composite garage doors are also durable and low maintenance. It does not need restaining or repainting and can be cleaned easily. In addition to their reliability as a material, composite garage doors are also energy efficient. The expanded polystyrene core insulation improves air circulation within your garage, preventing cooled or heated air from escaping.
Overall, composite garage doors offer the durability of steel, combined with the beauty of wood.
Disadvantages of composite garage doors : Although cheaper than wood, composite garage doors are more expensive than other materials. However, try not to let the expensive price tag turn you off, since this material will likely help you save energy costs for years and can last a lifetime.
Fiberglass Garage Doors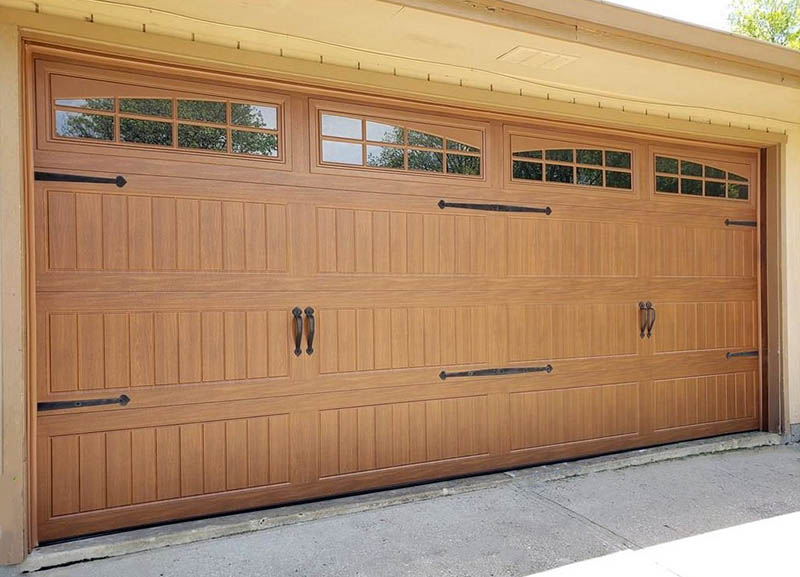 Another option for garage doors is fiberglass. Among all the materials used for this application, fiberglass is the most lightweight option. Fiberglass is made up of superfine glass filament. It is produced by heating glass until it is molten and forcing it into tiny holes which then creates the thin filaments. The glass threads or filaments are woven into bigger sheets which allow for modifying into different products like furniture, composite doors, windows, etc. 
Typically, this type of garage doors are made with fiberglass panels that are encased in an aluminum frame. You can buy it painted
Advantages of fiberglass garage doors : Despite looking fragile, fiberglass garage doors are very durable and reliable. They offer great resistance to denting. In addition, it does not expand, warp or rot when exposed to moisture and humidity. They work best for homes which are located in the coastal regions since they are more resistant to saltwater corrosion. 
As mentioned earlier, fiberglass is a very lightweight material so handling and installation is much easier as compared to other materials. And since it is lightweight, there is less noise when you open or close your garage door. 
Disadvantages of fiberglass garage doors : One of the biggest downsides of fiberglass garage doors is energy efficiency. This material is not a good insulator and is not effective when it comes to keeping the air in your garage warm or cool. The temperature outside of your home can easily get inside your garage and might leave you feeling uncomfortable. In the long run, this can also result in increased bills when it comes to electricity, cooling and heating.
Even though fiberglass garage doors do not break easily when exposed to moisture, they do, however, get brittle when subjected to cold temperatures, making them a less suitable material option for homes which are located in cold regions. Fiberglass garage doors also fade over time because of the constant exposure to changing weather. 
Fiberglass garage doors are resistant to rust and corrosion, thermally efficient, and can be made to resemble a variety of materials, especially wood. The fiberglass layers are typically bonded to a steel frame with polyurethane insulation, which is suited for homes in hot climates. These kinds of doors are quite sturdy. However, they can become discolored and break in cold climates.
Garage doors made from fiberglass are less subject to denting or cracking. They do not rust but can break upon impact. Two layers of fiberglass are typically bonded to a steel frame and filled with pFiberglass will need periodic repainting or restaining, though, because the color fades over time.
Glass Paneled Garage Doors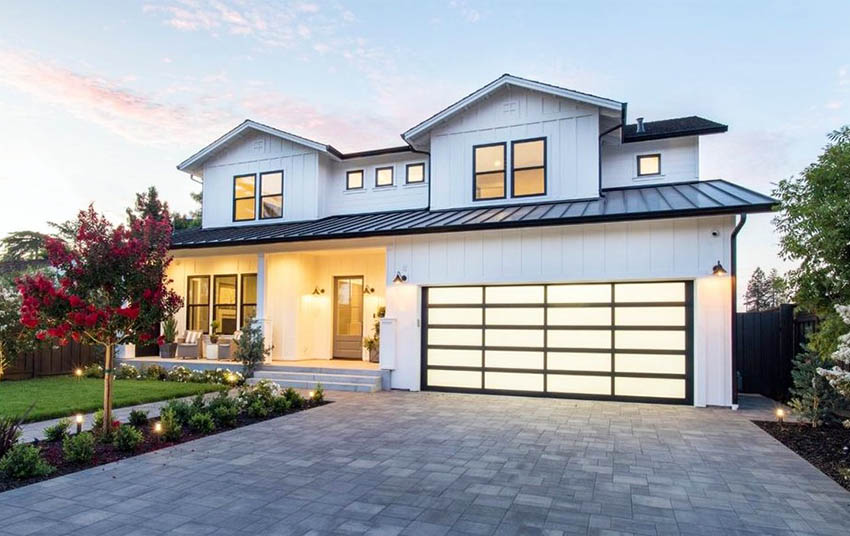 A more contemporary option for garage doors are glass paneled doors. Typically, glass paneled garage doors have aluminum frames and come in different types like frosted glass, tinted glass or etched glass. Some designs also combine opaque panels and glass to create a more eye catching look. These special finishes are often added to make up for the lack of privacy and security. Frosted and tinted glass lessens the transparency and partially blocks the view, while tempered safety glass or acrylic panels give more security. 
Glass paneled garage doors come in various thicknesses but the standard panels range from 1/8", 3/16" and 1/4" thick for the single paneled variants and 1/2" thick for the insulated glass. Since glass in itself is also a poor insulator, most manufacturers offer a special coating which increases the energy efficiency of your garage doors, keeping the temperature of your home regulated.
Advantages of glass paneled garage doors : Aesthetic value and beauty are the best qualities that a glass paneled garage door can offer. They look more contemporary as compared to other materials and pair well with modern homes. Glass also has a very unique way of making a space look larger and more open, especially because it can let natural light in. Also, if you are someone who likes to enjoy a good view, this material is the best option for your home.
This type of garage door material also offers the most design and architectural flexibility. You can choose form a wide array of design options when it comes to the aluminum frame and also the type of glass to be used. It can be customized to match your own individual style and is also an effective way to update the look of a traditional home. 
Disadvantages of glass paneled garage doors : The biggest concern for most homeowners when it comes glass paneled garage doors is the lack of privacy and security. Unlike other materials like wood, composite or even steel which keeps your garage concealed, everyone can see your home at any time of the day. With such, most homeowners also think that it is unsafe to use as it can also be broken using a blunt force. 
Glass paneled garage doors are also lacking when it comes to durability. Although the panels used for this type application are significantly thicker and stronger, they still cannot match the reliability and durability of steel or wood. Glass is also brittle and is prone to cracking and can get damaged from bumps or hail, and it can also get scratched 
Vinyl Garage Doors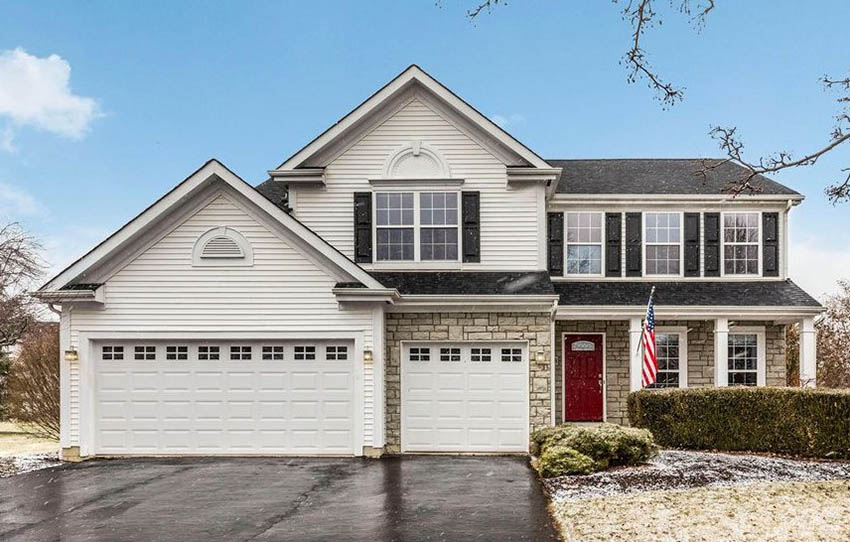 Vinyl is made up of polyvinyl chloride (PVC)  — the same material used in making pipes and plumbing materials. It was developed as a cost-cutting alternative to metal, while providing flexibility and durability as a construction material.
Vinyl garage doors are typically built on steel frames and are filled with polyurethane insulation. Appearance wise, they look very much the same to fiberglass garage doors. However, they come in limited designs and colors.
Advantages of vinyl garage doors : Vinyl garage doors have remarkable durability and can resist denting. It also performs very well even with constant exposure to changing humidity and temperature. It would not rot, decay, rust or corrode when it comes in contact with moisture, salt, snow or hail. They are a suitable option for home located in coastal regions. In addition to reliability in changing temperature, vinyl garage doors do not fade even when exposed to UV light. 
Another great benefit of vinyl garage doors is that it requires very low maintenance. A quick hose down of water can easily clean any dirt or dust. It is also considered to be "child proof" and works very well in terms of sound absorption and noise cancellation. It is also very energy efficient and has an effective insulation which can help regulate the temperature of your garage. 
When it comes to pricing, vinyl garage doors are considered to be a more affordable option compared to other materials. It is a bit more expensive than steel, but has more benefits. So, if you are working with a limited budget, but want a garage door which can last for years, you can consider this option. 
Disadvantages of vinyl garage doors : The biggest drawback of vinyl garage doors is the lack of design flexibility and customization options. They come in very limited colors and designs, making them a less appealing option if you want a garage door which works as a focal point for your home. 
Painted Garage Doors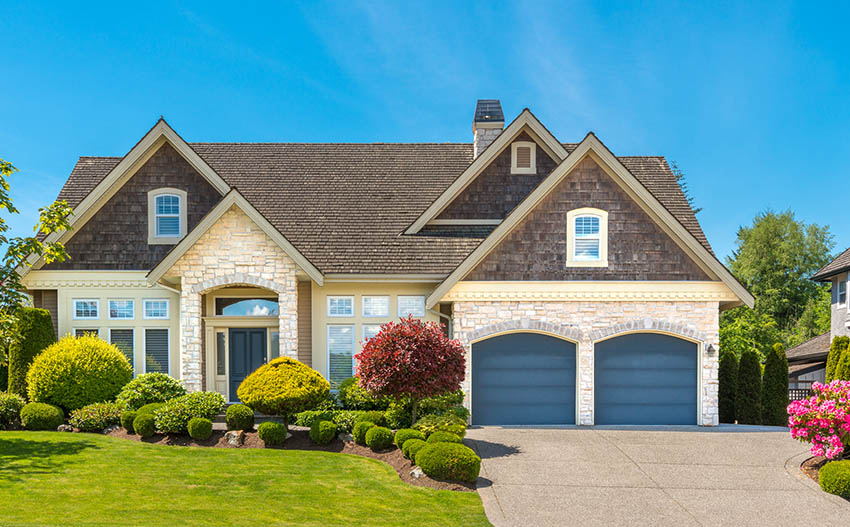 We have a brief look at some exterior paints that you can get from either a paint supplier or your local big box store. And since you're subject to the elements with this project, we focused on the features that make this paint job as painless as possible.
Painting a metal garage door involves some time and effort, but in the end it's a great way to give your home a fresh new look!
The Best Garage Door Paint
Acrylic latex exterior house paint is the best choice, but be sure to choose a high quality paint. In most cases a single coat of paint is all it takes, but keep in mind it could take more than one coat to provide good coverage if you're painting the garage doors a color that's lighter than the original color.
Garage Door Windows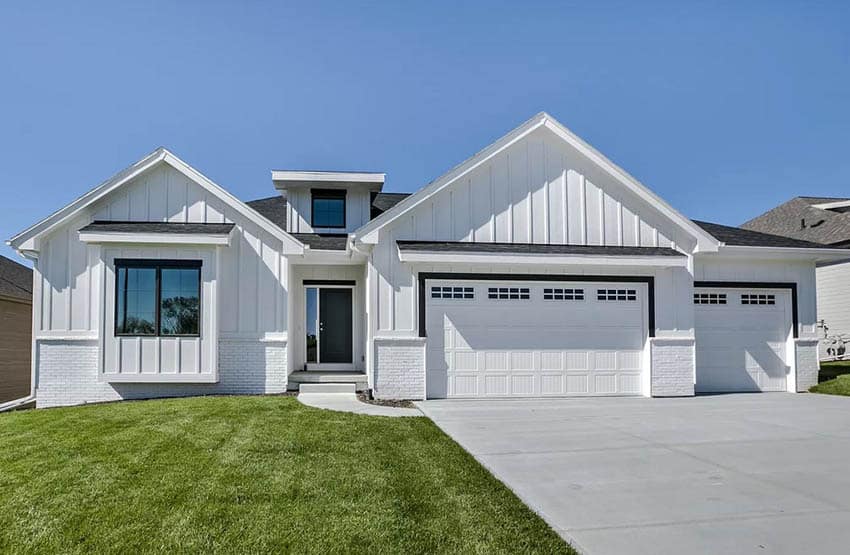 Windows are another feature you can add to your garage door to enhance the look of your home. Typically, windows are included in the design before the garage door is customized or installed, however, you also have the option of adding it even after the door is installed.
There are several factors that you need to consider before adding windows to your garage door, namely ; the style of your home, placement or position and the load or weight of the windows. The overall architectural style and design of your home is a significant factor to consider in choosing windows for your garage door in order to produce a cohesive and well balanced facade. For instance, if your home has a modern theme and the windows are glazed, it would be off to put a window to your garage door that has a traditional motif like starburst design. Remember, your garage door must always complement and harmonize with the rest of your home.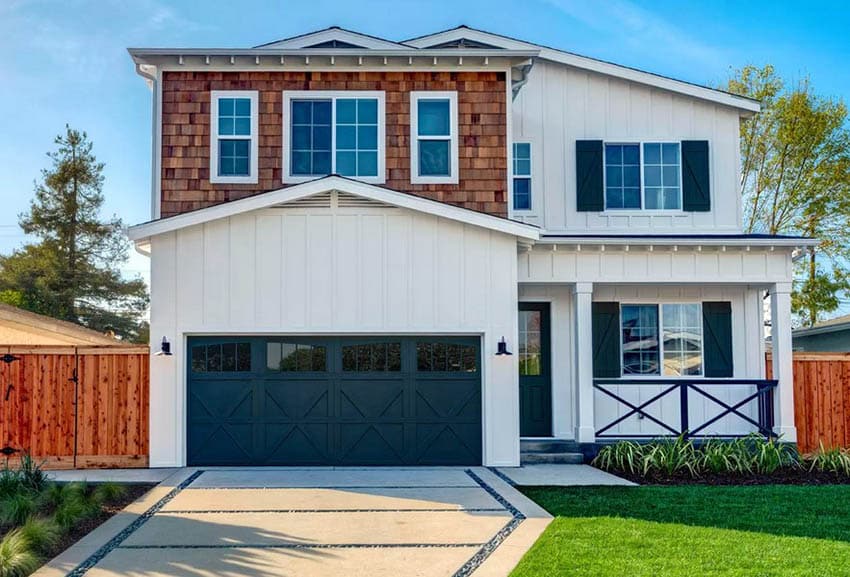 The placement and position of the window in your garage door is another equally significant actor to consider. Placing windows at the top panel allows more natural light into the garage without sacrificing privacy. Another option is to put the windows on the third section of your garage door (third panel from the bottom) , this, on the other hand, gives you a view of the outside of your garage. Whichever you choose, both works well when it comes to aesthetics as they keep the design balanced. 
More modern and contemporary garage door designs usually have window panels on the sides rather than being placed horizontally on top. 
Lastly, putting a window on your garage door has the tendency to create an imbalance in the garage door's spring system. Spring systems in garage doors can usually withstand a maximum variance of only 5% of the entire weight of the door. For a well balanced door, you can only use around 8 to 10 pounds of added weight or else the garage door opener will not work properly. 
Types Of Garage Door Windows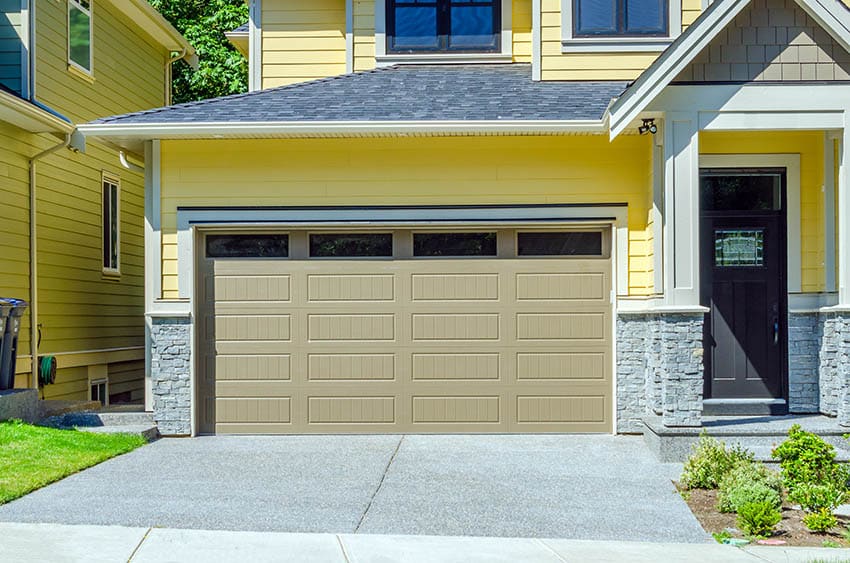 Garage door windows come in a variety of designs, shapes and colors. Some have simple rectangular forms, others curved and have more complex shapes. Some have clear glass, others have tinted or colored panels. 
Special designs made of designer glass are another option for garage door windows. These are usually made to resemble stained glass windows. Other additional designs are plastic inserts that  protrude on the outer part of the window frames, like arches, french windows and different motifs. In some cases, the designs can also be painted to match the exterior color scheme of the house.  
There are a variety of garage window designs to choose from and the names vary for each supplier. The most common designs are the single rectangular panel, transom or fanlight, french windows and arched.. 
Insulated Garage Doors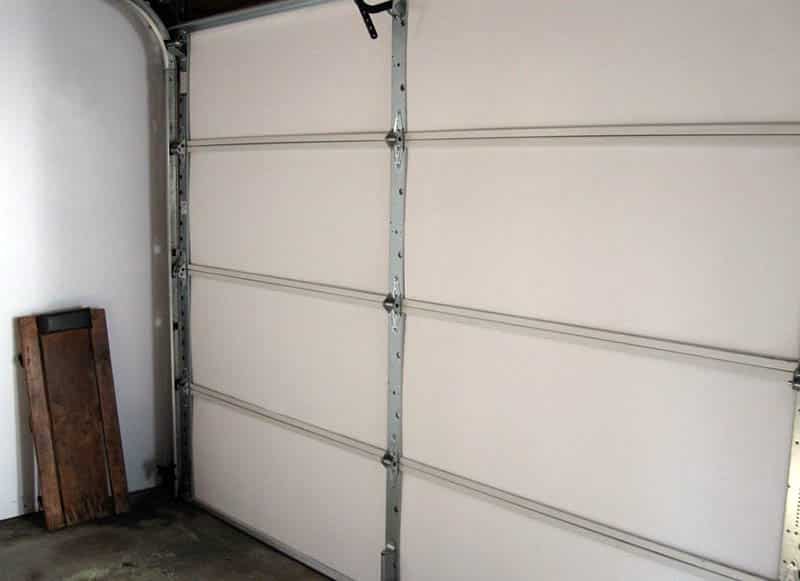 Insulation is another feature which can be added to your garage door. Rather than being aesthetic, this is more of a functional feature which enhances the performance and efficiency of the garage door. Garage door insulation affects your garage door in several ways : (1) increases durability, (2) increases efficiency, (3) reduces noise and improves sound barrier and (4) regulates temperature.
Garage door insulation keeps the warm and cool air within your garage. It makes your home quieter by acting as a barrier against the street noise. Additionally, it helps conserves energy and can save you money in the long run. You should consider adding insulation to your garage door if your garage is a part of, or attached to your home. Read more about the attached vs detached garage pros and cons here.

When do you need insulation? Typically, garage doors are constructed in three different ways : 1-layer, 2-layer, and 3-layer.  One layer garage doors is made up of a single layer of steel and has no insulation. The 2 layer garage doors are made up of three different materials – an insulation sandwiched between a single layer of steel and a vinyl backing. Three layer garage doors have the highest quality and are made up of two layers of steel with an insulation in between. The latter is the most expensive and most efficient. 
There are 2 types of insulation: Polystyrene and Polyurethane. Polystyrene is the same material used in making styrofoam products. This type of insulation is usually used in two layer garage door construction. Polyurethane , on the other hand, produces a more solid garage door as it fills the whole panel. Polyurethane insulation can be found in three layer garage doors.
There are also DIY kits which can be used to add insulation to an existing garage door. It comes in four different types namely cellulose, spray foam, rigid foam and fiberglass. It will cost you about $200 to insulate a garage door on your own. 
Garage Door Openers
There are several types of garage door openers to choose from. The most popular are belt, screw, chain and direct drive. Chain drive are perhaps the oldest and still the most commonly used in homes today.
Keyless Entry
Another improvement which you can add to a garage door is a keyless entry garage door opener. This type of unit makes use of a keypad remote to open, close and lock the garage door. Keyless entry gives several benefits such as allowing multiple access using only a code, lessens the risk of losing a key (because you basically do not  need one to operate your garage door) and of course, wireless control. 
To operate a keypad remote, you need to set a security access code. This code then opens and closes the garage door for you. In installing a keypad remote, you do not need to wires to the garage opener itself and you can set it up anywhere easily. This type of garage door feature costs around $30 to $40 for the remote and $30 to $60 for the keypad.
Garage Door Sizes
Now that you know the common styles, materials and designs of garage doors available in the market, it's time to know the average sizes that you can choose from. Here are some of the most important facts on garage door sizes and dimensions:
Standard Garage Dimensions
Garages can either be detached or attached to your home. An attached garage, as it name suggests, comes with your house, while a detached garage is a separate structure adjacent to your home or within your property.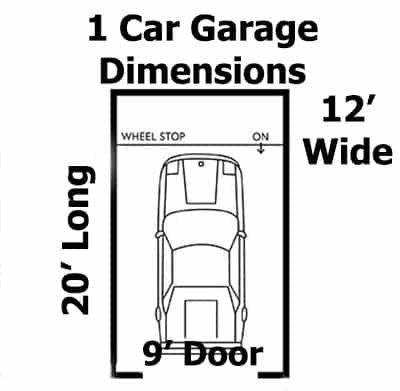 The smallest option for garages are one car garages. One car garages are made to fit one vehicle and have a standard dimension of 12 feet wide and 20 feet deep. This size is adequate for your garage to be used as a shed or even a small bedroom or den. You can build a bigger garage if you want more storage. Other standard one car garage sizes are  14 feet wide x 22 feet deep, 16 feet wide x 24 feet deep and 14 feet wide x 24 feet deep.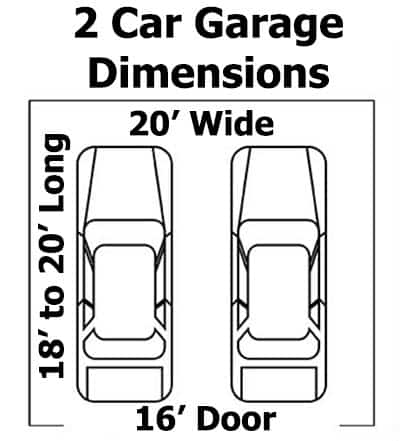 Two car garages are obviously bigger as they can accommodate two vehicles at one time. Of course, if you do not have two cars but have the luxury of space available in your home, you can explore this option if you want more garage storage or have an equipment like a lawn mower or snow blower that needs ample space to be stowed.
The typical garage dimensions of a two car garage are 18 feet wide by 20 feet deep. Other common sizes are 20 feet wide x 20 feet deep, 22 feet wide x 22 feet deep and 20 feet wide x 22 feet deep.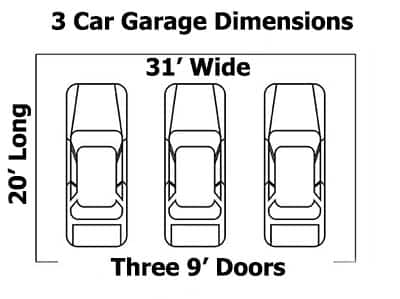 Aside from one or two car garages, there is also another bigger option which is the three car garage. Three car garages are common in households who have children who can already drive and have their own vehicles. Sometimes, the extra space is also used as an additional family room. Three car garages are usually have a standard dimension of 32 feet wide by 20 feet deep. Much like 18 x 20 2 car garages, 32 x 20 feet snugly fits 3 cars. Other larger options include 36 feet wide x 25 feet deep, 38 feet wide x 26 feet deep and 40 feet wide x 30 feet deep.
Tandem Garage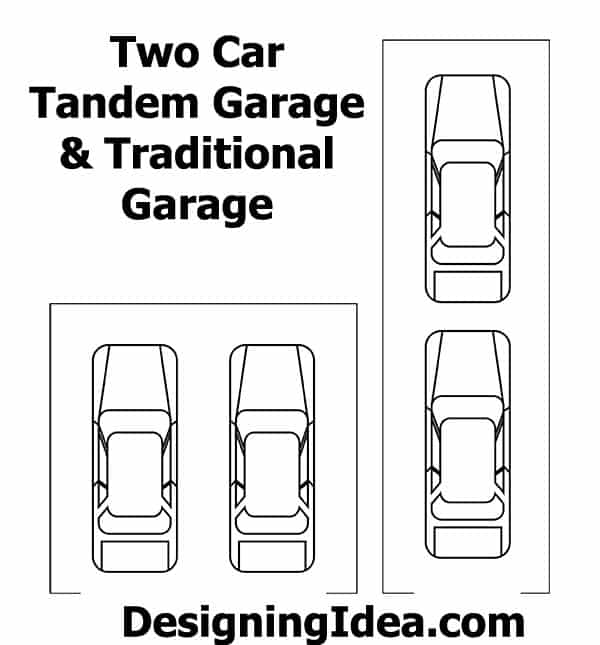 A tandem garage is configured where one car is parked directly in front of the other. This type is often used in high density areas such as big cities where space is at a premium. they can be useful to have but inconveniencing when one needs to use the car parked in the back.
Standard Garage Door Sizes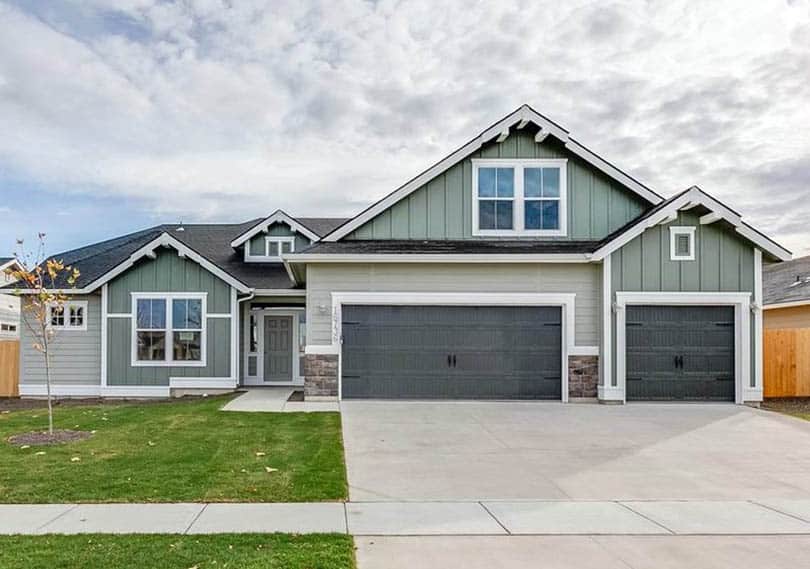 Garage doors are typically manufactured in standard widths that range from 8 feet to 20 feet. Single car garage doors start at 8 feet and comes at 1 foot increments, with 10 feet maximum width. double car garage doors, on the other hand, start at 12 feet and move up a sizing of 2 feet intervals with 18 feet as the maximum. You can also order doors which are bigger, but these models require more lead time.
Standard height for garage doors are more limited and they are usually offered in 7 or 8 feet only. Most cars can usually fit in a seven feet high headroom, however, if you have a top rack, it might not be enough.
The dimensions below are the standard garage door measurements used by leading suppliers and manufacturers:
Single car garage door sizes – 8 x 7 feet , 6 x 7 feet, 7 x 7 feet
Double car garage door sizes – 14 x 6 feet and 16 x 7 feet (can safely fit two vehicles side by side)
The typical thickness that most manufacturers use is 6 inches, but this depends on the material used. Steel garage doors, for example, can be as thin as ⅛ inch. insulated doors are thicker and typically come with a ¼ inch to ½ inch foam insulation sandwiched in between the steel.
RV Garage Doors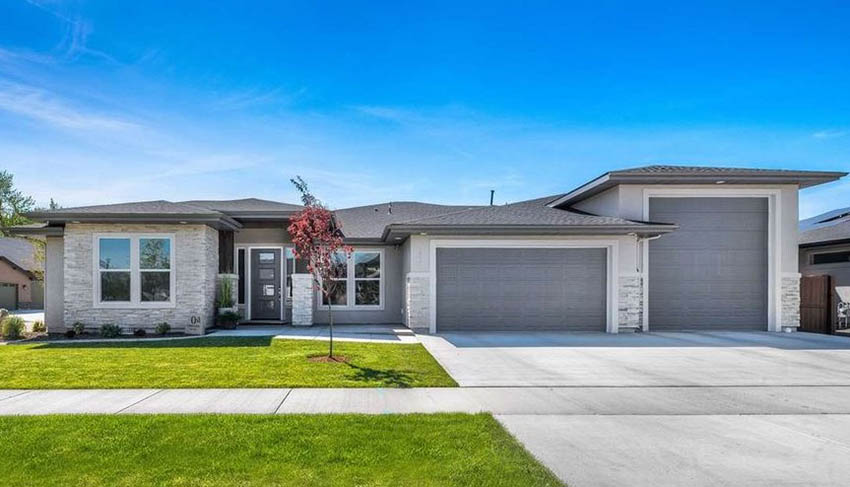 RV garage doors generally range from 12 to 14 feet wide and 12 to 16 feet tall. A 16 foot tall door will accommodate most recreational vehicles on the road.
Garage Door Prices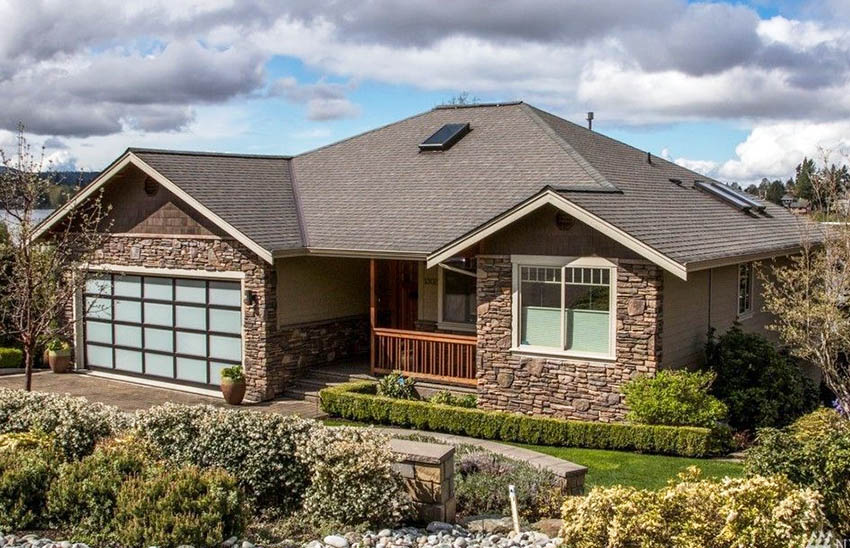 There are several factors that affect the price of garage doors. These include the type of design, style, materials used and the size of the door. Additionally, accessories, hardware like rollers, spring systems, tracks and handles will also increase the price of a garage door. Special features like smart openers  and installation are also other add ons to the overall cost of a garage door.
General Garage Door Prices Based on Size
Single size garage doors start at around $200, depending on the size and material used. This price may increase too once installation is included. Double garage doors, naturally cost more because they are bigger and uses up more materials.
Double garage doors have an average price of $4,000.  Average price for double garage doors go around $600, depending on the material and excluding installation. High end custom garage doors are the most expensive ones and can run up to several thousand dollars
General Garage Door Prices based on Materials
Here are some of the estimated prices for garage doors based on different materials. The following prices are based on 16 x 7 doors and do not include installation. New hardware such as tracks, rollers, spring, and hinges are typically included in the garage door's purchase price. 
Wood Garage Doors – $1000 to up to $10,000. Wood is the most expensive option
Steel Garage Doors –  $250 to $3,500
Aluminum Garage Doors –  $1,500 to $2,000.
Fiberglass Garage Doors – starts at $1,200 to $2,200
Vinyl Garage Doors – starts at $600
Composite Garage Doors – start at $1,500
Glass Garage Doors – start at $1,500.  Pricing is similar to composite doors.
Steel Garage Doors – range from $250 to $2,500.
Garage Door Installation Cost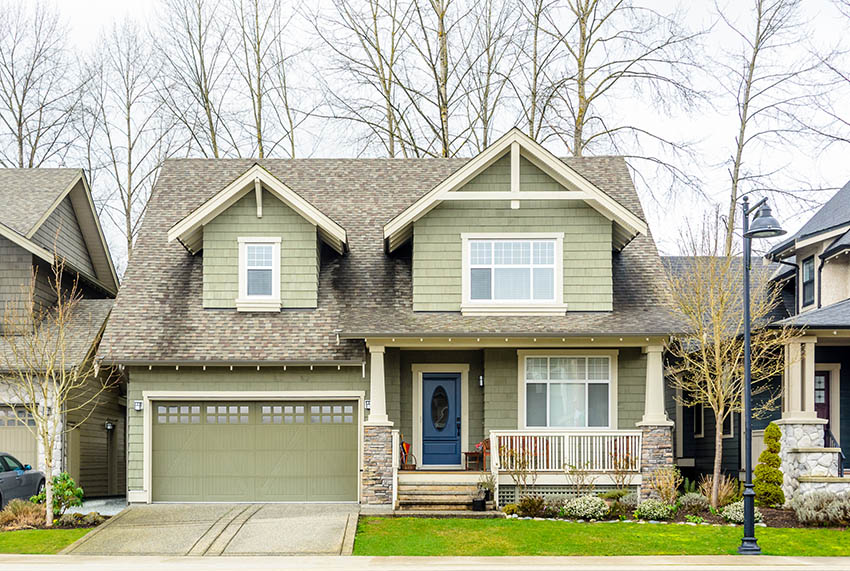 What's included in a new garage door installation cost? For any commissioned work, an installation cost is simply the fee that you pay for the labor or the services of a professional.
Aside from the labor and professional fees, installation costs for a new garage door also covers the mobilization, removing the old door, hauling away the old door, upgrading and setting up the new door and fitting the hardware and openers. The average cost for installation that companies charge for garage doors run around $250 for single size door and $350 to $500 for double car garage doors.
If you only plan to have an old garage door removed, expect to pay around $75 to $200.
Overall Garage Door Prices (Materials, Hardware And Installation Included)
On average, a complete garage system, including the door itself, hardware and openers with installation cost around $750 to $2,000 for standard single garage doors and $1,000 to $4,000 or more for double sized garage doors
What Is The Best Type Of Garage Door?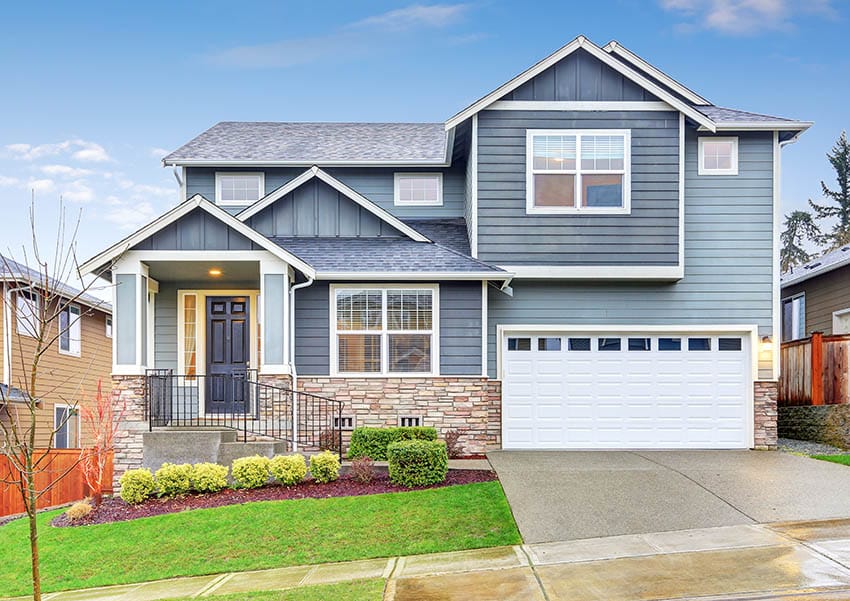 Each type of garage door has their own unique qualities and advantages which make them a good choice for homes. Some are known for their durability, other forms their beauty, some for their performance and low upkeep. With all of the choices presented to us, it can be quite a daunting task to choose which option is the best for our home. Your final choice will depend on what quality do you value the most — beauty, durability, cost or upkeep.
Here is our recommendation on the best garage doors based on their stand out attributes:
Top garage door type based on durability and security : When it comes to durability, performance and reliability, steel garage doors make it to the top of our list. Made with a heavy duty material, this type of garage doors can last for decades and can withstand most outdoor elements. It also provides most security.
Top garage door type based on beauty : Wood garage doors are still the clear winner when it comes to overall aesthetic value. Wood, in general, has its own unique natural beauty which cannot be matched by any other material. 
Top garage door type based on upkeep :  The easiest to maintain out of all garage door options are composite garage doors. This type of garage doors do not require repainting or refinishing, do not fade over time and require only a little hosing down of water to clean dirt. 
Top garage door type based on cost : The cheapest garage door which you can buy in the market are steel garage doors. Although cheaper than its counterparts, steel gives a good value for money as it is very durable. 
Another option worth considering : If we are to weigh the positive versus the negative characteristics of each garage door type, we have to give a special recommendation for composite garage doors as their attributes combine the best qualities of different material choices while eliminating their weaknesses. Overall, composite garage doors offer the durability of steel, combined with the beauty of wood
Can Garage Doors Be Painted?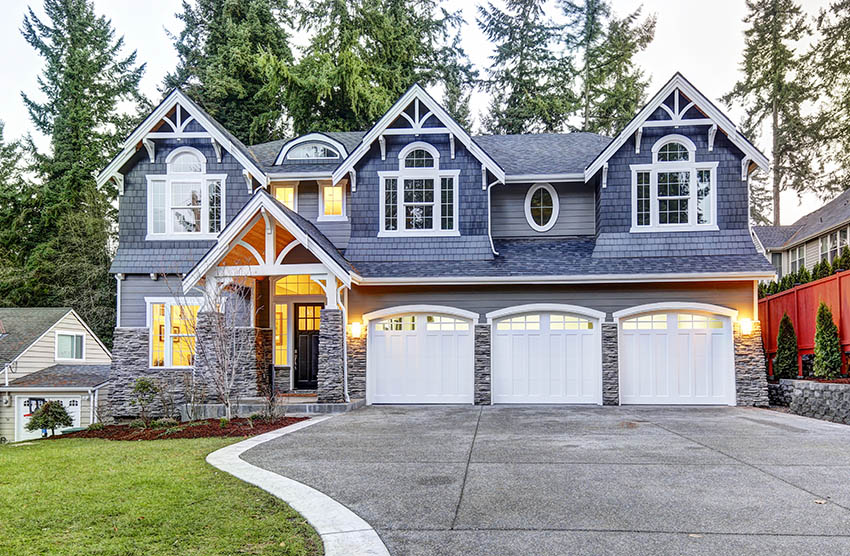 Can garage doors be painted? The answer is yes, garage doors can be painted. However, the type of paint or finish that you need to use will greatly depend on the material of your door. 
Paint, the most readily available and most durable finish can be used for wood, steel, fiberglass and even vinyl garage doors. The best thing about paint is that it comes in different colors, so you can be sure to find an exact hue to match the exterior of your house. 
Acrylic latex paint is the only type of paint which works for all garage door materials. If you want to freshen up an old garage door, apply two coats of acrylic latex paint on your garage door. To maintain the look of your garage door, you can sand and reapply the same type of paint every five years. 
If you have a wood garage door, another option you can explore are clear coats.  Clear coats are a colorless varnish which highlights the natural grains of wood. To freshen up an old wood garage door, apply three coats, while to maintain, apply a new layer of top coat every year. This is an ideal choice if you want the natural beauty of your wooden garage door to stand out. 
Top Garage Door Company To Use
You can buy garage doors at local home improvement stores like Home Depot or Lowe's, but there are also local manufacturers and independent companies which solely dedicated in the production of garage doors.
Buying Garage Doors from Home Improvement Centers
If you plan on buying a garage door from local home/improvement centers, it helps if you first check out their website before heading out to the store. In that way, you can narrow down your choices and save time and effort when you view the actual samples. The only thing that you need is the exact measurement of your garage doors opening. Once you have decided on which door to buy, the installer will confirm your measurement to make sure that the door fits in your garage.
Top Garage Door Companies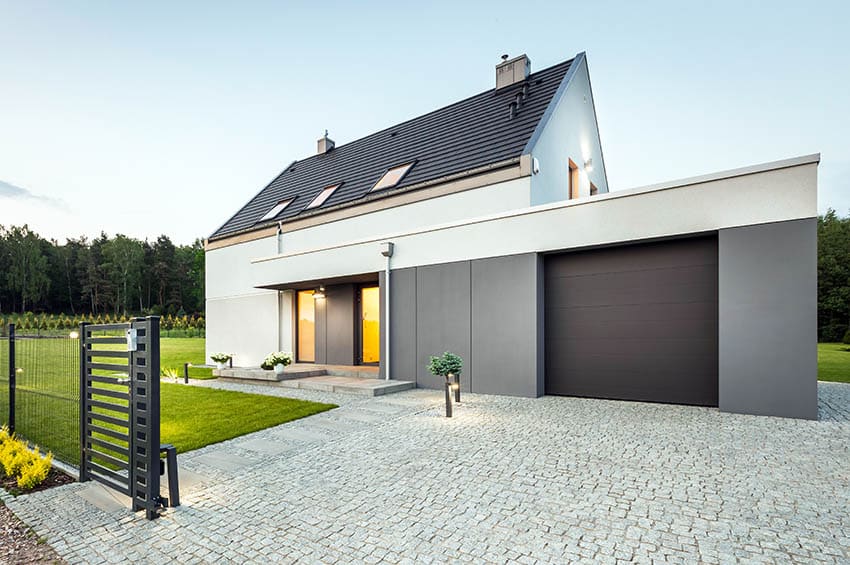 Local garage door companies may either carry one single brand of door or a variety of brands. Major manufacturers produce pre made door sections which can be configured, then the local  companies handle the installation. 
Some garage door companies have their own showrooms, but you can also check out their website so you can get an overview of their product lines and compare each model's features. When sourcing for garage door suppliers, it also helps a lot if you could get an estimate or quotation form at least three different brands so you can make a good comparison and get the best deal.
Some of the top and biggest garage door manufacturers are as follows:
Clopay – Clopay is best known for manufacturing garage doors, entry doors and overhead commercial doors. Their products cost around $400 to $4000 depending on the style and size.
Wayne-Dalton – The largest manufacturer of overhead doors, Wayne and Dalton is an Ohio based company which supplies, installs and repairs residential and commercial doors.
Raynor – Raynor handles construction, installation, replacement of garage doors, garage door operators, and garage door installations for residential and commercial applications 
C.H.I. Overhead Doors – C.H.I. Overhead Doors is a well known manufacturer of  high quality residential, commercial sectional and rolling steel overhead doors.
Visit this page for more garage makeover ideas.