This gallery of workbench backsplash ideas shares different materials to use such as plywood, pegboard, slatwall storage panels, and aluminum diamond plate designs.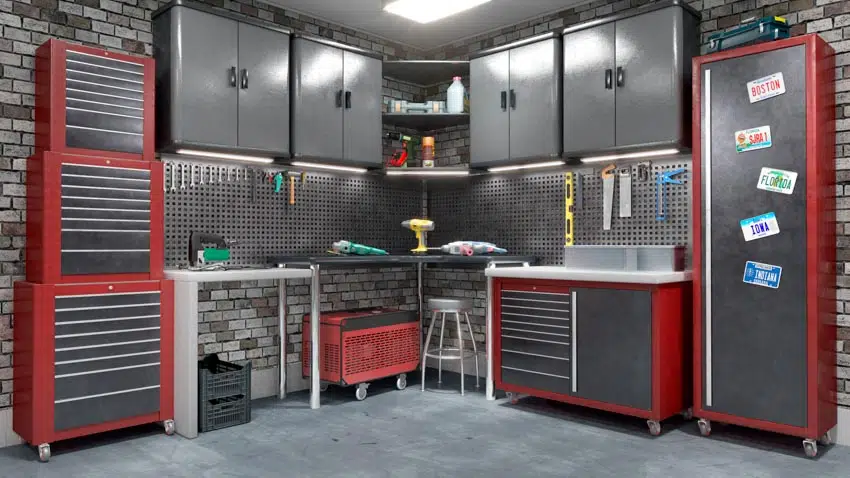 Your workbench in the garage is a favorite place where you perform household repairs, tinker with your car, clean it, and do minor maintenance work. Some items tend to roll off the edge of the table and fall to the floor.
There are also times when you use a workbench to spray paint items or do some sanding and welding. A backsplash can prevent grease, water, pieces of metal, or paint from getting out of your work area, minimizing the danger of falling debris or by the spread of unwanted paint.
You will appreciate having a workbench backsplash when you realize you do not have to pick up objects that have fallen or crawl on the floor to find the small ones. The backsplash will stop them.
So, how can you prevent this from happening? You can use a backsplash or something to prevent them from falling. Here's our list of the top backsplash materials for a workbench.
What To Use For Backsplash For A Workbench?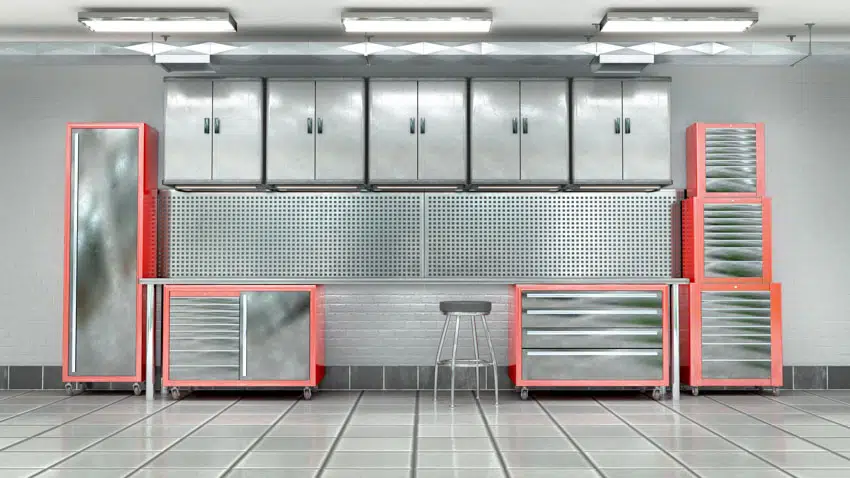 For people who keep a workbench at home, a backsplash must be installed to keep materials and building waste from falling to the floor. If your purpose is to keep your tools and materials from falling over the edge, you can improvise a backsplash such as thick blocks of wood or bamboo sticks by placing them on the edges of the workbench.
You can also use a piece of fabric if you are dealing with dry materials that can spill over the work table such as if you are adorning a piece of cloth with beads. Use a wide cloth or piece of textured rubber to cover the surface of the workbench to prevent screws, nuts and bolts from rolling and the other items from falling.
Workbench Backsplash Materials
There are plenty of materials that you can use as a backsplash. If you work with liquids and fluids, water-resistant materials will be the best to use.
In instances where harsh chemicals are involved or where welding, sanding, and grinding are done, installing backsplashes that are made of durable material, mostly metals, is highly recommended.
Below is a list of backsplash materials for your workbench.
Plywood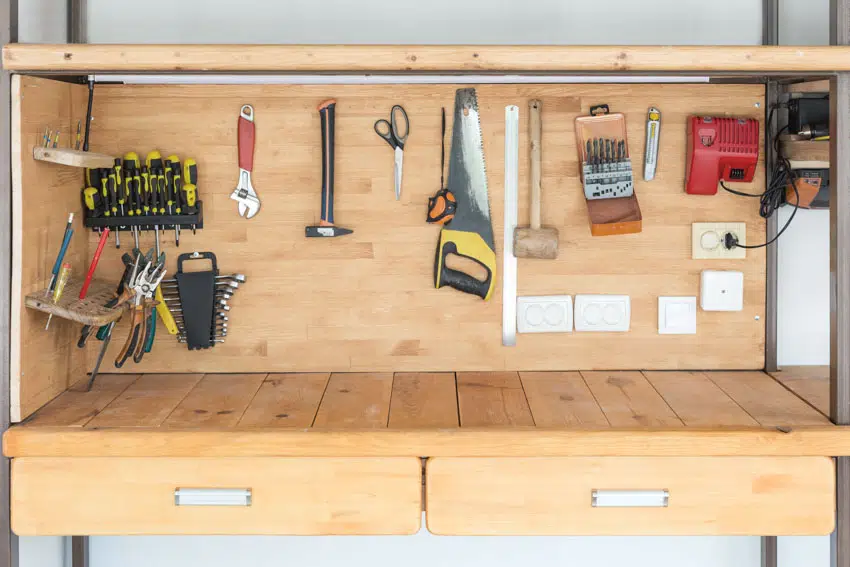 If you do not work with liquids on your workbench, plywood will be an excellent backsplash. Use a thicker one. Use several layers of plywood to make it stronger. It can serve well when you are sanding or grinding something.
The plywood will stop the tidbits from flying everywhere and contain them on the workbench. This makes your work area easy to clean and the residues to get rid of.
Pegboard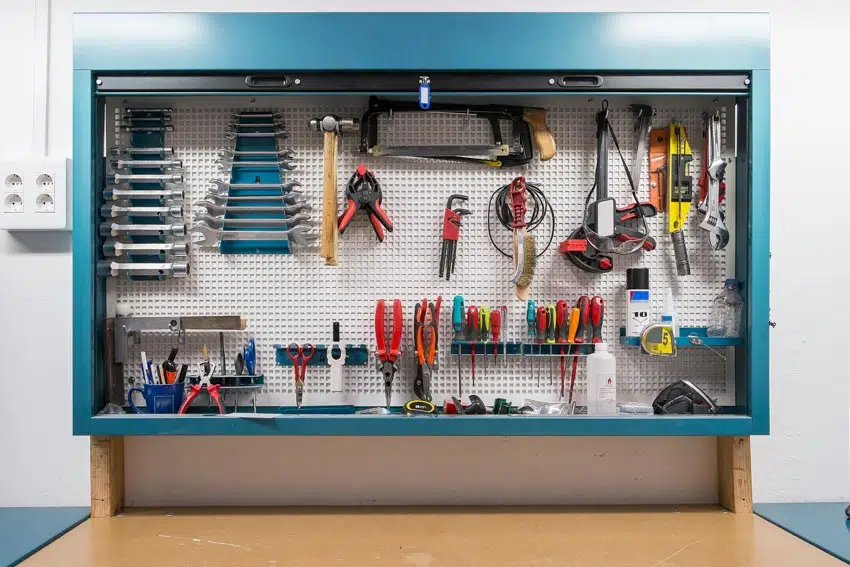 Pegboard is probably one of the best DIY workbench backsplash solutions since it is easy to cut to fit, useful, inexpensive, and looks good in a workshop. There is an assortment of different metal hangers you can purchase for hanging your favorite tools making them conveniently in reach when needed.
A pegboard is also useful if you are working with things that you can hang. They are an excellent way to organize garage tools and allow you to see the tools available without needing to dig around in a toolbox.
Dressmakers can hang on the pegboard the different dress patterns that they will sew and items that they will need such as zippers, ribbons, and lace.
They do not have to open and close drawers noisily since everything is within reach. Jewelers can hang their tiny pliers, hammers, saws, files, and tweezers.
They serve as a backsplash by keeping your sewing materials in place. For jewelers, the pegboard makes it easy to store and find tiny pieces of metal and stones that they use when making or repairing pieces of jewelry.
Slatwall Storage Panel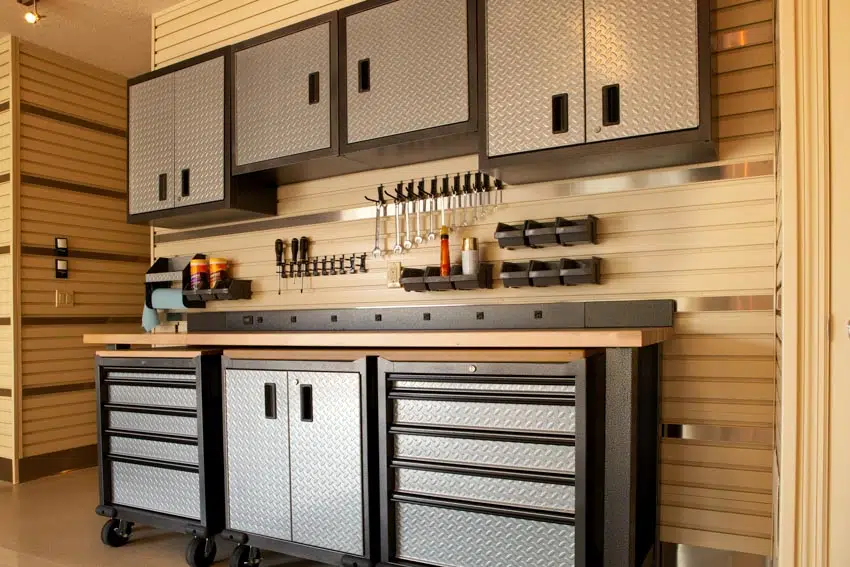 Slatwall storage panels make keeping the garage or office well organized. Place one beside your workbench or in front so that they are easy to reach. A wood slat wall, or other types of materials for backsplashes, can be used to arrange or display things.
If you are fond of collecting perfume bottles, you can place them on the Slatwall, with their labels in front. This makes it easy to read the label.
If you have a small retail store, the Slatwall storage panel is ideal for displaying your merchandise. The customer can easily find the item that he wants. In like manner, you can also easily locate the thing that he wants to buy.
You can also use the Slatwall panel for garage storage to minimize space. If you are using several tools or items for a project that you are working on in your workbench, you can use several slats arranged horizontally to hold them. This makes working convenient because you have everything within easy reach.
Aluminum Diamond Plate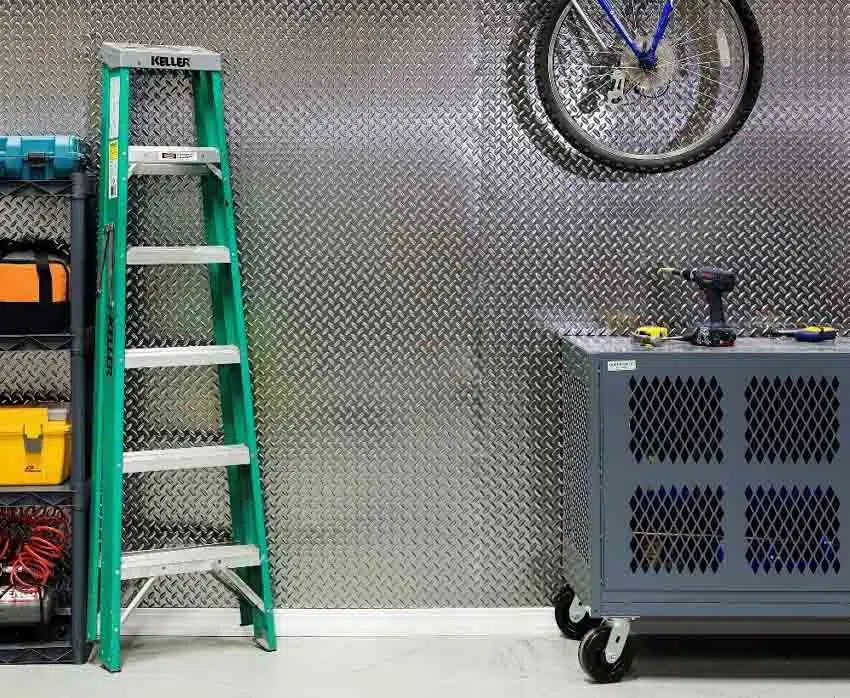 See this brushed aluminum diamond plate wall at Amazon [sponsored link]
Aluminum diamond plates are used to prevent people from slipping on surfaces. The diamond plates provide traction so that someone who walks on it will not slip and fall. The plates do not corrode and they can withstand heat, cold, and other elements of nature.
Aluminum diamond plates are used in parking lots, boat flooring, stairs, and loading docks. They make walking on a surface safe. They are also easy to wash so in some establishments, they are used in the kitchen and lavatories.
They can also be used for decorative purposes. They come in various designs and textures to enhance the looks of a floor surface.
Stainless Steel Sheet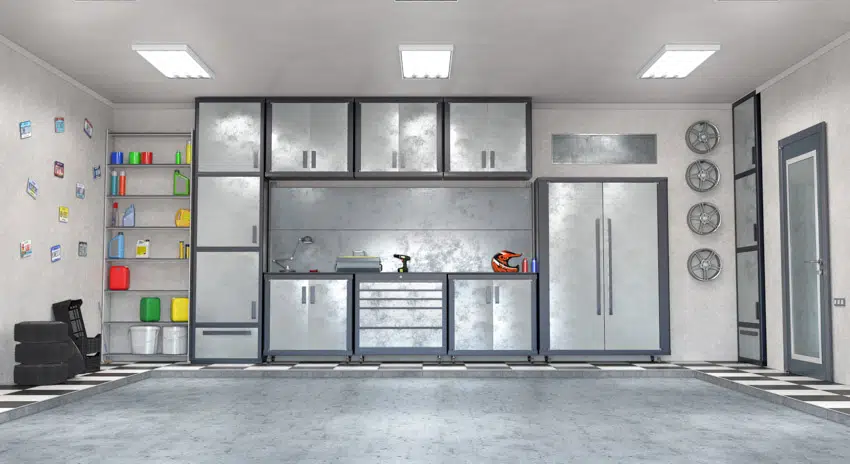 Stainless steel plate sheet is used in many industries. They do not rust and they are very durable. They can last for many years. They are used as kitchen backsplash in huge restaurants or hotels, and in auto repair shops.
They are also used in factories that make culinary items from metals such as cutleries including spoons, forks, and knives, as well as in making cookware such as pots, pans, and kettles. Stainless still is durable and can prevent metal wastes from flying everywhere during the manufacturing process of these products.
In homes and other establishments, backsplash in countertops and sinks are important. The floor and the surrounding work area will not get wet. When it comes to durability, stainless steel countertops with backsplashes can last for a long time.
If you have a stainless steel workbench in your garage, use a backsplash of the same material. Stainless steel is easy to clean even if there are smudges from what you are working on.
In laboratories where harsh chemicals are used, a stainless steel workbench backsplash is important. It can catch spillage from chemicals used in the laboratory. Hospitals use stainless steel workbenches for operating rooms.
Sheetrock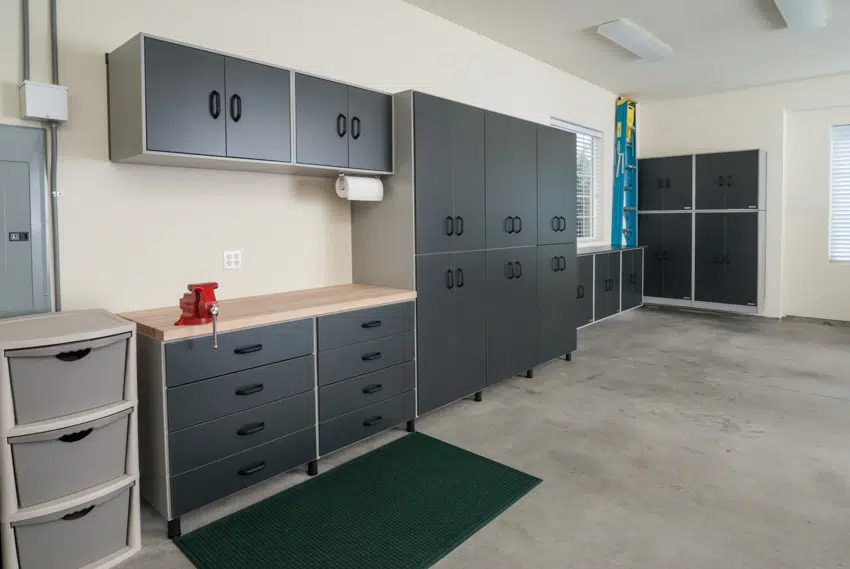 Sheetrock is a brand name for drywall, which is highly popular in the US. This material is used in making a workbench backsplash. The material is fire-resistant and water cannot easily penetrate it.
You can also use a sheetrock workbench is handy for those who want to make sure that their drywall panel is aligned perfectly.
Plastic Wallboard
Plastic wallboard is a good material for a workbench backsplash. If you are using liquids in making your project, plastic wallboard will prevent spillage and keep the area dry. It is also water-resistant. The material has decorative designs, which can be a pleasing addition to your work area.
Cement Board Panel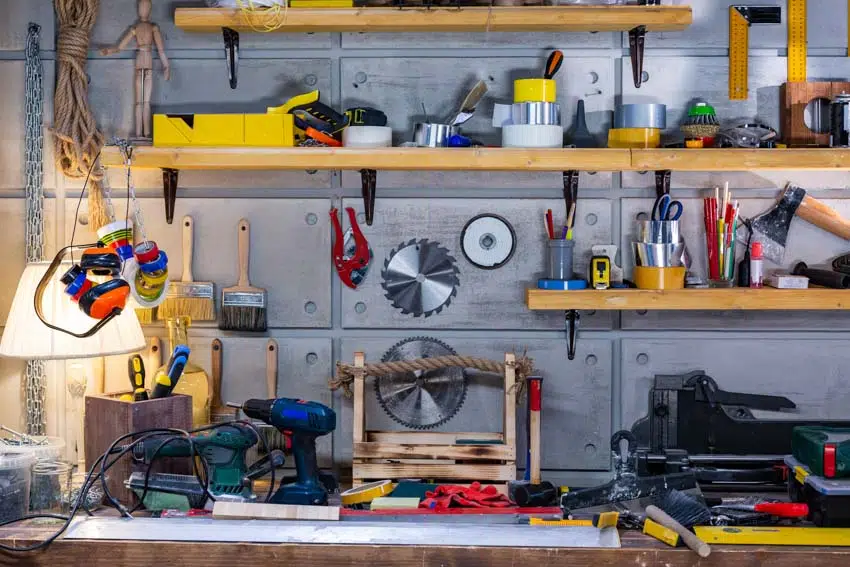 A cement board panel is used as a base when installing brick, stone, and fiber. It is also a good material for workbench backsplash because it is water-resistant.
It is ideal for kitchen and garage workbench backsplash because it can prevent water from splashing all over the place. If you do a lot of sanding, grinding, and welding in your garage, it can prevent residues from scattering all over the place.
Tiles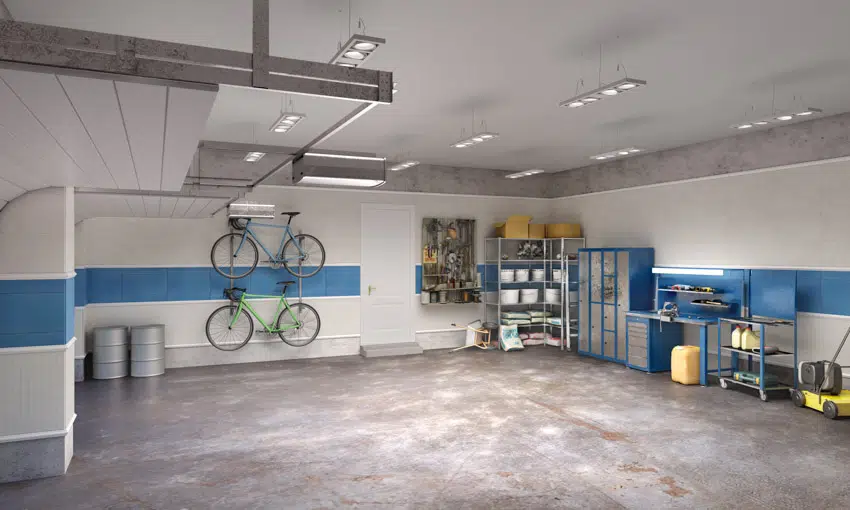 Tiles are considered excellent materials for the backsplash. Aside from being water-resistant, they are also cheap. In most homes, they are used as types of kitchen backsplash for sinks.
Most types of tiles are water-resistant and can prevent water from the sink from splashing all over the place when you are washing food items and kitchen utensils or cleaning the workbench in the garage after tinkering with your car. It is also easy to remove grease and dirt from tile surfaces.
Peel And Stick Backsplash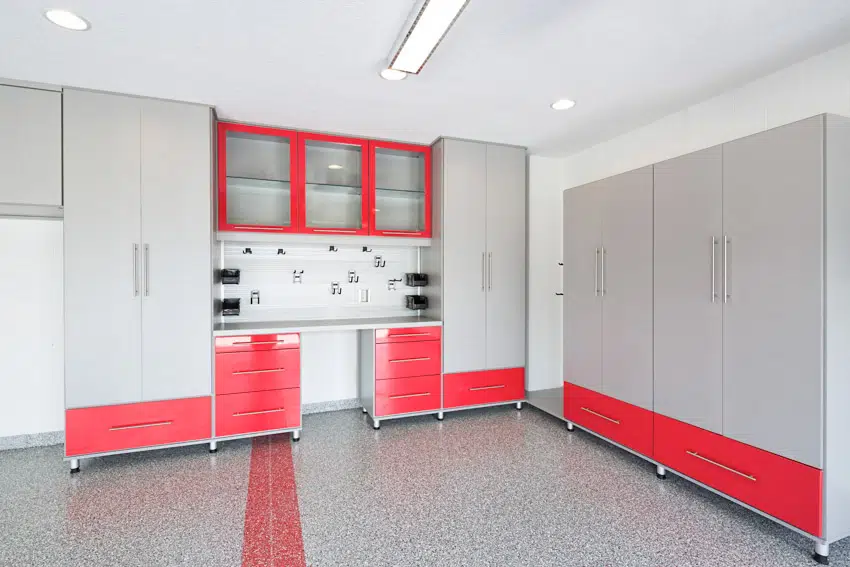 For those who want a cheaper alternative, peel and stick backsplash might be the best for you. Clean the wall surface where you are going to place it. Once the area is dry, you can peel and stick the vinyl to the wall.
Choose a reusable material so that you can peel it off and stick it again if you are going to transfer residence. It is waterproof and heat resistant so you can use it in sinks or near hot areas.
This backsplash material comes in various designs and colors. It enhances the aesthetic value of your home, aside from protecting it from splashes and residues from the sanding, grinding, and welding jobs you do on your workbench.
Workbench backsplash helps keep your work area neat and safe. Water can be prevented from splashing onto the walls and floor. In industrial facilities such as laboratories where harsh chemicals are used, possible contact with these chemicals by the workers or personnel will be prevented.
This is because they are contained by the backsplash itself. To be effective, the workbench backsplash must be made of sturdy, waterproof, and heatproof materials. to provide sufficient protection.
See more related content in our article about the best woodworking design software on this page.