Here's our trackless garage door guide including what is, benefits, cost, and the different manufacturers you should consider when buying trackless garage doors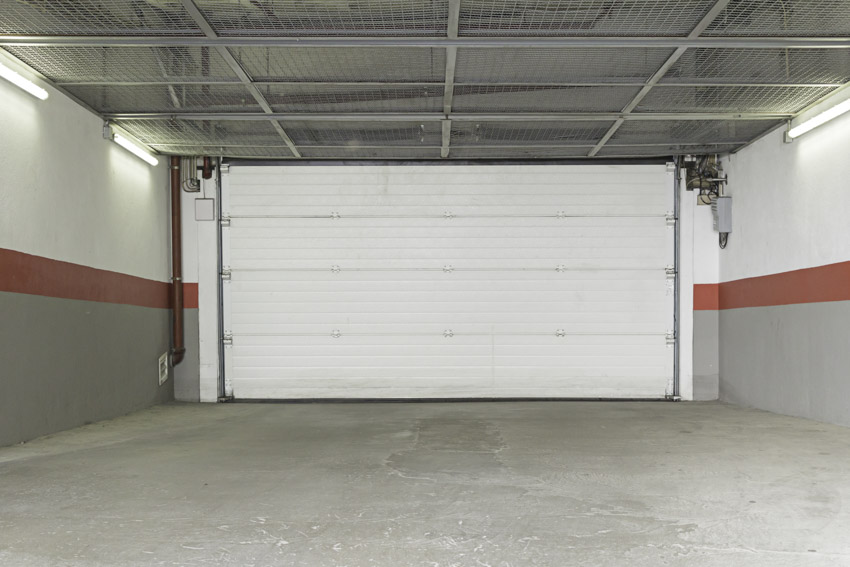 If you want to optimize your garage space, it is highly recommended to install a trackless garage door. Normally, the design of a trackless garage door is doubtlessly unique and modern compared to typical garage doors.
The motor that enables the garage door to automatically open is housed in the upper brace of the garage door frame. So, the door operates without the assistance of any tracks.
However, what exactly then, is a trackless garage door? What are the benefits of installing it? Is it more expensive than typical garage doors? As you read on, you will know more about further details about this type of garage door.
What is a Trackless Garage Door?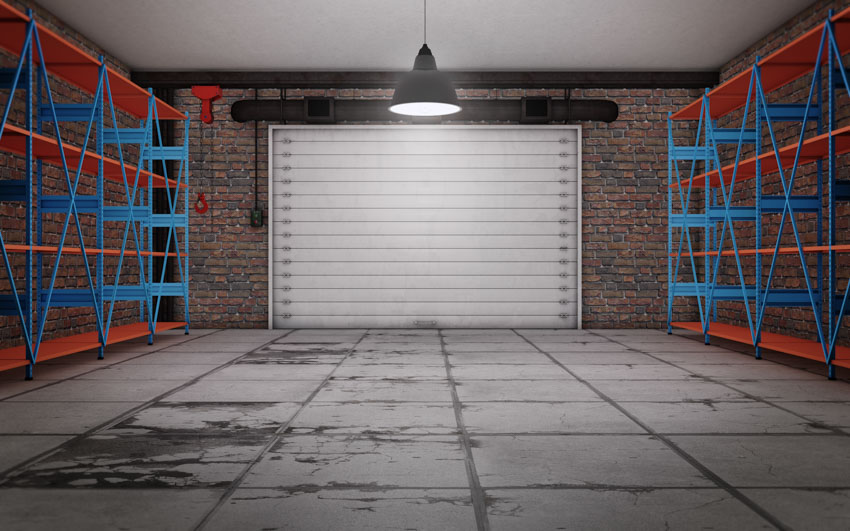 As the name states, a trackless garage door does not need ceiling tracks. Meaning, the internal protrusion is decreased by around 50%.
Most garage doors have tracks, and that is one of the reasons why some types of garages become narrow-spaced and restricted.
Normally, a trackless garage door is used for garages with limited interior spaces. When it is activated, the trackless garage door will raise itself, fold in half, go under your garage ceiling, split into two parts, and then the lower section of the garage door will slide under the upper section.
The motor that runs the electric automation process is installed in the upper beam of the garage door frame. And because of that, the interior space of the garage is indeed optimized as well as the height and width of the door.
Its uncommon and newfangled mechanism uses a counterbalance weight technology with enormous cables that lift the panels from each side in a vertical direction until the lower door panel is slid under the upper door panel.
After that, the panels are both suspended in the ceiling, which provides the maximum width and height of the door opening.
Garage Door without Tracks Benefits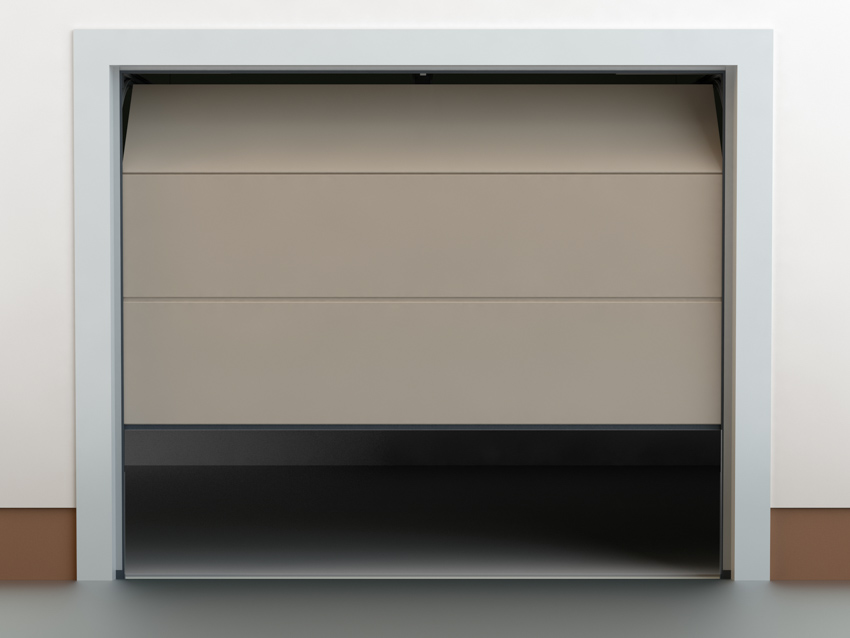 Very Energy-efficient Compared to Traditional Garage Doors
In general, trackless garage doors use an electronic-controlled mechanism that only drives one mechanical clutch that is connected between two counterweights, which helps in decreasing energy consumption.
Provides Maximum Safety, Security, and Insulation
Trackless garage doors use electric-based sensors in the motor that are carefully and professionally designed and manufactured. No injuries will occur during the operation.
Adding another dimension, this type of garage door is theft-proof. Generally, the motor calibration is thoroughly studied and smartly created by authorized and expert engineers.
Because of the professionally designed panel structure, the insulation level becomes quite high. The panels of the garage door normally have rubber-made seals to fully complete the enclosure of the garage door.
Uncomplicated Installation
A trackless garage door is usually composed of two sectional panels and a metallic frame that could be easily installed behind or between your garage walls. This feature will work well with most standard garage door sizes.
Maintenance-free
Trackless garage doors are normally maintenance-free. They do not need to be repainted or reinforced with other materials as they can independently withstand different types of weather.
Noiseless Operation
The technology that runs the operation of a trackless garage door is quite advanced and it is designed and created with maximum noiseless operation.
The motor in the garage door's frame operates quietly and helps in achieving a very flawless closing and opening.
Fully Customizable
The majority of trackless garage doors are fully customizable. It will mostly depend on the type of your house, building, business, etc.
These types often comes with a vast variety of claddings, colors, and finishes so you can freely select the design of the garage door that suits your style and preferences. Read more about options for garage design software on this page if you are planning your own custom design.

Your Garage Becomes More Spacious
Because of the absence of space-consuming ceiling tracks, the interior space becomes more spacious. This works well with most ceiling design types you can use in your garage.
It allows you to easily put essential objects in your garage ceiling without any disturbance that the usual tracks and visible operator can normally give.
The Interior Space of Your Garage Looks Neat
Another benefit of a trackless garage door is it makes your interior space quite clean and neat. With traditional garage doors, the tracks and operator seem to give an unattractive appearance in your garage space.
However, since trackless garage doors do not require any of these to operate, you will enjoy a much neater and clearer interior space.
Trackless Garage Door Cost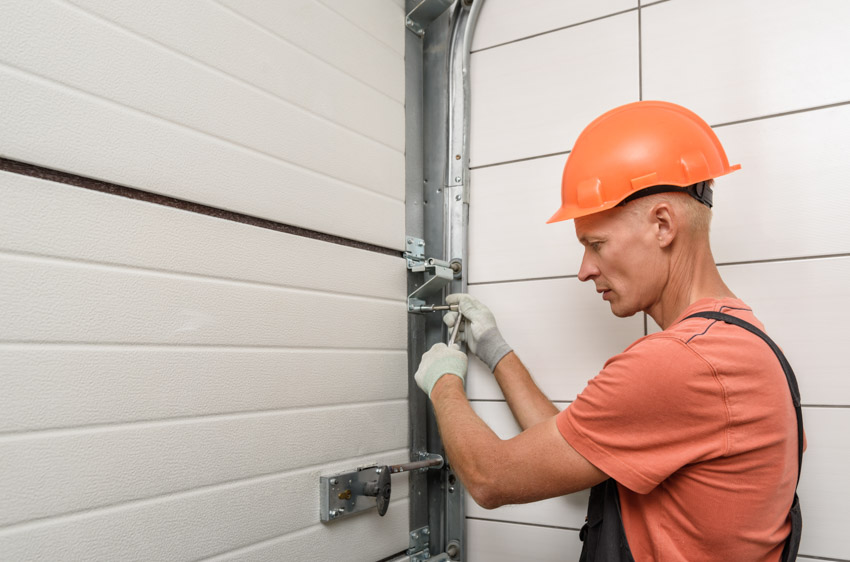 The cost of a trackless garage door may vary as it will depend on the material used.
The price of trackless garage doors that are made out of timber such as oak, larch, and teak normally range from $7,500 to $9,000. Indeed, a trackless garage door is more expensive than a traditional garage door.
However, there are also modernized and more attractive versions of trackless garage doors that are usually made out of steel-clad. Its overall cost usually ranges from $10,000 to $15,000.
Trackless Garage Door Manufacturer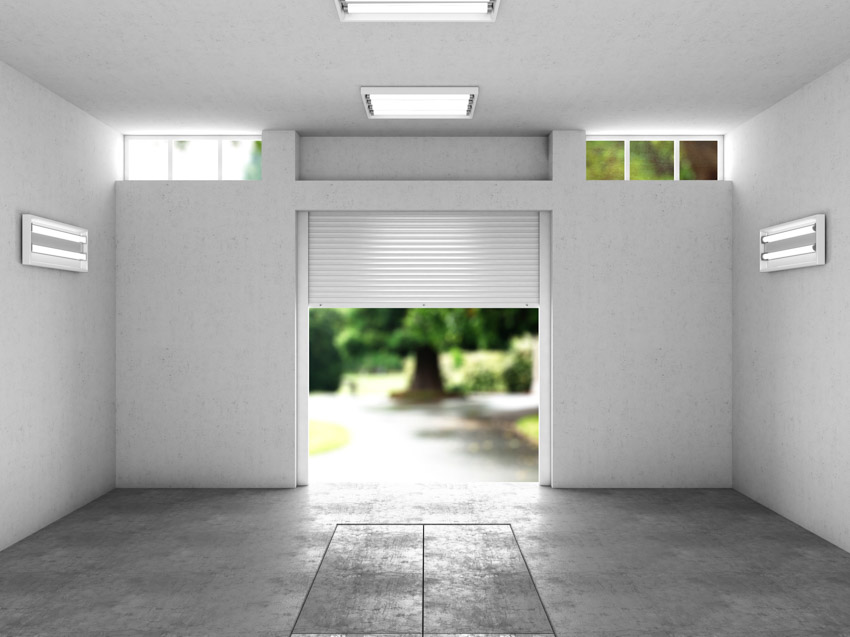 Here are some of the manufacturers of trackless garage doors:
Delta
This company is one of the top trackless garage door manufacturers in the world. All of their garage doors are designed, engineered, and manufactured in Italy.
The Delta Overlap's highly advanced technology undoubtedly transformed the quality of garage doors. Their innovatively designed trackless garage doors have been a popular choice by numerous homeowners.
The overlap trackless garage doors that Delta offers are normally made out of timber or steel.
The panels of the garage doors are incredibly stable as they are constructed uniquely and they underwent numerous durability and stability tests. They are very high-security and their operation is truly smooth and noiseless.
Silvelox
This garage door manufacturer offers a vast selection of the most advanced and innovative trackless garage doors. They are not just focused on making exquisitely designed trackless garage doors but also on making them very functional, high-security, and durable.
They offer different designs, colors, and styles, making sure that you will find the one that will suit your needs and preferences. Silvelox has been in the industry for more than six decades and they are truly specialized in producing high-end and reinforced garage doors.
They combined aesthetics with newfangled technologies that focus on saving energy and operating quietly.
See more related content in our article about the different types of garage door openers on this page.