Here's our pivot door design guide including the benefits, different types, materials, hinge options, single vs double doors, and if they're worth it for your home's interior.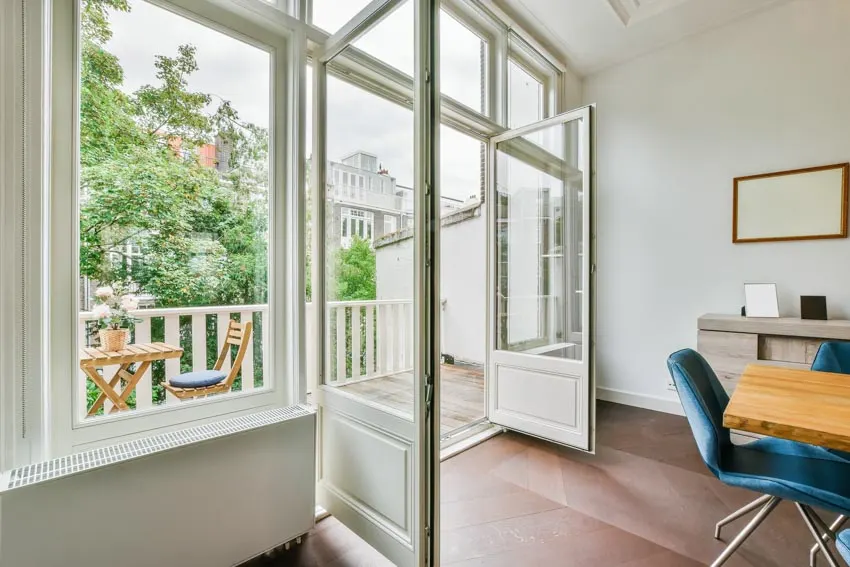 A pivot door, by definition, is basically a swinging door that rotates on what's called a spindle, or a form of vertical axis. It differs from the usual hinged doors we know of and uses in terms of its hinge placement.
A regular hinged door has its hinges attached to the side of the door while a pivot door has its hinge is right at the top part of the door, accounting for its "pivot" movement.
The origins of the pivot door go way back, centuries ago, in the ancient cities all over the world from the historical stone pivot doors in India to the Gate of All Nations in what's now known as modern-day Iran.
The basic components of a pivot door is comprised of the actual door, a top pivot, a ceiling plate, a pivot system, and a floor plate.
There are basically two pivots, the top, and bottom ones. Both of these hinge systems are embedded inside of the actual door and are both invisible on the main finished door.
These hinges can be on any location. Its placement will more or less determine the location of its vertical axis and will dictate where the door actually pivots.
Benefits of a Pivot Door?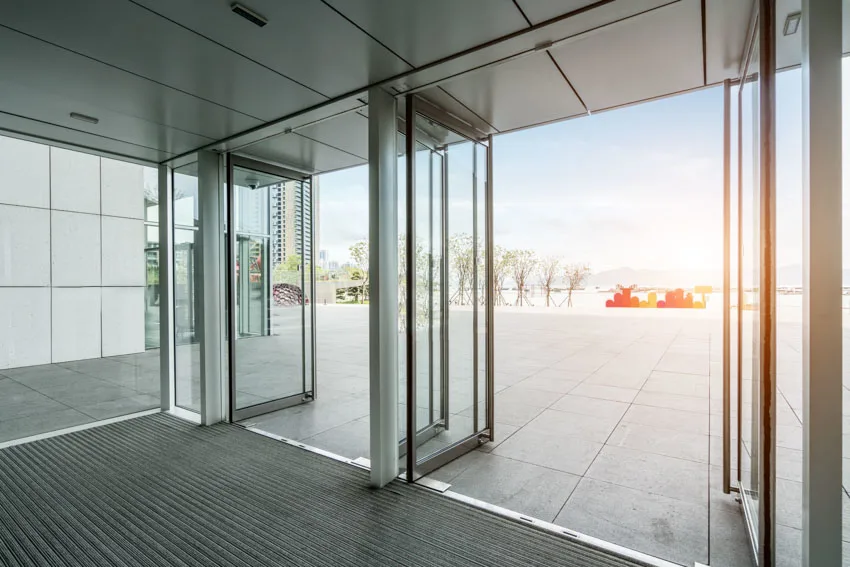 One of the main advantages of a pivot door is how it visually differs from a regular hinged door. The door can swing inwards or outwards depending on where the pivot hinge is actually placed.
It's a different take on doors and it looks elegant and at times even unexpected. It has a unique closing movement that deviates from how regular doors work.
It can be so much bigger or larger though. They can give you some extra leeway with the height and the width.
A pivot door can be as large as you would like it to be: This gives you the freedom to come up with whatever measurements you happen to fancy.
Pivot doors can be flexible with the materials that they're made of. What this means is that you can fashion a door out of literally any material you could possibly think of, be it out of wood or glass or stone or metal and so on and so forth.
This makes your entrances look extra elegant and you also get to rest easy in the fact that whatever the weight of the door material may be, for as long as you have the proper pivot hinges and they're all properly installed, it should be able to support it.
They're frameless: Because of the fact that the pivot hinge is mortised inside the actual door and isn't even visible, there is never really a need for a frame in the first place.
This makes it really easy to make your door cohesive and blend in well with the rest of the décor of the space that you're using it in. cohesiveness is important if you really want your design to work and pivot doors can help out a lot with that.
They're hands-free: If you can't really make a decision on whether you'd like to add door handles or latching bolts, and so on; you absolutely don't have to.
You can do away with them because you don't need them at all. You can easily open or close a pivot door with nothing more than the touch of a finger or a soft nudge with your hip. This can come in handy when you're carrying stuff around.
More than that, it helps keep things hygienic because you don't have to keep touching things with your hands.
Door knobs, latches, and other door implements are some of the most common grounds for bacteria to breed in and thrive. You're removing this from the equation because pivot doors are hands-free.
Types of Pivot Doors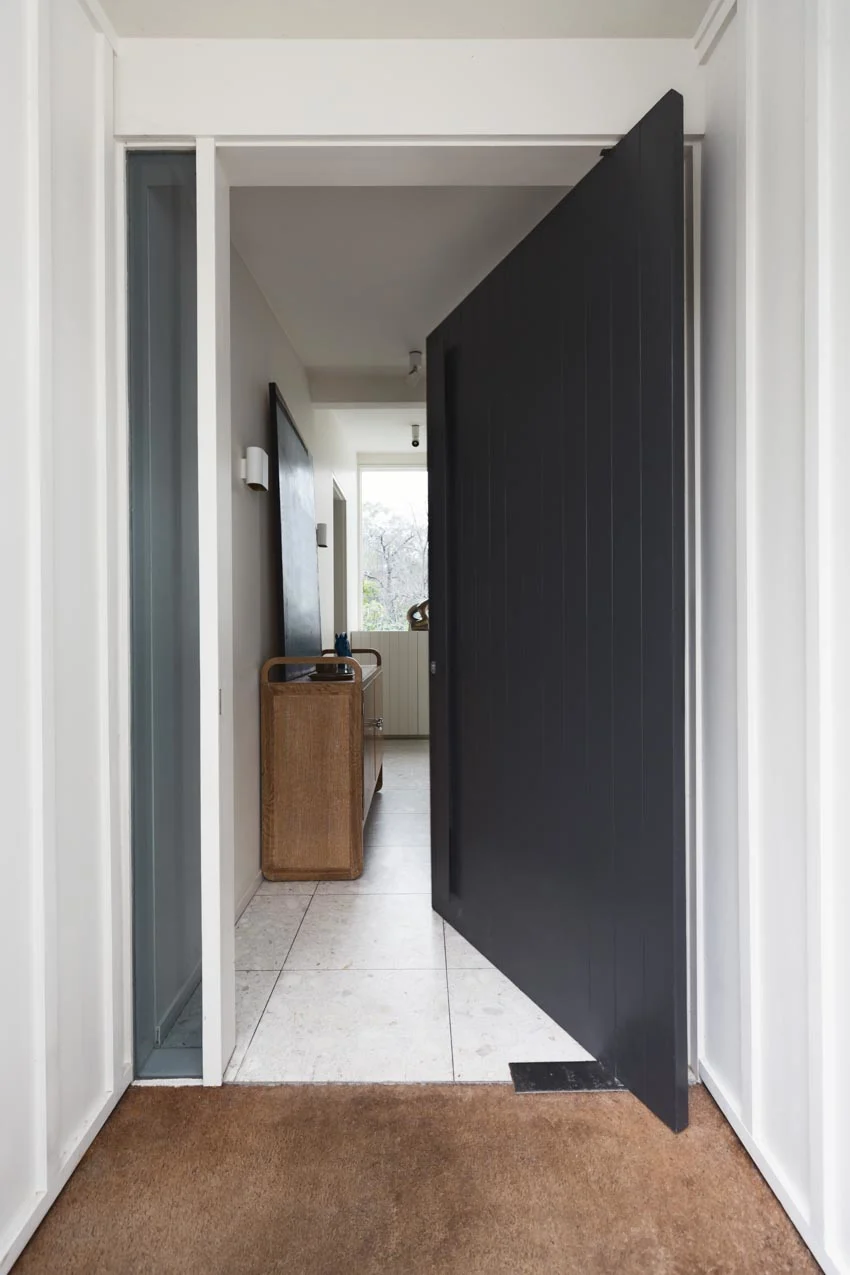 Pivot doors come in a wide variety of different shapes and sizes. They can be large or small, heavy or light, swing inwards or outwards, and so much more.
Another way to categorize pivot doors is for their use: residential or commercial. Residential pivot doors are typically smaller whereas commercial pivot doors can at times be floor-to-ceiling in height and can be very elegant and grand.
They can at times be as tall as 20 feet if the structure allows it and basing it on the homeowner's preferences.
Here are the different types to be aware of:
Pivot Front Door Or Exterior Pivot Hinged Doors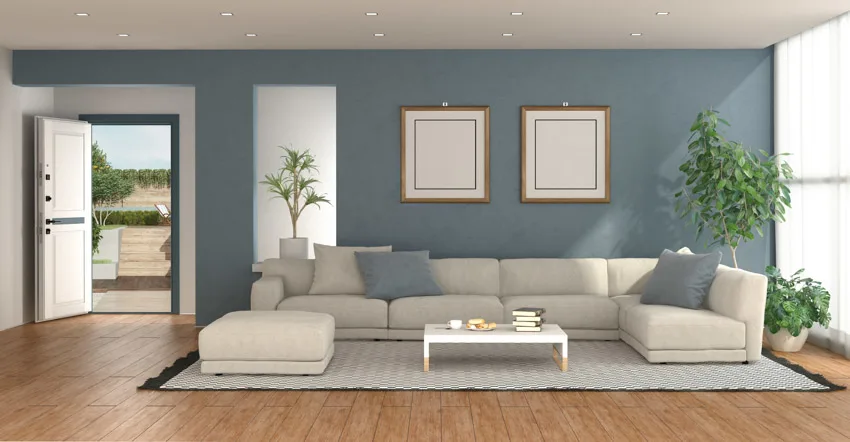 If you want to make a statement right from the get go, opting for exterior pivot doors in your home's entryway could do just that for you as it looks very grand and show-stopping.
The door at the entrance is the first tangible thing anyone ever sees when they step into your home so you might as well go big with the use of exterior pivot doors.
They can be made of any material that you can think of that can be made into a door so the design options are widely varied.
You just need to make sure though that since exterior pivot doors are typically exposed to the elements, you have to make them weatherproof.
This can be done by adding in a few accessories to the door such as drop seals that are draft repellant and moisture repellant for ultimate comfort as well as temperature control.
Interior Pivot Style Doors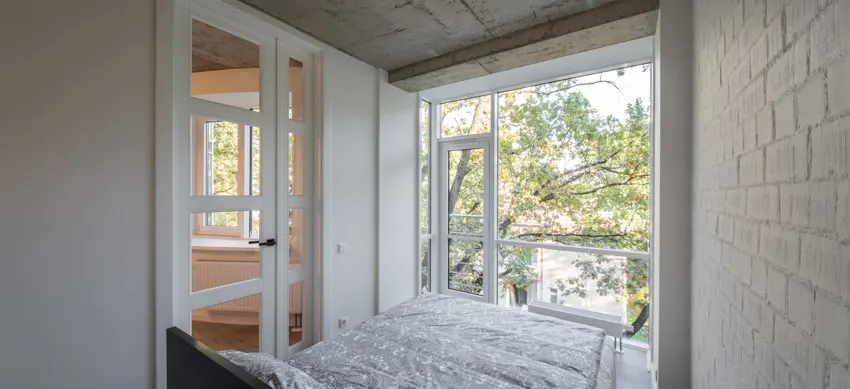 Interior pivot doors refer to the doors that are installed and used anywhere inside the home.
This feature can be easily installed for different types of interior doors used in the bathroom, in the bedroom, in the kitchen, in the living room, as a multi-purpose room divider, along with literally any type of indoor application that you could possibly think of.
You can opt to go frameless or with frames, depending on how sturdy you want the door to look. If you are keen on getting a little bit more indoor storage, you can even equip your interior pivot doors with some shelves on both sides for maximum utility and functionality.
Pivot Shower Doors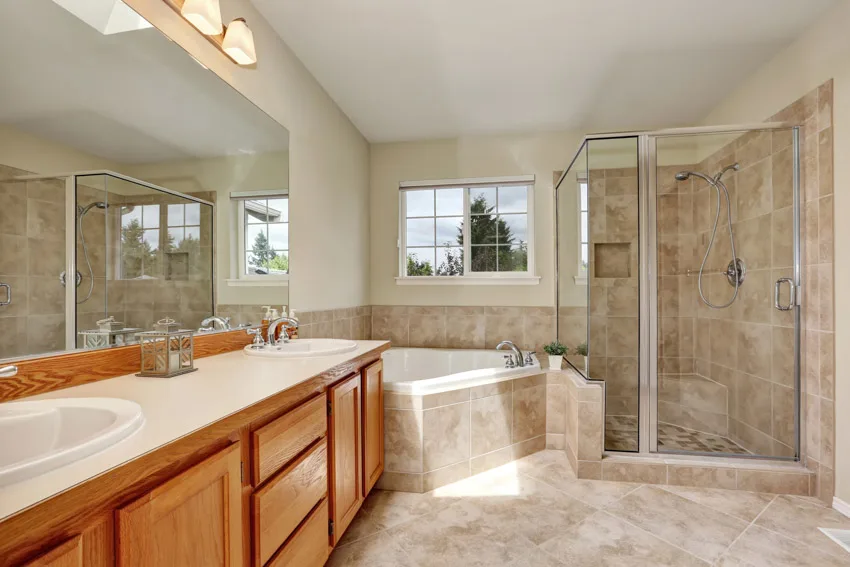 Having pivot shower doors installed in your bathroom at home can totally upgrade the look and make your space look like it's been living in the future.
Your shower doors can basically swing 180 degrees in any direction and what this means is that you can either swing them in or out, or in and out simultaneously; whatever you want.
The pivot hinge can either be attached right in the center, creating a revolving shower door effect, or it can be on one end of the door, creating a "tail" and a "head" for your pivot door.
Pivot Closet Doors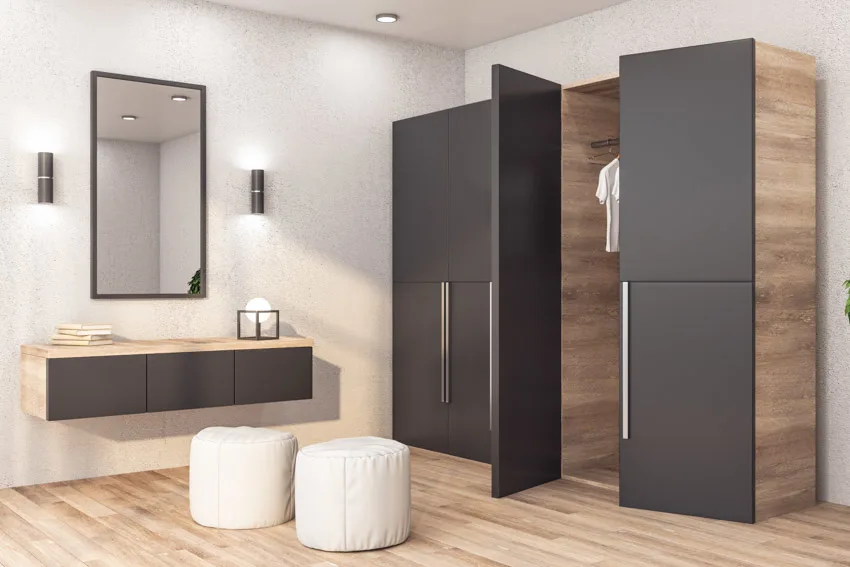 Having pivot doors in the closets can be an aesthetic option to go for but might require a little bit of maneuvering to ensure that it doesn't eat up too much space.
Most builders would keep the pivot on the tail end so that it swings outwards. It also means that the shelves inside the closet need to have a good 5-inch gap or more so that the pivot door swings without any issues.
A major advantage to this though is that you can put them side by side and it can make it really easy to organize your closets as you can see everything all in one go as opposed to traditional types of closet doors wherein your view is limited or obscured.
Pivot Pocket Door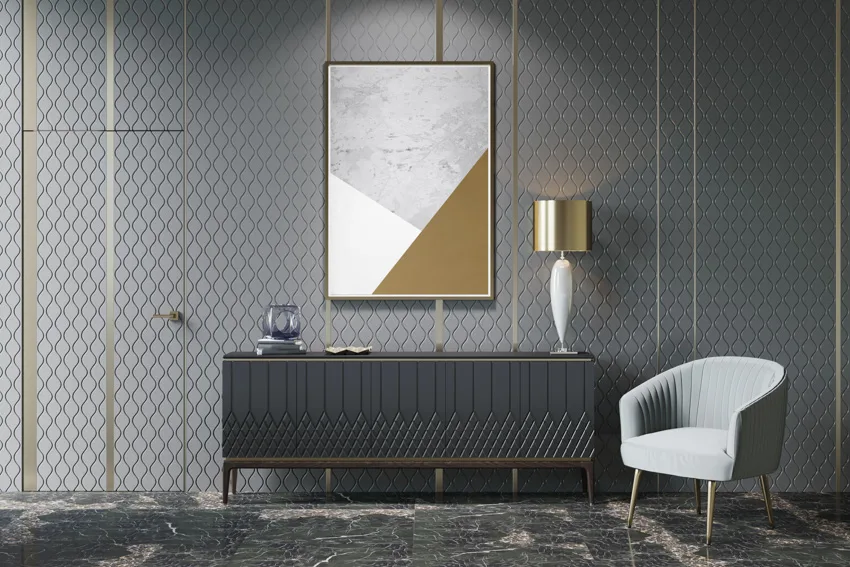 A pivot pocket door sits on a track within a wall. It is designed to hide the doors in a nearby cavity and the aim is to hide the door when it's in position.
This can work with any type of door, material, and size. They save valuable floor space because you're making the door slide into the wall instead of creeping up into the floor.
Materials for Doors with Pivot Systems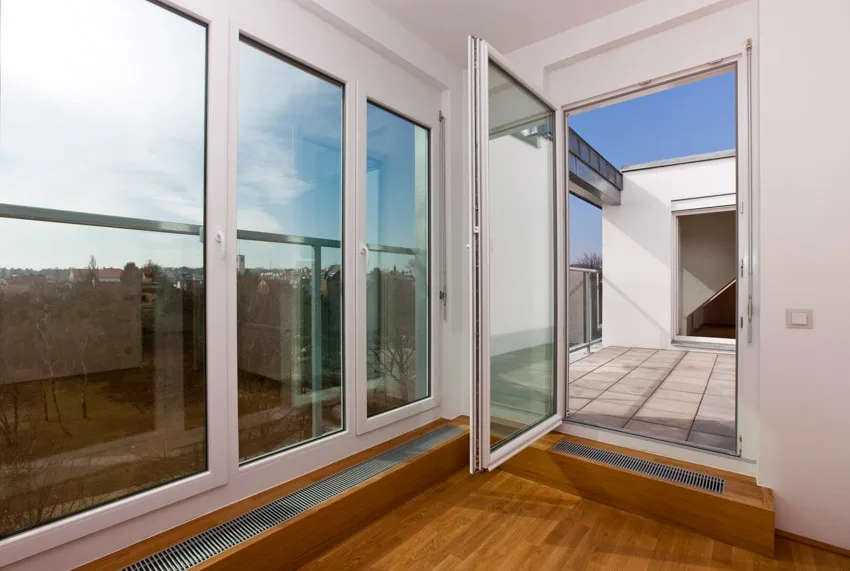 The beauty of opting for pivot doors is that they can be in any type of conceivable material possible for as long as they can be fashioned into a door.
So this opens up a lot of your choices in terms of the pivot door materials that you would like to go for. Here are some of the most common pivot door materials you can opt for so far.
Wood
Pivot doors that are made out of wood provide great insulation for the home because of how solid the material is. They can be made out of a wide range of wood types from hardwoods to softwoods.
The popular wood types are oak, mahogany, teak, and so on. The type of wood used is usually dictated by what your budget, texture, and appearance preferences are for the door's surface and overall look and feel.
Wooden pivot doors can be used both for indoors and outdoors. It's important to get the door sealed properly as well as put heat and water insulation in place to make sure that its lifespan is extended.
They provide character and a natural warm undertone to the space and are known to be very durable.
Glass
Glass pivot doors are usually a combination of 2 materials: glass and aluminum.
The aluminum usually makes up the door frame whereas the rest of the pivot door surface is made out of glass that has been inlaid. This is usually used as an outside entry door or even as a partition in some commercial areas.
The glass is usually made out of tempered glass so that in the event of earthquakes and other untoward incidents, it will just crumble up in pieces other than break off into sharp shards, causing injuries to surrounding people.
Metal
Metal pivot doors are usually made out of double surface steel that has been pressed together. It can be hollow on the inside or it can be filled with materials aimed at insulation.
Metal pivot doors can't be manufactured in large sizes though as there are limitations to the steel plate size as well as machine suppression.
Door Pivot Options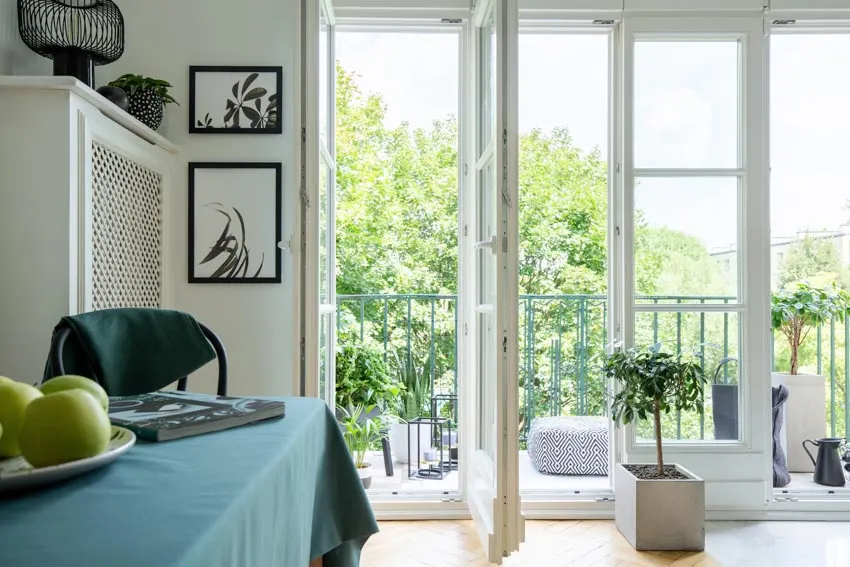 Frameless: A frameless pivot door makes for a great and aesthetic entry door be it in the home or in a commercial space.
Similar to most pivot doors, they rotate off of hinges located both at the top and at the bottom of the door.
For the frameless ones, they're usually set with an overhead closer that's concealed, allowing the door the capacity to open and close at different positions without ever having a need for a visible frame.
Insulated: Insulated pivot doors are usually enhanced with thermal insulation along with other weatherproof details, ensuring that you get to keep the temperature in or out, helping you save up on your utility bills.
There's usually a unique polyamide thermal break system that in turn, guarantees high thermal performance insulation. The glazing details keep temperatures at bay, making it energy efficient in the home.
Tinted: If you want to opt for glass pivot doors but you have issues with the kind and amount of privacy it offers out to you as a homeowner, an easy solution to this is getting the door tinted.
Thankfully, you don't have to buy ready-made tinted doors. You can opt for clear types of glass doors and decide on the tint and design that you would like to lay on them.
This is a cheaper solution, provides more fluidity with the design, and can give you more control and options on the overall look of your glass pivot door.
UV Ray Blocking: Pivot doors that have UV ray blocking options ensure that you still get to enjoy the clarity of your glass pivot doors without the punishing UV rays penetrating through it.
This is particularly helpful for areas in the home that are exposed to a lot of sunlight. It also helps in preserving carpets, sofas, and other elements in the home from damages brought in by light exposure.
Glazed Glass: A glazed glass pivot door can come in handy if you want the elegance of a glass door but aren't too fond of the fact that it's see-through.
Glazes can come in so many designs, colors, and textures that it really all boils down to what kind of look you would like to have for your pivot door as well as for the space that you are upgrading.
It adds special effects to the lighting particularly on the interior area of the home and can turn out to be both aesthetic and practical.
Pivot Hinges for Doors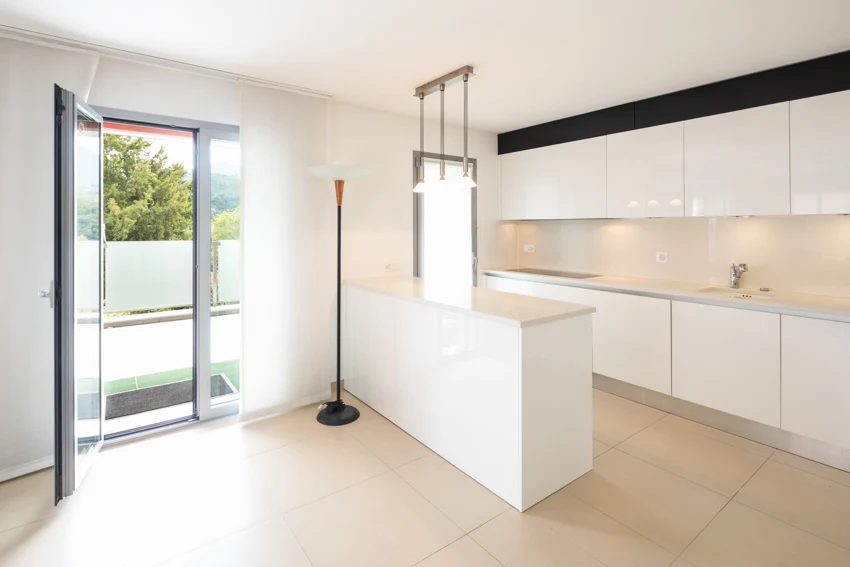 There are basically 2 classifications for pivot door hinges: offset pivots and center hung pivots.
Offset Pivots
Offset pivots, as the name suggests, have their pivot point offset from the face of the actual door surface. They're used on single-acting pivot doors and usually come in ¾" and 1 ½" dimensions.
They allow the pivot door to swing past the main projecting trim on the face of the doorframe. This allows the pivot door to open up to 180 degrees.
These pivots can hold weights of up to 1500 lbs and are aesthetically pleasing as they are concealed from view.
Center Hung Pivots
Center hung pivots can be used on single or double-acting pivot doors. Its pivot point is smack right in the center of the door.
Its edges are usually cut with a radius edge for double-acting doors. This will allow those doors to swing both ways, in whatever direction.
There's hardware both on the frame of the door as well as on the actual door itself and they need to be coordinated accordingly for the pivot door to work properly.
Another pivot hinge is the lead-lined pivot hinge. It isn't actually lined as the name suggests but it is lined up in assembly as it's comprised of multiple fastener holes on both sides of the lead implement and they need to be "lined up" for the door to close or open.
Single Pivot Vs Double Pivot Type Door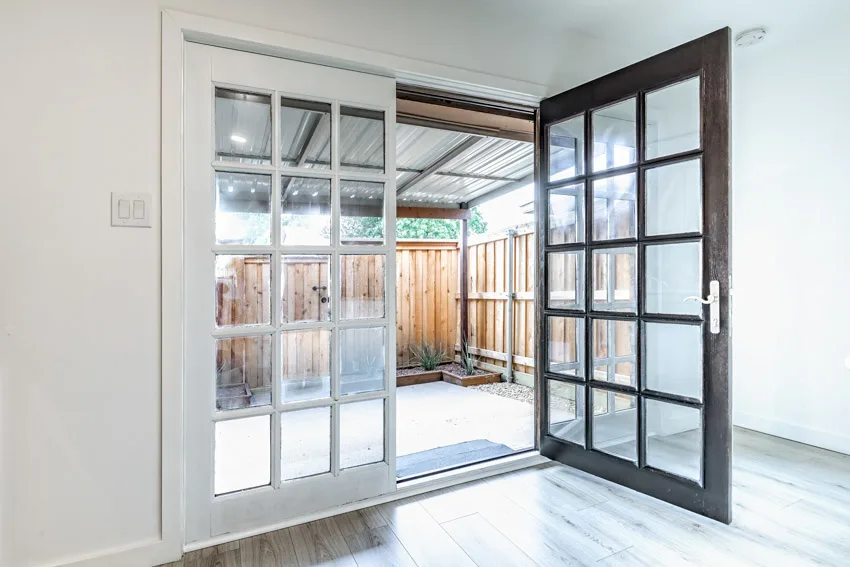 The only difference between a single and double pivot door is the number of panels required or included.
A single pivot door only has one panel whereas a double pivot door has 2 panels. Both panels can swing in either direction.
It all depends on the amount of space that the opening requires. Double pivot doors are usually common for entryways as they have a bit more visual impact compared to the single pivot ones.
Do Doors with Pivots Open Both Ways?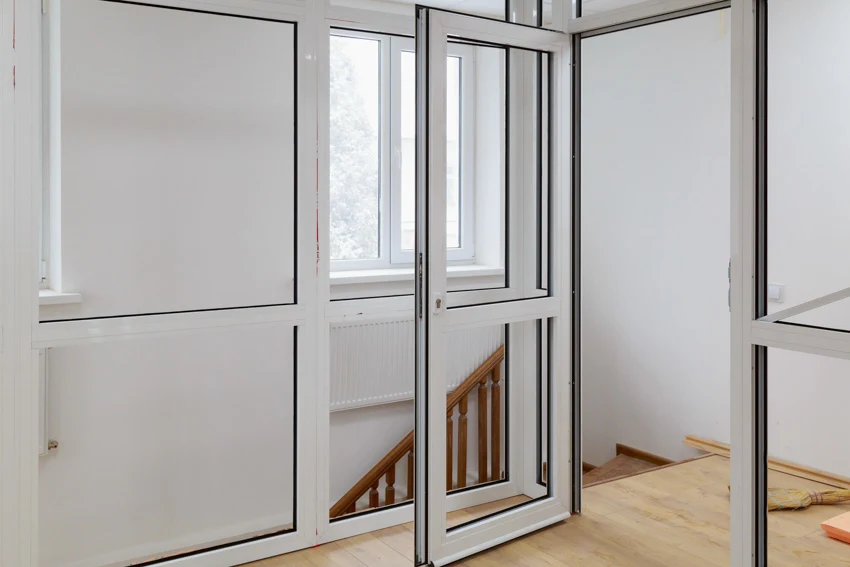 Yes, they do. This is the main beauty and advantage of pivot doors over hinged doors.
Hinged doors have limited openings and they almost always block the view or the space one way or the other.
Pivot doors look seamless and appear as if they are floating because you can open them either from the left or from the right, depending on where you apply pressure to.
Do Pivot Entrance Doors Leak?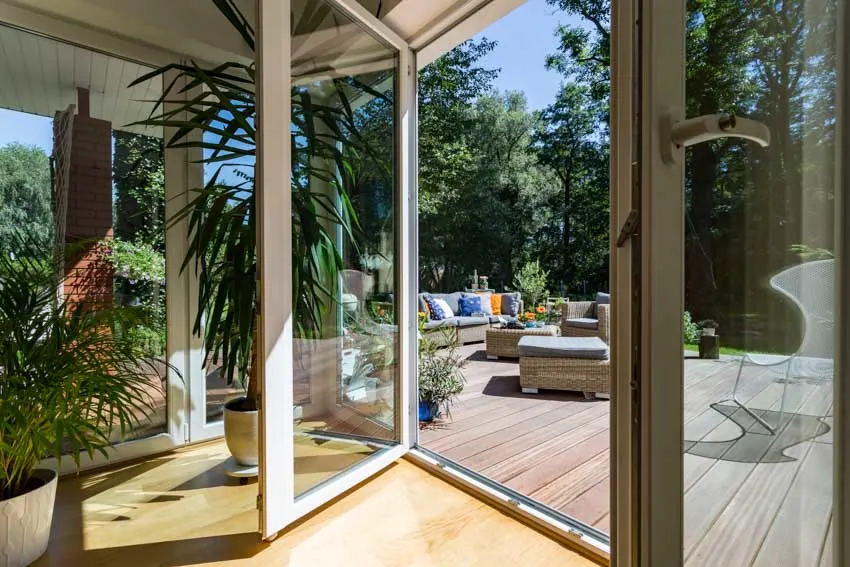 Yes, they do, if left on their own. But this is where weather sealing comes in. With the proper additional attachments, you can get these leaks underway.
Is an Entryway with a Pivot Hinge Worth It?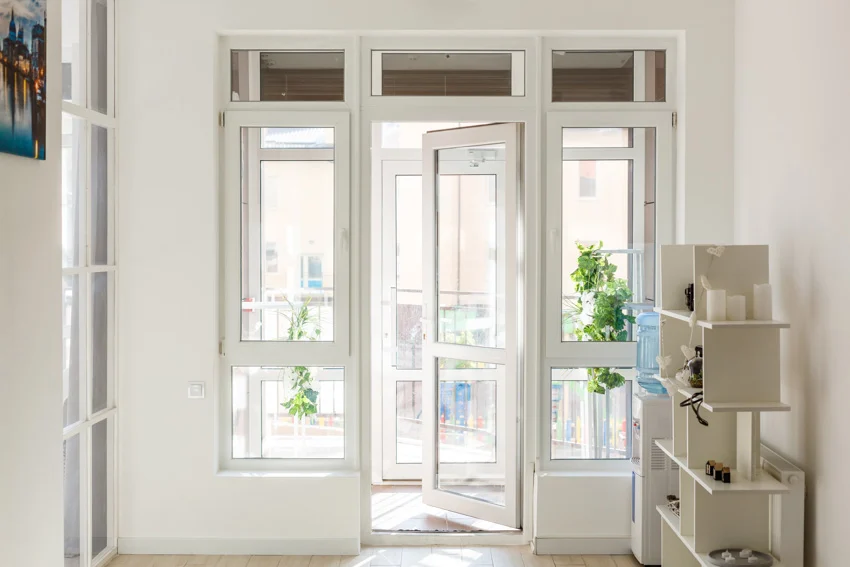 It all depends on what your priorities are as a homeowner. From a function and practical standpoint, they don't really have any significant advantages.
Doors, after all, are functional in their truest essences. However, if aesthetics matter a lot to you and you want to explore something more beyond the usual, pivot doors are definitely well worth the trouble of getting them.
The way they close and open up a space is unlike any other and this is why they're quite popular in the market.
See more related content in our article about the different types of sliding doors on this page.