Here's our guide to the standard garage door sizes for single, double, trucks, RV's, golf carts and more.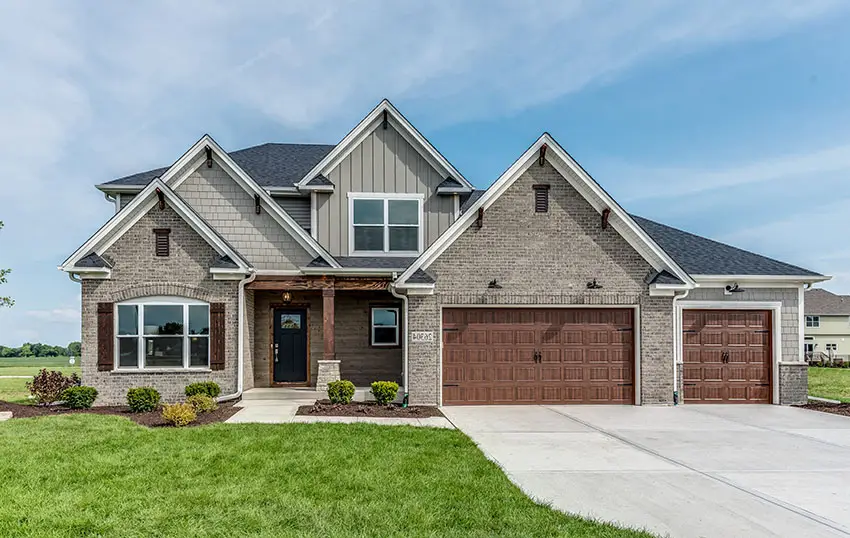 While some trends can be observed, there is no standard size for a garage door — just as there is no standard size for a vehicle or a garage. The size and shape of your garage (and the vehicles you plan to store) make up one half of the garage door equation.
The other determining factor is the style and opening mechanism of the door you choose. Here's what you need to know before you buy a new garage door. See our article on standard garage dimensions here.
Single Garage Door Size
A single car garage fits one vehicle, and thus needs only one door. The most common sizes for a single car garage door are 8 feet wide by 7 feet tall, or 9 feet wide by 7 feet tall.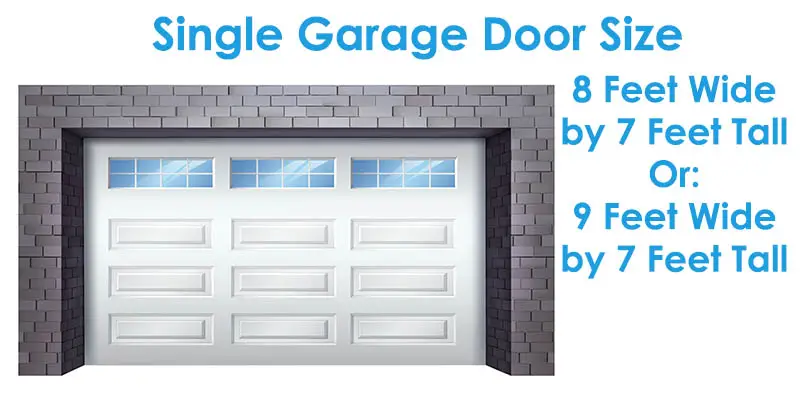 It does not matter whether the garage is attached to another building or detached.
Standard Garage Door Sizes Rough Opening
'Rough Opening' is a construction phrase and refers to the area left open/built (e.g. for a door or window) during the building process. When you pull into the garage, you pass through the rough opening.
The size of the rough opening corresponds to the size of the door. A standard single garage door rough opening is usually 8 feet wide by 7 feet tall, or 9 feet wide by 7 feet tall.
Double Car Door Size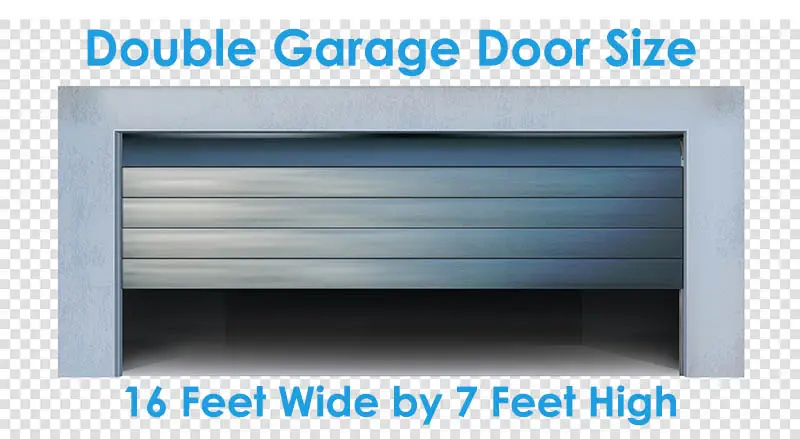 Double car garage doors are 16 feet wide and 7 or 8 feet high. If you have a two car garage, you will need to decide between a double garage door and two single garage doors separated by a column.
Some homeowners love the seamless look of a double car garage door. Perhaps predictably, the cost of a double garage door is twice that of a single door. However, every single door needs its own garage door opener, wiping out any potential savings. Read more about the cost to build a garage here.
Custom Door Sizes
Different styles of garage doors have different space requirements depending on the number of cars needing storage and other requirements. Remember that the door has to be stored out of the way when it's open.
The amount of storage required (and the location of that storage) depends on the style of the door as well as its opening mechanism. If you've got an oddly shaped or sized garage and need a custom garage door, you'll need to take some extra measurements.
The space between the top of the rough opening and the ceiling is called the 'headroom'. The space between each side of the rough opening and the closest wall is referred to as 'side-room'.
From the threshold of the garage to its back wall is known as 'backroom'. Armed with these measurements, the size of your vehicle, and the height and width of the existing rough opening, you will be ready to consult a professional about custom garage doors.
Custom residential garage doors are generally a little bigger than standard sizes with a width of 9 feet and a height of 8 feet. They are available in increments of one inch in both directions, all the way up to 10 feet wide or 26 feet high.
At this size, you'll likely need a commercial-strength door opener. Any larger, and it's considered a commercial garage door.
Garage Door Size for Truck
The size of garage door you need for a truck corresponds not only to the size of the truck but also to any attachments or enhancements you make.
A small truck needs backroom of at least 18 feet, while a larger truck could need 22 feet. If you have large mirrors or hunting lights, those also need to be taken into account.
RV Garage Door Sizes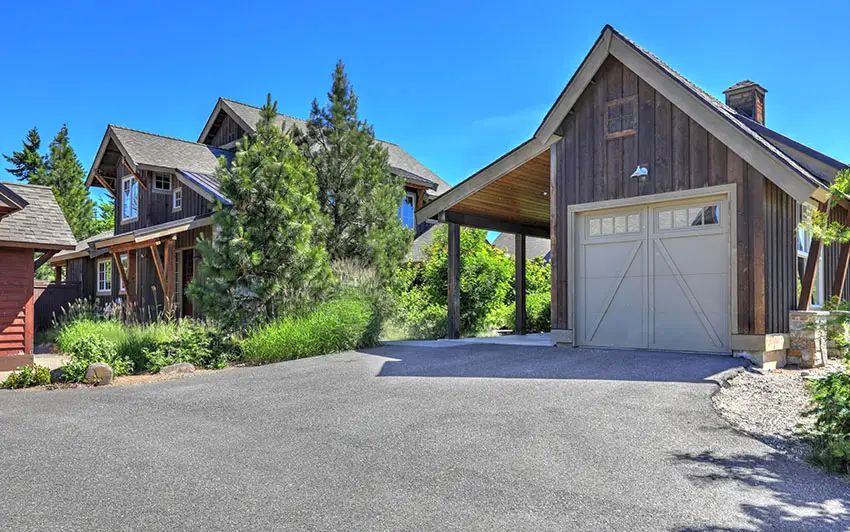 Recreational vehicles are a big investment, and it's important to protect them when you're not on the road. An RV garage is specially sized to accommodate motor-homes. Specially sized RV garage doors are 16 feet wide and 8 feet high.
If you have concerns about your RV clearing this threshold, you can consider a custom garage door as well.
Commercial Garage Door Sizes
The standard commercial overhead garage door measures 32 feet, 2 inches wide by 24 feet, 1 inch high. Roll-up commercial doors are typically 30 feet 4 inches wide by 28 feet, 4 inches high.
Golf Cart Garage Door Size
Golf cart garage doors are most often one of four sizes: 5 by 7 feet, 6 by 7 feet, 5 by 8 feet, and 6 by 8 feet.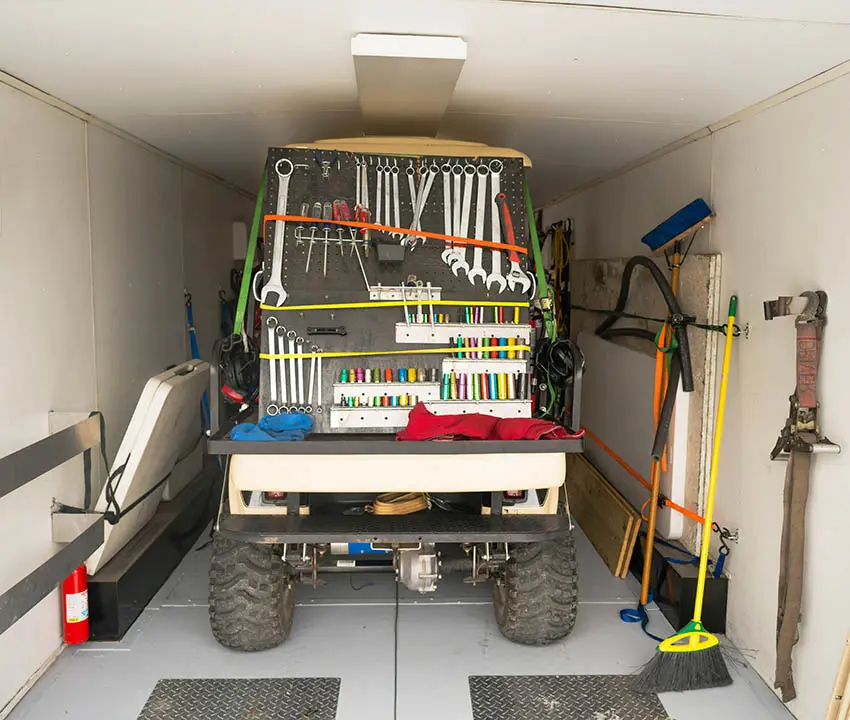 In places where golf carts are used instead of vehicles, such as some vacation and retirement communities, garages are smaller. These pint-sized structures may also be used for small tractors or large lawnmowers.
Roll Up Door Dimensions
Roll-up garage doors are frequently used in commercial settings, although they are used in residences as well. They could be as small as 4 feet by 7 feet or as big as 54 feet by 30 feet.
Roll-up garage doors, or 'roller doors', as they are sometimes called, are a metal curtain that is rolled up vertically to expose the rough opening of the garage.
When not in use, it stays rolled around itself above the door. Roll-up garage doors are a great solution when the height of the garage is an issue — they don't require as much headroom as, for instance, a panel or sectional garage door.
Roll-up garage doors are considered durable and highly secure and are available in single thickness or double thickness.
Door Thickness for Garage
Depending on the climate where you live and what you store in your garage, you may consider an insulated garage door.
A standard steel garage door is only about ⅛" thick. It will keep moisture and critters from getting in, but won't do anything to stop the cold winter air from turning your garage into a refrigerator.
The least expensive insulated doors have ¼" to ½" foam insulation stuck to the inside of the doors. More expensive models have thicker foam (1" to 1½"), sandwiched between two panels.
Finally, if you're thinking about using your garage as a practice space for your band, a well-insulated door will dampen the sound enough to keep you on good terms with your neighbors.
If you want to construct your own garage plan there are many garage design software programs that can help. With these, you can enter the square footage of the structure you want, then add design elements and finishes.