Here's our mirror sizes guide including standard, rectangular and round mirror dimensions, and choosing mirror sizes for the bathroom, vanity, dressing room and gym.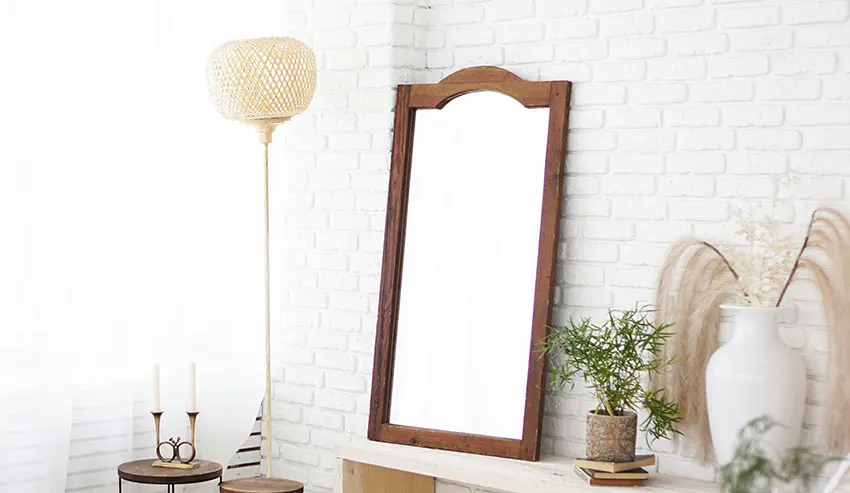 One of the most noteworthy interior design trends to come out the last few years is decorating every room of your home with mirrors. Like windows, mirrors bring a lot of light to any room because of their reflection and having one inside any room will change the space, add height, create movement, and add to the room's beauty.
Mirrors are also a great and cheaper alternative to artworks that are typically a lot more expensive. You can have mirrors in various designs for your home, whether you are looking for something straightforward for your bathroom or are looking for mirrors with bolder or more intricate frames to use as a decorative piece for your living room or hallways.
There are many mirrors available everywhere, and if you know the size needs to be proportioned to your space, choosing the style and design will be the hardest part.
Standard Mirror Sizes
Mirrors come in multiple shapes and sizes, and designating one standard size for mirrors will be difficult because one needs to count on who the manufacturer is and what the norm is for each mirror brand out there.
However, most of the standard mirrors out there have dimensions ranging from the smaller 22 to 23 inches or 56 to 58 centimeters, to the larger 46 to 47 inches or about 117 to 119 centimeters for bathroom mirrors.
Mirrors are usually designated by one number, which would count for their width from side to side, and the wider the sink cabinet or any cabinet below it, the thicker the mirror will be needed for your wall space. See our gallery of the types of mirrors on this page.

Medium Sized Accent Mirror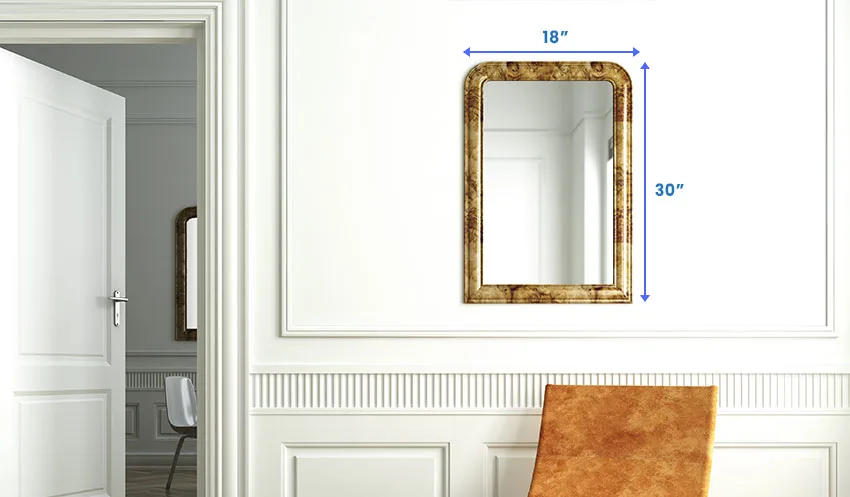 If you want to elevate a room, whether that is your office or an entryway, adding a medium modern accent mirror to the place will look chic with minimal effort. There are medium mirrors that are clean-lined and can be hung vertically or horizontally to give you options when it comes to proportions.
Medium mirrors will usually range between 20 to 40 inches or around 51 to 102 centimeters. One specific medium mirror will have the measurement of 30 inches or 76 centimeters for the height, with a mirror width of 18 inches or 46 centimeters from side to side.
Large Wall Mirror Sizing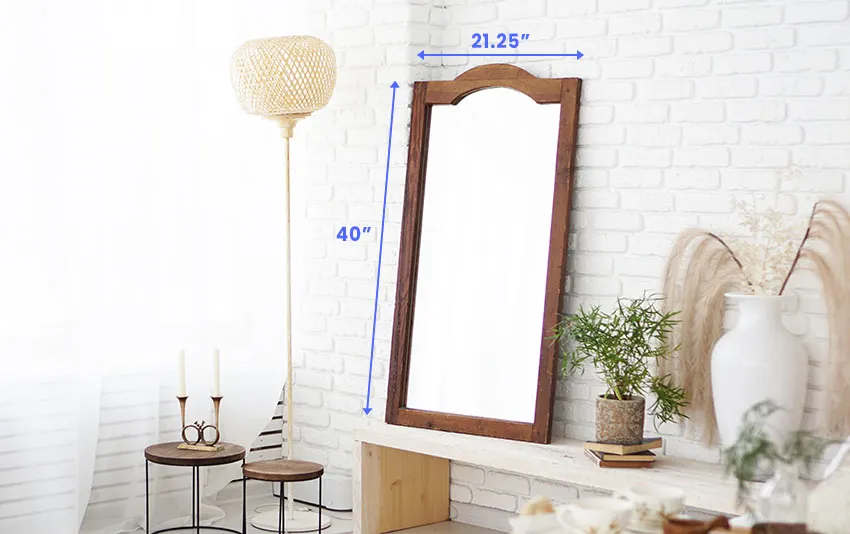 More oversized mirrors will look chic in any broader wall real estate area if the mirror you need is measured correctly. Larger mirrors are the standard mirror that you will see used on empty wall spaces like the entryways or hallways, even in many dining areas.
The size for larger mirrors will typically range from 40 inches or 60 inches or about 102 to 152 centimeters. For a specific larger mirror, it has a dimension of 40 inches or 102 centimeters for the height with a width of around 21.25 inches or 54 centimeters.
Dimensions for Full-Length Mirrors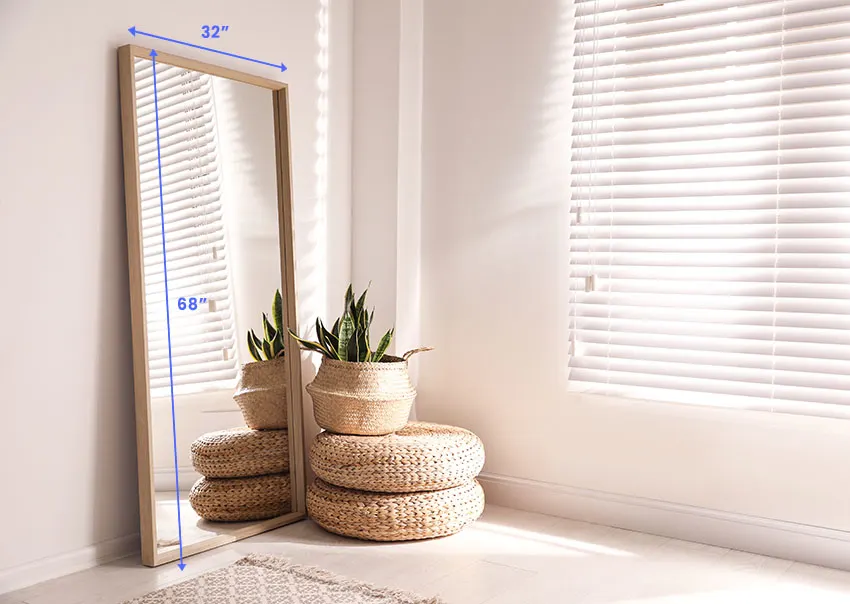 Full-length mirrors are great for bedrooms, closets, and even on the backs of your front doors. They will allow the user to see themselves better and will also help to make the room feel brighter and more spacious. There are many sizes and styles of a full-length mirror, and many will also vary in how they are mounted and how they stay steady.
Typically they have dimensions of around 43 inches or 103 centimeters by 31 inches or 33 centimeters or much larger ones at 68 inches or 173 centimeters by 32 inches or 81 centimeters.
Full-length mirrors will be available in many sizes to fit anyone's needs whether they are decorating smaller or more oversized rooms. Read more about bedroom mirror placement here.
Dimensions for Round Mirrors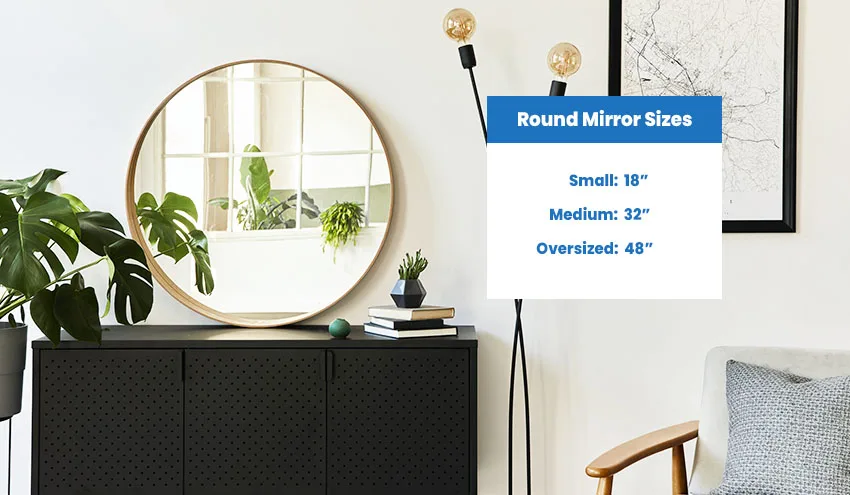 Out of your typical square and rectangular mirror are the circle mirrors you can use instead of the usual ones. They will add to any room and will fit almost any interior decorating theme, from modern and minimalist to more colorful and maximalist spaces.
Round mirrors will come in different sizes and styles, whether you are looking for a more muted round mirror with a wooden frame or a round mirror with a chic and thin metal frame.
Round mirrors can be smaller, with a diameter of 18 inches or 46 centimeters. There are medium designs with a diameter of 32 inches or 81 centimeters, or more oversized ones at 48 inches or 122 centimeters.
What Size Round Mirror for the Bathroom?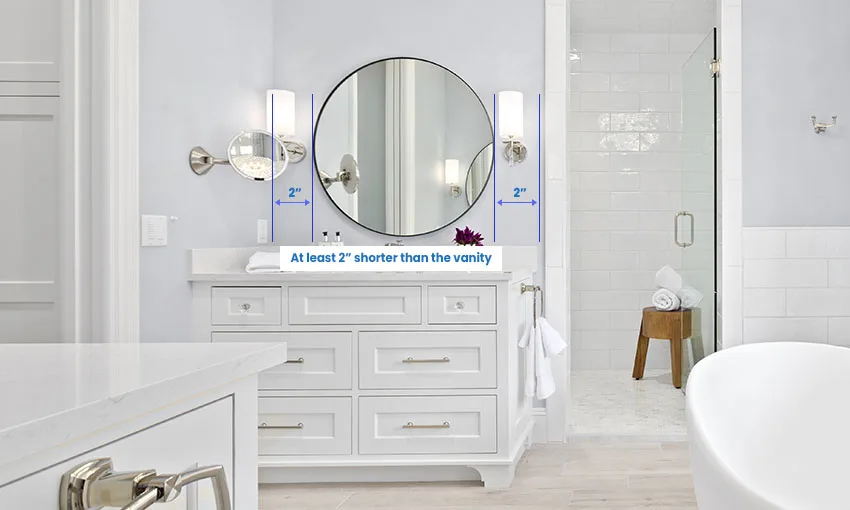 You can often see round mirrors used in bathrooms or powder rooms because of their exciting shape that adds a decorative depth to the space.
Usually, any shape of mirror ideal for use in the bathroom should be at least an inch to 2 inches or 3 to 5 centimeters shorter than the vanity or the sink cabinet unit's length.
If you have a sink cabinet at 24 inches or 61 centimeters from side to side, pick a smaller round mirror, either 22 to 23 inches or 56 to 58 centimeters in diameter.
If you have a sink cabinet with a width of 36 inches or 91 centimeters, use a round mirror 34 to 35 inches or 86 to 89 centimeters in diameter.
Just make sure that there is an inch or two inches of space allowance between the mirror to the sink, and everything will look proportionate.
What Is the Ideal Size for Vanity Mirrors?
If you are looking for the perfect mirror size for your newly renovated bathroom vanity, there are different ways to consider what the optimum size should be.
However, just like choosing a bathroom mirror, the mirror width will be decided by the width of your vanity countertop from one side to the other. And just like selecting a mirror perfect for your bathroom, the ideal vanity mirror should at least be an inch to two or 3 to 5 centimeters shorter from your vanity countertop from side to side.
Although some decorators prefer their vanity mirrors for as long as their vanity, it is basically a matter of preference. See our bathroom vanity sizes guide for more ideas.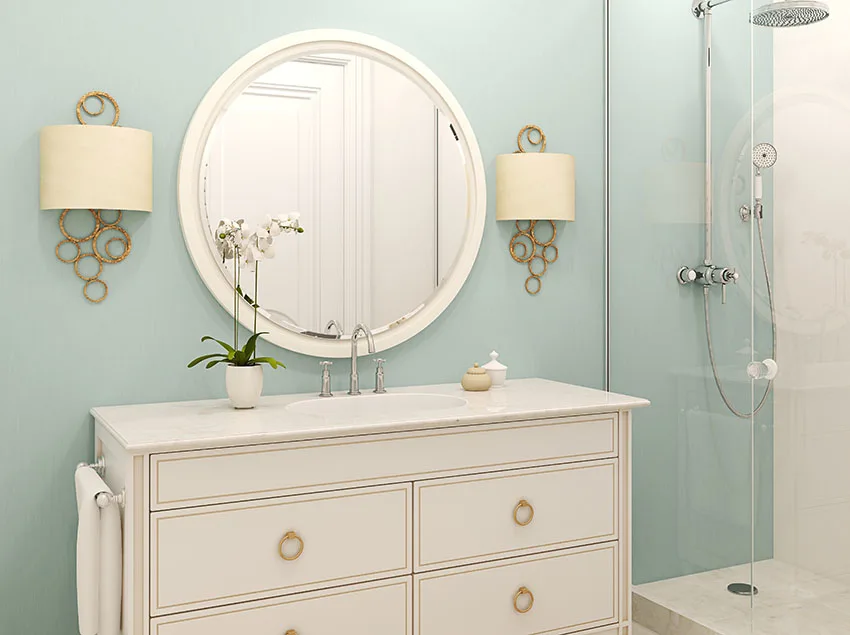 What Size of the Mirror Is Ideal for 24-Inch Vanity?
Twenty-four inches of vanity countertop space is the most common for apartments and smaller homes. They are typically available with a wooden base and a countertop commonly made of ceramics and will include a number of cabinets that homeowners can use for storage.
For 24 inches or 61 centimeters of vanity space, the perfect mirror to go with this size are mirrors with a dimension of 22 to 23 inches or about 56 to 58 centimeters. Some prefer to go as big as 24 inches or 61 centimeters for the mirror, which is okay.
What Are the Ideal Dimensions for Mirrors for 30-Inch Vanity Tables?
Another vanity size standard in smaller homes is the 30 inches vanity, and sometimes, in powder rooms and bathrooms, this vanity size comes with a sink and a faucet. They can also have a number or two cabinets or drawers that homeowners can use for storage.
For 30 inches or 76 centimeters of vanity space, the best mirrors to go with are mirrors with sizes ranging from 28 inches to 29 inches or approximately 71 to 74 centimeters. A homeowner can also use a rectangular mirror at 30 inches or 76 centimeters.
Measurements of Mirror for 36 Inch-Sized Vanity
A vanity sized on the 36 inches lane is moving onto the medium-sized category and is also standard on most homes and a size fixture most furniture stores carry.
The vanity cabinet of this size will usually house one big cabinet on the other side and hold up to three cabinets that the homeowners can use to store bathroom supplies.
For 36 inches or 91 centimeters of countertop space, the perfect mirror, whether circular or rectangular, should be at least 34 inches to 35 inches or 86 to 89 centimeters. You can even go for a mirror as long as the countertop is 36 inches or 91 centimeters, and it will open up the space and brighten the bathroom.
Ideal Mirror Proportions for 46 to 48-Inch Vanity
A 48-inch vanity is still on the medium size of vanities. If you are looking for a vanity wider than 36 inches, then this is the next size commonly carried by most furniture stores.
For 48 inches or 122 centimeters of vanity space, the perfect mirror to go with it is somewhere between 46 to even 48 inches or about 117 to 122 centimeters of mirror width.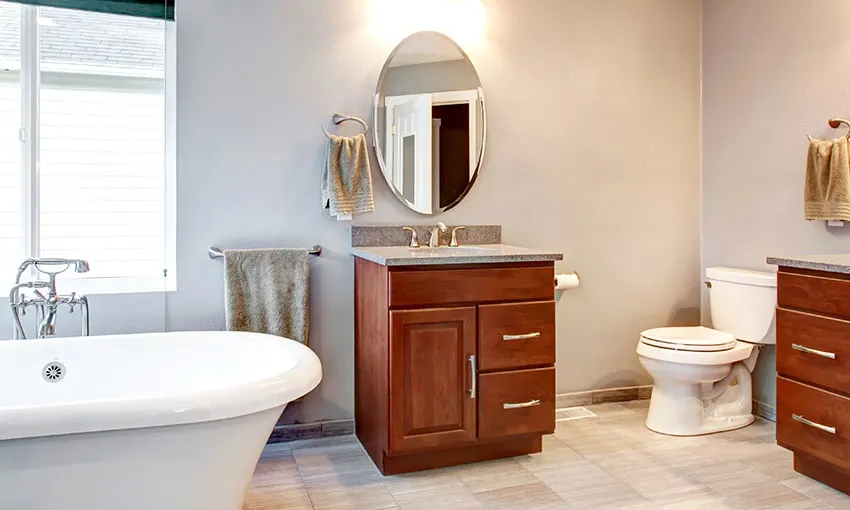 Sizing of Mirrors for Double Vanity
A 60-inch vanity is entering the double vanity size. Typically, this kind of vanity space is excellent for two persons, and it can even carry two individual sinks for a couple of persons.
You can choose to put two mirrors in place for a more oversized mirror. Still, the perfect size for a larger one that would go perfect for this double vanity is a rectangular mirror with dimensions of between 58 to 60 inches or 147 to 152 centimeters.
Mirror Measurements for Vanity with 72-Inch Dimensions
The most extensive vanity and sink cabinets anyone could get from furniture stores are types of vanities with a countertop size of 72 inches or 183 centimeters. Aside from two sinks, this countertop size will have a vast space in the middle that a couple can use as a home for their many bath products.
For 72 inches or 183 centimeters of vanity countertop space, the perfect mirror that would go with this size are mirrors between 70 to 72 inches or 178 to 183 centimeters.
Dressing Room Mirrors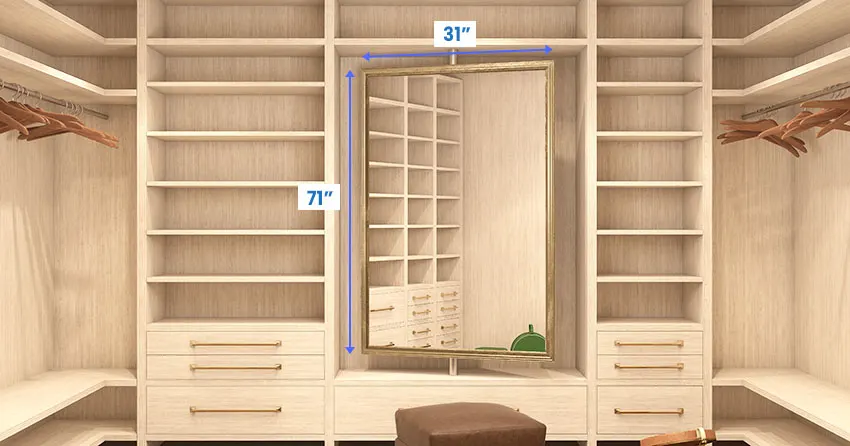 Dressing rooms are one of the rooms that only most bigger homes will have, but it does mean that you can't designate a small part of your room for a full-length mirror or even a dressing table with a sizable mirror and an accessory stand to counter as a dressing corner.
So, what size of framed mirrors can you use to put in your dressing room? The most common mirrors seen in many dressing rooms are usually 71 inches or 180 centimeters in height with a width of 31 inches or 80 centimeters.
This size will be enough for anyone of average height, but you can go taller if the user is much taller.
Mirrors for Home Gyms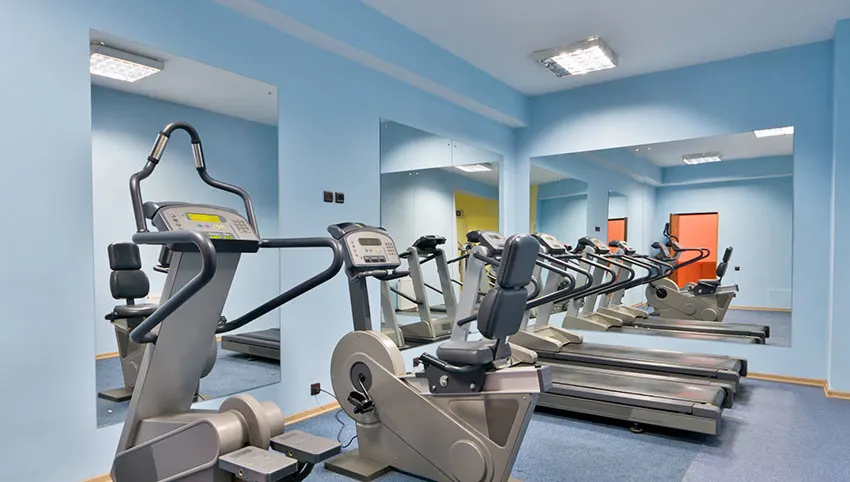 One of the most suitable ways to stay in shape is by designating a spare or small space in your home to count as a home gym, and one of the easiest ways to track your progress is by choosing a mirror to go with the space.
The best mirror size for a home gym is 3 feet by 5 feet or 36 by 60. This mirror is versatile whether you choose to hang it horizontally or vertically.
What Size Full Length Mirror Do I Need?
Contrary to popular belief, a full-length mirror does not have to be your full height. However, it could be as tall as 6 feet or 72 inches if a homeowner would want that for your home.
The minimum size of a full-length mirror is any mirror that is half your height. Typically, that is at least 3 feet or 36 inches for a person with an average height.
Although, consider if you are fond of wearing heels because the extra inches for full-length mirrors could help in the long run, so that you can see your full height and be close enough that you could "zoom in" on yourself.
What Is a Good Size for Mirrors?
Mirrors are available in many sizes, but the best one for you will depend on what you are using it for: primping or just for a decorative element. For the latter, the rule of thumb is choosing a mirror that is 2/3 the size of the table or any furniture it will hang above.
For primping, especially for mirrors used in the bathroom or any powder rooms, the best is to choose a mirror the same size or an inch shorter than the vanity countertops entire length.
How Big Should A Vanity Mirror Be?
Choosing a mirror to go with your vanity is the same as choosing the perfect mirror to go with a sink cabinet for your bathroom or powder room: remember that it should at least be one to two-inch shorter than the actual length of the vanity.
See more related content in our article about the different makeup vanity sizes on this page.