In this basement floor paint colors guide you'll see design tips on how to color match your floors, best shades to use, and floor paint ideas.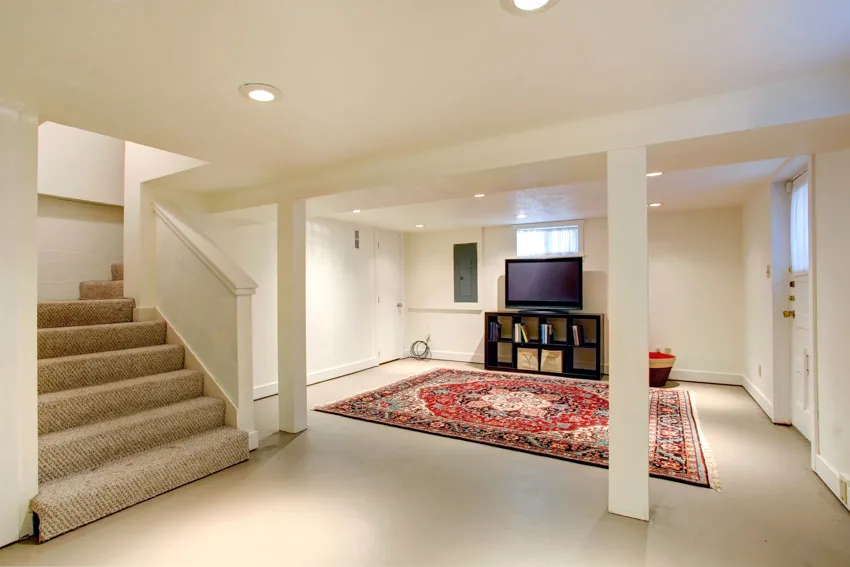 The art and skill of color matching is a tedious process that has been studied long and hard by interior designers and decorators alike. If you feel unprepared or inadequate to take on the task of color-matching your floors to your walls, you are not alone.
Choosing the perfect color for your floors is indeed a somewhat confusing project to take on and there are endless possibilities for you to consider. There are no one-size fits all colors when it comes to this and there are a few basic things for you to consider when choosing basement floor paint colors.
How to Color Match Your Floors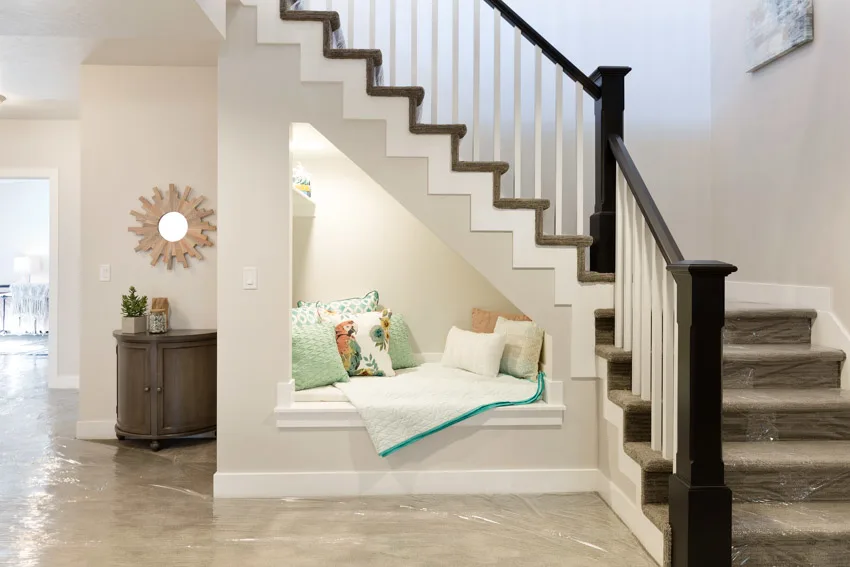 Start by thinking about the room size
Regardless of what room or floor size you're dealing with, the color of your floors will always have a major impact on how the space in the room feels like.
For much larger rooms, the recommendation is to stick to colors with dark and warm tones. These colors can make large rooms seem cozier and a little more compact.
This basic rule of thumb applies if the room size goes in the opposite direction. If the room space is much smaller, such as a cramped room with limited floor space, using the right colors for your floors could make all the difference in the world when it comes to managing that challenge.
Try to opt for natural or lighter colors for the floors. These hues will brighten any room and effectively open the space up. This will save you the hassle of rearranging the different types of furniture styles in your room or worse, having to throw anything out.
Think about the effect of the colors you pick
Remember that the way you pick your colors for your floors will greatly impact the overall atmosphere and feel of the room you're redecorating. If you want to go for something that looks and feels lighter and sunnier, shades of yellow could inject a vibe of fun and optimism.
Light beiges and whites could give the room a sense of tranquility and openness. If you want to go for something cool and peaceful, grey-colored floors are a great thing to add into the mix. If your space's interior is filled with brown elements, this can feel very rustic and natural.
Black, on the other hand, can evoke a feeling of class and of luxury. A black floor can also feel very dramatic and powerful and playing with contrasts with a black floor can really play to your advantage.
Make good use of the lighting
You also need to keep in mind of the fact that the lighting in your spaces at home can change all throughout the day. Assessing a color sample at night and under the gaze of artificial lighting can come off with an entirely different impression compared to natural light during the middle of the afternoon, for example.
You need to take some time to really think about the kind of lighting that will be cast in the room all throughout the day. Is it a kitchen that you happen to frequently walk in and out on all throughout the day? Is it a bedroom that you only retire to during the night?
Or is it a children's room that you tend to use more often during the day? Every room has its own unique types of lighting fixtures and these are things that you ought to consider when deciding on your floor colors.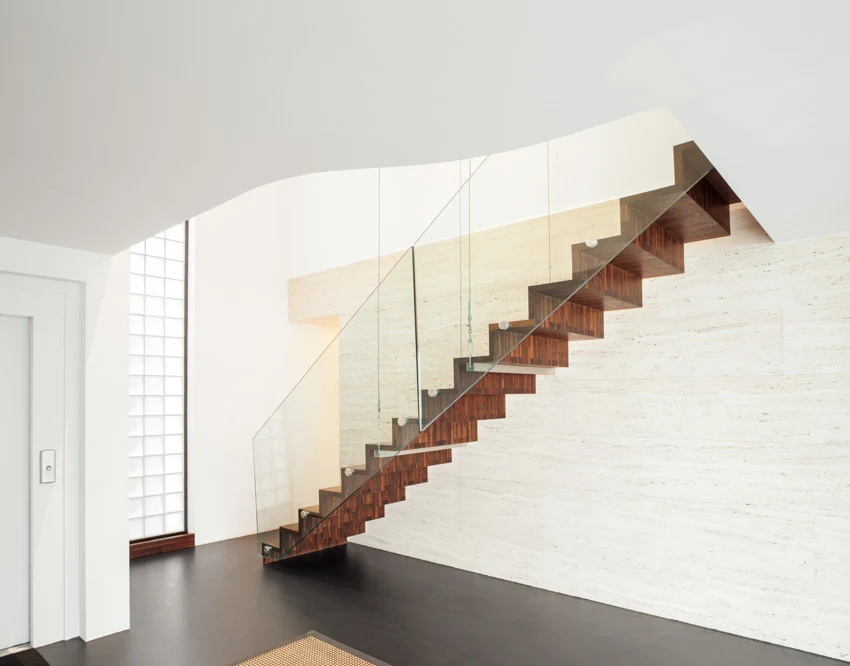 Always think of the bigger picture
It's important to not pick out your floor colors based on the premise of an empty room. You need to make sure that the color will be cohesive with the design theme, style, and feel of the room that you happen to be redecorating.
Are there perhaps design elements that you would like to bring particular focus to? Perhaps a piece of furniture that you would like to highlight? If so, the use of more natural-looking colors will help you create a more neutral-looking canvas. This will allow your furniture to take the stage and attention front and center.
On the other hand, opting for red tones for your floors can bring on a sense of opulence and luxury. This can go extremely well with colonial or art deco furnishings. If you have a country-style décor for the room, brown shades can best match this type of décor.
It is also a pretty good idea for you to go ahead and take some hints from your overall interior design. Some cabinet wood grain samples, a main carpet, or even a paint chip could turn out to be an inspiration and help you more easily determine the right color to go with for your new floors.
Don't scrimp out on taking samples as they can help immensely in making your decisions so much easier. As we are in the digital age, there are also a lot of room simulators and basement design software that will allow you to test out virtually any type of floor color you may have in mind.
This will usually require you to upload a picture of the fully furnished room. The rendering can be impressively realistic and on point.
Best Paint Colors for Basement Floors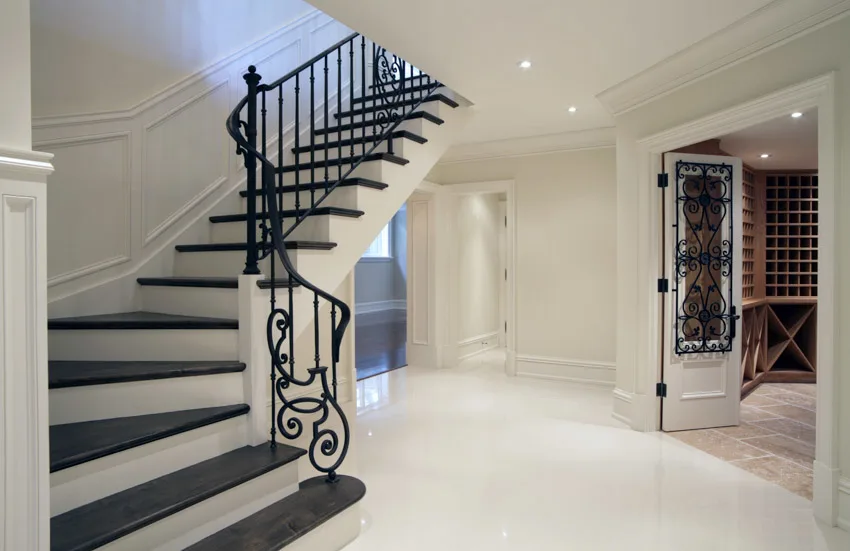 The basement is an area in the home that is most times overlooked in terms of design value and precious extra storage real estate. You need to know that the basement can be impressively versatile when it comes to these types of uses.
There are many ways for you to redesign your basement and completely redo how the space looks and feels. You can start off by painting a basement floor with the best colors. Here are some colors for you to consider.
Bright White: This color is a favorite and is a natural choice for floor colors for dark and oftentimes dank-looking places such as your basement. It can effectively liven up and brighten the space without exerting too much effort.
If you would like to further emphasize and capitalize on this color's expansive properties, you can incorporate some similarly white accessories and furniture pieces along with the space. Additionally, by choosing a white or light paint color for the basement ceiling, one can enhance the overall brightness and feel.

Alternatively, if you aren't too keen on making the space look uniformly white, you can break up the backdrop with splashes of color not just on the floor but in the fabrics and other elements that you may want to incorporate into the space as well.
Sky Blue: This is a rather pleasing shade. Sky blue is a light color that can really liven up the spirits as well as calm the senses down. This is ideal if your plan for the basement space is to convert it into some extended living space.
A sky blue basement floor can be tastefully paired with soft-colored neutrals to complement the soft look of the space. If you would like to liven it up a bit, it would be smart for you to play around with the color palettes in contrasting colors with the accessories and the accents you pair up with the space.
Shades Of Red: A burst of red that's energetic and fiery is an unexpected choice for basement floor ideas, but it is something that can pay you back should you be adventurous enough to consider it. It's a great floor color choice for basements especially if you have every intention of turning this into a fun space such as a playroom, a den, or even an adult game room.
You can paint your entire basement floor in shades of red or you can opt to go for accented areas instead. Make sure that you're leveraging on contrasts when it comes to this. You must pick lighter-colored walls for a more cohesive and less overwhelming look.
Gray: Gray paint has become increasingly popular in areas below the ground such as the basement. This is a rather sophisticated shade yet at the same time, subtle. Gray floors are oftentimes paired best with classic or neutral-looking furniture pieces.
If you would like to go down a different route and embrace something a little edgier and more modern, you can throw in bold accents and details by playing around with colors such as green, deep blue shades, or even striking oranges.
Cream: Cream is a pure and balanced color. It's a great marriage between beige and white without the extreme effects. Cream is a great color for your basement floor, especially if you're shooting for something a bit more relaxed and subtle.
This floor color can be great for your basement if you want to turn it into a functional space such as a laundry room, a space for entertaining, or even a below-ground laundry room.
Cream is a relatively neutral color, and it doesn't really clash with anything on the color spectrum but it does work well with wood colors that are honey or mahogany toned.
Best Floor Paints for the Basement
Here we share the best paint ideas for basement floors.
Recommended White Paints Farrow & Ball Wimborne White (239): This is a classic white paint. It has a bit of an off-white hue that contains just a touch of yellow. This extra tone adds a feeling of softness to the paint color.
It's a cozy and versatile paint color to go for as it can pair well with both warm and cool colors alike so your design options for the basement are opened up and you're not restricted when it comes to your accessories and accent colors.

Benjamin Moore Seapearl (OC-19): If you want to go for a fresh white color that at the same time borders on as a neutral, Seapearl by Benjamin Moore is a great choice. It has just enough gray tones in it to still embody all the freshness of a white color without it looking too stark.
It's great for the basement as it can move with natural light. It can look cool during the day and transition to a warmer feel during the night.
Recommended Sky Blue Paints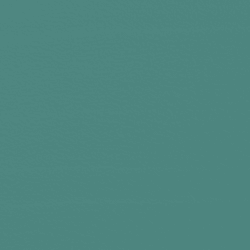 Sydney Harbour Paint Company Laguna: This sky blue paint is a shade that evokes an ethereal and blissful feel. This is a gentle paint color with the look and feel of blooming over time. This is a great paint color for your basement floors if you're looking into creating a lot of texture and depth in the space that you're recreating. Sherwin-Williams Dynamic Blue (SW-6958): This isn't that much of a sky blue paint but we're including it in the list as it has a vibrancy in it that can be quite striking for a basement floor.
It's not a subtle take on the floors, for sure but it's bright and bold and something that can really look and feel happy. It's a great paint color choice for your basement. It's a bold statement to have and is best paired with subtler colors all around the room.
Recommended Red Paints Heritage Red (HC-181) by Benjamin Moore: When it comes to the red color, classic is always a good way to go. Experimentation is great, but classic is timeless and never really goes away. This paint color is rich, vibrant, and warm. It also offers up an extremely high gloss. Heritage Red with the paint code HC-181 from Benjamin Moore comes highly recommended.
If you're shooting for dramatic red floors in your basement floors, this is a great paint brand and code to go with. You of course, need to balance this out with much more muted color choices for your walls and for your furniture pieces and other accents you may want in the basement space.

PPG Paints Red Gumball (PPG-1187): This is a fiery raspberry paint brand and can hold its color on its own extremely well. This is great regarding high contrast between purer colors such as black and white. It makes for a very chic statement as a basement floor color choice.
We suggest that you use this sparingly and not color the basement floors in their entirety as the color can end up cramping up the space and making it feel a little closed off.
Recommended Gray Paints Sherwin-Williams Agreeable Gray (SW 7029): This gray paint brand is a popular choice. This shade borders a bit on the light and yet warm shades of gray and beige – greige. If you're a bit undecided about the gray hue, Agreeable Gray can be a great compromise as it's also somewhat neutral in its own rights.
It can be perfect for your basement floors if you don't want to go down the stark white or cream bases. It has cool tones and can move along with the amount of natural light that has been cast on it all throughout the day and artificial light during the night. Sherwin Williams Repose Gray (SW 7015): If you want to go for another strong contender in the greige category but something that comes with a bit more coolness compared to Sherwin-Williams' Agreeable Gray, Repose Gray offers a welcome alternative.
If you have harsher lighting in your basement, this is a great gray paint brand and shade for you to consider having for your basement floors.
What's so great about the gray shade is that as a proposed neutral, it is something that can immensely open up your design options in terms of the basement wall colors, the furnishings, the accessories, and all of the other elements that you might want to incorporate in your basement design.
Recommended Cream Paints Benjamin Moore Chantilly Lace (OC-65): Shooting for the perfect balance between cream shades with warm undertones and a crisp white shade is a bit of a pipe dream but something that's made possible by Benjamin Moore's Chantilly Lace.
It's a great color to champion for the basement floor and can come in both satin and matte finishes, depending on what your matter of preference will turn out to be. This is great for the basement floors and paints a neutral background for the rest of the elements in your spaces at home.

Sherwin-Williams Alabaster (SW-7008): This is a cream paint with taupe undertones. It has a somewhat velvety and milk-like color and texture to it that can make your basement floors look crisp and trim that's really bordering more on a white shade.
It can be bright enough for the basement space but also feel crisp and fresh enough for you to pair with wood elements and other wood-like tones that might come from your furniture pieces.
Paint Colors for Concrete Floors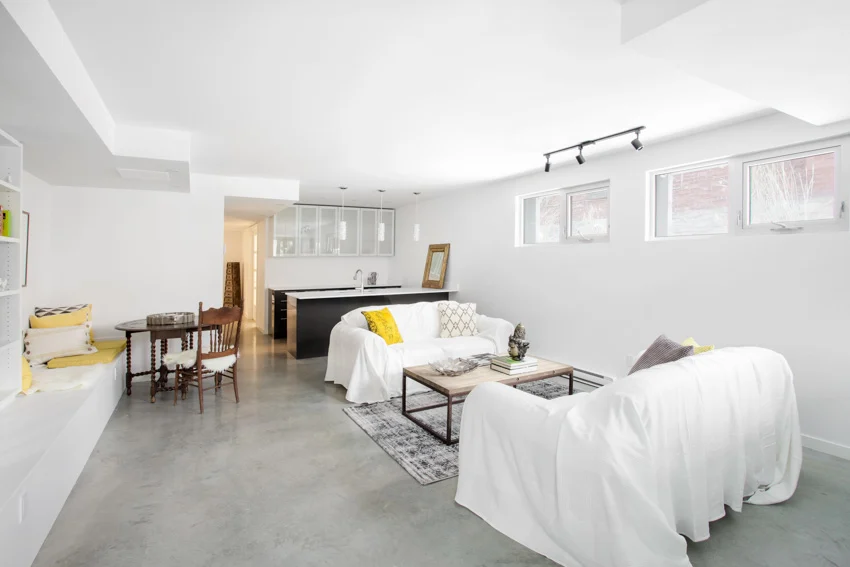 What you need to know about right off the bat is that not just any paint will do for concrete basement floors. After all, only a very few paint types are suitable for concrete.
When it comes to this, the safe choice to opt for are high-quality masonry paints. That should also extend to the primers you use for your floors. Even this can show signs of wear and tear after a few years.
Therefore you need to come prepared for reapplication, if ever. The best choice ever for concrete basement floors is epoxy paint. This paint type has a special formulation that is attuned to adhere to concrete in particular.
The reason why epoxy paint is so great is that it can handle movements on the surface over certain periods of time. Concrete can move and shift as it can expand or shrink with temperature changes and epoxy change can bide the tide.
Now when you think of epoxy paint, the common assumption is that your paint color choices will be limited but it isn't like that at all. Here are some great kickstarter colors with epoxy paint for your concrete basement floor.
Epoxy Paint Colors for Concrete Flooring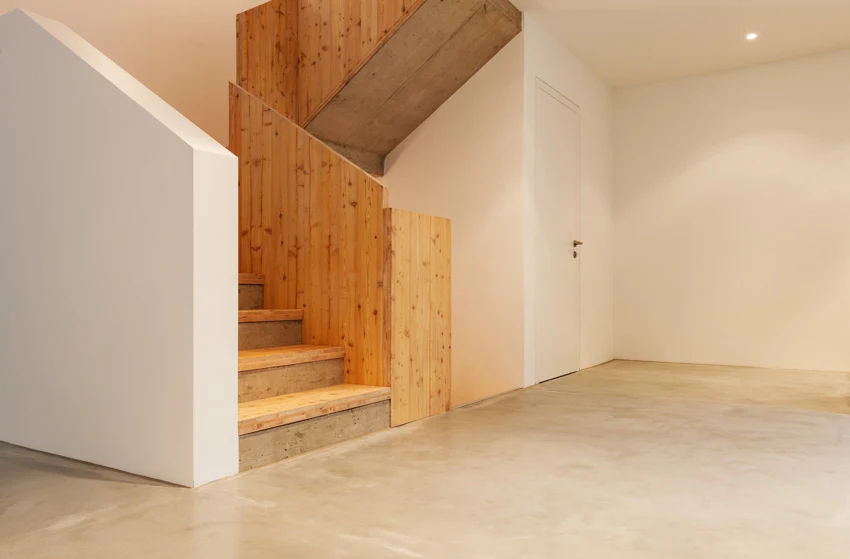 Beige: One of the reasons why you would opt to paint your concrete basement floors in the first place is because of the fact that concrete's natural color can come off looking a little too cold and industrial.
Beige is great at balancing this out. It can warm up the area and bring in an aesthetic value to it and it can effectively transform the space. Leaving your concrete basement floors looking as is with their natural appearance can make your space come off looking a little austere and abandoned.
Green: If you aren't too fond of beige but still want to get a concrete basement floor that looks warm and inviting, green is a great option with epoxy paint. Keep in mind as well that green has a natural and organic feel to it and it can really uplift an otherwise dark and dreary-looking concrete basement floor.
Ivory: Ivory is a color that's both clean and classy. If you want a soft and beautiful feel to your basement concrete floors, a touch of soft ivory is a great epoxy paint option to go with.
Ivory can be a go-to bet if you want to instantly clean up the look and feel of your concrete basement floors. It has dominant elements of white that radiate out and can make a badly-lit basement look rather well-lit.
Gray: This is a popular epoxy paint color for concrete. It provides a clean and uniform look. Light gray is a balance between white and isn't as austere as you would think as the color spectrum can be quite wide-ranged.
Best Paint for the Floor in the Basement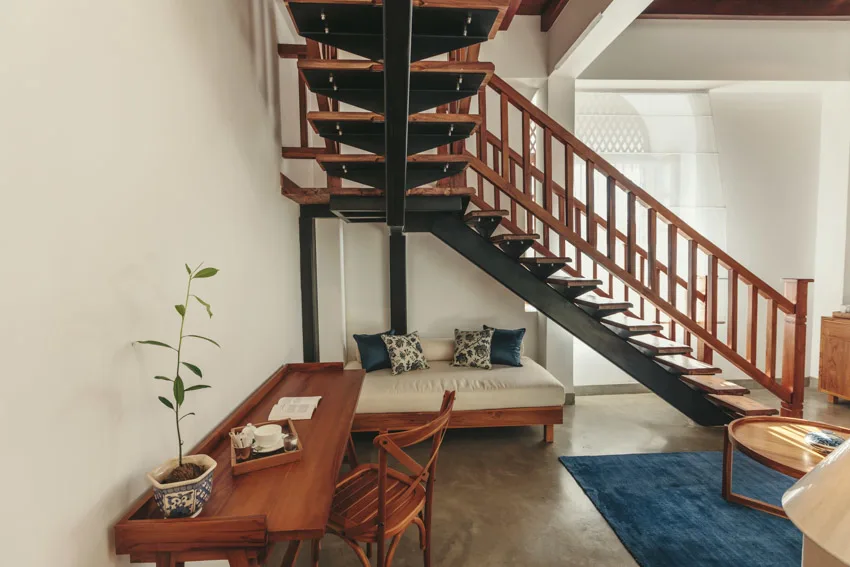 Painting concrete floors is no easy task and the paint colors, brands, and types you should be using must come with very special and specific qualities.
A few of these are being able to withstand use and abuse, heavy wear and tear, and even exposure to water, among other things. We've listed down some of the best basement paints for you to consider.
KILZ Epoxy Concrete and Garage Floor Paint: This is one of the best picks for concrete basement floor paints. This paint brand comes with a one-part epoxy and acrylic mixture formulation. It is suitable for both interior and exterior use and can hold up well against the demands coming from concrete basement floors.
This paint is water-based and has been known to be able to withstand even the toughest stains coming from gasoline, chemicals, and other harsh substances and liquids. It also comes with a satin finish that makes for a very easy application. It dries quickly and is extremely specific that it isn't recommended for any other use apart from being painted on garage or basement concrete floors.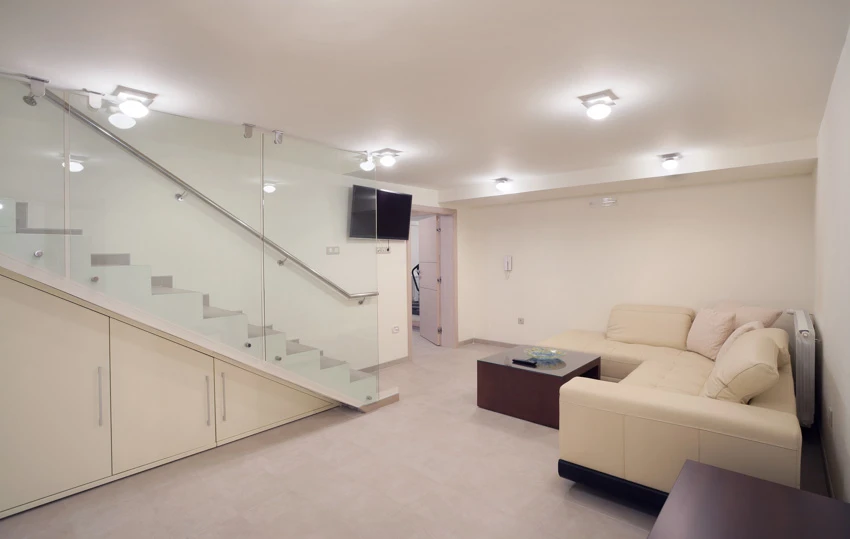 DRYLOK Basement and Masonry Waterproofer: This is masonry and basement waterproof paint looks fantastic once it's applied. When it dries, it delivers a crisp and bright white color and has been applauded for really stopping water in the basement.
Basements are notorious for water exposure and even the occasional leakage. This paint can help you equip your basement floors to withstand it, knowing to hold up against up to 15 PSI. This paint can transform any dank or dark basement instantly with its smooth finish.
Its formulation meets VOC requirements and is greenwise-certified so if you're environmentally conscious, this is a great option for you to consider. Take note though that this paint can come with a very thick consistency and can take a considerable amount of time to dry.
There can be a lot more options to consider aside from the two we've mentioned above, of course. But if you'd like to continue to look around, here are some traits you need to look for when you're looking for high-quality paint for concrete basement floors.
• Waterproof
• Oil-based or water-based
• Should have epoxy in its formulation
• Mildew and scratch-resistant
• Easy to clean and maintain
See more related content in our article about painting basement stairs on this page.