In this painting basement stairs guide we cover the best options for colors, paint products, stain, and other important details you should know for basement stairs design.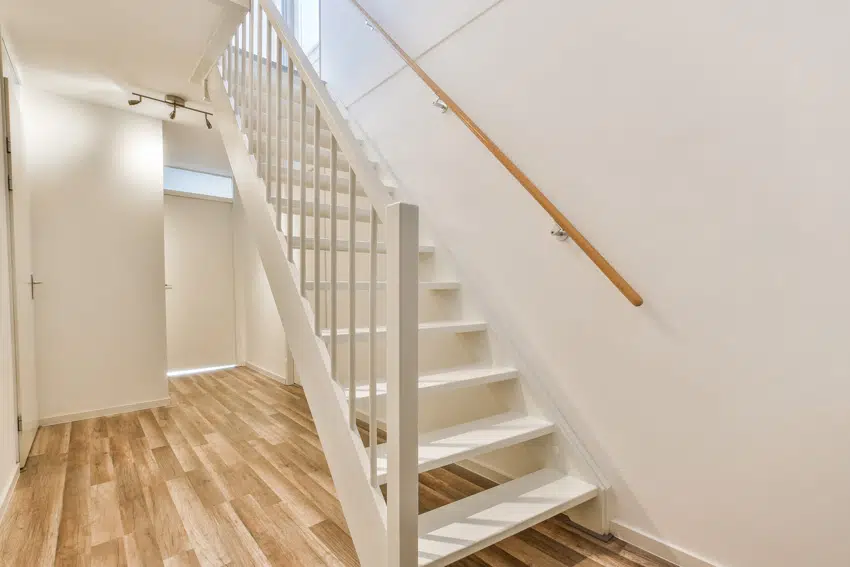 Basement stairs endure a lot of abuse and are also one of the most underappreciated house elements. If you are familiar with interior decorating or damage prevention, you already know how better basement stairs look after painting or staining with the right paint.
If you put the incorrect paint or sealer on wooden steps, you risk ruining the aesthetic while also allowing the wood to be damaged! Preventing damage to the wood with a new coat of the right paint and sealer may go a long way.
Using the best paint for basement stairs can make you and your family safe by making steps durable and non-slip.
Best Color To Paint Stairs for the Basement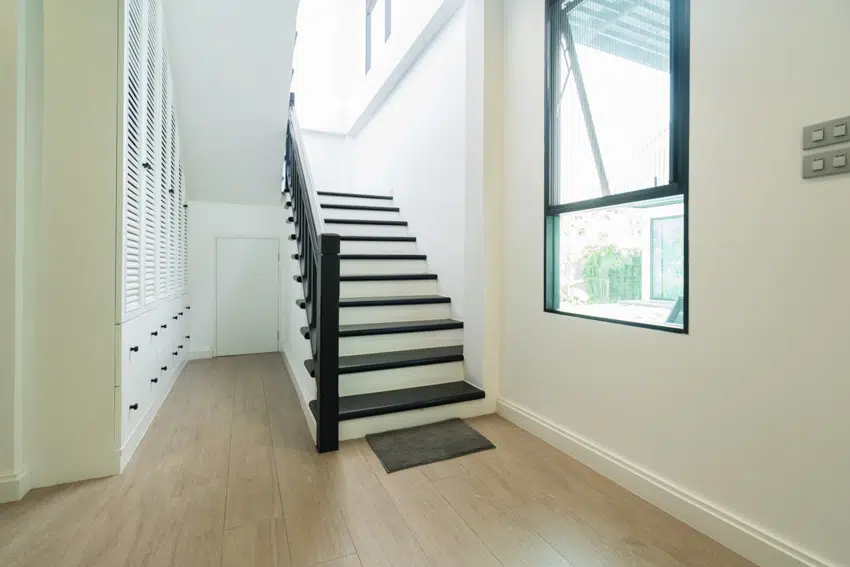 Here are the top picks for paint colors for basement stairs.
White Sherwin Williams Pure White (SW7005)
Experts recommend using pure white paint for a crisp, clean stairwell that will fit various décor types and survive the test of time.
If you want to go for a traditional painted appearance, Pure White SW 7005 is the color to choose for the different types of stairs in your basement. It may help cover wood defects while also allowing other parts of your house to shine by lightening up a gloomy room.
Two-Tone Color Scheme


Behr Polar Bear (75)
You may paint the risers and treads the same color or various colors to create contrast. On the risers, use Polar Bear (75), and on the tread, use Intellectual (PPU18-19). Behr Intellectual (PPU18-19)
Paint a graphic that looks like a runner running along the middle if you want to be a little more imaginative.
Green Sherwin Williams Frosted Emerald (SW9035)
Experts say green is an excellent choice for a statement-making staircase paint color.
Although many people like the look of a conventional wood staircase, paint is an excellent alternative if your stairs are in poor condition or if you want to create a dramatic focal point.
A luscious green like Frosted Emerald SW 9035 breathes new life into any space.
Dark Gray Benjamin Moore Kendall Charcoal (HC-166)
Experts recommend painting your steps in a deep gray to create a classy stairway display. Kendall Charcoal HC-166 is a neutral enough deep off-black to mix with practically everything.
Light Blue Benjamin Moore Ocean Air (2123-50)
Experts suggest painting your stairwell a bright and airy color of pale blue to add individuality to a confined space.
Because stairwells are often enclosed and get little light, choose an exciting paint color to help open up the area. A light blue, such as Ocean Air 2123-50, will expand a small stairwell while adding a modest flash of color.
Best Paint for Basement Stairway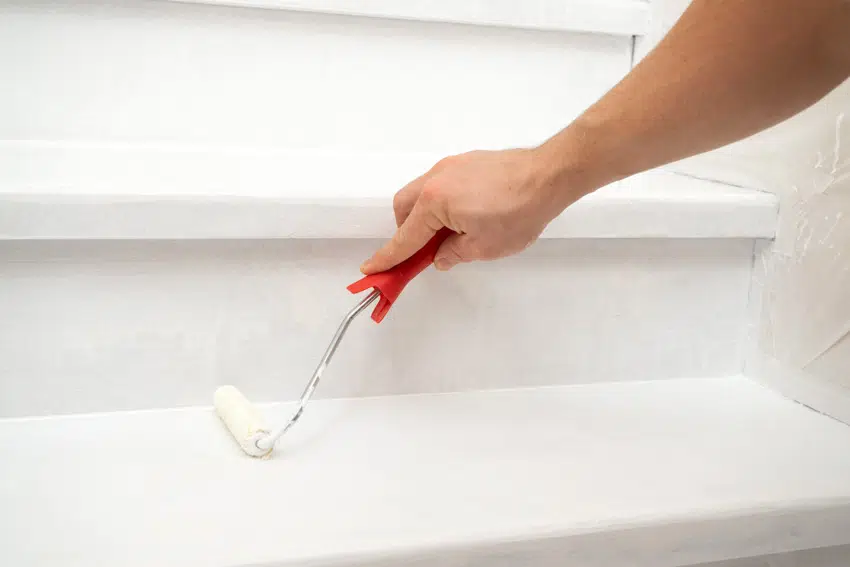 Experts suggest porch and floor paint for basement stairs since most have a 100% acrylic covering.
INSL-X SU031009A-01 Sure Step Acrylic Anti-Slip Coating Paint: INSL-X SU031009A-01 Sure Step paint is our first choice for top-notch quality paint with a 100% acrylic composition.
It provides a firm covering and a flat and matte appearance not just on the treads of the stairs but also on most types of patios, walks, pool decks, and tennis courts.
There is no better alternative than the Sure Step Anti-Slip flooring paint if you want your steps to dry quickly after painting and have an easy application.
FIXALL Skid Grip Anti-Slip Paint: The FIXALL Skid Grip Anti-Slip Paint is the second-best pick for basement stairs. This paint delivers lovely dark colors and is ideal if you want your surface to have a grip-finish texture.
The paint's 100% acrylic recipe is so high-textured that it sticks to asphalt, cement, wood, and other surfaces. This paint is perfect for commercial and residential flooring for excellent skid resistance.
KILZ L377711 1-Part Epoxy Acrylic Interior/Exterior Concrete and Garage Floor: The KILZ L377711 1-Part Epoxy paint's durable texture makes it a good choice for high-traffic areas. The color does not fade or scuff even after driving on heavy tires.
But keep in mind that this only applies to horizontal surfaces. Try it on the stair steps and the flooring of your room to see how long it lasts and how waterproof it is. The oil, fuel, or frequent frictions do not affect the hue.
Diamond Brite Paint 31150 1-Gallon Oil Base All-Purpose Enamel Paint Battleship Gray: The Diamond Brite Paint 31150 provides a large color selection. You may use the paint in high-traffic locations, primarily on stairwells.
It does, however, take a long time to dry and much longer to recoat. It also bravely resists repeated abrasion and has excellent adhesion to the surface of any substance.
Rust-Oleum 1979502 Painter's Touch: Choose the Rust-Oleum paint for more large basement stairs if you need latex paint. This paint covers a broader area than you may believe with only one application. Its water-based solution is similar to acrylic in appearance.
It also doesn't have a strong odor like some other paints. It would be best if you coated the stair dimensions numerous times since the initial coat only offers a thin covering. The color stays vibrant for an extended period.
Basement Staircase Paint or Stain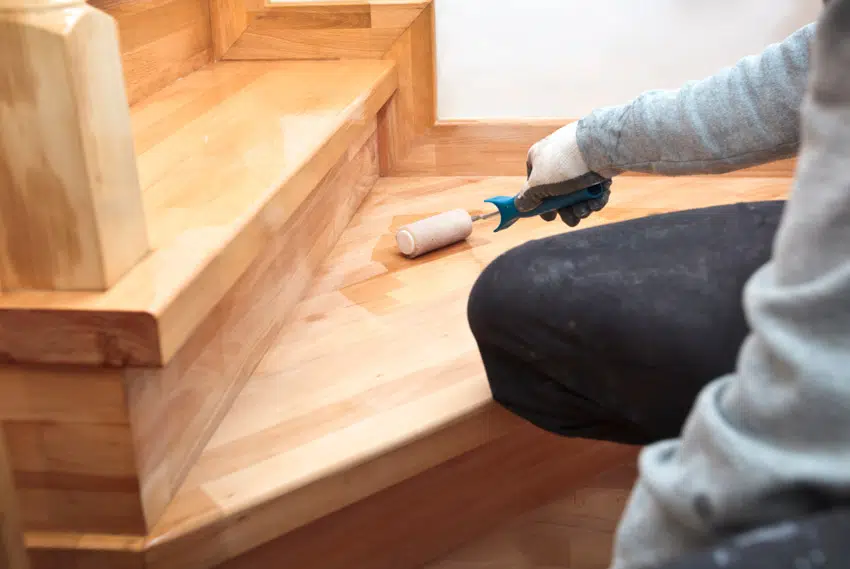 To give your basement stairs a fresh look, consider painting or staining. Painting is one of the most cost-effective solutions, and when done correctly, it produces excellent effects.
But in painting, most will hide the grain of the wood underneath it, preventing your stairs from seeming to be constructed of natural wood.
On the other hand, staining creates a natural-looking staircase with visible wood grain. Apply two layers of stain on the steps, then three or four coats of a durable urethane substance to protect them.
This blend will give you a nice natural appearance. The disadvantage of staining is that there are fewer color options.
Can You Paint Unfinished Stairs for the Basement?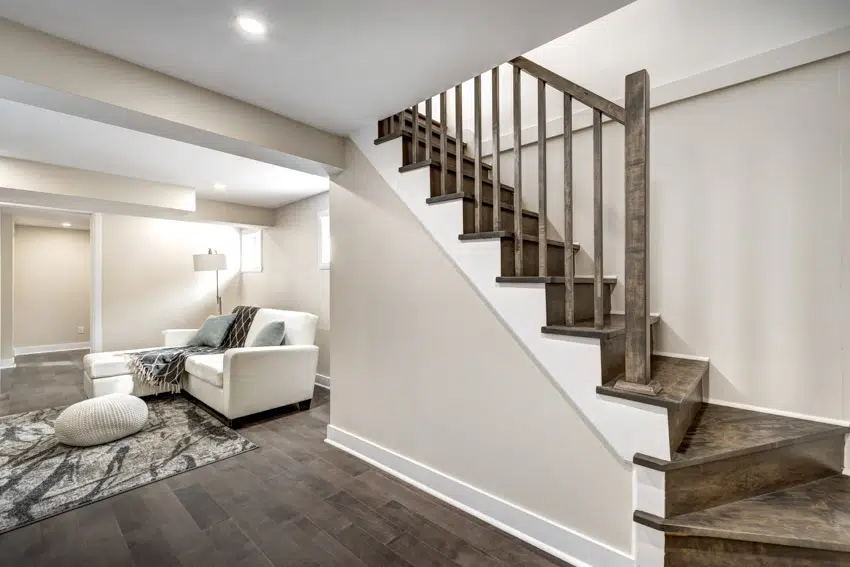 Yes. Painting unfinished basement stairs may make it long-lasting, needing just minor touch-ups from time to time. Make unfinished basement stairwells safer by using slip-resistant chemicals.
Ensure the steps are clean and apply porch or floor paint. You may be bold and paint the riser a different color than the treads.
Does Painting Make Stairs Slippery?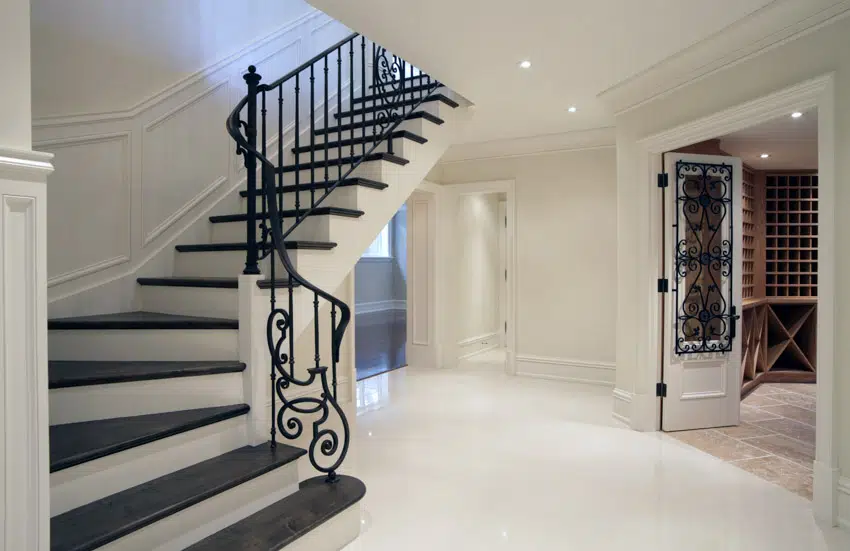 Don't be concerned if you want to paint your stairs but are worried about how slippery the finished product will be.
To increase traction and lessen the chance of sliding, put a slip-resistant ingredient into your paint. Slip-resistant chemicals do not affect the color of the paint; instead, they provide a little bit of roughness to improve friction between your foot and the step.
To ensure you have the proper ratio, mix the slip-resistant ingredient into the paint you're using according to the directions on the package.
When your stairs are dry, evaluate the paint's slide resistance by going up and down them in socks, bare feet, and shoes.
In addition to using a slip resistant paint coating one can use a carpet stair runner. S runner can help reduce slipping, promote noise reduction, cushion the feet and protect the stair treads from wear and tear over time.
What Color Should Stair Treads Be?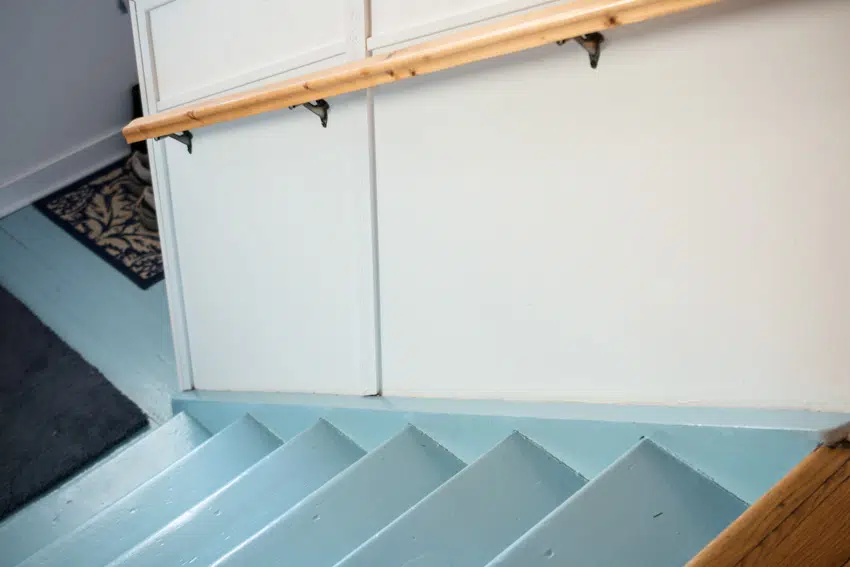 Stair risers are usually brilliant, glossy white, while stair treads are protective stains. While this is great, it is not necessarily the most fantastic option for all households.
Why not give the stair treads a colorful, vibrant design to guide the way? On a white riser, paint stair treads in vivid yellow, blue, or various colors.
If your property is more rustic or country, a glossy white paint would most likely clash with the rest of the decor. A solid-color rustic or distressed paint job makes the most sense in this scenario.
For decorative and functional stairs, use a soft neutral like gray or ivory to paint a chevron design. The treads appear like marble, leather, or plaster by faux-painting them.
Do You Paint Treads Or Risers First?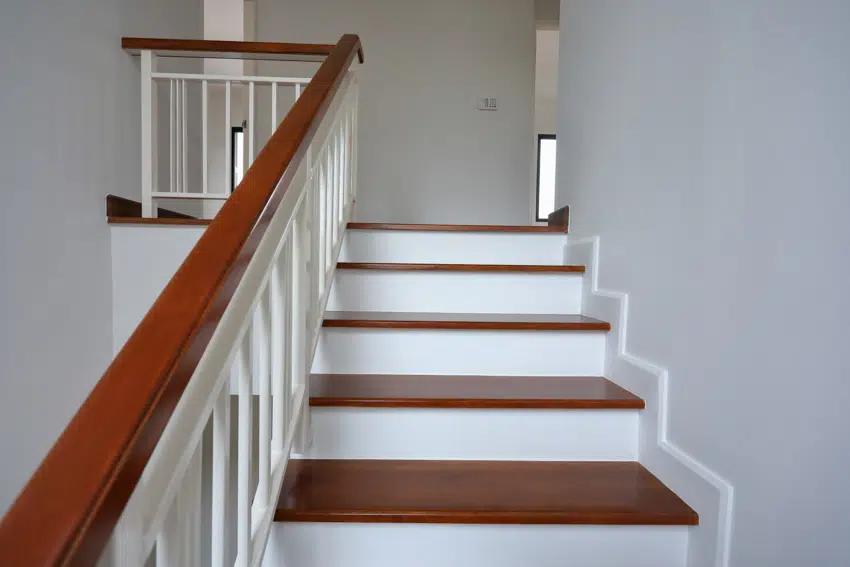 It's preferable to start with the risers once you finish the steps to remove any paint on the treads before staining. Choose semi-gloss or gloss paint over flat paint since both are simpler to clean. Also, if you choose a dark hue, you won't have to clean as often.
Cover the flooring surrounding the staircase with drop cloths since preparing steps for painting may be a dirty process, particularly if you have to peel a finish. Block off the stairwell since you don't want anybody stepping on your newly sanded treads.
You may use masking tape to shield the risers from staining, but if you're concerned about it ripping off paint, cover each riser with a 10-inch drywall knife while staining the tread.
See more related content in our article about staircase wall decorating ideas on this page.