On this types of pool tables guide you'll find the different styles, sizes, materials, fabrics, game features, and other important pool table designs.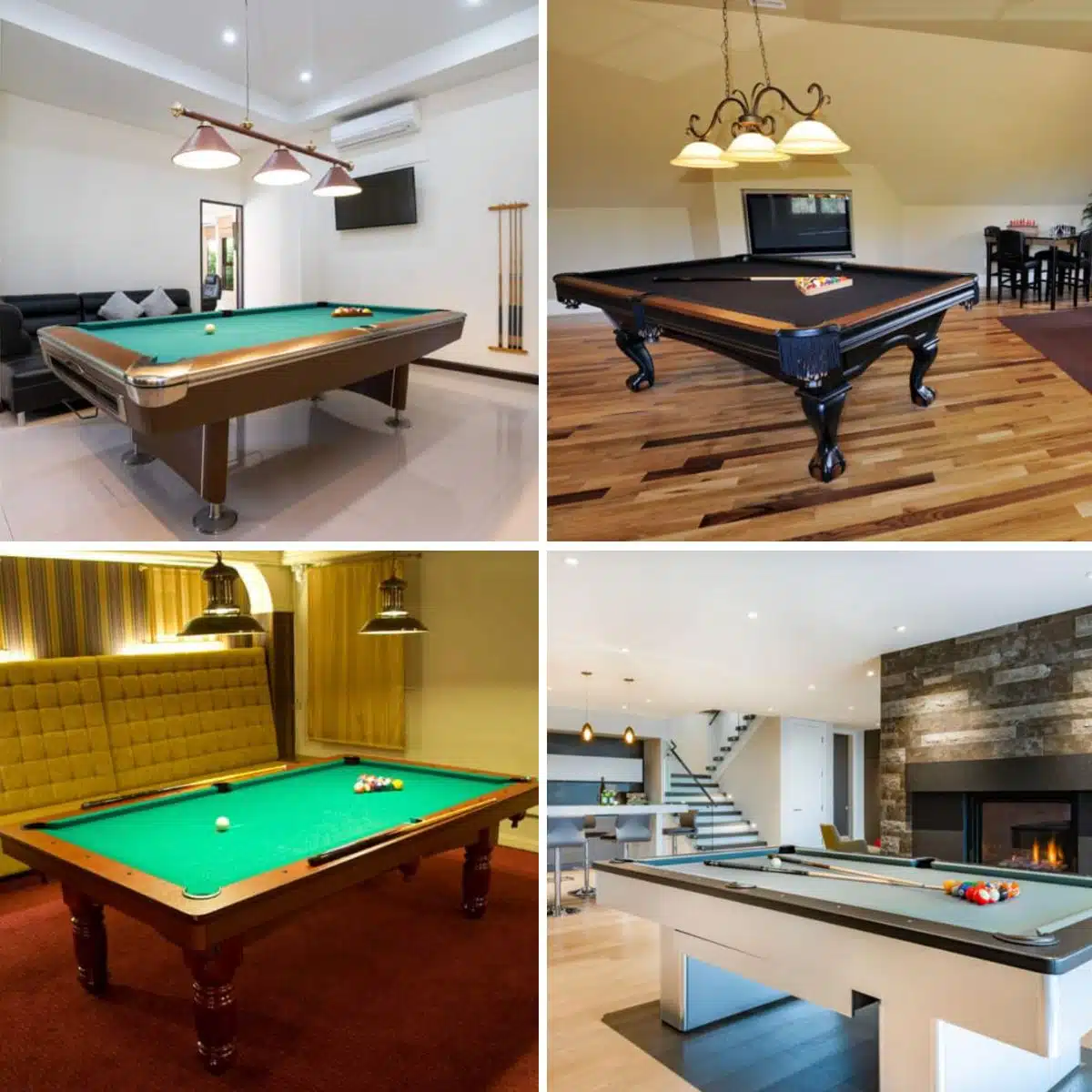 Do you like to play pool, and want one installed in your home? The pool table is often considered a luxury and is a competitive game that can be a great way to spend time with the family or while entertaining guests.

But of course before you buy, you have to match the table you choose with your home's interior design. And the great thing about this is that you have a variety of style and material options to consider!
Quicklook: Different Types of Pool Tables
• Standard
• Table Top
• Conversion
• Bumper
• Folding
Pool Table Types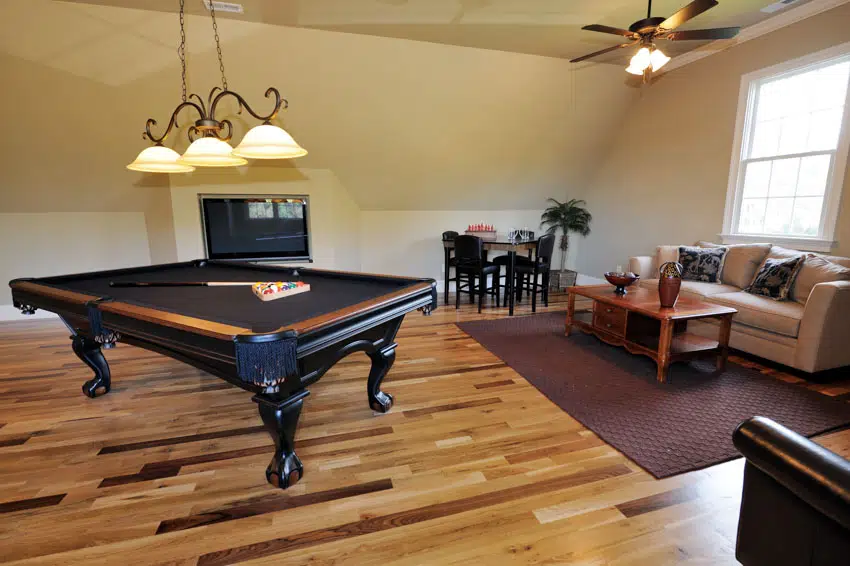 There are different types of pool tables you can choose from, which can differ in sizes, colors, styles, and even shapes. Every type also has its corresponding benefits and disadvantages along with it. They even come with their own price range from budget to luxury. Here are some of the types that you can check out.
Standard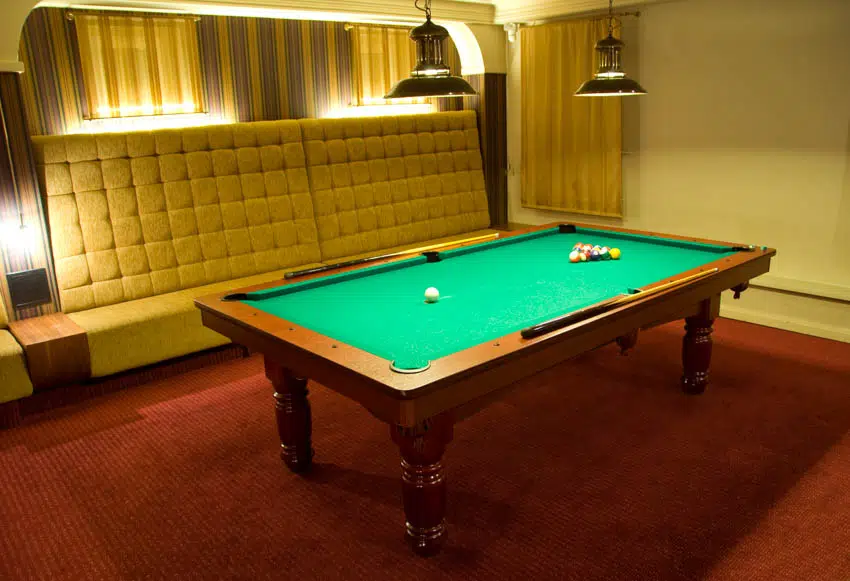 A standard pool table is meant precisely for what it is, which is for playing pool. This might be why it is called a standard type for a reason. The popular standard size is 8ft in length.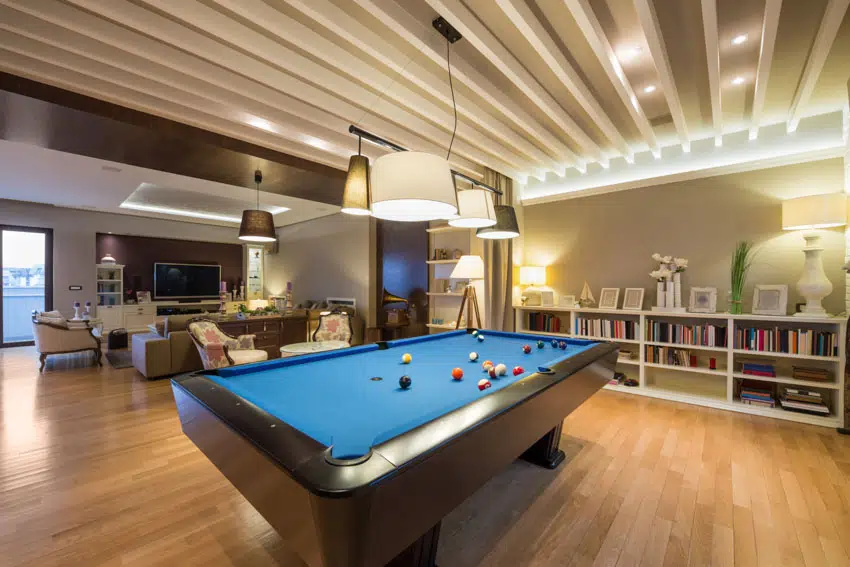 This table is for pool playing and usage and maintenance must be meticulous since the felt's condition is important in a pool game. The felt is also easily damaged so it's important to be mindful to avoid causing damage.

Table Top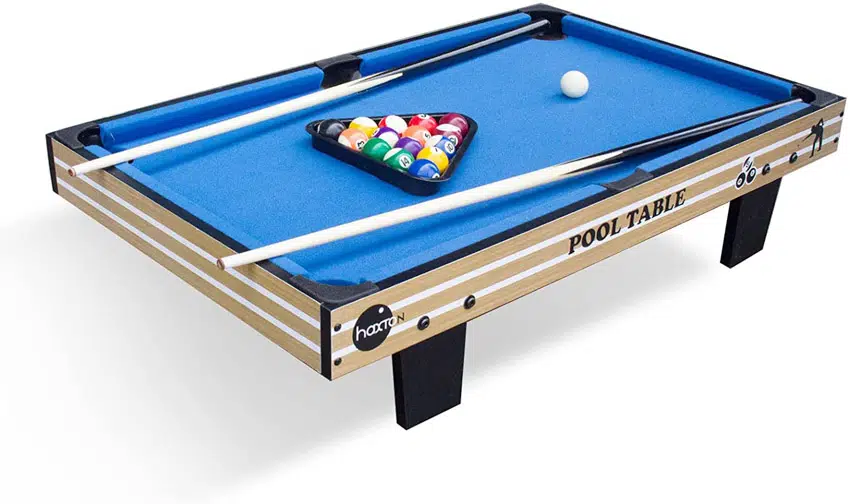 See this mini tabletop pool table at Amazon [sponsored link]
A tabletop pool table is an ideal option for homes and offices with limited space since it's smaller than other types. Its size is more or less around three feet.
This makes it great for offices and children. Installing it in offices is great to be used as one of the break time activities at work. It is also among the best man cave ideas for a small room inside a house.
Conversion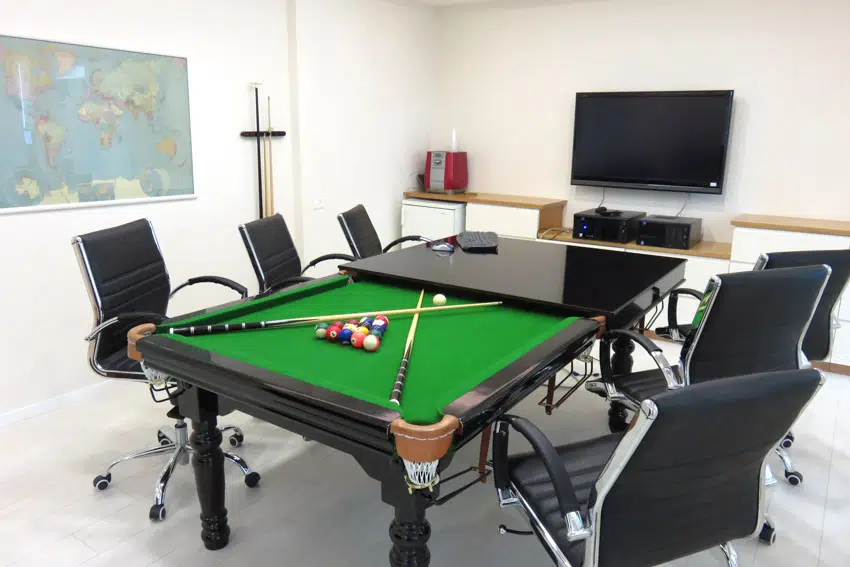 A conversion pool table is a popular option in the market because of its flexibility. This means that it will have other functions besides being a pool table. It can be converted into one of the following if preferred:
• Dining room table
• Table tennis table
• Air hockey table
Bumper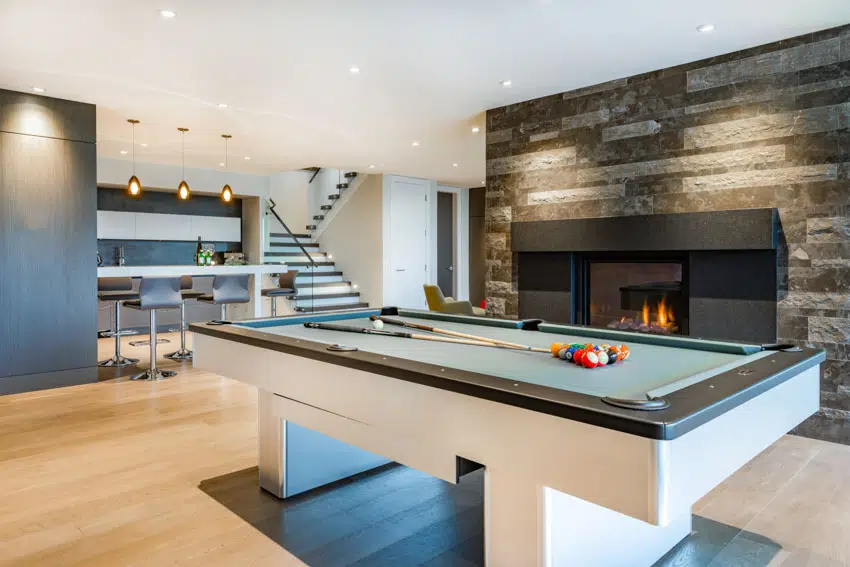 A bumper pool table makes it a lot easier to play the game and the best thing about it is that the game mentioned means both pool and billiards can be played. This table allows you to be able to play both games without needing to change the layout of the table.
Some bumper pool-type tables are also convertibles, which can turn into a poker table too. This is the perfect element for your game room.
Folding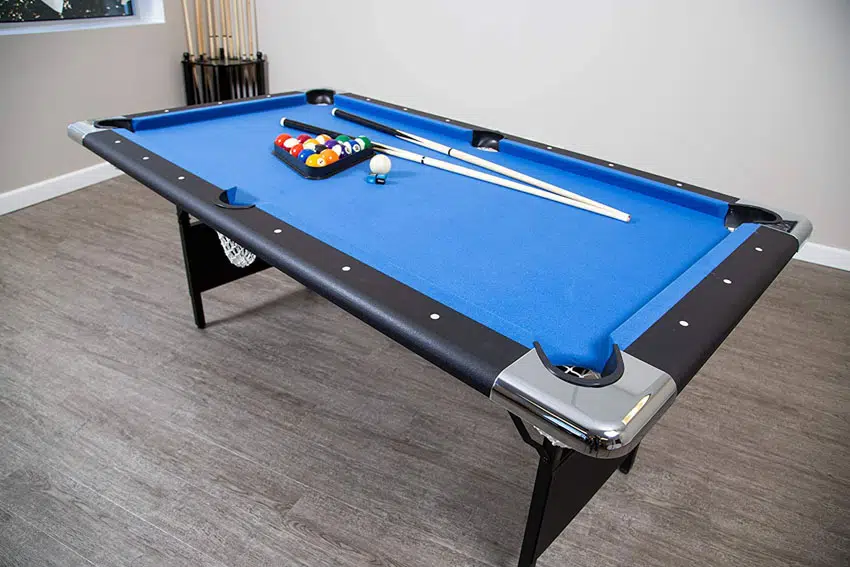 See this folding pool table at Amazon [sponsored link]
A folding pool table is perfect when you don't have extra space in your home and just want to take the table out once in a while to play. You just have to keep the table folded in your storage and bring it out whenever you want to play.
It will be also an excellent choice if you're looking for something you can move around and transfer from one place to another.
Table Styles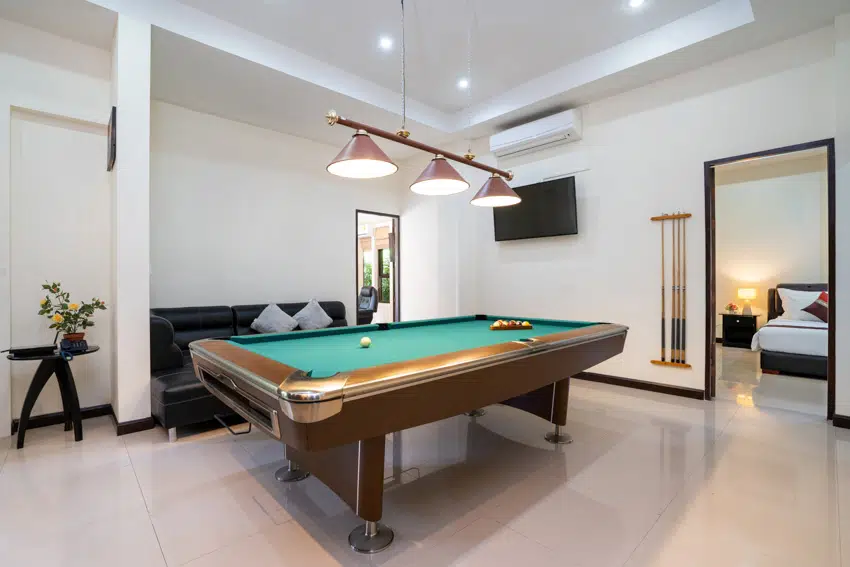 Besides how they are designed in terms of functionality, there are also a variety of table types when considering the styles they carry. Some of the most popular styles used for these tables are the following:
• Traditional: Refers to the style you can see in bars with its common ornate carved legs and feet and inlaid diamond-shaped sights.
• Modern: Usually comes in a little darker in color even when it comes to natural wood tones (Also goes the same when it comes to the color of the felt).
• Contemporary: Sports straight lines and bold colors that add to the aesthetics of the room.
• Farmhouse: Famous for its great construction, this style offers a homey feel with its solid wood and cross-bracket trusses.
• Industrial: If you find crossbars and iron types of table legs appealing, this style is perfect for you.
• Rustic: Giving you that nostalgic feel, the colors whitewash and light gray can do the job, as well as a beautiful wood, leather pockets, and weathered finish.
• Midcentury: Some of its notable characteristics include hairpin legs and a solid base with gorgeous drop pockets.
• Victorian: This style includes metal cups and inlays on the feet, a sturdy and solid body base, and curved legs that make the table appear lighter.
• Craftsman: Some of the details you can expect from this style are simple lines, finished and lightly stained wood, and visible dovetail joints.
• Tropical: Usually comes with bright colors and integration of plants and leafy decor.
• Transitional: Showcases gorgeous wooden finish (that can also be painted), fascinating lines, and unique silhouettes with strong and sturdy bolts to keep the hardwoods in place and in their interesting shape.
Table Sizes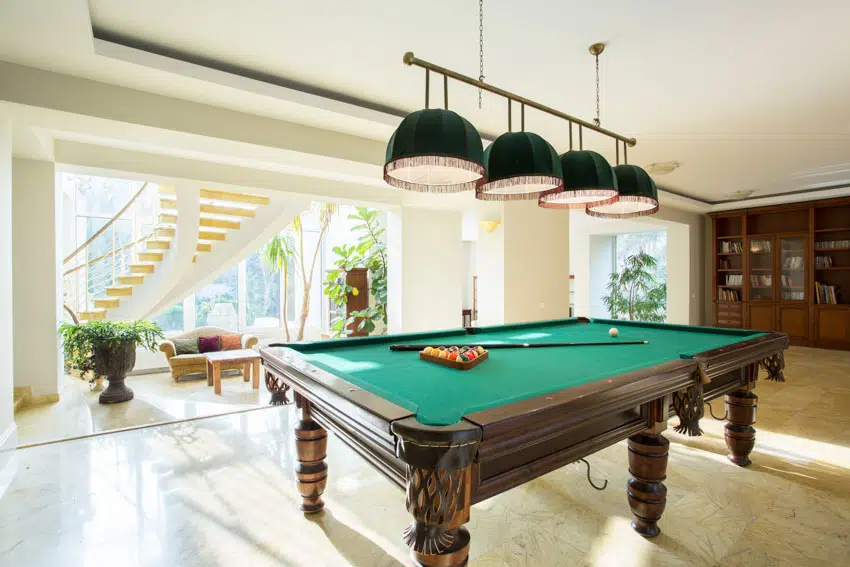 Besides different styles and functions, pool tables also have different sizes. You can consider these sizes to check out which one is ideal for your home.
Here are the different tables you can encounter based on their sizes.
Standard Table Size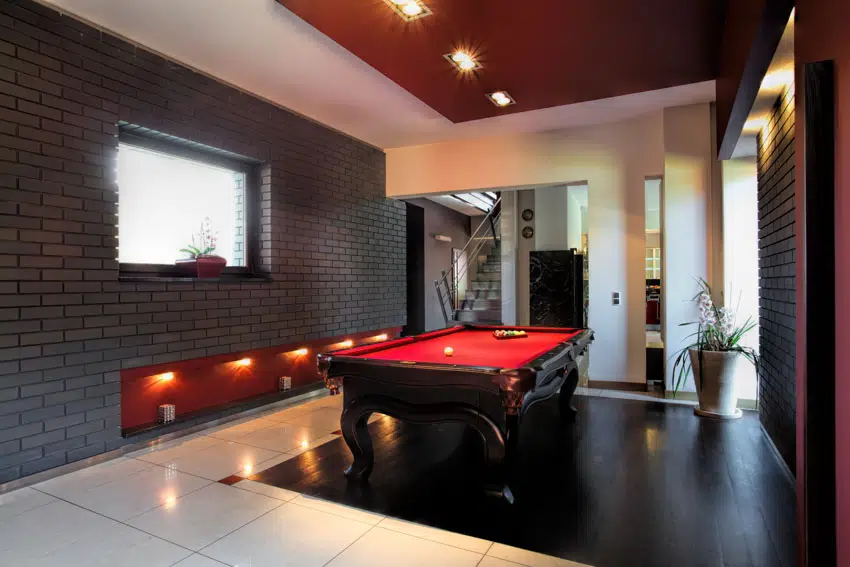 A standard table measures 8 feet, which is considered the perfect size for homes. This table is small enough to install in your homes but big enough to practice tricks shots and successfully play an eight or nine-ball game.
With this pool table size, you can easily position yourself on the table like a pro even if you're just a beginner.
Large Table Size
A large pool table is 9 feet long and is the recommended size for professional players.
This size demands more athletic and physical skills (including positioning yourself around the table and pushing the balls where you want them to go), which may be difficult for beginners. It will also be difficult to practice tricks shots because of this.
In addition to that, it might be too big of a table to install in your home.
Bar Size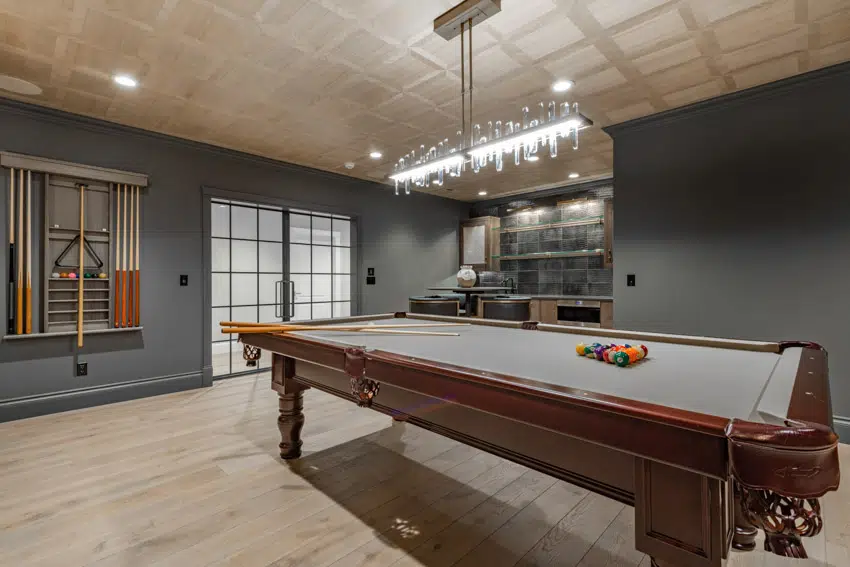 The bar size pool table measures 7 feet, which is small than the standard and large table sizes. This makes it easier for you to play and practice trick shots even more compared to the standard-sized pool table.
One issue though that's usually regarded to bar-sized pool table is its quality. This may mean one of the following issues:
• Dead rails
• Tough pockets
• Matted felt
• Larger-than-normal cue ball
• Ball congestion when playing
Mini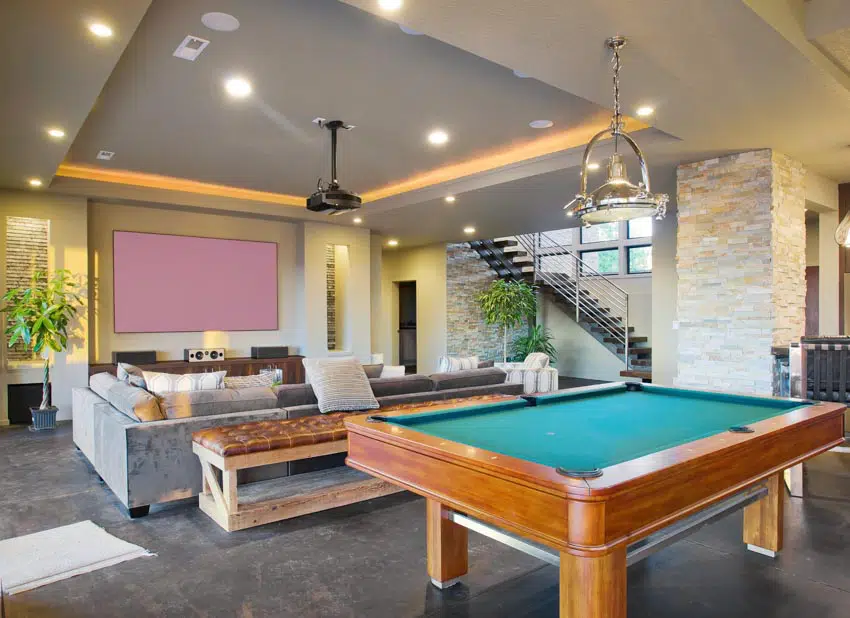 The mini pool table is the smallest when considering the different types of pool tables based on size. Unlike the other sizes though, this has a specific range and not just one particular measurement.
It can be as small as 20 inches long or as big as five feet. This gives you the flexibility to choose the size that can be ideal for the room and home where the table will be installed in.
Mini pool-style tables vary in size to accommodate the different purposes you may have for them.
They can be for the children's game room, which will require a smaller size in the range of sizes of mini pool tables. One of the smallest though is for tabletop games for offices.
Table Materials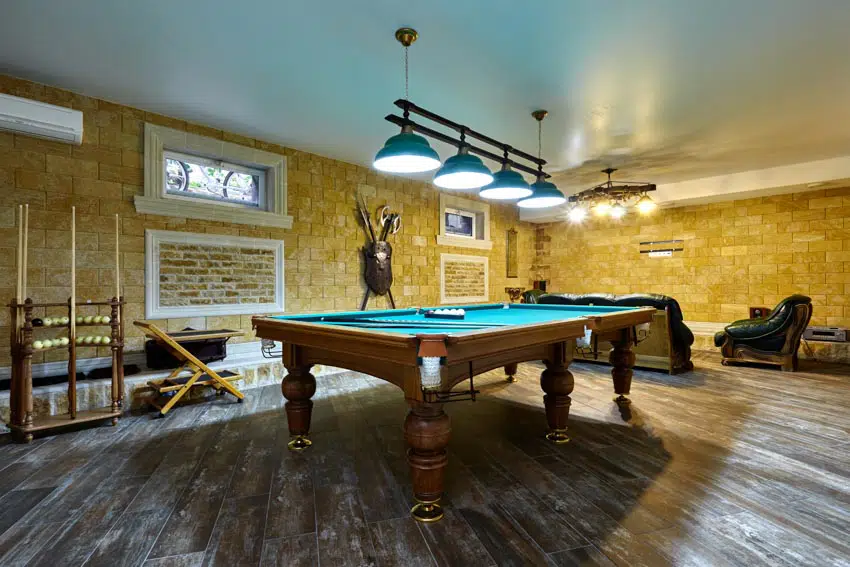 From functions to styles and sizes, the next element that can differentiate one pool table from another is the materials they're made from.
Some of the materials that a pool table is made from are the following.
Wood: A wooden table is considered the second most common, especially for mini pool tables built for children.
Relatively durable, wood tables are more lightweight and can easily be customized following your preference and design (Of course, without comprising the basic pool table design).
Depending on the wood used, a wooden pool table can also be relatively heavy and bulky. This makes mobility a bit of an issue.
Slate: Slate is a solid rock created from volcanic ash or clay, making it very easy to shape according to how you want it to look. It is a material that's hard to come by, considering it's rare and can be expensive too.
A 1-inch-thick piece of slate provides optimum weight, stability, and playability. – Indianapolis Monthly, April 1998
Because of its durability and high quality though, professional players find slate tables incredible to use. Besides having no possibility of becoming warped or uneven, the flow of the ball on the table is swift and efficient, making it the ideal table for pros.
Another option if you can't afford a pure slate table is to get a slate alternative. A slate alternative pool table has a slate core but with a wooden surface.
While sturdier than other types, it is not as durable as the pure slate table. In addition to that, there's also a real chance for the table to warp and the rails to give in over time because of its weight.
Acrylic: An acrylic pool table showcases efficiency that is perfect for portable and convertible tables. Most acrylic tables are ideal for children, either for training or leisure.
The convertible table that can also turn into a hockey table is particularly an interesting and fun choice you can have.
Metal: A metal pool table is comprised of metallic elements, including its legs and frame. They can either be made from aluminum or steel, either way providing more durability and stability to the table.
Its tabletop is normally made from a smooth cloth. Metallic tables are easy to dismantle and re-assemble, which makes them a good option to take outdoors or be portable.
Plastic: Plastic pool tables are a bit similar to acrylic tables. A plastic pool table is a great option for children since it's lightweight, portable, and can even be convertible.
It may not be a good consideration for a serious game of pool though.
What Are These Tables Made Of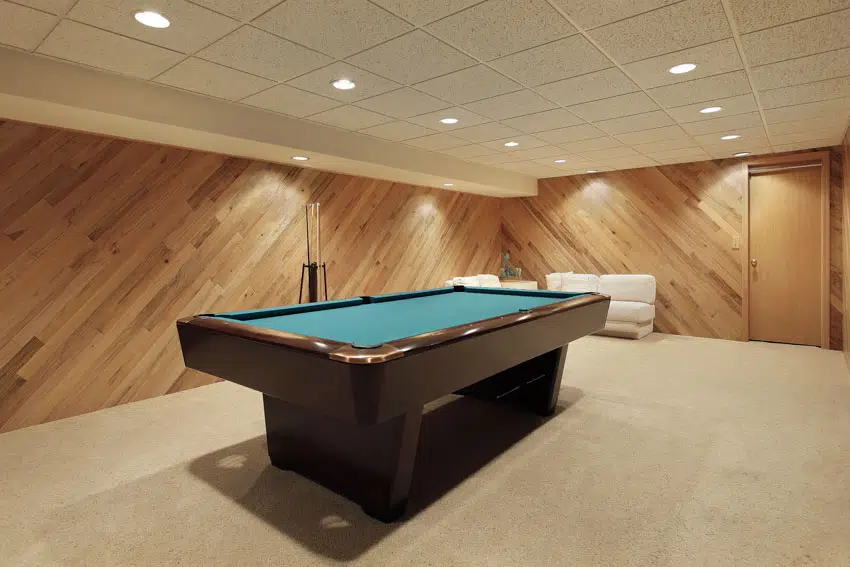 What are pool tables made of? Answering this question can follow two different lines of thought.
One will pertain to the raw materials they are made from while the other will refer to the different parts that a table for pool may have.
In order to answer both, here are the different parts and the materials they can be made from.
• Frame: This part of the pool table is considered the cabinet and main body of the entire ensemble, and it can be made from one or a combination of the following materials:
1. Slate
2. Hardwood: Mahogany, Maple, or Oak
3. Veneer
4. Laminated wood
5. Plastic (Honeycomb sheets)
• Legs: Supports the entire table, all accessories on top of the table, and the players that may lean or side on the side of the table when positioning for a shot. Usually, these legs will be made from the same materials as the frame.
• Rails: Refers to the perimeter around the playing surface, where the staples are attached for the cushions to stay still. These rails are usually made from either one of the following:
1. Solid wood
2. Particle wood
3. Medium-density fiberboard
• Tabletop/Cushions: The tabletop is covered with a smooth cloth designed for pool tables and the required types of cushions surrounding the playing surface help bounce the balls around.
• Accessories: Some of the accessories that come with a table for pool may include (but are not limited to) the following:
1. Balls
2. Cue sticks
3. Chalk
4. Triangle
Table Fabrics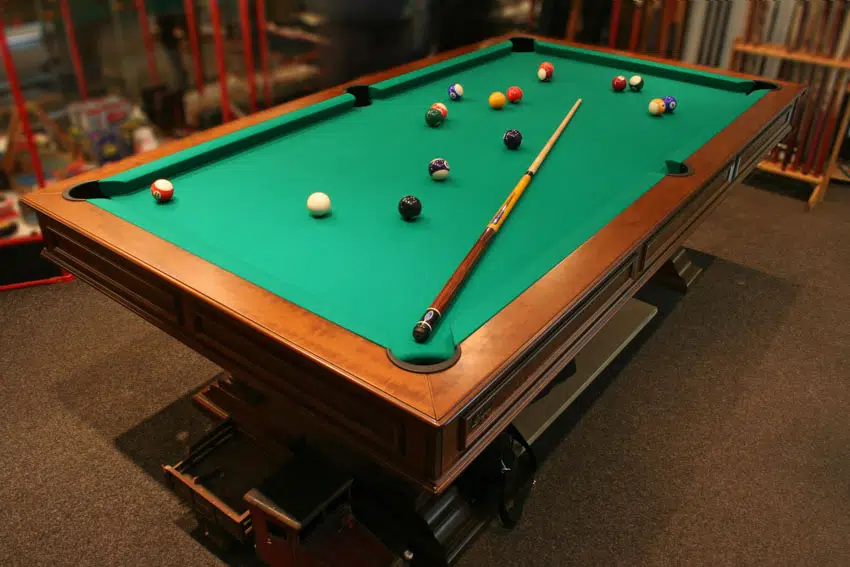 The pool table fabric that is usually in color green represents grass, which is what was used in the past for billiards tables. Today though it may come in a variety of colors, depending on the design and preferences.
The smooth fabric in the playing surface helps the flow of the heavy balls to be more unobstructed and travel at great speed yet at the same time reduce its impact on the table.
Some of the materials and fabrics used for the playing surface include the following:
Felt: The smooth cloth that covers the playing area is also known as "felt" but technically it may be made from other fabrics as well.
Felt helps protect the playing surface against heat and moisture, and at the same time remains durable enough that it won't be easily worn out by heavy balls rolling all over it.
It is necessary though that the cloth is waterproof and weather-resistant for this to be possible.
Types of Pool Table Felt
When it comes to pool table felt, there are three types that you can consider. These three types of felt include the following:
• Polyester: Some tables uses 100% polyester for the fabric in their playing surface. The fabric looks amazing but compared to other fabrics, it wears out fast and so would require you to replace it faster too. Simply keep an eye on when you need to replace it.
• Woolen Cloth: Woolen cloth is another fabric that can be considered as felt by pool players. In fact, most fabrics used for pool-style tables are woolen cloth, which has 60% of wool in them.
Thick and heavy, this fabric is guaranteed to be long-lasting. While it may not be the highest quality of material in terms of fabrics, it is a good option to be installed at home.
One issue with woolen cloth though is that it is prone to pilling, which means you will need to frequently re-felt it.
• Worsted Wool: Worsted wool may be considered the most expensive felt fabric for a pool table.
However, it may also be considered to have the highest quality that can support the demands of the consistent playing of professional players.
Also known as the "speed cloth", it helps heavy balls smoothly flow on the surface without the risk of pilling like woolen cloth.
Table Features
To better understand everything about the pool table, it is only logical to understand its features. Learning all about its features will also help you decide if what you are currently eying on is a good one or not. Here are some of its features that you should be aware of.
Automatic Ball Return: Automatic ball return is when you have easy access to balls after they went into the pockets.
Classic tables normally won't have but its convenience is guaranteed. You won't have to move around the table just to retrieve the balls since everything will come back to one location.
Drawers: Drawers, especially those that are hidden, are perfect storage for all the accessories you would need for a game of pool.
In this way, everything you need is located in one storage space and you don't have to look around for the accessories whenever you need them just to be able to play pool.
Drop Pockets: Drop pockets are what you would usually see in a classic table for pool. Unlike automatic ball return, you would need to go around the table and reach into the pockets just to get the balls.
Made from either leather or vinyl, drop pockets are OG for pool playing and if you want to feel that classic pool playing experience, this is the ideal option for you.
Outdoor: Outdoor is a feature that means you can use the pool table outside your home.
This outdoor table won't be damaged even when subjected to the elements outside the home, which means that it is both UV-resistant and rust-resistant.
Most outdoor tables are made from aluminum, making them lightweight and portable.
Combination Game Table: A combination game table simply means that the pool table is convertible into a new game altogether. One perfect example of that mini pool table for kids that can somehow turn into an air hockey table.
Combination game tables can combine as little as 2 games or as many as 15 games. They can swivel or flip over, depending on how the table was built and designed.
Some of the games that can be combined with pool are the following:
• Table tennis
• Bowling
• Texas hold'em
• Baseball
• Football
• Ring toss
• Horseshoes
• Basketball
• Backgammon
• Chess
• Checkers
Eco-Friendly: Eco-friendly is another incredible feature that a pool table can have. This refers to when the table and its construction won't be related to any endangered wood and create any harm to the environment.
Illuminated Edges: For a modern futuristic twist, there are also tables that have illuminated edges. When you choose a pool table that carries this feature, make sure that it matches the style and vibe you have in the room where you plan to install it.
Electronic: Another futuristic feature is its electronic feature. The storage is operated electronically, which is a bit the same with coin-operate tables. Pool tables that are coin-operated dispense the balls once deposited with the right denomination.
How Much Room Do I Need?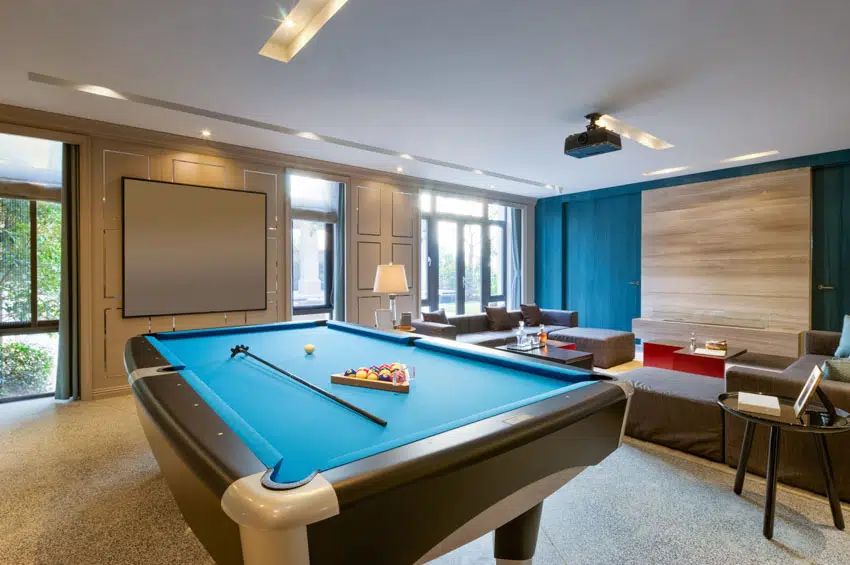 So you've decided the type of pool table you want for your home. The question is, do you have enough space to accommodate it in that room? How much room do you really need to be able to have one installed at home?
Tables for pool come in different sizes and the one you choose to have should match the space you have allotted for it. Most would buy tables within 6 to 9 feet. If you are one of these buyers, make sure that the room you have is bigger than these measurements.
Another consideration is the length of the cue once you play. You need enough space to be able to move around the table and make a shot without any obstruction in space (either furniture or a wall can be a big obstruction when playing).
If you have a 6 feet table and use a 36-inch cue, you need to have at least a room with 11 feet 6 inches by 8 feet 11 inches measurement. You don't have a problem though if the room you have in mind is large enough!
How To Choose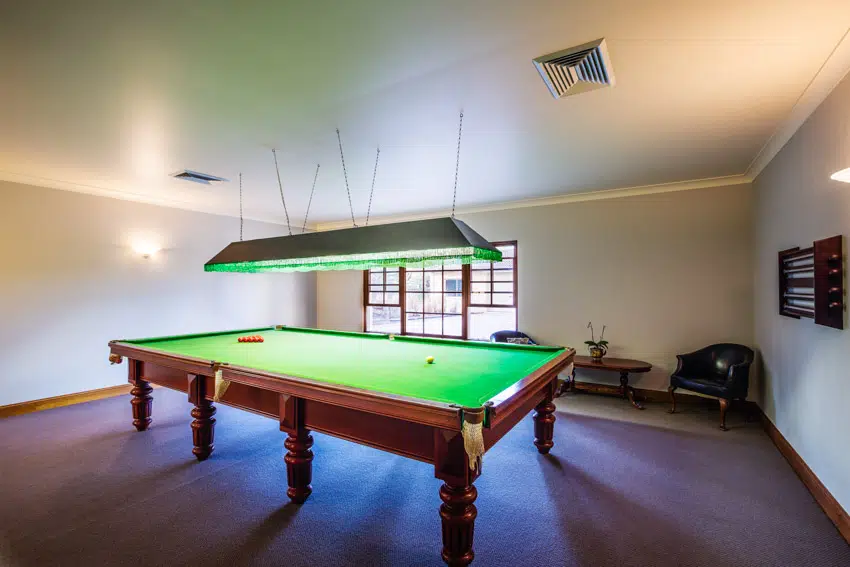 With a variety of options to choose from, how will you know if what you're looking at is the ideal pool table for your home? Skimming through the market for your options is a good first step but the best thing you can do first is to know what you want.
More than that though, here are some factors to consider when choosing a table for pool.
Size of Room: The size of the room affects the type of pool table you can install. If you have a large room then it's easy for you to choose from tables that measure 6 feet to 12 feet in length.
But if you have a small room assigned for it, maybe you can just settle on a mini pool table.
Players: Another consideration you need to think about when choosing a table is its players.
If the players you have in mind for your pool table are professionals, you can't display a convertible plastic table meant for kids. You will need a large-sized table with worsted wool to accommodate the pros.
And if you are looking to buy for your kids though, a mini table that you can convert to other games like table tennis or air hockey works fantastically.
Design Style: Another factor to consider is the design style of the pool table. With a variety of styles and designs, you can check out, make sure that the design you choose showcases your personality and the vibe you want to have in the room you're planning to install it to.
Don't limit your creativity but make sure you respect other elements of the pool table and the game itself (if you plan on playing on it in the first place). And of course, make sure that it adds to the aesthetics of the room, contributing to the design of the home rather than contrasting with it.
Matching Materials: Besides styles and designs, the materials used for the table also need to be considered.
Do they match the materials of the room? Do they match your home? Do they match the style you've chosen for your room?
These are only a few questions you have to answer.
How To Maintain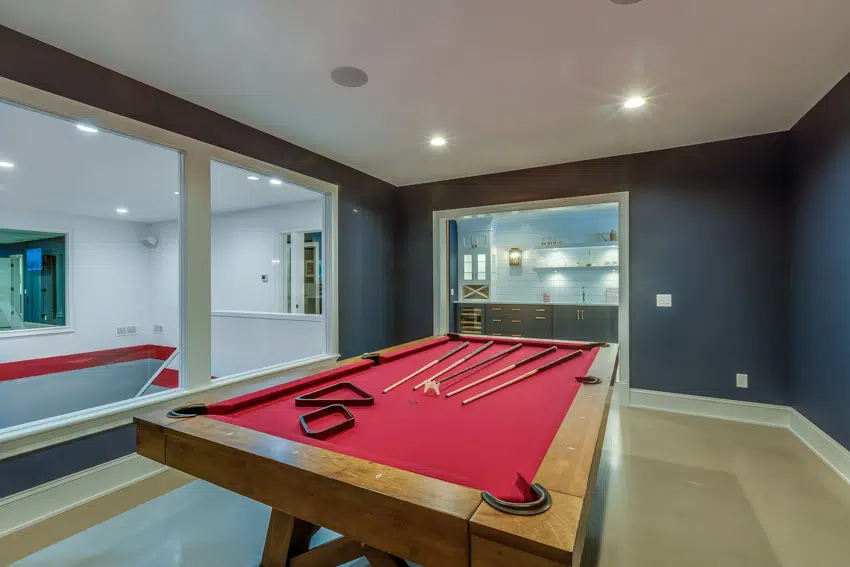 Buying a pool table means that you also get the responsibility of cleaning and maintaining it. In this way, you don't just get to enjoy the game to the fullest but you also can benefit from the additional aesthetics it might offer your home.
To help you with this responsibility, here are tips on how you can properly maintain your table.
• Always keep the balls and the felt clean: Clean the playing surface and balls before the game and after each game, not just after a day of playing. You can use polish for the balls and a vacuum cleaner for the felt.
• Keep the pool table away from direct sunlight and other harmful elements: If your table is not UV-resistant or rust-resistant, stay away from the outdoors! Even if you have an outdoor pool table, don't abuse it and expose it to harmful elements.
• Sparingly use the chalk: To make accurate shots, the chalk can help you with it. Too much chalk though can lead to chalk deposits piling on the felt.
• Slowly and cautiously move the table (And only when needed!): It will be difficult to move a big and bulky table but if you need to, make sure to slowly do so and ask the help of others when lifting and moving.
Difference Between A Pool And A Billiard Table?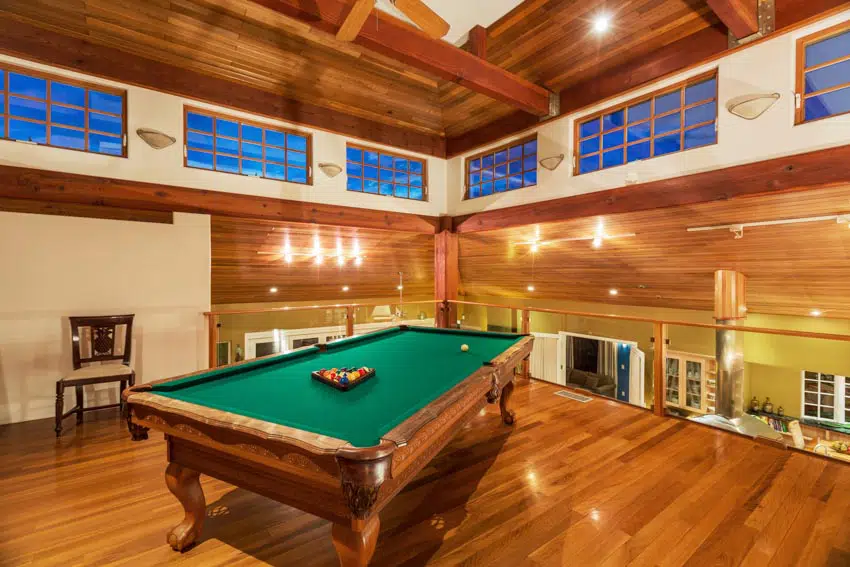 Are you really looking for a pool table or are you actually referring to a billiard table? In a summary, pool tables have pockets while billiard tables don't have them.
And also, billiard tables are much larger compared to pool tables, especially since billiard tables can be as long as 10 feet while pool tables only are as long as 8 feet.
See more related content in our article about the best man cave ideas on this page.