Here's our guide to pool table dimensions including all types of pool table sizes and room dimensions for pool table.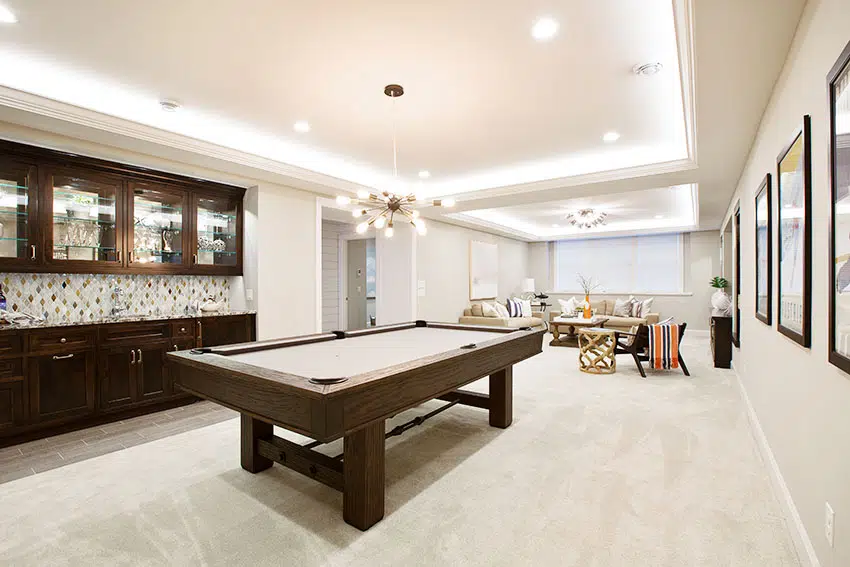 Creating an entertainment area at home goes beyond setting up a television or a home theater. If you want to add more dynamic to your space, installing a pool table is worth considering.
Stereotyped as a bar game, the game of pool is highly inclusive, where kids and amateurs can join. This sport promotes mental exercise and encourages bonding among friends and family.
A pool table is also an impressive addition to your game room man cave.
But before going through the nitty-gritty of the pool table, like the quality of materials, you'll have to decide on what size you need to get.
The key elements that affect this decision are your playing skills and your available space.
Read on as we explore the different sizes and characteristics of pool tables to guide you when purchasing.
Standard Pool Table Dimensions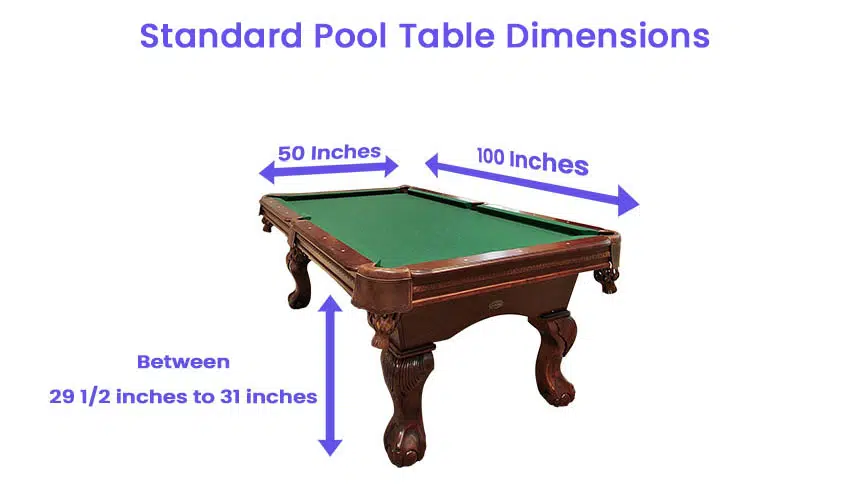 By American standards, professional pool tournaments use a 9-foot pool table (100 x 50 inches). The standard pool table height is between 29 ¼ inches and 31 inches from the floor. But why this big?
For one, a large pool table surface can affect the playing experience. The balls spread well when breaking, thus amping up the game since they are way more challenging to shoot. But also, a 9-foot pool table is better for television.
Often shown on TV, covering a tournament is challenging on smaller pool tables. With a 9-foot pool table, players can have more space to move around without blocking the camera, especially for close-up shots. If you are a professional player with a luxury of space, then this size is perfect for your practice.
The American standard pool table is bigger than its European counterpart, where the latter uses an 8-foot pool table for official tournaments and a 7-foot pool table for amateur leagues. The billiard balls for American pool tables are slightly larger, too.
However, not everyone can accommodate something this massive. Less experienced players will also find it extremely difficult to enjoy the game.
Fortunately, there are smaller regulation pool table dimensions you can buy.
Regulation Pool Table Dimensions
Regulation pool table dimensions are proportional by following a 2:1 ratio to provide you an excellent gaming experience. They can be used at home or installed in commercial spaces like sports bars and other recreational areas.
Although most manufacturers follow regulation dimensions, it is important to double-check if you are getting the correct size.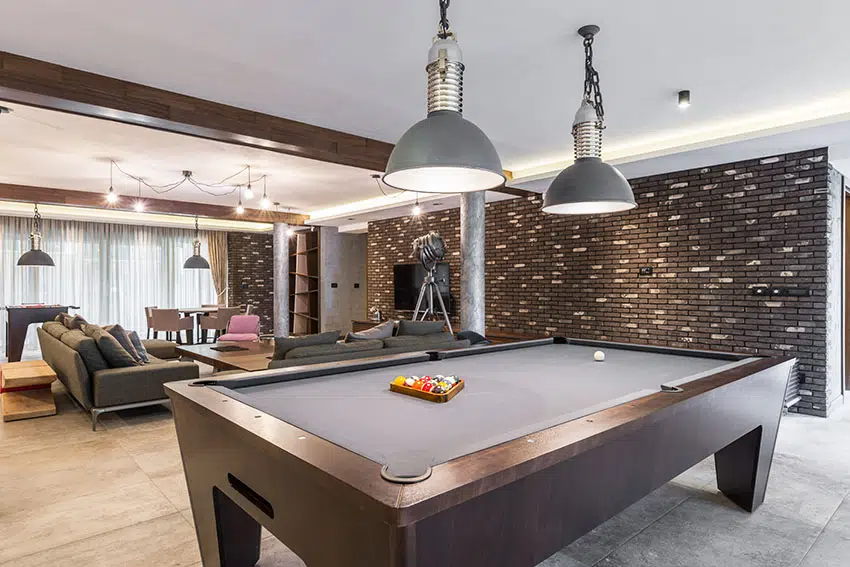 6 Foot Pool Table Dimensions
Significantly smaller than the American tournament table, a 6-foot pool table is fit for amateurs and children. Convenient for those with limited space, this table measures 6 feet by three feet. This dimension is also more common in the UK.
Given its size, some players may find the table too narrow for a decent game of pool. But, this actually adds more dynamic to the game.
The awkward angles when taking shots provide good practice in refining your skills.
Many 6-foot pool tables are portable, too. This feature makes it easier for you to set them aside when not in use or bring them anywhere.
Portable pool tables are made from melamine with metal folding legs and weigh around 200 lbs.
Do note that the billiard balls of this size are lighter than usual. So, if you're planning to turn professional, it is better to consider the other larger dimensions instead. However, this is just right for fun and games, especially with the kids.
7 Foot Pool Table Dimensions
Is a 6-foot pool table too small for you, but you're not ready to invest in professional tables? If you have more room to spare, you can enjoy a slightly advanced yet still fun pool game on a larger surface.
Typically referred to as the 'bar size' or 'bar box,' a 7-foot pool table (7ft by 3.5ft) is perfect for a casual game or the amateur leagues. They are frequently found in sports bars and lounges, and are sometimes coin-operated. With this around, you can practice at home and turn up ready at your favorite sports bar.
A common challenge for smaller-sized pool tables is the balls cluster more often compared to larger pool tables. That said, you end up spending more time breaking the balls before taking shots.
On the upside, they are nearer to the pocket holes, making it easier to aim and shoot.
8 Foot Pool Table Dimensions
The 8-foot pool table is the most popular dimension among homeowners. Amateurs with the right amount of skills and professionals can play at this table.
Measuring exactly 8 feet long by 4 feet wide, it balances comfort and game difficulty. The balls do not cluster as much as on a smaller pool table and still provide an intermediate difficulty level when taking shots.
For these reasons, the 8-foot pool table is a favorite for unofficial pool tournaments. Training on this table dimension makes switching to other pool tables easier too.
Pool Table Room Dimensions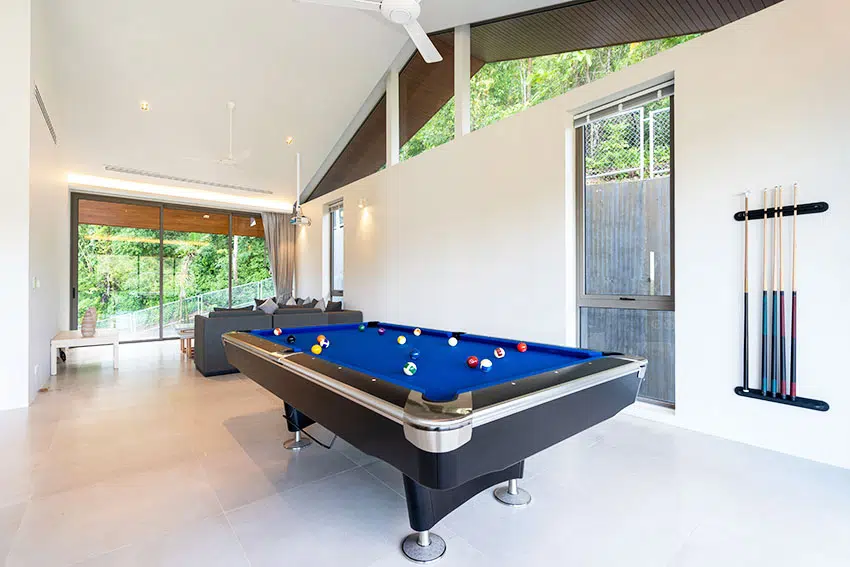 The general rule is to allow at least five feet of clearance space around the pool table to ensure comfort. That said, keep in mind the length of your pool table cues as well.
The standard length of a pool table cue is 57 to 58 inches. If you or any of the users are shorter, consider buying shorter cue sticks, too. Make sure that you have enough space to move around without your cue stick hitting the wall.
Below are the following minimum room dimensions for each pool table.
6-foot pool table room dimension:
58" cue: 15'3" x 12'8"

52" cue: 14'3" x 11'8"

48" cue: 13'3" x 10'8"
7-foot pool table room dimension:
58" cue: 16'2" x 12'11"

52" cue: 15'2" x 11'11"

48" cue: 14'2" x 10'11"
8-foot pool table room dimension:
58" cue: 17' x 13'4"

52" cue: 16' x 12'4"

48" cue: 15' x 11'4"
9-foot pool table room dimension:
58" cue: 18' x 13'10"

52" cue: 17' x 12'10"

48" cue: 16' x 11'10"
Complete your entertainment set-up with a home bar and other man cave ideas.