In these game room flooring ideas you'll see tips on how to choose a floor material, different options, carpet types, and the best floor for game rooms.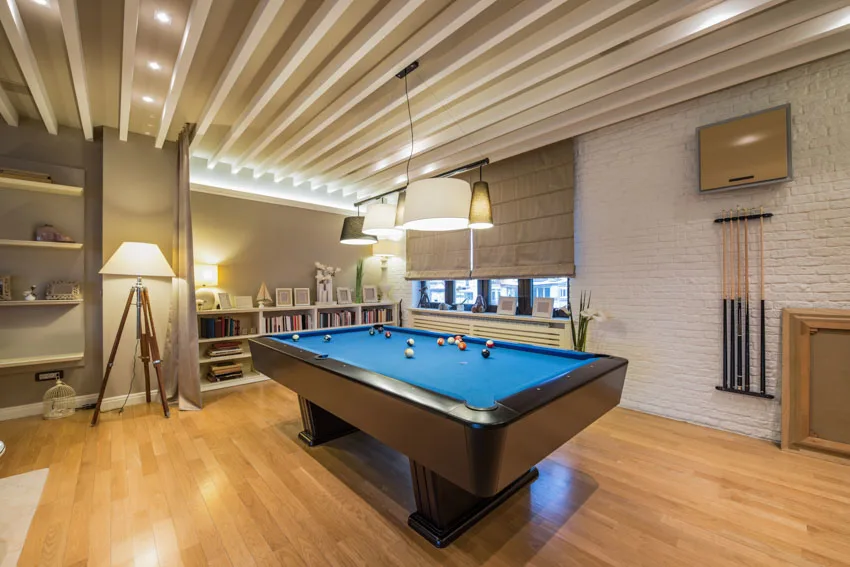 Your gaming room is a place for you and your family and friends to unwind and have a good time. It may be a place where your kids let off steam after a hard day at school or enjoy a sleepover with their pals.
Your family gaming room gets a lot of activity, no matter how you utilize it. But what about the flooring? Your gaming room flooring will have its job cut out for it with all this activity.
Years of shifting furniture, sleepovers, and, let's face it, spilled beverages and food. The kind of flooring you choose has a significant influence on the look and feel of your gaming room.
How To Choose Game Room Flooring
There are no two gaming rooms similar, and every family's budget is different. There are a few things to keep in mind regarding gaming room flooring.
The Game Room's Size: Some homes feature a large gaming room for friends to gather around a table and play cards. Other gaming rooms are the length and breadth of the basement.
Knowing the size of your gaming room, no matter where it lies on the spectrum is the first step in selecting the correct flooring. The first stage in the flooring procedure is to determine the size of your gaming room.
How Will You Use Your Game Room?: Consider how your family will utilize the gaming room when selecting flooring. What will the room's function be? If it is primarily for your children, you may want to choose a low-cost, easy-to-clean material.
Ping pong or pool tables, sofas, and a TV set may be available if the gaming area is for adults or the whole family. Some gaming rooms get a lot of activity, while others sit empty until the next big event. The sorts of flooring you should choose will be determined by the specific purpose of your gaming room.
Your Budget: There's no denying that your budget will significantly influence the flooring in your gaming room. Even if you have a limited budget, you may be able to pick a more costly material if your gaming room is tiny.
Because of the additional square footage, larger gaming rooms may need more economical materials. Whatever your circumstances, your budget will almost always have the last say in how you continue with the flooring project.
Game Room Flooring Options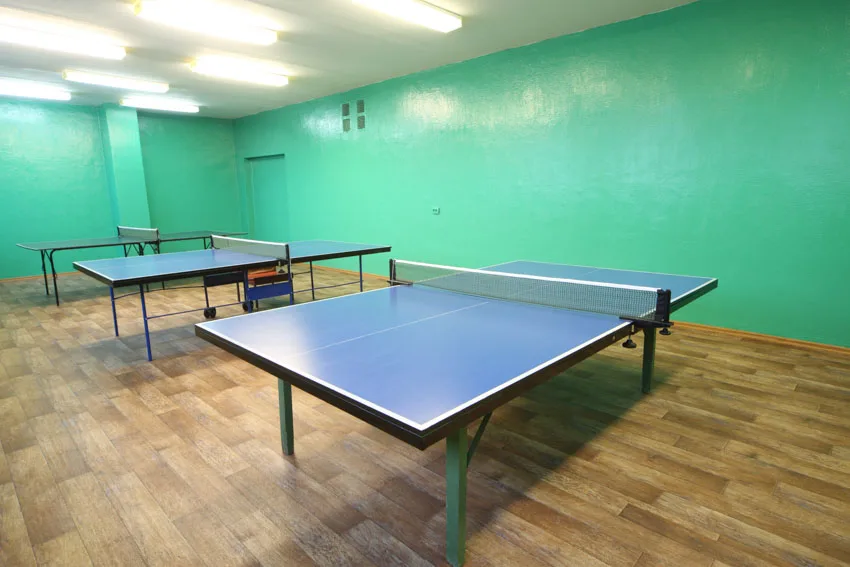 You have evaluated the gaming room's features and your budget. Now is the time to learn about the best materials for your gaming room. Any of these choices can help you create a fantastic home gaming room!
Luxury Vinyl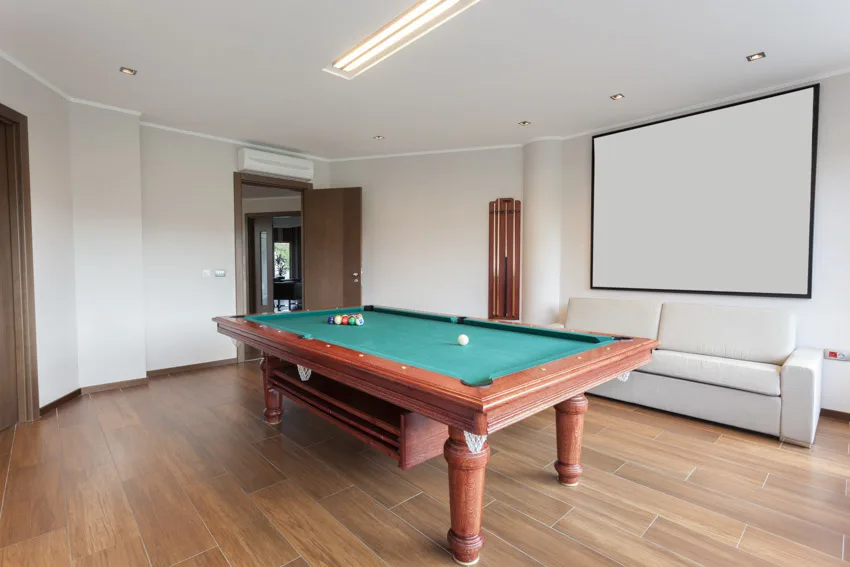 Luxury vinyl flooring for your gaming room is a terrific choice for utilizing budget-friendly and kid-friendly material. Vinyl is a water-resistant and easy-to-clean synthetic material that looks like hardwood or tile, making it easier on the feet. It is available in various styles to suit a variety of preferences.
Water may soak through the vinyl seams, so make sure you mop up spills promptly. Its smooth surface also puts you in danger of sliding. With these considerations in mind, vinyl may be a fantastic choice. Avoid spills and keep an eye on your children as they play.
Carpet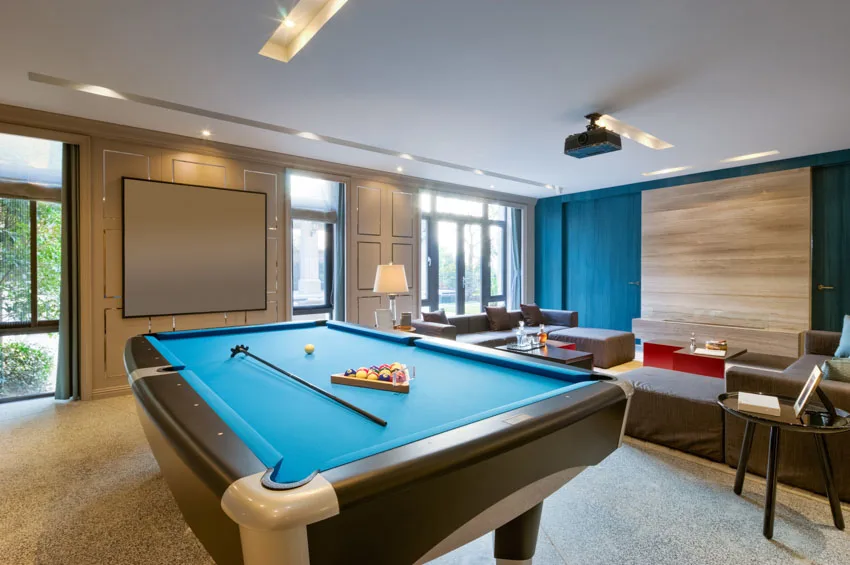 Carpet flooring is popular in gaming rooms due to its attractive appearance and low cost. The color selections are almost endless, enabling you to create the special appearance you want for your gaming room.
In some instances, basement gaming rooms are not the most incredible spot for carpeting because of the greater moisture level, which might lead to mold or mildew. Eating and drinking in game rooms increase the risk of stains on your carpet. Heavy usage in the game rooms may make a carpet seem worn out in years.
Laminate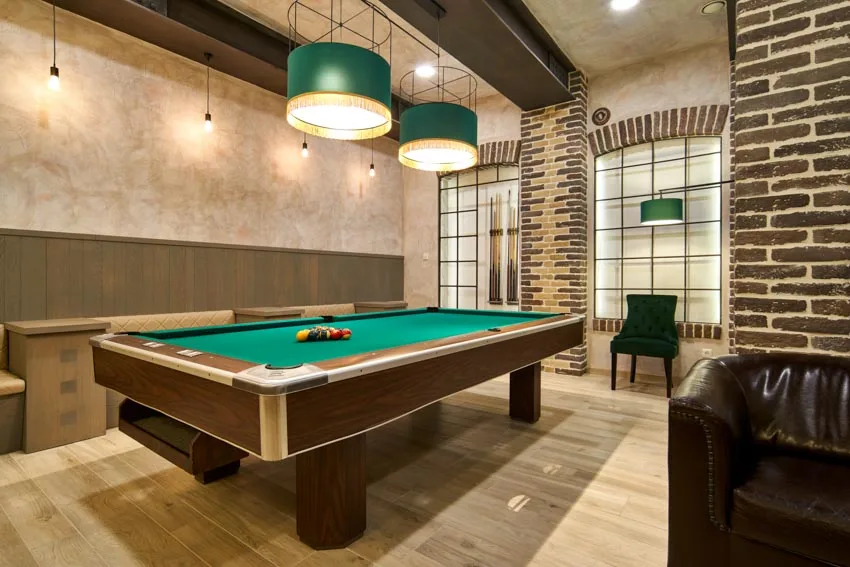 Another low-cost alternative is laminate. Laminate flooring, like vinyl, is made out of synthetic elements and may resemble hardwood or tile floors. It is water-resistant and cleans up quickly with a broom or moist mop.
Laminate flooring for your gaming room may provide you with a great appearance at a reasonable price. Even though laminate is water-resistant, significant spills and puddles may permanently harm it. It is tough to restore laminate after being damaged. You will need to repair the whole floor and the damaged piece in some instances.
Hardwood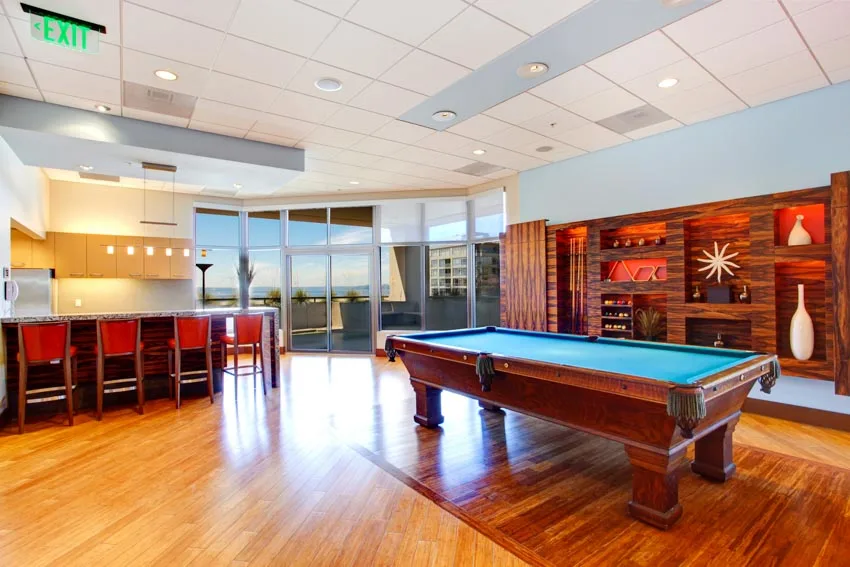 Hardwood flooring is a long-lasting material that, with appropriate maintenance, may endure for decades. Because of its warm and natural look, your gaming room will be an enticing area to connect with friends.
You may design the gaming area of your dreams with the different hardwood available. However, wood-floored game rooms are not the most water-friendly. Spills may cause severe stains on hardwood floors.
Hardwood is also one of the most costly flooring alternatives, mainly if your gaming room is big. Moving furniture around should also be done with caution since pulling furniture may scratch and ruin this pricey yet luxury flooring.
Tile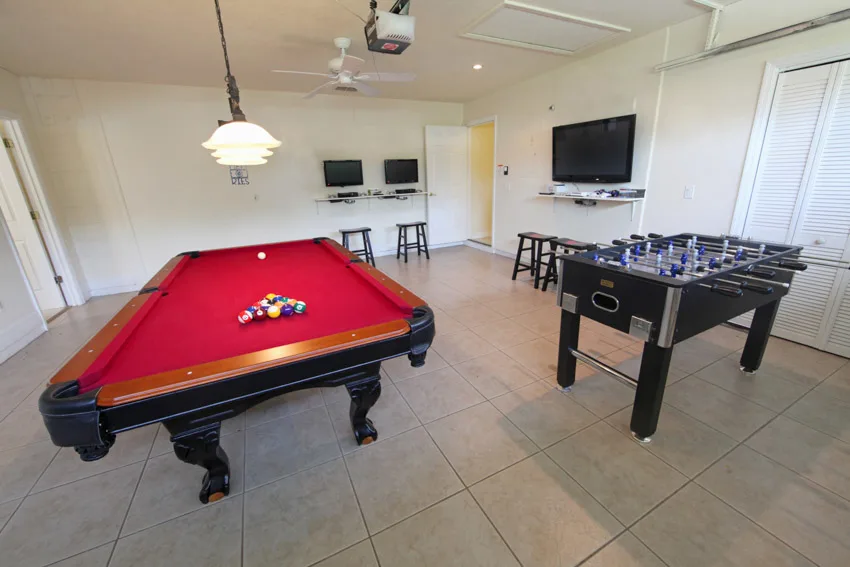 Tile flooring may not be the first thing that springs to mind when thinking of a gaming room, but it can create a distinctive look and has several advantages. It is durable and water-resistant, which makes cleaning a breeze. It is long-lasting, and you can utilize it for many years.
If it is your children's gaming room, tile may not be the ideal choice. It is also frigid to the touch, making it less appealing than some other choices. If you have a big gaming room, tile may be pricey, making it less enticing.
Game Room Carpet Ideas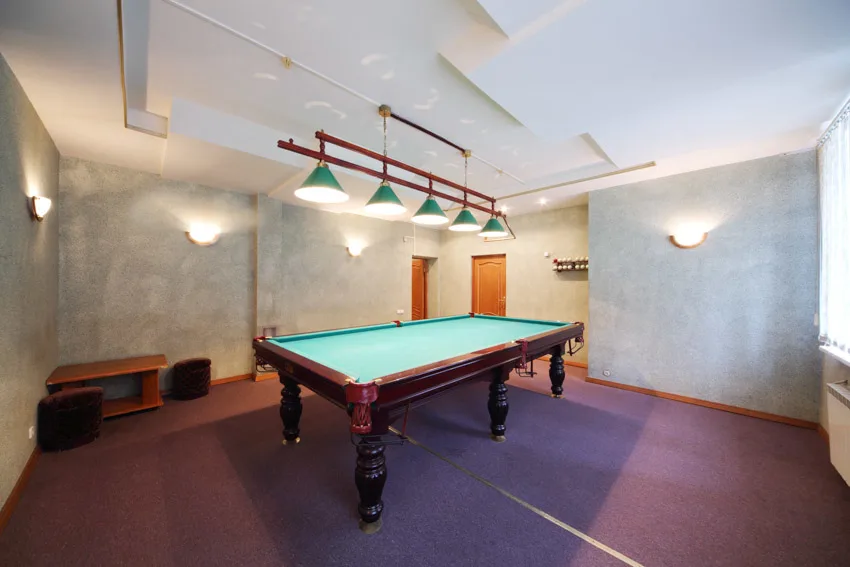 Here are some of the most common gaming room carpet ideas.
Retro Gaming Room Carpet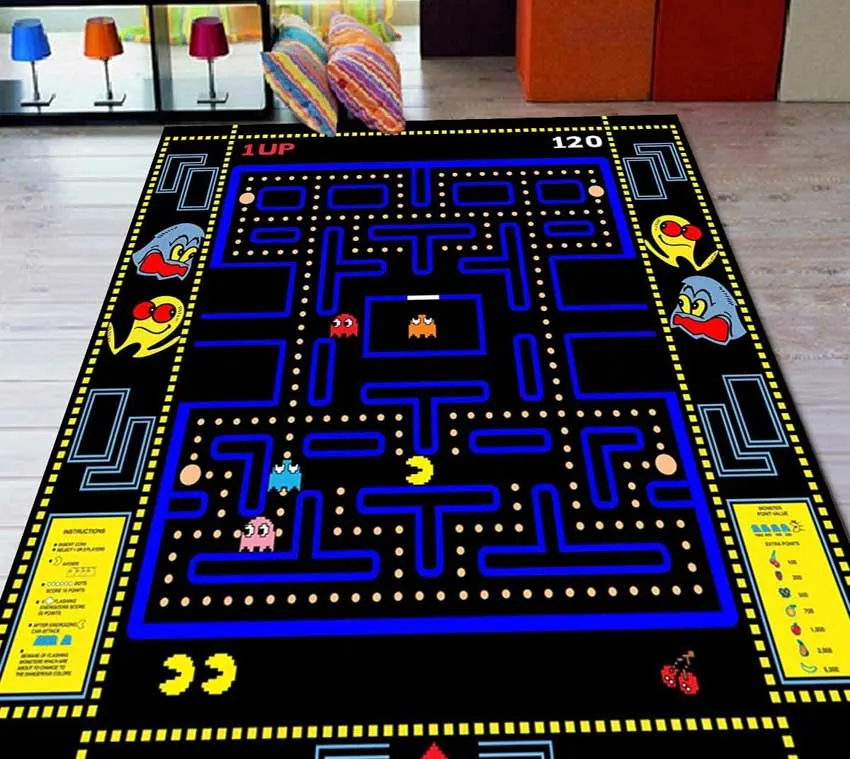 See this retro carpet for gaming rooms at Amazon [sponsored link]
Arcades are perhaps the most frequent design for a gaming facility. These spaces are colorful, cluttered, old, and chaotic. Consequently, when it comes to area types of carpet, they enable you to be creative and explore. You have a wide range of options, from flat weave colorful carpets to plush vintage or shabby chic retro pieces.
Space Carpet for the Gaming Room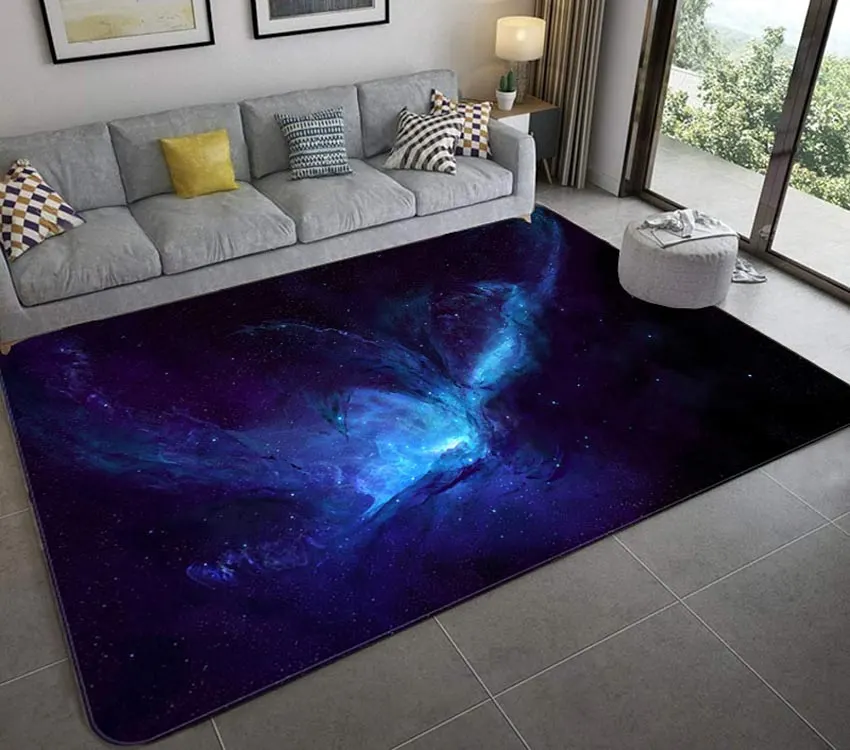 See this space carpet for gaming rooms at Amazon [sponsored link]
Many gamers want to feel in outer space when playing and networking. Consequently, gaming rooms with a space station motif are prevalent nowadays. You will need to choose the right carpet to fully immerse yourself in this space theme.
Neon Gaming Room Carpet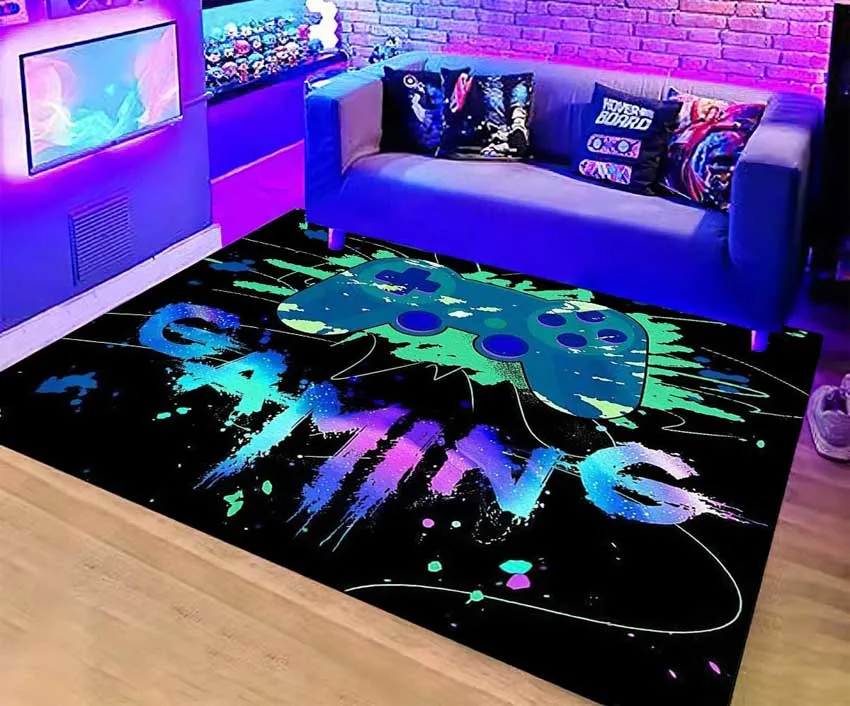 See this neon carpet for gaming rooms at Amazon [sponsored link]
The use of low neon lights in blue or purple is a common trend in gaming rooms. If this is your style, this is the carpet for you: a luxurious area carpet in a single color. Choose a light or neutral hue like white or gray. These carpets will make the space seem cozy without overpowering the style.
Best Flooring For Game Room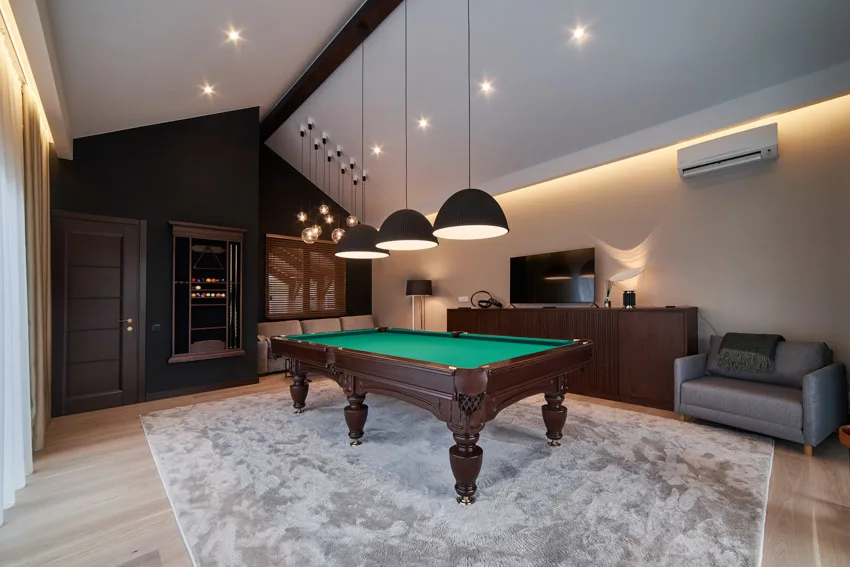 There are several choices for the best flooring for a gaming room. It all relies on the room's function, just like any other flooring. Is it going to be a man cave where you can watch sports, a kids' hangout area, or a dancing studio? What kinds of games or activities will be available?
A luxury vinyl flooring might be a fantastic alternative if you want comfort and a space that exudes coziness while radiating a dark, calm, and exciting appeal. Some premium vinyl appears like a natural hard floor, but it is softer underfoot and far more affordable.
The most incredible thing about luxury vinyl flooring is how simple it is to clean and maintain while providing a stylish, robust, and naturally streamlined aesthetic. Luxury vinyl is ideal for a game room if you want a hassle-free, mess-free clean after a night of watching football, cricket, rugby, or soccer with friends.
Timber flooring alternatives give a very easy on the eye appearance if you're looking for that classic, sleek, and beautiful rustic design. While typical wood flooring alternatives are at the higher end of the pricing spectrum, an engineered timber floor may be better.
Engineered oak hardwood is from layers of mismatched hardwoods and softwoods fused with a wood veneer layer to give it a hardwood appearance. Hardwood flooring is an excellent option to give your gaming room a more old-school, even luxurious feel.
Carpet is a terrific choice for a gaming or leisure room, particularly if you want to create a den-like atmosphere. Carpet is always warm and inviting, and it is ideal for areas where people of all ages will be running barefoot or in their socks, like kids' birthday parties!
Another fantastic choice for your gaming area is vinyl or laminate. When it comes to flooring solutions that can resist wear and tear and regular foot traffic—two things that are certain to happen in a well-loved gaming room—luxury vinyl floors and laminate are both viable choices. Plus, if you need a large room for many holiday dinners, both solutions are simple to keep and clean.
Best Flooring For Game Room With Pool Table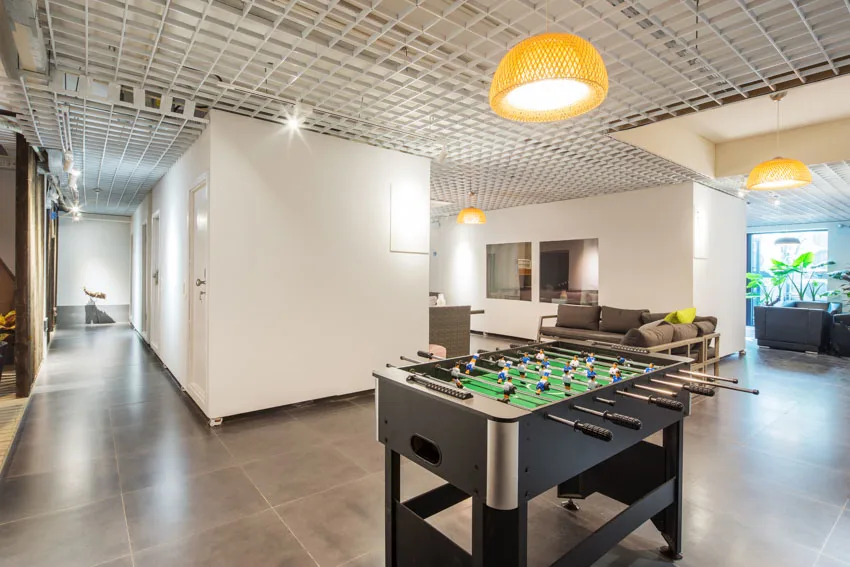 The capacity of the flooring to keep the pool table flat while being resilient enough to endure traffic and the force of pool balls rolling off the table is an important consideration when selecting the ideal flooring.
Linoleum: Linoleum is a durable substance traditionally used in baths, utility rooms, and kitchens. Because it can bear the weight of most heavy appliances, it is an excellent choice for the floor under a pool table.
The color and texture of linoleum are continuous throughout the material, which contributes to its endurance. The protective layer on linoleum makes clean-up a breeze, a feature you will enjoy when spills often occur around your pool table. On the other hand, linoleum is prone to fading over time and needs resealing.
Vinyl: Vinyl is a more recent substitute for linoleum, and the two are sometimes mistaken. While vinyl is simple to install, linoleum needs the assistance of a professional. Unlike linoleum, vinyl does not need resealing. Vinyl, like linoleum, comes in a wide range of colors and designs. They are just on the top of the flooring, not through; thus, scratches are more evident than linoleum.
Tile: Tile is a standard option for homes and is a terrific flooring surface for your pool table, despite the significant risk of chipping and cracks. Tile would be great for maintaining accurate leveling but being somewhat more costly and less resilient against falling items. Most types of floor tiles would also give a simple-to-clean surface in the event of spillage.
Hardwood: Traditional hardwood flooring under pool tables may be an effective and durable alternative to linoleum, vinyl, or tile. They are, unfortunately, easily scratched.
Hardwood floors may fluctuate somewhat with humidity and temperature. It may require regular maintenance to keep the surface perfectly flat. If scratches from the pool table are a worry on your hardwood, a rug may act as a beautiful buffer.
Carpet: If the area you've chosen for your pool table already has carpet, there is a good possibility the carpet has padding below it. Padding will settle and move in various areas when there is weight due to frequent traffic and weight.
Regular maintenance and leveling may be necessary until the padding has entirely settled if the carpet is fresh and the padding has not had time to move and settle. It should not be a problem if the carpet has seen some wear and tear.
Garage Game Room Flooring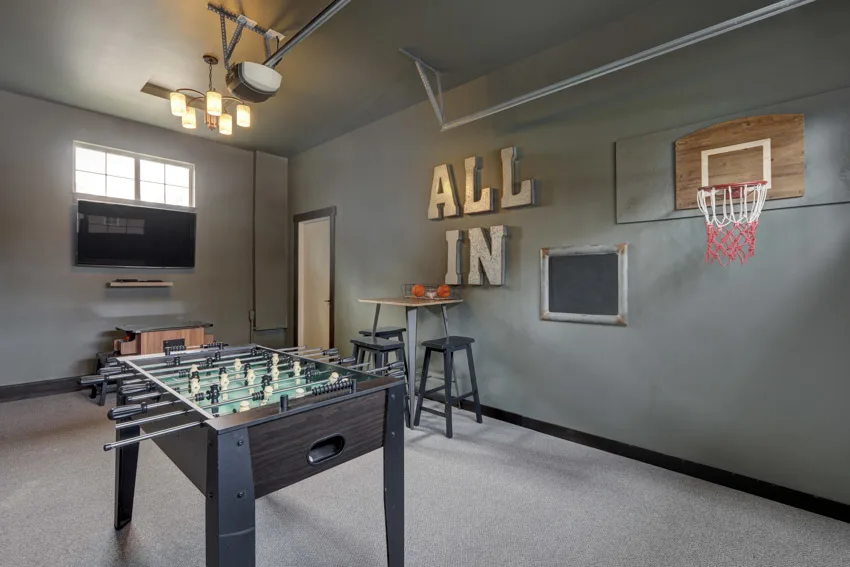 If you want to turn a piece of your garage in your home into a gaming room, you will need a good strategy, and game room flooring is a crucial component of that plan.
Foam Tiles with a Wood Grain: If you like the appearance of hardwood floors but want something more affordable and pleasant, interlocking foam tiles with a wood grain are a great choice. These are waterproof, lead-free, latex-free, and simple to clean, install, and replace.
This foam tile has a wood pattern on one side and a plain tan hue on the other, and you can put it up in a variety of ways to create a tight-fitting, interlocking design. These tiles provide a smooth, cushioned feel, unlike wood, which is rough and unpleasant.
If you want a rich, traditional feel, wood grain foam tiles are one of the best gaming room flooring solutions for a clean appearance and comfy feel.
Mats Made of Foam: Foam play mats are an excellent alternative if you have a lovely tile, concrete, or hardwood floor but want a peaceful space to play on while still safeguarding the existing surface. Foam play mats are free of lead and latex, are waterproof and stain-resistant, and are simple to assemble thanks to the interlocking, puzzle connection design.
You may provide a charming gaming room flooring area by adding comfort and a diversity of colors to a piece of the space. These floor mats are simple to install without adhesives; just lay them down as if you were putting together a puzzle.
Carpet Square Tiles: Carpet square tiles are a fantastic alternative if you enjoy the appearance and feel of carpet but are putting a gaming room flooring in a place that is not appropriate for carpet.
Carpet tiles have a distinctive pattern and design that provide support, comfort, and noise reduction. Carpet tiles are excellent if your gaming tables and systems change, and you want the room's aesthetic to adapt.
These carpet squares are long-lasting, stain-resistant, commercial-grade, comfy, and injury-free. They also contain a PVC-free polyurethane back designed to absorb rolling and foot activity, significantly extending the carpet's usable life.
Given that many of us spend more time inside, having a space in the home where the kids can play games, and everyone can rest and unwind is a great idea.
So, no matter what style or vision you have for your own family's gaming room, talk to the professionals about the best options for the game room-perfect floor. Then go work on creating your relaxed and enjoyable gaming room, and let the good times flow.
See more related content in our article about the best game room paint ideas on this page.