Here we share cove ceiling ideas including paint color tips and living room ceiling designs to make your home more inviting.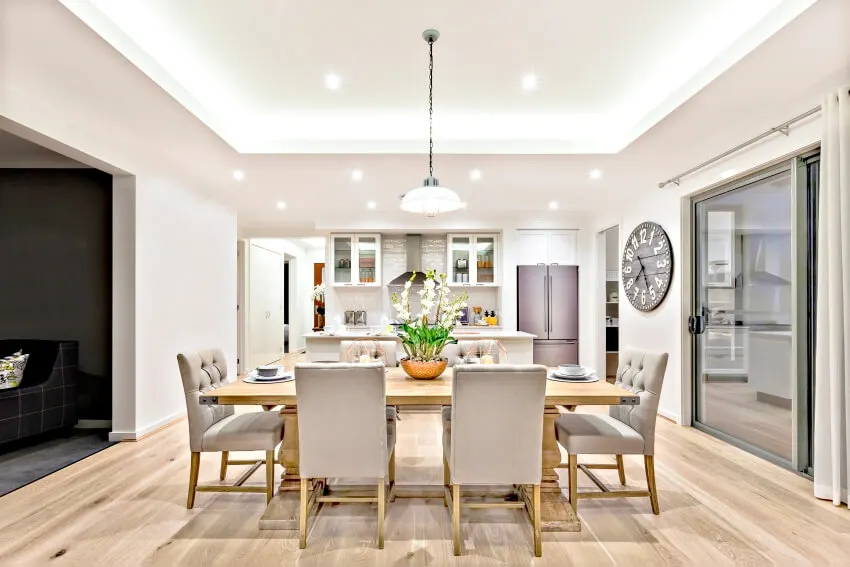 When it comes to the world of interior design, every single detail and decision weighs in on the overall finished results. Ceilings are one of the things that a lot of homeowners often get wrong. They feel like it doesn't really hold that much importance to begin with since it's positioned above eye level.
The ceiling is actually one of the biggest contributors to the design and look of any space in the home. This is where cove ceilings come in.
If you want a touch of elegance or flair in the home, it's a marvelous thing to consider. Suffice it to say, a cove ceiling is a whimsical and at times edgy choice because it doesn't really play by the rules.
What Is A Cove Ceiling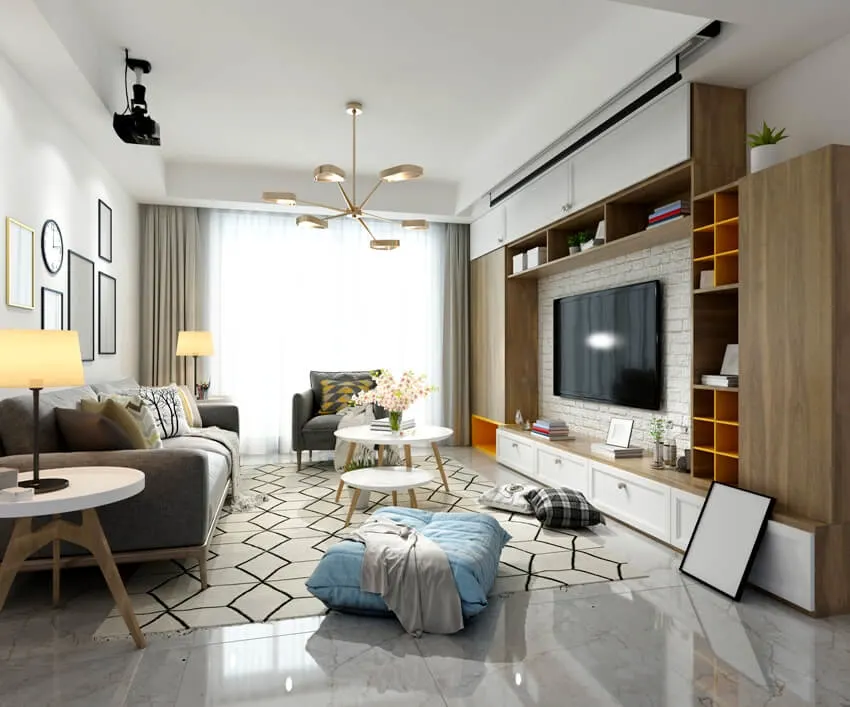 A cove ceiling is a curved framing design feature that's located where the walls and ceilings meet together. In normal circumstances, what we see is a sharp angle.
However, cove ceilings redefine everything because they give out the visual illusion of the wall and ceiling meeting together and appearing as one.
Instead of seeing sharp angles, what you get instead are soft and rounded finishes that are smooth and seamless. It's also important to note that cove ceilings are often the budget friendlier choice to expensive crown molding.
Cove Ceiling Design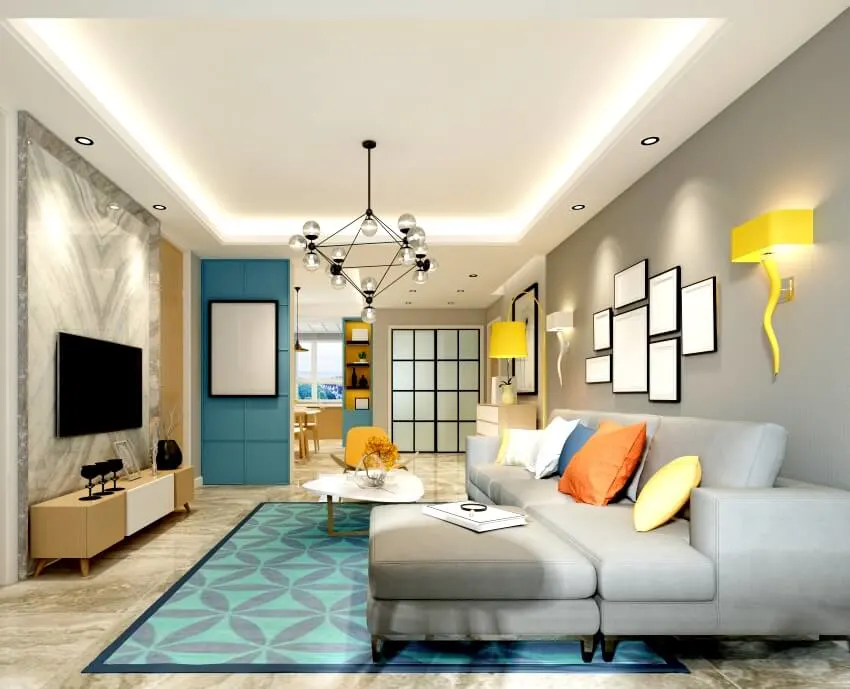 Deciding on opting for a cove ceiling isn't all there is to it. If you're leaning towards the decision of opting for one, you're well on your way. But there are actually a lot of other things or choices to decide on.
There is so much more to the cove ceiling than looking at smooth and groovy curves. Here are some of the most popular cove ceiling designs to choose from.
Coving with top reveal
In this type of coving, as the name suggests, the curved design in the ceiling isn't as seamless as you would think. Another piece of wood which is known by builders as a fur down, is added. This additional step creates a stunning architectural element to the room.
The wall is basically designed to flow into the ceiling but then is abruptly met with a sharp edge. It makes it look like your ceiling has been lifted for that extra elegant and classy touch. You may also visit our guide to the most popular ceiling texture types to get more ideas.
Coving with bottom reveal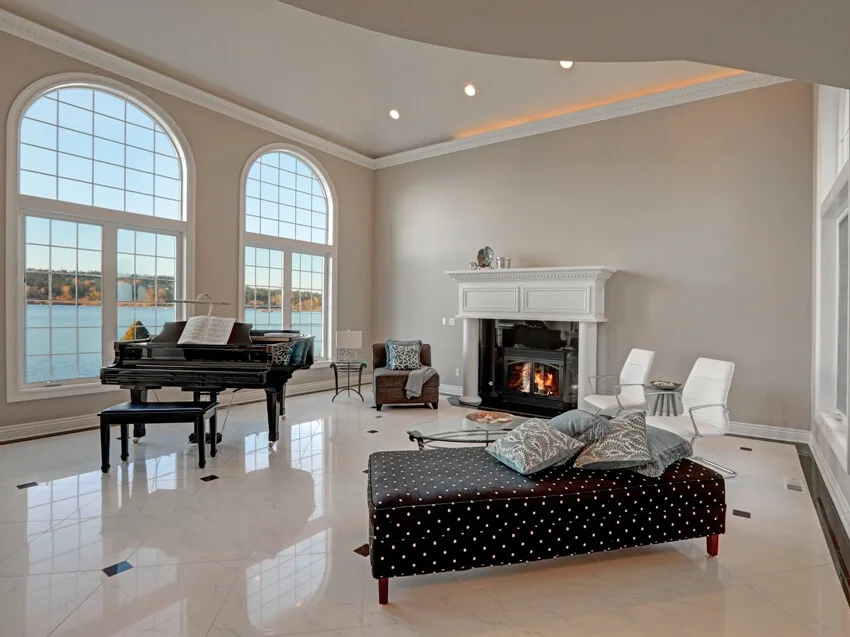 This is a little similar to the first cove ceiling design mentioned above only that it is the exact opposite to the top reveal. The curve starts off by extending from the ceiling and is cut off when it reaches the wall in the bottom reveal.
Some designers would play around with molding to complete the look in a coving with bottom reveal design.
A trick to draw more attention to the ceiling is to paint it a completely different color while others would even showcase a mural on the ceilings, giving it a cathedral vibe.
Coving with top and bottom reveal
In this particular type of cove ceiling design, the fur down is added both to the top and bottom of the wall and ceiling where the cove pieces are installed or attached.
When this method is put in, the cove ceiling itself becomes the main focal piece for the space that's being created.
What this creates is a look that is a little similar to crown molding, only a little more exaggerated. This cove ceiling design is highly recommended for remodels that are on a bit of a budget since there is no need at all to get the drywall removed.
Seamless cove ceilings with no reveal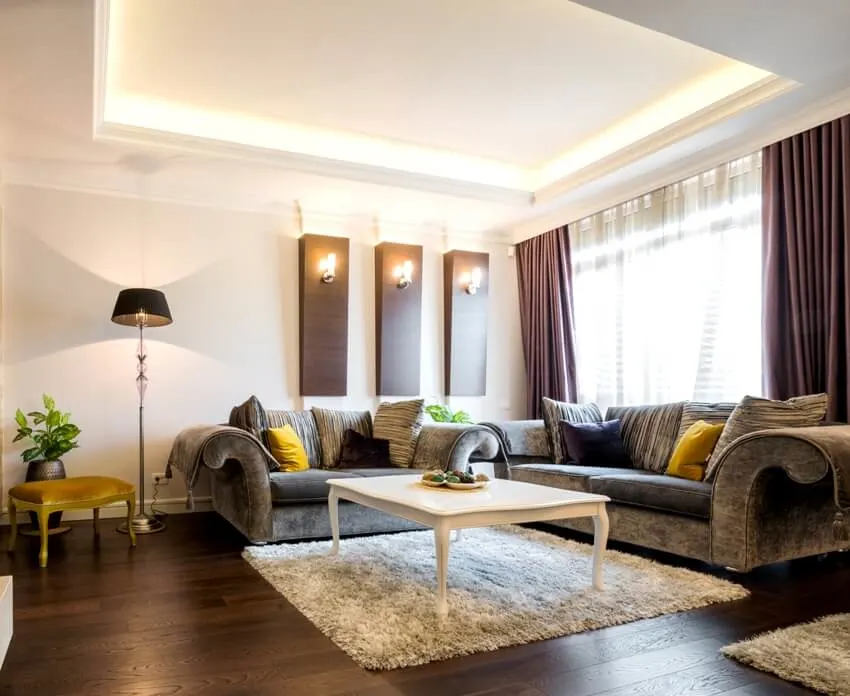 A cove ceiling without any type of reveal basically means that what you end up with are ceilings that look very smooth and seamless.
If your main goal is to get rid of all of those sharp edges between your ceiling and your wall, then this is the cove ceiling design for you. It basically goes straight from the wall to the ceiling without any type of obstruction.
This is actually the standard when it comes to cove ceilings. But even if that is the case, that doesn't necessarily mean that it is ordinary.
Effectively getting rid of the sharp corners of the ceiling gives the space that you're designing a feeling of softness and cohesiveness that any other ceiling design or attachment just can't bring to the table.
Plaster Cove Ceiling
Plaster cove ceiling is considered as a more traditional method of coving ceilings. If you have a large area to cover and you want it to look attractive and eye-catching, this material definitely has better value than polystyrene.
If your goal is to create a finish that's period styled and detailed, playing on unique patterns and visual interests, then plaster cove ceilings are definitely for you.
This material is typically heavier and more brittle as well. What this means is that its installation should be done by at least 2 professionals who specialize in coving ceilings. This isn't exactly a one man job. There are veritable plus sides though.
Plaster cove ceiling has a finish that's naturally smooth and bright. What this means is that you don't need so many coats of paint just to make it look seamless. Check out the best paint finish for ceilings here.
Plaster cove ceiling has been known to be the most attractive choice and they can even work well with various molds such as door surrounds and ceiling roses to emphasize the space even more.
Cove Ceiling Living Room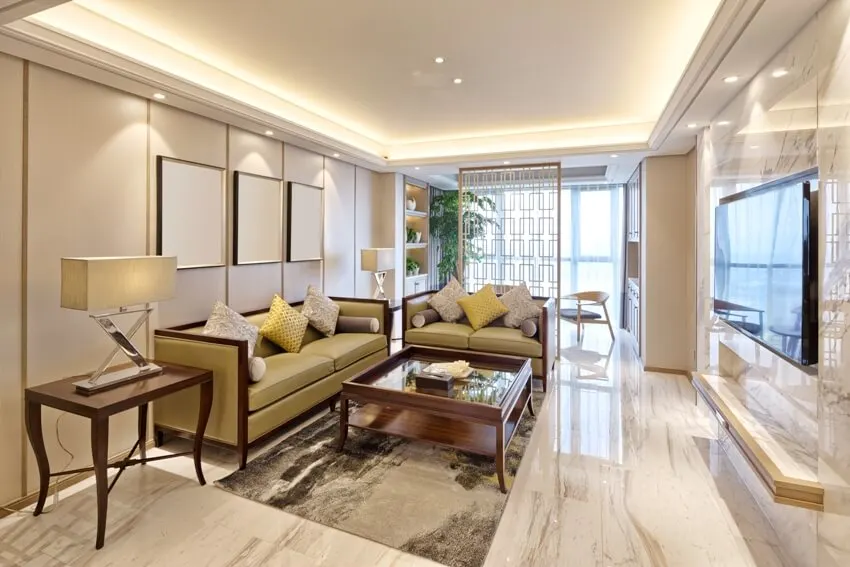 The living room is the main social space in the house. More often than not, right after the front door, it's the first significant area of the house that the visitors actually spend time in to sit and look at.
Opting for cove ceilings for the living room could help you out in giving the space some sort of visual interest that isn't only aesthetic but is sure to be a conversation starter as well.
Cove ceilings can also make your living room look like you have vaulted hotel ceilings. They create a sense of height and negative space that traditional ceilings just can't give you at the end of the day.
They can be very elegant and beautiful to look at. Pair it well with a nice chandelier and a few wall accents such as scones and paintings and you definitely have a space that you can be proud of when friends and family members come over to visit. See the best types of ceiling lights here.
Cove Ceiling Paint Ideas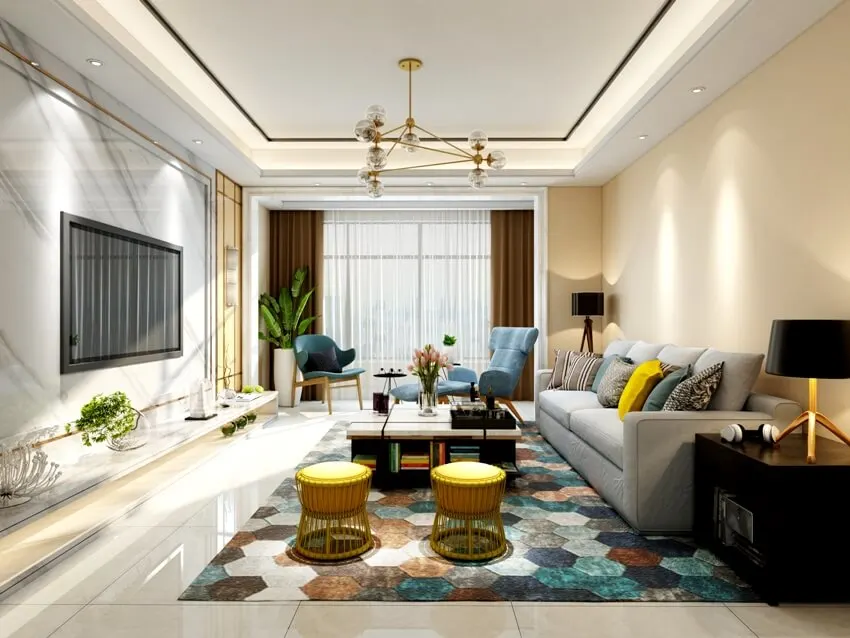 The painting ideas for cove ceilings are technically endless. There's just so much you can do and play around with that you can work up to work for the space that you're designing.
At the end of the day, it really all depends on what your preferences are. Some of the most popular favorites are the following:
Contrasts. Either the wall or the ceiling is colored a stark dark color while the other element is painted a much lighter one. This gives a contrasted look that is somewhat a bit of a shock when you first look at it but also beautifully accentuates the cove ceilings
Tone on tone. They can be in the same color but with just different shades or tones. This is a softer and more fluid transition between the ceiling and the wall and is great at providing dimensionality to the space.
Basically, you can play around with any color that you can possibly think of. Just keep in mind of the general rule of thumb wherein white on white is highly discouraged. This will completely ruin the design of your cove ceiling.
But then again, there are exceptions; such as there are elements with other pops of color somewhere in the space. It would be best to consult a professional interior designer, to get better bearings on the direction that you would like to take for your cove ceiling paint colors.
How Can I Make My Ceiling More Attractive?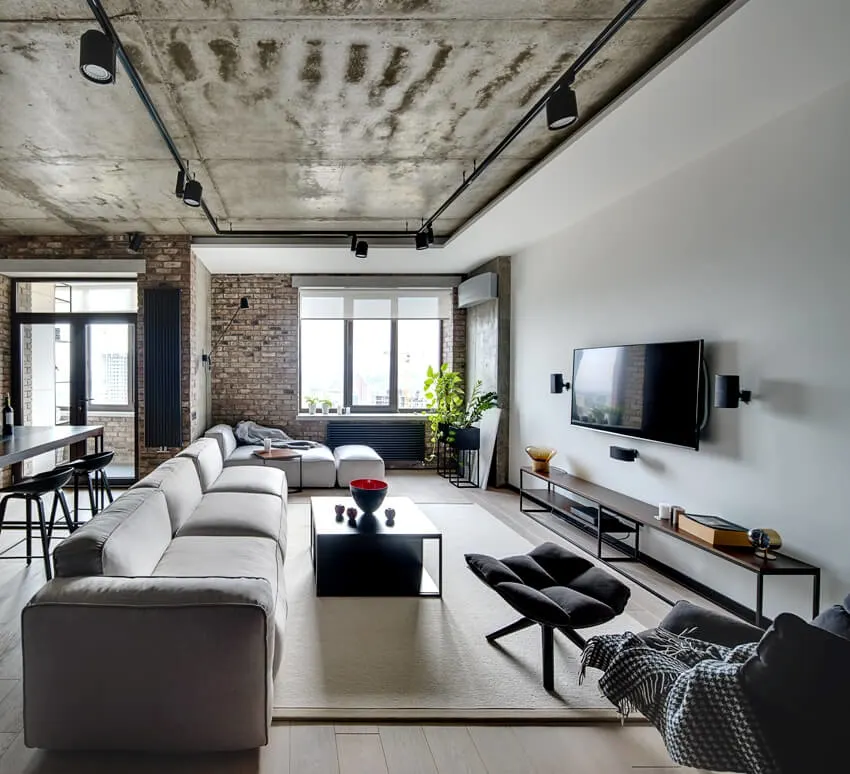 There are a lot of ways to make your ceilings look attractive. Aside from the obvious modification of the cove ceilings, you can also play around with the colors and the accents. Here are some of the easiest tips.
Paint the walls the same color as with the ceiling
This is the easiest way to redecorate and it doesn't require a lot of designing choices to get it done. It would be advisable though to paint the ceiling a tone lighter in the same color so that the overall look doesn't end up being too monochromatic.
Pull a color from your wallpaper
Find inspiration in what you technically already have. If there's a pattern in the wallpaper in the space that you're upgrading, be it from a rug or from a wallpaper; try to base it off of that. It brings the whole room together and injects cohesiveness in the room's overall design.
Paint a contrasting color
Painting a dramatic color on the ceiling that technically goes with the décor of the rest of the room can be an effective way of creating the "fifth wall" effect.
For more cove ceiling ideas visit our gallery of the most popular ceiling design types for the home.