Welcome to our fireplace dimensions guide including measuring fireplace openings and surrounds and different kinds of fireplace sizes.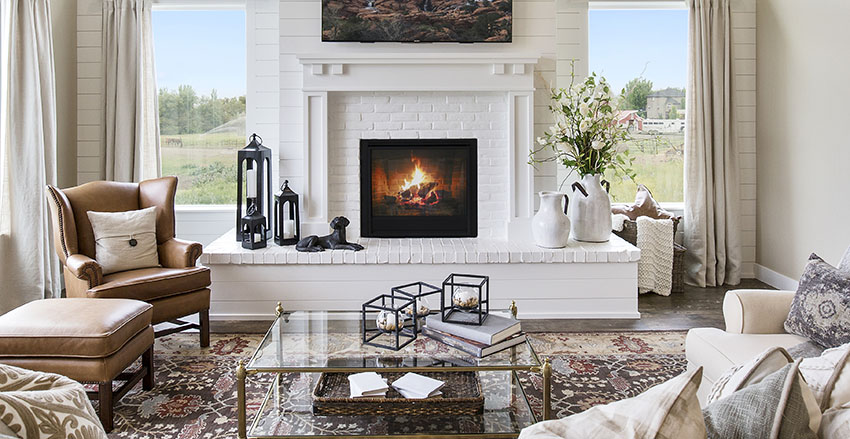 Fireplace in a home, especially when you're living in colder weather, is a smart investment; they don't just keep you warm but add to the value of your home.
Here, we present you with different dimensions for different kinds of fireplaces. Ready? Let's get to it!
Standard Fireplace Dimensions
There are two situations when considering the dimensions of your fireplace.
The first is measuring your fireplace's inner construction, which includes the smoke shelf area that extends inside and above the fireplace, the flue that opens up to the chimney, and the firebox itself where the fire burns.
The second is the exterior of the fireplace itself, which the occupants of the house see. This includes the shelf, the mantel, the facing, the firebox, and the hearth.
To make this article concise and not all over the place, we will only be considering the second situation involving the face of the fireplace.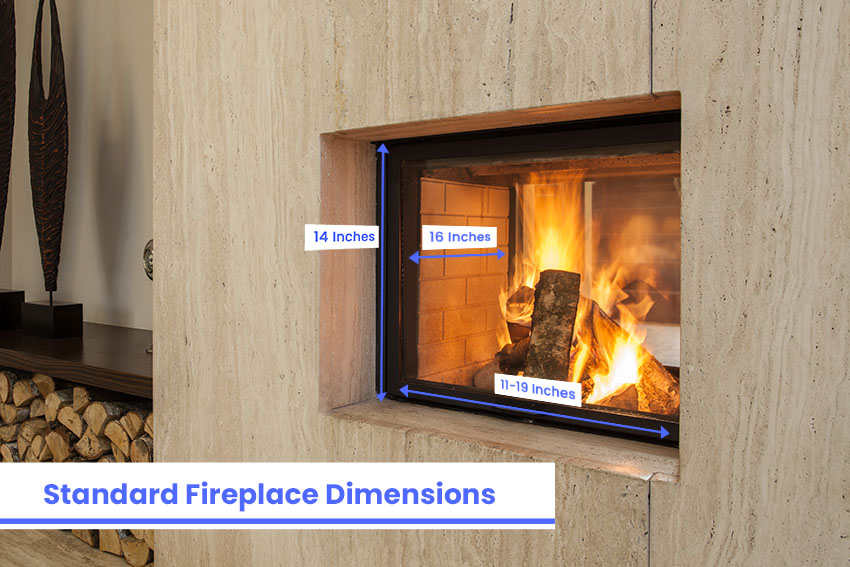 Standard Fireplace Width
To determine the width of the fireplace, we will measure the width of the firebox. In general, a firebox width can be at least 11 to 19 inches and over. Also, a height of 14 inches for the firebox.
Fireplace Depth
A fireplace's depth is measured from the back of the firebox to the opening—the average depth of a fireplace is about 16 inches deep.
Standard Fireplace Opening Dimensions
A fireplace's height opening is the measure of the hearth from the top of the opening, while the measure of the opening's width is the measure of one side of the opening to the other.
The standard height of a fireplace's opening is between 24 to 29 inches and 24 to 36 inches wide.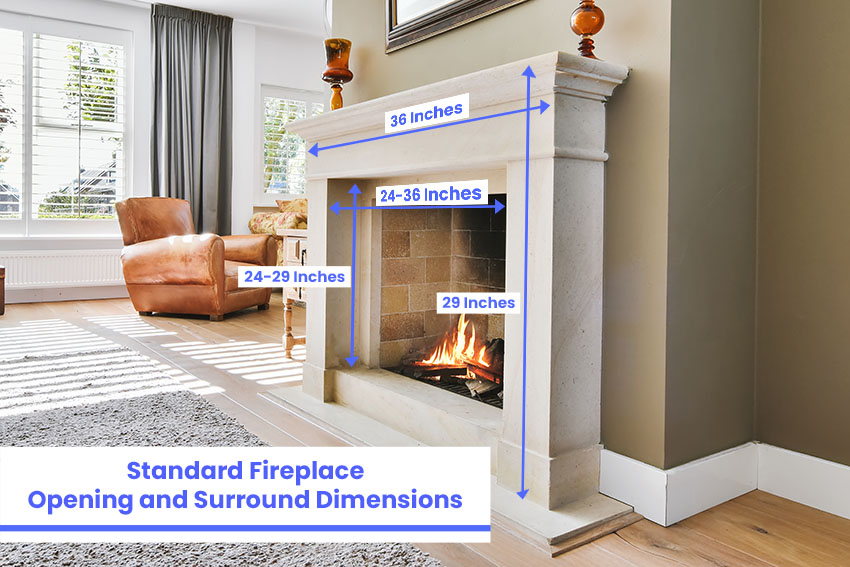 Standard Fireplace Surround Dimensions
Surround is an unofficial name given to the collective parts of the mantle, the legs, and sometimes the hearth. The fireplace's surround is the face surrounding the firebox of your fireplace. The measure of the fireplace's outer cabinet is the coordinated measurements of these parts.
Most fireplaces are 42 inches wide, while some smaller fireplaces can have as little as a width of 36 inches. Some somewhat bigger fireplaces can even be 48 inches wide.
With the height, generally, a mantle should at least be 12 inches above the opening. For a standard fireplace with a 36 inches width, it should be 29 inches tall.
Masonry Fireplace Dimensions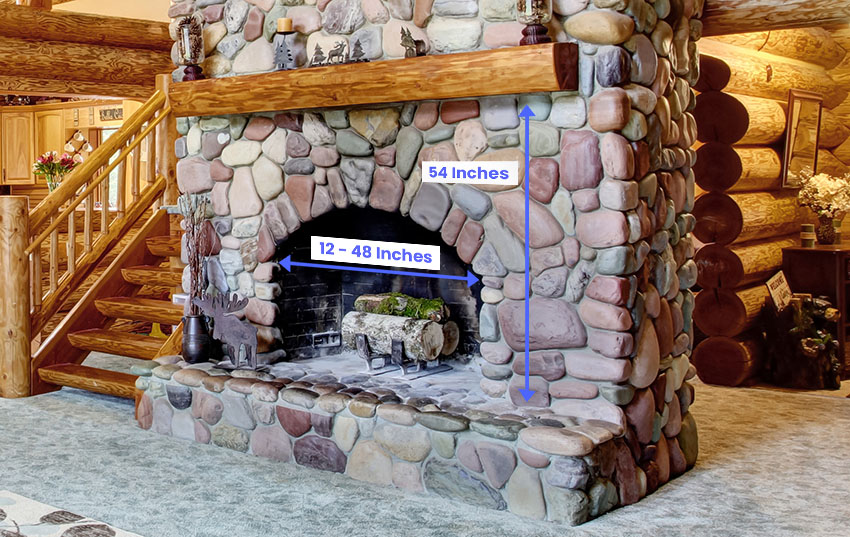 Masonry fireplaces are constructed with brick, stone, or mortar. Building a masonry fireplace usually involves planning because they are traditionally made with the house. You can generally see these types of fireplaces in colder places and older ancestral homes and ski resorts.
Masonry fireplaces generally have a dimension of 24 to 48 inches for a home with short walls, but it could reach 84 inches for homes with much taller walls.
The height of a masonry fireplace will depend solely on the size of the room where the fireplace will be located.
For smaller living rooms, a measurement from the hearth to the mantle of 4.5 feet or 54 inches is appropriate, while for a bigger house or setting, you could go as low as 54 inches or as high as 73 inches.
Gas Fireplace Dimensions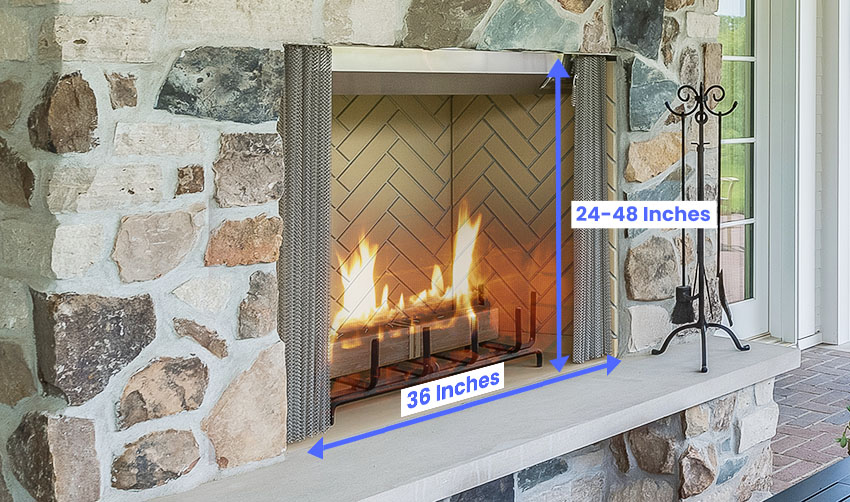 Gas fireplaces are the more modern alternative to log fireplaces. They are not only easier to keep burning and are safer, but they are also proven to be more effective at heating the house by 75 to 99 percent.
Gas fireplaces are usually the type of fireplaces found in bedrooms or even bathrooms, as they can be in any shape or dimension we prefer. There are different types and designs available for gas fireplaces, but ultimately, these are the standard dimensions for a common height room.
A width of 24 to 48 inches (usually a size between divisible by four, e.g., 28, 32, 36, etc.), a fireplace height 36 inches and above (a firebox height of 14 inches and an opening height of 24 inches.) Checkout our gas fireplace design guide here.
Electric Fireplace Dimensions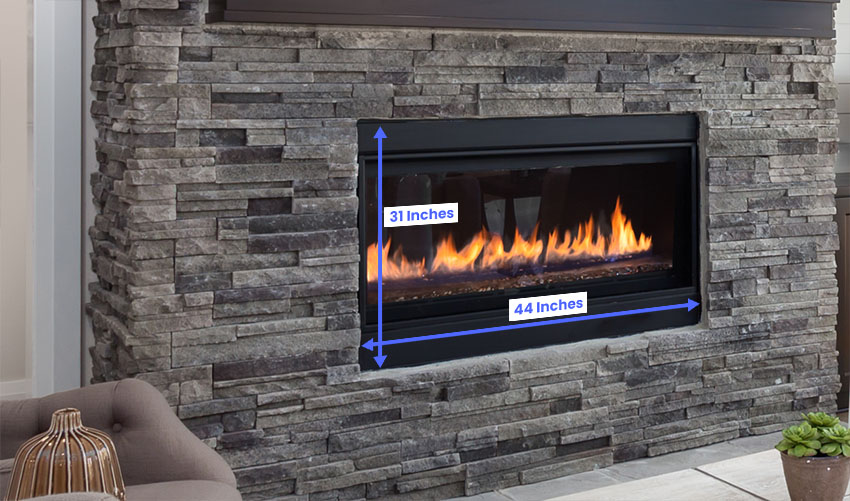 Electric fireplaces take the space of conventional wood fireplaces that are not working or are no longer in use.
Electric fireplace models are technically electric heaters made to look like traditional fireplaces, and the best thing about this type is there is no need to install a chimney, a flue, or even a vent. They dramatically scale down the cost of installation versus the wood-fire fireplaces.
The dimensions differ with this type and are usually dependent on where you want to put them. You could go larger for an electric fireplace in the living room, but a fireplace with a more sizable width and a smaller height is generally better for your bedroom.
There are electric fireplaces perfect to be situated in right smack in the middle of a living room and usually have a dimension of 31 inches in height, a width of 44 inches, and a depth of 13 inches.
Fireplace Insert Dimensions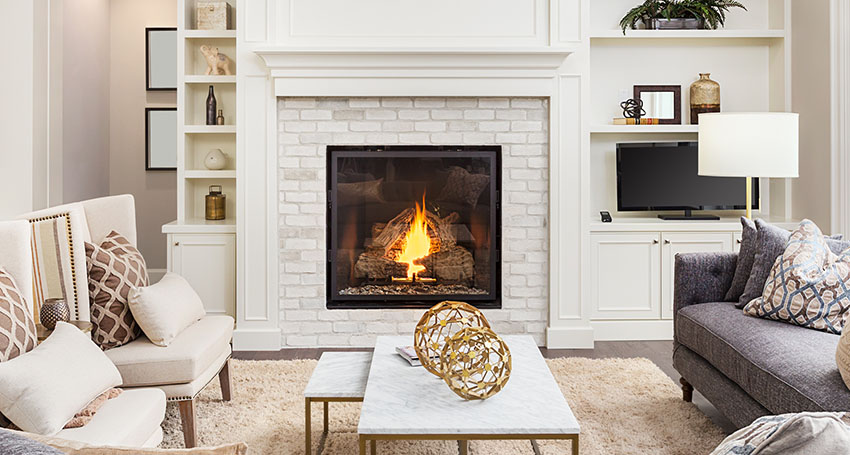 A fireplace insert is usually a sealed box taking the place of an old masonry fireplace. A fireplace insert can be powered by wood, gas, or propane, and they produce more heat and consume less fuel than a traditional fireplace. There are two types of fireplace inserts, and they could either be powered by gas or wood.
A gas and wood fireplace insert is available in three standard sizes of small, medium, and large. Small gas-powered fireplace inserts have a width, height, and depth of 26, 17, and 14 inches.
A medium insert has dimensions of 29, 20, and 14 inches, while a larger gas-powered fireplace insert has 32, 24, and 16 inches.
Corner Fireplace Dimensions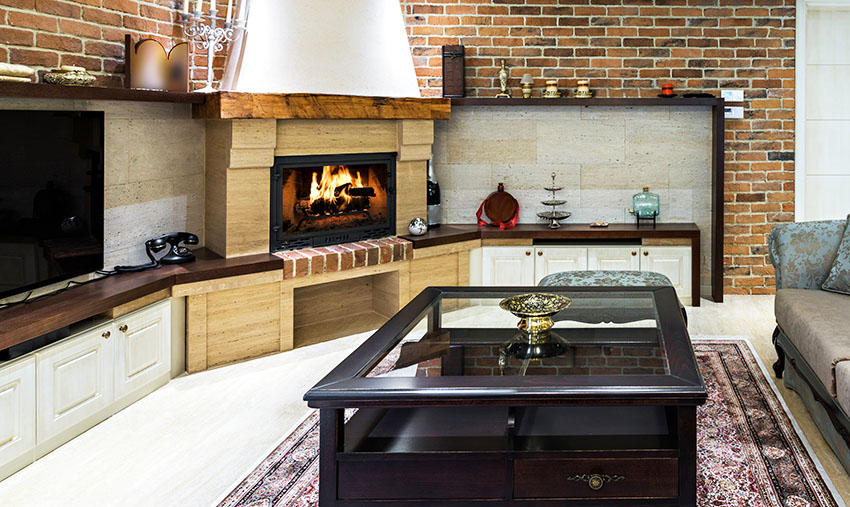 Corner fireplaces are a smart solution for smaller rooms because they will save wall space that can be allocated for additional furniture.
Electric or gas corner fireplaces even can be erected without needing a vent or a chimney, and some corner fireplaces can act as a TV stand for your television.
More oversized corner fireplaces for bigger homes can have dimensions as big as 41 inches in length and have a width of 54 inches. While some corner gas fireplaces have dimensions of 45.5 inches in width and a height of 40.5 inches.
Double Sided Fireplace Dimensions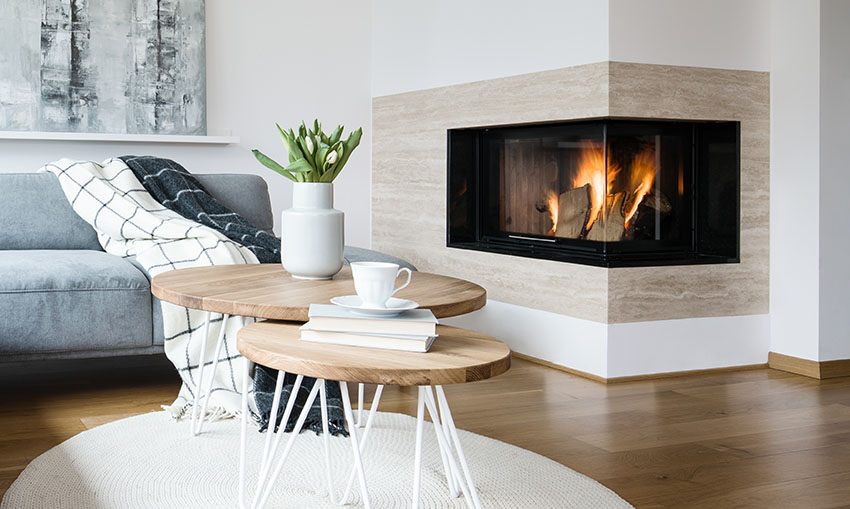 Double-sided fireplaces are a pretty good idea if you want the fireplace's ambiance and warmth to reverberate in two separate rooms.
These types are usually gas or electric fireplaces as they don't need as much upkeep and can be enclosed in gas, unlike traditional wood-burning ones.
Double-sided fireplaces can also be called see-through fireplaces. A double-sided fireplace can come with a height of 52 inches, a width of 44 inches, and a depth of 25 inches. This type of fireplace usually has a deeper depth, as they extend from one room to the other.
Fireplace Mantel Dimensions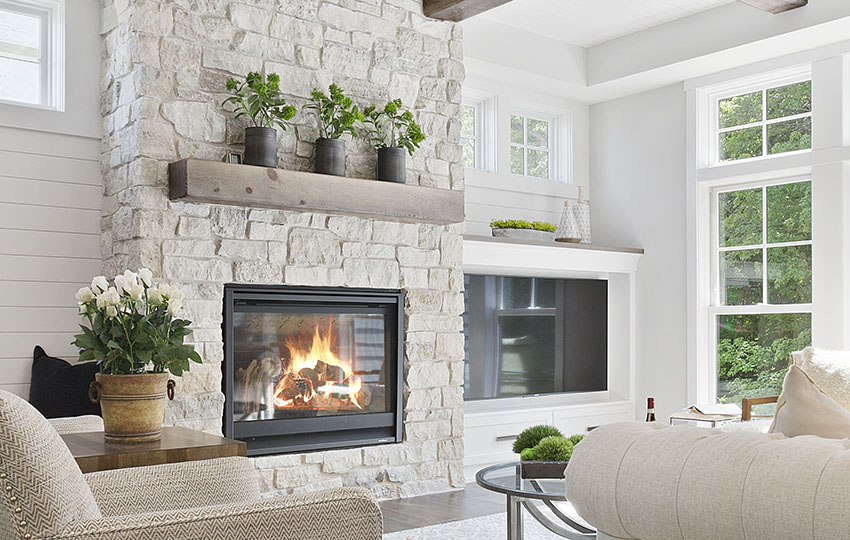 Fireplace mantels are the frame of your fireplace. They are usually the outer part that is decorated, especially for masonry fireplaces.
For a bigger fireplace with a width of 48 inches, a mantel width of 82 inches is acceptable. For a fireplace with a 42 inches height, a mantle length of 58 inches is appropriate.
There are no right and wrong since the fireplace mantle sizes differ from one to the other. Checkout fireplace wood mantel designs here.
Outdoor Fireplace Dimensions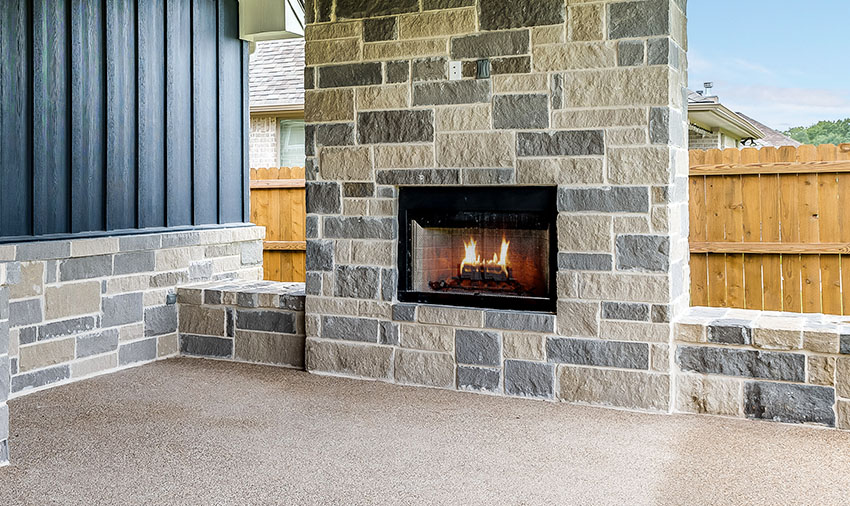 An outdoor fireplace can make your backyard be utilized in all seasons, including winter. This type of fireplace usually comes in bigger sizes because they are out in the open and are more vulnerable to air and weather.
Outdoor fireplaces can come in widths of 36 to 180 inches, a height of 48 to 180 inches, and a depth of 36 to 72 inches.
Now you have your ideal standard dimensions for each, but it is still essential to research or consult a fireplace expert if you plan to install one for your home. Good luck!
See more related content in our article about outdoor fireplace ideas here.