Welcome to out gallery of outdoor fireplace ideas. Outdoor fireplaces create an inviting place where your friends and family can gather. Adding an outdoor fireplace to your home can be a great way to make your patio area or backyard more interesting and increase its resale value. Below are some popular fireplace designs to inspire you to create your own exterior space that your whole family will enjoy.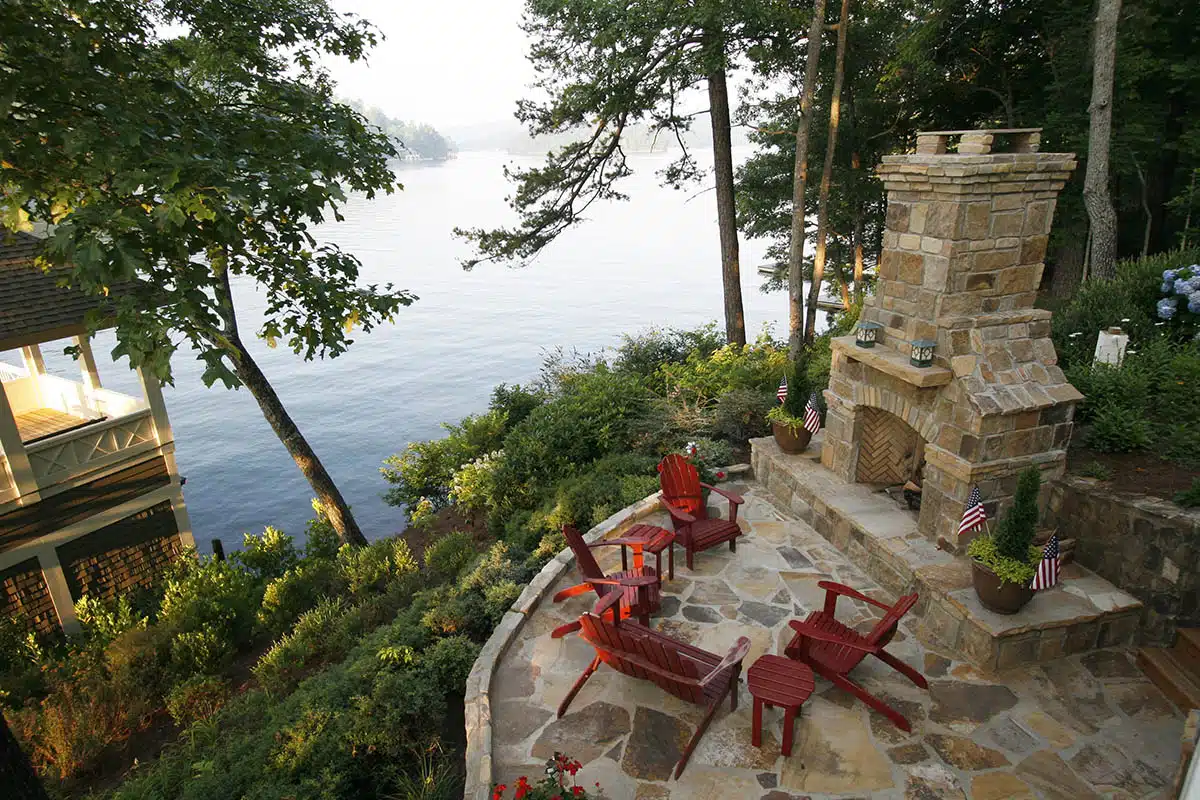 In the image above, this outdoor fireplace is made out of textured stones in light shades of gray and brown. The green accents from plants perfectly calm the eyes in this relaxing outdoor setting. The fireplace sits on an elevated platform with the same stone texture on the exterior.
While stones arranged in diagonal patterns make up the firebrick back, two lampshades are on the mantel shelf, making this outdoor space perfect for relaxing especially at night. For more patio design ideas visit our gallery.
Backyard Fireplace Ideas
A backyard fireplace can increase the amount of time you can enjoy your outdoor living areas and create a place to hang out at and socialize.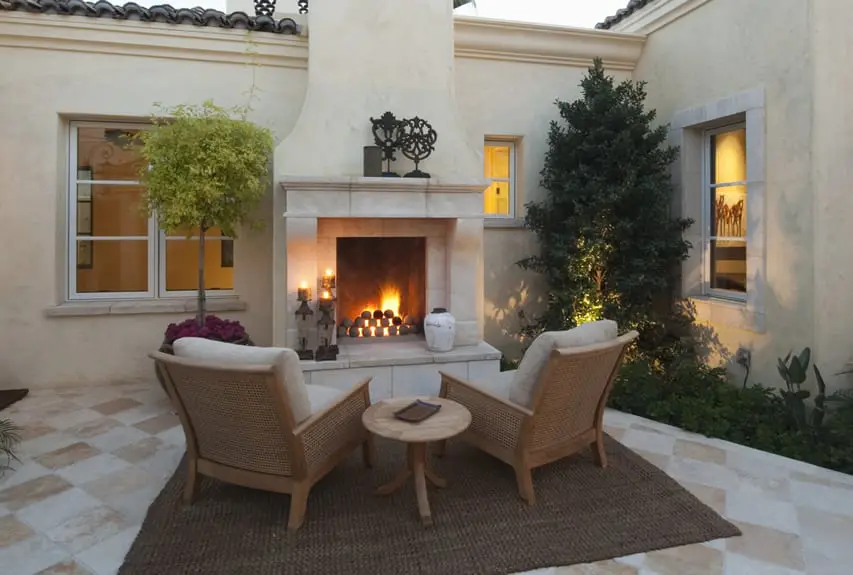 This is a square-shaped outdoor patio with fireplace attached to the home's wall. The header is covered with tiles in matte white stones. This outdoor fireplace is adorned with classic black metal candle holders, other black metal accent pieces, and a white jar.
The white color of the fireplace perfectly matches the diamond tiled floor in alternating whites and oatmeal colors, where a coffee table and two weaved oak wood stained seats with white upholstery sit right above a weaved brown mat.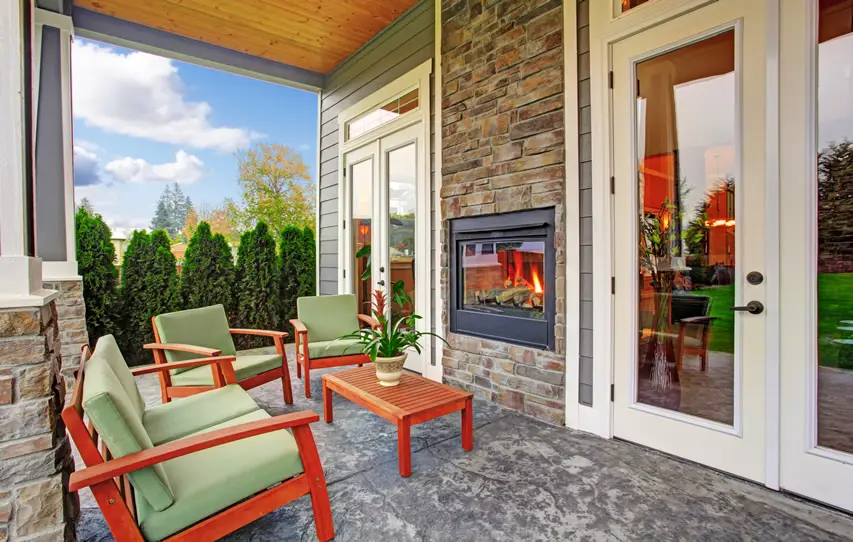 This modern outdoor fireplace is built-in in the wall with stone veneer tiles cladding. The polished black metal exteriors of the fireplace contrasts the stone walls in terms of texture and feel. In terms of color, the fireplace's dark metal frame perfectly complements the white framing of the windows and doors on its left and right.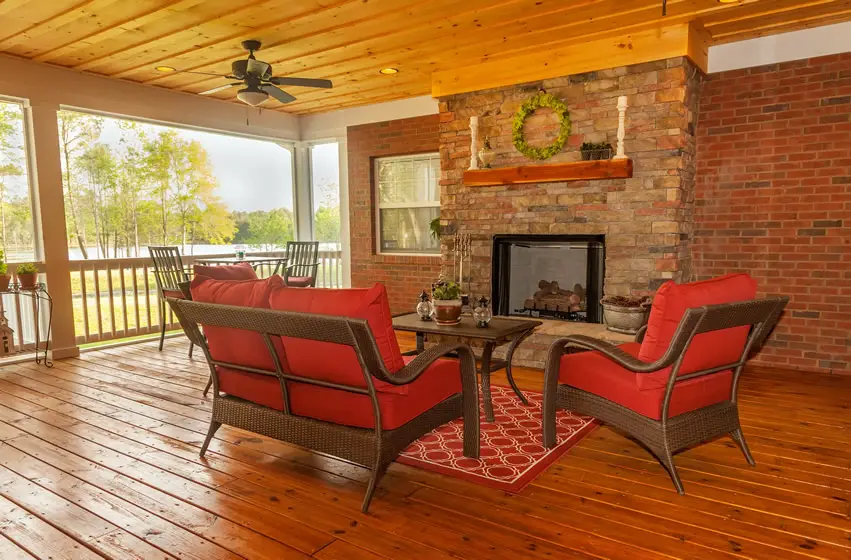 This outdoor living room consists of a deck design with exposed wood ceiling with fans and a stone fireplace. The fireplace slightly protrudes from the walls with matte brown brick stones for the cladding. The base protrudes further from the jamb and has enough space to hold two potted plants.
Right above it is the chamber covered in clear glass, which shows the burning firewood inside once the fireplace is used. A solid wooden block is used for the mantel shelf, that is accentuated by small white pillars and a green ornament in the middle.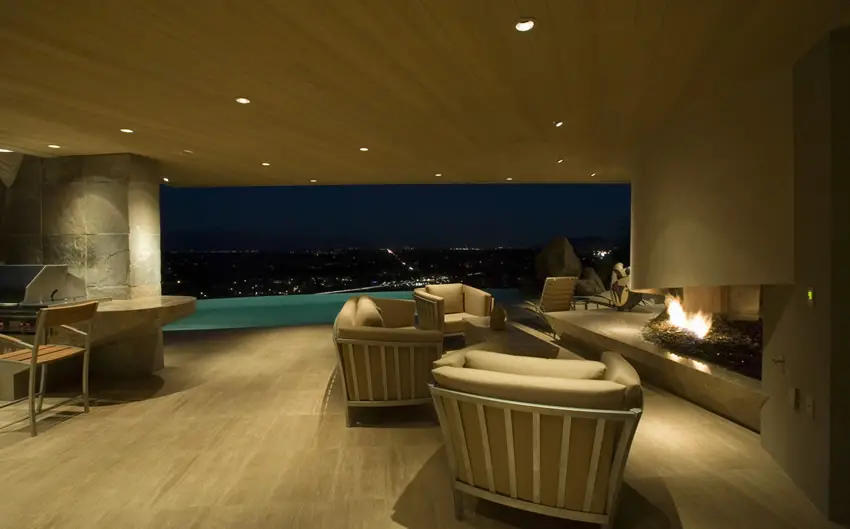 This fireplace is spacious and intended to warm a bigger space: a lounge area by a rooftop pool. the fireplace has a large triangular base that holds the inner hearth. A semi-circle extension of the wall from both sides serve as the hood.
The whole place is covered with beige walls, with one-seater chairs in beige upholstery and metal frames. The walls and ceiling are made of laminated wood, a bright but neutral contrast to the dark blue skies at night.
This fireplace has a gray stone brick cladding for its base, with a hood painted in solid beige, just like the beige walls beside it.
Candles stand on the wengue wood mantel shelf for accent, alongside with the figurines on the base and bamboo plants on the side that add an Asian feel to this area.
This fireplace gives a country vibe with its plain white stone jamb that has subtle line patterns. The frame is made of stained glass with black metal frames.
Green ornamental plants could be found on either side of the fireplace, a good accent to the neutral brown color of the outdoor tiles and light mustard upholstery on the sofa.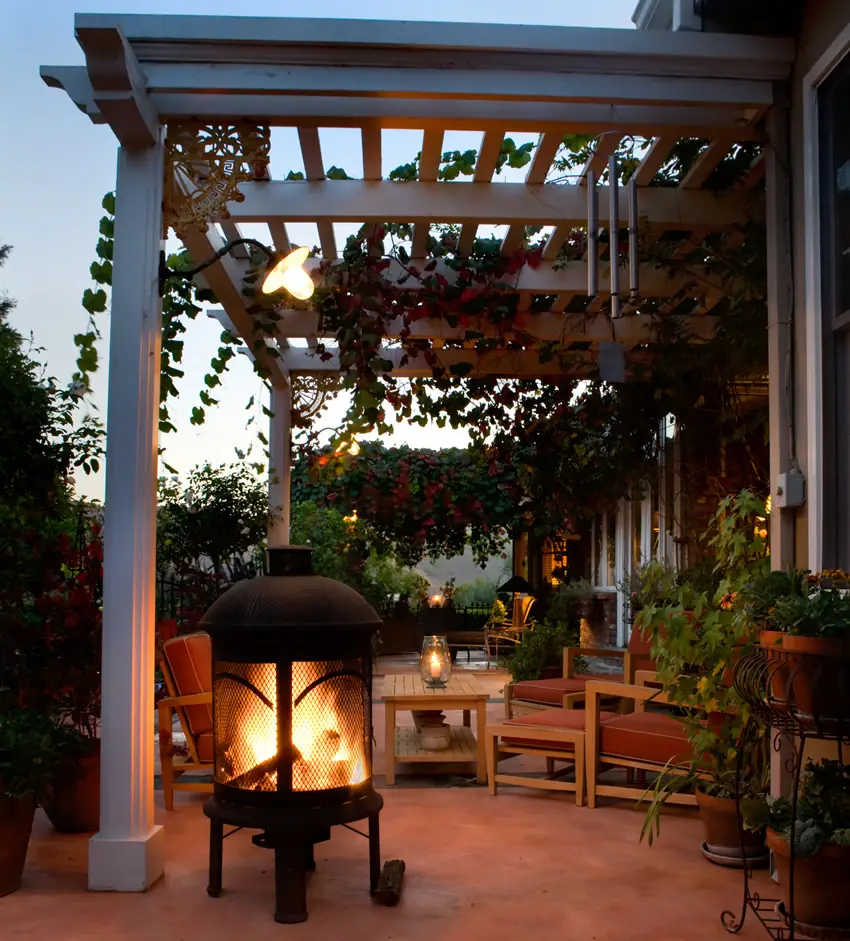 This is a mobile fireplace capped off by a dome shape roof, with metal screens surrounding the firewood chamber. The base is held in place by four sturdy pillars, protecting the flooring from the heat.
This outdoor fire pit provides heat to a cozy outdoor lounge with a white pergola that holds lush green hanging plants above an oak wood stained table and chairs in brown upholstery.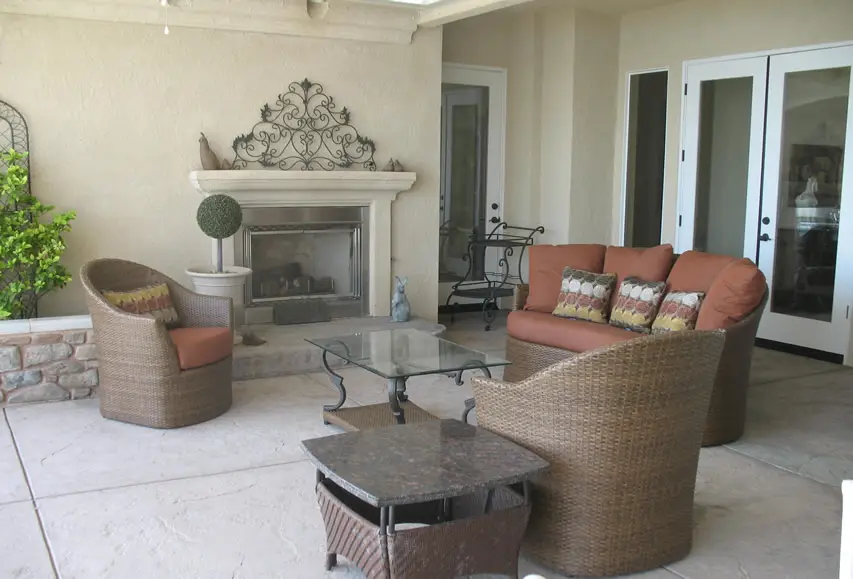 This fireplace is carved in a cream wall, covered with clear glass and a stainless steel frame. Textured cream pillars that hold a mantel shelf of the same color and texture surround it, with a black metal adornment that has a curvy pattern.
An elevated solid gray stone makes up the base, on top of big white stone tiles where mahogany stained seats with cherry brown upholstery are gathered around a glass coffee table.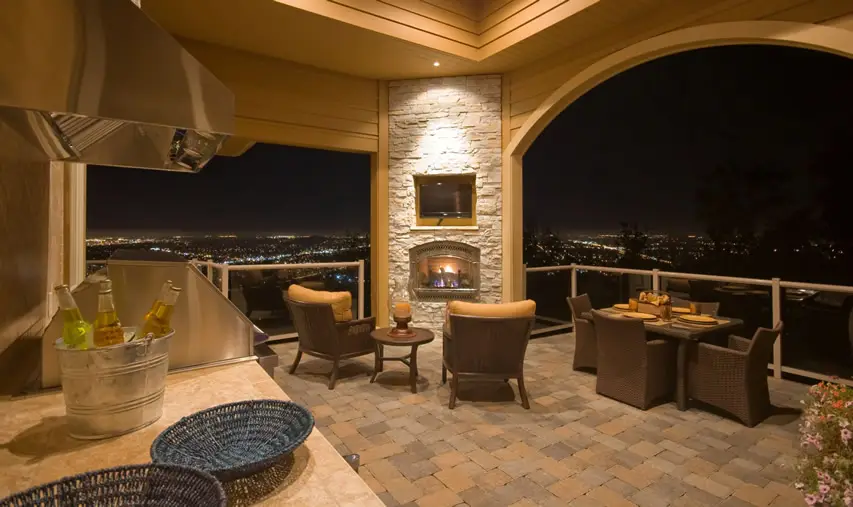 This fireplace stands on the corner of an open floor, with stone brick jamb that holds a stainless steel metal frame with clear glass. The place is surrounded by furniture with yellow accents, as seen on the floors, upholstery, and pinewood stained ceilings and pillars, which matches the fire's color, as seen on the clear glass cover.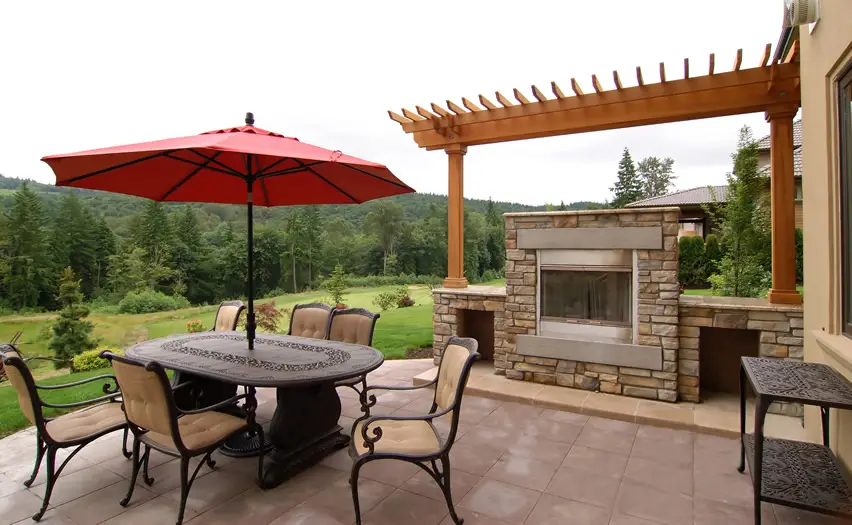 This outdoor patio has a stone brick fireplace on the side, with a slightly elevated oatmeal flooring. There are a total of three chambers, with the two smaller ones on either side that are empty, but may hold firewood, and a bigger modern fireplace covered in clear glass and aluminum framing in the middle.
The surface of each chamber is covered by marble stones, where a pinewood pergola stands which may be used for hanging plants that would match the green scenery in the vicinity.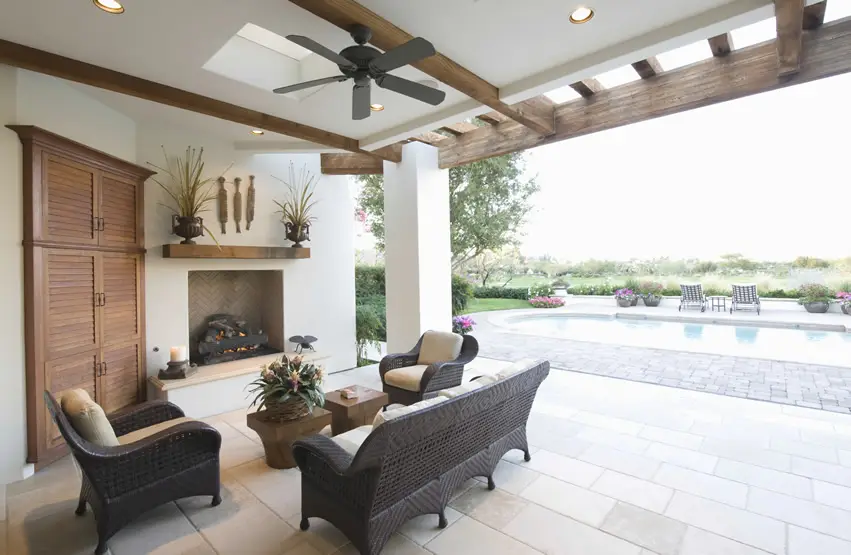 This simple outdoor fireplace provides heat for a covered lounge next to an outdoor pool. The fireplace is carved in from the white walls, with a protruding white base covered in oatmeal colored tiles. A protruding wooden mantel shelf on top also hold two potted plants.
All the wood and plants create a relaxing country feel, together with the ornamental plant that is surrounded by three wengue stained weaved chair frames with beige upholstery that directly face the fireplace.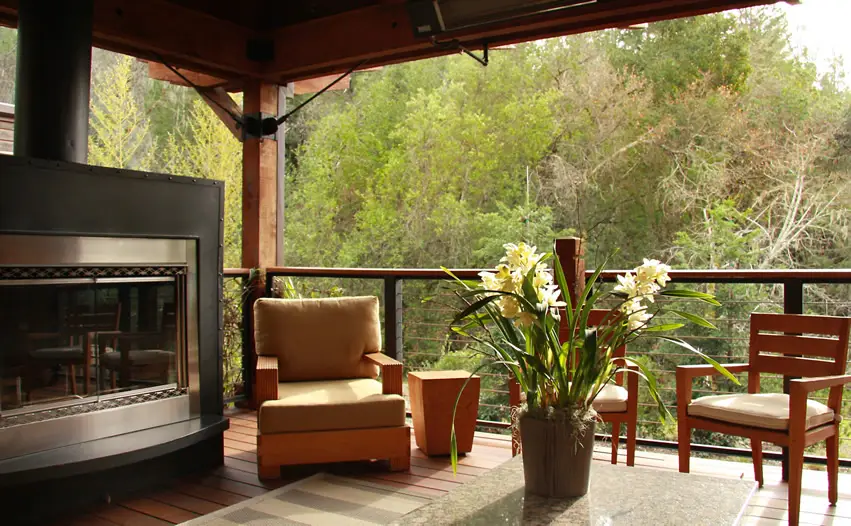 This fireplace is sleek and modern, with a solid matte black box that has a protruding glossy black stone base. The glass that covered the chamber is stained, with a stainless steel framing that has elaborate engravings that adorn the plain setup.
The dark colors of the fireplace are in contrast with the oak wood stained chairs in beige upholstery that face a flowering ornamental plant on a stone table.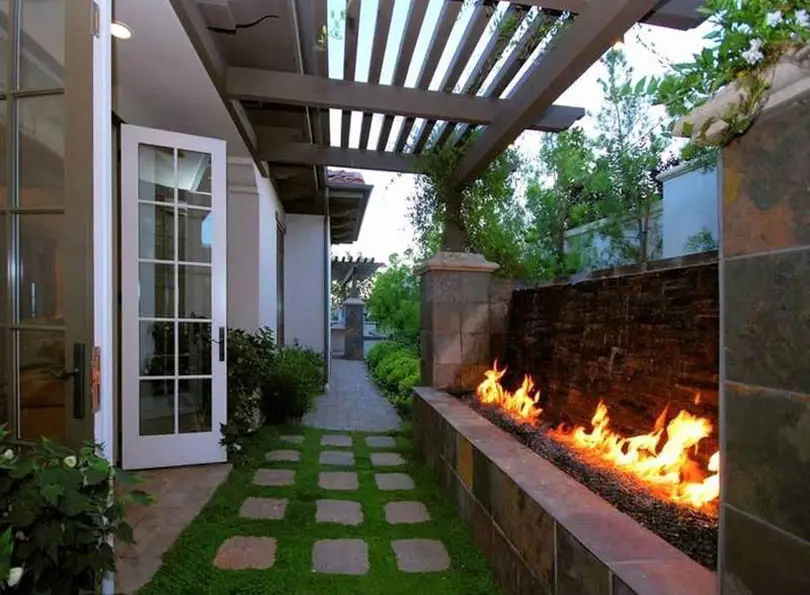 This small backyard area features a rectangular gas fire pit and wood pergola for a contemporary design.
Patio Fireplace Ideas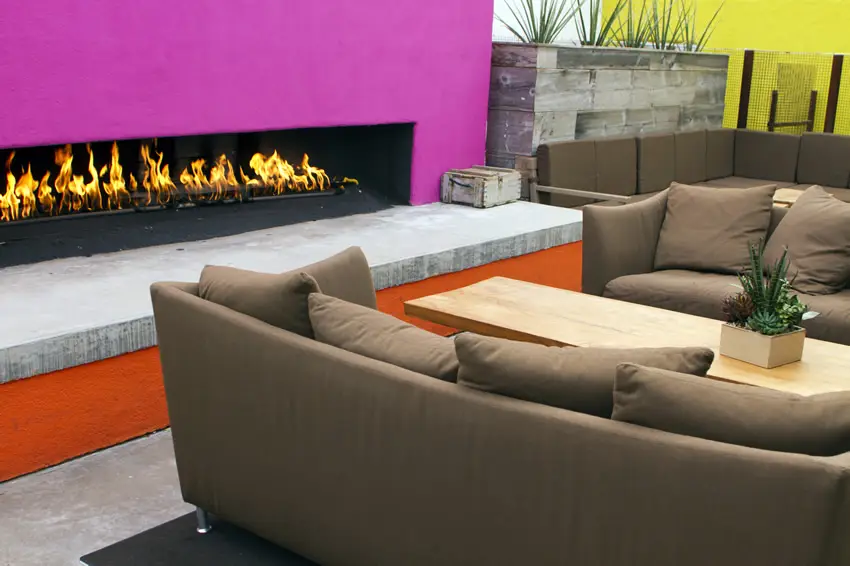 This gas fireplace design makes use of vibrant colors to create a modern feel. The inner hearth and firebrick back are in solid black, carved in a fuschia wall with an orange base topped in a frosted white paint. The vibrant colors contrast the sofa's neutral solid brown colors, balancing out the loud pink and orange shades.
This classic fireplace has an oatmeal colored base and jamb, with a cream hood. The fireplace is covered by an intricately designed three-paneled black metal piece. Ornamental plants could be found on all corners, with sofas in black stained wood framing and white upholstery.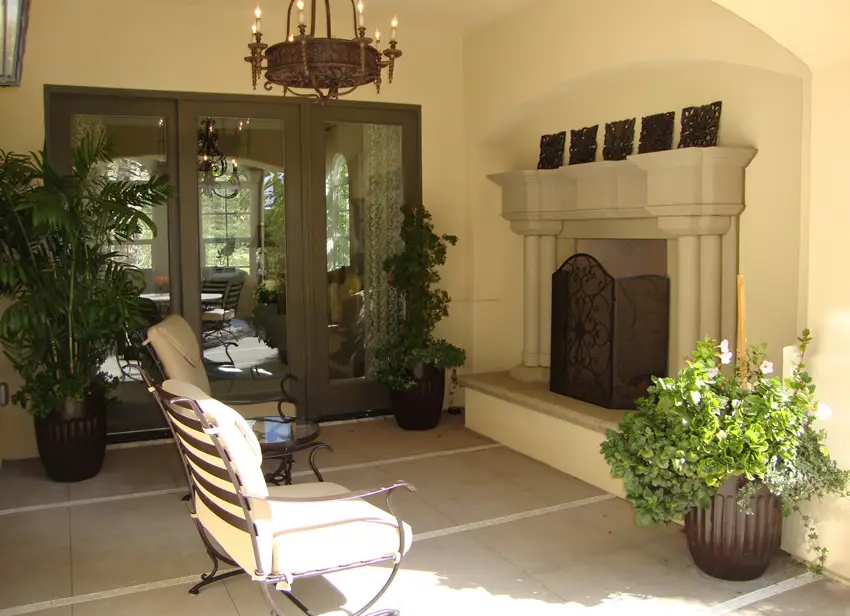 This classic fireplace has a cream base, pillar, and mantel shelf. With an intricately designed three-panel metal piece covering the chamber. This directly faces a small glass coffee table with a brown metal frame and two chairs in brown metal framing with white upholstery.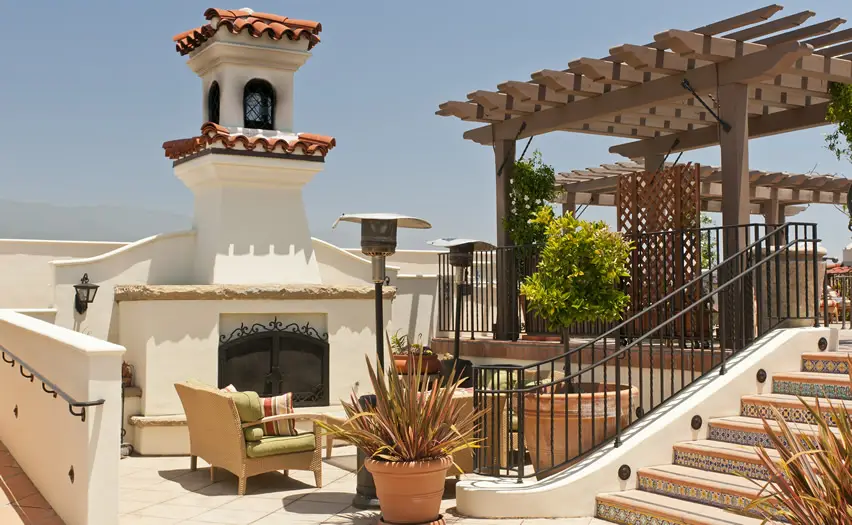 This spacious fireplace is made of concrete solid white base, jamb, and hood. The base is attached to the rectangular jamb, each layered with oatmeal textured stone on top.
The chamber is covered with tinted glass and a black metal frame with curved metal accents. The hood extends upwards to a chimney that has roof tile accents with arched windows.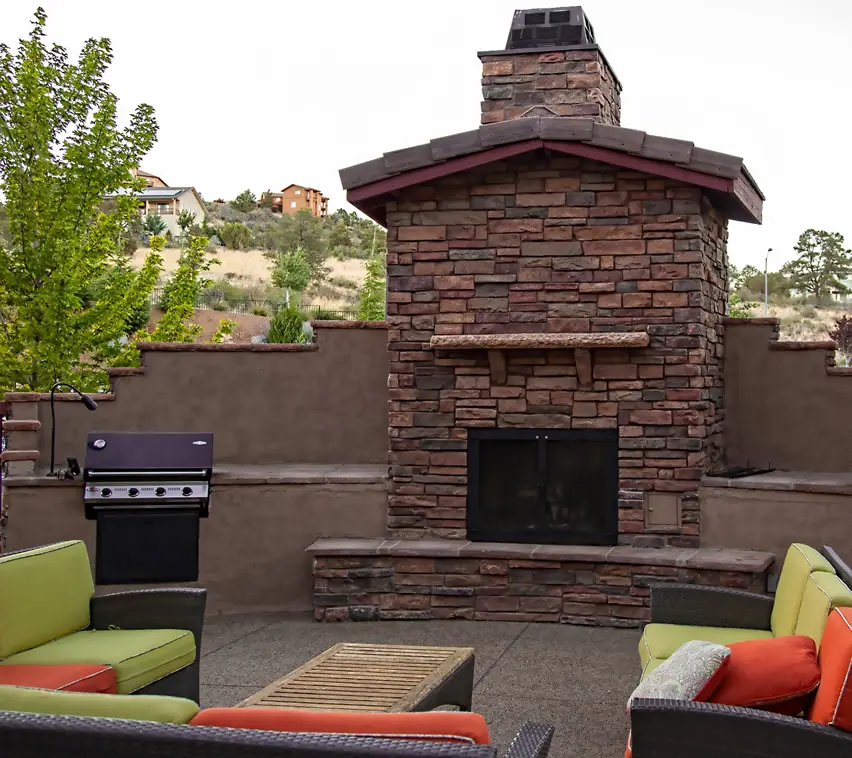 This fireplace is huge, due to the huge jamb that it has. The base is made of stone bricks with tiled matte stones. It then extends upwards to a huge jamb with the same stone bricks in different shades of brown.
The jamb is covered with frosted glass that has a black metal framing. A small mantel shelf is placed on top but is kept empty. above it is the jamb's roof, and a small chimney.
There is an oven beside the fireplace, and a long arching countertop that is perfect for placing foods on for outdoor parties. The neutral brown and black shades are neutralized by the vibrant greens and oranges on sofas with a weaved wengue framing.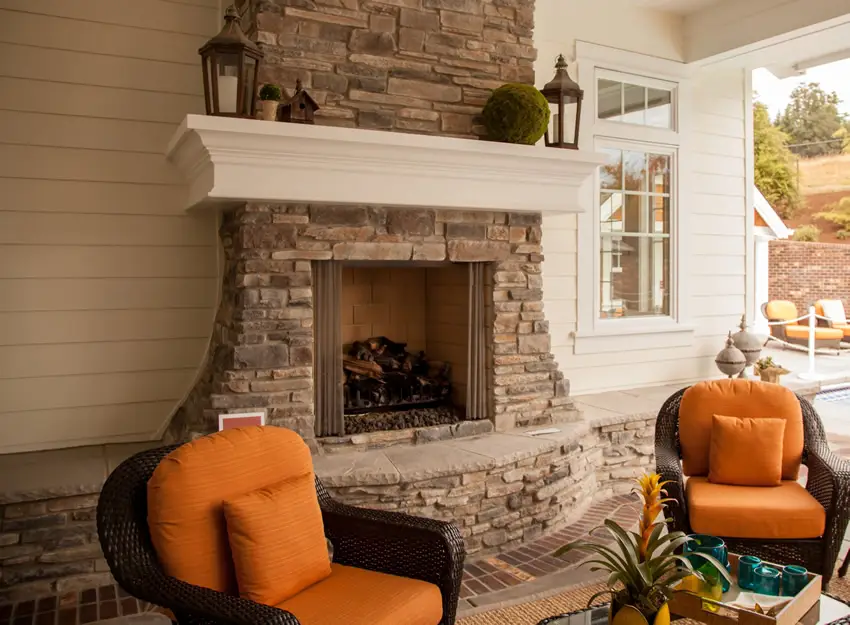 This fireplace is attached to the house's exterior walls, to which the base is wrapped on, also serving as extra seats to accommodate more people. The fireplace's jamb and hood are made of stone bricks, and it has an open chamber with a tiled and flat firebrick back in an oatmeal color.
A wider mantel shelf is placed on top in white, a match to the house's white walls. It holds two lampshades and other accents.
This fireplace is made of light brown stone bricks from the base to the hood. The chamber is surrounded by flat brown tiles, and the firebrick back is made of smaller oatmeal colored stone tiles. The jamb roof narrows to two levels for the hood which is noticeable and unique with its embossed tree pattern.
An outdoor kitchen made from stacked stone with a center barbecue offers the opportunity for grilling food outside. While a table and chairs set provides a place for relaxing and dining night or day. See more outdoor kitchen ideas here.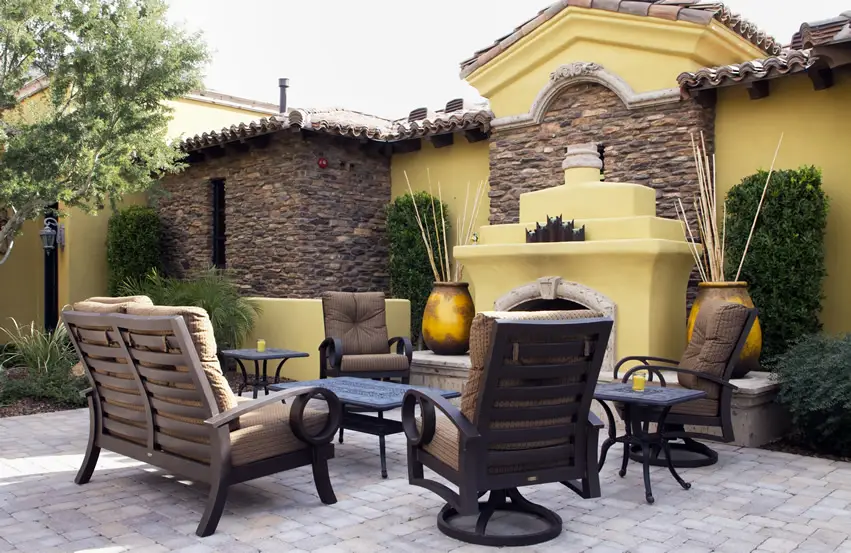 This fireplace has a gray stone base that is much wider than the fireplace's jamb. This gray stone matches the arch and embossed framing for the base that holds two big and glossy yellow jars with brown patches and sticks inside, the color of which is much brighter than the pastel yellow jamb itself that is curved outwards on top for the mantel shelf.
The mantel shelf holds black metal accents, and extends to a two-level hood that narrows to the chimney.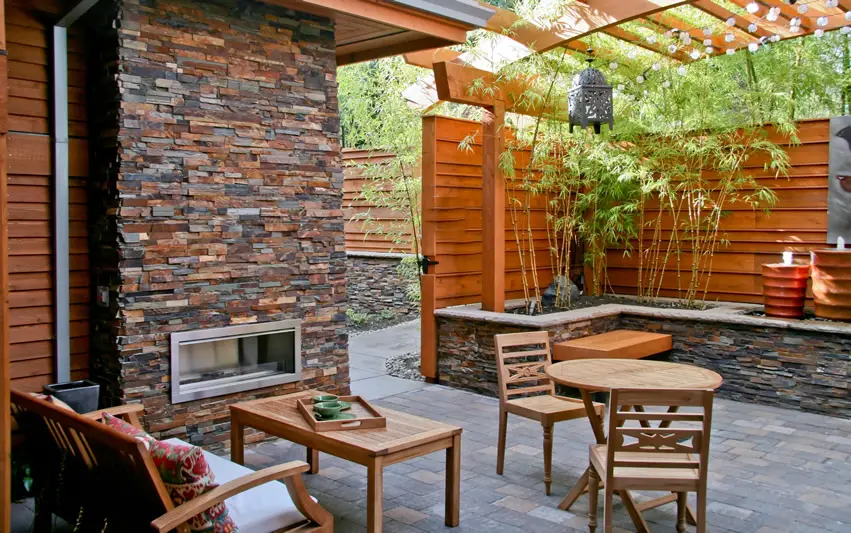 This outdoor fireplace has no base, hood, or chimney that is separately shown. The aluminum fireplace is situated on the bottom half of a protruding side of the wall covered in stone bricks cladding. The stone bricks are in various shades and hues of grays and browns, an excellent contrast to the solid brown wooden walls beside it.
This fire place has a slightly protruding solid white base, the same color with the fireplace's jamb. The chamber is wonderfully covered by a clear glass door where the firewood could clearly be seen. The glass cover with no framing makes the chimney look classier, and the beauty of fire dominant.
The fireplace is situated on a stone patio and accentuated with weaved wengue chairs and tables in striped black and white upholstery.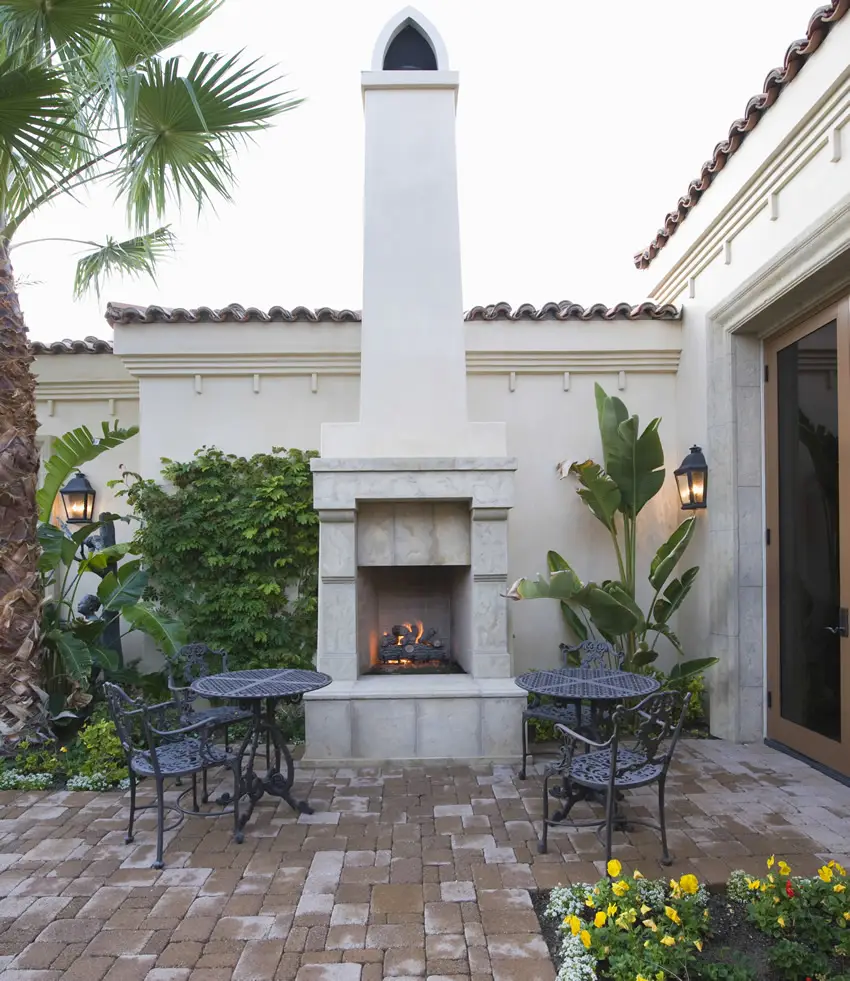 This narrow fireplace takes its beauty from varying layers of white stones with gray patches. The base slightly protrudes forward from the open chamber, with rectangular pillars that eventually widen forward layer by layer in two levels to form the mantel shelf.
The mantel shelf then has a narrower and longer solid white concrete extension that forms the chimney, with an arched opening at the top.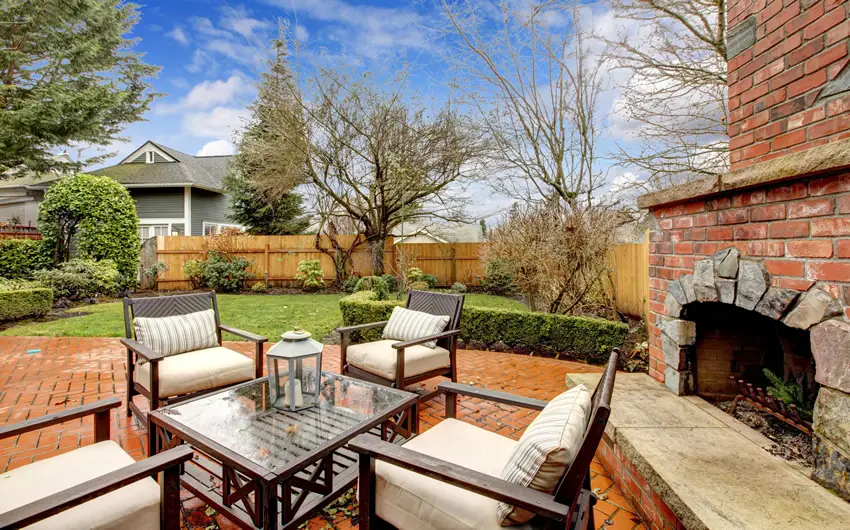 When looking for backyard fireplace ideas its important to think about what materials you would like for your base surface. This wide fireplace is made of brown brick stones. The base and jamb are of the same width, with the base slightly protruding, and is covered with a flat oatmeal colored stone.
The chamber is open with an arched opening with irregular gray stones around it. The jamb is topped with oatmeal colored stones as well, and extends all the way to a hood.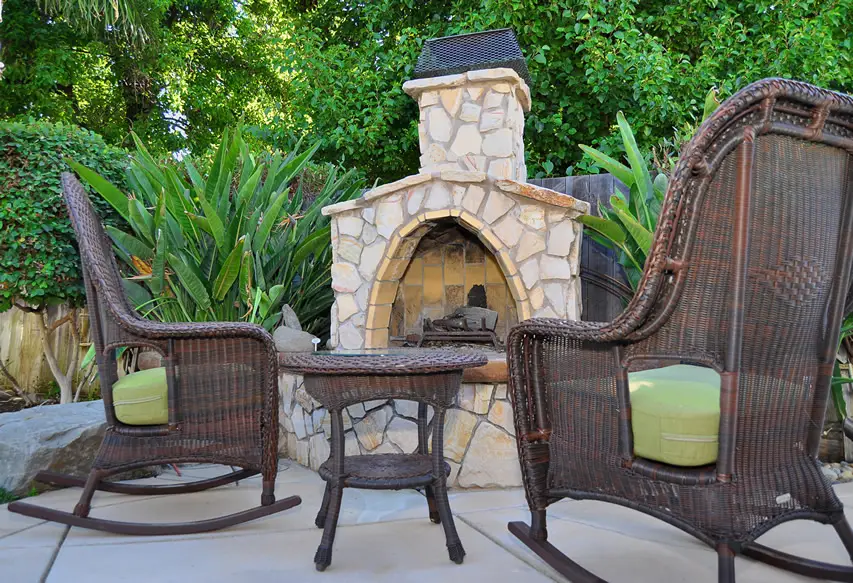 This fireplace is placed on the corner of a patio with a wider arched base and a house-shaped jamb that extends to a chimney. The fire chamber is open with an arched-shaped entrance. The exteriors are made of patch cream to oatmeal colored stones, while the firebrick back is covered with oatmeal to gray colored rectangular stones.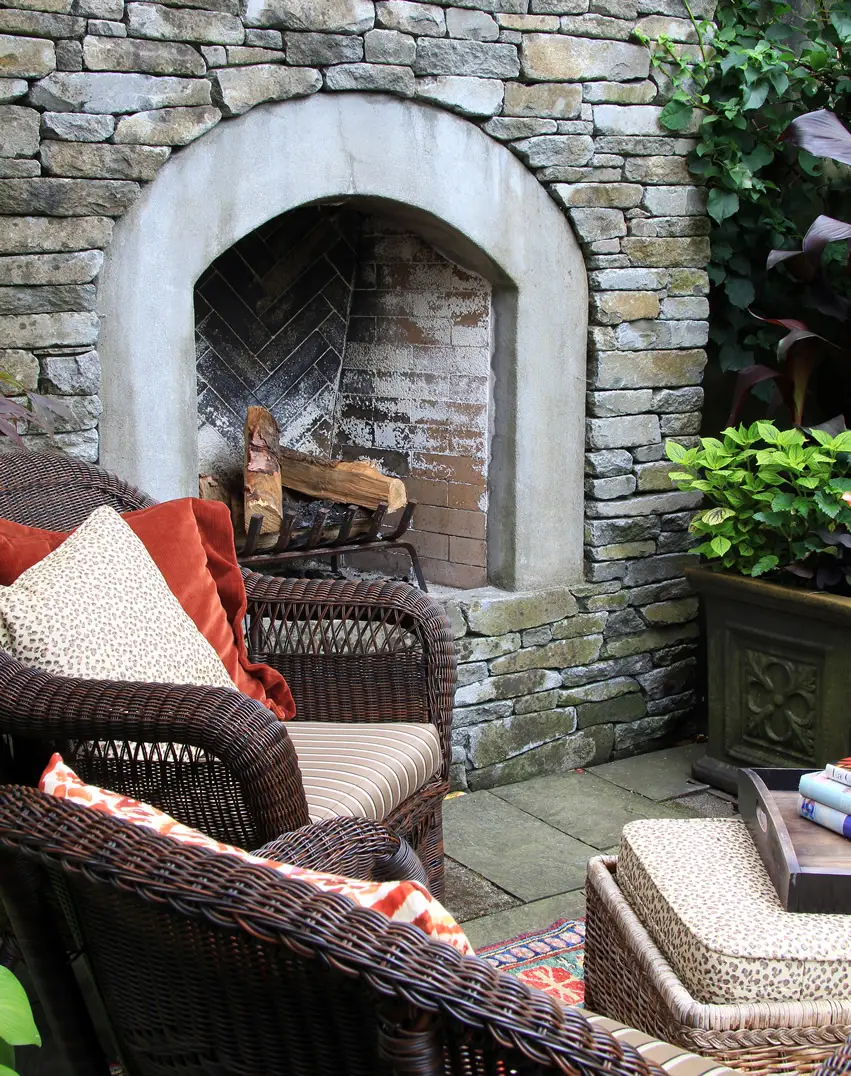 This fireplace is carved in a small space in a thick wall with a gray stone bricks cladding. The opening of the fireplace is arched and surrounded by a flat concrete gray frame. while the firebrick back is lined diagonally with rectangular stone tiles.
Due to the small carving, a metal piece holds the firewood inside, to make sure that none falls to the floor or goes too far from the fire place itself.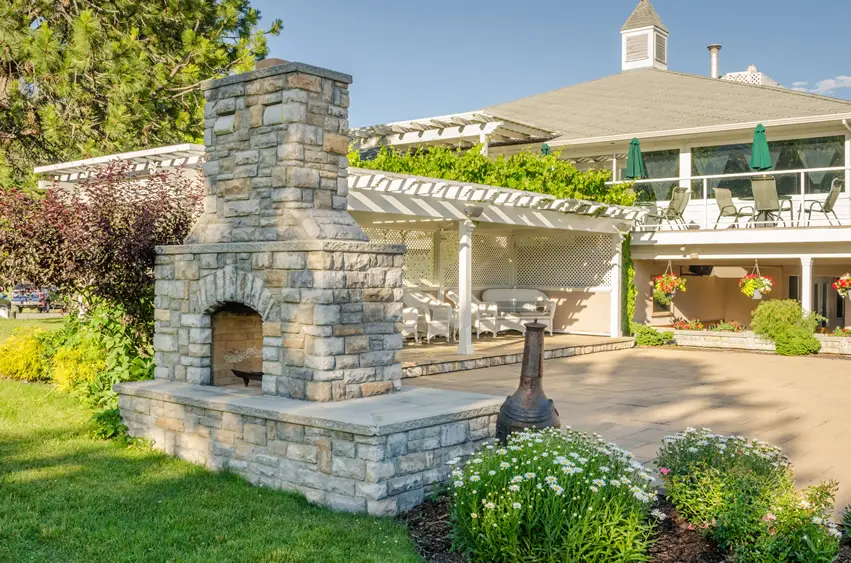 This fireplace is located amidst a garden and an outdoor patio. The base is wider on the sides of the jamb, a solid block that houses the chamber, with an arched shaped opening.
The mantel shelf is achieved with a narrower chimney, and the whole structure is covered in irregularly shaped brown and gray bricks in light hues.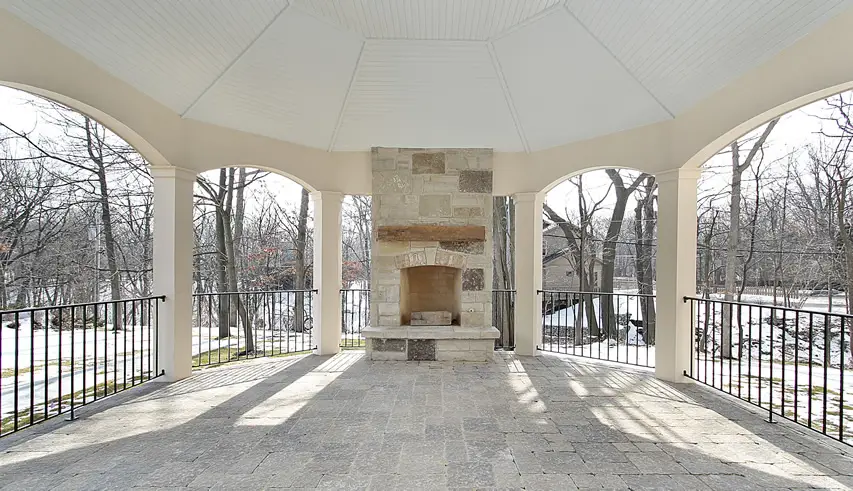 This fireplace is part of a large outdoor patio making up a gazebo design that has a very divine and pure vibe especially in winter. The roof is dome-shaped and covered in white panels, with arched openings that has the fireplace itself in the middle.
The fireplace is made of a straight block covered in big flat oatmeal-colored stone brick cladding with protruding thick stone tiles on the lower part for the base. The opening is rectangular with a lightly dome-shaped framing due to the irregular shape and sizes of the brick stones used for it.
The firebrick back is made of smaller rectangular tiles in the same color and the mantel shelf is a nice touch to the almost washed out colors in this space.