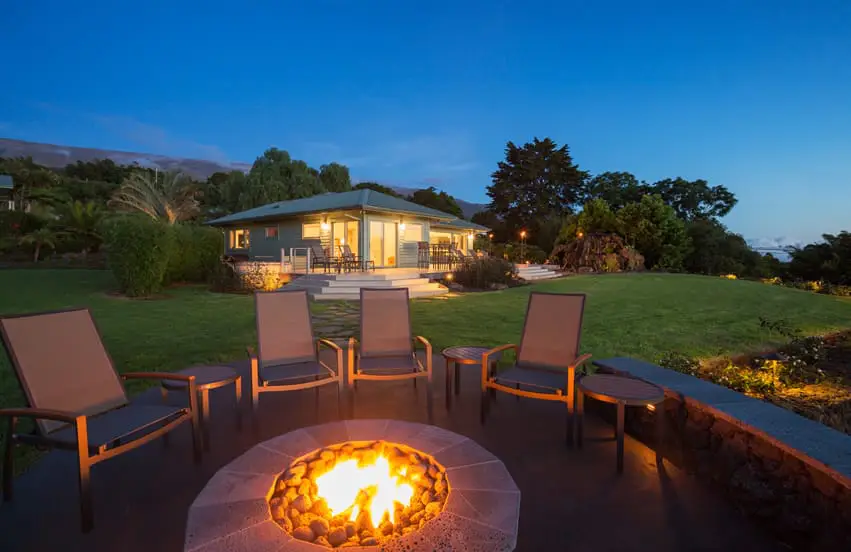 An outdoor fire pit can be a great way to bring excitement, warmth and atmosphere to your home's backyard, deck or patio area. Sitting around the fire with family and friends can be a lot of fun and add to the overall appeal of your backyard. Below are a variety of outdoor fire pit ideas you can use for inspiration for creating a backyard or patio you will enjoy at night. Many of these fire pit designs can be built at home or are available on the market for sale.
Here are a few of the best fire pits currently offered:
Gas fire pit – These types make it easy to get the ambiance of an outdoor fire without worrying about lighting the fire, firewood, or cleaning up piles of wood ash. They generally run off of liquid propane or natural gas.
Outdoor fireplace – These are typically upright fireplaces that look similar to a traditional stone or wood burning fireplace found in your home. They can be portable, or permanently fixed. There are a popular choice and can run off of wood, or natural gas depending on your choice.
Fire pit table – These outdoor tables are usually rectangular in shape with a fire pit running the length of the table with a rim around the edges. They can add a stylish flair to an outdoor space and are often used on restaurant, or hotel terraces.
Wood burning grill – Designing especially for fire pit cooking this type has a large grill grate that is positioned above the firewood embers. They often come equipped with a rotisserie device to roast meats over a hardwood fire for a great tasting meal.
Cast iron fire pit – Cast iron is a popular choice for outdoor fire pits as in is a relatively inexpensive material that is long lasting and durable.
Copper fire pit – Copper is a material that holds up well for fire pits and its attractive color makes it an appealing choice. They are very durable and come in a variety of sizes and styles.
Sojoe fire pit – This is a popular brand of portable fire pits that is very popular. they are crafted with thick steel and often feature a variety of shapes and styles including designs like stars, moons, and wildlife. Definitely, more on the premium end, but a popular choice among homeowners.
Chiminea – This enclosed outdoor fire pit typically features a tall chimney top. They come in a variety of styles and materials. There is even a Spanish style chiminea made from terra cotta.
Custom fire pit – Professionally designed fire pits can be careful crafted to match the theme and style of your home. They can run from inexpensive to extravagant. Many local contractors can do this type of work to get you the exact look you desire.
Brick/Stone fire pit – These types of brick or stone fire pit projects are often completed by home owners who want to custom build a pit to their own specifications. By following available fire pit plans one can create the perfect backyard retreat suitable for outdoor grilling or putting the feet up to relax.
Cheap fire pit – These home made fire pits can be designed by using stone, brick, cinder block or other materials that hold up well in the environment. An even easier way for do-it-your-selfers is to dig a depression in the ground that has non-flammable dirt, or gravel and create a ring of stones to hold the fire in. Cheap fire rings can be simple and inexpensive to create and be as big, or small as you want.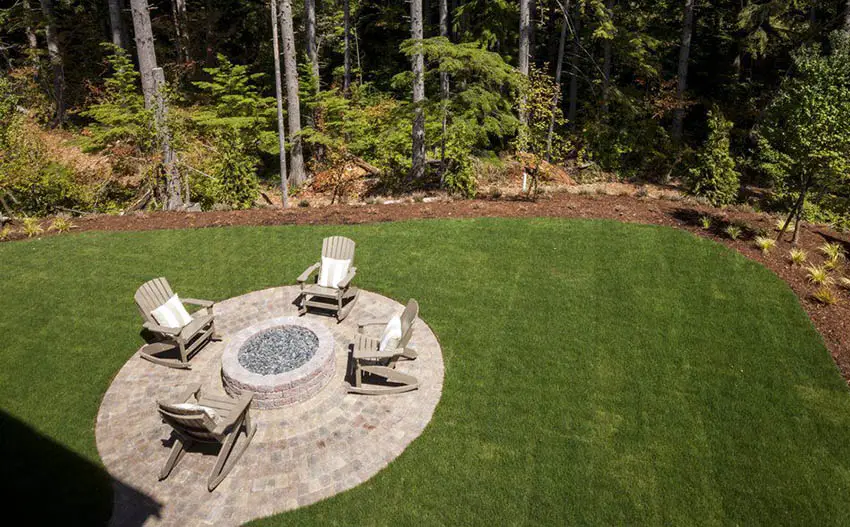 This rumblestone patio with circular fire pit creates an inviting spot to hangout and socialize with friends and family. See more backyard patio designs here.
Fire Pit Designs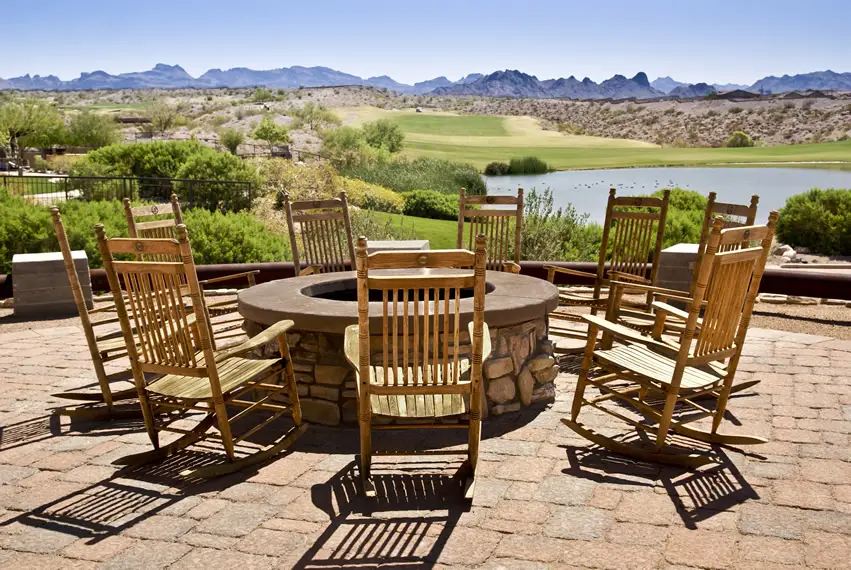 Since it is circular in form, people who sit around this fire pit are more likely to initiate conversation with one another. The thick rim or edge provides surface to put things or your feet on to relax. The fire pit shown above is made of stones and cement and uses firewood as fuel, and is a classic example of a stone fire pit.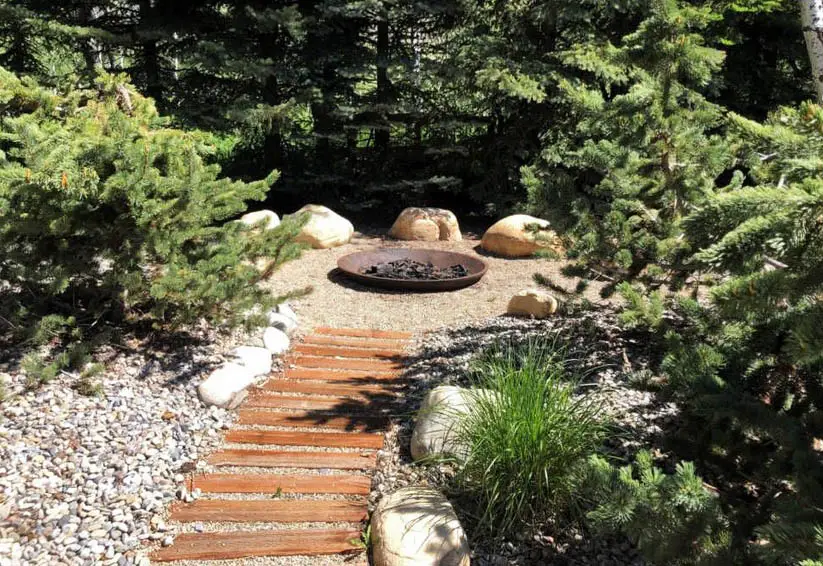 This inviting backyard features a gravel patio sitting area with large boulders and a copper fire pit. Wood planks partially buried in the ground provide an enchanting walkway to the gathering spot.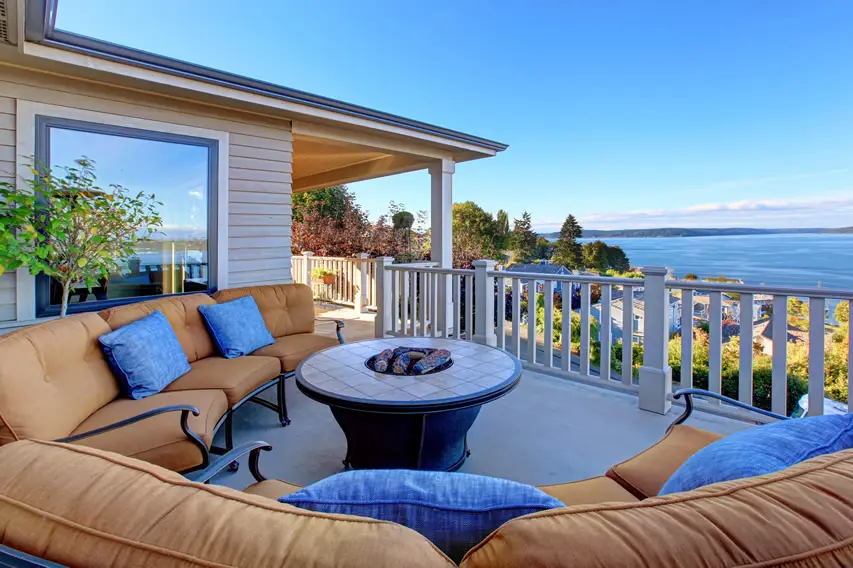 A circular fire pit table adds style to this porch. With the fire pit in the center of the table, it leaves the rest of the table top free for your use. The table top is made of tiles, which makes it easier to clean. The feet of the table takes the shape of the base and is made of iron. this is probably one of the easiest outdoor fire pit ideas to implement as this design is portable and can be positioned practically anywhere you want.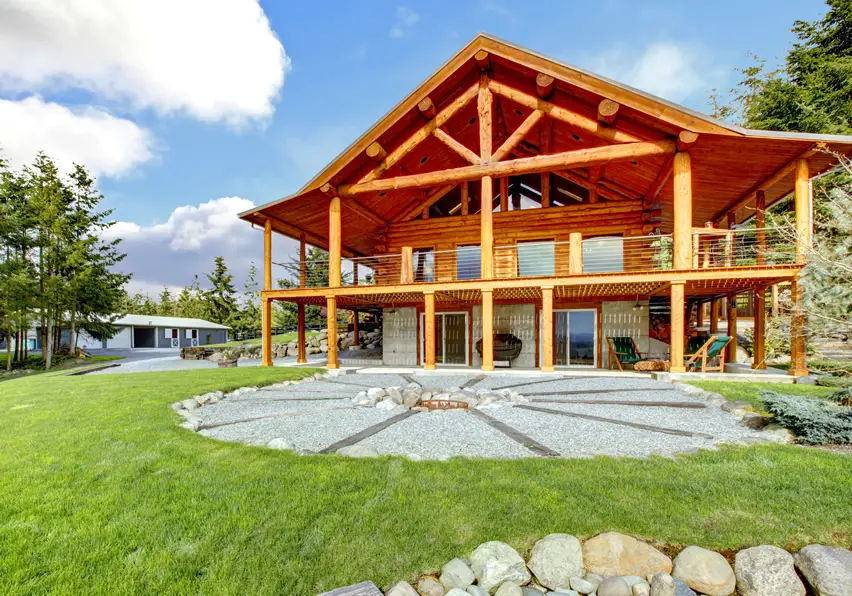 You can choose if you would like to stand or sit around this kind of gravel patio fire pit. It is great for a big occasion or fellowship. The fire pit is in a depression of the ground on the center and uses circular iron fence inside to hold the firewood and contain the fire within the center without touching the edges. Gravel is used to create the circular form while boulders are used to define the outer and inner edges, and wood panels are used to create divisions within the circle. The wood panels are also used to give focus to the fire pit in the center.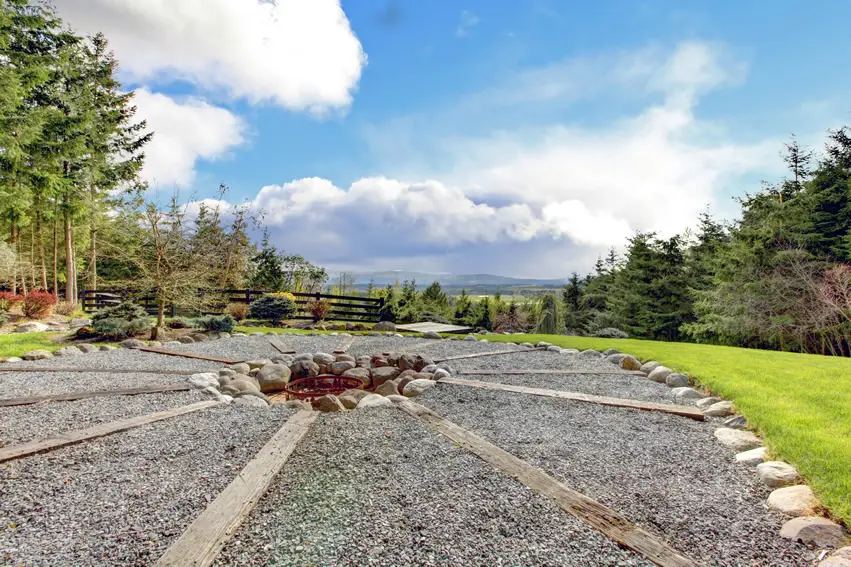 This fire pit's design is the same as the one above with a different perspective. The only difference is that the one before is adjacent to the log house thus giving the house ample focus. However, this fire pit is positioned so you can enjoy the scenery as well the warmth of the fire.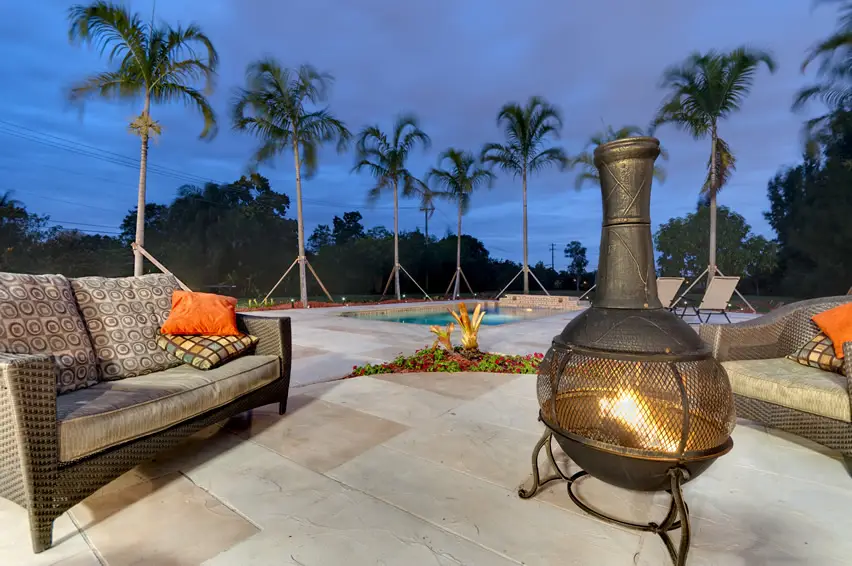 This fire pit has a spherical body made of iron with stylized iron legs. The body is open in the middle but is covered with an iron screen so that you can still see and feel the warmth of the fire. This pit uses firewood as its fuel. An example of a chiminea, this fire pit showcases an iron chimney top. The chimney's function is to lead the smoke up and not to the people sitting around.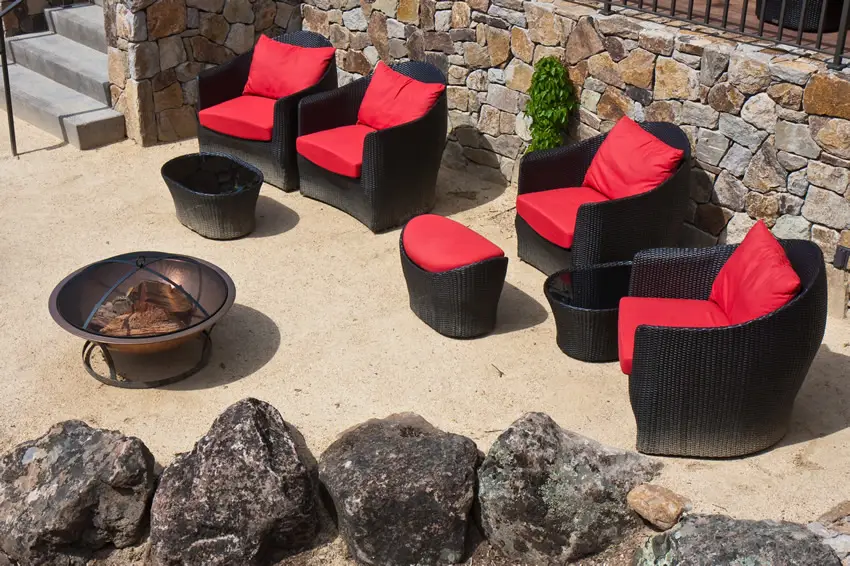 The body of this fire pit is similar to a basin, which is then held up by iron legs with a circular base. The body is made of copper and is covered with iron screen. The screen's function is to keep ashes and embers inside the pit.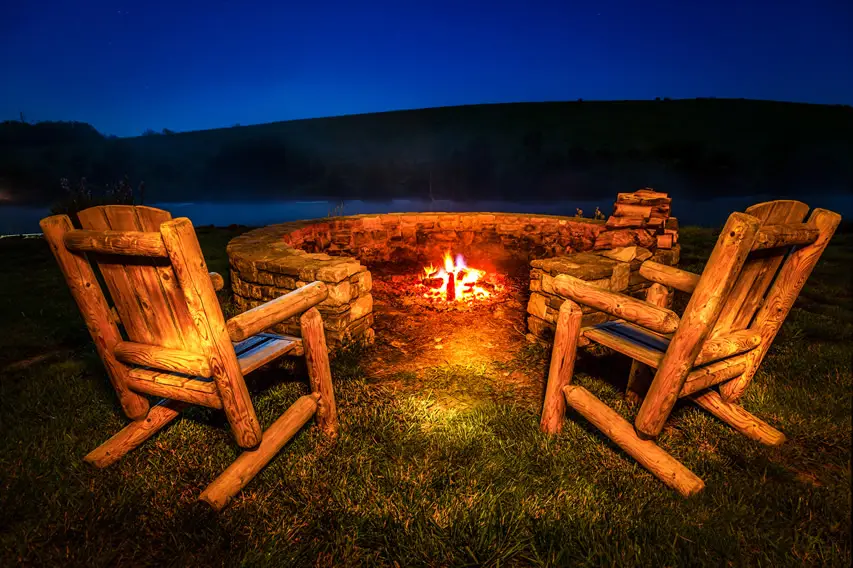 Made of stones, this outdoor fire pit is a great way to enjoy a country side's scenery. This circular fire pit has an opening in one side so you can enter and change or add firewood and also be able to clean ashes. It also has a thick rim to place belongings, food, and firewood or even put your feet on. This type of outdoor structure can be an inexpensive way to transform your living space in to one your whole family will enjoy for years to come.
One of our simple DIY outdoor fire pit ideas is similar looking to a well. The fire pit is made of concrete bricks and has boulders around it for emphasis and additional design style. The pit is then filled with dirt and then have the firewood sit on top of the dirt. this is also an example of a cheap fire pit that can be constructed quickly without any experience.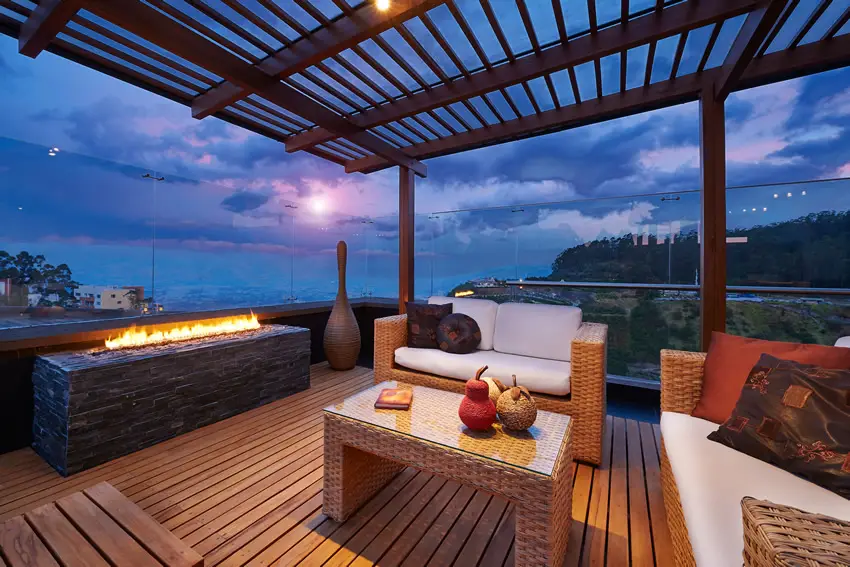 This pergola fire pit table is contemporary in design so as to complement the interior. However the interior uses natural materials so the table also used a natural material, which is stone or slate. The pit runs through the middle of the table and may use natural gas as fuel.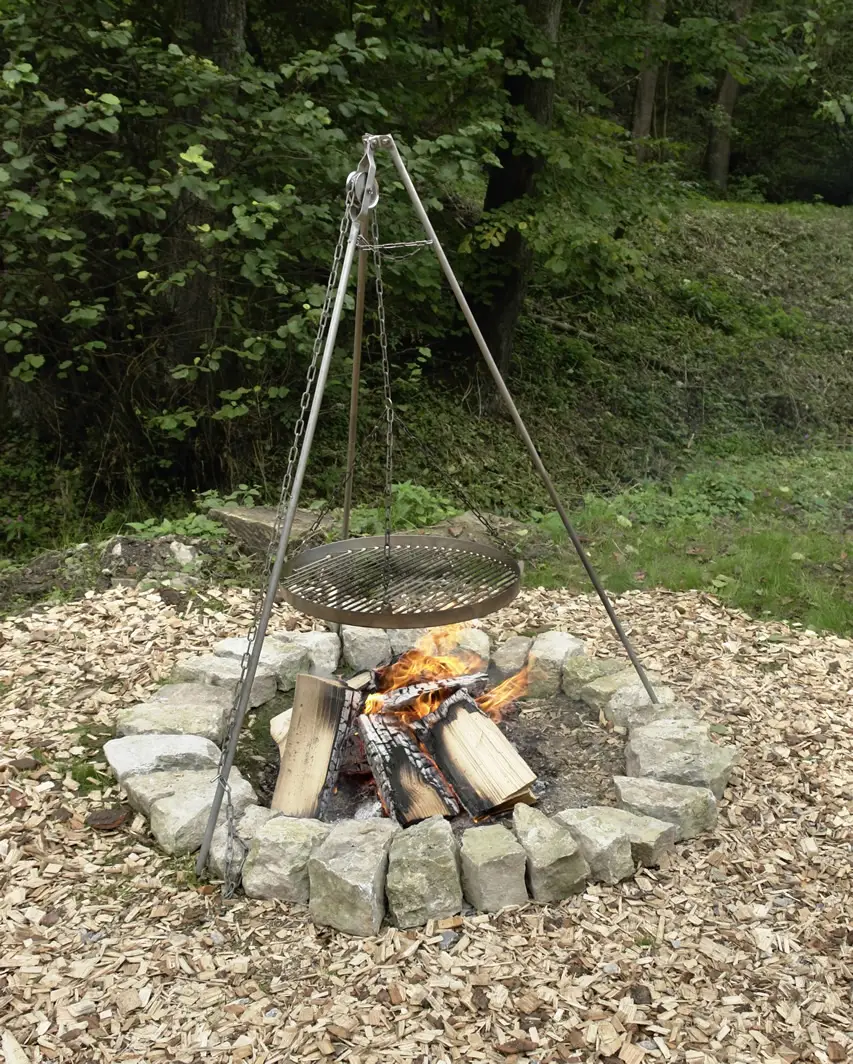 An example of a wood burning grill. The grill is made of iron and is held by chains and a pulley which enable you to adjust the distance between the grill and the fire. The fire pit is circular in form and has rocks define the perimeter. This design can only have firewood as its fuel.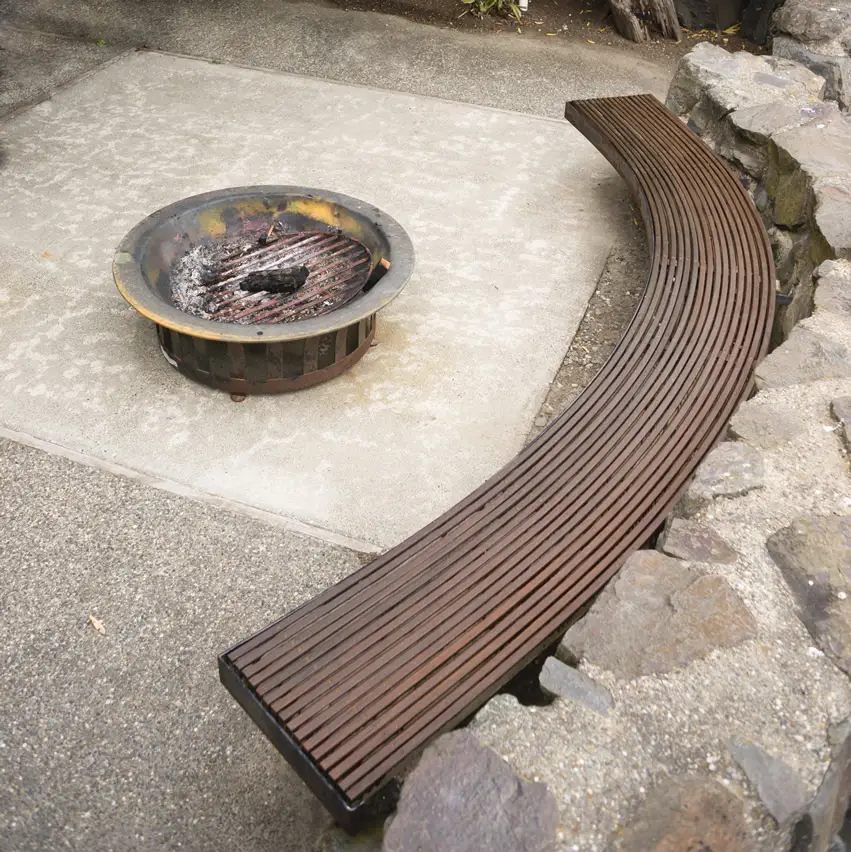 This is an example of a copper fire pit. The body's design is again similar to that of a wash basin. However, this design uses a rack at the bottom of the body to hold the firewood while the ashes drop off the rack. To clean the fire pit of ashes you only need to lift the rack so you can easily take the ashes collected under the rack. The rack holds any big pieces of firewood so you can use it again next time and saves you time in sorting out the ashes and leftover wood. An interesting curved bench made from small wood slats against a stone wall makes a great spot to sit and relax.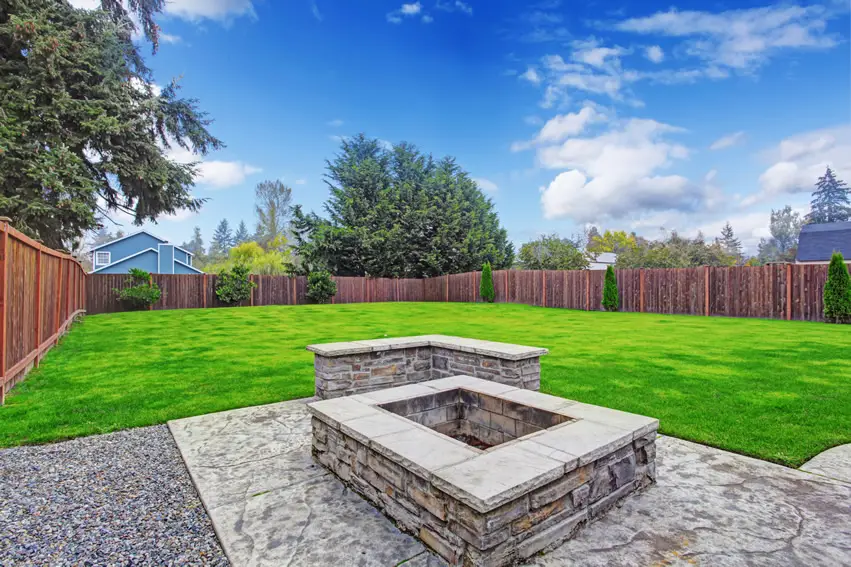 This outdoor fire pit is made of stones and rectangular in form. It uses firewood as fuel. The base is made of stones of different shapes, color and sizes, whereas the top is made of white cut stones. Complementing the design of the pit is a bench made of the same design placed by the corner.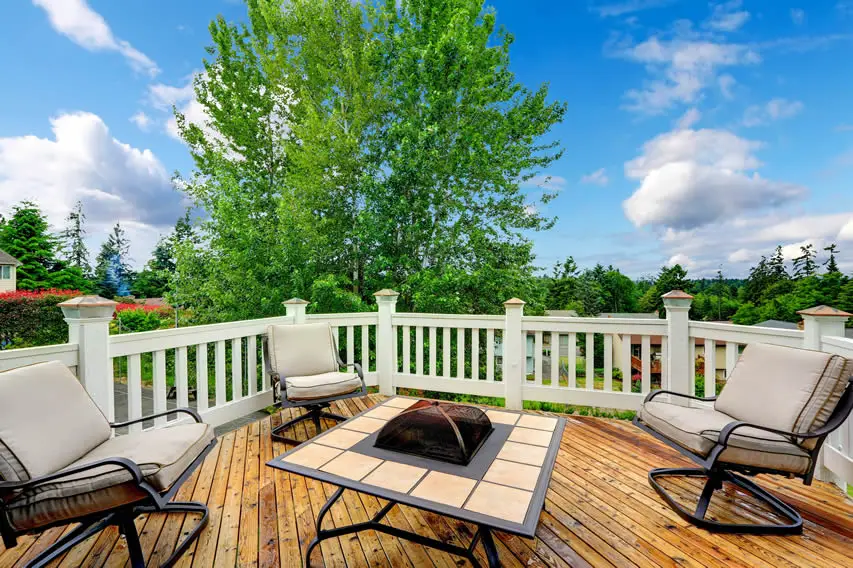 This is a square fire pit table and has iron legs. The fire pit is in the center and is slightly recessed on the table. It is then covered with an iron screen to prevent ember going out to the remaining surface. The table top is designed with square tiles for easier maintenance. See pictures of more wood deck design ideas on our gallery page.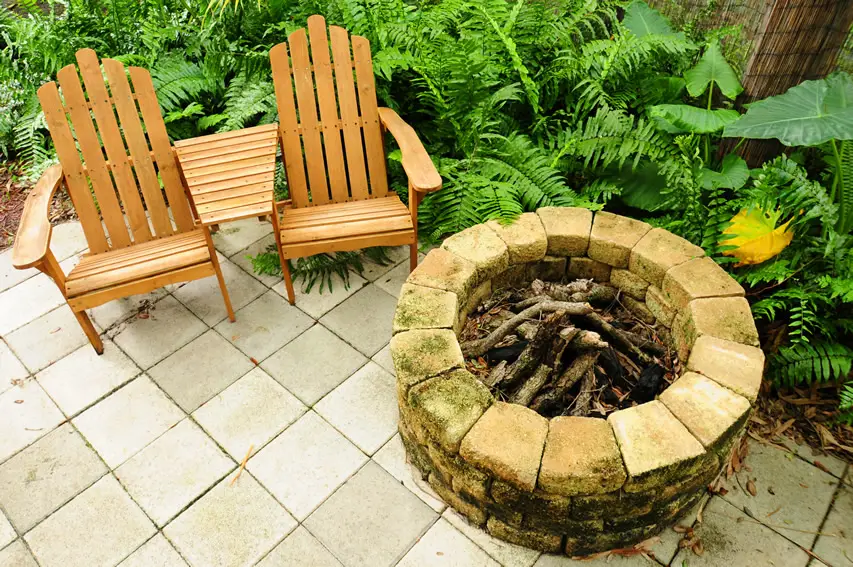 An inexpensive fire pit using cut stones put on top of each other forming a cylindrical shape. The center is then filled with non-flammable dirt and then firewood is added on top. This fire pit would be great in spaces with a natural design like gardens or backyards. The Adirondack chairs make it easy to sit back and kick up your feet.
A contemporary take on a fire pit design. This pit has a big circular plate as its top with a recessed center. The firewood is then place on the center. The top is held by a cylindrical shape acting as both body and legs. Great for stylizing outdoor spaces.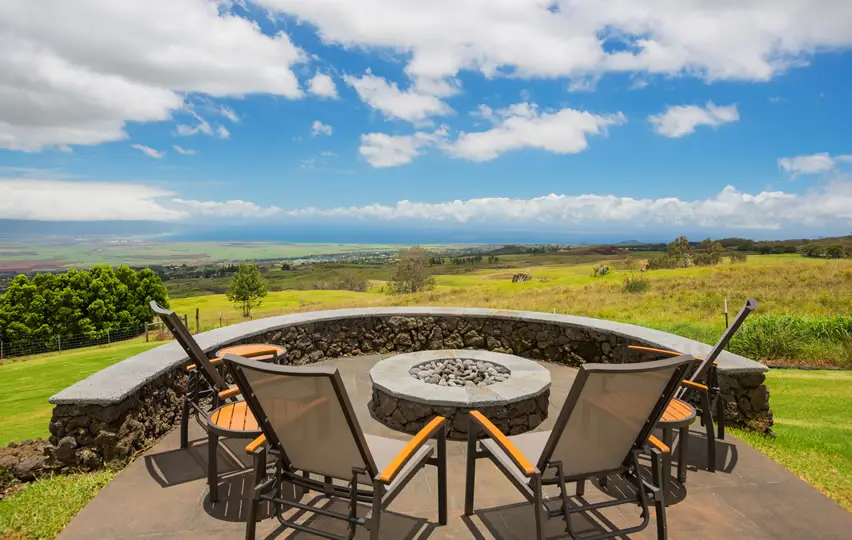 Made of stones and rocks forming a cylinder. The rocks are used as body and cut stones are used as edges or rim for a flat surface. The center is then filled with pebbles or rocks where the firewood can be placed. These kind of fire pits are best used for outdoor spaces.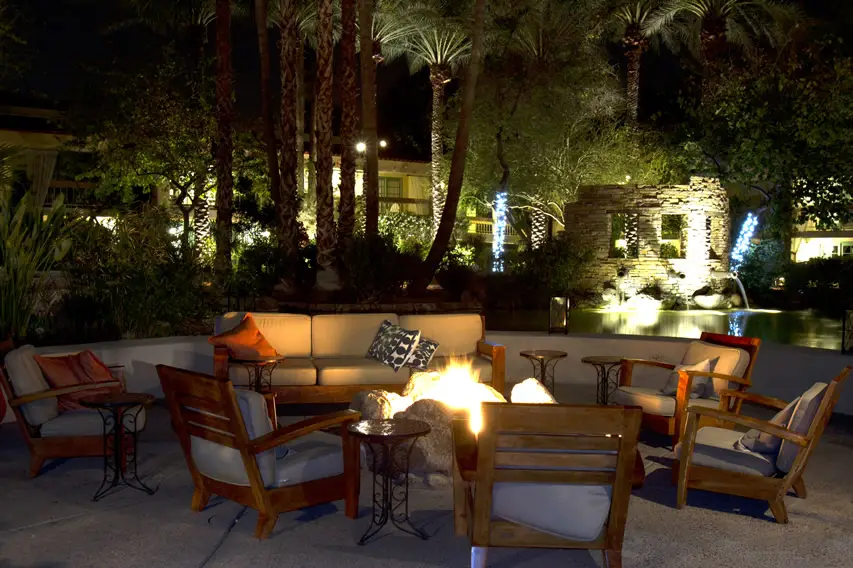 A custom fire pit used to complement or satisfy your ideal space design. This fire pit uses natural-cut boulders placed in a circle to indicate the space for the pit. Often used in upscale resorts and rental condominiums this designs adds a lot of ambiance to an outdoor area. This design additionally gives a more natural feel to your space.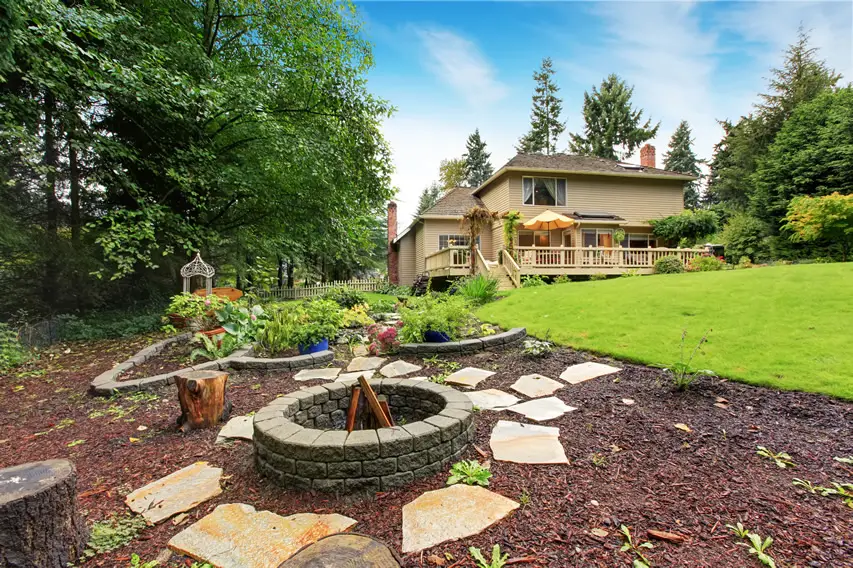 Using cut stones to create a well-like structure will create walls for your pit. Surrounding the pit are irregularly cut stones that serve as steps. This is a great addition to your garden if you would like a more natural garden or backyard design. This design is inexpensive to create and can really add to the enjoyment of your backyard.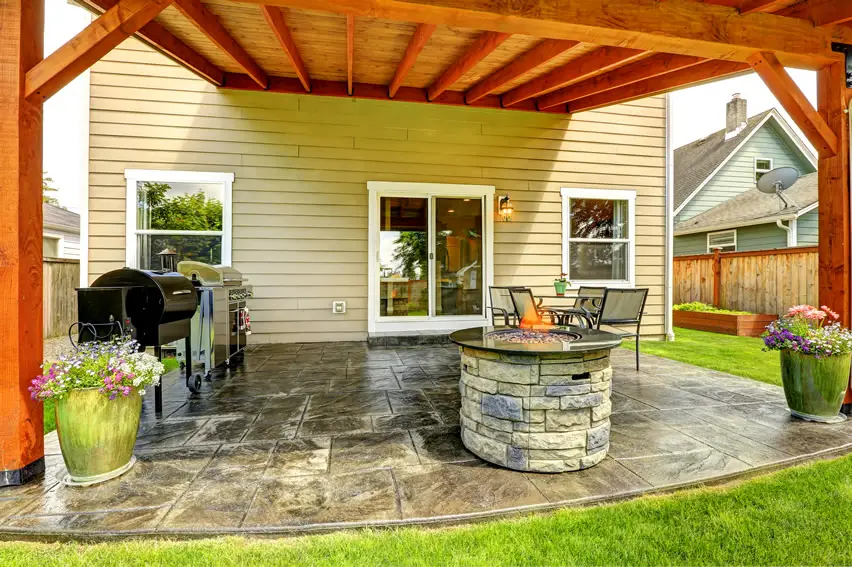 This circular fire pit tables uses natural gas as fuel. The body is made of stones forming a cylinder which is then topped with a glass top. The fire pit is in the center of table which is also circular in form and is filled with non-flammable pebbles or rocks.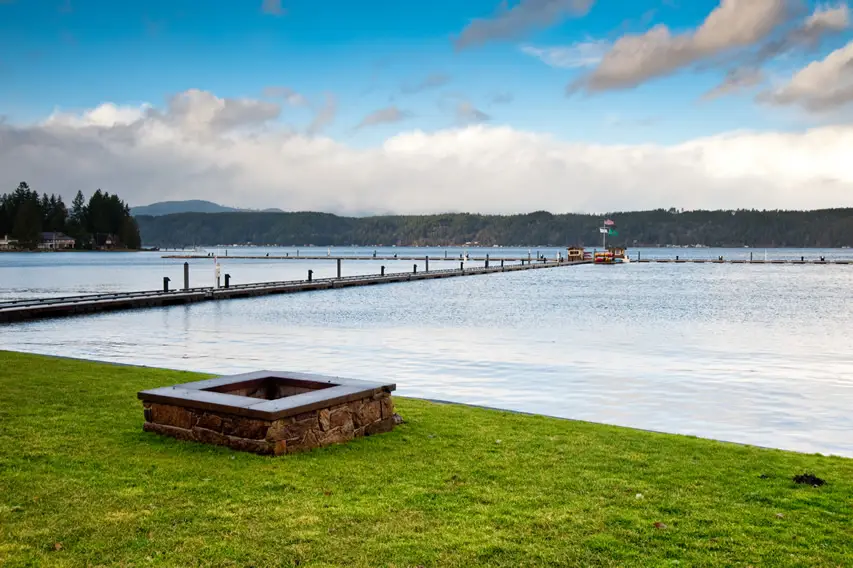 Imagine sitting around this fire pit to enjoy the view of the lake. You can either sit on the grass or bring your own chair and relax. The cut stones are randomly put together and create a quadrilateral form. The rim is made of clean cut stones so as to have a flat and even surface. The fire is perfectly contained and creates a really attractive night-time glow over the lake.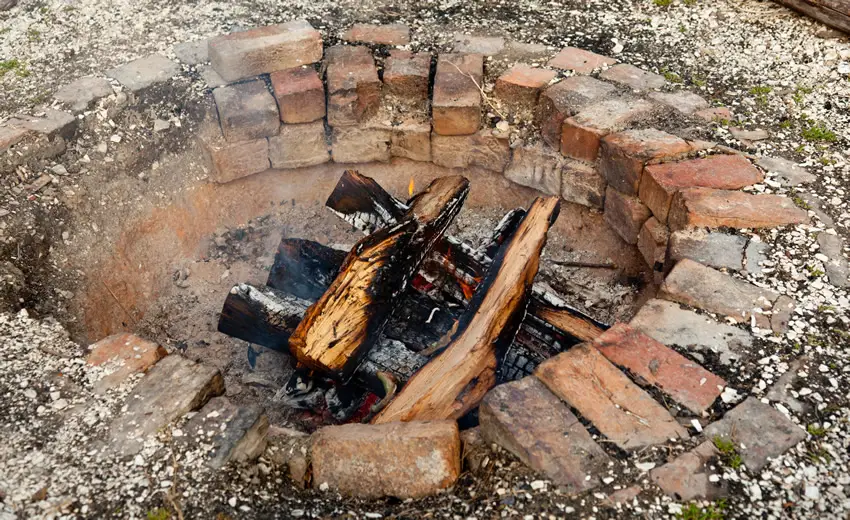 A depression on the ground which is lined with bricks at the edges. The base of the depression is lined with stones as well. You can cook on or just relax around this fire pit. This is probably one of the simplest types of outdoor fireplaces one can create easily in their own backyard.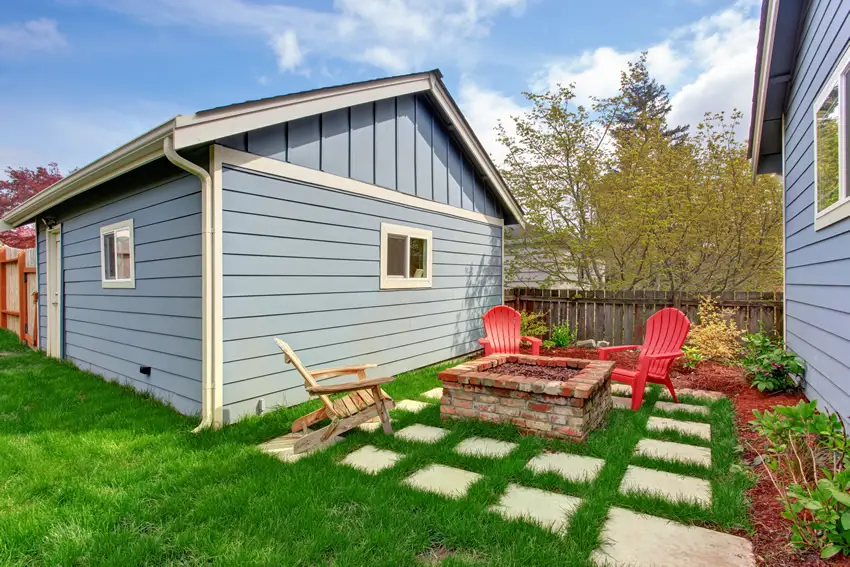 This pit is made of bricks and filled with rocks or dirt in the center. Because it is of a quadrilateral form, it is easier to create a symmetrical design of the backyard space you decide to put the pit in. Stone pavers with grass running between them and placed in a pattern around the pit add to the charm. You can start the fire by placing firewood on the center and then sit back and relax around the warmth of the fire.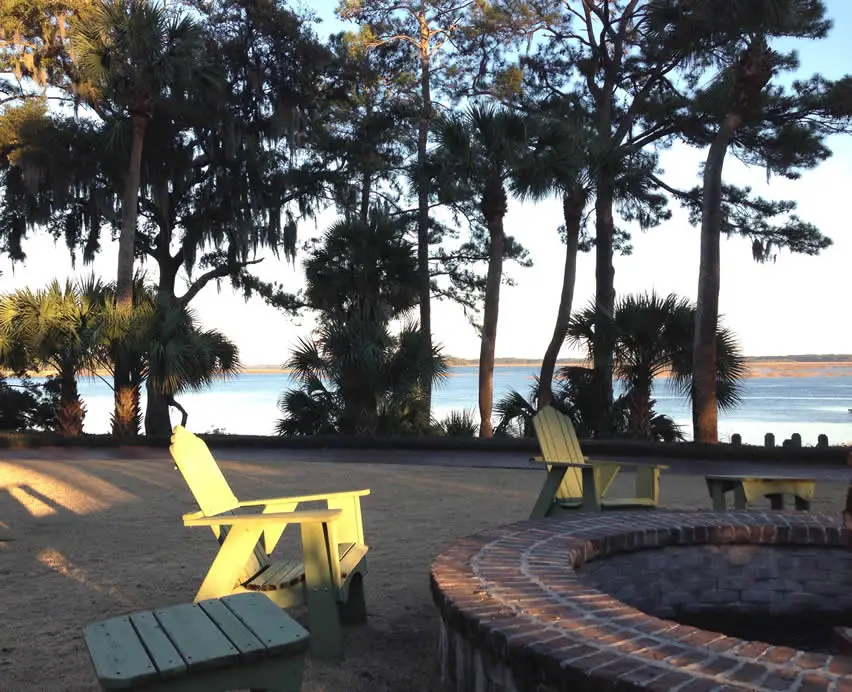 A fire pit by the ocean is a great way to just relax and chat with other people while enjoying the cool sea breeze or relaxing sound of the waves. The pit is made of bricks placed in a circle. The body used white bricks while the rim used red bricks. This brings emphasis on the rim and not the body or the base.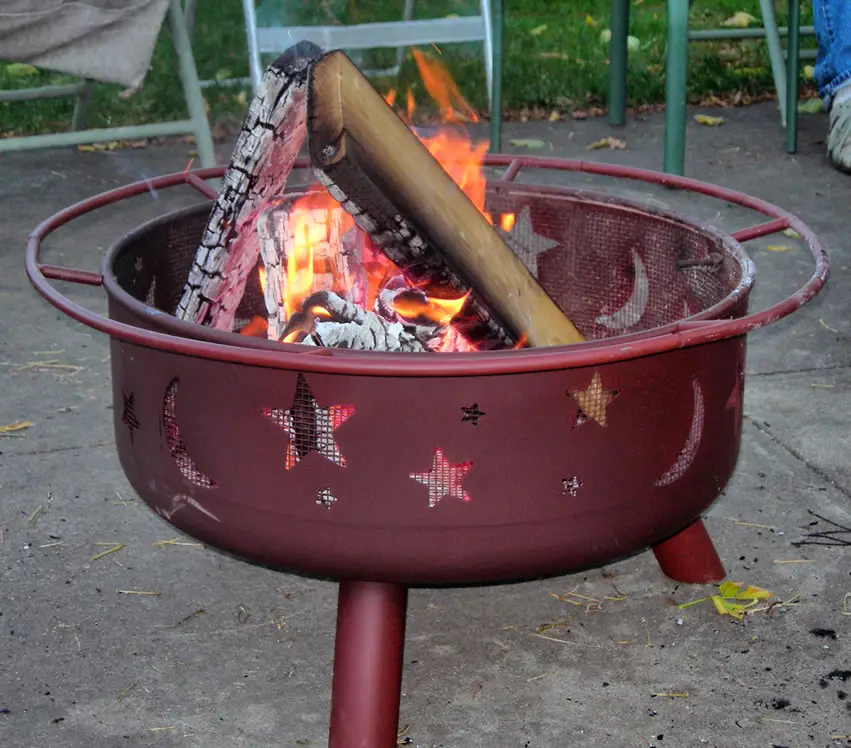 An example of a sojoe fire pit. It is made of thick steel. The body is designed with moon and stars, it also has three cylindrical legs, and at the rim is an outer circular ring which serves as the pit's handle for easy transport. The body is lined with a screen so ashes or ember will not escape the pit through the sides.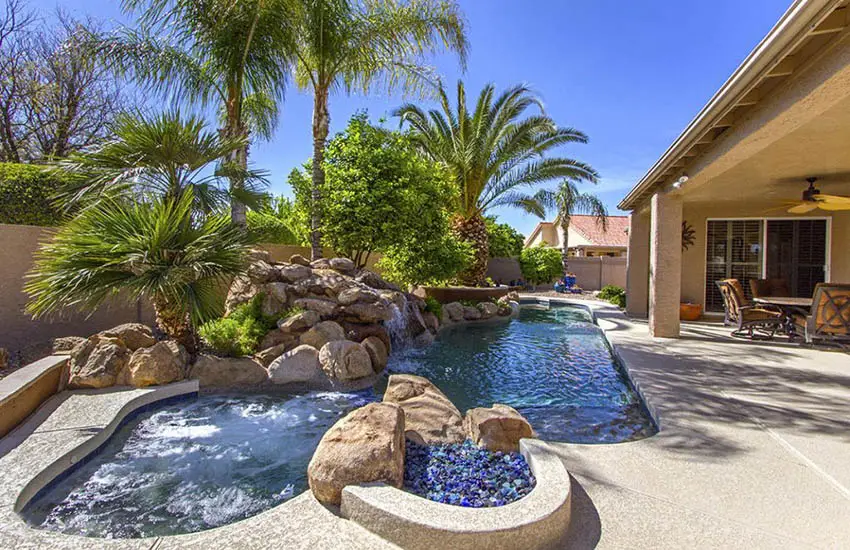 This unique custom swimming pool design features a built-in gas fire pit with glass rocks and a border of natural stones. Pool fire pits make interesting water features that enhance a backyard's ambiance especially at night.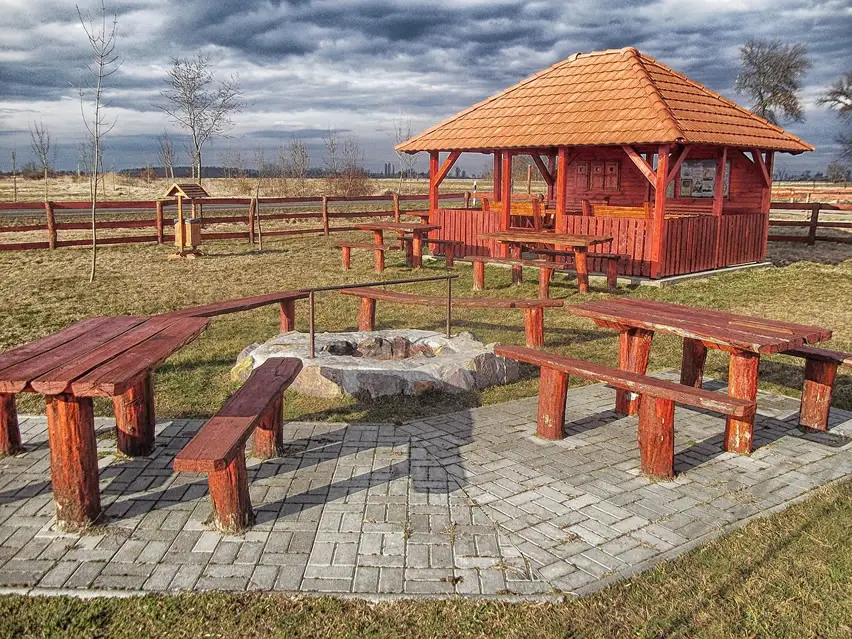 This fire pit is great for camping sites. The fire pit is indicated by the boulders in a circular form. The borders are then poured with cement or mortar to keep them together and also to create an even surface so you can place things on. Over the pit is an intersecting metal rod which can be used for hanging pans or grills for cooking.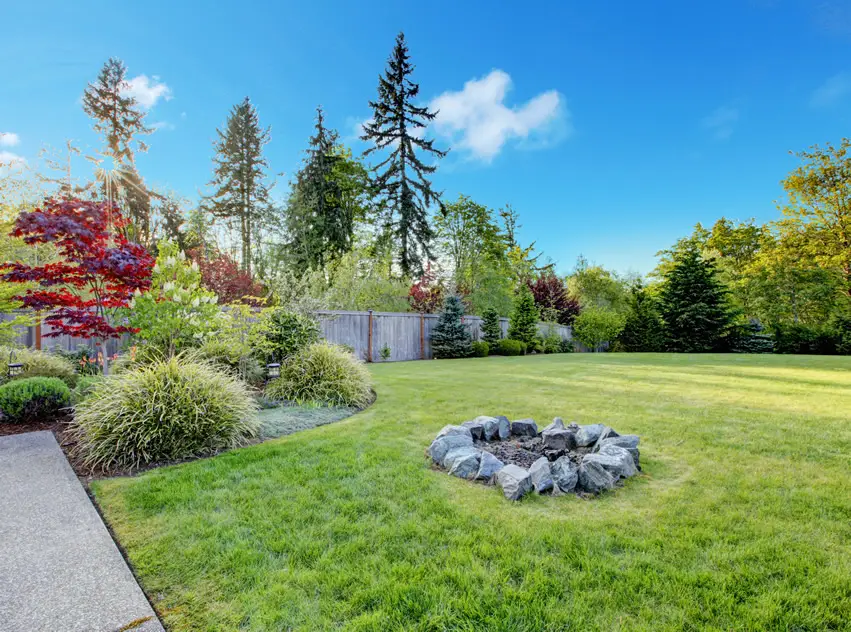 Some of the easiest outdoor fire pit ideas consist of using regular rocks arranged in a circle in a designated place in the backyard. Using boulders to indicate the space for the fire pit in a grassy area, the center is filled with non-flammable dirt and stones. This makes a great spot for family hangouts and socializing in the backyard. This kind of fire pits is suitable for big outdoor activity spaces.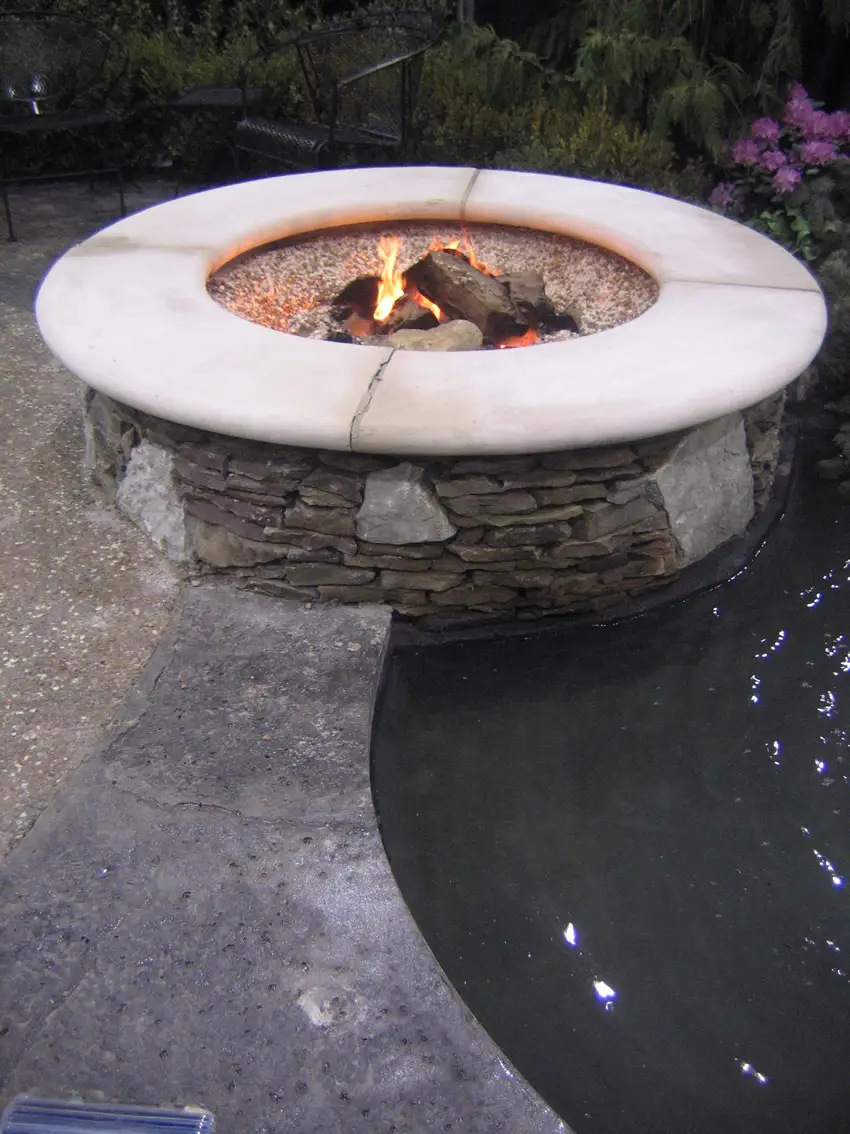 Using contrast as the main design element, the base is made of irregularly cut stones while the edge is made of smoothly shaped stones. Also half of the water feature fire pit is in concrete or stones while the other half is in water. The center is shaped like a basin and is made of pebbles. See more custom garden water feature designs here.