See the best material for outdoor rugs including what they're made of, the best rug options that resist odors, rain, mildew, and provide UV resistance.

Each spring, you take a walk outdoors and make plans to renovate your porch and other outside spaces. You want your outdoor living space to be as attractive and inviting as your inside, from outdoor sitting spaces to dining tables. You can create an outside setting as welcoming as your house using outdoor rugs.
You may not think of placing a rug out on your patio right away, but it can help anchor a sitting area and give it a feeling of comfort. Rugs are an excellent way to tie a room together. It can withstand rain, sunlight, and the weather while still looking beautiful.
However, you don't want to use just any rug in an outdoor setting. That is why outdoor rugs are inexpensive, fashionable, long-lasting, and designed to withstand the weather while providing comfort underfoot.
What Are Outdoor Rugs Made Of?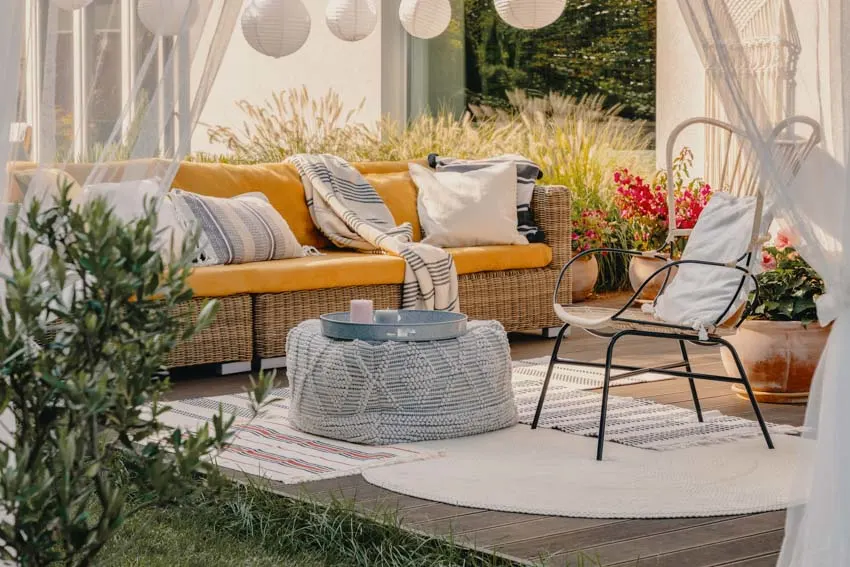 Outdoor rugs, unlike interior rugs, are composed of materials that can resist the weather, which is why you should never take indoor rugs outdoors. They also keep up well in high-traffic regions due to their sturdy materials.
Outdoor rug materials come in various forms, and the one you choose will depend on where you want to use the rug and how you want it to look. You may use polyester, nylon, polypropylene, and other materials. Most of them are also mildew and mold resistant and can withstand wear from UV radiation.
Typically, synthetic materials or plant fibers make the most of outdoor rugs. Plant fibers such as hemp, jute, sisal, and seagrass are popular alternatives for outdoor rugs since they are long-lasting and environmentally friendly.
They are also stylish, cost-effective, and low-maintenance. Although outdoor jute rugs, unlike other natural fibers, should be put on covered types of patios or porches since moisture, mold, and mildew can harm them.
Polypropylene and polyester, both artificial fabrics, are more popular for outdoor rugs. Polypropylene rugs are exceptionally stain-resistant and long-lasting.
Most polypropylene outdoor rugs are UV resistant and dyed in various designs and colors. Polypropylene rugs are a comfortable option that is also inexpensive.

Best Outdoor Rug Material for Odors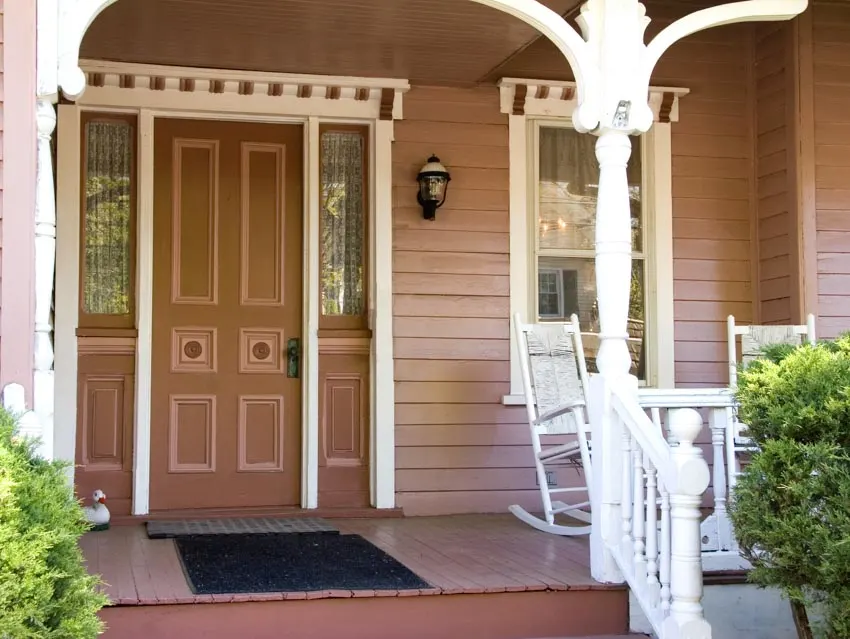 Polypropylene, acrylic, polyester, and other synthetics are the best outdoor rug materials for odor. Amazingly, outdoor rug options have advanced to the point where it is now possible to buy rugs resembling other materials such as jute or wool.
Choose an outdoor rug made of 100 percent heat-set polypropylene if you want maximum resilience and a high-end aesthetic. Polypropylene is, however, incredibly combustible due to its chemical nature, so they keep them away from sources of intense heat, such as fire pits or barbecues. See our comparison of polypropylene vs wool rugs here.

Best Outdoor Rug Material For Rain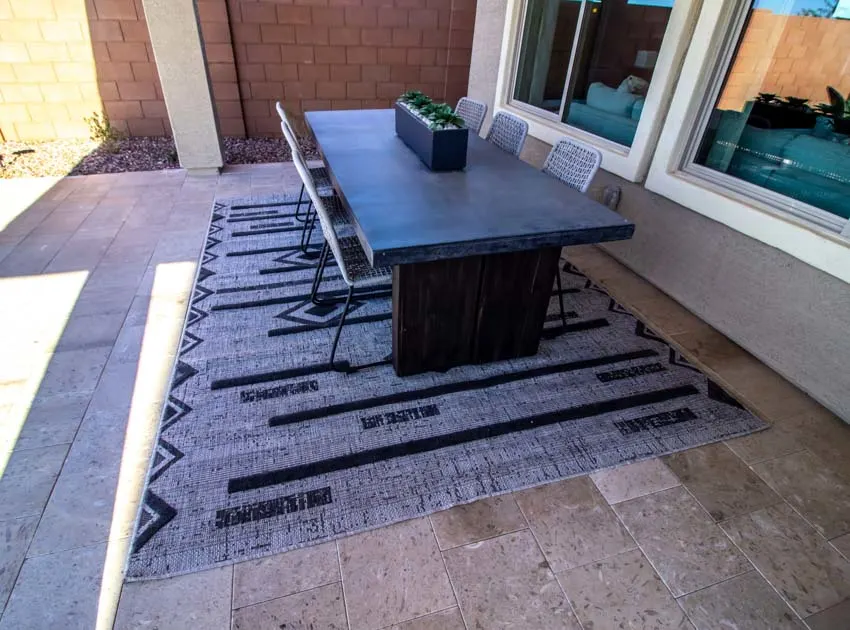 Like interior area rugs, outdoor rugs are both practical and fashionable and are often composed of materials that can withstand various weather conditions, such as rain.
Outdoor rugs made of polypropylene (also known as olefin) are synthetic textiles that can withstand high wetness and foot activity. Polypropylene is a lovely waterproof outdoor carpeting because of its ability to absorb water.
Polypropylene is stain-resistant, simple to clean, does not fade in the sun, and can withstand wetness and foot traffic. It is solid and long-lasting, but not at the expense of comfort! These carpets have the same sensation underfoot as natural fiber rugs but are less expensive.
Mildew Resistant Outdoor Rug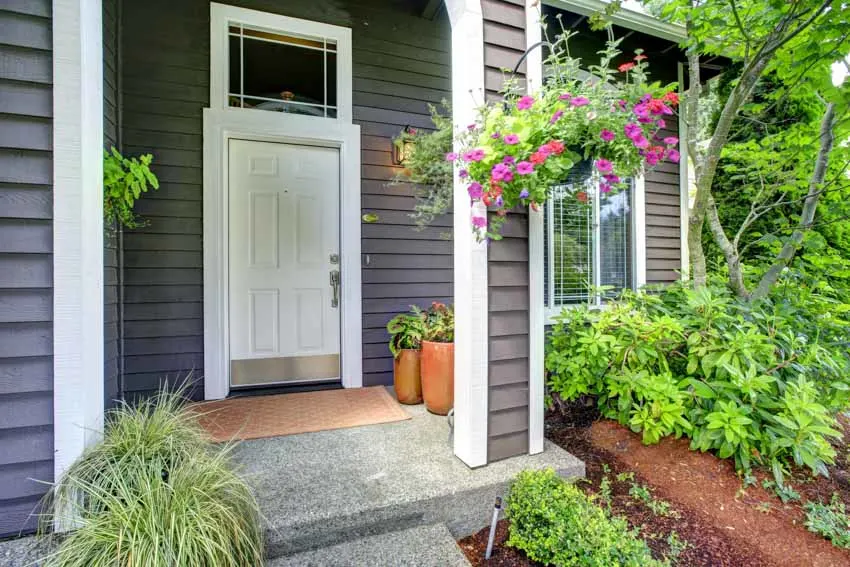 Most outdoor types of rugs made from polyester, nylon, and polypropylene are mildew and mold resistant. Polypropylene, resistant to stains, mildew, and mold, is used to weave most synthetic outdoor area rugs. It doesn't absorb water, and the UV treatment prevents fading from sun exposure. It may be cleaned with a hose or bleached without causing damage to the rug.
To avoid outdoor rug mildew, make sure it is thoroughly dry before putting it back. Roll it up and keep it in a safe location during harsh weather or when you will not be using it for a long time. These can help keep your outdoor rug looking fresh for a long time.
Mold may grow when the soil settles to the bottom. Drying your rugs in the sun or using a wet-dry vacuum to suck out dirt and moisture can keep them mildew-free. However, you should not use a dryer to dry your carpets. The heat may be too much for the carpets' natural fibers to handle.
Best UV Resistant Material For Outdoor Rug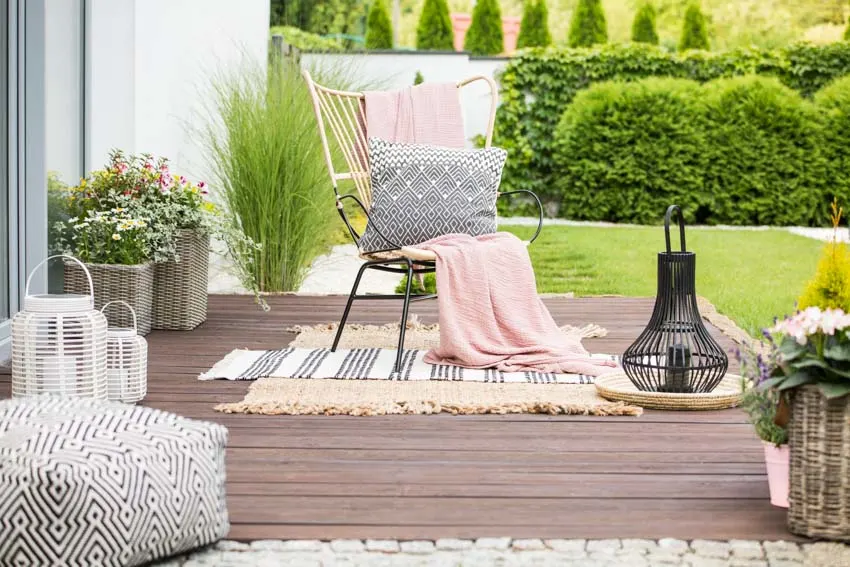 Polyester, acrylic, and polypropylene are the finest fade-resistant rug materials. They keep their colors for a long time. When coated with UV protection, they can withstand the sun even better, allowing you to enjoy its brilliant appearance year after year. Keeping your outdoor rug out of direct sunlight is still the best method to protect its appearance.
You may lay these outdoor rugs under a patio dining set with confidence because they are stain-resistant and low-maintenance. They are lovely outdoor rugs with various fashion-forward alternatives that you can enjoy season after season.
Best Material For Indoor/Outdoor Rugs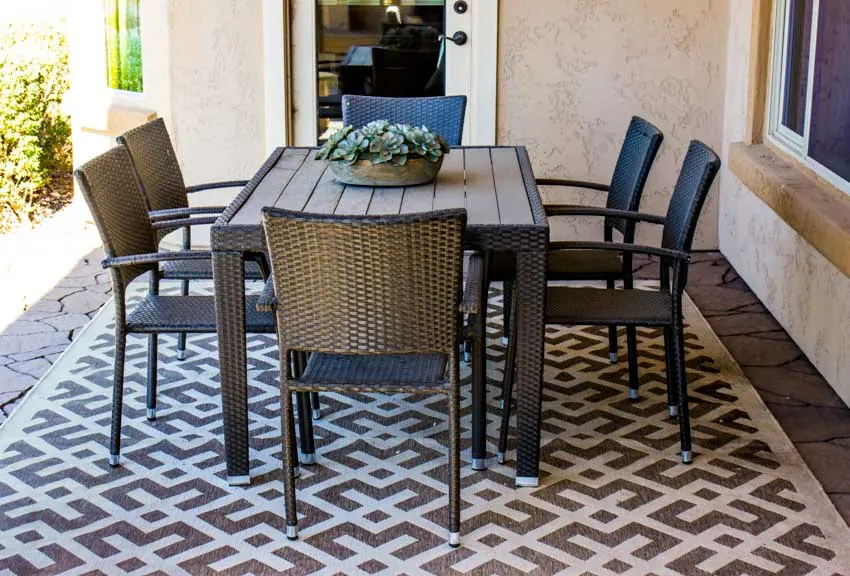 Outdoor rugs come in various textures, colors, and designs, but they are not only for decoration. They should be from high-quality synthetic materials, which will allow them to be:
• Free of harmful toxins
• Safe for children
• Safe for pets
• Fire-retardant
• Stain-resistant
• Mold and mildew resistant
• Fade-resistant
Synthetic outdoor rugs are the simplest outdoor decoration options you can make since they are easy to keep, inexpensive, and suitable for regular outside usage. Nonetheless, synthetic fibers, like jute, seagrass, and cotton, are free of harmful chemicals.
Synthetic outdoor rugs may also complement any room since their textures vary from seagrass-coarse to buttery-soft, and their colors and designs are nearly unlimited.
Polypropylene (olefin): Because of its strength, soft texture, and weather-resistant qualities, olefin is one of the most popular outdoor rug materials. You may also find it in wallpaper, ropes, and other home goods. Polypropylene, which often imitates sisal, one of the softest plant fibers, provides the same feel as natural fibers at a lower cost.
Polyester: While all synthetic fiber rugs are durable and waterproof, polyester rugs provide the best fade and stain resistance.
Nylon: This material is often woven with an olefin to produce a soft, weatherproof combination ideal for deck or patio rugs. It is also known for its strength and flexibility in outdoor décor.
Can You Put A Cotton Rug Outside?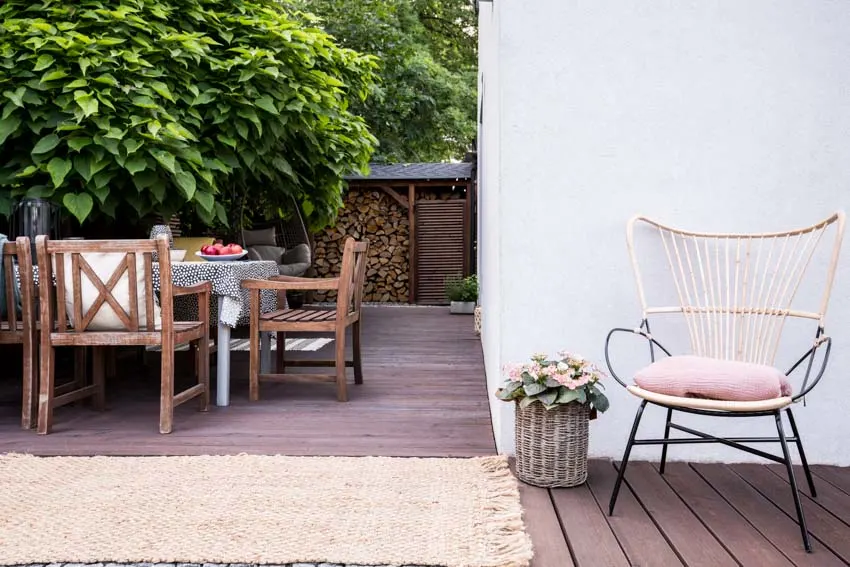 Cotton rugs are breathable and can withstand heavy foot activity. They look lovely both indoors, and they may be a terrific addition to an outdoor space.
Cotton has a traditional and elegant appearance while still imparting a relaxed and laid-back vibe. They are inexpensive, long-lasting, and available in various shapes, colors, and patterns. It is also relatively uncommon to come across reversible styles.
Cotton and wool rugs, both natural fibers, are both fabrics that are only suitable for indoor carpets. Cotton absorbs a lot of water and will distort and come apart if exposed. Wool rugs will shrink, mildew, rot, and be entirely damaged if exposed to water for an extended period.
Do Outdoor Rugs Need To Be Covered?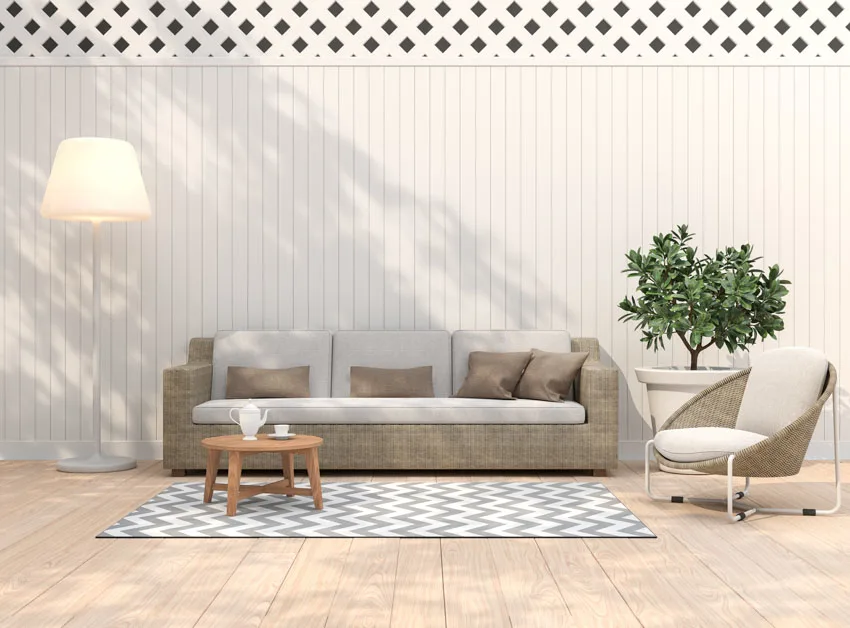 Even if outdoor carpets are weather-resistant, it is not advisable to leave them outside while they are not in use. You may keep your rug in a garage or against a wall outdoors by rolling it up and covering it in weather-resistant plastic.
When the weather warms up, it will be ready to go. You can generally solve curling in the rug corners by wetting the corners, weighing them down, and letting them dry overnight.
Outdoor carpets are supposed to be functional as well as fashionable. While outdoor rugs made of suitable materials will endure through the winter, you may help your rug last longer by storing it when not in use. However, it is not the end of the world—or the rug—if you forget and leave it out in the cold.
See more related content in our article about the different outdoor rug sizes on this page.