In this guide to outdoor rug sizes you'll find the steps for measuring and cutting rugs, and the recommended rug dimensions needed for a patio or deck.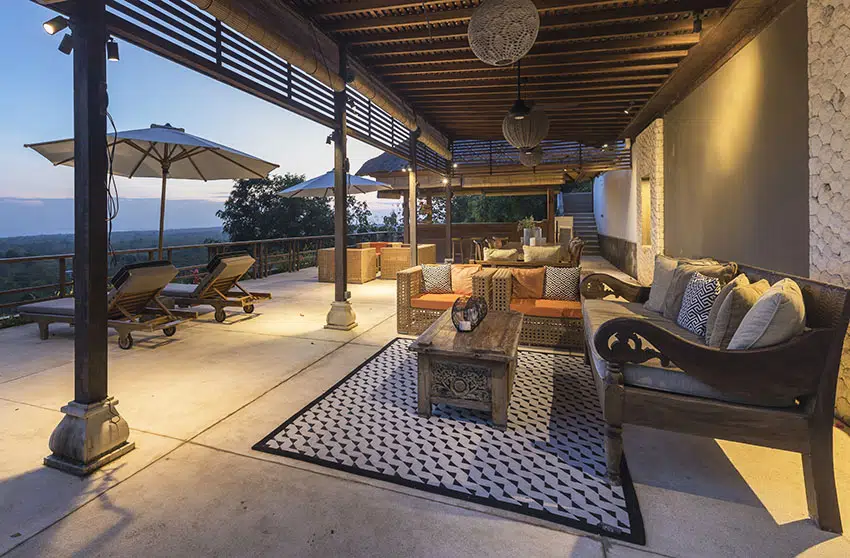 There are endless possibilities to decorate your outdoor spaces, and adding a rug to complement your outdoor furniture is one. Outdoor rugs can be smaller to catch the dirt on your way inside the house, or they could be larger to fit all eight of your outdoor dining chairs— the many ways to use them are endless.
Standard Outdoor Rug Sizes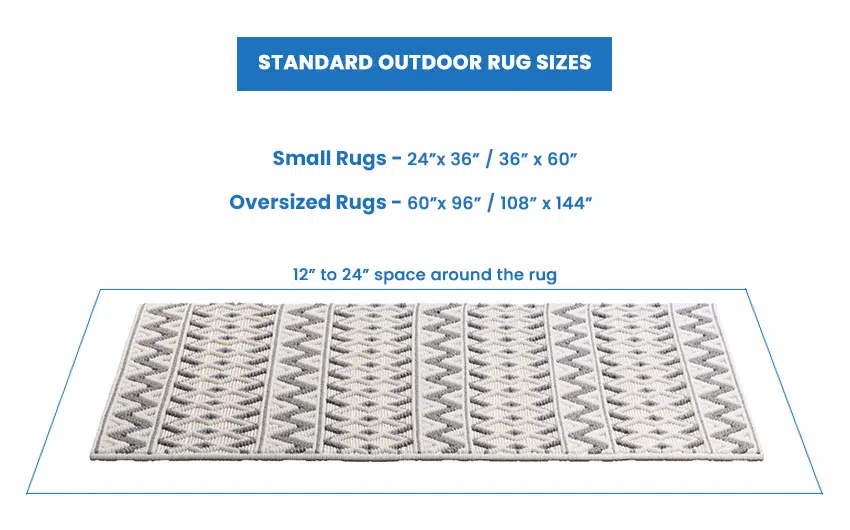 One of the many ways to decorate your outdoor living space is by adding an outdoor rug to match your outdoor living room or dining room set. Choosing the right outdoor rug design and size can transform the look of your patio or deck from ten to a hundred.
The right size of outdoor rug for your outdoor space will depend on many factors like the layout of your outdoor space and where the outdoor space will be located. There are a variety of sizes available for outdoor rugs, from 2 by 3 feet to bigger 11 by 14 feet ones— what you will need will be decided by those factors.
A smaller one is probably what you will need for entryway outdoor rugs, and there are 2 by 3 feet or 24 by 36 inches outdoor rugs. A 3 by 5 feet or 36 by 60 inches and a 9 by 12 or 108 by 144 inches outdoor rug will be more appropriate for larger entryways.
If you want a more oversized outdoor rug for decks, patios, or porches, there are outdoor rugs from 5 by 8 or 60 by 96 inches to 9 by 12 feet or 108 by 144 inches.
A general rule to adding rugs to a small outdoor sitting area is making sure that you leave at least 12 to 24 inches or 30 to 61 centimeters of space around the rug's total size and the deck's perimeter.
What Sizes Do Outdoor Rugs Come In?
The same principles on buying indoor rugs will apply to outdoor rugs. You will need to take note of the space's size and how the outdoor furniture is arranged in the space.
Aside from the aesthetic value that outdoor rugs will add to your outdoor space, these rugs also function. An entryway rug that is 2 by 3 feet or 24 by 36 inches will prevent outside dirt from getting into your home.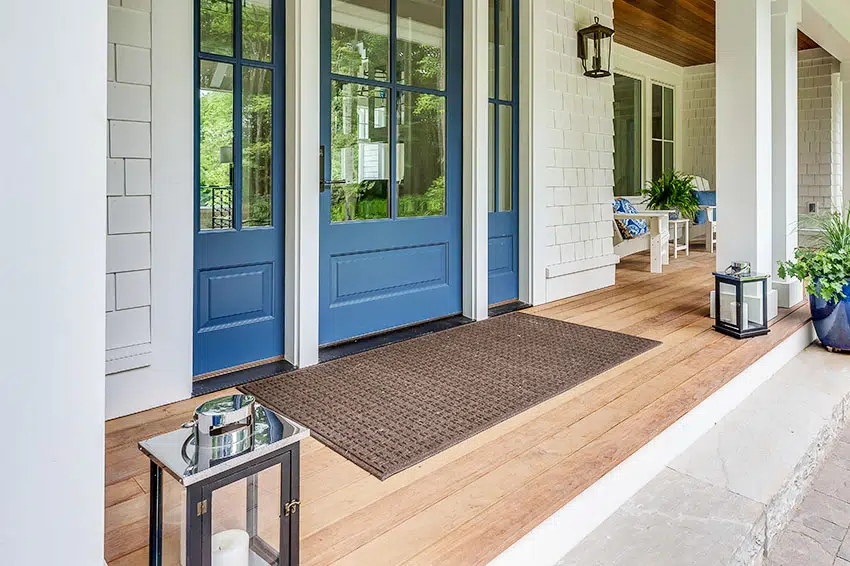 If you want to cover an outside hallway, you can use outdoor runner rugs for the space. While more oversized outdoor rugs, just keep in mind the 12 by 24 inches or 30 to 61 centimeters of free perimeter space.
Outdoor Rugs That Can be Cut to Size
Cut to size types of rugs are those that can be altered or cut to fit whatever size of outdoor carpet you need for your space. Sometimes they are odd-sized outdoor rugs that will do whatever size you need outside of the standard store-bought ones.
Cutting carpets to fit your needs is easy by following these five steps.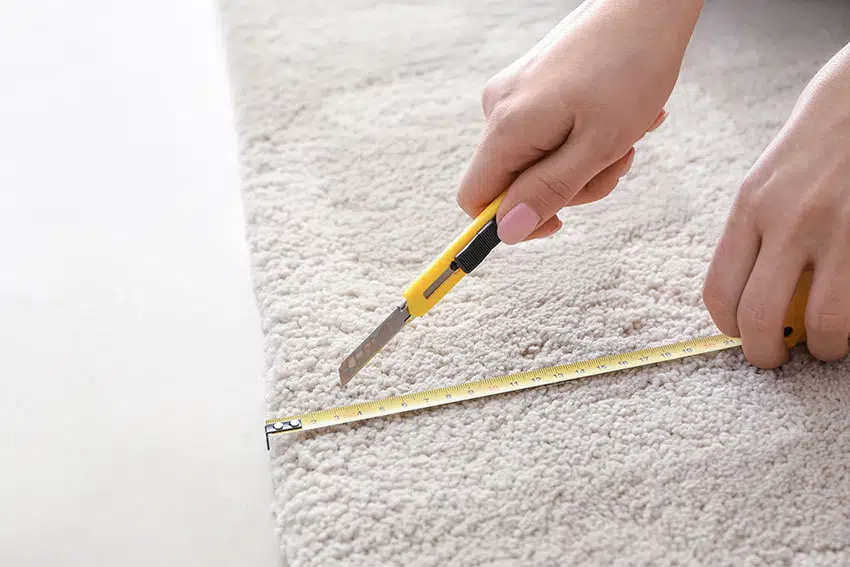 Step 1: is measuring where the rug is going to be placed. If you want to put an outdoor rug under your outdoor dining table, your rug must be more extensive in the perimeter, at least a foot or two than the dining table and the chairs when open combined.
Step 2: will be preparing the rug. Make sure that you are setting it down on a flat and clean surface and that you have enough space to turn the rug around or upside down.
Step 3: will entail marking the rug with the measurement you made on the first step. By marking, you will be able to see where the rug needs to be cut.
The fourth step is to do the cutting to get the perfect outdoor rug size. You can use anything from a carpet knife or even just a really sharp pair of tailoring scissors.
The last step is repairing the rug's edges. This step is essential, especially for mats with frayed edges, because open edges can be destroyed by foot activity or even by pets. You can use a binding tape or, better yet, sew it together if you have the time.
What Size Outdoor Rug Do I Need?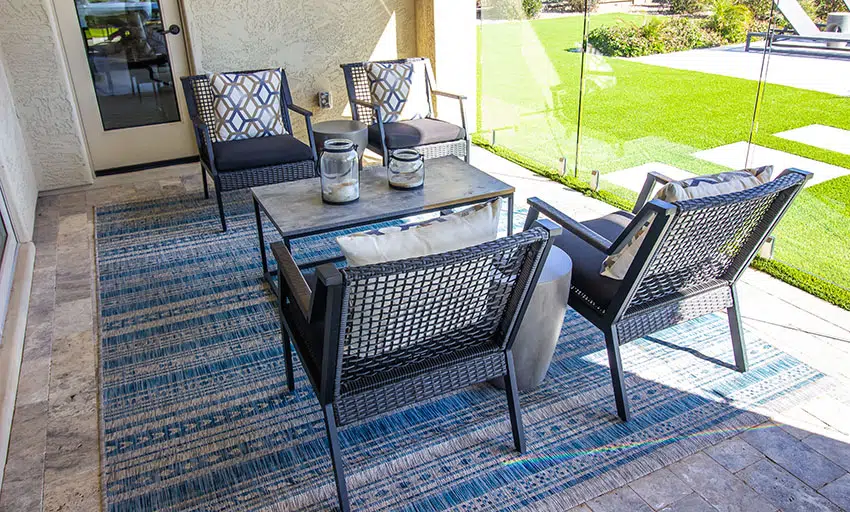 The size of the outdoor rug you will need will depend on how large your space is. Remember the free length of 12 to 24 inches around the perimeter of the area and the carpet should be considered.
Here are some space sizes and the recommended outdoor rug dimensions that will perfectly fit a given space.
If you have a smaller 4 by 6 or 5 by 7 feet of space, a 3 by 5 feet or 36 by 60 inches carpet will be perfect. For a 6 by 9 to 7 by 10 feet of space, choose a 5 by 8 feet or 60 by 96 inches carpet.
In a medium-sized area with dimensions of 9 by 11 to 10 by 12 feet, you will need an 8 by 10 feet or 96 by 120 inches rug. In contrast, a more significant 10 by 13 to 11 by 14 feet of space is perfect for a rug 9 by 12 or 108 by 144 inches.
Choose a rug 12 by 114 feet or 144 by 168 inches for an even more oversized 11 by 16 to 12 by 17 feet outdoor area. Read more about picking rug sizes in this guide.

What Size Patio Rug Do I Need?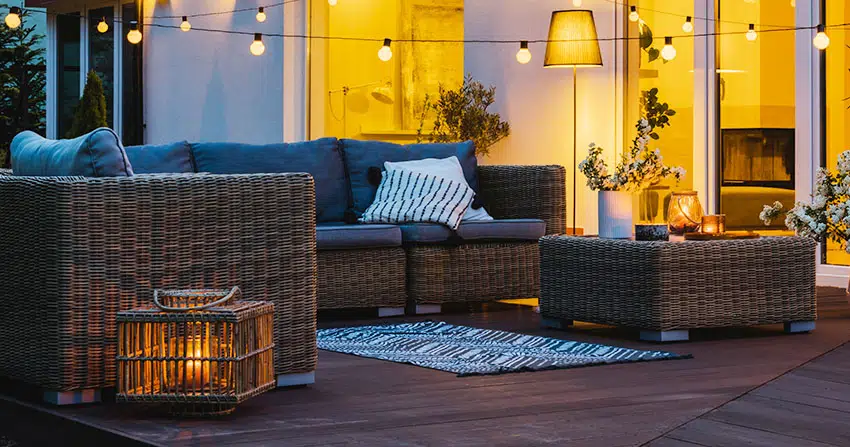 Choosing a patio rug is the same as selecting any outdoor rug, and the thing you need to be mindful about is still the space size.
If you are thinking about going for a leger rug for space, 9 to 12 feet or larger, make sure that it would spread to the majority of the patio's reach, especially for dining areas.
For outdoor patio living areas, the rug needs to be large enough that all the furniture's front legs are positioned on top of the outdoor rug.
Aside from the size, keep in mind that the shape also matters. A circular patio table will look better with a circular outdoor rug, while grouped seating will be nicely complemented by a square or rectangular outdoor carpet.
For more related content visit our dining room rug sizes guide here.