In this flagstone countertops guide you'll find tips on how to lay & seal them, their benefits, and flagstone countertop designs for your outdoor kitchen ideas.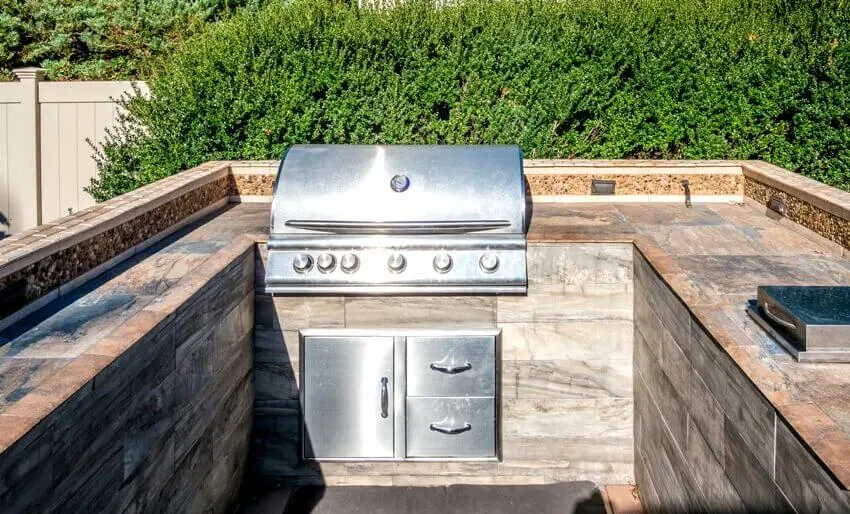 One of the most popular materials to be used for paving outdoors is flagstone. The reason why this material is so popular is because not only is it beautiful to look at, it also stands up to daily wear and tear.
Flagstone can take the use and abuse in one of the areas in the home with the heaviest foot traffic – the porch, the backyard, and the kitchen. If you're currently in the process of remodeling your kitchen and you want to rethink your countertop design, flagstone should be considered.
Kitchen countertops are heavily abused. They are exposed to a lot of moisture, a lot of activity in food preparation, having the occasional spill, and even having to stand up to having hot pots and pans even placed directly on them (we don't always remember to use a hot pad, after all).
Can Flagstone Be Used As a Countertop?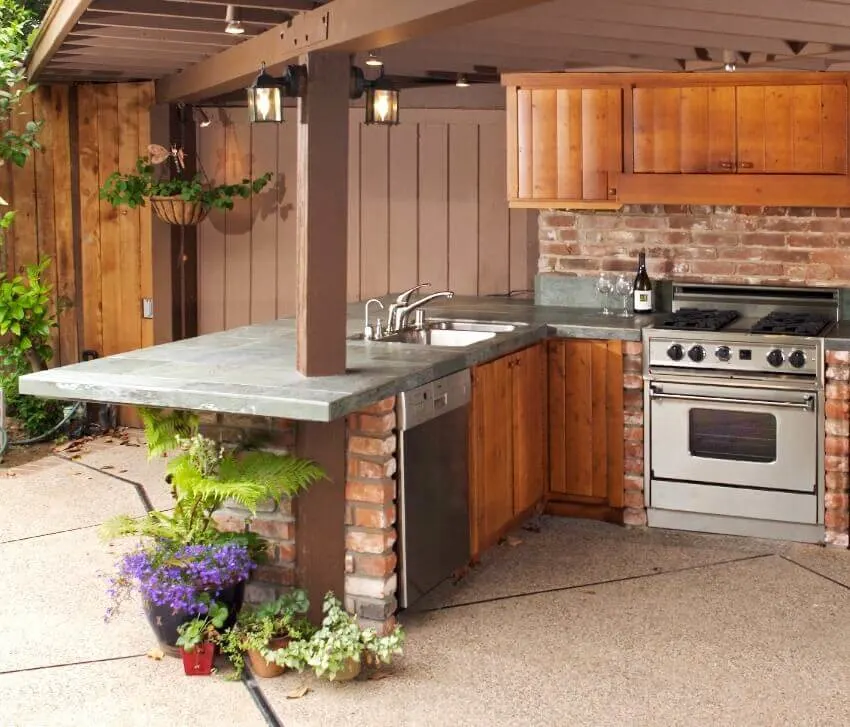 The answer to this is a solid YES. Flagstone can most definitely be used as a countertop in your kitchen. We can even go as far as saying that it's a decision you won't regret.
Although some of the more commonly seen materials used for kitchen countertops are laminate, granite, quartz, and other natural stones; flagstone has the upper hand of being versatile enough to be used for your kitchen countertops both indoors and outdoors.
It's so versatile and heavy duty that it can be used anywhere. So right off the bat, if this is something that you're kind of wondering about; then you should know right here and then that it's a great option for you to consider.
Benefits of Using Flagstone Countertops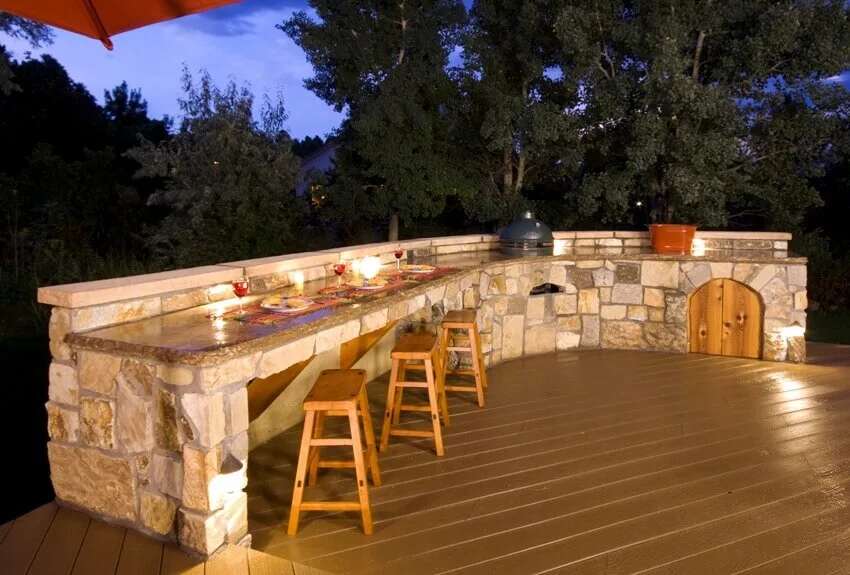 Design coherence – You can easily match your flagstone countertops with your kitchen walls and flooring. Kitchen design is one of the most important decisions you'll ever make for your home. A well-designed kitchen can considerably raise the real estate value of your home right from the get go.
More than that, having the ability to match your countertops with your walls and floors is a great advantage. This isn't necessarily something you can do with marble, quartz, granite, and other natural stone materials available in the market right now.
Reduction of standing water – The kitchen can be prone to spills and other forms of moisture such as the occasional overflow from the kitchen sink when you turn the tap on in full throttle.
This can lead to issues with having standing water on your kitchen floor. Poured concrete and other similar flooring options tend to trap standing water on the surface.
This can lead to a myriad of other issues such as erosion, puddles, or even runoffs. This can turn out to be a real safety issue especially when you busily go about in the kitchen and don't happen to notice the puddles on the floor.
This isn't an issue with flagstone. As it's normally laid on top of a bed of sand and gravel, this means that a flagstone floor can over some level of permeability (but this is often times done in an outdoor kitchen setting).
But even indoors, despite flagstone being a porous material, you can still easily deal with standing water by having it properly sealed. This will enable you to mop the water right off and it won't turn slippery as flagstone is oftentimes textured.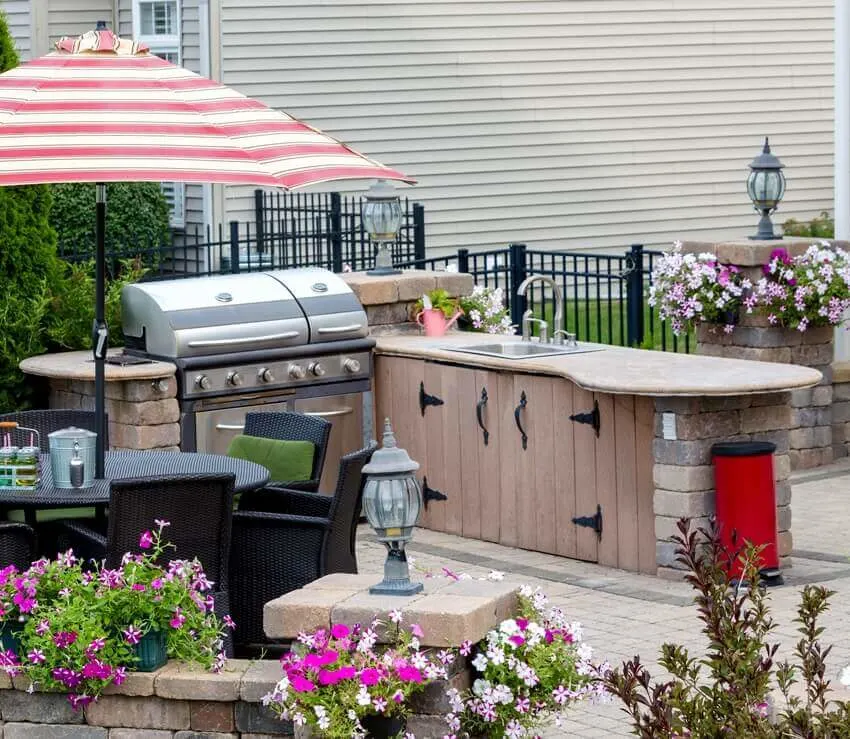 High durability – Flagstone is highly durable, even in extreme cold temperatures. Cold temperatures can be harsh on all materials as they can cause them to expand when hot then shrink when cold.
This can lead to compromising the structural integrity of concrete or other natural stones that are less durable compared to flagstone. Check out our guide to the most durable kitchen countertops here.
Resists acid erosion – Although it may initially seem like natural stones can naturally resist damage, they aren't all impervious to long term exposure to acidity. Flagstone, on the other hand, can deal with acids quite well.
This is necessary especially if you're using strong cleaning products or even having to deal with the occasional lemon juice or vinegar spillage or even preparing a dish that happens to be particularly acidic.
Obviously, you'd still want to clean up any spills right away but you wouldn't have to worry about possible surface damage or etching with flagstone.
Nonslip surface – Flagstone oftentimes don't have polished or smooth surfaces. They offer something very textured and something that's naturally rough. This can provide a lot of surface traction even when it's wet. Kitchens should be safe areas as it's frequented by people in the household, even pets and kids.
Outdoor Kitchen with Flagstone Countertop
An outdoor kitchen with a flagstone countertop definitely comes highly recommended because of the fact that it would mean that your countertop will be exposed to the elements. This isn't something that a majority of countertop materials happen to take well. See our outdoor kitchen must-haves design guide to get more ideas.
You have to deal with a lot of things such as direct sun, rain, or even snow exposure. Flagstone can hold up very well against the elements and would definitely take a load of worries off your mind if it happens to be your choice of material for your outdoor kitchen countertop.
How to Lay Flagstone As Your Countertop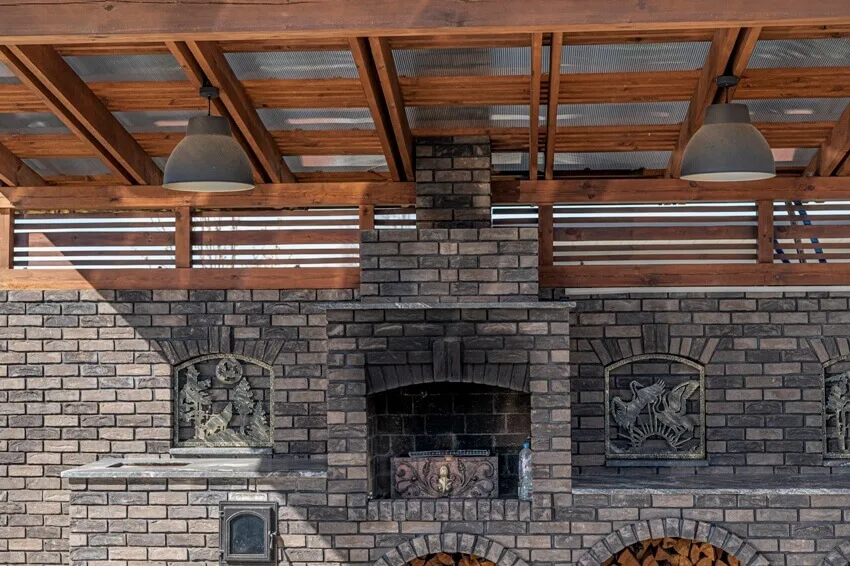 • Remove the existing countertop
Before you could even begin with the exciting process of measuring out your countertop in preparation for the new flagstone one, you need to make sure that all the proper prep work is done.
Your kitchen islands and all of your other side counters and surfaces need to be level with it, for starters. You also need to make sure that you're able to anchor all of your existing kitchen cabinets while you're at it. You need to make sure that the old countertop is removed, of course.
All of this pre-work is necessary in order for you to make sure that your new flagstone countertop will turn out to be a perfect fit especially for the cabinets that will provide its support. This way, your installation can move along without any hiccups or delays.
• Prepare your space
It's always a good idea to make sure that all of your other types of outdoor furniture pieces in the area are properly covered and protected before any countertop work is done.
If you're getting any amount of work done in the other areas in the home, it's important for you to coordinate with your contractors accordingly. This will ensure that your countertop installers will have ease of access to the area and their work isn't derailed or interrupted.
You will also need to carefully determine the outdoor kitchen size you will be needing countertop materials to cover. You can use an outdoor kitchen design software program to help determine the amount of materials based on your measurements and specifications.
• Laying of material
You will need to carefully lay each piece of flagstone in place on your counterspace. Once they have been properly assembled, these pieces will then be sealed with epoxy that's been color matched with the flagstone's color. If you want to make it cohesive and put in a flagstone backsplash, you need to lay them out and get them installed at this time as well.
A flagstone backsplash can magically cover up any imperfections of where the countertop meets the wall, making for a more seamless kitchen design. Cutouts for sinks and other crevices need to be done onsite as well.
• Once the pieces have been laid down securely, the installation should be inspected before sealing

You now need to inspect the flagstone countertop's surface closely and keep an eye out for any residual dust or excess caulk. This needs to be cleaned off before you seal the flagstone surface up.
Your installers can also provide you with cleaning and maintenance tips to keep your flagstone countertop in top shape at all times.
How to Seal Countertops with Flagstone Material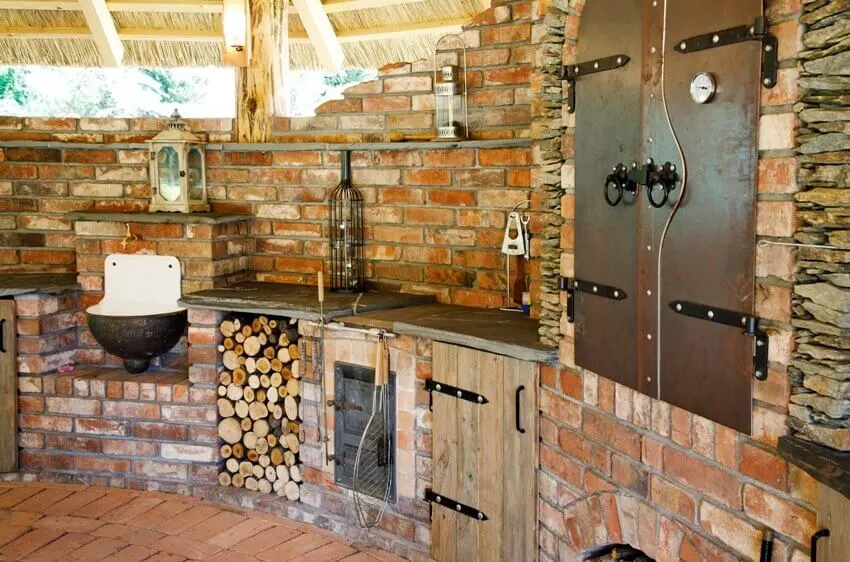 Flagstone is first and foremost a natural stone. This means that the material is actually porous. In order to extend its life span, you need to make sure that it's properly sealed.
What the sealer does is that it seals in the pores on the surface. It also contributes to providing your flagstone countertop with a gorgeous looking finish.
• Deep clean
Start off by deep cleaning your flagstone countertop surface. Failing to deep clean it will mean that you might be sealing your countertop with dust or caulk and other excess materials that you probably don't want on it. This will also ensure that your sealer is absorbed evenly.
• Apply the sealer
It all depends on preference. You can apply your sealer with the use of a soft brush, a soft cloth or even a wool rug.
• Remove the excess sealer
This is important for the edges. Wipe it down with a soft cloth.
• Allow the sealer to dry in between coats.
For proper coverage, you might need to put on multiple coats of sealer. Make sure that you provide it with enough time to dry in between coats. Read the instructions on the packaging for the proper amount of time required. Brands and sealer types may vary.
For more related kitchen countertop information visit our gallery of different types of kitchen countertops.