In this pecan kitchen cabinets guide you'll see the benefits of this wood material, its appearance, hardness, cost, and if pecan wood is a good choice for kitchens.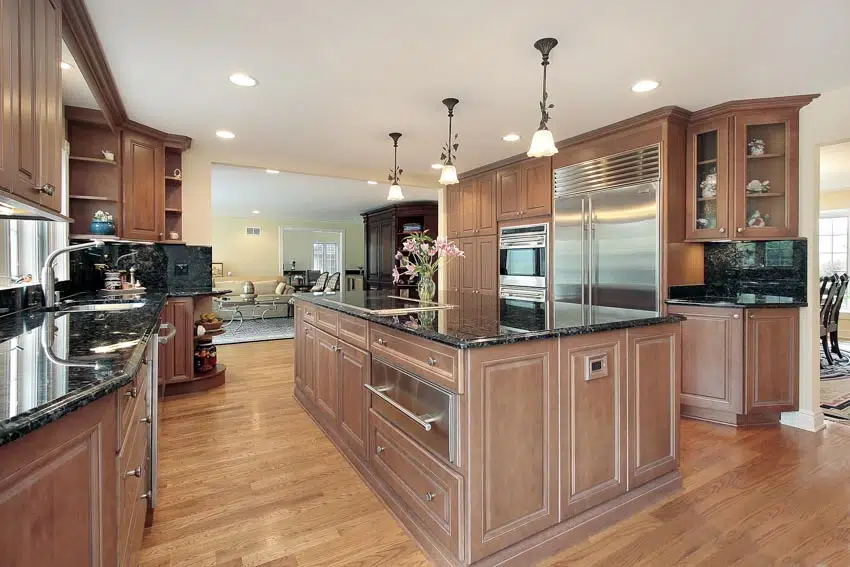 Pecan kitchen cabinets are beautiful and the first thing that really makes them stand out is their rich color. It's a rich type of hardwood and it has rich and dark undertones. More than that, pecan has a somewhat nutty aroma as well.
The color for pecan kitchen cabinets can vary though. They can go from pale to medium browns with rich underlying red undertones. A lot of people would say that they also closely resemble hickory when it comes to appearance. If you're into pale shades that have dark undertones for your kitchen cabinets, pecan is the perfect wood for you to go for.
Pecan is a type of hardwood that's known for its great traits for building furniture pieces. Pecan has an ambiance that's more organic and grounded but is somehow a bit more mellow compared to mesquite and hickory wood.
What Is Pecan Wood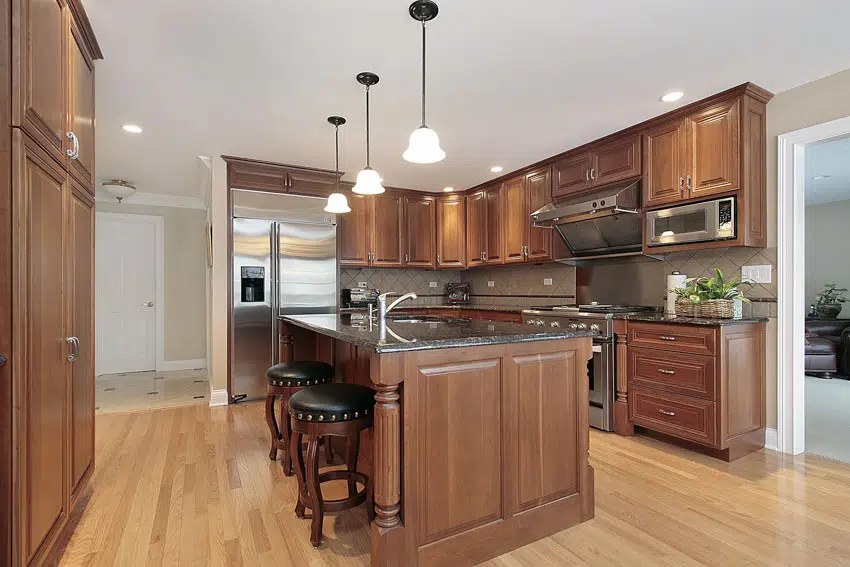 Pecan's heartwood is a bit more on light brown to medium brown range. It also has a reddish shade in its undertones. Its sapwood is oftentimes a pale yellowish brown color. Its grain is oftentimes straight but there's the occasional wavy pattern to it. It has a medium texture with a somewhat low luster to it that looks organic and natural.
When it comes to the end grain, it can go from ring porous to semi ring porous. It has early-wood pores that go from large to very large and they tend to go in single intermittent rows. Pecan wood grain is primarily straight with some occasional waviness.

Pecan wood is among the types of kitchen cabinet materials that aren't known for durability and rot resistance. It's considered to be a bit perishable, even its heartwood parts.
This also means that pecan can be prone to pest and insect attacks. If you want your kitchen cabinets to be well protected, you need to make sure that you get the wood material treated and properly sealed.
Although pecan wood is known to be a bit difficult to work with for most craftsmen because of the tear-out gained from machining operations especially when the edges aren't kept that sharp, it has been known to finish extremely well.
It also stains and glues extremely well. More than that, pecan wood responds extremely well to steam bending. There are alternatives to working with it. It's known to be quite resistant to water damage so it's known to stand up very well as a kitchen cabinet.
What Does Pecan Wood Look Like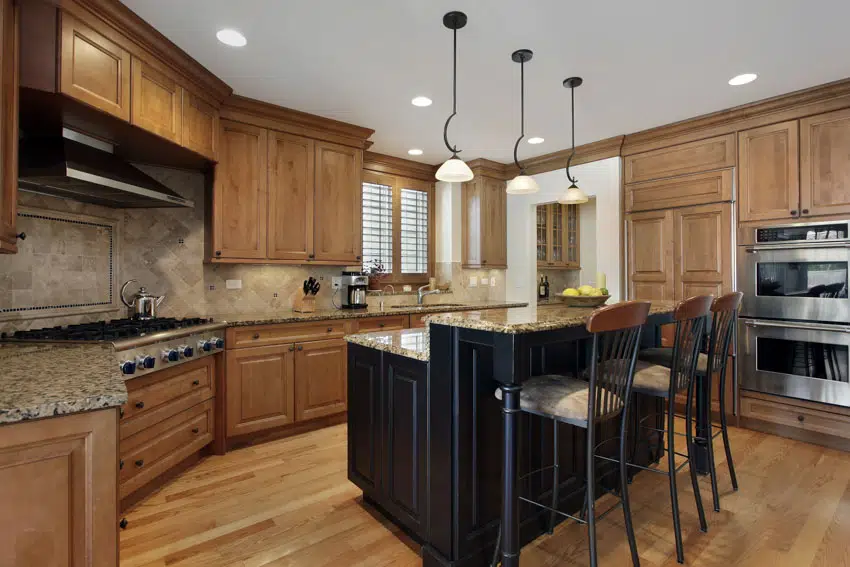 Pecan wood is predominantly light-colored with some red hues in its undertones. If you want to go for a kitchen aesthetic that's a bit more on the organic or neutral side, pecan wood can be the perfect material for you to work with at the end of the day.
It looks pretty great when paired up with complementary colors. Pecan wood can go from brown to medium brown. It would therefore make sense to pair it up with colors that sit across from those said colors in the color wheel.
Since green is the opposite color of red, it would make sense to get certain shades of green. You can check out various colors of light green, greyish green, sage green, or even a green-blue.
These colors will look amazing on your pecan wood kitchen cabinets. It will have a somewhat seamless and eye-pleasing color. This is the type of aesthetic that can really bring your kitchen aesthetic to a whole new level.
If you want something a bit more on the neutral side such as creams, beige, and warm grays; they can pair well with your pecan kitchen cabinets as well. Shades of warm whites always go well with pecan kitchen cabinets.
On the other hand, if you want a more eye-soothing color combination, you can check out cool blues, grays, or even greige (a combination of gray and beige). On the other hand, if you want a color combination that's a bit more cohesive, you can go with light to medium brown colors.
Pecan Wood Janka Hardness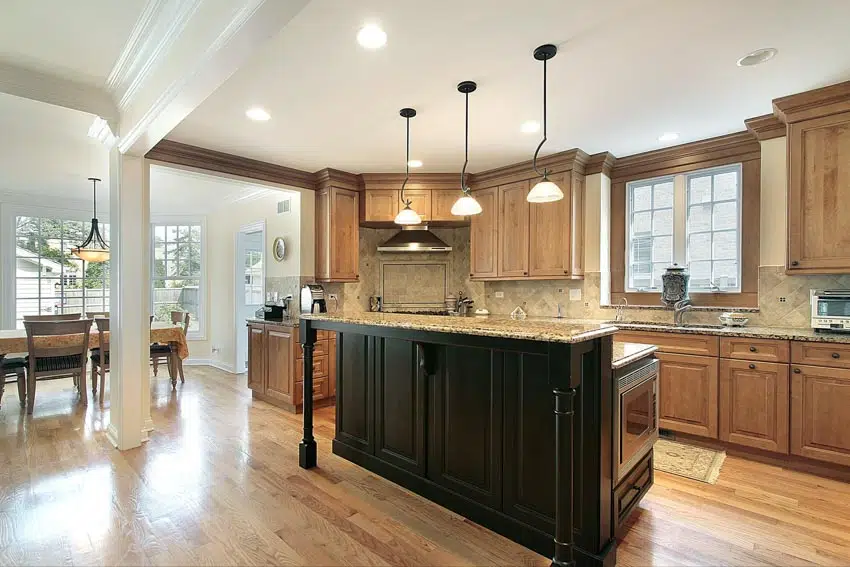 Although not technically considered to be up there alongside the other popular types of hardwood, pecan wood is actually a type of wood that rates 1820 on the Janka hardness scale.
This is an impressive feat when you come to think of it considering the fact that it's almost twice as hard compared to other types of wood such as walnut.
Is Pecan Wood Expensive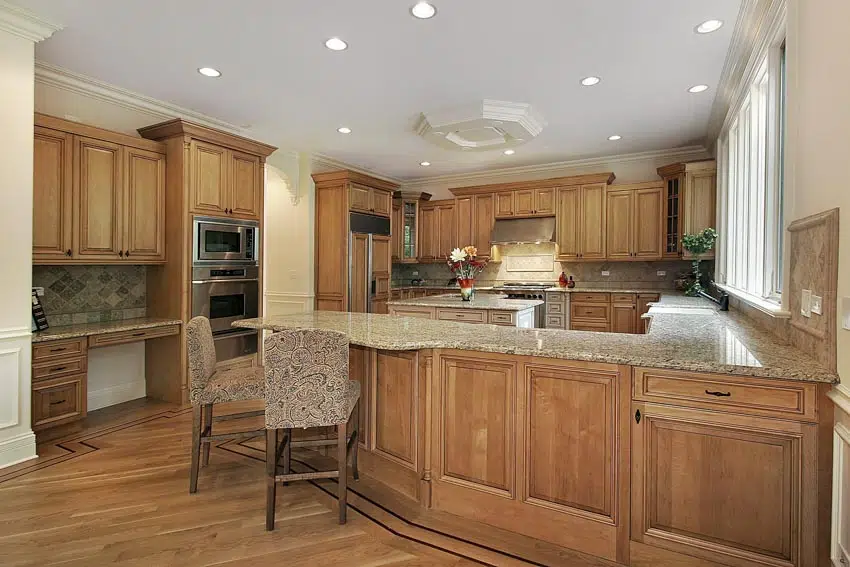 Pecan wood is considered as a relatively affordable type of material for cabinets and other types of furniture styles for kitchens. As a matter of fact, it isn't very expensive at all. This makes it a really great choice if you're looking for cheaper alternatives compared to the other types of hardwoods available on the market right now.
The reason why pecan is pretty easy to get your hands on is that it's so sustainable and readily available. Pecan's raw material is pretty easy to get your hands on. They're available almost everywhere.
They're easily available as pecan wood is known to thrive in the areas that they're planted in and that accounts for why its prices can be driven down so low. As it's grown locally, there also aren't punishing importation costs that could drive the rates up.
Is Pecan A Good Wood For Kitchen Cabinets?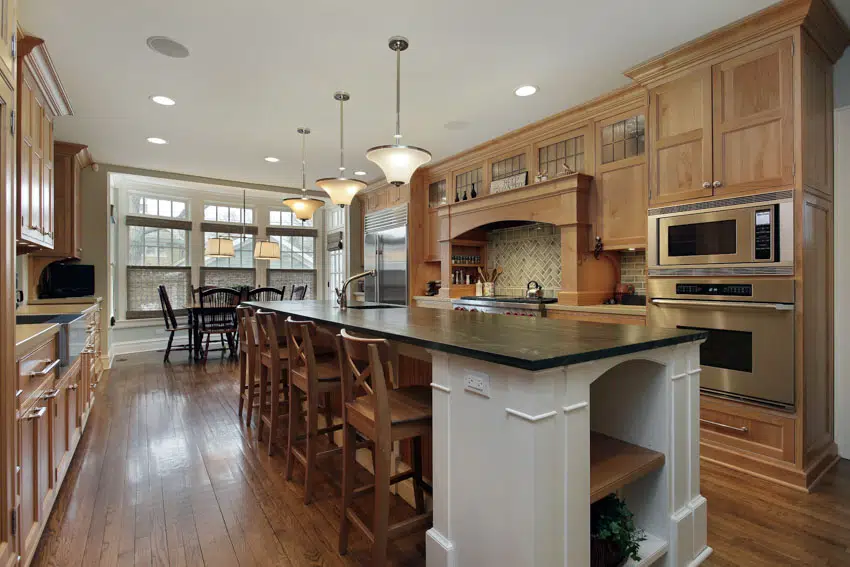 The answer to this is a strong and resounding yes. It's eco-friendly and is in fact recognized by Green Peace in its Good Wood Guide. There are plantations that produce the wood in an efficient and sustainable manner.
This allows natural forests to be better preserved for their biodiversity. Cost-wise, it's also fair. Stock pecan kitchen cabinets are pretty cheap when bought as stock. But when bought as raw materials, they can range from $60 to $200.
You need to factor in customized costs though so the labor and specialty fees can vary depending on the professional labor costs in your area. If you want to do a serious kitchen remodel without the punishing costs, pecan is definitely a great wood material to consider as an option.
Pecan Wood Vs. Hickory Wood
Pecan is considered to be under the hickory wood family but there are differences between them.
Density: Hickory wood is known to be much denser compared to hickory wood. But this isn't a difference that you'll be able to know from touching the planks alone. So density isn't really that much of an issue at the end of the day it's just for the purpose of making kitchen cabinets out of the wood.
Color: Pecan is a bit more uniform in color compared to hickory wood. Pecan has a streakier appearance to it and it tends to have a bit more variable and character to it. Hickory has straighter and more uniform types of wood grain patterns.
It's really unique and if you want to go for that, then pecan is a great choice to consider. However, on the other hand, if you want to go for a look that's more formal and more uniform, then hickory would probably be a better choice for you to consider.
Sustainability: Pecan also wins when it comes to the sustainability of the wood material. This is because when grown in the plantations, they have a much faster growth rate compared to hickory.
This means that the supply is easier to replenish and that the material is more readily available compared to its hickory wood counterparts. This is a major thing when you want to go for kitchen cabinets that are environmentally friendly as well.
Ultimately, Is There A Difference Between the Two?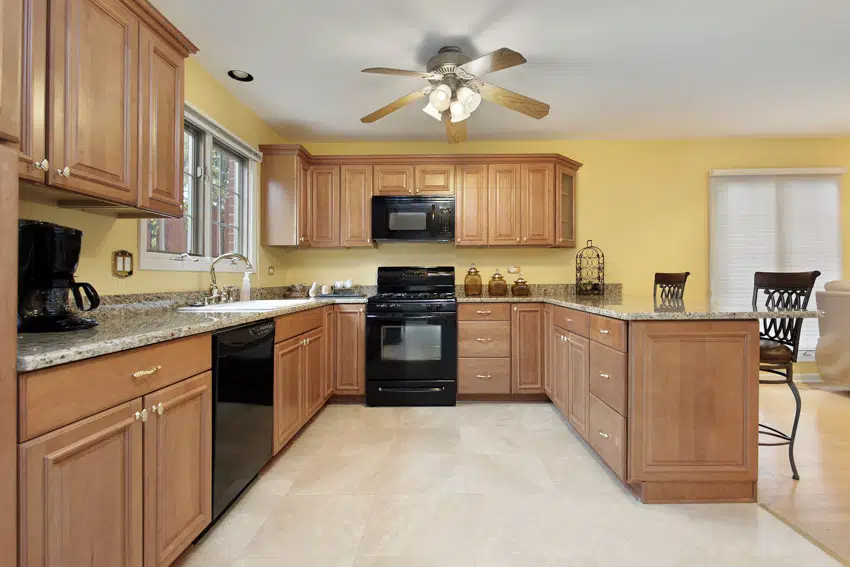 Real and genuine hickory is far denser compared to pecan wood but in the grander scheme of things, you won't really be able to tell. To the untrained eye, you might think that they don't really have any standout differences but they do.
Visually, pecan wood is streakier and has so much more variances and under-veins as opposed to hickory wood which looks more seamless.
See more related content in our article about backsplash for hickory cabinets on this page.