Below is our guide to backsplash for hickory cabinets including color tones ideas and design tips on how to match the backsplash materials to your kitchen cabinets.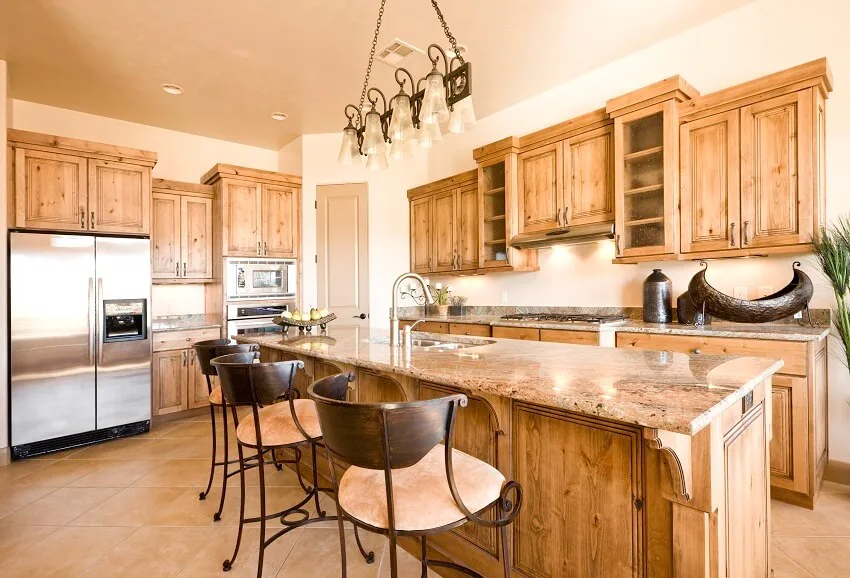 If you happen to have hickory cabinets in the kitchen and you're planning on doing a kitchen upgrade, a major rule of thumb to get take note of right from the start is that your backsplash shouldn't be overwhelming. In fact when pairing a backsplash with hickory it needs to be the exact opposite. The reason behind this is because of there happens to be a lot of movement and variation in the wood grain.
A lot of eye catching color or details in the backsplash can end up making your kitchen look way too busy. This shouldn't be the case at all in the kitchen. Kitchens need to feel alive yet at the same time, calm too.
If you're feeling a bit intimidated taking this on, there's no need for you to worry at all. We've got your kitchen hickory cabinet backsplash basics below to help you find all you need to know before you proceed with a kitchen redesign project at home.
What Backsplash Goes With Hickory Cabinets?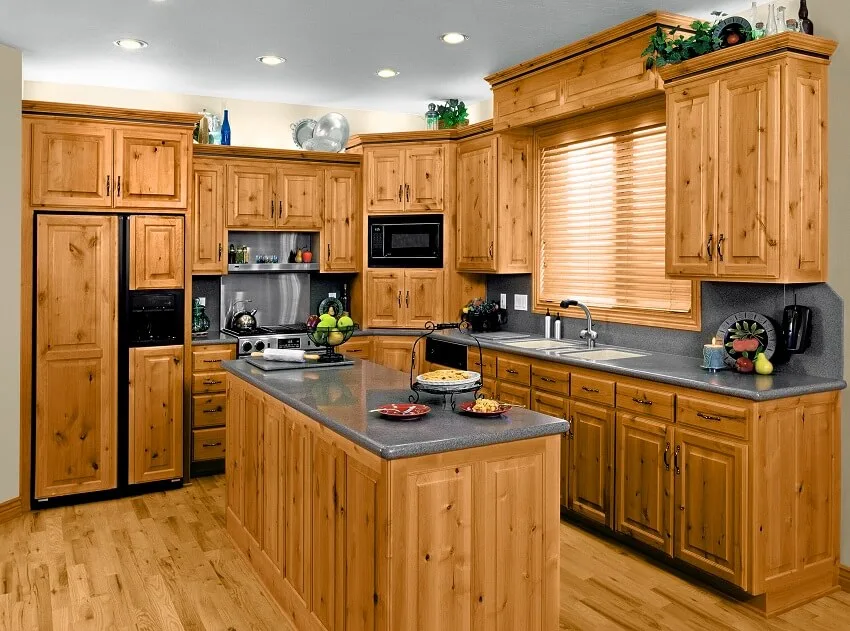 So what exactly goes with hickory cabinets for as far as backsplashes are concerned? Let's first start with what hickory is all about. It's a great and attractive kitchen cabinetry choice.
Its veining is two toned and one wood cabinet can vary extremely from the other as the patterns are wonderfully random and different. See our gallery of solid wood kitchen cabinets here.

It's comprised of dark and warm, at times almost blood looking red wood that's contrasted by its pale colored cream streaks. Literally any type of hickory cabinetry out there is unique and interesting in its own way.
Its grain is complex and resembles what somehow looks like flames. Its contrasts also typically comes up with patterns that are complicated and sophisticated enough to be the focal point in any kitchen design.
The most important first step in getting all of this done right is to have your actual hickory cabinets installed or on hand. This will more or less let you get a better feel for the colors that you have to work with.
You need to know for sure if the color of your hickory cabinets are cool, neutral, or a bit on the warmer side. The identification of the color tones in the wood will help direct you better for the rest of your kitchen decoration endeavor.
Before you proceed with the actual backsplash materials, the first real main decision you need to make when picking out a backsplash for your hickory cabinets is which tone you would like to go for.
Each color option has its own merits and strengths that you can play up so at the end of the day, it's all really based on preferences.
Warm Colors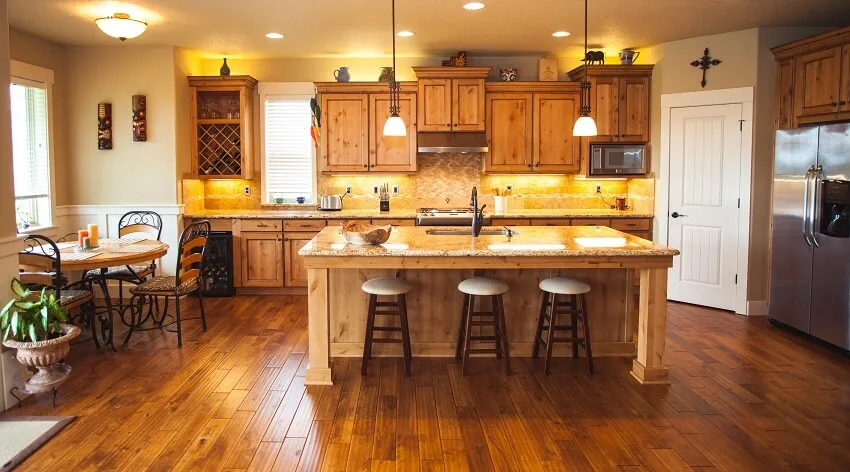 Using warm colors for your backsplash can really pull out the warmness from your hickory cabinetry. You need to be careful enough and make sure that you don't overdo it though so proceed with caution as much as possible.
You need to choose wisely and make it a point to look into the darker tones of the wood. Which color is it leaning on: brown, yellow, orange, or red? If the tone is extremely warm, you'll want to stay away from oranges and bright yellows.
If they're more neutral, bright red accents may actually work. Burgundy or rust colors in your backsplashes can work extremely well depending on what your wood grain looks like.
Neutral Colors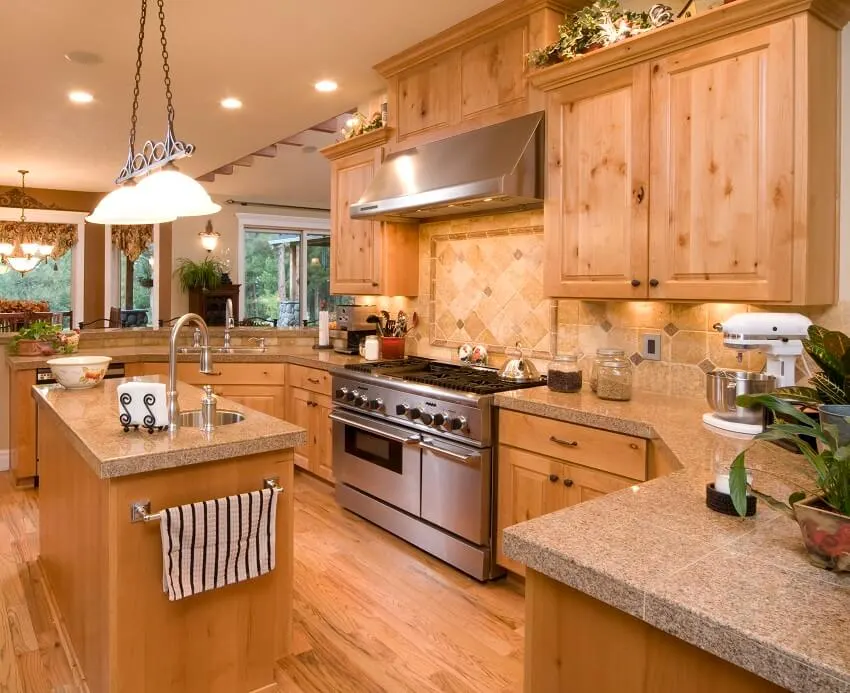 If you want to play around with more neutrals with your hickory cabinets in the kitchen, you ought to consider adding more wood elements apart from your backsplash, such as in the floors.
As for your actual backsplash, work with greys, creams, or soft sage greens to bring out the neutral tones in the wood in the best possible way.
Make sure that you provide with accent points so that you don't end up edging a bit into boredom in your design. This is a risk you will run when working with neutral colors.
Cool Colors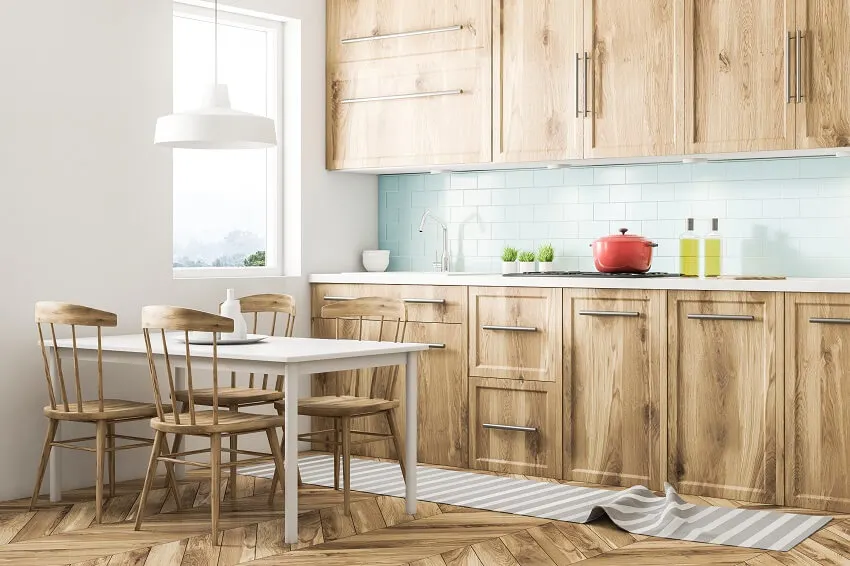 If you want to go for contrasts, then cool colors are the way to go for your backsplashes. Green blues such as aqua, turquoise, or hunter green can really stand out well against the natural tones of the hickory wood.
Colors such as moss or pine can really make your kitchen pop and lend a somewhat woodsy feel to your kitchen, if you're into that kind of aesthetic.
A sky blue or deeper blue backsplash can set unique elements and make your wood grain pop even more. Decide on what type of ambiance you want to create and go off of that when you're making decisions about your backsplash colors.
Subway Tile
Subway tiles are named after the tiles that you see in the subway systems in NYC. A subway tile backsplash is basically ceramic tiles that are arranged in a very structured and orderly manner. It can bring out a really cohesive look to your overall space.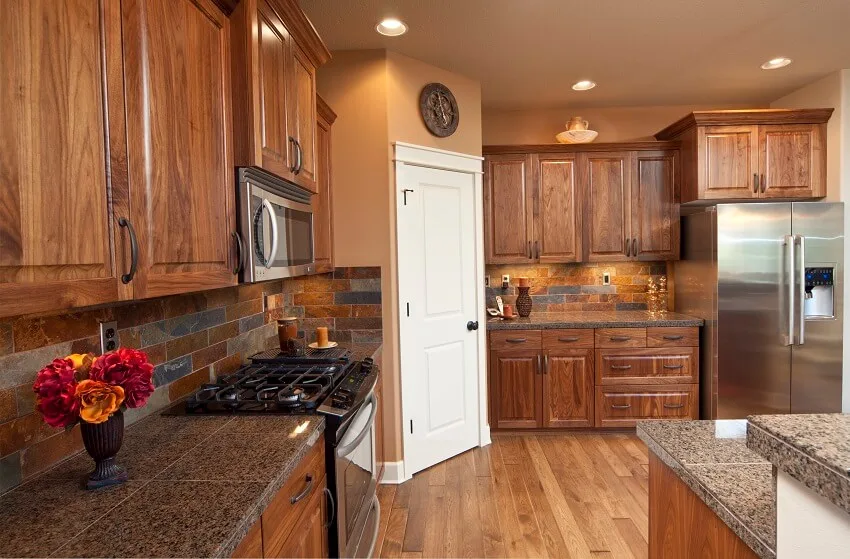 It can go extremely well as a backsplash for your hickory cabinets but you need to make sure that the color choices are on point. Here are the foolproof choices for you to go with:
• White or something in the same color wheel
• Black, can be in natural stone or marbled
• Shades of gray, can come in either marbled or solid patterns
Subway tiles provide a solid backsplash that allow the hickory cabinets to step forward and be the star of the show in the kitchen.
The somewhat unpredictable patterns in the wood grain will stand as an attractive contrast against the formal and structured layout of the subway tiles. This is a classic choice in the kitchen and is somewhat considered as timeless.
Stone Tile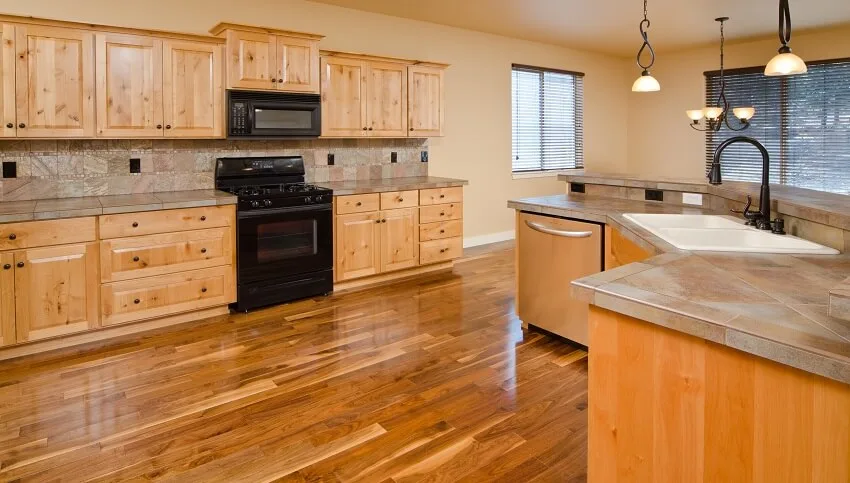 Stone tiles can look very classy and timeless when used as a backsplash for hickory cabinetry in the kitchen. This is especially true if you are going for a rustic kitchen design theme.

Although natural stone tiles are have a bit more variation compared to the rest of the other backsplash materials available in the market right now, they're still a great choice to go for if you're looking for pairings with your hickory cabinets.
Tile layouts that are well planned out in your stone tiles can actually highlight your hickory instead of take the attention away from it. Stone backsplash products such as granite, quartz, marble, soapstone can match well with hickory kitchen cabinets.

Here are some color schemes to go for when looking for stone tiles:
• Greys
• Tans or browns
• Whites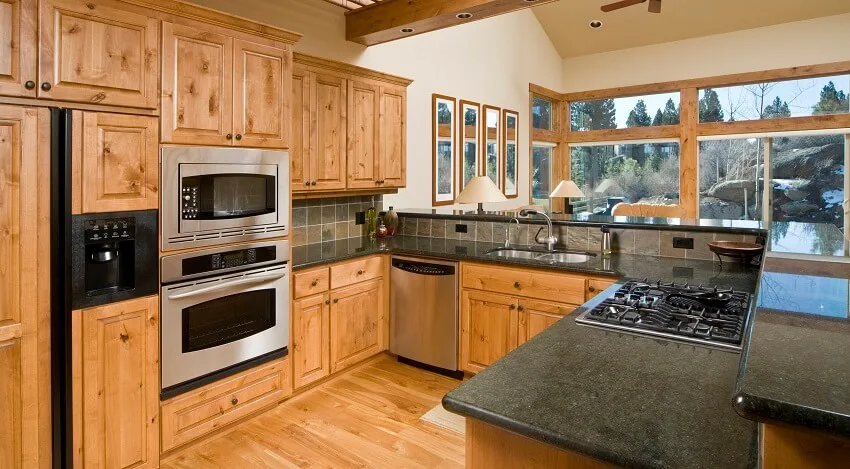 Stone tiles add a rustic look, natural beauty and durability to the spaces that they embellish any time of the day and it comes as no surprise why they're a favorite choice for the most part.
Although it will require a little more work to really pull off the look and the layout, it's an endeavor worth taking on because the finished look can be breathtaking. Check out our gallery of beautiful rustic kitchens here.
Glass Tile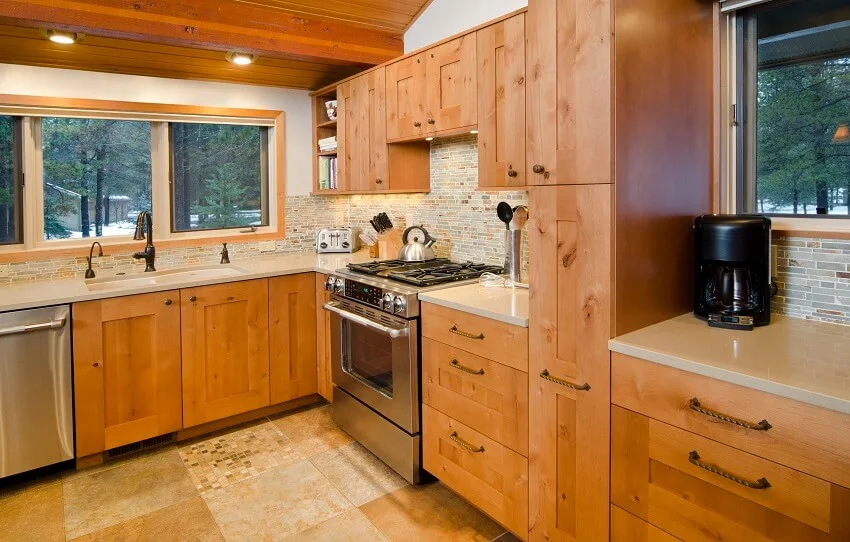 A glass backsplash would typically come in one solid sheet. This understates the glass and lets your hickory cabinets take in all of the focal points in the kitchen.
There isn't any need to seal the glass and more than that, the material can really easily complement the rest of your hickory cabinets with ease.
There isn't any need to worry about etches or lines because it's one smooth and solid surface and it allows the hickory to be the star of the show instead.
Here are some shades of glass that are worth investing in:
• Green shades
• Blue shades
• Black and white shades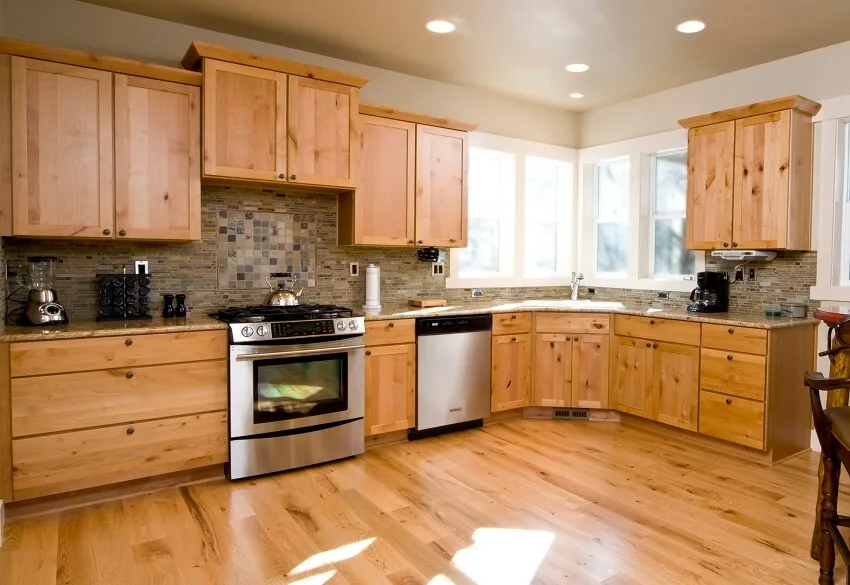 All of these glass shades will provide a backsplash that's soft and complimentary to your hickory cabinets. You wouldn't have to worry about anything clashing against the wood grain patterns either.
Glass is something that's fairly affordable and it isn't complex to work into any design in the home. It allows your decorations to go on without being overwhelming. It's ideal for hickory, which is iconic for its busy wood grain patterns.
Wood
Wood on wood can still work for as long as you're careful when it comes to the wood patterns or grains that you're bringing in.
A wood backsplash can definitely end up accenting the kitchen space and allow the lighter tones of the hickory cabinetry to step forward and be the main attraction. Here are some of the best wood backsplashes that can work with your hickory cabinets:
• A structured, less busy, but visible grain
• Blends in well and doesn't stand out much in the kitchen space
• Darker stained than the hickory cabinets
Understandably, a wood backsplash is a tricky choice but when pulled off or done right, it can bring out a charming rustic look for your kitchen space. If you enjoy taking risks with interior decorating, you should give wood backsplashes a whirl.
Metal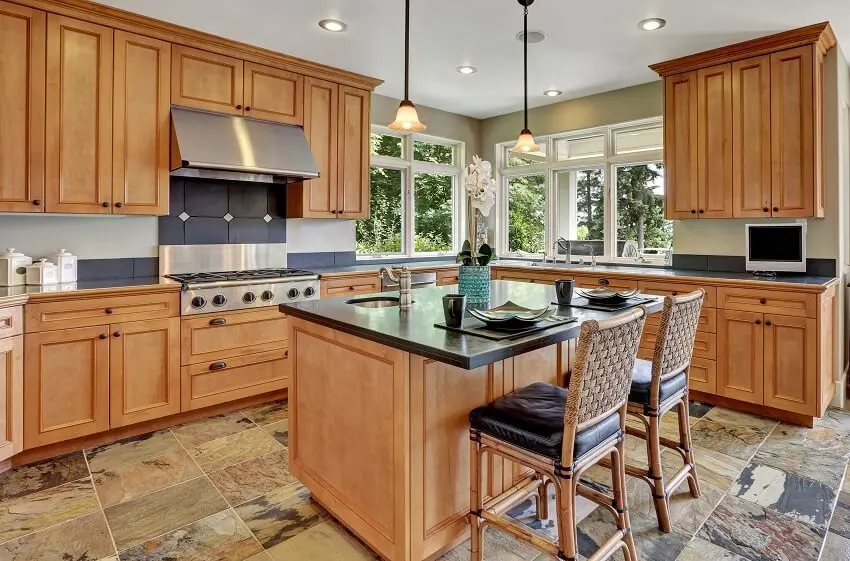 Going for an extra and somewhat one of the kind look, you might want to consider for metal as a material for your backsplash. It pairs well with hickory cabinets but with a different and more unique twist.
What a metal backsplash offers is a modern contrast. It will light up the kitchen area as soon as you enter the room. There are a lot of different types of metals that can work well with hickory cabinetry and they can come in either reflective or non-reflective surfaces, and they can be either thick or thin and flexible.
Here are some types of backsplash that use metal you can consider:
• Solid metal
• Tin
• Stainless steel
A word of caution though, metal and wood combinations aren't for everyone. The mix of organic and inorganic materials can be a bit jarring for some. However, if you appreciate the combination and appreciate it rawness, this just might work for you.
Quartz
Quartz backsplash is a real winner when it comes to contemporary designs. Not only is quartz a beautiful material to use, it is also durable and sought after in kitchen designs. Quartz works really well when paired with a solid color countertop for a modern design. When pairing quartz with hickory cabinets a white tile works well to lighten the space.
A quartz kitchen backsplash is one of the more maintenance free materials. Since it is not as porous as other types of stone it is better at resisting stains.
Another thing that makes this type a good choice is the variety of patterns that reflect a sense of elegance. Solid slabs of quartz can be used a s a backsplash giving the design a seamless look and consistent pattern.
Soapstone
Soapstone is a great material to have as a backsplash against your hickory cabinets if it comes in one solid slab. This material is something that is extremely durable. it can really stand the test of time so if you're opting for soapstone, just know right out that you're making a really smart investment in the kitchen.
This is an ideal choice to pair up with hickory cabinets because its unbroken and solid surface removes any busyness coming from the wood grains, centering your design appropriately. Here are great soapstone colors that go with hickory cabinets:
• Black – can come solid or marbled
• Pearl white, solid or marbled
• Darker grays interlaced with lighter grays
These are the best top 3 colors although if you want other colors, those can work too for as long as they're more subdued. Meaning, they need to be softer colors such as blues and greens.
Soapstone creates a look that's classic and timeless in the kitchen. If the kitchen look that you're going for is professional yet homey at the same time, soapstone can be a classy and unique choice for you to go for.
How To Match Materials With Hickory Cabinets?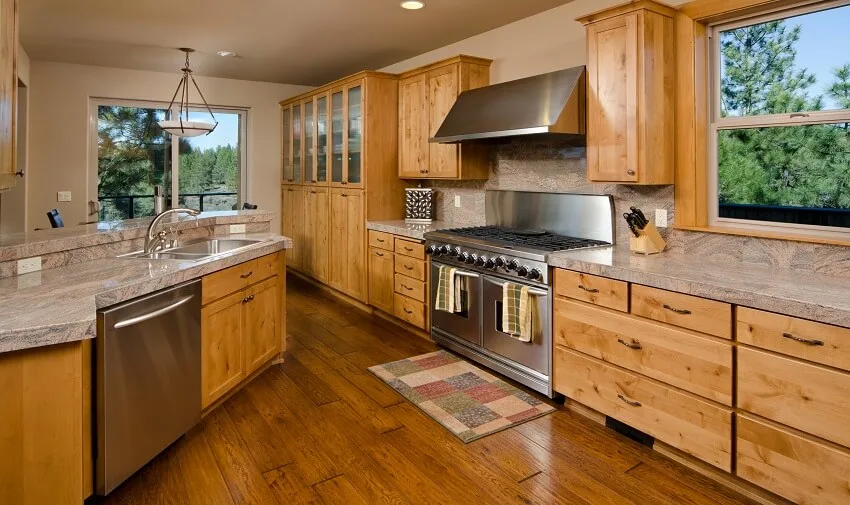 Finding materials to match with your hickory cabinets really isn't all that complicated. It might require a little more thinking and work compared to the other "less busy" types of wood grains. However,with a little bit of consideration, you can definitely pull it off even without some professional help.
Here's a basic summary of the things that you need to consider when matching materials with your hickory cabinets:
First, always go with materials that are underwhelming compared to your hickory cabinet patterns and veining. You want the wood to be the star of the show in the kitchen.
Second, study the actual wood grains and patterns you have and figure out what undertone you would want to work with. Is it predominantly warm, neutral, or cool? Base your material colors off of what you have decided on.
And third, make sure that you go for a clean, smooth or structured texture. Go for structured forms if they come in multiple pieces such as tiles. Go for smooth and solid bases if you want to go for a single surface piece.
This is so that your accessory materials don't end up stealing the limelight from your hickory cabinetry, which you should maintain as the focal point of your kitchen design style.
It's alright to go for materials that have designs or patterns, for as long as they're more on the structured and uniform side or for as long as they aren't too busy that they'll end up competing with your hickory wood's veining.
Have you tried a hickory kitchen remodel? Share your experience, tips, and the paint colors and accessories you used in the comments section. Visit our guide on what flooring goes with hickory cabinets for more related article.