Below we share what flooring goes with hickory cabinets including design ideas for matching colors, materials and patterns.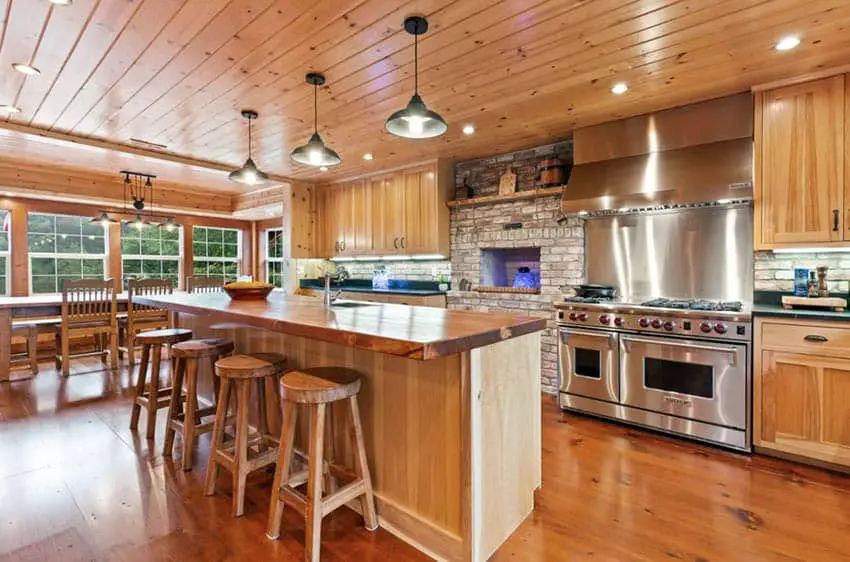 Hickory cabinets are found in a variety of homes ranging from country to rustic and even Mediterranean designs. The nice thing about having wood cabinets is that wood can be stained in a wide variety of colors.
Unfortunately Hickory wood in particular does not stain well, it can be done, but it is a bit of a challenging procedure. It can also be bleached to be a pale white color.
Hickory wood cabinets have a naturally golden brown color with dark grain lines, offering a very nice natural pattern that can be paired with a variety of flooring materials.
Flooring Colors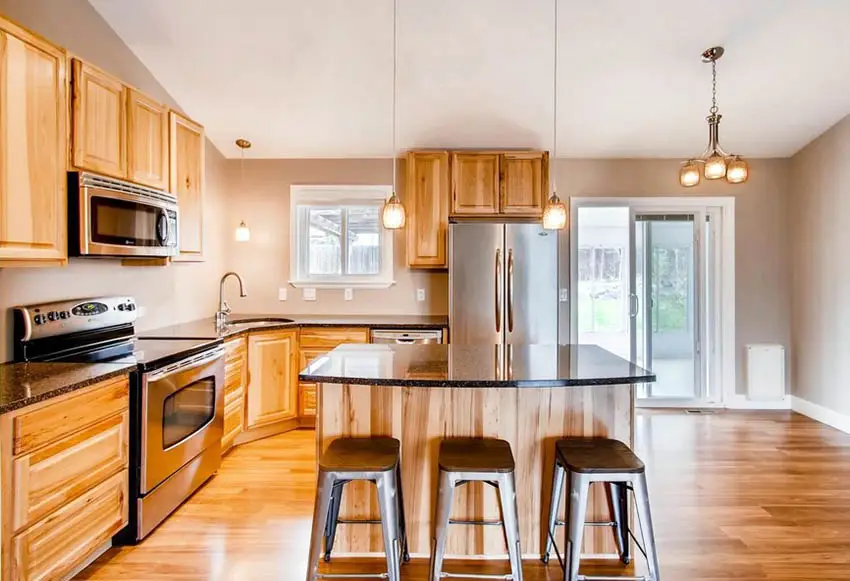 Flooring is a perfect opportunity to add some color to the room to offset the neutral colors the Hickory brings out. Adding accents coordinating with the hues of the hickory wood will give dimension as well as cohesiveness to the space.
Warmer hues can incorporate the oranges or reds into the flooring, which can be reinforced with accessories. Cooler hues can include blues or greens, whether it is accent sections, mixed into the pattern of the flooring, or even just a coordinating hue from the wood to the flooring.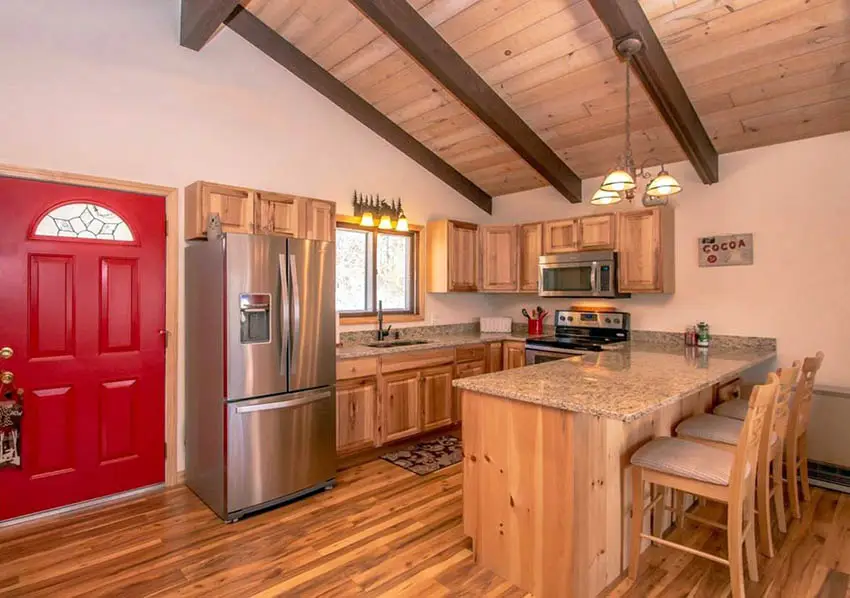 A phenomenal way to make the knots in the cabinetry to really pop is to get a flooring that is the same color as the dark grain is. This ties together the flooring and cabinetry as well as accents the cabinets' natural wood beauty.
This could be done more literally, using hickory cabinets with hickory floors. This can mimic the color of the grain, or done more abstract, using vinyl or stone in a similar color to bring a strong, cohesive look to the space.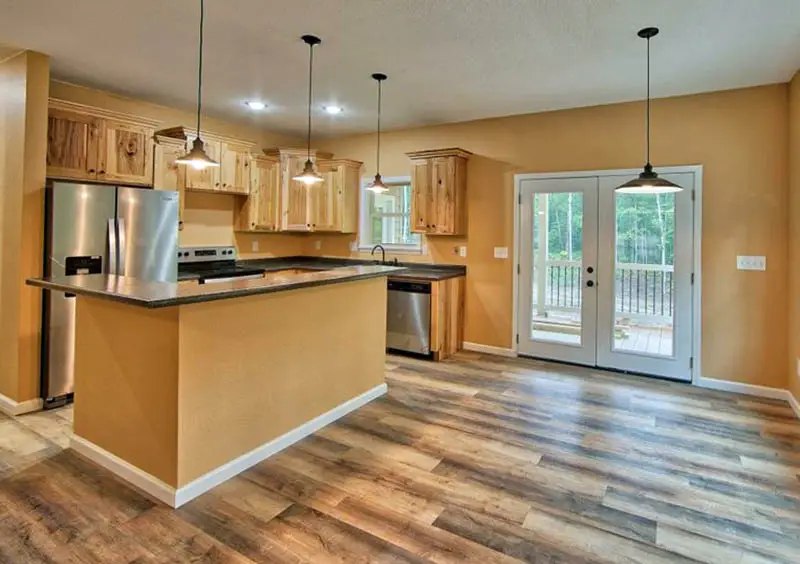 Here's an example of a country kitchen design with hickory cabinets paired with a darker wood look vinyl flooring.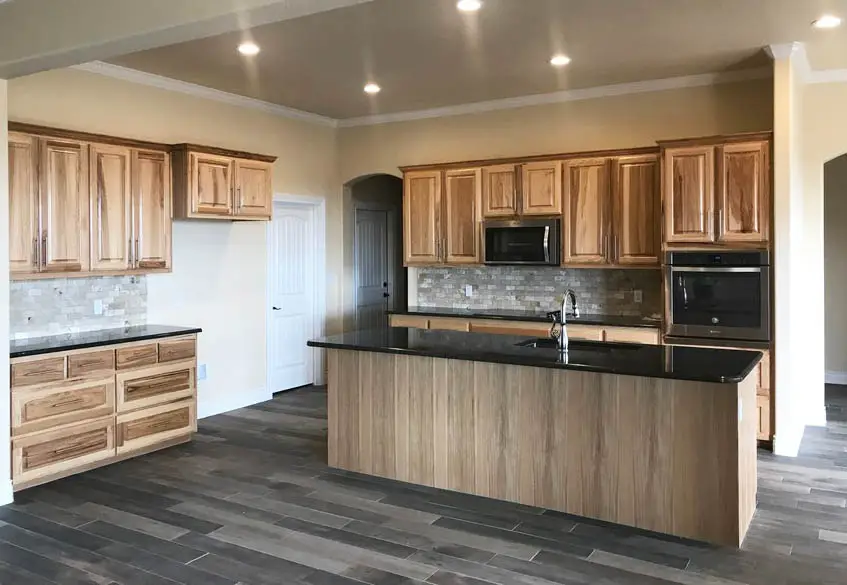 Keeping things neutral is a big trend currently. With the light wood and the possibility of bleaching (to bring a white look to the wood) these cabinets have a great contrast with a dark neutral flooring. This gives a black and white look, which is desirable in a lot of modern spaces. Adding a unique mosaic backsplash, or a vibrant granite countertop prevents the design from becoming a bland, one note look.
Flooring Materials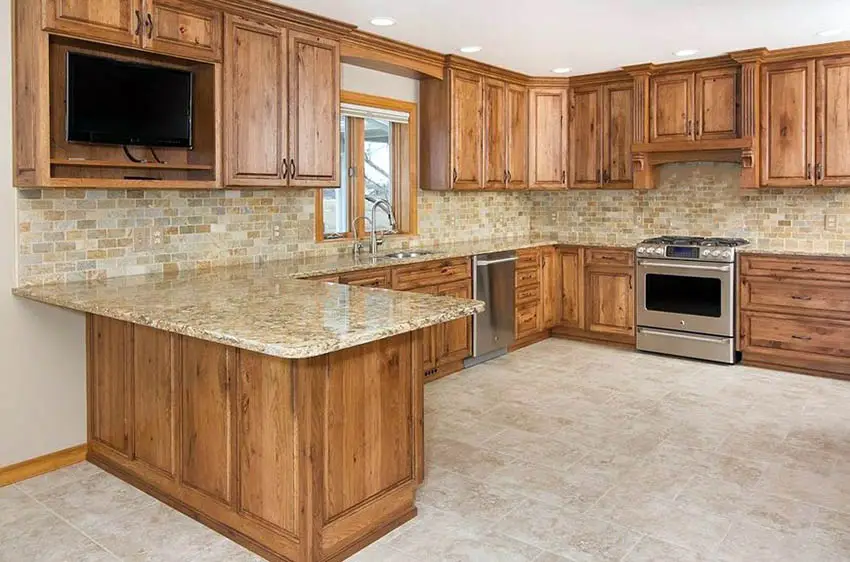 Tile flooring is a great option for kitchens, especially with Hickory cabinets. Tile flooring can include ceramic, porcelain, natural stone, etc. Tiles are available in a wide range of colors, meaning you can choose a dark color to match the wood grain, as mentioned previously, or even throw an accent into the mix with an exciting red or blue, possibly coordinating with the paint on the walls or accessories in the kitchen.
Vinyl flooring is another option that offers these color options while keeping a lower cost, and lighter load. Vinyl can be made to look like stone, wood, or any color imaginable. This option does not add much value to a home, but it is a great deal cheaper than the tiles mentioned above.
Flooring Patterns
As mentioned, Hickory wood has quite a bit on natural texture and pattern. As to not overpower the wood cabinets it is best to not include a pattern, or just use as very light, non-overpowering pattern in the flooring. Doing so keeps the attention on the wood cabinetry without overwhelming the design. To see more related ideas visit our rustic kitchen cabinets page.