Here we share our quartzite countertops pros and cons with what they are, designs, advantages & disadvantages, cost, heat resistance, and kitchen quartzite countertop maintenance tips.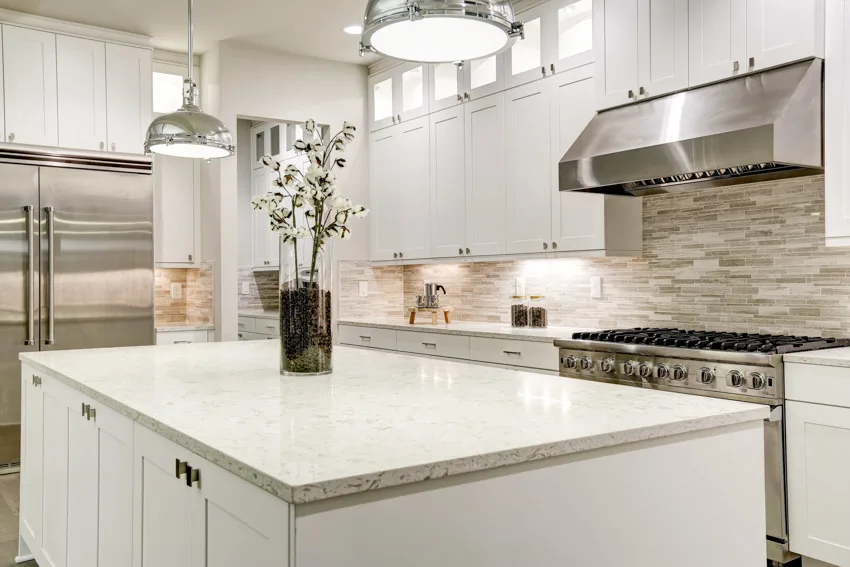 Before we get into what the pros and cons of quartzite countertops are, let's just get one thing straight, quartzite is not the same as quartz. As similar as they may sound, they are actually quite different.
But before you decide to purchase one for your kitchen renovation, you need to be well versed about what the different quartzite countertops pros and cons are so that you can pick what's best for you. So yes, quartzite makes for a great candidate as a kitchen countertop.
What Are Quartzite Countertops?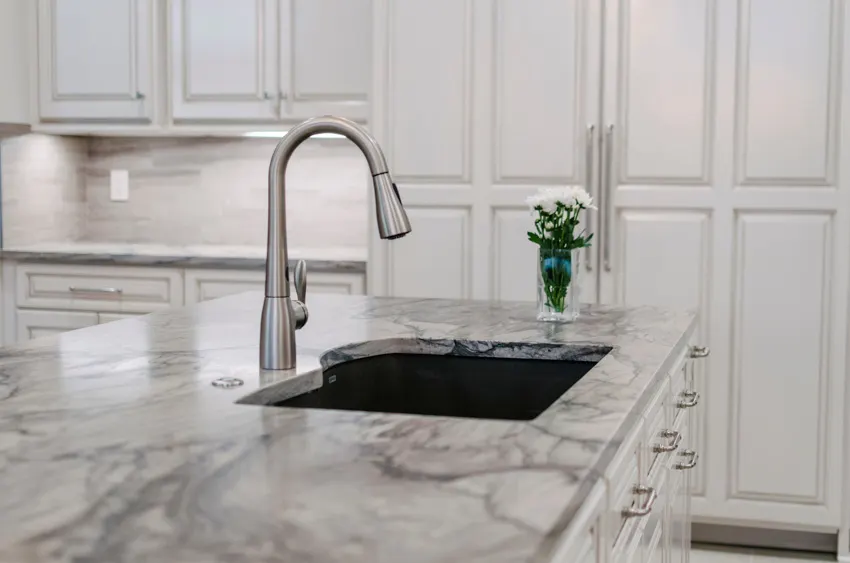 Quartzite is a material that's formed when quartz sandstone is exposed to a lot of pressure and high temperatures. Such conditions cause the sand grains to re-crystallize and eventually, the silica elements in the sand bind everything together, cementing the final and finished version of the quartzite.
This ultimately results in interlocking quartz grains that are both beautiful and incredibly strong and sturdy. Quartzite countertops are basically produced when natural deposits, such as a specific type of porous stone are cut to the specific dimensions that you requested.
Quartz kitchen countertops, on the other hand, are engineered stone. They're poured and molded into customized shapes. More often than not, it's made out of loose quartz and then some percentage of other materials such as resins and the like.
What this technically means is that quartz countertops will turn out to be far denser than quartzite countertops. Now on to the actual pros and cons.
Quartzite Countertop Pros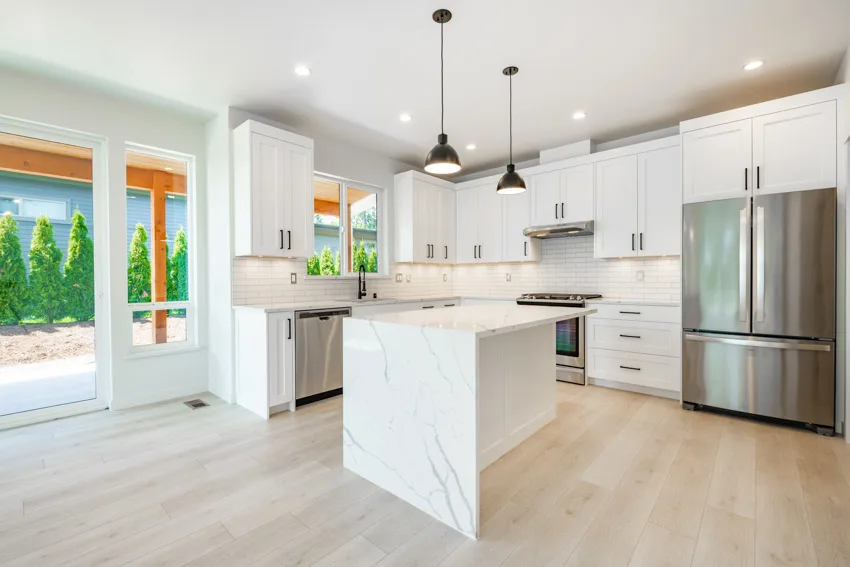 They look like marble: Quartzite ultimately looks like marble. It has a beautiful swirling white and grey pattern that's unique and unlike any other. It makes the countertops look really interesting.
They can give an impression of something similar to an art deco piece. If you want to have a really impressive piece for your kitchen space, then a quartzite countertop can really make it happen for you.
Marble is a little expensive and some homeowners find that it can be a little outside their budget. This is where quartzite comes in. It has the look and feel of marble without the overwhelming price tag. Read more about quartzite vs marble here.
They're very durable: Quartzite is a type of countertop material that's carved out of natural stone. This means that it has similar qualities to other natural stones such as granite in terms of durability and density. Read more about quartzite vs granite here.
Quartzite stone has some peculiarities in its formation that make it resistant to water and heat. This means that you will be able to use it as a countertop and it will remain damage-free for a very long time.
Quartzite has a hardness rating of 7 out of 10 on the Mohs scale. On top of that, it is also known to be highly resistant to etching, scratches, and acids.
They're quite low maintenance: Quartzite can be quite easy to maintain and clean especially once it's been sealed. You wouldn't need more than some mild soap and warm water to wipe it up and clean it up.
You'll get a clean and spotless kitchen countertop in no time. Try to avoid anything that's chemical-based or harsh in your cleaners so that you don't end up damaging the sealant over time.
They're resistant to UV light: If you happen to want an outdoor kitchen, quartzite countertops are great candidates as well. They don't get damaged by sunlight exposure. You'll be guaranteed that they won't fade out in appearance despite direct exposure to sunlight.
They're highly aesthetic: Quartzite countertops are ideal if you're aiming for a specific aesthetic in the kitchen. They look great and they have a visual appeal that's stunning.
They have unique veining in their patterns that make their natural colors bring in interesting additions to the overall appearance.
They can be very versatile: Quartzite countertops offer up unique colors and patterns that make them both attractive and versatile enough to pair up with any type of kitchen color scheme or design layout.
The colors usually vary between white and grey but they also come with other color variations in earth tones. It all depends on the specific mineral content of the quartzite slab that you have. This is why it can turn out to be a really popular choice for kitchens with minimalist, rustic, or industrial designs.
Quartzite Countertop Cons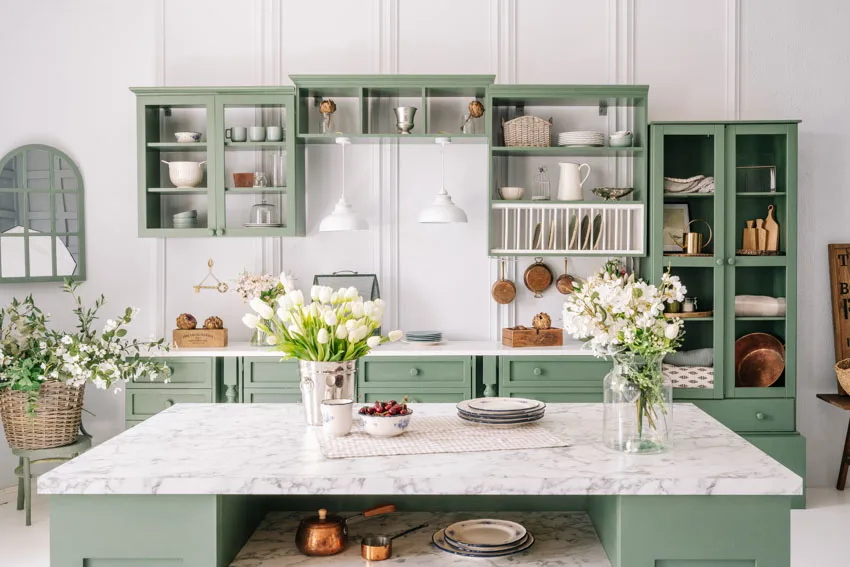 They're highly prone to scratches: Quartzite is undeniably dense and durable. However, it's easily prone to get damaged by sharp objects such as knives and kitchen mallets.
Chopping your food items directly on your quartzite kitchen countertops could lead to scratching and etchings on the surface that might damage its overall appearance.
Make sure that you opt for a proper chopping board as much as you can. This will also prevent your knives from getting prematurely dulled.
They're a bit on the pricey side: Although quartzite countertops are cheaper than marble, they still happen to be more expensive compared to the other natural stone materials out there.
Customizing them also can run up the bill as they would require diamond cutters to cut them up to the specific size or dimensions that you want for your kitchen countertop. This can be an expensive process as it requires hiring out skilled workers to get the job done.

They're porous: Quartzite materials require sealing as they're porous by nature. Without a proper sealant or sealing process, any liquids spilled on the surface can end up seeping into the stone stab and might leave stains and encourage bacteria growth especially when they aren't thoroughly cleaned or wiped up right away.
Get your quartzite countertops sealed at least once a year to ensure that they're kept smooth, shiny, and protected from any spillages and stains. Depending on the type and quality of the quartzite slab you have in the kitchen, some might require multiple resealing processes all throughout the year.
They can be difficult to install: If you're planning to DIY your kitchen renovations in the essence of saving a little bit on the budget, quartzite may not be a recommended option for you to go for. They're quite dense and hard, as with most natural stones.
They need to be manhandled and worked on by skilled workers who have advanced and special tools for the specific job on hand. You also need to make sure that you hire out a countertop fabricator to install it properly or you run the risk of getting it damaged or coming loose in the long run.
Quartzite Countertops Cost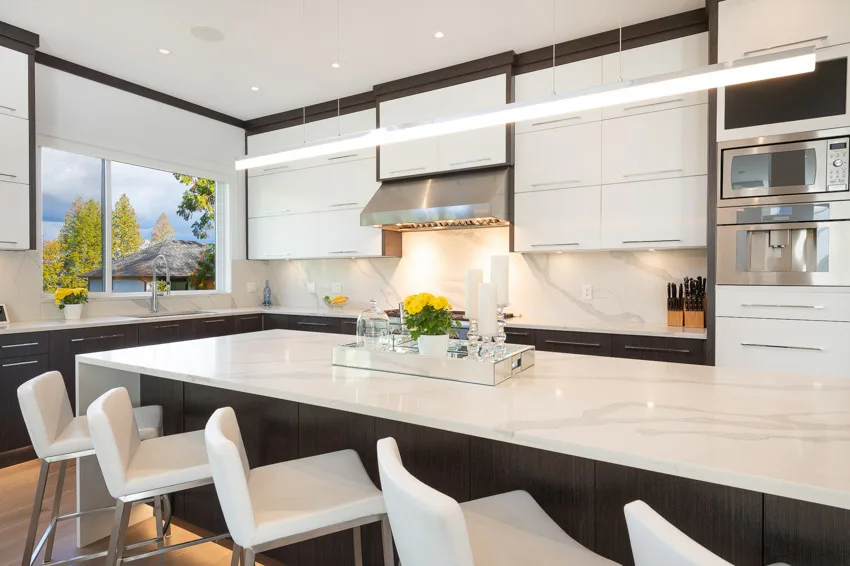 Apart from these quartzite countertops pros and cons, you should also consider the cost involved. Quartzite countertops don't come that cheap but compared to marble kitchen countertops, they cost much less while having a similar look and feel.
Quartzite countertops can range anywhere from $60 to $100 or higher per square foot, depending on the quality and type of quartzite slab you plan to have.
This was a reasonable cost back in the day but these days, there are a lot of engineered surfaces such as quartz that you will be able to get for much less per square foot while still providing great aesthetics and great performance.
Quartzite Heat Resistance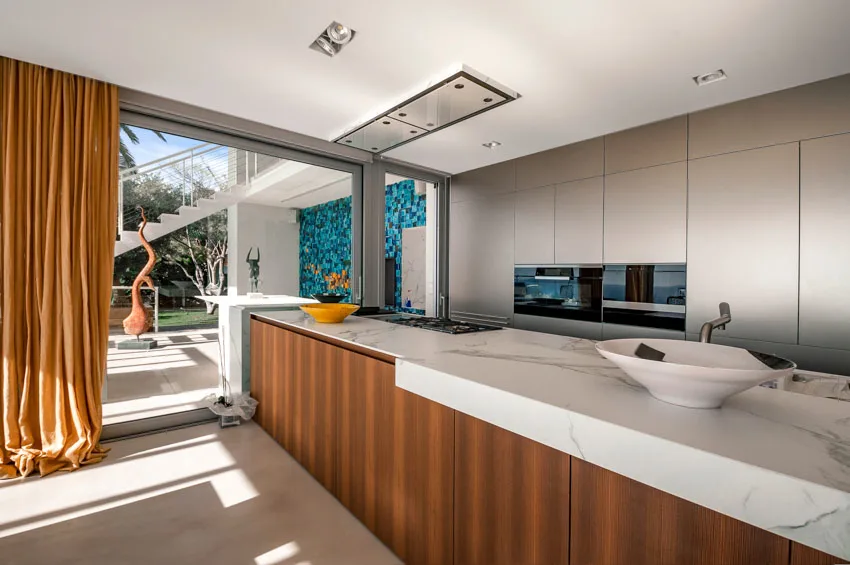 Heat resistance is one of the biggest strengths of a quartzite countertop. Similar to other natural stone materials, such as granite countertops, it is known to be able to withstand a lot of heat.

This makes it very convenient in the kitchen, where the countertop's surface might oftentimes be exposed to a lot of heat coming from the pots and pans that you're working with or possibly putting on the surface without some sort of rubber or silicone padding.
Although it's fairly safe to put hot items on a quartzite surface as is, it would be best though to be on the side of caution and make sure that the hot items you put on the surface have the added protection of some sort of heat resistant pad or even trivets for added safety.

Quartzite Countertops Maintenance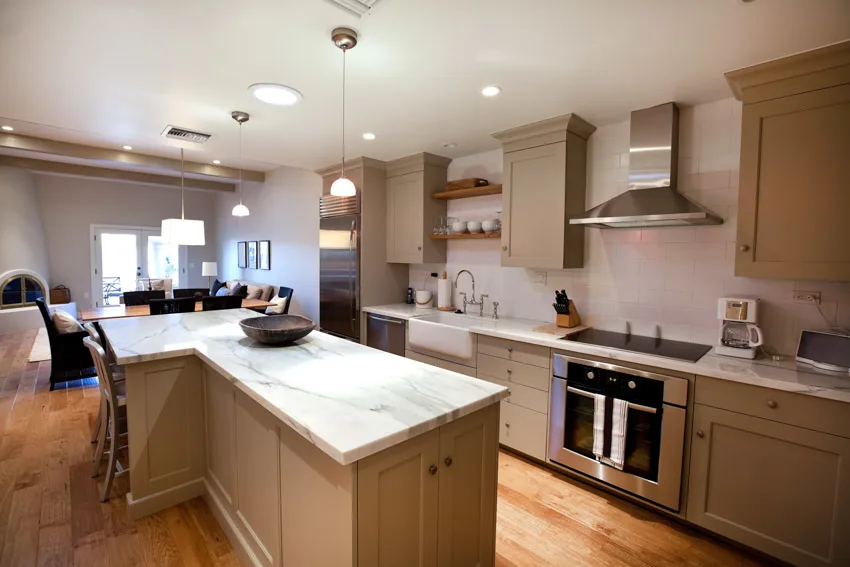 Apart from considering quartzite types of countertops and their pros and cons, another detail to look out for is its maintenance. Wipe it down with some soapy water and soft and fine cloth and you should be on top of everything, especially if your countertop surface has been sealed for added protection.
If stains and spillages persist though, you can mix a few drops of ammonia with some water along with some hydrogen peroxide with a concentration that's no higher than 12%.
Any other persistent stains from there on out can be taken care of with a specialized cleaning paste such as a poultice that needs to be placed on the specific stained spot, covered with a sheet of plastic, and left on for another day or two before thoroughly getting it wiped down.
You also need to make sure that you get your quartzite countertop sealed at least once a year to stop any liquids from seeping through. This is a particular challenge for kitchen countertops which are exposed to a lot of liquids, organic food items, and general wear and tear.
If you want to step it up some more with your quartzite countertop maintenance, it would be best to reseal the surface after every few months just to prolong its life span even more.
Read more about our guide on the different honed quartzite pros and cons here.