See what is a prefab kitchen design including its differences from modular kitchens, details about prefabricated cabinets, countertops, cost and it they are worth considering.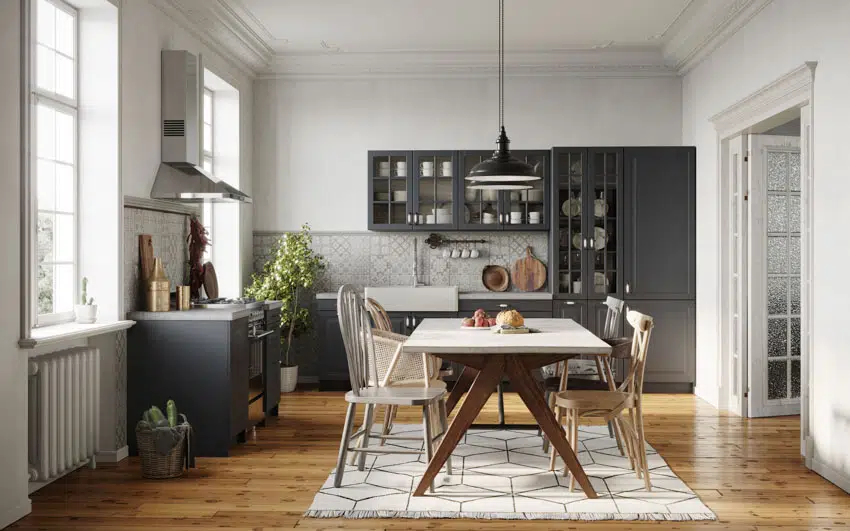 Are you searching for a cost-effective approach to remodeling your kitchen? A prefabricated design might be the ideal answer for you.
Prefab kitchens are quite popular nowadays since they are inexpensive, simple to install, and provide design freedom and affordability. Imagine a world where houses can be manufactured in factories in a matter of weeks to fit any particular taste and style.
A prefab (prefabricated) kitchen is easy and inexpensive to construct – that's why these innovative cabinet systems are gaining popularity today. Weather delays and months of waiting to move into your new house are no longer an issue.
Architects and builders can develop something that feels like playing with legos using prefab house design as the future building blocks of sustainable construction. Here's all you need to know about prefabricated kitchens.
What Is a Prefabricated Kitchen?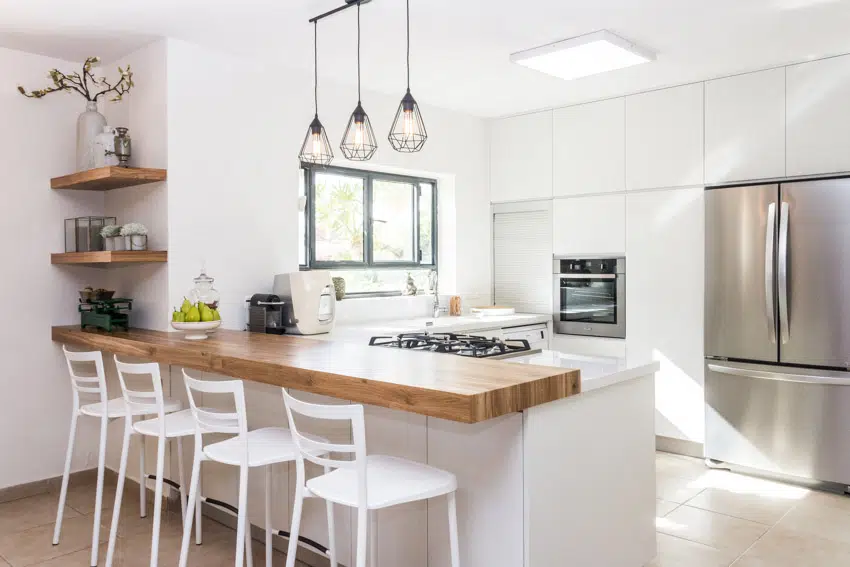 A prefab or prefabricated kitchen is built ahead of time by the manufacturer, rather than to exact custom specifications. Since these cabinets are prefabricated they offer limited options for finishes and sizes.
According to numerous surveys, homeowners spend 2.5 to 3 hours in the kitchen, and it is one of the most used parts in the house. Every day, around 8 times, kitchen drawers, pull-outs, doors, and cabinets are opened.
The kitchen is often assumed to be the cleanest, yet it's the dirtiest part of the house. It ranks second in terms of injury-prone places, close behind restrooms. That is why having a well-designed prefab kitchen is so crucial.
A modular house's design incorporates a prefabricated home kitchen design. A prefabricated kitchen is an addition to a finished house. Depending on the customer's needs, you may customize these prefabricated kitchens to accommodate a large or small area.
There is no contest for the cost of custom (bespoke) cabinets vs. prefabricated cabinets: the latter is significantly less expensive.
Along with a lower cost, prefabricated kitchen cabinets are also installed considerably quicker than handcrafted cabinets. Although you may have to spend some time installing your ready-made doors and drawers, you can take them home the same day.
But that's where many of the benefits of prefabricated kitchens stop. The inferior quality of prefabricated cabinets are a significant disadvantage. Low-cost materials are often used for constructing prefab kitchens – which will not last as long as conventional carpentry is concerned.
The low cost of prefabricated kitchens comes with the condition that you must also install them yourself. You must pay to engage support, making them significantly less cost-effective than they seem on the surface.
Those who have chosen prefabricated kitchens have also expressed concerns about the materials' durability. If you want to install actual stone countertops, a weak foundation will not support them over time, so keep that in mind.
Finally, prefabricated kitchen cabinets restrict your design possibilities even more than semi-custom alternatives. You will have to make do with what they have in stock.
But the beauty of modern green innovation is constantly redefining the environment we live in. Prefabricated houses and prefabricated kitchens are the finest solutions for the future because:
1. They are inexpensive.
2. Green technology may be included in the design by architects and designers.
3. Modular housing and cabinets are simple to alter.
4. You may rearrange prefabricated kitchen cabinets and workbenches.
5. You can construct a house in two months or less.
6. A free layout option is available from certain prefab house producers. It is possible to detach and rotate parts to change the arrangement because you can join walls in various ways.
Prefab Vs Modular Kitchen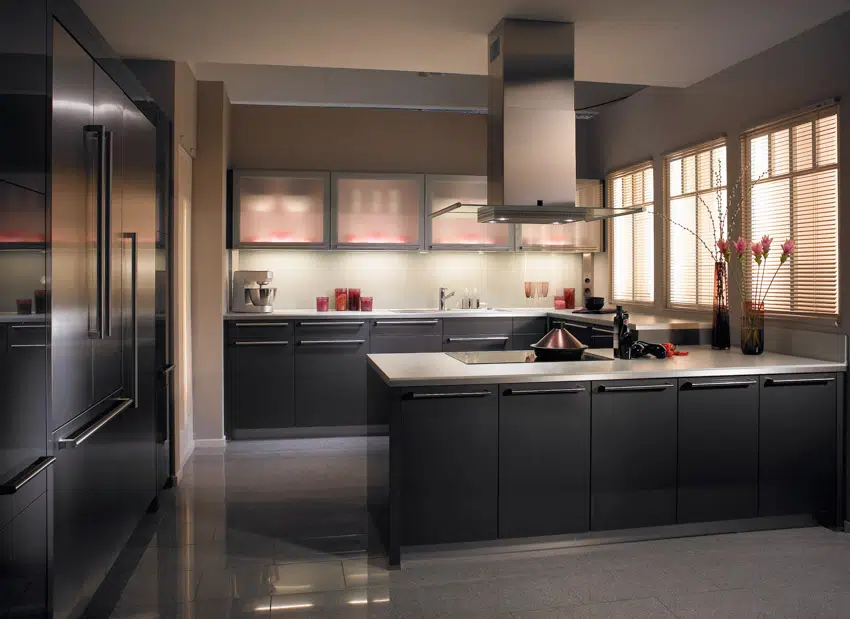 Although the terms' modular" and "prefab' are often used interchangeably, they are distinguished for specific reasons.
Prefabricated — or 'prefab' for short — refers to any structure component built in a factory before arrival and installation on the construction site.
A modular kitchen design is a sort of prefabricated structure. Traditional kitchens provide several obstacles, and a modular kitchen is a new and imaginative solution to these issues.
It is functional and long-lasting, making it ideal for typical culinary duties. It's a word for a contemporary kitchen plan of modular units/cabinets built of different materials that can house the necessary accessories.
Sample prefabricated elements that construct the structure are as follows:
• Trusses such as roof trusses, wall panels, and floor trusses
• Foundation walls and slabs made of precast concrete
• Staircases and other architectural elements
• Bathroom or kitchen modules
• Structural elements
Wood, steel, and concrete are just a few materials that you may use to make prefabricated components before being delivered to the job site and installed. Wall panels, for example, might be 'open,' meaning they arrive on-site without insulation, vapor control layers, or exterior cladding.
They may even show up at the construction site with insulation, vapor control, windows, doors, electrical wiring, ducting, and cladding already installed.
Modules are prefabricated components that enclose an area, such as a room. This module contrasts with 'flat' prefabricated components like wall panels and roof trusses, which do not have space.
Modules are sometimes known as 3D or volumetric since they contain space. Complete modules are manufactured at a facility and then supplied to the installation site.
"Modular structures produced from volumetric modules account for roughly 42 percent of the prefabricated building sector in North America," according to a 2019 paper in the journal Engineering Structures.
A crane lifts and stacks modules at the construction site then forms the structure. Contractors finish the building by connecting the MEP (mechanical, electrical, and plumbing) systems, completing halls between modules, and installing outside cladding.
Alternatively, it might give individual hallway modules or modules with exterior cladding already fitted. The degree to which you must complete the modules and the amount of on-site labor necessary varies.
Prefab Style Kitchen Cabinets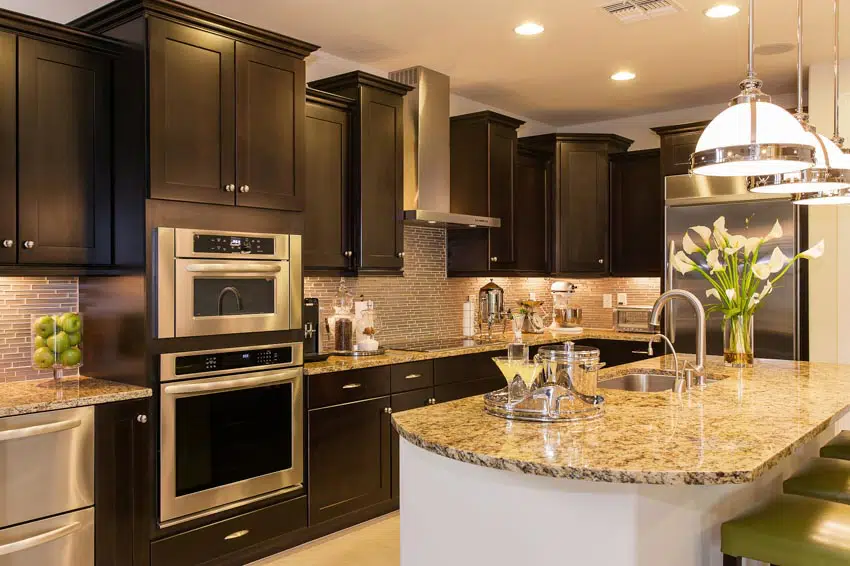 Prefabricated cabinets (or stock) are made long before being bought by the final user. Prefabricated cabinets are often available in conventional sizes rather than manufactured to the specific measurements.
Prefabricated cabinets, for example, have a typical initial width of 9 inches. Manufacturers then provide various widths in 3-inch increments up to a maximum of around 48 inches wide. Customers may usually pick between 30 and 48 inches when it comes to height.
While some prefabricated manufacturers make cabinets that aren't precisely these measurements, they are usually for higher-end or bigger kitchens.
Solid wood is not common when it comes to materials. Instead, prefabricated cabinets are from imported plywood or melamine and basic joinery, however to a high degree.
Pros and Cons of Prefabricated Style Cabinets

Here are some of the advantages and disadvantages of using prefabricated kitchen cabinets.
Pros:
• Cheap: Prefabricated cabinetry is generally the most affordable option. These cabinets are ready right away (though you will still need time to put them together if they are delivered flat-packed from a big-box retailer).
While being low cost is a pro it can also be a con if the materials are not durable enough to stand up to long-term use.
• Quick to install: Since these cabinets are prefabricated and designed to easily fit together the installation can be quite straight-forward and faster than traditional cabinetry.
• Can be a DIY project: Prefabricated cabinets may be a good option if you have a little construction experience you may be able to install these yourself or hire a local handyman rather than an expensive installer.
• Quick installation: The low cost and ease of installation make them a good choice for an additional smaller basement kitchen or a studio kitchenette.
• Quick delivery: Since companies already have these cabinets premade they can be delivered to your home faster.

• Easier to replace a damaged part – Due to the modular nature of these types of cabinets if a piece is damaged and needs to be replaced it can be reordered from the company. This is much better than trying to reorder a custom cabinet which can take a long time at a much higher expense.
Cons:
• Can be a poor value: Prefabricated types of kitchen cabinet materials can often be low-cost and do not involve installation. You get what you pay for.
• Flimsiness: Some consumers later regret installing prefabricated cabinets. Consider investing all of this money on a stunning quartz countertop and then placing it on prefabricated cabinets. Often, the cabinetry foundation isn't as robust or secure as some consumers hoped.
• Size range is limited: Standard sizes may not be appropriate for your kitchen – or your requirements. It may be difficult using prefab cabinets if you have an unusual room layout

• Lack of design possibilities in the kitchen: With prefabricated cabinets, you deal with what you've got rather than creatively working with your space.
What Are Prefab Cabinets Made Of?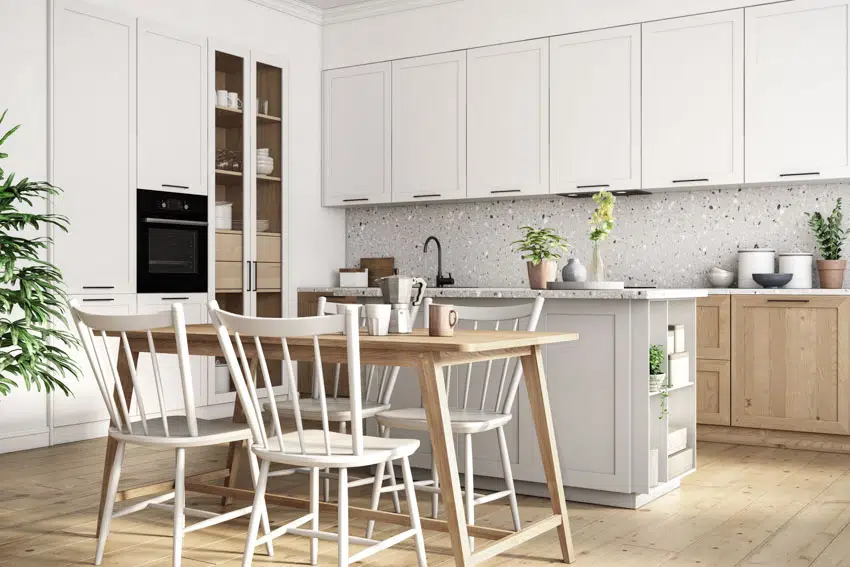 • Fiberboard or low-quality wood
• Usually manufactured in a factory (assembly line)
Even though one can build bespoke and prefabricated cabinets of the same material, many homeowners prefer solid wood cabinets.
Solid wood not only lasts a long time, but a professional can also refinish it without having to be replaced (which might come in useful if you want to modernize your kitchen in the future).
Customers who select bespoke versus prefab cabinets can anticipate a longer lead time before installation since the product will be of precise specifications, regardless of the material chosen.
How Long Do Prefab Cabinets Last?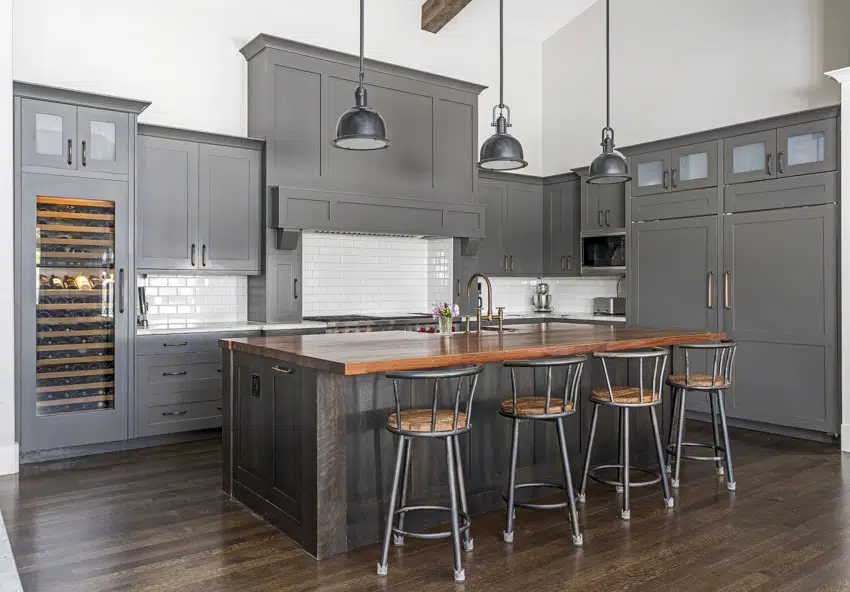 Prefabricated cabinets, unlike handcrafted cabinets, are difficult, if not impossible, to refinish.
It could have been worth replacing the cabinets entirely if the refinishing didn't provide acceptable results. Before replacement, the lifespan is generally in the region of 10-15 years.
Prefabricated Countertops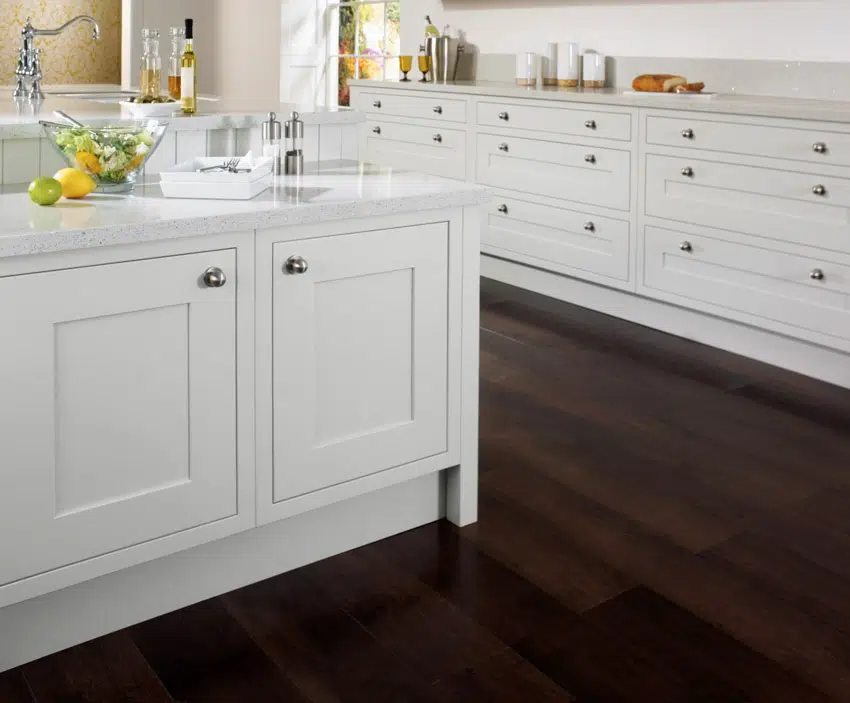 Prefabricated countertops come with pre-cut edges to suit a regular countertop. These countertops have a polished edge and are in the correct size, often a conventional bullnose edge.
Prefabricated bathroom worktops often have a sinkhole. Because kitchens vary in size, prefabricated types of kitchen countertops with a sinkhole are less popular.
Large, unfinished blocks of natural stone or quartz are slabs. Massive quartz or a bare stone slab constructs a slab countertop. You will be able to choose the stone's edging, proportions, and polish.
A prefabricated counter can work well for your makeover if you have standard kitchen cabinets or standard bathroom vanity. You may always join two pieces with a seam if you require extra surface area or have an L-shaped countertop. The proportions of prefabricated counters are in a stone.
In certain circumstances, prefabricated countertops may have a slightly inferior quality to slab counters. Manufacturers may utilize lower-quality stone for prefabricated countertops since the pieces are smaller.
Prefabricated countertops have fewer design possibilities than slab counters regarding style. If you take the prefab way, you'll have to choose from the manufacturer's selection of colors, patterns, and edge designs.
While many vendors provide a wide selection of options, they are nevertheless constrained by what they believe will sell.
However, if you're easily overwhelmed by a wide range of design options, it may be a good choice. A smaller variety will make it easier to design your kitchen without feeling overwhelmed.
Prefabricated countertops are less expensive than slab countertops, one of their main advantages. You have to pay for the supplies and installation since they've already been cut and polished.
Prefabricated countertops are the most fantastic option if you have a limited amount of time to devote to your makeover. The turnaround time is substantially quicker since they're already trimmed and ready to go.
Prefab Cabinet Costs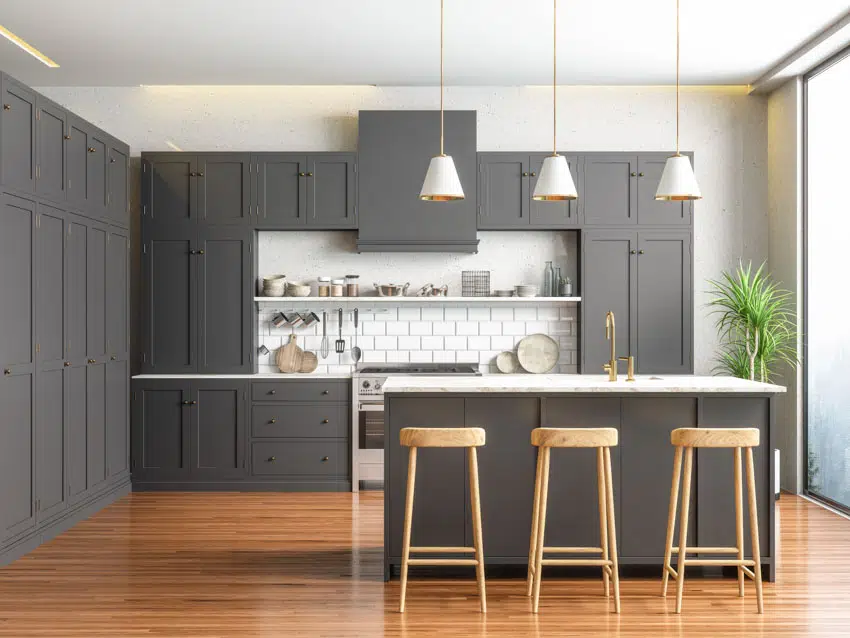 When it comes to kitchen cabinet price, the kind of cabinet construction comes first. The three primary categories are stock, semi-custom, and bespoke cabinets.
Home improvement or design businesses provide stock cabinets that you can buy as-is; they can generally be transported home the same day or within a few days.
Semi-custom cabinets allow for a little more personalization by the buyer, but they usually take a little longer to create, depending on how many alterations are required.
Custom cabinets are handcrafted to the buyer's precise requirements, and the time it takes to complete them is determined by the complexity of the project and the availability of the cabinetmaker.
Stock cabinets are the least expensive, costing between $60 and $200 per linear foot, semi-custom cabinets cost between $100 and $650 per linear foot, and bespoke cabinets cost between $500 and $1,200 per linear foot.
Are Prefabricated Kitchen Cabinets Worth It?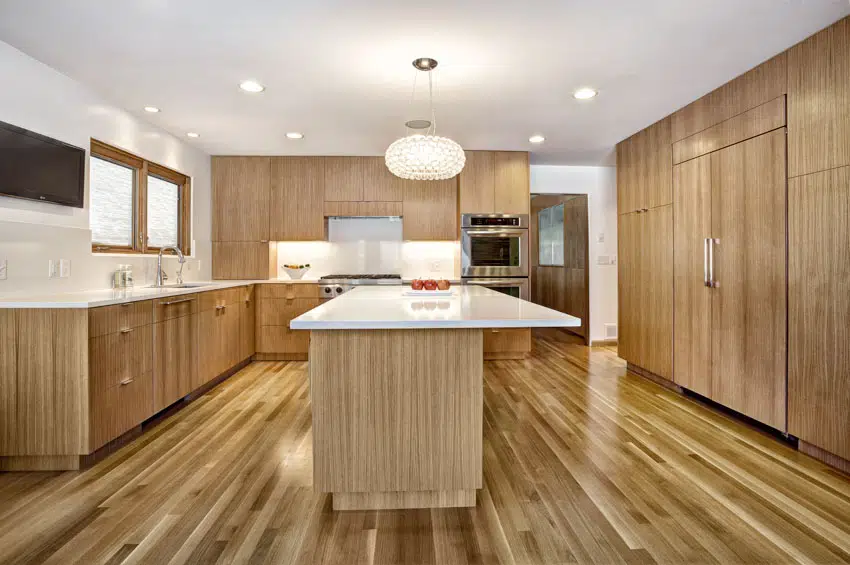 Prefabricated cabinets are frequently less costly than bespoke cabinets. You can get it urgently and help you save time, money, and stress while keeping your remodeling project on schedule.
Can You Paint Prefabricated Cabinets?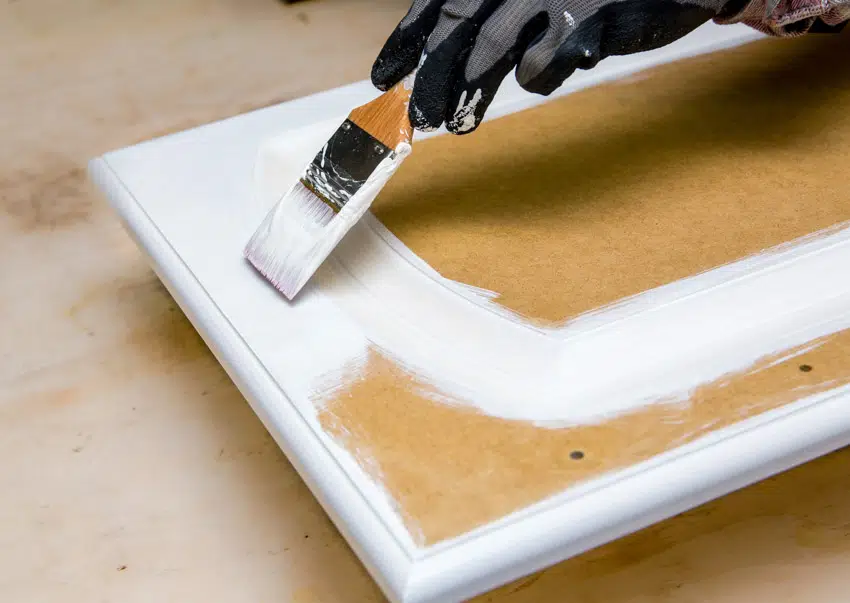 Prefab kitchen cabinets usually are stained or painted before being covered with a layer of lacquer or varnish. The top layer is frequently exceedingly hard to guarantee that the cabinets can withstand repeated usage and cleaning.
This finish, however, may be troublesome if you wish to modernize your room by repainting the cabinets, and you must remove it to guarantee your new coat of paint adheres correctly. After the finish has worn off, you may paint the cabinets as if the surface had been left untreated.
If you want to paint your cabinets, start by priming them. Priming hides stains and cuts down on the coats of paint required to produce an equal finish. Allow two hours for the primer to dry before applying the topcoat.
Choose a gloss or glossy finish for your kitchen and bathroom paint to make cleaning easier. Start with the raised panels of your cabinets and work your way out to the edges of the doors.
Allow the manufacturer's specified drying time for your initial coat. Apply a second coat of paint to complete the project.
Purchasing Advice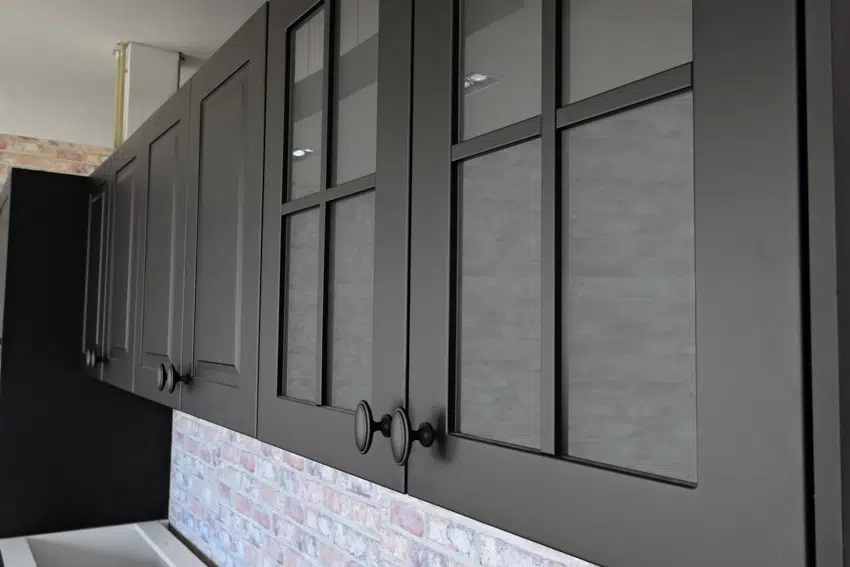 Cabinet knobs, handles, and hinges are generally the first pieces to break, so be sure they are sturdy. Prefabricated goods come with a limited guarantee that covers the hardware as well, so make sure you go with a trusted vendor.
Choosing between prefabricated and bespoke cabinets is a difficult task heavily influenced by your budget. Keep this in mind to ensure you acquire the most suited cabinets for your house.
Consider the available space and your budget before making any kitchen purchasing decisions. Once you have figured out these two points, any kitchen purchasing guide can assist you in creating the ideal modular kitchen.
When purchasing a prefab or modular kitchen, always invest in high-quality items since it is a once-in-a-lifetime purchase.
See more related content in our article about modern kitchen design ideas on this page.