Here we share our modular kitchen design guide including what it is, types of cabinets & number to use, tips on European trends, islands, cost, and kitchen layouts.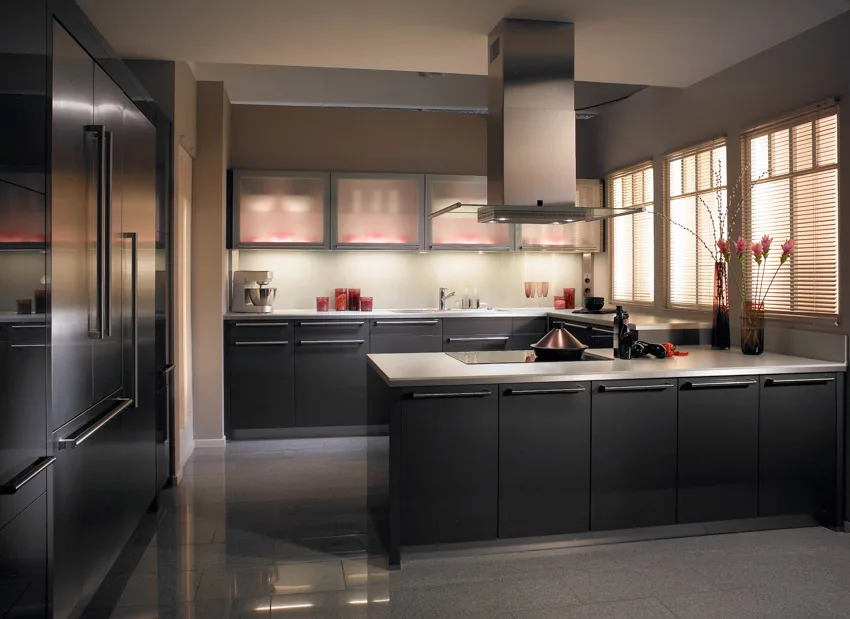 Modular kitchens have evolved into attractive, sophisticated, and modern pieces that serve as the center of the home. Apart from cooking, kitchens are progressively being utilized to accommodate guests, and they have grown into appealing, compelling rooms that complement, if not improve, the aesthetics of a house.
Today's homeowners recognize the importance of establishing a magnificent kitchen that is well-designed, well-planned, and blends in with the remainder of the home's overall design.
Modular kitchens are becoming a fantastic stride in this direction, allowing customers to design the style of their kitchen as well as the furnishings that go along with it, including the choice of hardware and color options for a cohesive look.
If you are keeping up with the current kitchen innovative designs, you have probably heard so much about modular kitchens. Continue reading to learn further details about this type of kitchen.
What Is A Modular Kitchen?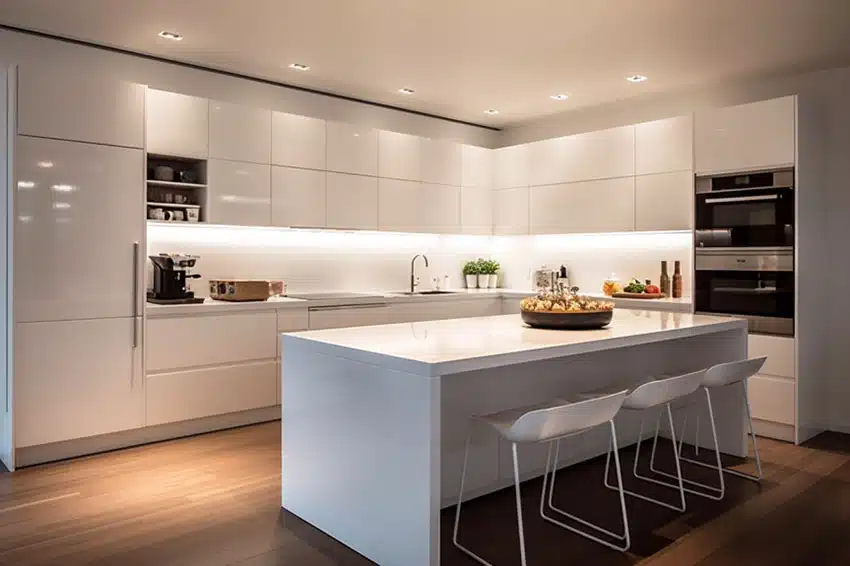 Modern kitchen equipment that is built in modules or components is referred to as a modular kitchen.
This type of kitchen comprises cabinets with pre-selected standard-size components. A modular kitchen generally consists of a combo of wall and base components, which can include built-in appliances such as a microwave, dishwasher, and refrigerator, creating seamless and functional integration.
Furthermore, a modular kitchen is the result of contemporary architectural design principles. The word 'modular' comes from the method these kitchens are structured out, which is based on cabinet modules. The popularity of modular kitchens comes from their practicality, aesthetic, and intricacy.
Modular kitchens, particularly for limited areas, are intended to enhance usability and lead to effective space utilization.
Every unit is constructed from a multitude of materials and includes modular kitchen attachments that allow you to organize your belongings in a clutter-free manner.
Modular Kitchen Cabinets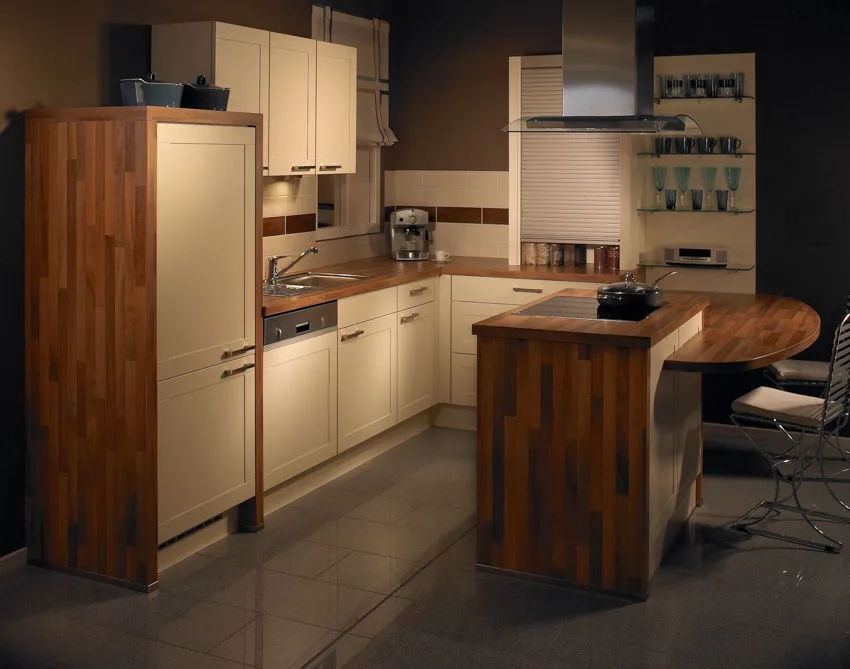 Primarily, modular kitchen cabinets are cabinet modules made of various components that are delicately constructed.
Modular kitchen cabinets are popular today due to their minimalism and capacity to hold more than conventional kitchen cabinets, as well as their compatibility with modern kitchen products and options.
Depending on where you want the cabinets built, there are floor units, wall units, and also wall-to-ceiling systems. Normally, every cabinet and, sometimes, even the counters are made of hardwood.
High-quality metal is among the different types of kitchen cabinet materials commonly used. However, here are the kinds of cabinets in a modular kitchen:
Types of Cabinets in a Modular Kitchen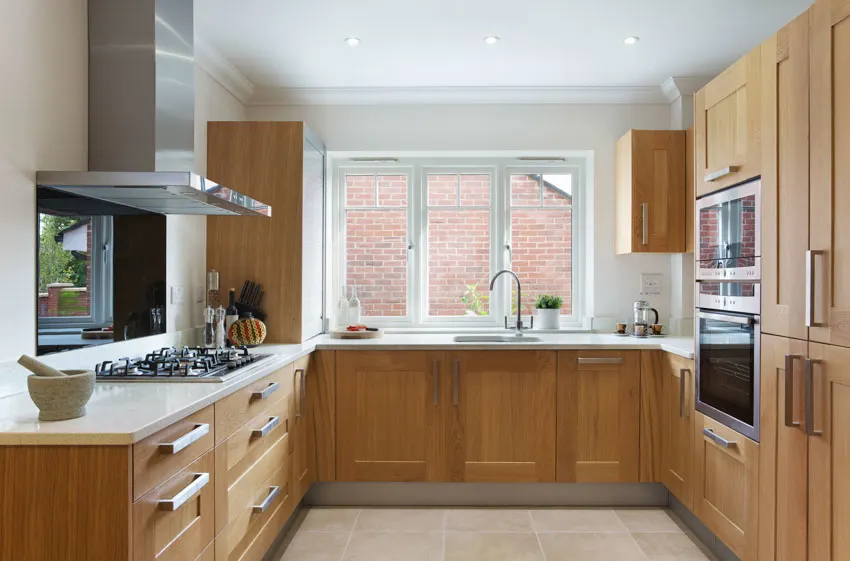 Here we share the different types of cabinets that are used in a modular kitchen.
Base Cabinet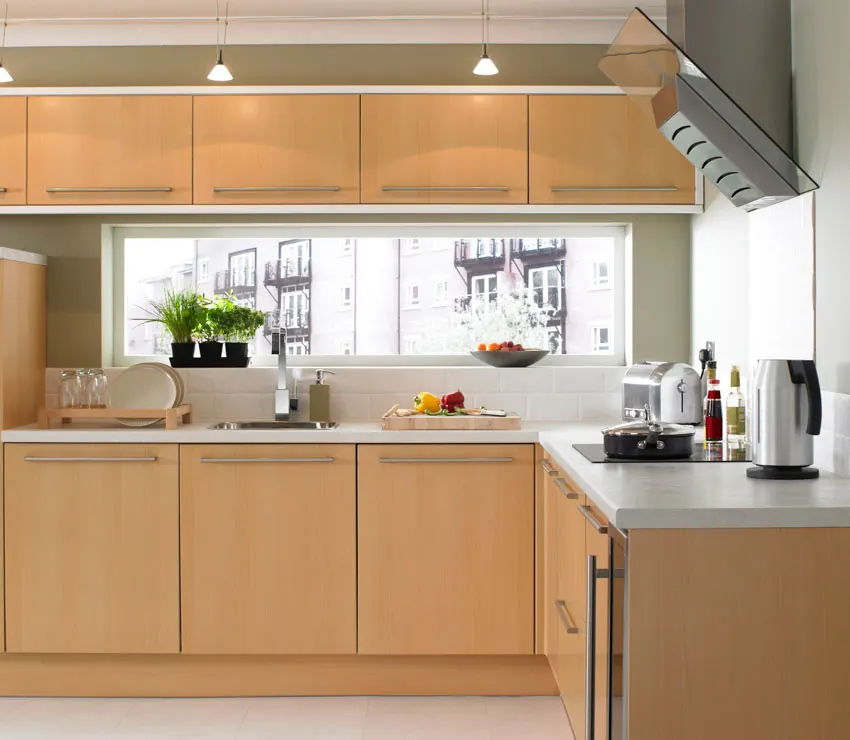 A base cabinet is a cabinet that is installed beneath a kitchen counter.This cabinet, perfect for any family, features a huge storage capacity and is therefore ideal for storing everything from major kitchen equipment to little kitchenware objects, even food items.
With a variety of material and finishes to choose from, you can customize the look of your cabinet to suit your preferences and match with accessories within your budget.
Such cabinets are conveniently accessible and could be used to store regularly used major pots, silverware, and so on, making it a practical and efficient place for all your kitchen needs. Base cabinets can also incorporate items such as recycle bins, junk drawers, and wash baskets.
Wall Cabinet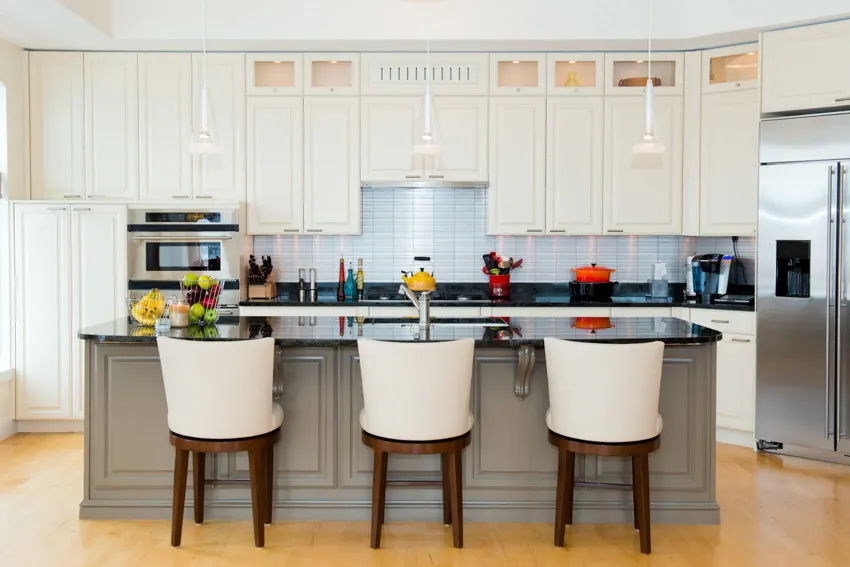 Wall cabinets are intended to be installed on the wall just above the kitchen countertop. These cabinets provide a broad range of alternatives for making your modular kitchen seem more appealing and stylish.
Essential cooking equipment, containers, grains, condiments, kitchenware, and other items can be stored in these cabinets.
Tall Cabinet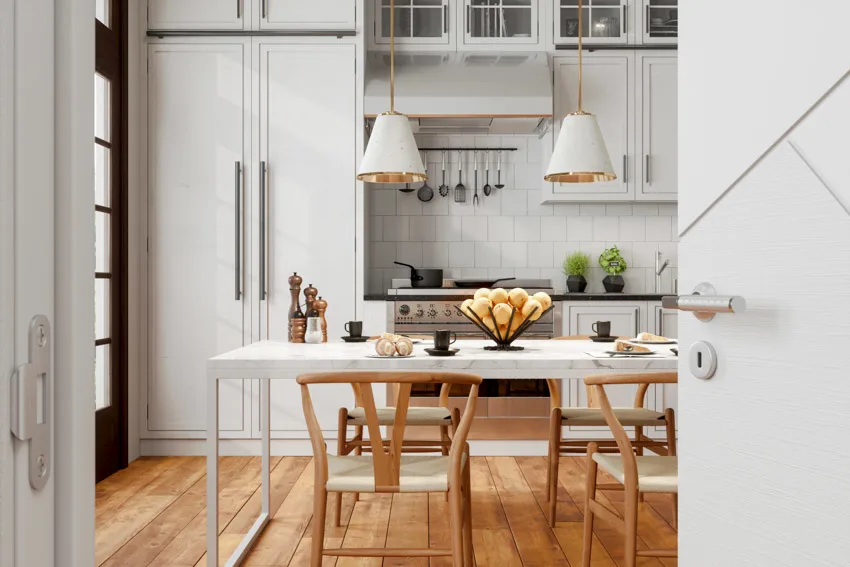 Tall cabinets are generally fitted in modular kitchens with a lot of room. Oversized and additional kitchen objects that are rarely used can be stored in these cabinets.
Moreover, these cabinets are perfect for storing large jars of pickles, cereal boxes, readily available packaged foods, and other objects, thereby maximizing your kitchen space.
Drawer Cabinet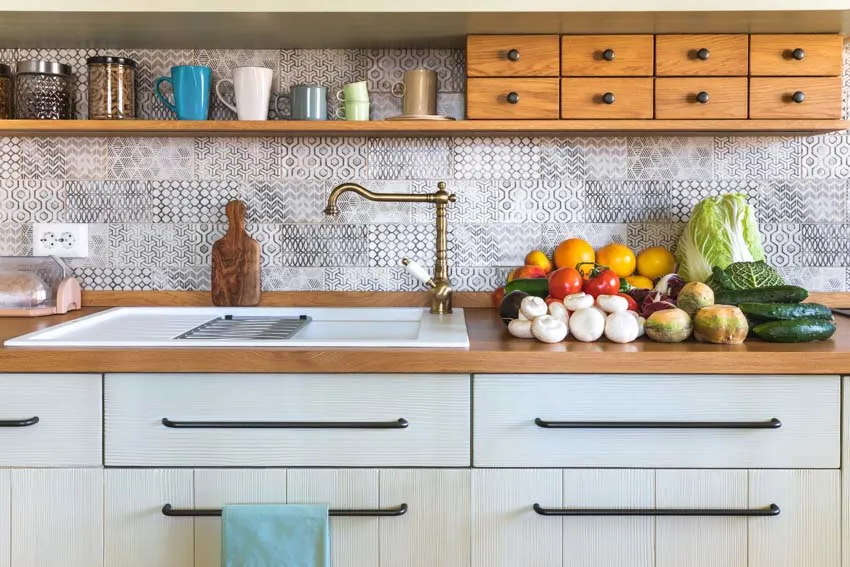 Drawer cabinets are the most flexible cabinetry pieces in your kitchen, with so many various styles created to meet your preferences and demands, all within your budget.
Modular Kitchen Units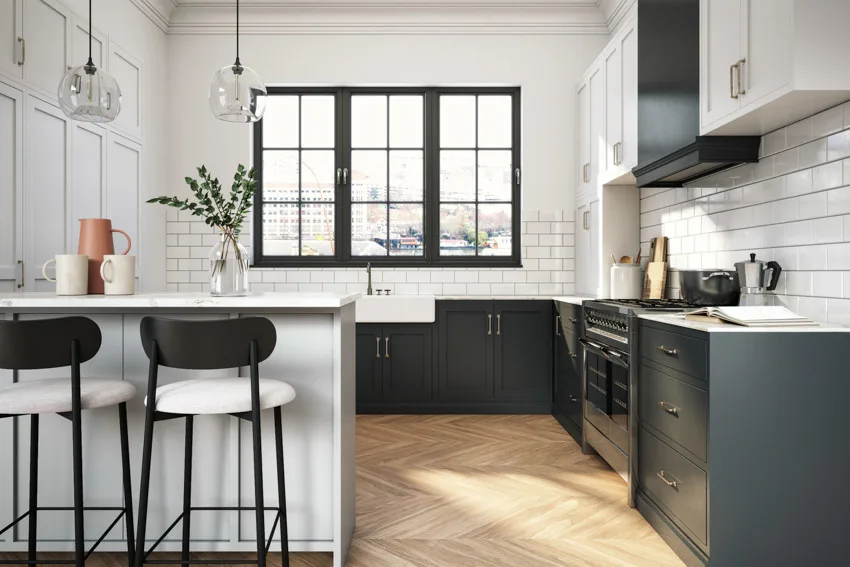 Modular kitchen units come in a variety of types, including:
Base Units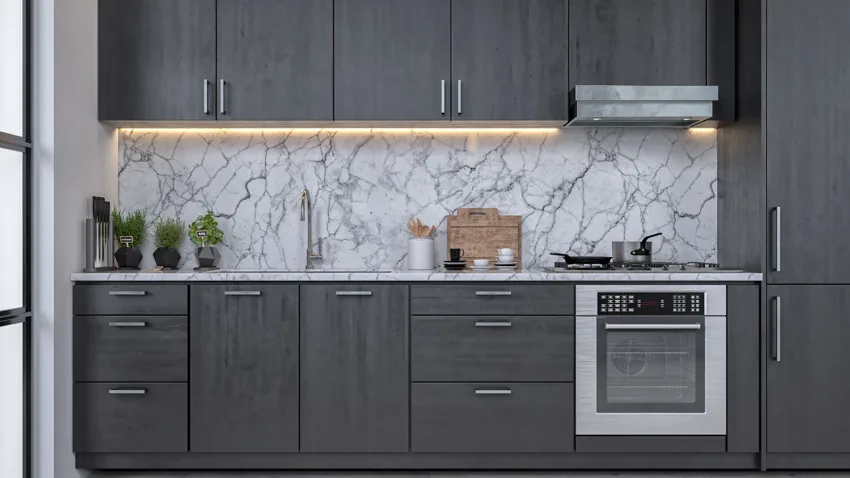 Typically, modular kitchens have at least two base units: one is for your oven and the one that comes with drawers and shelf space which may be used as a countertop for cooking.
The base units are intended to contain the burner, which is essentially your stove, as well as the kitchen sink.
Wall Units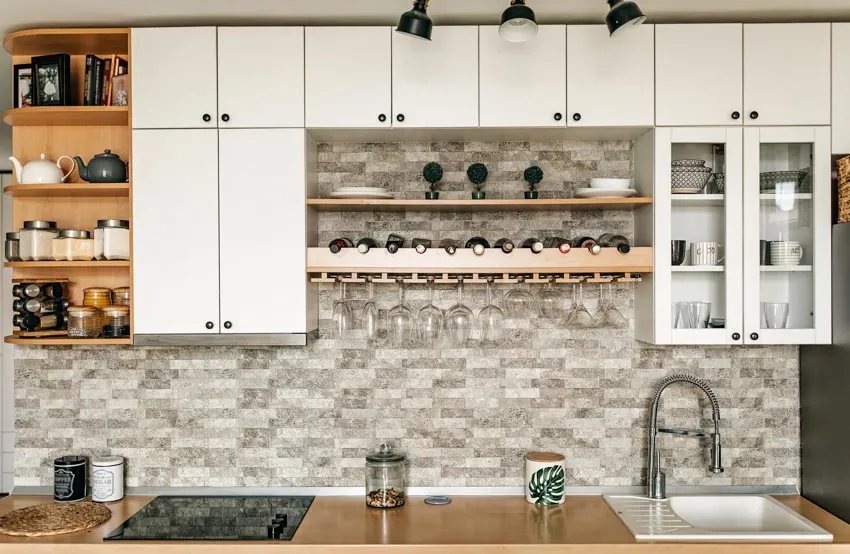 These units are hung on the wall based on your height and preferred comfort to keep your stored kitchenware and containers easily accessible.
Wall And Floor Tiles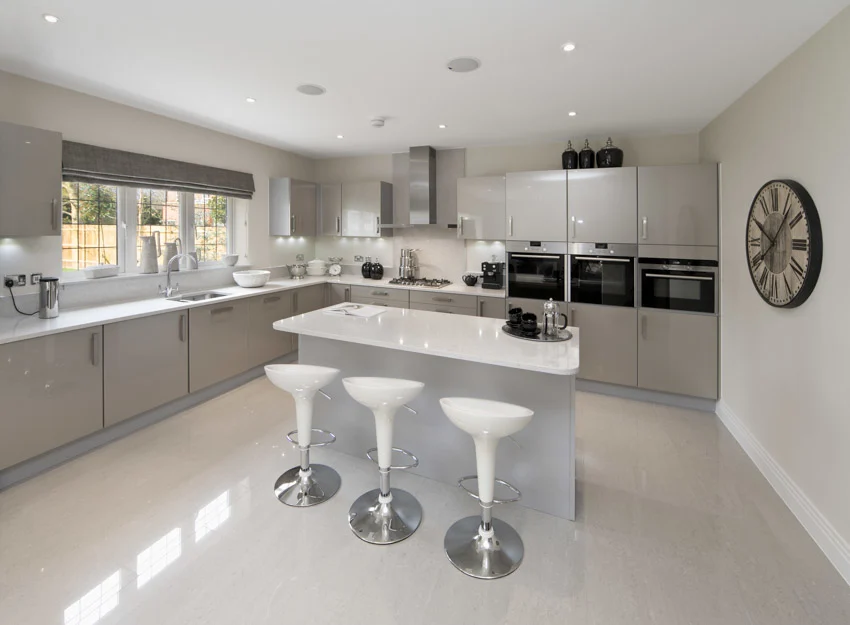 Whilst wood floors and laminates are getting more trendy, ceramic tiles are still used in the majority of modular kitchens.
Worktop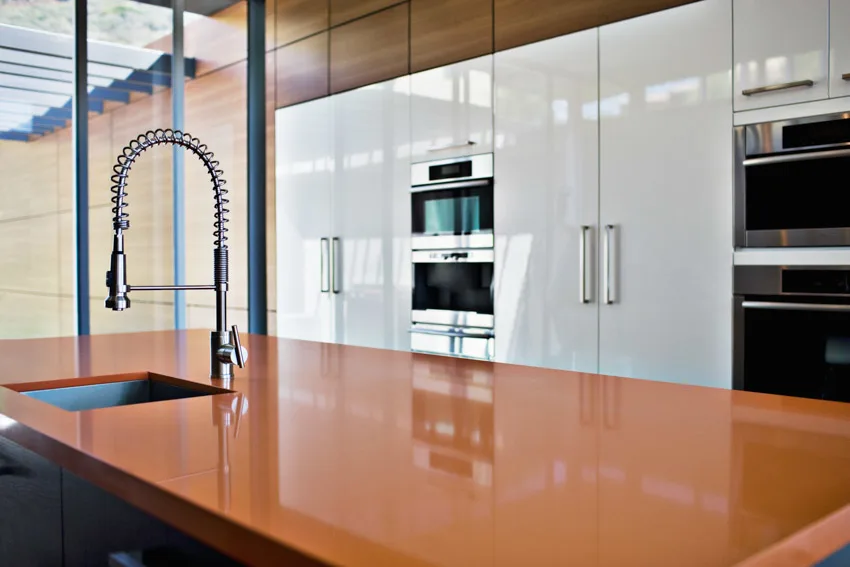 This is where you perform the actual kitchen duties, such as chopping, grinding, blending, and preparing meals. It is indeed a smart idea to select a water-resistant worktop.
European Modular Kitchen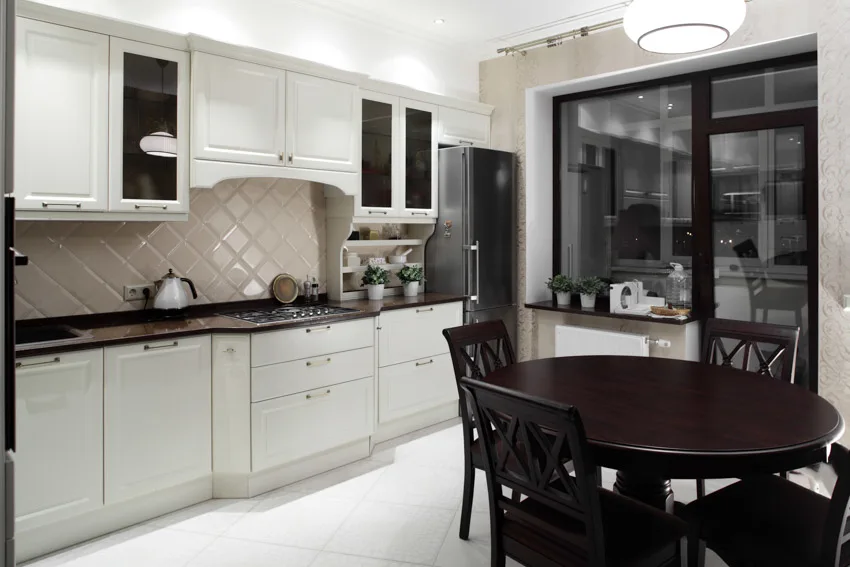 European style modular kitchen backsplash is dining table chairs white cabinet drawers countertop European-style kitchens are normally constructed in modules, making them a popular choice for those who want a stylish and versatile kitchen layout.
When people move in Europe, most people take their kitchens with them, valuing the durability and storage options they offer in various settings.
They may just bring the key components, including different types of kitchen countertops and cabinets. This implies they are adjustable, versatile, and can readily fit into any house size, catering to specific functionality and cleaning requirements.

Modular equipment and cabinets may be fully modified to fit your specific space, lifestyle, and likings in terms of kitchen space and storage space. Some European modular kitchens, for instance, may prioritize counter space, whereas others may prioritize storage.
European modular kitchen design can vary from a sophisticated kitchen aesthetic to a more classic fashion, often featuring seating options tailored to the homeowner's requirements.
A common trend in current European architecture is influenced by the Nordic nations' mid-century contemporary design. Natural resources are commonly used in conventional kitchen designs for cabinets, worktops, flooring, and furnishings.
European modular kitchens might offer the very same, or if their design is more innovative or trendy, components such as laminate, ceramics, and molded plastics may be used.
However, even the most cutting-edge European modular kitchen design can receive support from using natural components, as marble worktops, stylish hardwood floors.
Visually pleasing furniture pieces can also be a fantastic companion to any kitchen, whether the dominant kitchen layout is modern, classic, or somewhere in the middle.
Modular Kitchen Island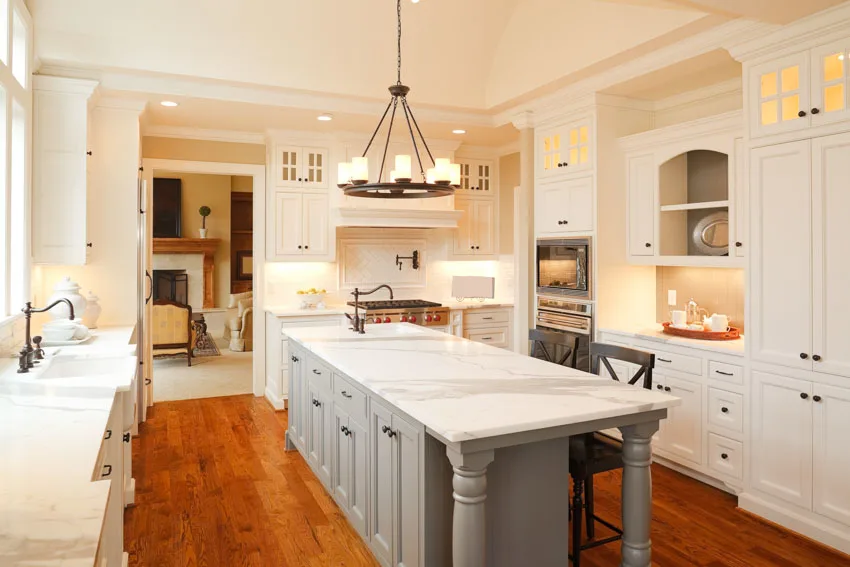 Nowadays, modular kitchen designs are attractive, useful, and adaptable, with something to fit every personality and purpose.
However, modular kitchen island kitchens are also becoming increasingly popular among city dwellers, and that is for some good reasons. Furthermore, island kitchens offer solutions to a variety of typical issues.
If your modular kitchen lacks countertop and cabinet space, an island may provide more workstations as well as storage. It can hold appliances such as microwaves, toasters, water filters, blenders, and so on, enhancing the kitchen's overall functionality.
An island might be the ideal choice for individuals who want extra room for meal preparation. If having two individuals working on the same countertop or cooking huge dishes on a single surface feels a little claustrophobic, the island provides elbow room for more individuals to cooperate in the kitchen.
Adding another dimension, if you have linear or small galley kitchens, the cooktop or sink can be positioned independently on the island to create the required kitchen work zone.
Cost of Modular Kitchen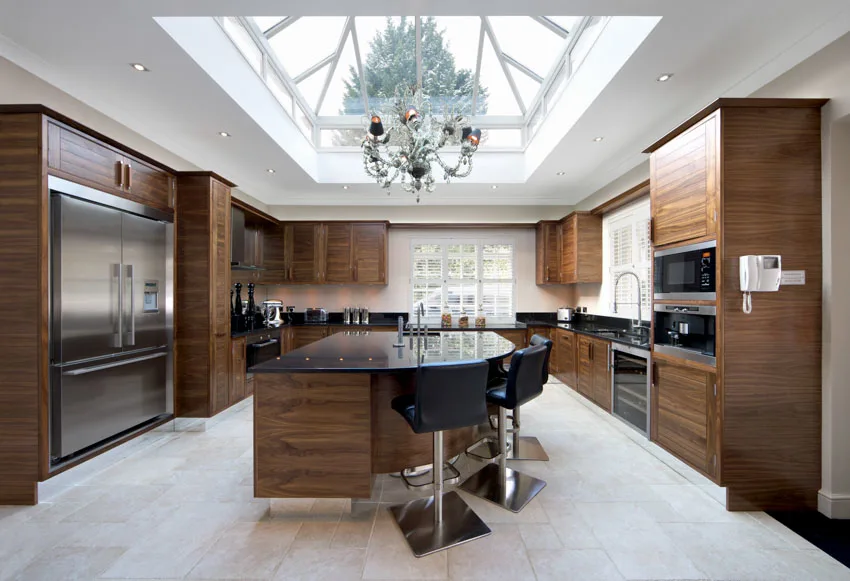 The approximate cost of a kitchen renovation is $23,000. Take into account that there will be a design and development operation associated with the construction of a modular kitchen.
The back-and-forth communication with your contractors until you reach an agreement on a particular design is a paid expenditure as well.
Aside from that, you will then need to buy all of the materials required for the task. It will be necessary to compute labor. Usually, construction companies will provide you with an estimate before any work begins.
Another thing that can help you know the cost of a modular kitchen more accurately is by getting a quote using a modular kitchen price calculator.You can try doing this by searching these price calculators online, which can help you find the ideal combination for your kitchen interior design.
With these online estimators, you can receive a reasonably precise quotation for your desired kitchen interiors. Just tell them the size of your kitchen, the type of cupboards, and other elements you want, and they will do the mathematics for you.
Modular Kitchen Arrangement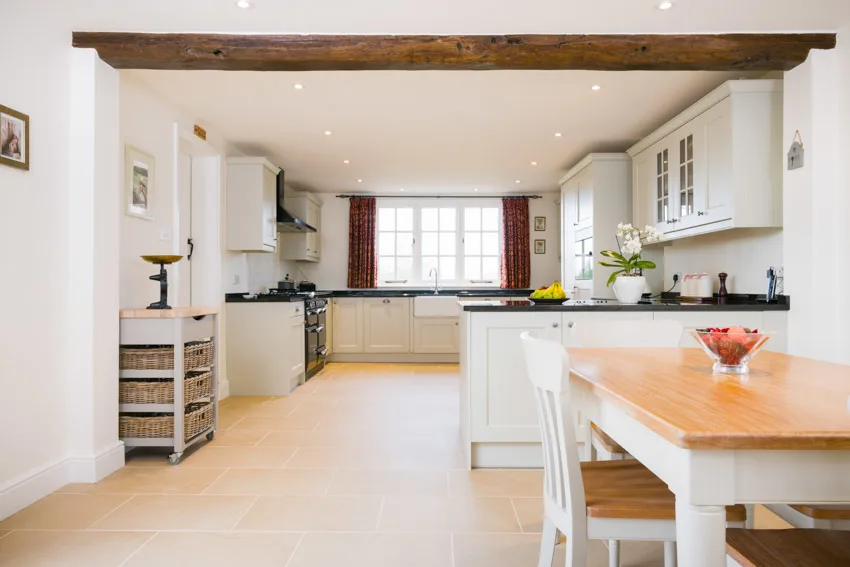 Numerous manufacturers offer standard design and arrangement guides that include photographs of modular kitchen interior layouts. You may select one and have it personalized based on your needs and the quantity of area in your kitchen

A modular kitchen design collection would most likely include Indian modular kitchen concepts as well as what is popular across the world, giving you a wide range of possibilities to pick from.
After you have chosen your modular kitchen designs, the modular kitchen will be built and eventually constructed after talking with your manufacturer and providing them with the dimensions of your area.
Each modular cabinet module is built individually while keeping aesthetics and storage capacity in consideration. They can often be arranged specifically to get the exact floor plan desired. For help planning your layout see our list of kitchen cabinet design software programs.

Is a Modular Kitchen a Good Idea?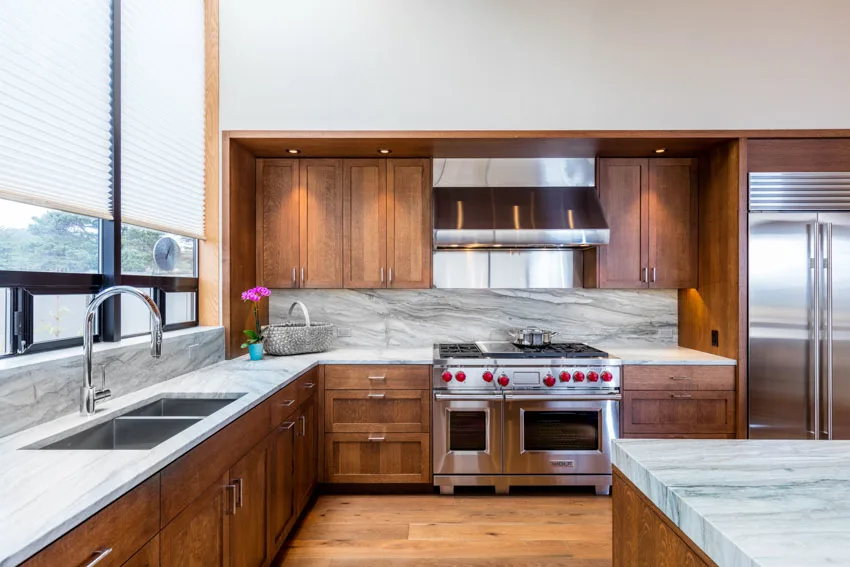 Generally speaking, having a modular kitchen is quite a good idea. And we will give you a few reasons why:
Very Hygienic: Modular kitchens are mainly composed of hardwood components that are particularly intended to keep your kitchen spotless and free of clutter. Many types offer lacquer cabinets that are waterproof and easy to clean, ensuring adequate moisture protection and a longer lifespan.

No Waste of Space in the Kitchen: Every area of your kitchen has been optimized, and each modular piece of equipment has been precisely built for ease of use.
These pieces may be changed or reconfigured so that everything, including the stove, sink, and workspace, is within easy reach.
Customizable: Modular kitchen modules, as opposed to standard kitchen units, may be tailored to meet your specific needs. You could select the modular unit of your choosing as well as a variety of Designer options and kitchen extras such as handles, knobs, storage containers, spice shelves, and so forth.
Cost-Efficient: Modular kitchens are less expensive than traditional kitchens since they are full of factory-completed furniture. Furthermore, kitchen units are manufactured in bulk with less waste and in a more economical manner.
Uncomplicated Maintenance: Because each section can be separated and taken from a modular kitchen cabinet, they would be very simple to maintain, repair, and replace.
When it comes to designing the perfect modular kitchen, it's important to consider the details, such as the color and finish of your appliances and hardware. This includes your microwave, dishwasher, refrigerator, and other storage options. To make the best decision, it's essential to gather all the necessary information on products and designer tips.
See more related content in our article about beautiful small kitchen ideas on this page.