Welcome to our guide to lacquer kitchen cabinets pros and cons including what they are, different styles, paint to use and where to buy.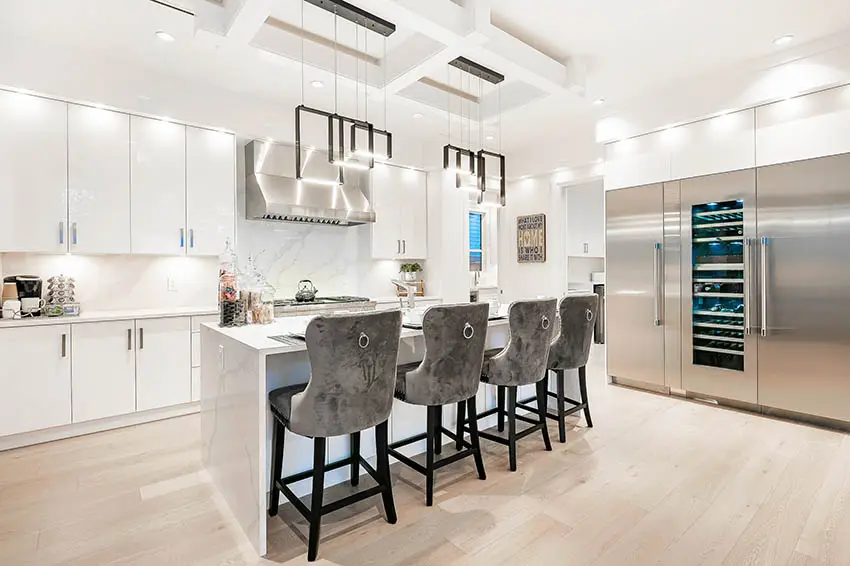 Kitchens are the heart of every homes wherein the kitchen cabinets embody the kitchen's uniqueness and character. Lacquer cabinets bring their own unique characteristics to your kitchen design.
Lacquer provides a smooth level finish that looks attractive with practically limitless amounts of colors to choose from.
What Are Lacquer Kitchen Cabinets?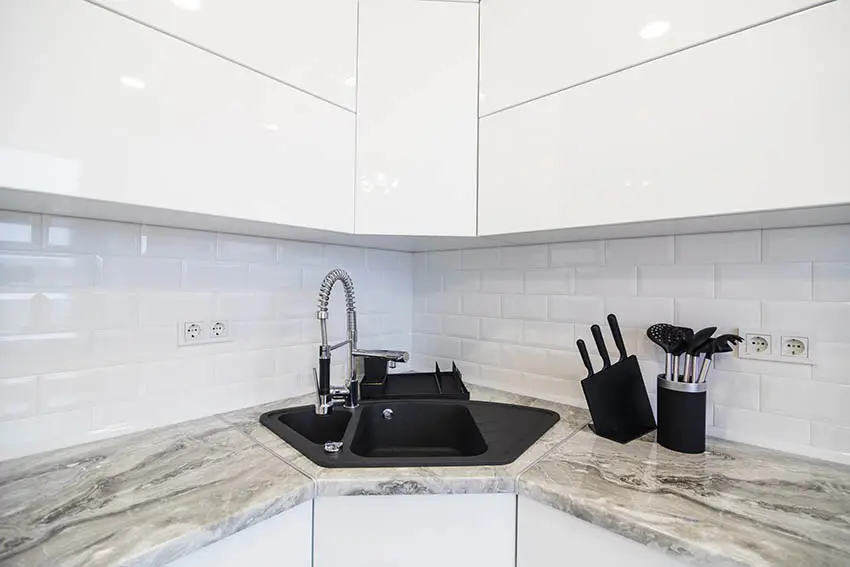 One of the biggest trends in kitchen cabinetry is the lacquer finish. It creates a visual impact and contrast as well as offers a unique texture and can easily become the focal point of your kitchen.
Lacquer is a solvent-based product which creates a synthetic coating on surfaces in order to form a high gloss shine. Lacquer finish is the process by which several thin layers of lacquer paint are applied to wood kitchen cabinet panels and provides an opaque, rich and even, matte or glossy finish.
Lacquer is breathable, waterproof and has a highly resistant nature making it the perfect option for kitchen cabinets.
Do not confuse lacquer finish with varnish. While both provide a shiny and glossy finish, lacquer can be both clear or colored; while varnish tends to be completely transparent. Lacquer is available in three types of finish – matte, medium and high-gloss finish.
The pros and cons of lacquer kitchen cabinets are very important to consider if you plan to upgrade or refinish your kitchen cabinets and storage capacity.
Lacquer kitchen cabinets can give you the look of your dream kitchen for an affordable price but may not totally provide a long-term benefits than those of other top finishes can provide.
Now, well discuss lacquer kitchen cabinets pros and cons starting with the pros.
Lacquer Kitchen Cabinets Pros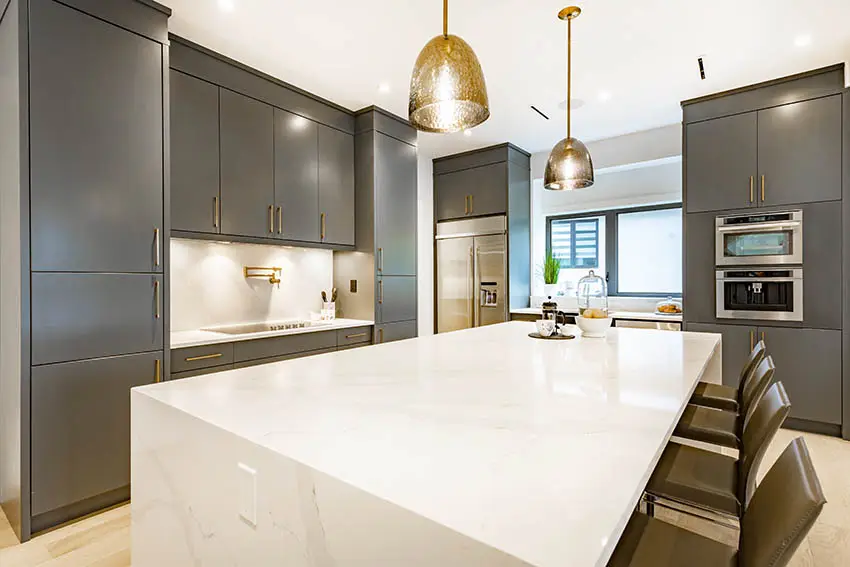 • Lacquer-finished kitchen cabinets are highly durable and resistant to damage particularly from acid, alkali, water, and abrasions.
• Lacquer kitchen cabinets provides a tough surface and has the capability of lasting longer without flaking issue unlike cabinets done in varnish, shellac, natural oil stains and polyurethane. Lacquer finish remains clearer longer while the other finish options tends to become yellowish.
• Another advantage of lacquer finished cabinets is that they are hard and durable and can last for about a decade.
• The lacquer seal protects the wood from inside-out. Applying a new coat or two of lacquer on your kitchen cabinets before they start to fade can help preserve their appearance.
• Lacquer comes in different sheens – it can have a sheer tint like a stain or a sheen that of like a solid color paint.
• Lacquer applies perfectly when it is sprayed since it melts into the kitchen cabinets giving it a quality finish that feels quite like the silky-smoothness of lacquer with no brushstrokes.
• Lacquer can also be used on stained woodwork.
• Lacquer finish dries very quickly in as little as 15 minutes at room temperature making it possible to spray multiple coats in one day.
• Easy maintenance since lacquer kitchen cabinets can be cleaned with a soft cloth or a microfiber cloth and non-abrasive detergents.
• For stubborn stains on high-gloss lacquer kitchen cabinets, you can use a highly diluted ethyl alcohol.
Lacquer Kitchen Cabinets Cons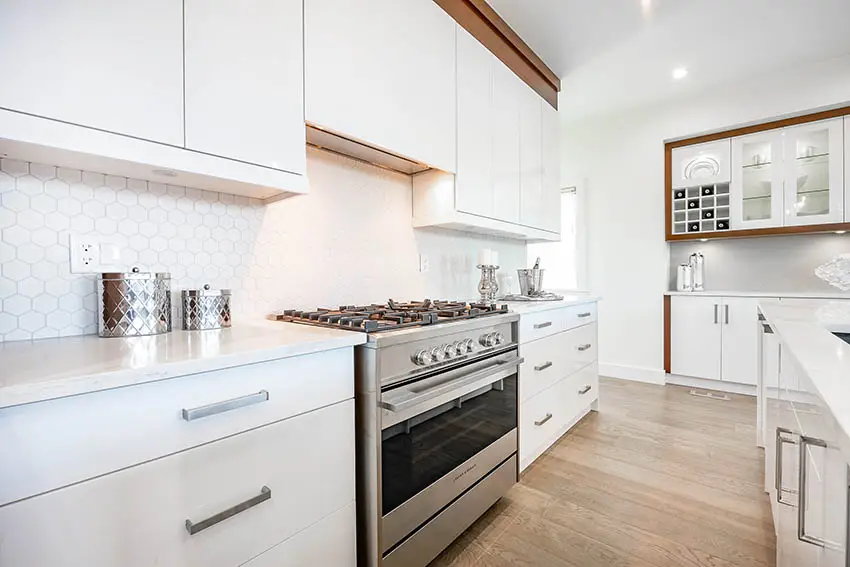 • For lacquer kitchen cabinets, avoid using acetone, thinner, trichloroethylene, ammonia, abrasive creams and steel wool pads – these can discolor and could scratch the doors beyond repair.
• Lacquer kitchen cabinets do not resist chemicals at all including salt and water.
• Lacquer begins to breakdown first around the stove, sink and by the coffee maker if it is placed underneath a hanging cabinet since lacquer cannot hold up well to water, heat or steam.
• If not applied properly, lacquer may have some blushing on the surface as it dries – you will see immediately milky-white blotch. This blushing can occur when spraying lacquer during high humidity.
• The natural response of wood when it absorbs moisture or when there is an occurrences of temperature change – the wood expands or contracts. These small movements are enough to make the lacquer finish to crack since it is so brittle.
• Lacquer kitchen cabinets requires high levels of maintenance to keep it shinning. A furniture wax formulated especially for lacquer surfaces would be needed in cleaning the cabinets.
• Lacquer kitchen cabinets are also prone to staining in the long run and imperfections on the surface are easily seen such as scratches and dents.
• Lacquer kitchen cabinets are required to be refinished more often.
High Gloss Lacquer Kitchen Cabinets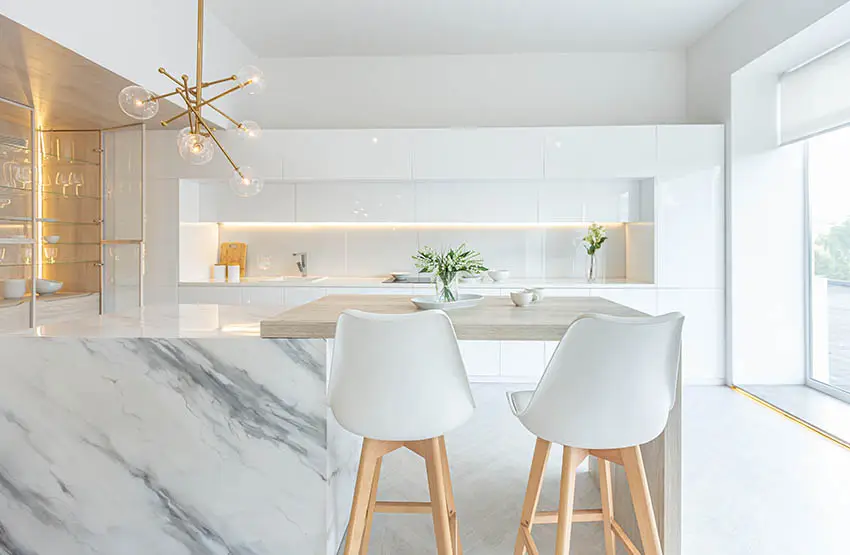 High-gloss lacquer kitchen cabinets are more popular nowadays than they were in the 1970s when it was last trending since it is more suited to a contemporary style kitchen with flat cabinet façade.
High-gloss cabinet doors and drawer faces have a shiny finish that reflects light which makes it so popular in modern kitchen design schemes.
Since high-gloss lacquer kitchen cabinets has a shiny finish which reflects light, it helps to make the kitchen space feel bigger and more open. This makes the high-gloss lacquer kitchen cabinets an excellent choice for the small kitchen spaces.
On the other hand, reflecting the light too much also gets fingerprints, dirt and scratches more noticeable; not to worry because high-gloss lacquer kitchen cabinets are really easy to clean.
Use a non-scratch microfiber cloth to clean the cabinet doors and drawer faces since it will easily pick up any dust particles on the doors surface.
White Lacquer Kitchen Cabinets
Deciding on a color for kitchen cabinets is not always easy, but nothing brings light and sense of space to a kitchen like white lacquer kitchen cabinets.
White high-gloss kitchen cabinets are the most popular, most comfortable color to maintain. White lacquer kitchen cabinets in high-gloss finish are the most practical color to use since they look clean and modern.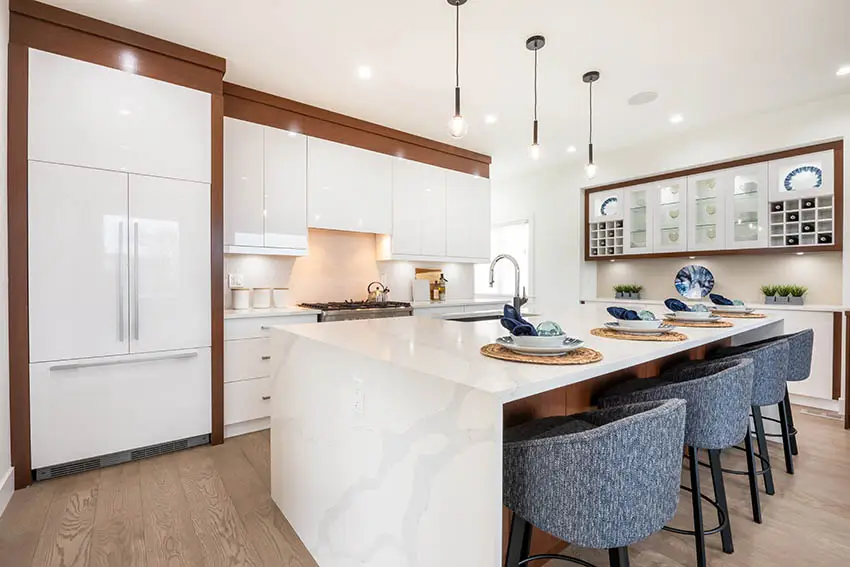 The contemporary kitchen above features white lacquer cabinets with matching Calacatta quartz countertops.
White lacquer kitchen cabinets shows fewer fingerprints than any other color. White is the number one favorite color of homeowners for their cabinets because white can be both beautiful, modern look, stylish and sophisticated for a kitchen cabinet.
White lacquer kitchen cabinets are very affordable and if you are buying from a store, usually white lacquer kitchen cabinets are always on the stock items; and so these are very convenient for homeowners. Plus re-ordering or replacement can easily be done without waiting for weeks. See more white kitchen cabinet ideas here.
Lacquer Paint for Kitchen Cabinets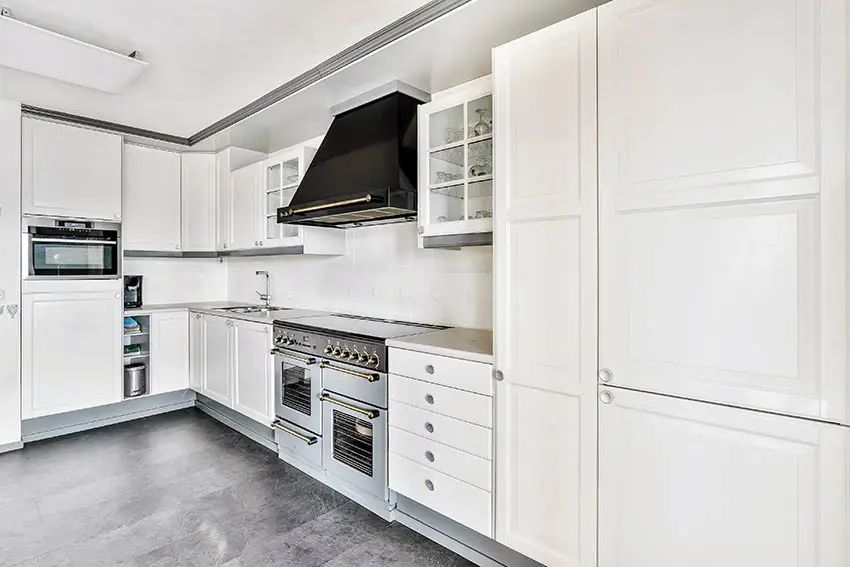 When it comes to long-term durability and hardness, using pre-catalyzed lacquer has excellent and superior results. A catalyst is similar to epoxy hardener, and so when added to the lacquer it dries harder especially when fully cured.
One example is the Hi-Bild pre-catalyzed lacquer and primer surfacer from Sherwood product line at Sherwin Williams.
Other main types of lacquers which are being used to paint kitchen cabinets includes:
• Nitrocellulose lacquer
• Acrylic lacquer
• Water-based lacquer
Read more about timeless kitchen cabinet colors on this page.
Lacquer vs Paint Kitchen Cabinets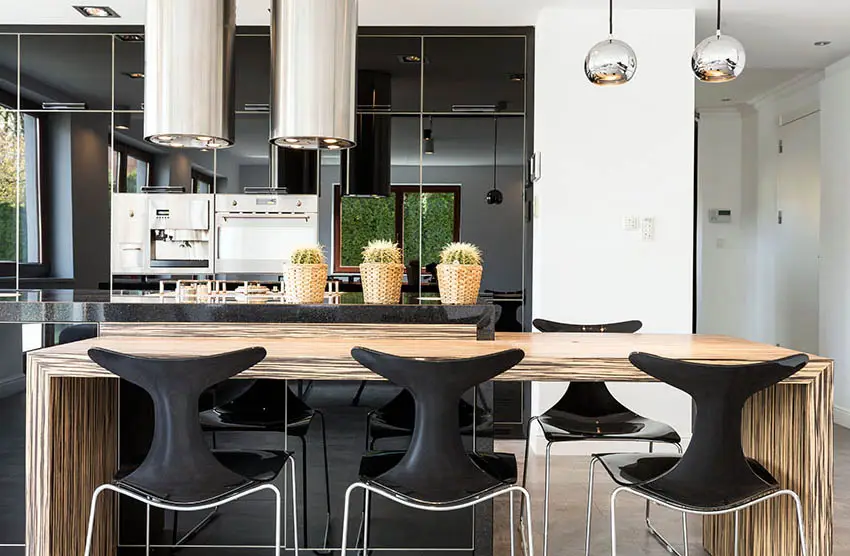 • The chemical resistance of lacquer is a lot better than paint. Food spills and fingerprints wipe off easily from lacquered kitchen cabinets without compromising the finish. While paint looses its gloss from cleaning too much or from using chemical cleaners. A clear coat over painted cabinets can be applied for protection, but with lacquer, a separate clear coat is not required at all.
• The added catalyst in catalyzed lacquer, makes the coating dry harder making the surface smoother. Paint on the other hand, dries softer and marks easier when handling freshly painted cabinets; darker paints dries slower as well.
• Dry time of pre-catalyzed lacquer is faster without marking the finish; while paint usually must dry overnight or longer. The fast dry time of using lacquer is a game-changer in completing your kitchen cabinet project than if you were using paint.
• One of the disadvantage of using lacquer is its strong fume smell; a very good ventilation is an absolute must. The odor of paint is far lees pungent.
Is Lacquer Good for Kitchen Cabinets?
Lacquer paint is often chosen for kitchen cabinets because gives a sleek, modern and elegant look for your kitchen cabinetry.
Lacquer paint offers excellent impact resistance and flexibility. Lacquer offers a superior clear coat shine, water-resistant, breathable and chip resistant type of finish which is a best choice for kitchen cabinetry.
One big advantage of using lacquer paint on kitchen cabinets is that it is very fast drying and this makes it easy to apply a second coat.
Unlike other resin finish, lacquer requires no mixing or preparation. It doesn't require any special tools or techniques. You can use either brush or use a paint sprayer, both will cure perfectly.
When applied properly and under regular conditions, lacquer paint can outlast polyurethane, varnish, shellac or stains since it penetrate deeper into the wood for a longer lifespan.
There are three types of lacquer finish – matte finish, medium finish (semi-gloss) and a high gloss finish for better shine.
For kitchen cabinets, the best choice is the semi-gloss or high gloss finish. The sheen on these types of lacquer finish will help reflect and are more durable in the long run.
Many semi-gloss and high-gloss lacquer paint have increased resiliency when being washed – often described as "washable". This is because there are more resin and binders used in formulating semi-gloss and high-gloss lacquer paint giving more durability to the kitchen cabinets.
Matte, eggshell or flat finish lacquer paint are not as washable as semi-gloss or high-gloss finish and thus run the risk of rubbing through the paint when cleaning or scrubbing your kitchen cabinetry.
Lacquer Kitchen Cabinets Where to Buy?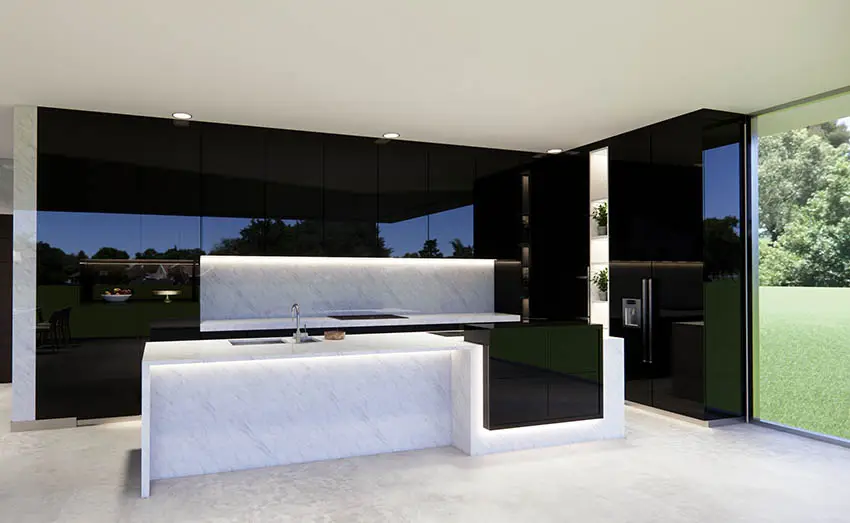 • Ikea
Ikea.com
Customer service: 1 (888) 888-4532
• 27estore
3325 W Ali Baba STE 602
Las Vegas, NV 89118
Call Us : (702) 508-4827
Email : contact@27estore.com
• Snaidero USA Headquarters
www.snaidero-usa.com
19700 South Vermont Avenue
Suite 102
Torrance, CA 90502
Tel: 310.516.8499
Fax: 310.516.9918
Email: sales@snaidero-usa.com
• GoldenHome
goldenhomekitchen.com
North America Department:
jo@goldenhomekitchen.com
• Element Designs
www.element-designs.com
235 Crompton Street
Charlotte, North Carolina 28273
United States
• UB Kitchens – Kitchen Design and Cabinets
ubkitchens.com
North Austin
2600 Longhorn Blvd, Suite 104
Austin, TX 78758
512.836.SAVE (7283)
512.836.7224 (F)
South Austin/SoCo
3114 South Congress Ave, Unit 101
(Parking next to Crowbar on Coleman)
Austin, TX 78704
512.296.2959
San Antonio/Alamo Heights
7959 Broadway, #304
San Antonio, TX 78209
210.248.9848
• Fabuwood
www.fabuwood.com
HEADQUARTERS
69 Blanchard St
Newark, NJ 07105
Do you see any lacquer kitchen cabinets pros and cons that are not listed here? Share your thoughts about these types of kitchen cabinets in the comments section. Visit this page to see more kitchen cabinet styles.