This zebrawood kitchen cabinets guide includes what they are, how they are used as veneer, the benefits of darker shade designs, and uses for kitchen cabinet doors.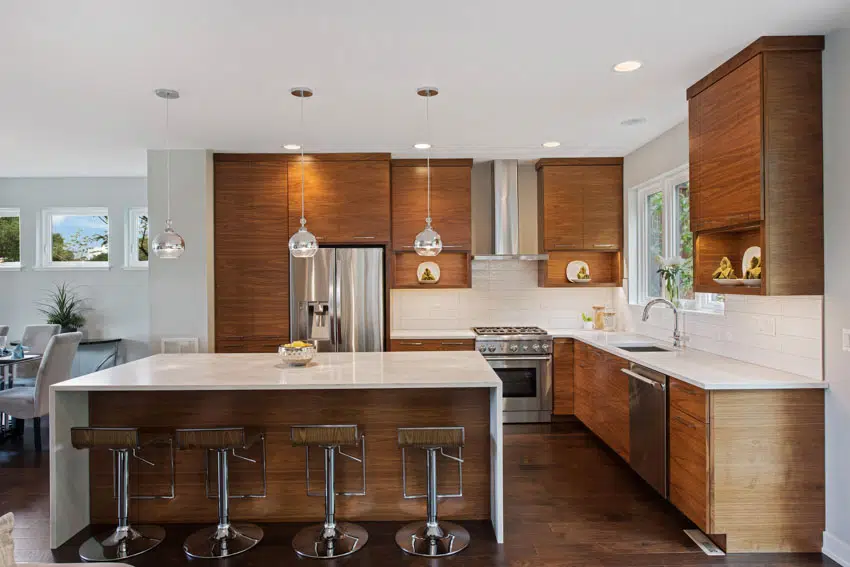 There are a lot of materials that can be used for your kitchen cabinets at home. Some of these include acrylic, thermofoil, and different types of wood, among others.
Among the options that can be considered is zebrawood. We take a look at what this material is and why it is a popular choice for homeowners.
What Are Zebrawood Cabinets?
Zebrawood, or Zebrano, is an exotic wood found mainly in the lowland forests of Southwest Cameroon and Gabon.
The zebra-like grain pattern gives zebrawood its name. It is among the most-used types of kitchen cabinet materials that can add visual interest to the clean lines of modern kitchens.
Zebrawood is quarter sawed hardwood with a smooth to medium texture highlighted by its interlocking grain patterns. Quarter-sawing maximizes the contrasting pattern and minimizes warping.
It has a pale or soft golden-yellow base or heartwood with dark black-brown veining and features varying patterns of dark stripes hence, having an attractive zebra-like appearance.
This gives the zebrawood a distinct pattern that is desired and used in more contemporary designs of kitchen cabinets. Over time and when exposed to sunlight, zebrawood lightens slightly.
Coming from one of the heavy and harder Microberlinia tree family, zebrawood is extremely durable and is highly resistant to termites and other damage.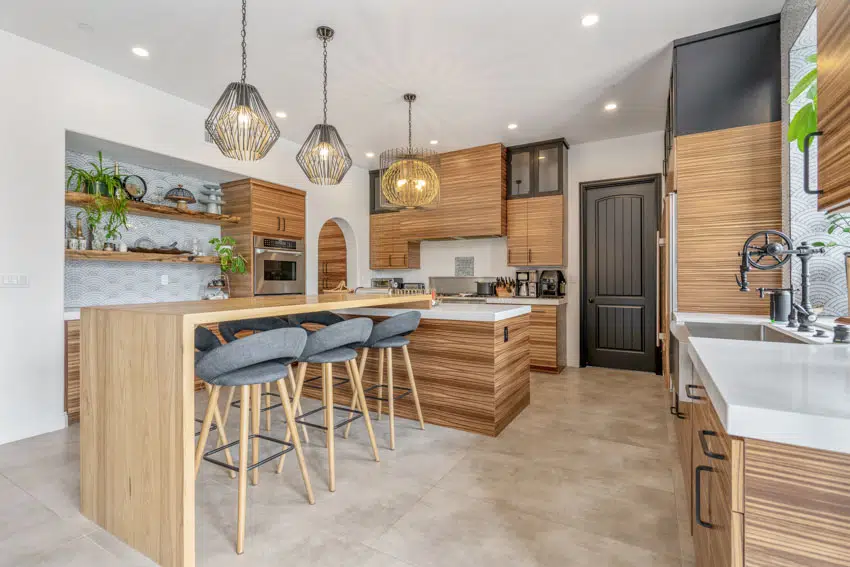 It is the coarse surface texture and grain of zebrawood that are most sought after and esteemed by cabinet makers. Because of the prevalence of interlocking grain, it might be hard to plane or surface the zebrawood.
Sanding is not an issue and Zebrawood glues and finishes perfectly. However, before any stain or finish work, a transparent pore filler is needed to be used to fill the open pores which are apparent on both light and dark surfaces.
Zebrawood can be applied with stain finishes although it's not normally recommended since it can obscure the dark stripes that make this species unique.
It is usually finished with a clear coat to preserve the contrasting characteristics of the wood's natural color and can be polished to a high shine as well.
Zebrawood Veneer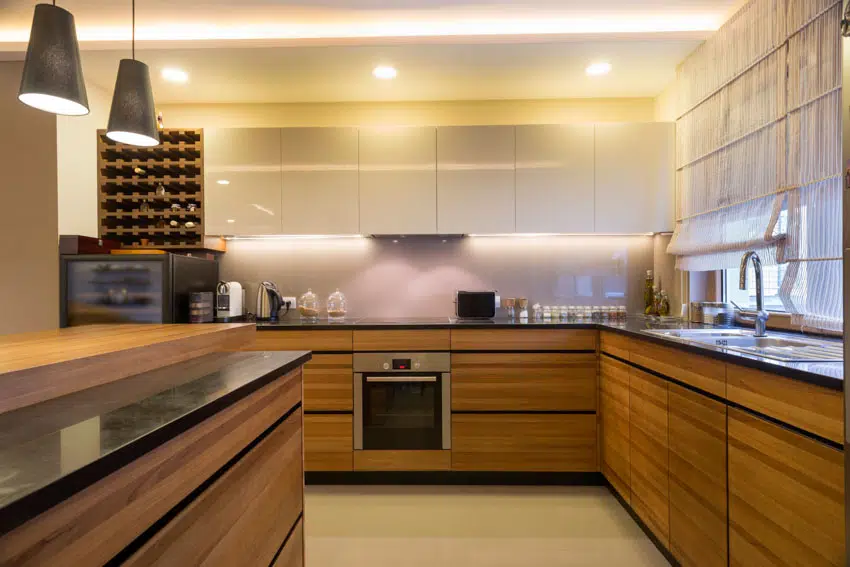 The quarter-sawn zebrawood is among the different types of wood veneer sheets often found in kitchens. The bold, lustrous, and unique appearance of zebrawood makes veneers, a showstopper on kitchen cabinetry.
Zebrawood veneer is strong and stiff, with a fairly high density that makes it water-resistant. Flatsawn zebrawood veneer can be wavy and sometimes even disordered, and so most cabinet makers prefer the quarter sawn zebrawood veneer due to their uniform stripes.
Exotic hardwoods such as zebrawood can be expensive and difficult to harvest sustainably. Through the use of zebrawood veneer, cabinet makers can achieve the look and feel of this exotic hardwood, at only a fraction of the cost.
It allows them to use solid wood to build the structure underneath, and then face it with zebrawood veneer. Utilizing veneer made of zebrawood is the most practical way to create stunning effects with your kitchen cabinets and produce the most impressive patterns for the cabinetry.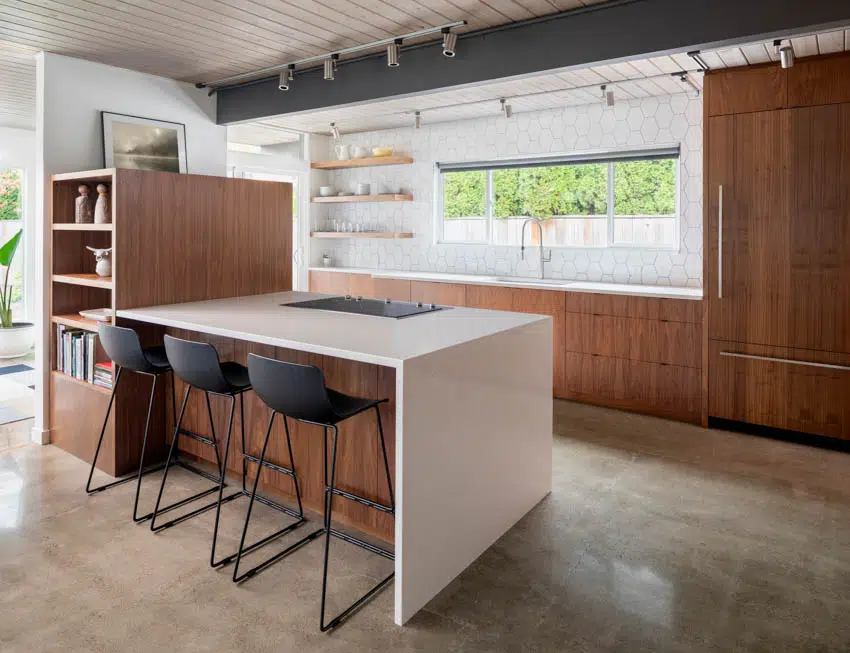 Zebrawood veneer sheets not only offer elegance but also enhance the strength and durability of kitchen cabinets, especially when using fiberboards that are prone to damage if exposed to water.
The fiberboard panels are protected and fortified with the use of veneer sheets. Zebrawood veneers, unlike laminates, are natural products and are non-toxic.
There are non-toxic adhesives also available in the market. By using zebrawood veneers, it will help protect the environment in the way that these veneers are manufactured from a single log, unlike solid wood cabinetry where more wood is needed.
Zebrawood veneer as well as other wood veneers are eco-friendly since these sheets can be crushed, recycled, and transformed into wood fibers that can be utilized for making particle boards such as MDF. Read more about MDF vs wood cabinets here.

Dark Zebrawood Cabinets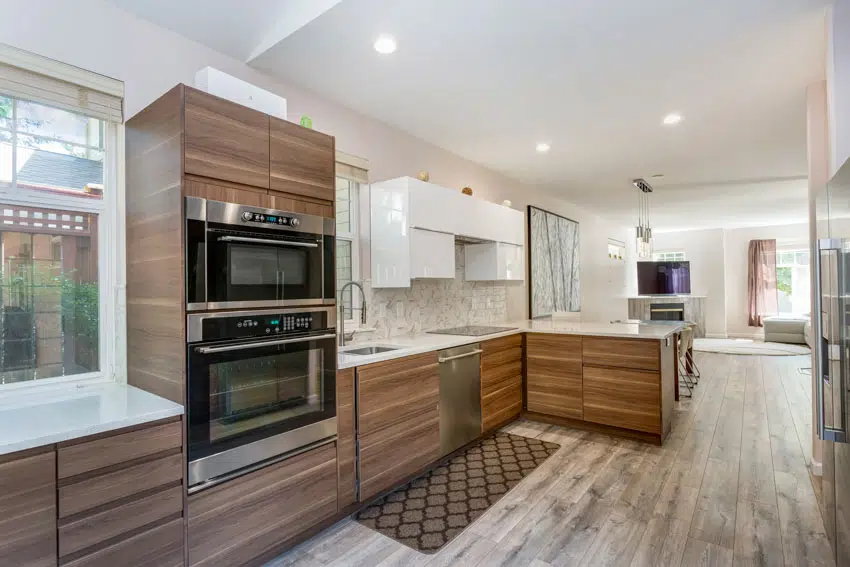 The dark zebrawood cabinets seem to be gaining in popularity for those who appreciate an unusual grain. Streaks of dark brown to black veining, alternating with golden yellow, is a daring selection that will be ideal for those who prefer modern kitchen designs.
One amazing feature of zebrawood is that it starts with a stunning yellowish-brown color, when exposed to sunlight over time it takes on a deep, dark brownish-black color, combined with black-brown veins that makes a great way to give your kitchen cabinets an upscale feel.
The blend of colors and textures that dark zebrawood cabinets give your kitchen an understated and unmistakable fun and stylish personality.
Dark zebrawood cabinets are a good accent wood to use in kitchens since exotic woods are getting more attention these days.
By applying oil, the zebrawood gets a deep and warm color with the dark and lighter tones nicely reflected.
Zebrawood Kitchen Cabinet Doors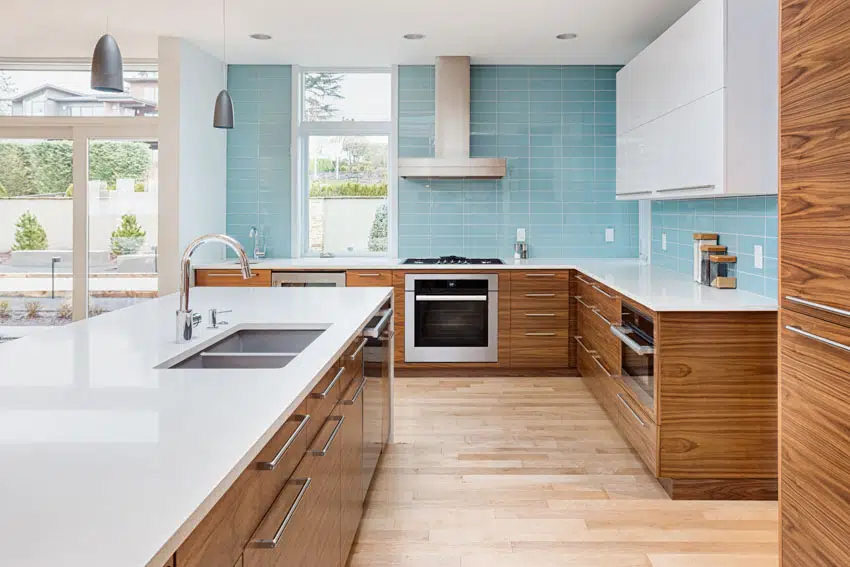 The most significant factor in the aesthetic design of a kitchen is its cabinet doors. Cabinets can set the personality for your kitchen by incorporating zebrawood for kitchen cabinet doors, its varying patterns and texture features an exotic and natural style of cabinetry.
The zebra-like grain pattern offers modern kitchen cabinet doors visual interest with its clean lines, and it is among the most elegant door wood finish that would certainly make a design statement like no other material.
One of the most unique features of working with natural materials such as zebrawood is that no two trees are exactly alike. The beauty and sophistication of zebrawood kitchen cabinetry are expressed in each cabinet's variation of grain and color.
Zebrawood kitchen cabinet doors are less expensive than other exotic hardwoods. They go well with different home styles and are a good investment that will grow more beautiful with time. The zebrawood's strong and stiff characteristics allow these cabinet doors to withstand daily kitchen operations.
In today's modern kitchen which incorporates stone, tile, stainless steel, and glass, the natural beauty, texture, warmth, and durability of zebrawood kitchen cabinet doors offer a perfect contrast.
The strong grain characteristics of zebrawood when used for kitchen cabinet doors can help you to develop a distinctive style in your kitchen design scheme.
When choosing zebrawood kitchen cabinet doors, we recommend the pieces of lumber with the straightest stripes so that it doesn't overwhelm the eye. Zebrawood cabinet doors look great with white walls and black countertop surfaces.
Combining zebrawood kitchen cabinet doors with a marble or granite countertop is a trendy and easy way to upgrade your kitchen.
See more related content in our article about the different types of kitchen countertops on this page.