Here we share our guide to white vinyl siding designs including what is, the different types, painting tips, cost, and useful steps on how to clean and maintain vinyl siding.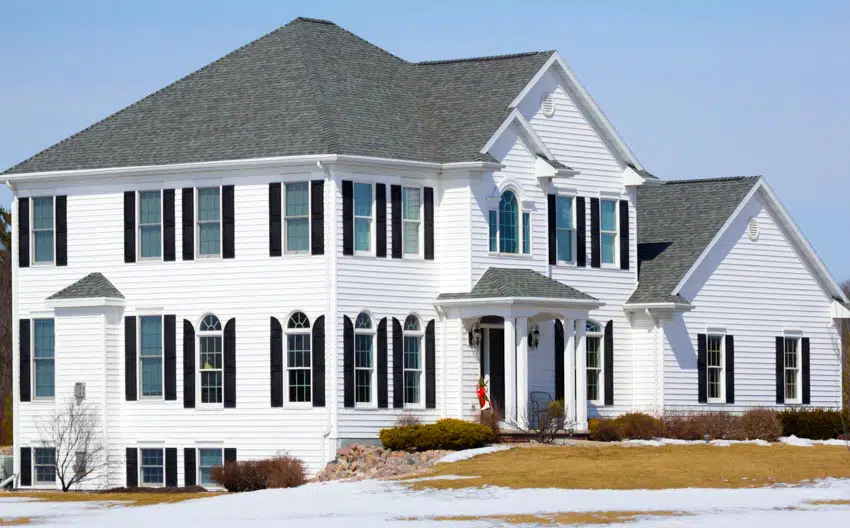 A white vinyl siding can rev up your home's curb appeal with its effortless and timeless beauty. Surround it with a gorgeous landscape, and you'll love the contrasting effect if you white among the greens.
There are many variations of white, and it can be cool yet reassuring or warm and imaginative. If you're looking forward to a color to spend the rest of your waking hours, you can never go wrong with this neutral hue.
For the material, vinyl sidings are cost-effective, quick to install, low maintenance, and famous that works with your practical color. With these qualities, it is an ideal option for all types of homes, whether going for your traditional or contemporary home.
What Is White Vinyl Siding?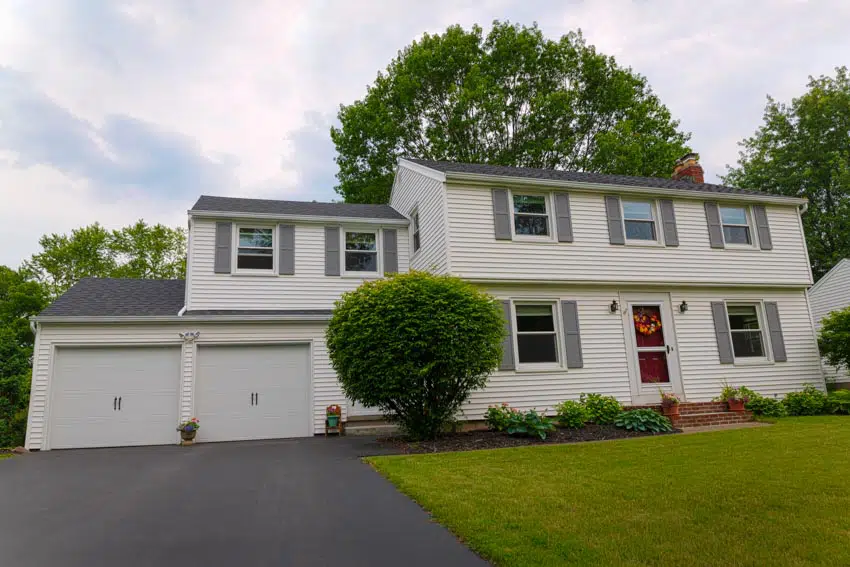 White vinyl siding is an exterior cladding made primarily from an engineered polyvinyl chloride (PVC) resin. The plastic material thus is lightweight, and it won't rot, corrode or dent and is waterproof.
Generally, vinyl sidings come in 4 different widths 4″, 5″, 6″ and 7″.
As with most exterior cladding, a white vinyl siding can be solely used on a home's exterior or matched up with other materials to add richness to your homes' exterior.
The great thing about the PVC material is that it gives homeowners a range of variations to choose from. From white vinyl shake siding to white brick vinyl siding, you can simulate different exterior styles.
Your white color offers no limit of textures or profiles you can incorporate in white vinyl types of house siding. You have textures from smooth to wood grain.
Popular Profiles:
• Insulated Siding
• Hand Split Shake
• Half Round
• Dutch Lap Smooth
• Cedar Perfections
• Board Batten
• Beaded
• Straight Wood Grain
To complement the look of your windows and soffits, there are available trims and accessories for white vinyl sidings. Commonly required for all types of vinyl cladding are starter strips, J-trim, and corner posts.
Usually, cladding screws are also included in your order. There are dealers who might ask you whether you'll be providing your own screws or will they have them in your order.
If you decide to install your own white vinyl siding, you can use optional specialized tools such as zip or removal, slot punch, hook punch, and shears.
White Vinyl Shake Siding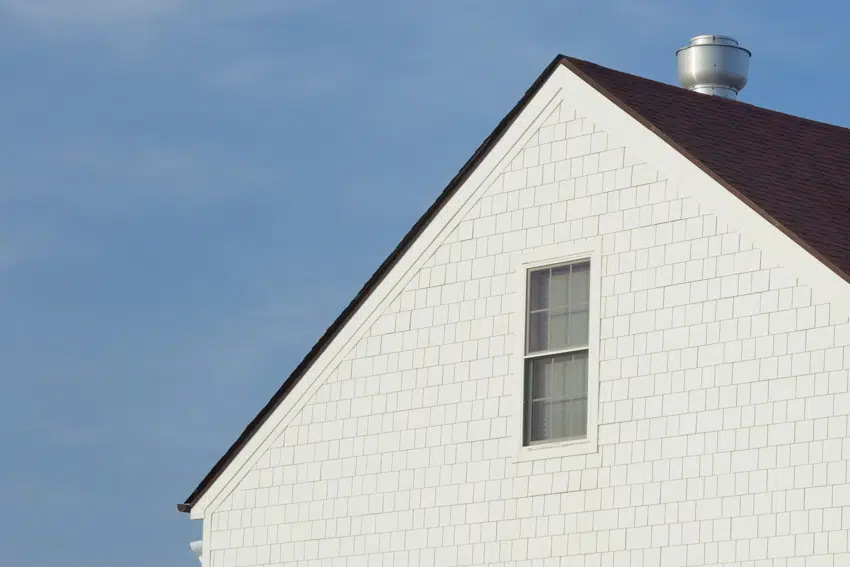 The white vinyl siding simulates the look of your traditional cedar shake siding, complete with the deep grooves and knots with either the staggered or straight-edged look.
With its rich surface texture, it adds visual weight to your white exterior cladding.
Originally handcrafted, cedar shakes are made from logs cut lengthwise to make the wedge-shaped profile that is thin enough to nail it on the wall.
With a white vinyl shake siding, you enjoy the rich surface without the difficulty of maintaining and the challenging installation process.
House Siding Variations:
• Siding with a straight edge is exactly what it sounds like. When the siding is installed, it creates straight shadow lines. The edges of the planks are straight and even, even if they are textured.
• Staggered-edge siding or hand-split shakes have the appearance of hand-split shingles, similar to cedar shakes.
Individual shingles are installed on shingle siding, and the overall look has complex shadow lines. Panels of vinyl siding with staggered edges are available.
White Brick Vinyl Siding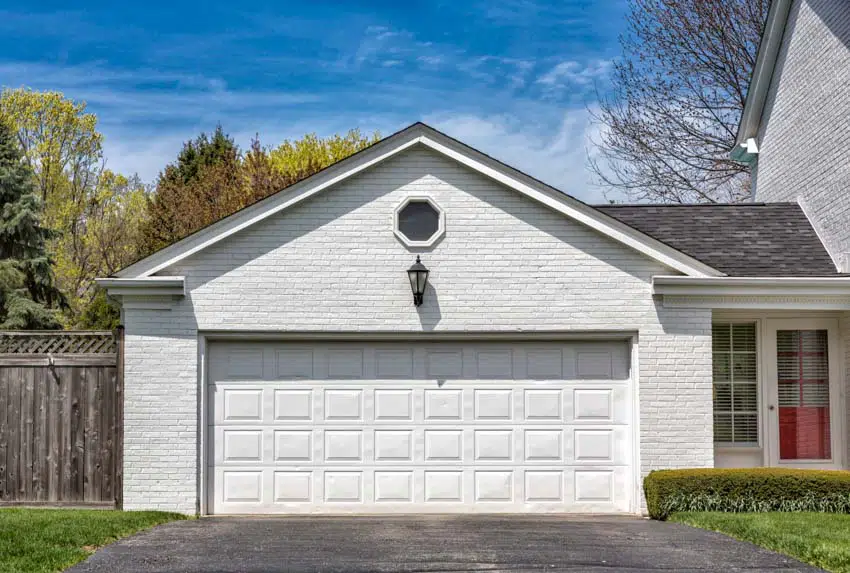 Draw visual attention through the details with a white brick vinyl siding. These are faux brick panels made from vinyl that simulates the look of your brick-and-mortar cladding.
The advantage of vinyl siding over the traditional brick is that you get the rich look, but it is lightweight, affordable, and faster to install.
Though many will argue that natural bricks are more energy-efficient, that's around 2% more than your vinyl, and the small percentage is not that significant.
One main advantage of natural brick over brick vinyl siding is its longevity. While a white vinyl siding is likely to be an effective cladding system that can generally last 20 to 25 years, a brick siding can last as long as 100 years.
But if you're looking for a balance between price and performance, the brick vinyl siding is an excellent choice for homeowners.
Another option similar to your brick is stone cladding. Like brick, it is an expensive siding option. Vinyl stone siding is much cheaper than stone siding, and it gives the home a luxurious look.
White Board and Batten Vinyl Siding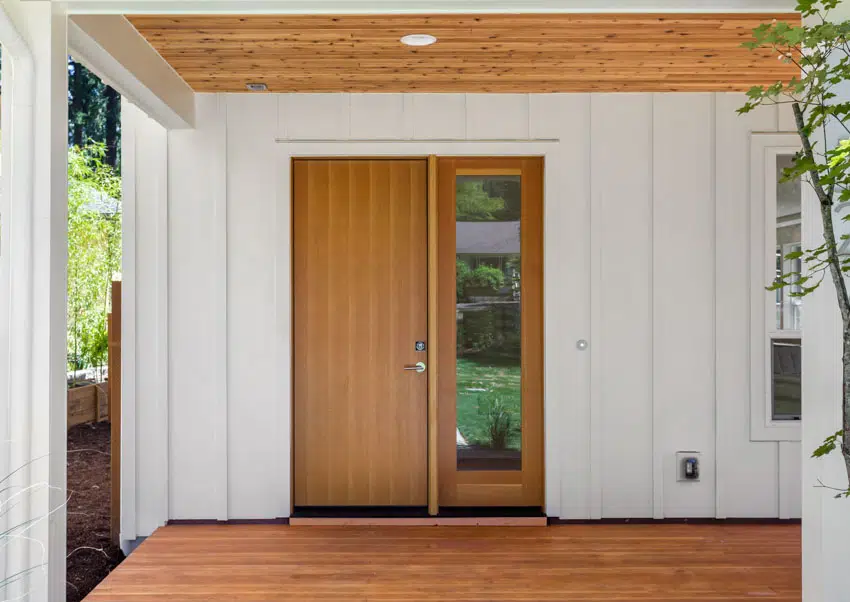 The interest in the modern farmhouse design is unquestionably at the forefront of 2021 trends.
This long-established architectural style has recently exploded in popularity in the suburbs, with designers opting for whiteboard and batten cladding to achieve the desired look.
The crisp whiteboard and batten vinyl siding is great on buildings with small facades as it can visually elongate the look and make it appear more expansive.
White Vinyl Lap Siding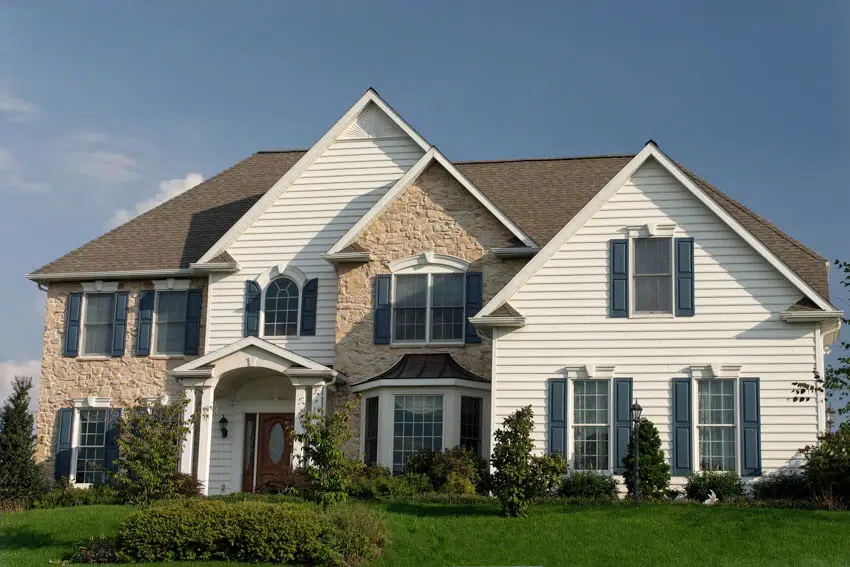 The white vinyl lap siding has long, narrow planks and is installed horizontally across the building exterior. Each plank's bottom edge overlaps the plank below it just at the edge, creating a small lip that adds visual texture from a distance.
Unlike simple planks arranged flushed with the exterior, which leaves exposed seams susceptible to rain, this slight overlapping was designed to provide more efficient coverage for the structure.
Can You Paint Over A Vinyl Siding?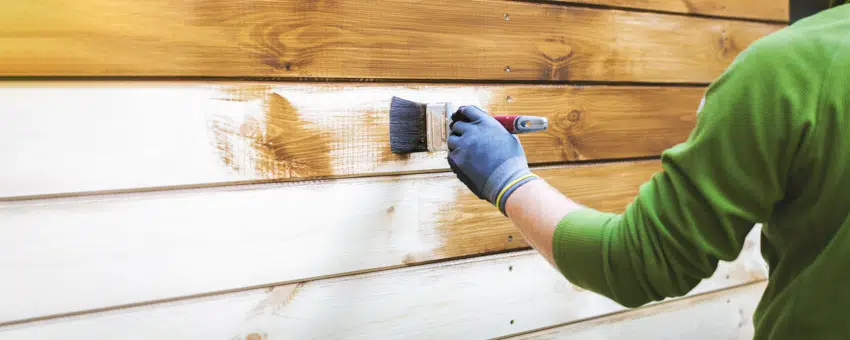 Vinyl siding is widely regarded as low-maintenance, owing to the fact that it does not require painting. It comes with a color that is more or less permanent and is mixed with the material.
However, due to varying rates of sun exposure, the color can fade over time, often unevenly in different areas of the house. And whether the siding is faded or not, you might not like the color if you weren't the one who chose it.
Vinyl siding can be painted. Just keep in mind that the siding will only be as low-maintenance as the paint. When painting vinyl siding, there are some rules and limitations to follow.
Most importantly, double-check that painting the siding will not void the warranty if it is still valid. If the warranty allows painting, make sure to follow any guidelines set forth by the siding manufacturer, such as the type and color of paint to be used.
Painting White Vinyl Siding Tips
Before painting your white vinyl siding to a different color, remember:
Use a primer or vinyl siding: For your primer, there are a few methods to use. Some professionals use primer on almost every project, while others use it only when the siding condition warrants it.
A primer may be needed if the siding surface is not uniform due to pitting or other signs of deterioration or severe weathering.
Following the advice of your paint manufacturer is a simple solution. It's important to remember that paint adheres to the layer directly beneath it, whether it's bare siding or primer. If you decide not to prime, make sure the paint you use is designed to adhere to it.
Expect thermal expansion: It's essential to note that vinyl siding is designed to slide back and forth slightly at its overlapping seams, moving with the material's expansion and contraction. There may be a slight color gap at the seams when the siding contracts in cold weather.
Choose your colors wisely: Every type of vinyl siding is made to absorb a certain amount of heat.
Choose a lighter paint color than the original siding color because dark colors absorb more heat than light colors. Moreover, choose an ideal finish for exterior paint that will work well with these white vinyl sidings.
How Much Does White Vinyl Siding Cost?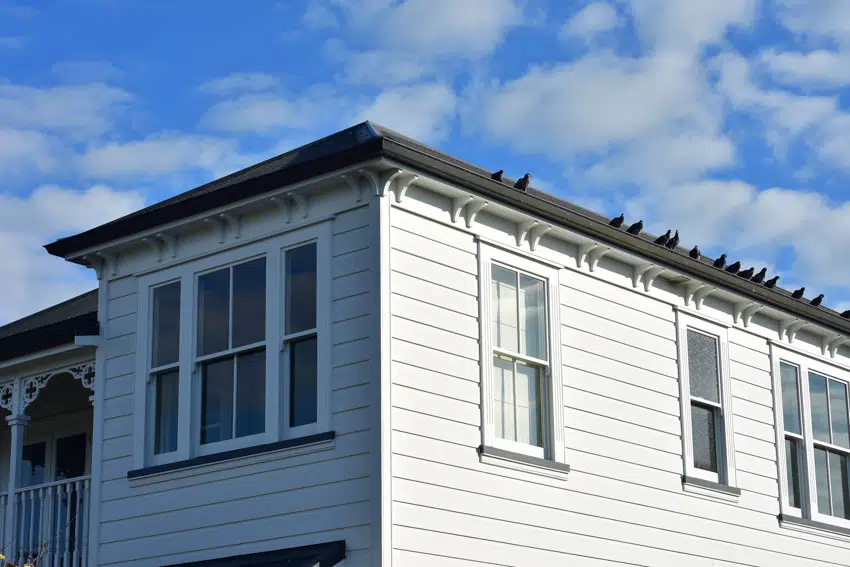 By Area: According to HomeGuide, the average cost of installing vinyl siding on a single-story, 1,600-square-foot home is $4,850 to $5,600, or $4.80 per square foot ($2/sq. ft. plus $2.80/LF for trim and accessories).
Cost per Square Foot: On the same house, the higher-quality siding will cost between $10,200 and $11,100, or $8.80 per square foot ($4 per square foot plus $4.80 per LF for trim and accessories).
Are you opting for a standard, builder, or premium siding, insulated or non-insulated siding?
The following table below shows how much good, better, best, and premium vinyl siding costs with the same installer and an average labor rate per square foot.
| | | | | |
| --- | --- | --- | --- | --- |
| Vinyl Siding Cost Per Square Foot | Good | Better | Best | Premium |
| Material | $0.73 | $0.96 | $2.69 | $3.00 |
| Labor | $1.12 | $1.12 | $1.12 | $1.12 |
| Total Cost | $1.85 | $2.08 | $4.08 | $4.12 |
| | | | | |
| --- | --- | --- | --- | --- |
| Accessories & Trim Per Linear Foot | Good | Better | Best | Premium |
| Accessories | $3 | $4 | $5 | $6 |
| Accessories Labor | $6.68 | $6.68 | $6.68 | $6.68 |
| Accessories & Trim Cost | $2.69 | $2.92 | $4.65 | $4.96 |
How To Clean White Vinyl Siding?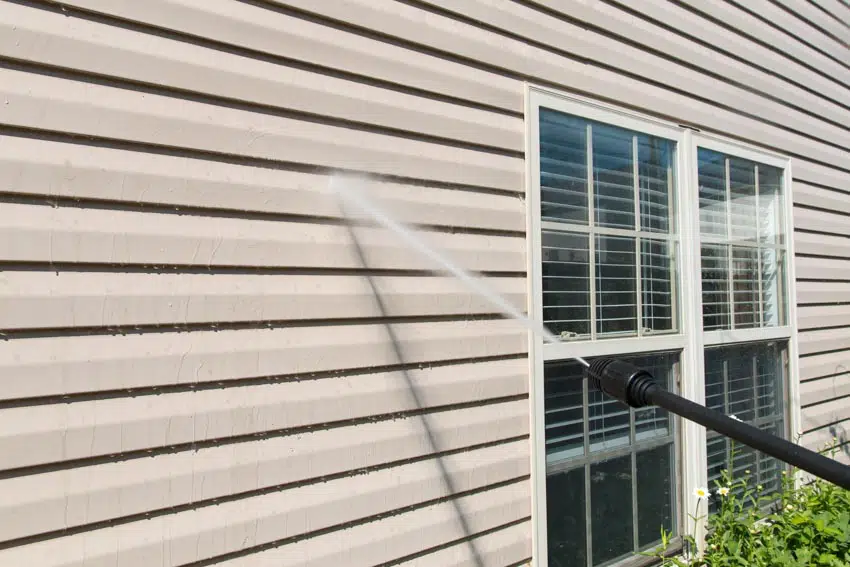 One of the reasons why homeowners are usually put off in choosing a white vinyl siding is the cleaning and maintenance issue.
The good thing is that the impervious and durable plastic surface makes it easier to clean than most siding materials. In addition, you have no problem with insects, moss, and mildew invading your white vinyl siding.
You should wash the exterior of your home once a year, just like you would any other home maintenance task, such as cleaning your gutters or sealing your driveway.
Spring is a popular time to do so, especially in northern climates where snow, ice, and salt can damage your home over the winter. However, as long as you have a mild, sunny day in the forecast, you can clean your vinyl siding at any time of year.
Cleaning vinyl siding can be done in one of three ways: with a soft cloth or soft-bristled brush, with a garden hose, or with a pressure washer.
Pressure Wash
Many homeowners will want to go the quick and easy route to blasting grime into the afterlife. However, there's a lot of debate about whether or not you should clean vinyl siding with a pressure washer.
Some vinyl or polymer siding manufacturers do not recommend power washing vinyl siding because it can cause moisture intrusion. Although, if you have the right equipment and experience, most exterior siding contractors recommend this method.
Because high pressure can damage sidings, it's best to be cautious about the pressure hose's power.
When cleaning vinyl sidings, the Trade Association for Manufacturers recommends holding the power washer straight at your eye level to keep the water on top of the siding.
It is more effective at cleaning and preventing water from driving up the siding material in this manner. Cleaning your white vinyl siding at a 90-degree angle is recommended.
Brushing – Commercial House Siding Cleaners
Many vinyl house siding cleaners come in spray bottles that can be attached to your garden hose.
The great thing about this method is that it provides the satisfaction of water pressure while remaining gentle on your siding. Using a hose or a soft-bristled brush is both less destructive options that are relatively simple to implement.
Always follow the cleaning solution's instructions. However, for most people, attaching the spray bottle's hose attachment to a garden hose and controlling a mixed flow of water and cleaning solution from a special nozzle on the bottle is all that is required.
This method typically allows you to reach the top of a two-story building without ever climbing a ladder because you have the added oomph of water pressure.
Homeowners can also use soft microfiber cloths or a soft-bristled brush and a bucket of cleaning solution to clean vinyl siding the old-fashioned way. A germicidal bleach concentrate can also be used.
Follow the directions on the cleaning solution bottle, but you typically dilute the concentrated formula with water before wiping down your vinyl siding. Some instructions say to dry-wash the siding, while others say to pre-rinse the house's exterior.
To avoid streaking, work in small sections, starting at the bottom and working your way up. Before your cleaning solution dries on your siding, you'll want to rinse it away from top to bottom. If left to dry, you may end up with a noticeable residue.
Scrubbing with hard pressure can cause cracking and loosening of the pieces.
Traditional Approach
Water your garden ahead of time to avoid killing your shrubs, bushes, and flowers. The cleaning solution will not soak in if the soil is pre-saturated. You can also use a tarp to cover the plants or make your own solution.
One gallon of water, one-third cup powdered laundry detergent, one-quart liquid laundry bleach, two-thirds cup powdered household cleaner.
Most stains and mildew can be removed with a simple 70:30 water to the white vinegar solution. Mix one gallon of water against one cup of oxygen bleach if you still want to benefit from the power of synthetic detergents.
This mixture has better cleaning properties than vinegar without the health risks of combining multiple synthetic products at once.
How To Get Rid Of Stains From Your White Vinyl Siding?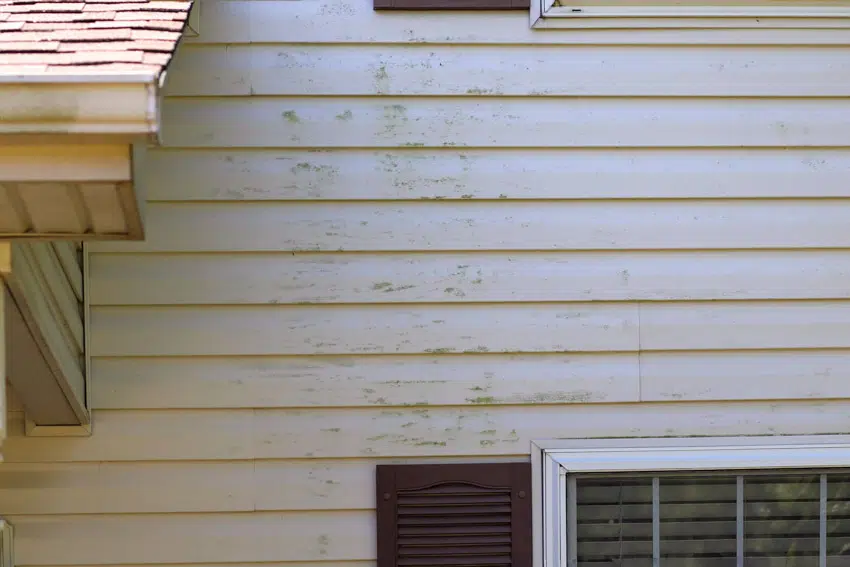 Vinyl siding is an excellent construction material. It's simple to care for and holds its color well, so your home will look great for generations.
However, because vinyl siding is exposed to the elements on the outside, it may collect dust, bird or insect droppings, pollen, and other contaminants over time, causing it to become dirty and stained.
Be prepared to use an oxygen bleaching solution (do not use chlorine), then soak the affected area. After 10 to 15 minutes, damp cloth and rub over your stain. Suppose it is still visible.
Try reapplying the solution on your stain and letting it settle again for around 15 minutes. Use a soft brush if there are areas that still have marks.
If you've done more than one soaking of the bleach, you might want to apply the cleaning solution to the entire area. The cleaning process may vary the color of your white vinyl siding.
Caution: Don't mineral spirits sit on your surface too Long
Use a contractor-grade siding cleaner: Even with bleach and a scrub brush, some stains may be difficult to remove. In that case, a contractor-grade siding cleaner is recommended.
Many are designed to remove stains from exterior surfaces and would be an excellent choice if nothing else works.
Paint over your stain: If a stain can't be removed, paint over it. Most stains can be easily removed with the products listed above.
It's best to just paint over it if it doesn't, or if it's so intense that scraping the vinyl is required to remove it. Make sure the color you choose complements the other planks.
Is White Vinyl Siding Hard To Keep Clean?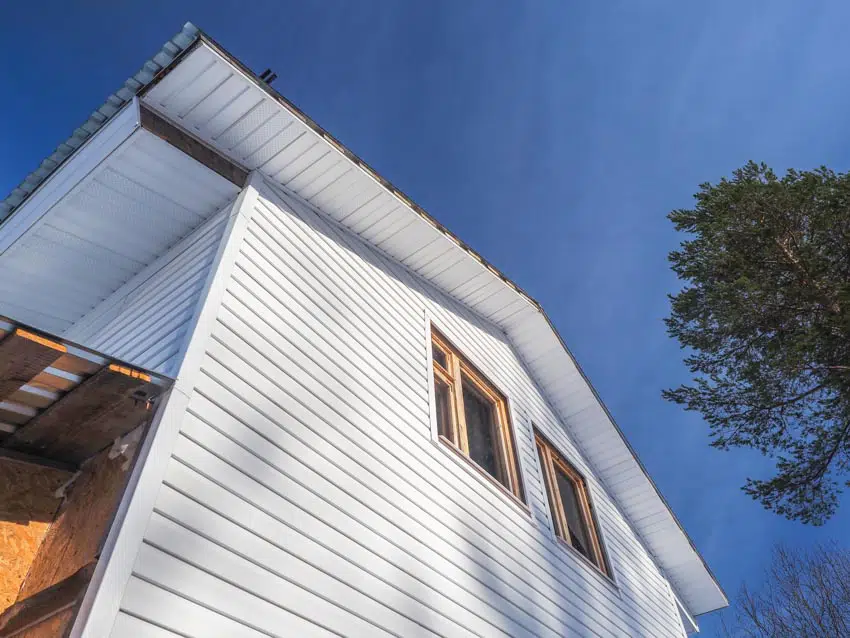 Keeping your white vinyl siding is relatively easy with routine cleaning o to keep it free from dirt. As an exterior cladding material, your white vinyl siding will constantly deal with the harsh elements so, regular maintenance is key to prevent stains from seeping through your siding.
For chemical stains from insect repellents, for instance, it can be more challenging to remove them. You may want to use a stronger but safe contractor-grade cleaning solution.
Does White Vinyl Siding Fade?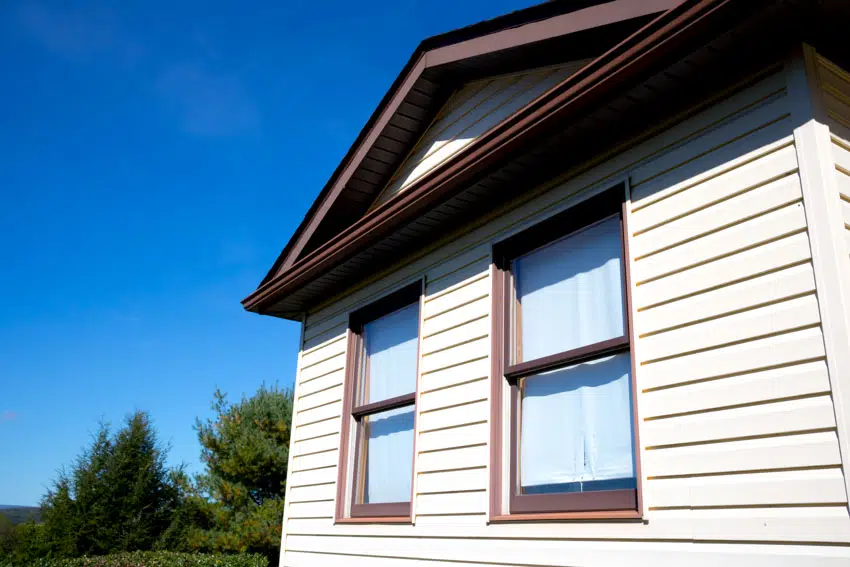 Today's contemporary vinyl sidings are typically pre-painted with long-lasting primers and overcoats that are designed to last for years, and the product is getting better every year.
White is the least likely to fade, whereas dark browns and dark reds fade quickly and noticeably.
See more related content in our article about painting vinyl siding vs replacing on this page.