These hallway paint ideas offer tips for long, dark, and small hallways including pictures of the best paint colors for the entrance and interior of your home.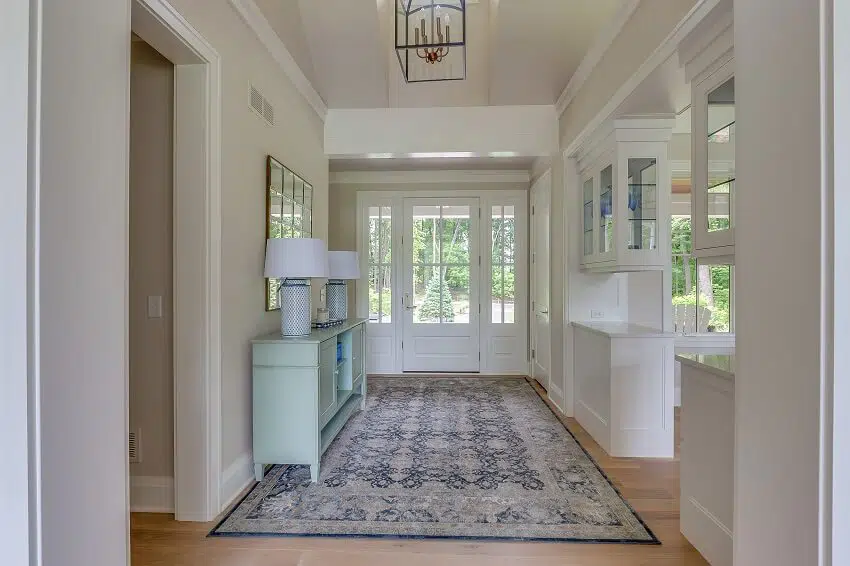 When it comes to painting the interiors of your house, the hallway often receives the least attention. It makes sense since everyone just passes by them
Lest you have forgotten, though, the hallway is the first part guest see when they enter a house. It is also the part where most of the traffic occurs when you go between rooms.
Therefore, it's high time you give it some love with a fresh coat of paint. The big challenge, however, when painting the hallway is choosing the right color scheme to make it more charming and attractive.
In addition to that, the color you choose should set the tone for the rest of the house. So put your creative juices to work and let your hallway become a head-turner with the hallway color ideas in this article.
What Color To Paint The Hallway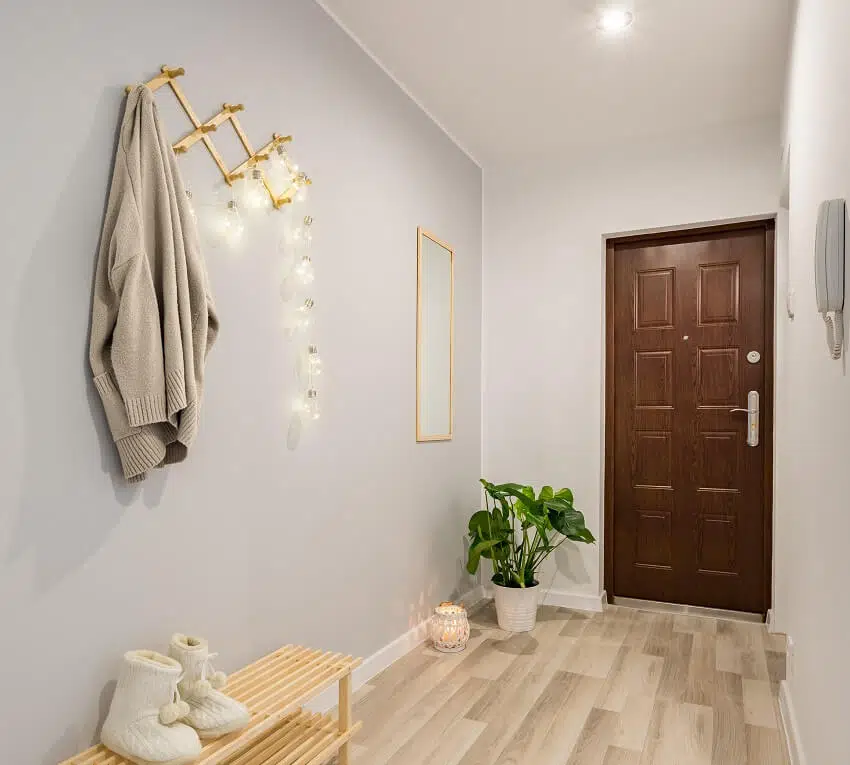 When thinking of a color that suits your hallway best, you'll be surprised to know that there are actually no set rules for this. The only limit is your imagination but to help you get started, consider the following ideas:
Bright Colors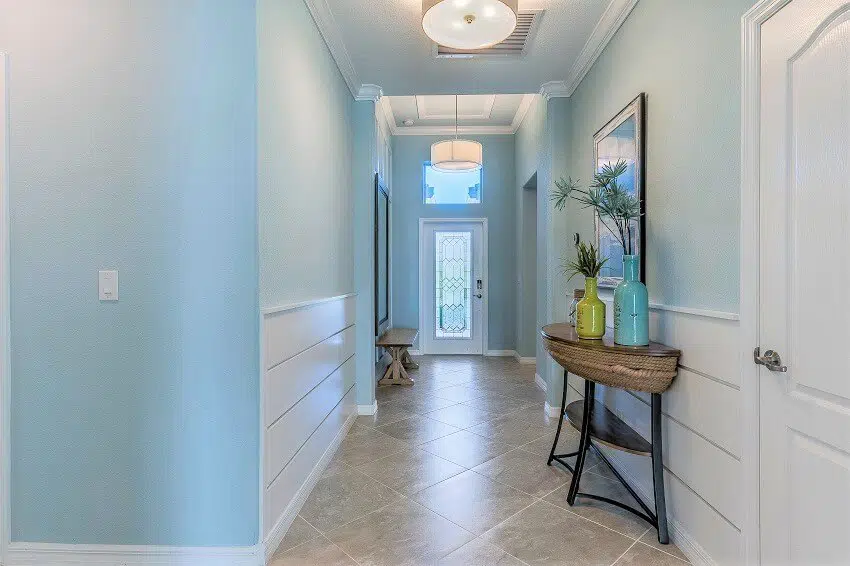 White has been the popular choice when it comes to hallway colors. It's neutral and versatile. But no one is telling you that you can stick with good, old boring white. You'll be missing out on all the fun if you do.
Be brave and choose bright and bold colors. A lot of paint brands have a wide range of colors nowadays. You can visit your local paint shop and ask for help as to what color combinations work well for your hallway.
Gray and Griege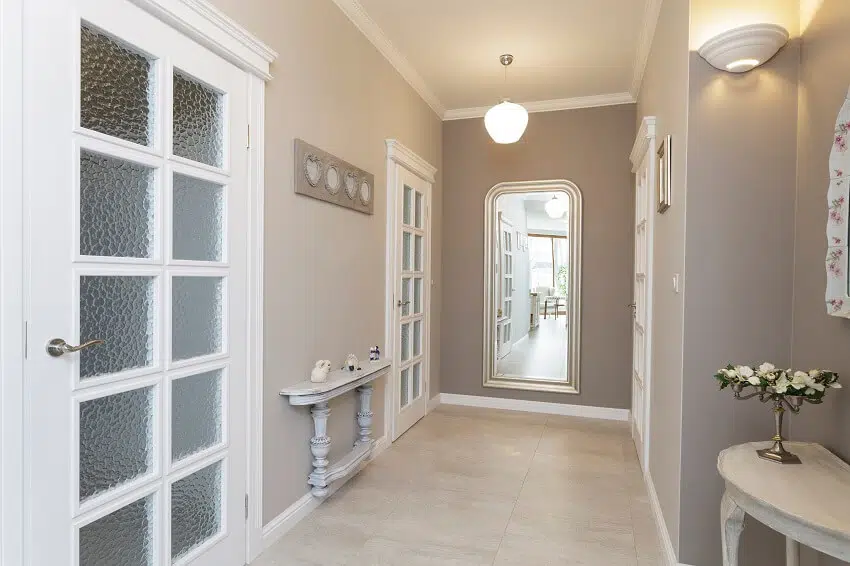 Just like white, gray is a versatile color and mixes well with other colors. So painting your hallway with gray gives you a lot of possibilities when you mix and match it with other colors and accessories. Learn more about colors that go with gray walls here.
Choosing a dark or light tone gives you different results. A darker gray tone adds drama to light-starved halls. It also makes the adjacent rooms look bright and roomy. Meanwhile, a lighter gray tone or griege paint colors provide a softer alternative if dark gray is too bold for your taste.
Green Shades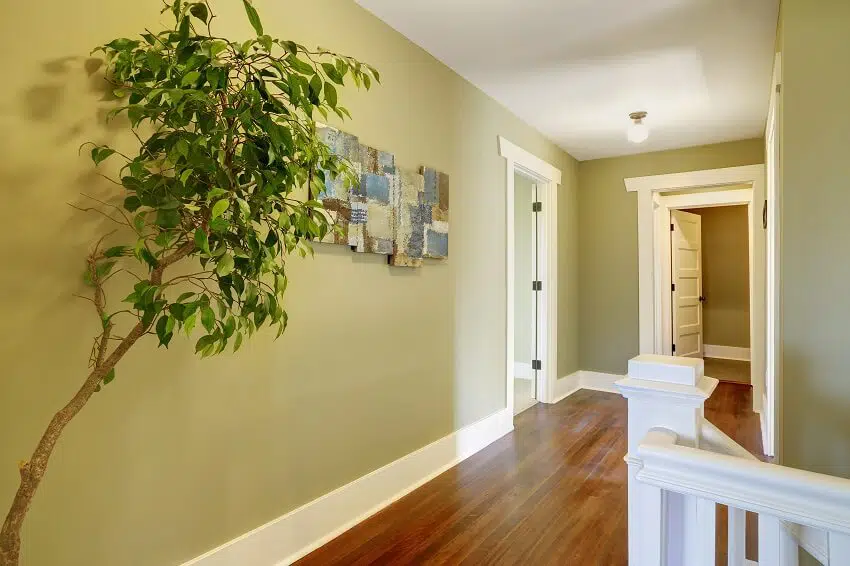 Color experts agree that green is another versatile color with a wide range of shades and tones. It also makes your hallway look fresh and vibrant. The only challenge with green is finding the right accent color to ensure a harmonious color scheme. Read our guide on colors that go with green for more information.
Splash of Blue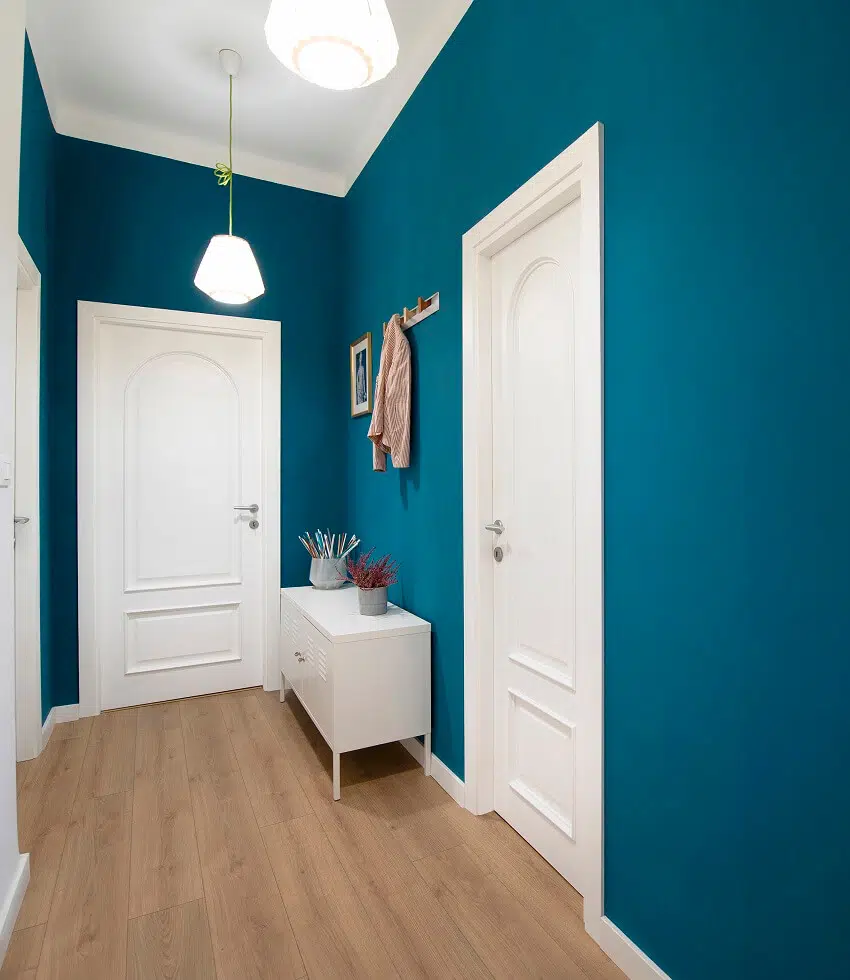 If you want to create a calm and cool atmosphere in your hallway, blue is your color. It also goes well with other colors so choosing an accent won't be a problem.
Best Hallway Paint Colors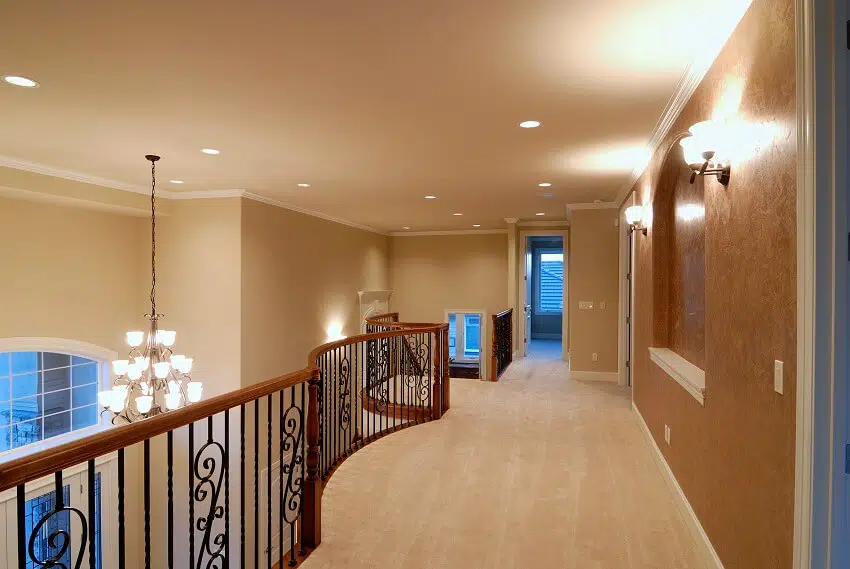 When you're choosing what color to paint your hallway, you need to consider what kind of space it is. Is it wide or narrow? Does it receive a lot of natural light or not? What kind of ambiance do you want to achieve — warm, striking, exciting, intimate?
If you want to make it feel warm and intimate yet interesting, dark brown, like Benjamin Moore's Van Buren Brown HC-70, is a good choice. On the other hand, using a brown-gray shade gives you room to add unique furniture pieces and colorful artwork.
Another surprising color choice is a deep shade of navy blue because it livens up a small hallway. So do a high-gloss green, which reduces the long tunnel effect of your hallway. Benjamin Moore's Douglas Fir 2028-20 is a good choice for this shade.
Best Paint Color For Dark Hallway
If you think white will make a dark hallway look brighter, you're wrong. White is not bright enough to reflect natural light. Instead, think of saturated colors with a little black in the base, or warm-toned neutrals. Farrow & Ball Rangwali 296
Bright, bold colors also reflect natural light. So if you're the adventurous type, bright yellow or hot pink are excellent choices. Hot pink adds some oomph to a lackluster hallway while bright yellow perfectly emanates light and warmth. Farrow & Ball has some interesting pink and yellow colors like Babouche and Middleton Pink. Farrow & Ball Middleton Pink 245 Farrow & Ball Modern Emulsion 223 Babouche
Paint Colors For Small Hallways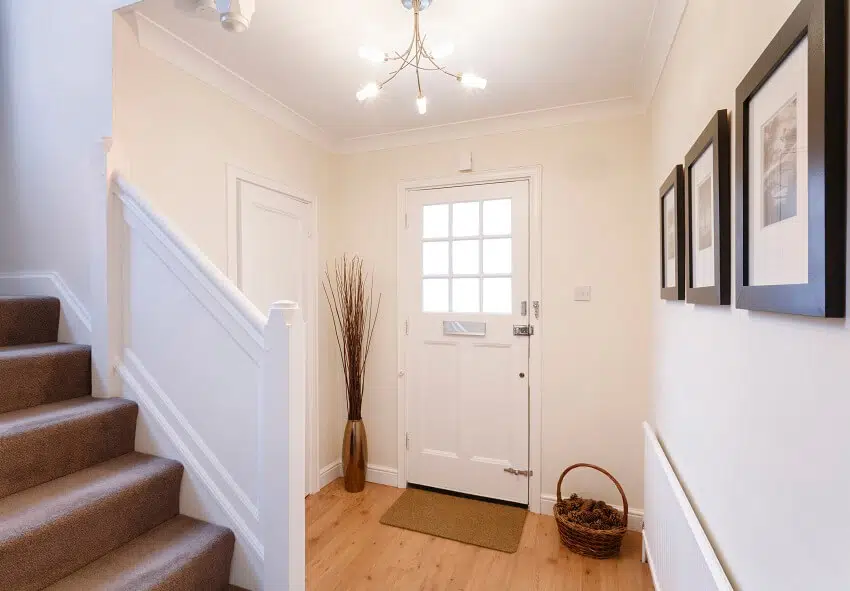 If you have a small or narrow hallway, painting it with lighter tones will make the space grow bigger. But that doesn't mean that white is your only choice.
In fact, painting your hallway white can become a disadvantage because they are prone to marks and scuffs. Instead choose blush tones, beige, or light gray.
To make your hallway appear even bigger and wider, consider adding large mirrors to the opposite wall or at the end of the hallway. Aside from giving an illusion of a bigger space, the mirrors can reflect natural light into the room.
Long Hallway Paint Ideas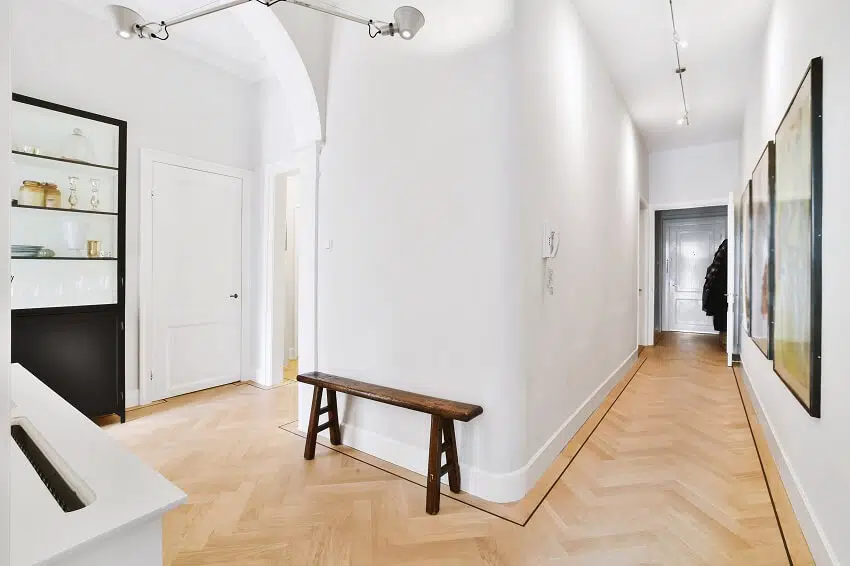 Imagine having a long, narrow hallway with no windows or doors. That's one architectural nightmare. However, that doesn't mean that you cannot do anything about it.
If you have a long hallway, a blue and white color combination can do wonders to an otherwise drab space. You can use the blue-gray tone as the main color and white to accentuate the walls.
Sherwin Williams' Icy SW 6534 and Behr's Thundercloud S520-5 are good to start with when it comes to blue-gray tones.
After that, you can also hang some artwork and photos on the walls for added effect.
Another novel idea is painting the long hallway in stripes using black and white. To complete the combo, add colorful furniture and accessories like orange throw pillows and a red center rug in the adjacent room.
Neutral Hallway Paint Colors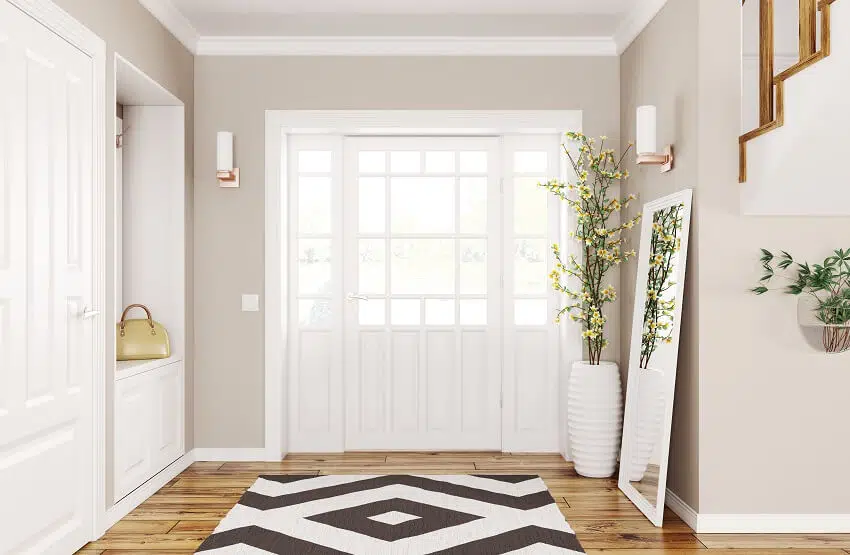 When it comes to using neutral colors in your hallway, you can either use it as the main color or as an accent.
For example, you can combine gray-blue and light gray, using the former as the main color and the latter for accents. Try Benjamin Moore's Classic Gray OC-23 for your light gray accents.
If you are using a warm mahogany color on your hallway walls, add navy blue-colored furniture to bring more depth to the area.
Furthermore, if you are using beige or off-white on the walls, add soft brown furniture and drapes. Visit our design guide on colors that go with beige for more related article.
Paint Colors For The Entrance Hallway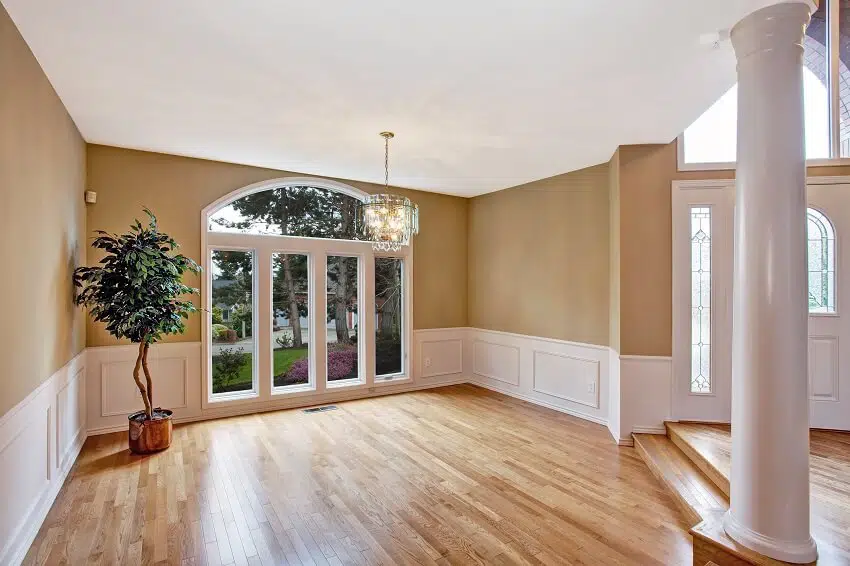 The entrance hallway is the first place people will see before they enter your house. And we know that making a good first impression is important because that's where people start to form their opinions as well. Therefore, the color you choose plays a critical role in creating a favorable impression.
Since the entrance hallway is an open space, you can be more creative and adventurous with your color choice. If the space receives a lot of natural light, choose darker, bolder colors.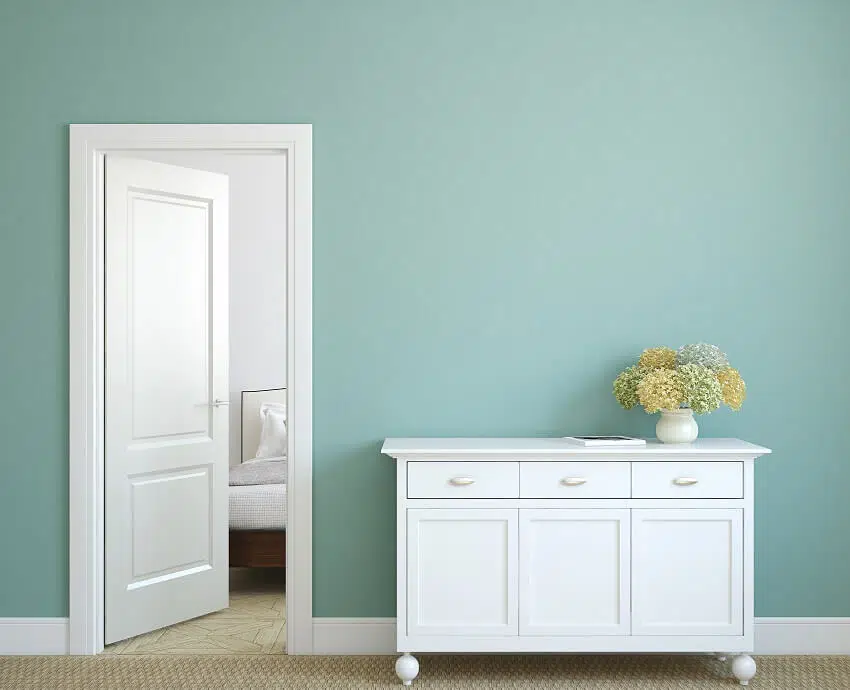 You can also draw inspiration from the scenery outside your house. If there's a lot of trees outside, paint your entryway green. If your door opens up straight to the sidewalk, you can use brown or gray.
What Color To Paint Hallway With No Windows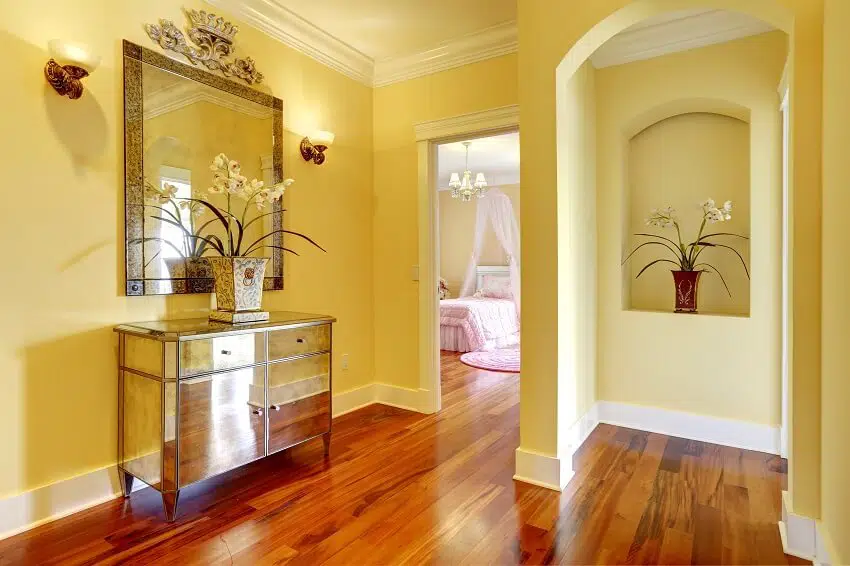 A hallway with no windows is usually dark so using light, neutral colors is recommended. Here are a few choices:
• Yellow — represents the bright sun so using it to paint your hallway will surely liven and brighten it.
• Beige or light gray — these colors give your hallway a neutral and elegant look. They're also perfect for hallways with no natural light because they can brighten a dull room.
• Green or light blue — These colors can make a dull hallway brighter and wider. Green and light blue also create a relaxing and calming ambiance.
• Cream or blush — give your dark hallway a bright and cheerful facelift using cream or a warm blush shade.
In Closing
Choosing the right paint color for any type of hallway need not be a daunting task. Use the tips and ideas we have given in this article to help you get started.
Or you can let down your hair and be adventurous by choosing bold and quirky colors like high-gloss green, bright yellow, or a black and white combination to add more character to your entryway. The only limit here is your imagination.
For more hallway paint ideas, visit our guide to paint colors that flow from room to room.