These Calacatta gold backsplash ideas include what it is, slab & tile designs, pros and cons, how to match the style, and comparison to Calacatta gold quartz.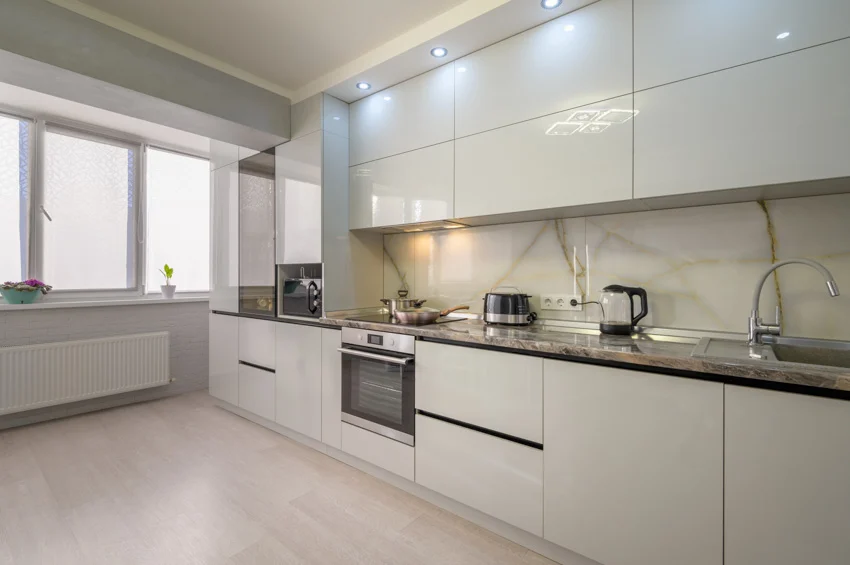 Calacatta marble is a beautiful and rare natural stone material that showcases a bold veining pattern. It's often used in interior design for flooring, countertops, and backsplash. Due to its rarity, it is more expensive than Carrara marble.
Calacatta has attractive veining that features bold veining patterns with everything from vibrant streaks of gold to brown and gray. This exciting marble veining offers a stark contrast on its bright white background. This provides the opportunity for these slabs to be used as beautiful bookmatched focal points.
What Is Calacatta Gold Marble?
Extracted in Carrara, Italy, Calacatta gold marble is one of the three major marbles considered prominent and high-end. And it is pretty rare when compared to other types of marble in the market. Named after the Indian city Calcutta, this type of marble has thicker slabs and a more potent veining pattern.
Compared to other types of marble, Calacatta is also more expensive because of how rare it is. The prices will even vary depending on how white the surface of the marble is because the whiter it is, the more expensive it will be. Calacatta marble is definitely a high-end option you can consider for your kitchen backsplash, with its limited availability and high demand.
Its limited availability is due to the fact that quarrying this specific marble is well-controlled. Seasonal factors also affect production as quarrying becomes very challenging in the peak winter months on the mountaintop in Carrara. Both of these factors lend to the rarity, and expense, of this natural stone.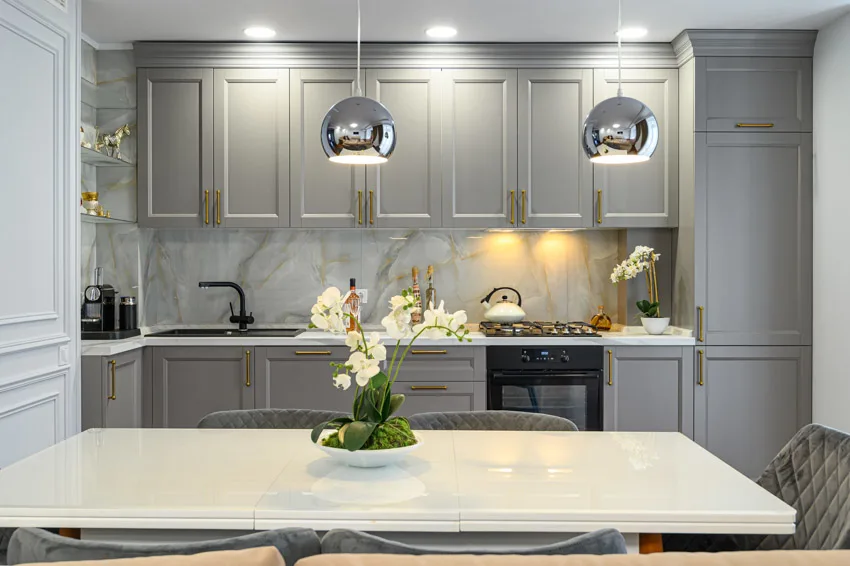 Calacatta usually has a white surface dominated by large and dramatic veins with brown hues here and there. This type of marble is considered to be stunning because of its loud and bold veining patterns.
And yes, despite having the word "gold" in its name, it doesn't really have gold shades or veins. It has a yellowish surface with either gray or brown veins. This is the reason why it is often confused with Calacatta Oro, which has more yellow veins on its crisp white surface.
The veins vary in color from golden to grey. Coupled with the white background, the colors of Calacatta are neutral and can easily be paired with dark or light woods and other materials to highlight or downplay architectural elements.
The feature that distinguishes Calacatta marble is its veining. Calacatta's veins are thick, bold, defined, and often colorful. Calacatta marble's veins range from dark-gray and beige up to darker browns and even gold. Calacatta has few veins, but those veins stand out in sharp contrast to the white field.
Calacatta gold marble is popular with designers because of its luxurious and clean look. And they are also flexible to be installed both in the kitchens and the bathrooms as a backsplash. Calacatta marble is for homeowners who want to show off this unique, gorgeous stone. It's a marble that truly looks the way marble should look.
Because Calacatta marble is all about its veins, it is well-suited to bookmatching. Bookmatching pairs two marble slabs from the same cut so that adjacent slabs mirror each other. This gives the bookmatch marble design the appearance of an open book.
Calacatta Gold Marble Backsplash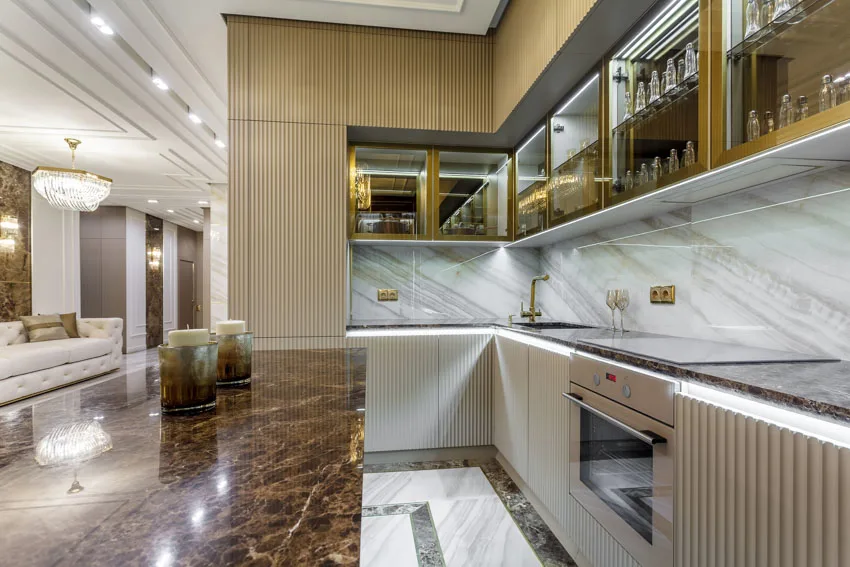 Calacatta gold marble is one of the most precious stones which is quarried only in Carrara, Italy. This prestigious marble features a white background with deep gray veins and taupe-gold highlights. The natural veining pattern of the Calacatta gives a dramatic and striking appeal.
With its white base and beautiful veining, this elegant stone acts as a piece of art between the cabinetry and instantly elevates the overall look of the kitchen by giving it a luxurious feel.
Compared to the other marbles, Calacatta has a clearer white background that provides a bright and spacious atmosphere. All types of marble give a unique look, but Calacatta gold marble has a distinctive look that can lend a luxurious sophistication to any space.
You might think a backsplash is a small detail for kitchens but besides its function, a backsplash needs to provide a visual beauty to complete the overall look of the kitchen. And to create this beautiful focal point, there is no better option than a Calacatta gold.
Calacatta gold marble is one of the most stylish materials for kitchen designs. From backsplash to countertop, flooring to wall cladding, it can be used for different surfaces.
Calacatta Gold Backsplash Tile Designs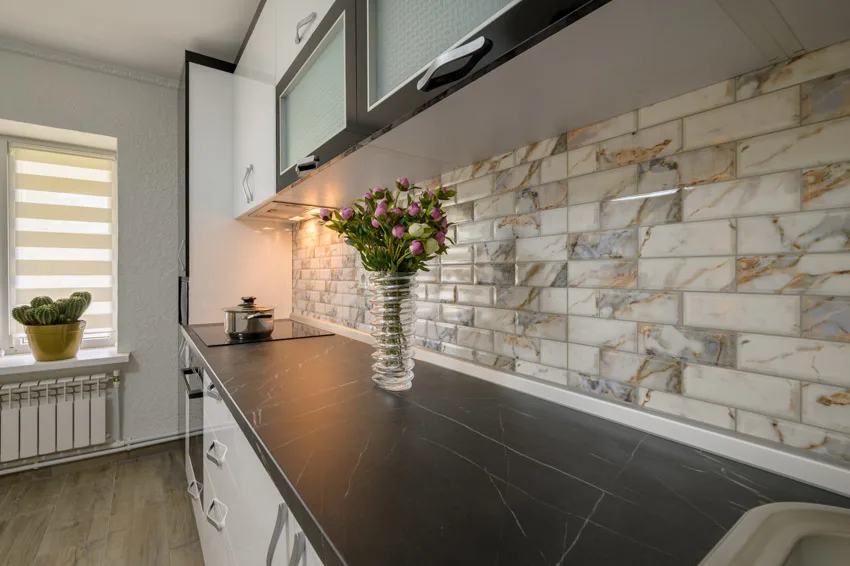 Today, Calacatta gold marble is one of the most popular backsplash materials for kitchens. From white shaker cabinets to black flat-panel cabinets, quartz countertops to granite countertops, it can be suitable for different styles and work well with different materials. This statement-making stone no matter what style you use instantly elevates the design.
Elegant calacatta gold subway backsplash tile with calacatta gold marble kitchen countertop. This is a very unique blend of design. If you are looking for luxury for your project calacatta marble is the top choice.
Subway Tile Backsplash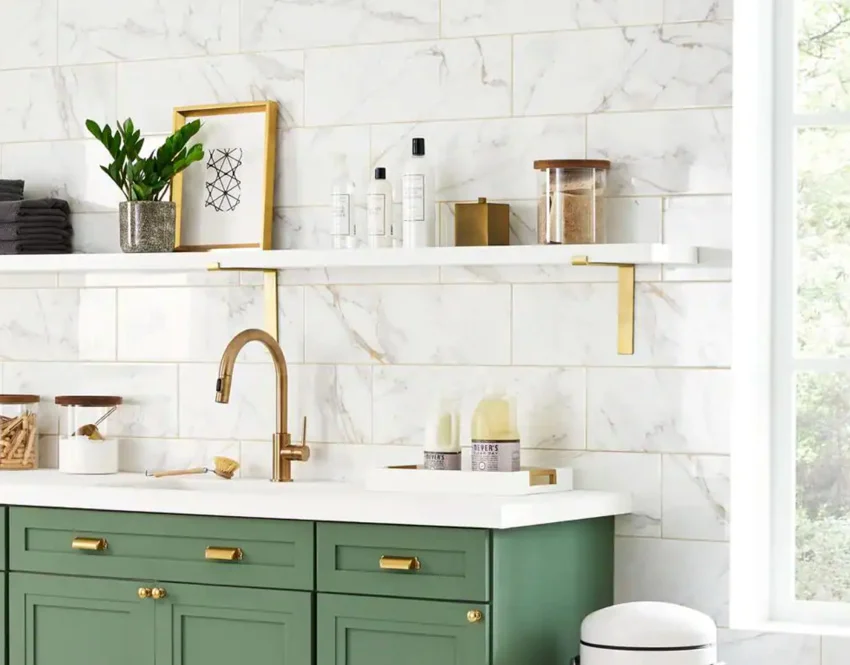 See this gold marble subway tile backsplash at Home Depot [sponsored link]
Calacatta gold subway tile has a white tile base but also features shades of white and gray, accented with subtle gold. These 3×6 polished finish tiles are an elegant choice for backsplash tile and other installations in residential spaces, even flooring.
Subway tiles are one of the most classic patterns of the backsplash. Whether your kitchen is traditional or contemporary, modern, or transitional, a subway tile backsplash is a great way to complete the design and give a timeless look. If you want to add a luxurious feel, there is no better option than a Calacata gold subway tile backsplash.
Mosaic Backsplash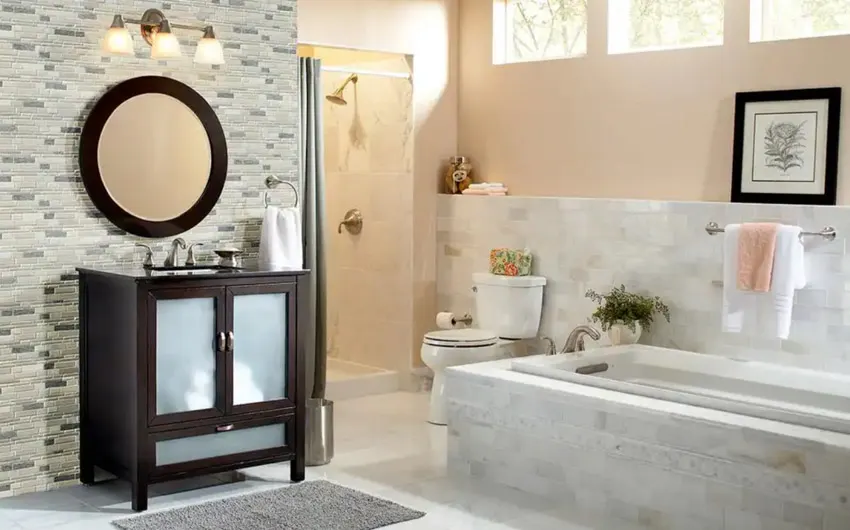 See this gold marble mosaic backsplash at Home Depot [sponsored link]
A traditional bathroom With Calacatta gold mosaic tile can include a master bath extension, double sinks, custom white painted vanities, a Calacatta marble basketweave floor, leaded glass window, white subway tile with glass mosaic accent.
A transitional white kitchen with Calacatta Gold tile and countertop may be chosen with its white kitchen cabinets, white quartz countertops, marble kitchen island, and mosaic tile backsplash.
You can also get it in a transitional white brown kitchen Calacatta gold. It offers a unique look calacatta kitchen countertop, white cabinets, brown hardwood floor with calacatta gold marble mosaic tile.
A handcrafted kitchen island and dark wood floors are a wonderful contrast to the white cabinets with 2×4 calacatta gold marble mosaic tile can also look good, as well as 2×10″ chevron calacatta gold marble mosaic tile with white marble countertop and taupe color kitchen cabinets.
Herringbone Backsplash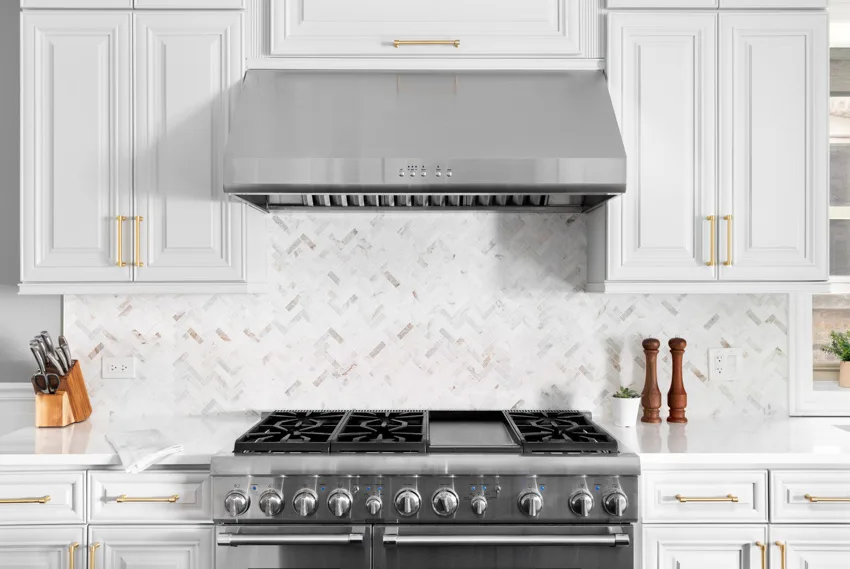 A herringbone pattern is a classic for kitchen backsplashes that never go out of style. When the luxurious feel of the Calacatta gold marble and the distinctive look of the herringbone tiles meet, the result is undeniably perfect.
Chevron Backsplash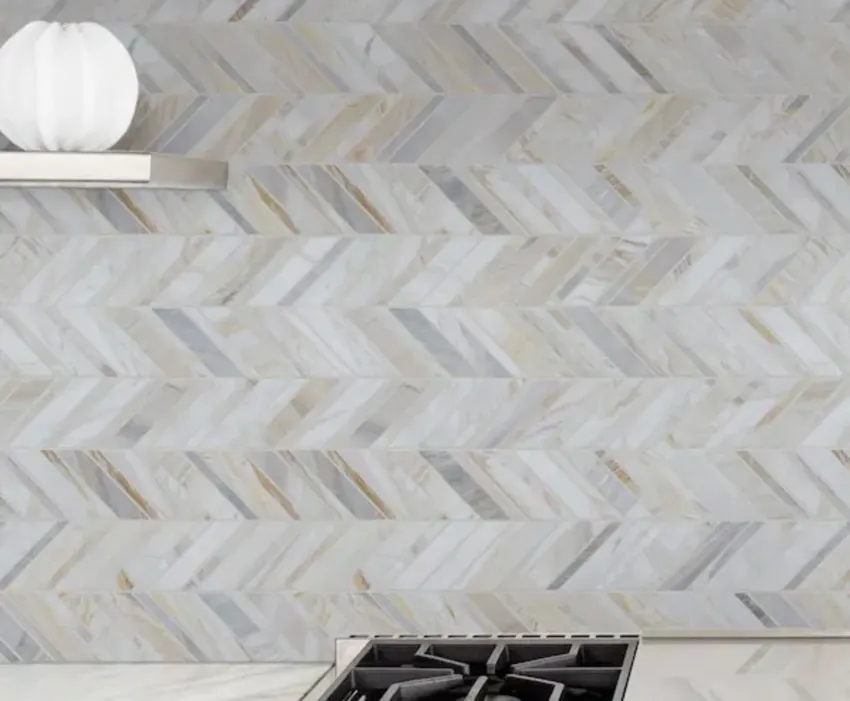 See this chevron gold marble backsplash at Home Depot [sponsored link]
Calacatta gold chevron backsplash offers a modern look with a dose of luxury and creates a sleek focal point between the cabinetry. This marble chevron backsplash looks beautiful with white and gray grout.
Arabesque Backsplash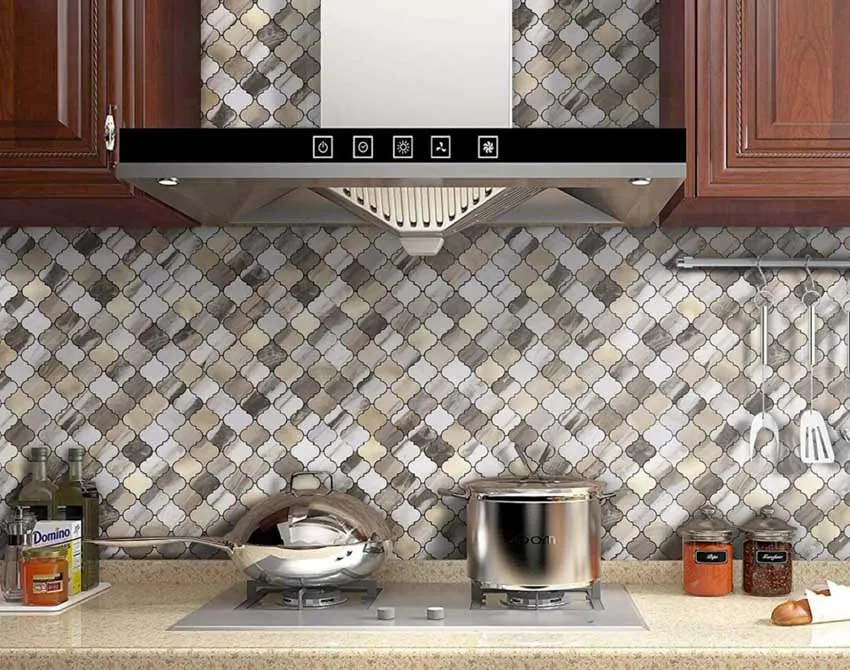 See this gold marble arabesque tile backsplash at Amazon [sponsored link]
Arabesque tiles, also known as Moroccan tiles, offer a unique appeal with their elegant, curved shapes. And when this beautiful tile pattern is combined with the sophisticated look of the Calacatta marble, a distinctive appearance emerges.
Hexagon Backsplash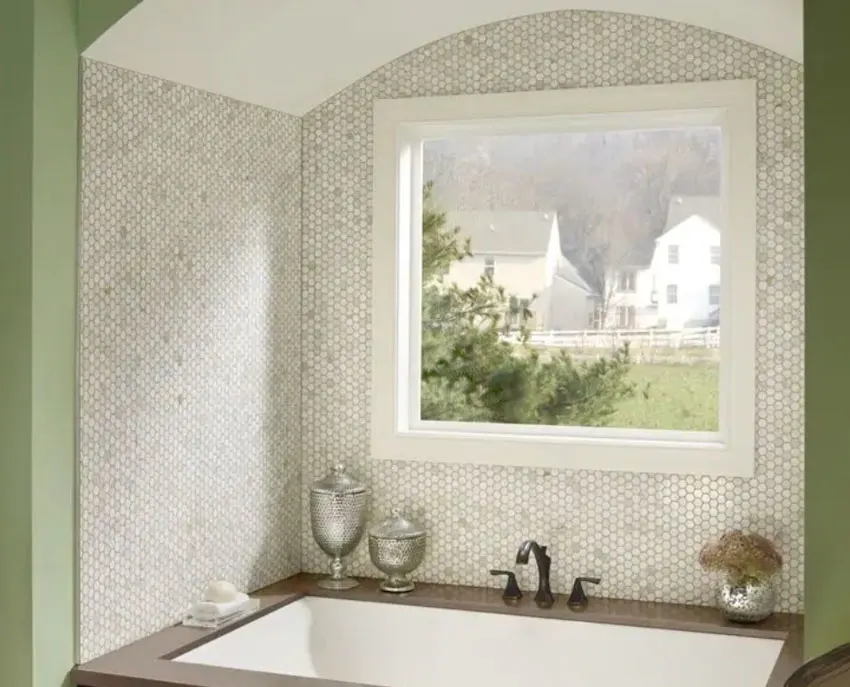 See this hexagon gold marble tile backsplash at Home Depot [sponsored link]
Hexagon tiles are in the rising trend lists. The modern look of these simple geometric shapes creates a gorgeous focal point, especially when meets with natural Calacatta gold marble. This eye-catching combination can instantly elevate the design and creates a timeless look.
Calacatta Gold Kitchen Backsplash Pros And Cons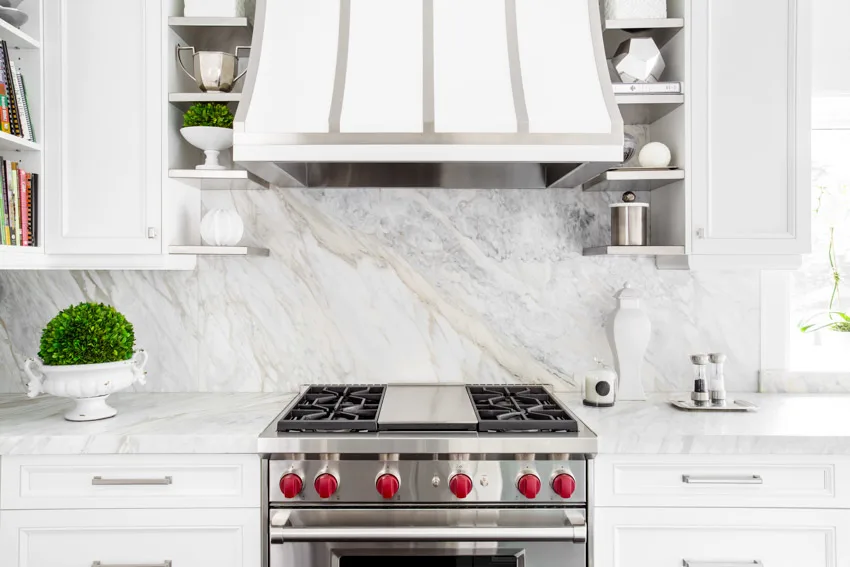 Calacatta marble is a distinctive Italian Calacatta marble that is white with gray and gold veining. Available in both honed and polished finishes, this elegant natural stone is the perfect choice to create stunning marble countertops, statement kitchen islands, marble tile floors, shower surrounds, or a Calacatta Marble backsplash.
For flexibility in design and installation, a wide range of coordinating wall tiles, floor tiles, and mosaic tiles are available. Calacatta is a famous marble type that is recognizable by the crisp white background and distinct veining.
Quartz, as a manufactured stone, can look like other materials, such as marble. When it is manufactured, pigments are added to it to make it look like other stones. The resemblances are remarkable, only the experts will be able to tell the difference.
Pros of Calacatta Gold Backsplash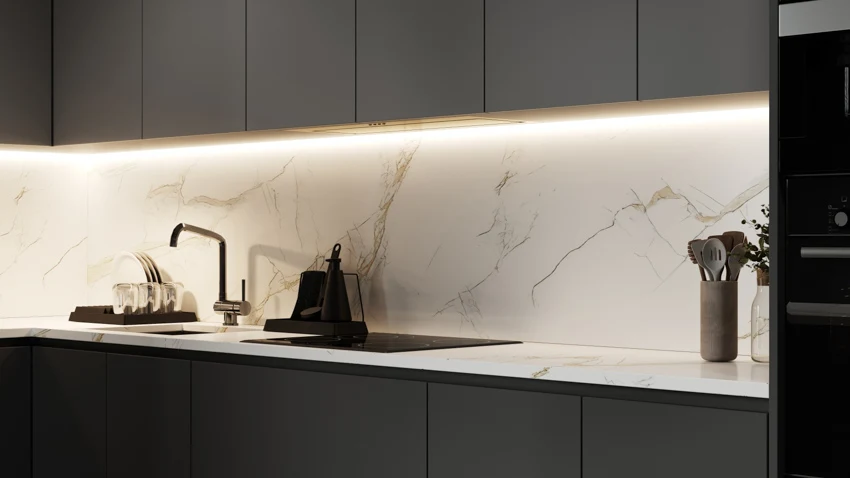 Often considered a luxurious and rare piece, Calacatta marble has a unique and beautiful appeal. The traces of brown found in its patterns works well with a wide array of hues, from warm to cool tones. So, if you tend to switch up your décor from time to time, you will find that your marble floors will still complement the overall style of your home's interior.
• Aesthetics: Calacatta gold is recognizable by the warm white background and moderately tick veining. The veining is what distinguishes this style from the others. Because of its tone and undertone, it will be perfect in combination with beige cabinets, which will make the veining stand out even more.
• Durability: This is one of the most durable materials on the market. It will not break or crack under normal circumstances. It will also last you a long time because it is so durable.
• Various options: Almost every marble brand has its version of Calacatta gold. Although each has similar look, you will be able to look at the finest details and choose the one you like the best. This will also allow you to choose the one that fits your budget the best.
• Resistance to staining: Although Calacatta has a white background, that will not be the problem with quartz. It is highly resistant to staining, even wine or coffee will not leave a permanent stain. This makes these worktops perfect for food preparation and consumption.
• Resistance to scratching: There is nothing more frustrating than knife scratches on a new countertop. Luckily, the material is highly resistant to scratching and you will have no such problems with it.
• Resistance to heat: Most natural stone, including marble, are heat resistant up to 350 degrees Fahrenheit. You can lay a hot pan or dish on your marble countertops without a trivet.
• Maintenance: One would think that maintaining white surfaces is time-consuming and challenging, but not with this material. Although you will have to wipe your light surfaces more frequently than the darker ones, because everything is more visible on them, you will complete that with ease. You will need just soap and water for everyday cleaning; occasionally, you can use the glass cleaner.
Cons of Calacatta Gold Backsplash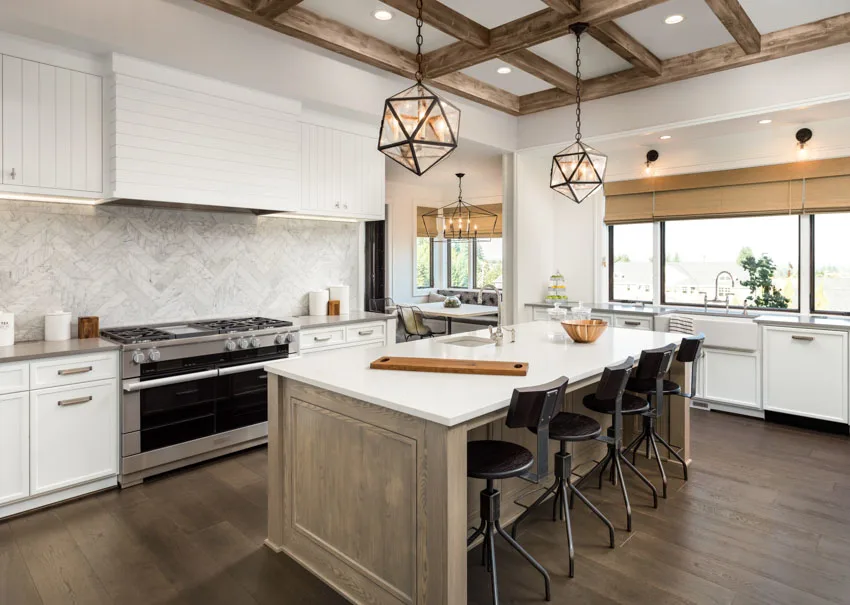 People who love larger veining and patterns in natural stone prefer Calacatta marble. However, if you're someone who prefers dainty and more delicate veining, you may not find it appealing.
Moreover, since Calacatta marble is rare, it can be challenging to get your hands on it. So, if you are planning to use it for your home remodeling project, it may be challenging for you to find a supplier.
• Sensitive to chemicals: You should avoid cleaning products that contain bleach and ammonia, and just stick to soap and water. Those chemicals are harsh and can lead to discoloration and microscopic damage. If your countertops come accidentally in contact with such chemicals, rinse off the affected area with soap and water as soon as possible.
• Limited Availability: Since Calacatta marble gold is a rare material, its availability is controlled and so can be an issue if you decide to get this for your backsplash.
• Expensive: Due to its rare status and limited availability, this material is quite on the high-end side of the prices. Make sure you have the budget for it.
In coming up with a more informed and less regrettable decision, it is best to weigh these pros and cons seriously. If the benefits outweigh the disadvantages that come with it then you can be guaranteed that this option can be an incredible addition to your home.
What Is Calacatta Gold Quartz Backsplash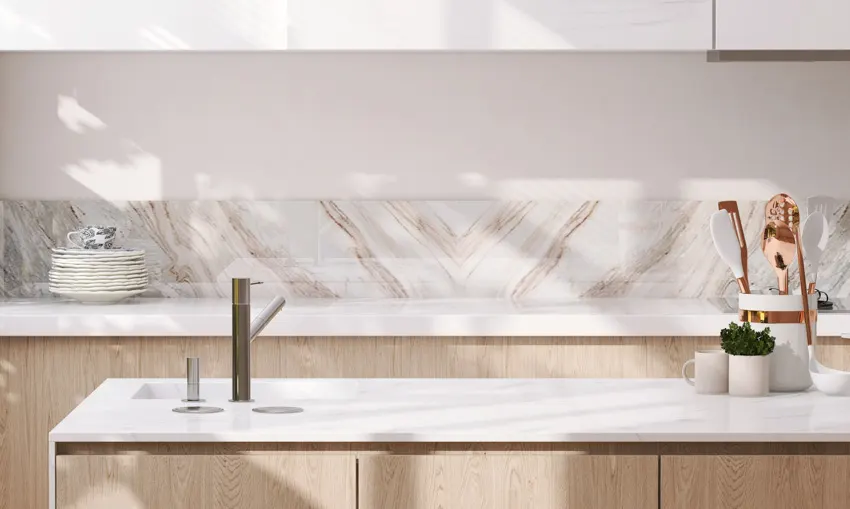 Calacatta quartz is a material that looks just like Calacatta marble -a distinct marble type-. Calacatta quartz color can be defined as clean and bright white but it also has dramatic veining ranging from grey to gold.
The benefit of using Calacatta quartz, rather than marble, is that it offers the beauty of marble and durability of quartz. At a much lower price point, the Calacatta quartz texture can give you the same look as marble with the added benefit of strength and durability.
Due to quartz's nonporous nature, it is resistant to stains and scratches. Unlike classic marble or granite, it does not need to be sealed, meaning it is easy to maintain. Due to this advantageous nature; this qualified white quartz surface is favorable for countertops, kitchens, and backsplash. Also, a Calacatta bathroom and kitchen are always in demand ideas.
A person, who makes Calacatta quartz the star choice of the home, will surely appreciate the value of a comfortable life. Imagine enjoying a dinner with friends on the whitest Calacatta quartz or a Calacatta gold veined quartz.
When we look over the Calacatta quartz reviews; we see that people use Calacatta tile for a quartz corner in their kitchen, or they like to use Calacatta quartz with white cabinets. Even they are discussing the best backsplash for Calacatta quartz countertops.
What Goes Well With Calacatta Gold?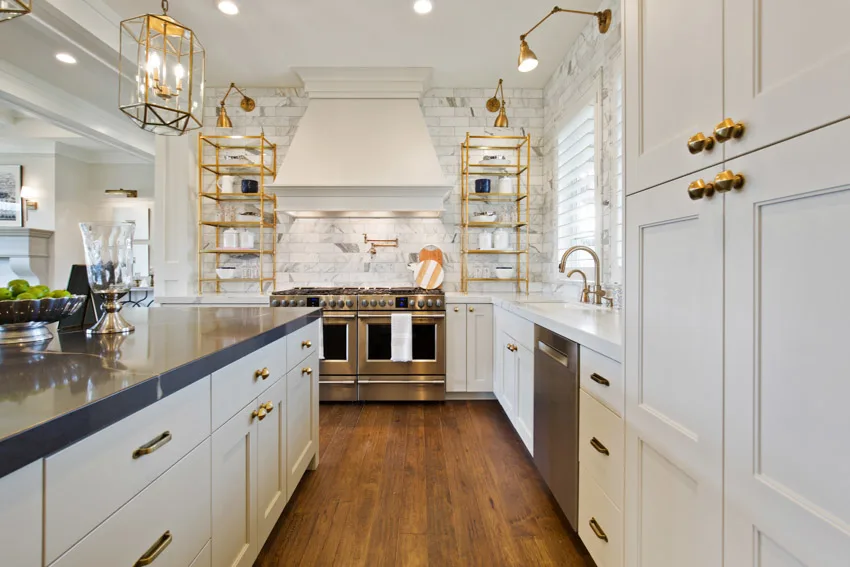 Calacatta gold backsplash has already a striking appeal that can dominate the design. So, it can be better to use complementary colors like white, gray, or black for your countertops.
Because of their visual beauty and low maintenance, quartz countertops are the most popular options for homeowners. They come in a wide range of product options that you can pair with your Calacatta gold backsplash.
The crisp white background, gray veining, and gold/taupe highlights of the Calacatta marble offer a sleek look for kitchens and the color scheme of the kitchen is important to complete this look. White, gray, and black colors are beautiful color options for Calacatta marble.
You can pair your marble backsplash with white, gray, or black cabinets to create a cohesive look and add brass accents, lighting fixtures, or cabinet hardware to complement the gold highlights of the Calacatta.
If you want to highlight the pattern of your backsplash but don't want to use black grout, gray grout is a perfect option. Gray grout gives something between a matching and contrasting color that complements the beautiful gray veining of the marble.
Using black grout is a perfect way to emphasize the pattern of the tiles and add visual interest to the kitchen. Black grout will warm up your elegant Calacatta gold backsplash and create a striking focal point while completing the sophistication of the marble.
With the rise of the all-white kitchen trend, white backsplashes are getting more popular choices for homeowners and interior designers. From glossy glass tiles to porcelain ones, there is plenty of white backsplash option.
But if you want to add a luxurious feel to your kitchen, match your white cabinets with a Calacatta gold backsplash. This marble will instantly change the whole atmosphere and create an eye-catching design. You can complete the design with brass accents for a glam look.
See more related content in our article about Carrara marble backsplash on this page.