This beautiful gallery of arabesque tile backsplash styles include what it is, the different materials, designs, installation, and finishing tips.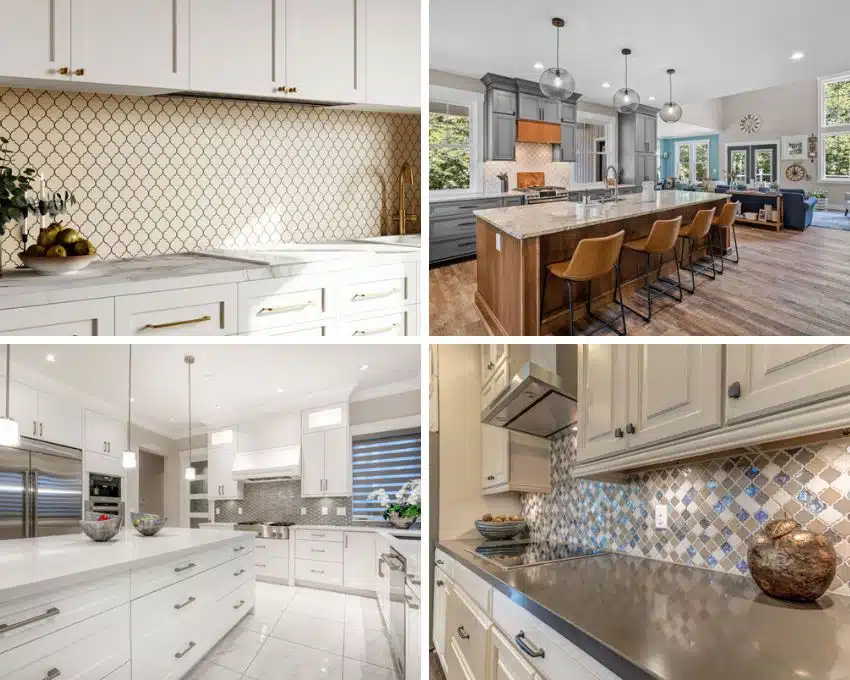 An arabesque tile backsplash can make a big impression in your home. Whether it's inside a kitchen or a bathroom, the design itself is one that will help make any space stand out. We take a look at this tile design and what makes it special and answer any questions you may have about these stunning products.
What Is Arabesque Backsplash?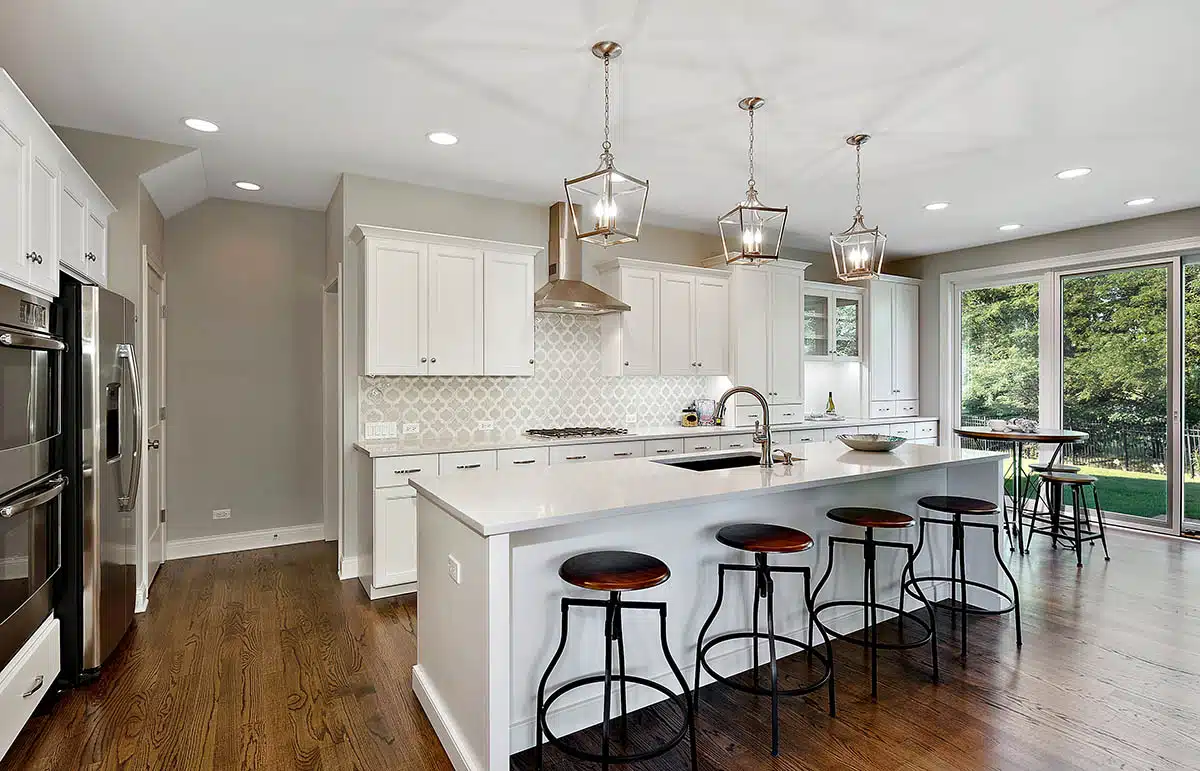 An arabesque tile backsplash is one tiling feature that can make your home décor stand out. This type of backsplash is a Moroccan style decorative tile that offers up repeating and intricate lantern like pattern on the tiles. The designs are typically inspired by traditional Islamic art.
This design is quite elegant and unique at the same time. It is mainly characterized by curved tiles shaped like teardrops that interlock against each other. The overall finished effect is eye-catching and elaborate, offering a sophisticated experience for people who appreciate intricate patterns.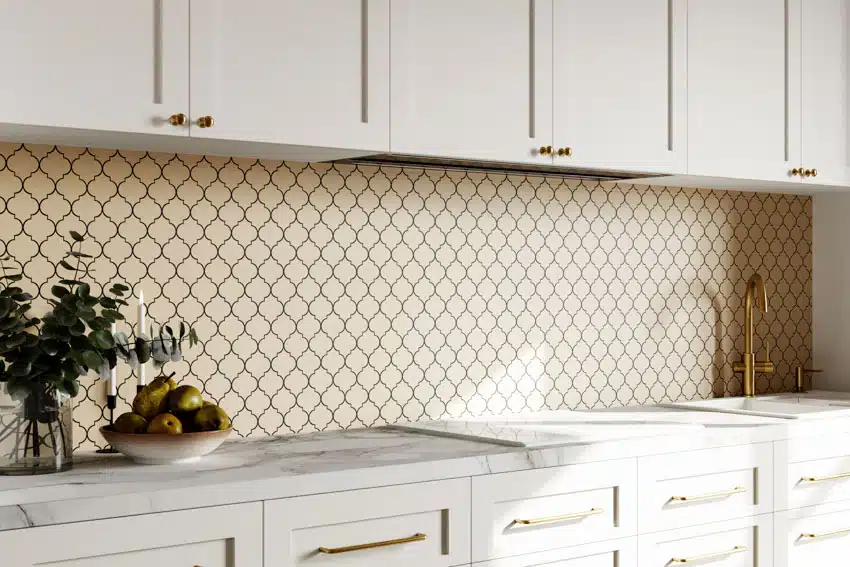 Unsurprisingly, it can appeal to even the most demanding interior decorators and art enthusiasts. It is popularly used in bathroom and kitchen and can amp up the sophistication of the space you're trying to redecorate at home.
These arabesque tiles often come in various materials, from the mass-produced and affordable peel-and-stick options to glass, marble, and even ceramic. The designs also typically come with vibrant and varied colors that add up to the intricacy and beauty of the overall design even more.
Suppose you're a homeowner looking for ways to bring in something stylish and unique to your interior designs. In that case, an arabesque backsplash tile is an exciting yet viable option to bring to the table at the end of the day.
Arabesque Backsplash Tile Materials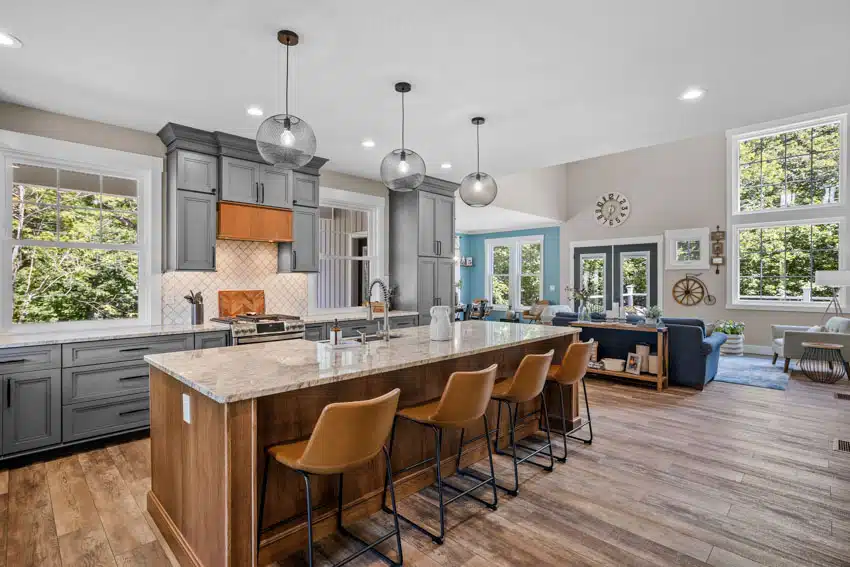 Arabesque backsplash tile comes in a wide variety of colors and materials. It all boils down to what your overall interior design, personal preferences, and budget for the design project will be.
Whatever they are, you are bound to have something that will fit right into what you're looking for. Here are some of the most popular arabesque tile materials out there.
Arabesque Glass Tile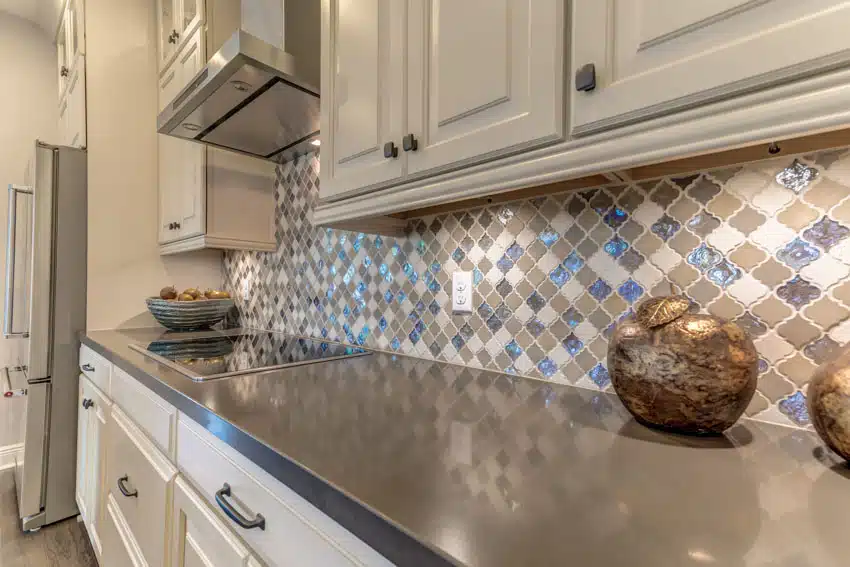 An arabesque glass tile backsplash is great if you want to create a modern and sleek space. This is the best tile material if you're keen on adding a little shine and elegance to your kitchen or bathroom.
Glass tiles come in an abundance of popular colors such as white, gray, blue, beige, and off- white.More unusual colors are also available such as black, green, red, yellow, orange, pink and purple to get just the style you want.
Glass tiles are also relatively easy to clean as dirt, grime, and hard water stains tend to slide right off instead of the other tiling materials out there.
Arabesque Ceramic Tile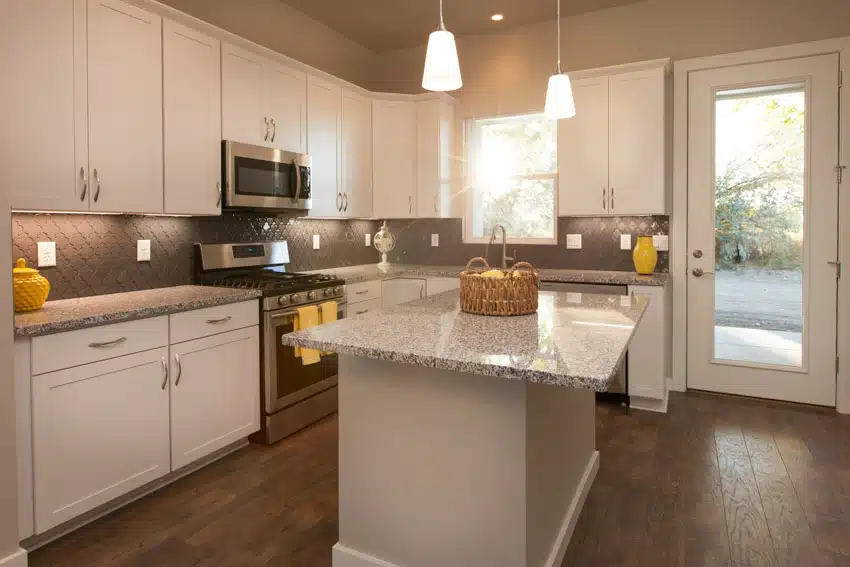 Arabesque ceramic tiles are one of the most popular tile materials because of their durability as well as, at the same time, the fact that they're pretty affordable. If you're working with a tight budget range, you can still get the high-end look of an arabesque tile backsplash with ceramic tiles.
Ceramics is a material that can get cut and colored easily, so it also offers a wide range of designs and shapes that can, at times, be a bit more scarce than other tile materials.
Arabesque Marble Tile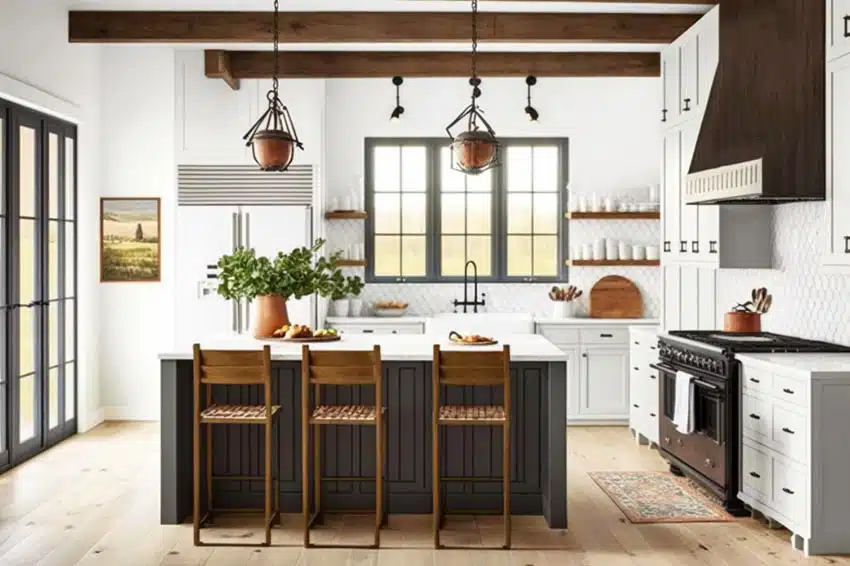 Arabesque marble tiles are more on the high end of the pricing spectrum. Suppose you're looking for a bit more luxurious and elegant. In that case, a marble Arabesque tile backsplash can deliver that immediately.
Marble is also amazingly durable, so although it does cost a bit more on the front end, you can rest assured that you're spending your money on a quality investment at home that will last you for a good number of years.
However, marble is made of natural stone and can be porous. It will require maintenance, services such as sealing every few years, to keep it in top condition. Not sealing your marble will also mean it can be susceptible to liquid stains, which are standard in the bathroom and kitchen.
Arabesque Peel-And-Stick Tile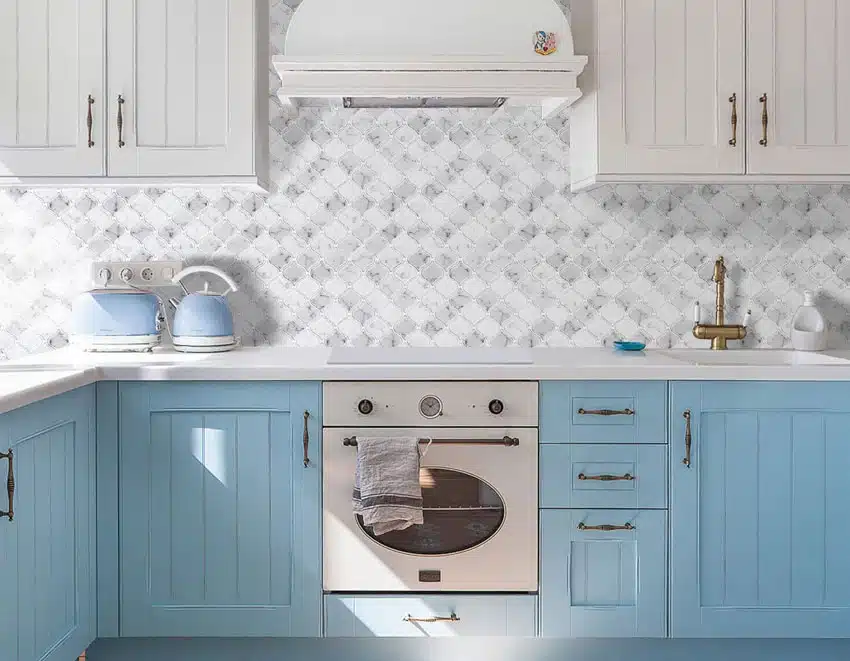 See this peel and stick arabesque backsplash at Amazon [sponsored link]
Peel and stick arabesque tile backsplashes are very easy to install, even if you don't consider yourself particularly handy at home. All you really need is a clean and dry surface and you can apply this material and end up with a backsplash that looks great.
Use removable, peel-and-stick wallpaper as an easy and inexpensive way to brighten and personalize your space. It's easy to apply, and it leaves no residue when you remove it. – RV Hacks, Marc Bennett and Julie Bennett
You can get this done in just a matter of hours. A peel and stick kitchen backsplash is less expensive than the other tile materials, so it's a great option if you're running on a tight budget.
It comes in a wide range of colors and designs, so you're bound to find something that will complement or match your interior design accordingly.
This type of backsplash material is also straightforward to clean. You only need a clean damp cloth or sponge to wipe down splatters or spills.
And since it's the only non-permanent material, it's great if you're renting out a place or need help to commit to a permanent backsplash design. You can strip them off, and there won't be any residue or damage on the wall.
Arabesque Kitchen Backsplash Designs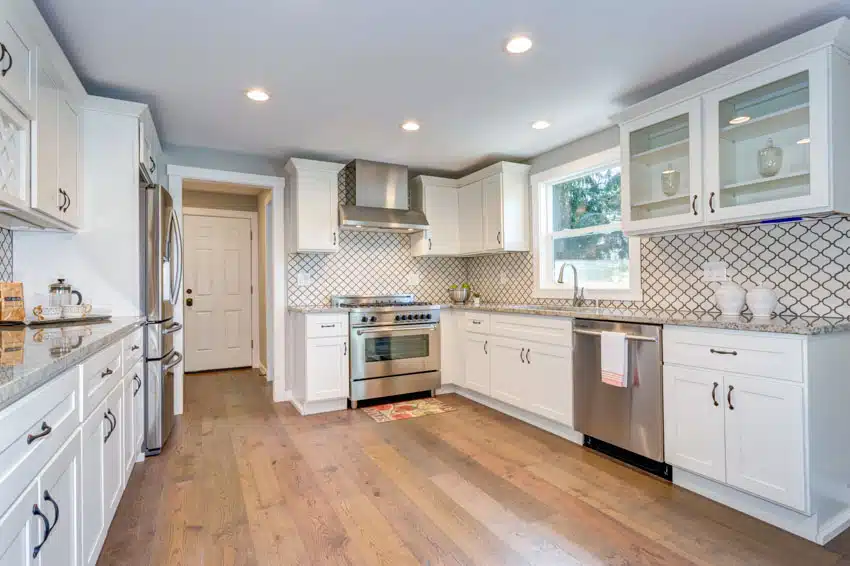 Arabesque tile backsplashes also come in a wide range of design options. Here are some of the best ones we've come across so far, providing you with even more ideas for elevating the appearance of your space:
Mosaic Tile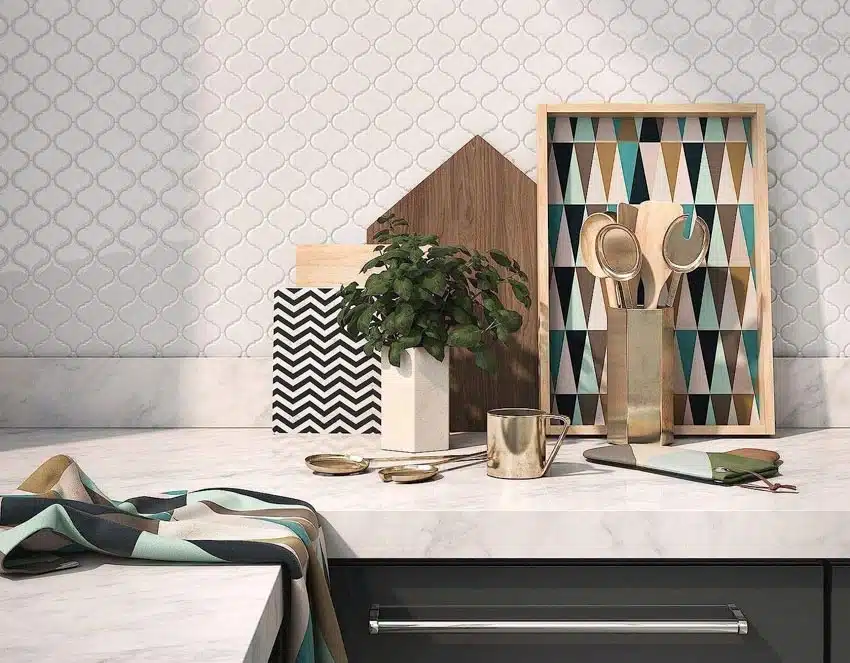 See this arabesque mosaic backsplash at Amazon [sponsored link]
An arabesque mosaic tile kitchen backsplash is well-reputed for its durability. They are amazingly resistant to chipping, scratching, and all other common types of damage. Hence, you must ensure that your kitchen backsplash will last you for years.
This design is also visually appealing because the small tile pieces combine and converge into a larger overall design. You can easily convert your kitchen backsplash or wall into a focal point for the room or even an accent wall.
Mosaic tiles require easy maintenance and are very resistant to stains, heat, and moisture. This is why they're very ideal for kitchen and bathroom usage. And because it's a mosaic, you can easily customize your design.
Large Format Tiles

Suppose you aim to add something visually striking or that makes a statement in the kitchen or bathroom space at home. Large arabesque tile backsplashes can do that and much more in that case.
Because of the large format of the tiles, including mosaic wall tile and lantern designs, they can easily add texture and depth to various projects, such as walls and furniture.
This makes your design that fit for the space, especially in a subway setting, instantly unique and elegant. And because of the fact that they offer more expansive surface areas, this also means that you have fewer grout lines to worry about.
There are very minimal areas where grime and dirt can build up, making this tile backsplash design very appealing for busy households that only have a little time to clean in the first place.

When you install large format backsplash its a good idea to be careful with mixing in too many different colors, textures, eye-catching furniture, home decor and shapes as the large format tile already make a big impression. An example of this would be using large tiles combined with subway tiles.
Substitute, busy tile floors for high quality luxury vinyl, hardwood, stone, or laminate flooring that does not have too many patterns.
White Tile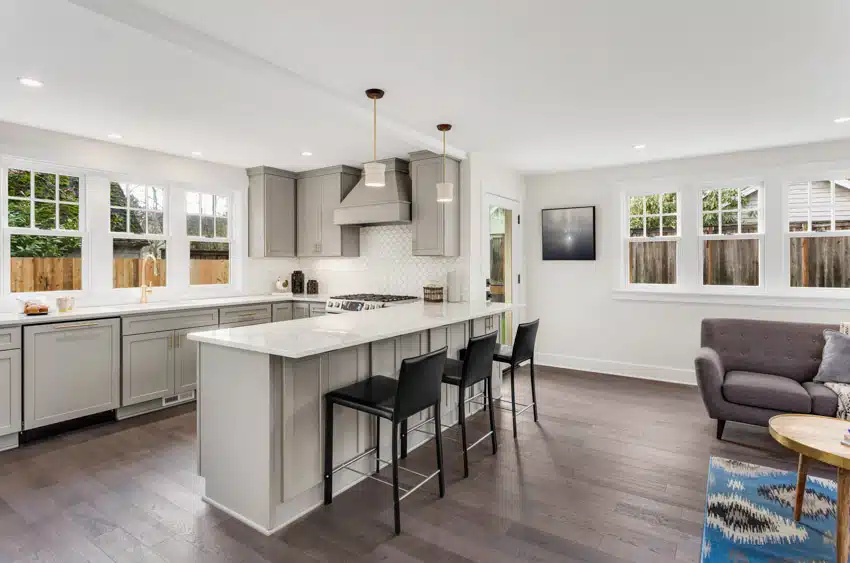 One of the main strengths of a white arabesque tile backsplash is its color. White is a classic color. It doesn't clash with anything or go out of style. You can easily create a design look that's elegant and timeless.
You will never have to worry about the backsplash looking dated because white will always be on trend. This also opens you up to a wide variety of design options.
It means you can play around with more varied and bolder colors, particularly when incorporating lantern features, because you have a neutral white backdrop. The color is also highly reflective.

This can give any space the feeling of appearing bigger, brighter, and airier than it actually is. This is particularly useful if you are designing a cramped or small space.
It's easy to clean, as you can immediately spot any stains or dirt. It's also great for creating a cohesive and clean look for the kitchen or bathroom space you're designing because white goes with almost all colors.
A white arabesque tile backsplash frees you up. It lets you play around and be more creative with your cabinets, kitchen countertops, and wall colors.
Off White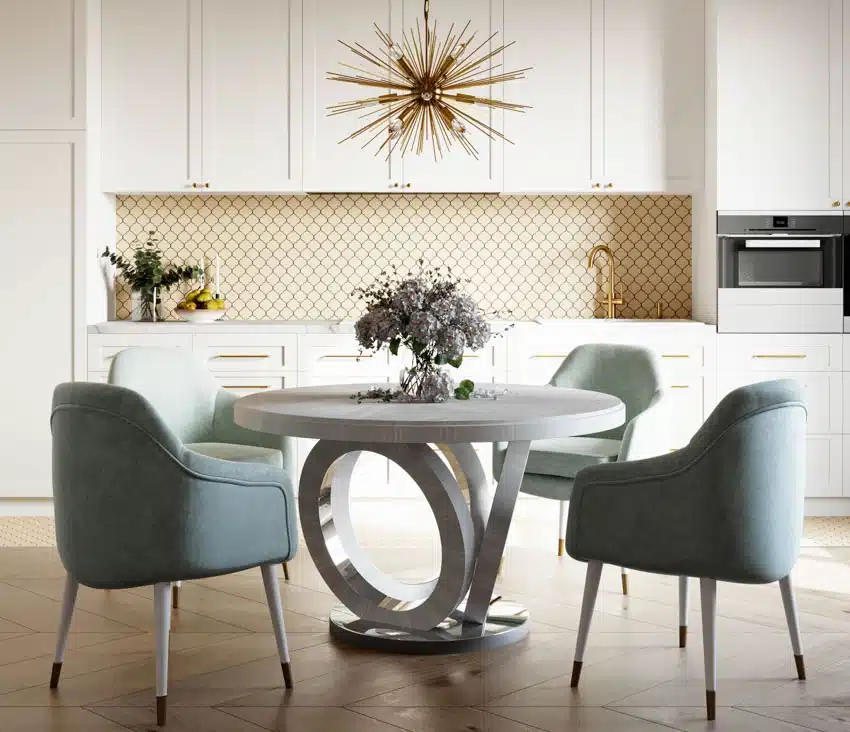 An off-white or cream color can add a gentle contrast to white kitchen cabinets which can help keep your design looking bright and airy without and dark undertones.
This color matching technique is especially useful for smaller spaces, layouts without natural light or a kitchen in a basement.
To add pops of color focus on the other home decor elements such as dining chairs, flowers, vases and hardware finishes to name a few.
Blue Tile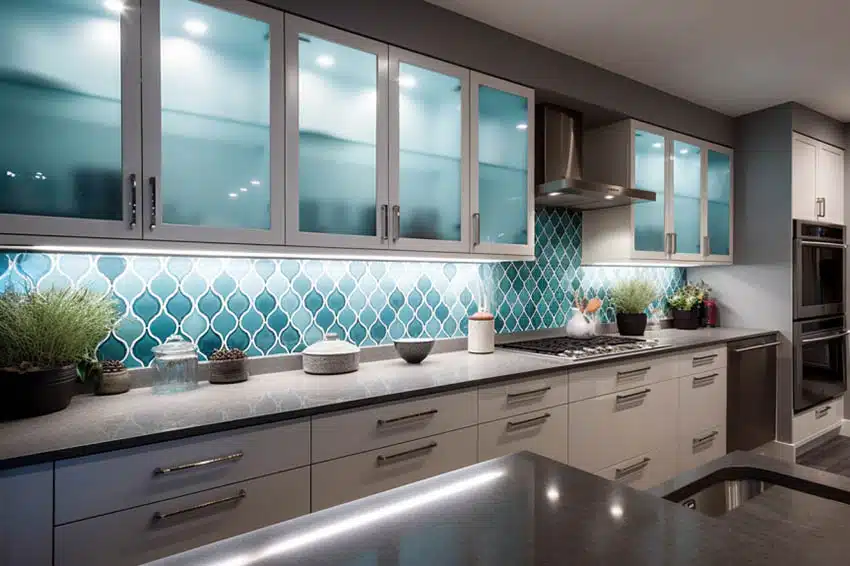 A blue arabesque tile backsplash can be great for your kitchen or bathroom space if what you're going after is a nice pop of color. The color blue can be quite soothing. It can create a space at home with a relaxing and peaceful vibe.
It can also function as a practical focal point in your space. This is because color alone can draw the eye and make a statement simultaneously.
And although it's an exciting color, blue tends to work well with other colors out there, and depending on the type of blue you go for, the effects can vary.
Softer blues can have a more subtle effect, whereas stronger ones can be more dramatic and bold. This tile backsplash design creates a rather customized and high-end look, adding value to your home's overall real estate value and making an otherwise outdated space appear trendier and more updated.
Gray Tile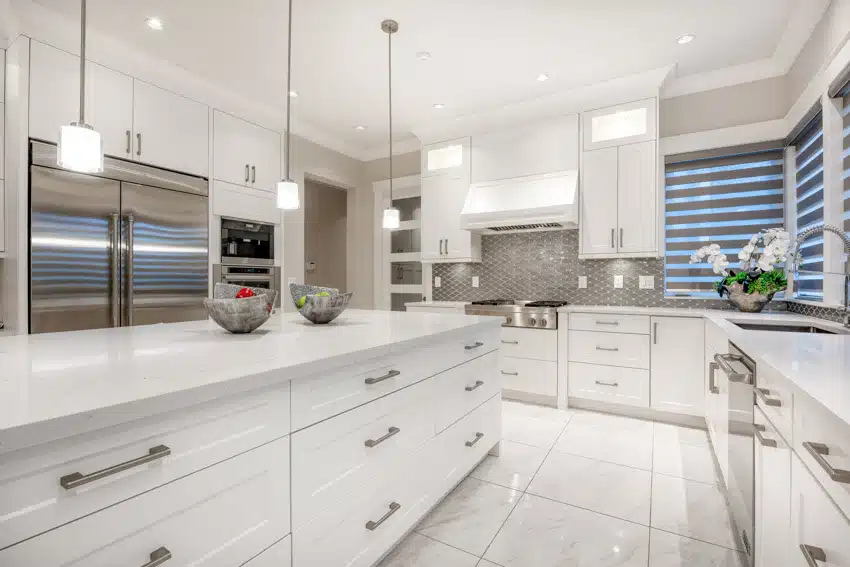 A gray arabesque tile backsplash offers up a neutral color scheme. This means you can easily complement various color schemes and design styles when working on projects including walls, countertop surfaces, and furniture.The overall look it creates is elegant and sophisticated, reminiscent of a beige Moroccan wall adorned with porcelain tile work.

And yet, interestingly, it can go anywhere from timeless to modern kitchen designs as well. It all depends on the other design elements that you incorporate in the space alongside it.
If you want something harmonious and cohesive, gray arabesque tile backsplashes pair exceptionally well with blacks, whites, and other shades of gray, as well as beige porcelain tiles.
Arabesque tiles, in general, are quite notable for their intricate textures and patterns. When paired with the color gray, this can add depth and dimensionality to the space that other colors can't deliver quite as well.
Beveled Backsplash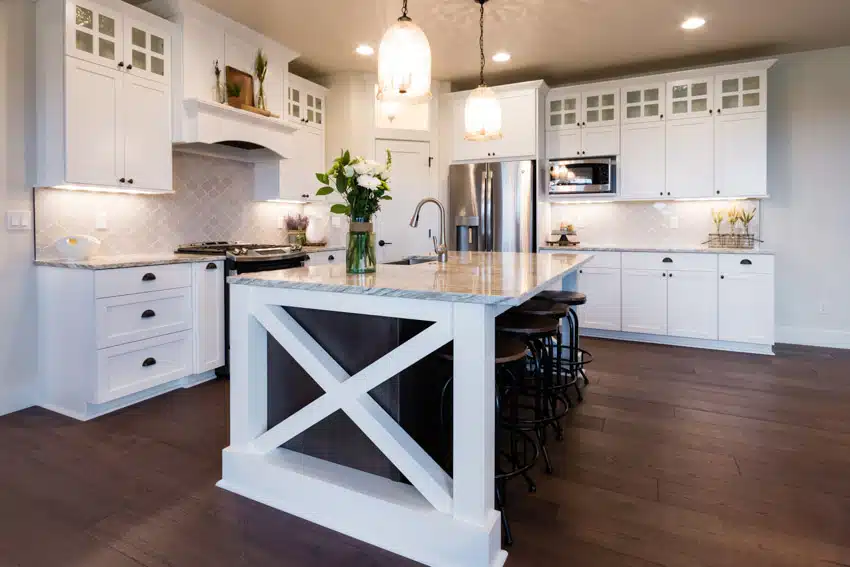 The beveled edges of a beveled arabesque tile backsplash can add dimensionality and depth to the space you're designing at home. This backsplash design can create a somewhat 3D-type of effect that pumps up the visual interest in your kitchen or bathroom space.
Beveled tiles are also highly reflective, which means that a glossy backsplash strategically set in place with beveled tiles can make the space appear more open and brighter.
It's great for a small kitchen design. Suppose you want something outside the typical tiling designs out there. In that case, a beveled arabesque tile backsplash, perhaps with a Moroccan-inspired porcelain touch, can be a refreshing breath of fresh air.

Arabesque With Dark Cabinets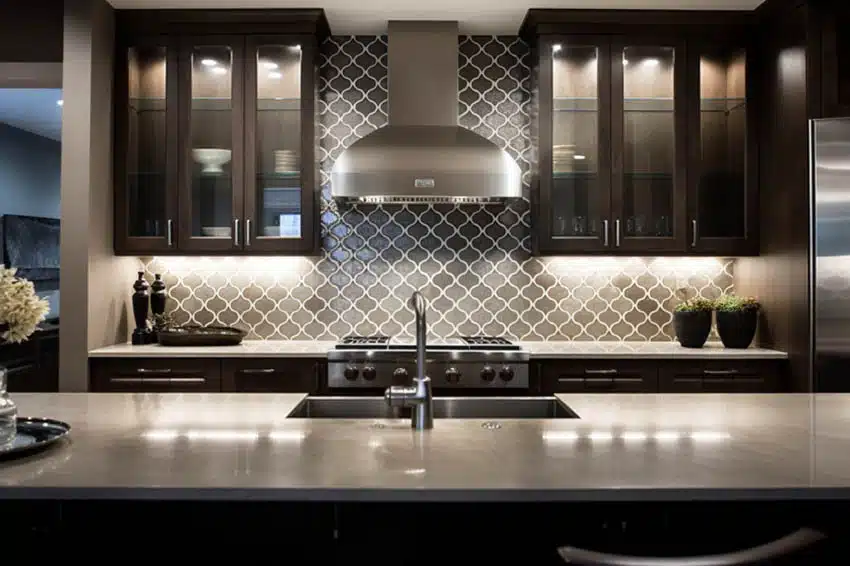 One of the main advantages of pairing your dark cabinets with an arabesque tile backsplash is that you will effectively introduce the element of contrast to the space.
The typically light-colored arabesque tile backsplash will contrast nicely against your dark cabinets and this creates a striking and dramatic effect, making the entire design scheme visually stimulating.
This combination will create a design scheme that's quite polished and cohesive despite its contrasts. It's a timeless and classic look; we don't see this combination going out of style soon. This design is quite polished and high-end.
You can also use a light grey or white color grout between the tiles to lighten the effect of the backsplash and dark cabinet color scheme. This style works best when you have a kitchen that gets plenty of natural light or has an abundance of lighting fixtures to avoid the room feeling too dark.

Arabesque Installation for Backsplash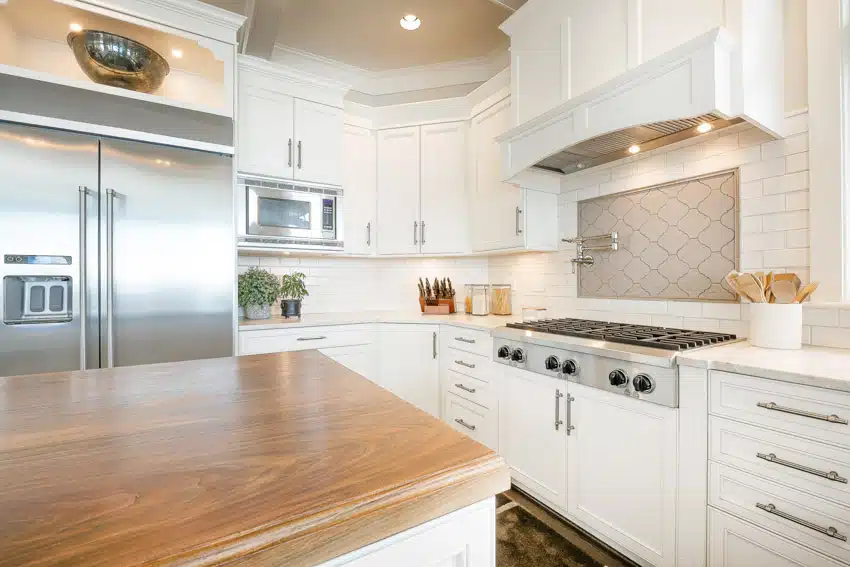 Undoubtedly, an arabesque tile backsplash can bring major offerings and features to the design you're bringing together. It's a sophisticated and elegant choice in your kitchen and bathroom spaces or as an accent wall in any home area. However, there is a downside to it.
Its installation is a pretty challenging process. It requires careful decision-making and planning. You will also need to be precise to ensure you end up with the exact look you want to achieve.
Adequately installing arabesque tiles for your backsplash isn't a walk in the park. You need to make sure that you plan your design from start to finish and do it carefully. Bring in actual tile samples home with you so that you get to see what it looks like in your home instead of just seeing it in catalogs or online.
At the end of the day, opting to get it done professionally is still the recommended way to go. Still, if you insist on doing it yourself, we see no problem. Ensure you initiate due diligence to research and perhaps even practice before you do so.
If you're an unseasoned DIYer, it will require more time, effort, and attention to detail than usual. However, installing an arabesque tile backsplash on your own is still doable. Here are some tips and tricks on how to finish it properly.
Installation Process Video
How To Finish Arabesque For A Backsplash Corner
You can play around with multiple finishes if you have an arabesque tile backsplash corner installed. It all depends on the kind of look that you would like to achieve in the first place. Here are some of our favorite finishes for arabesque tile backsplash corners.
Mitered edge: A mitered edge finishing for an arabesque backsplash corner is a more advanced technique than the others, as it mostly depends on you being able to accurately cut the tile at a perfect 45-degree angle in order to get to create a seamless and smooth corner finish.
If you are handy with the tools, you can create this finish. Still, if you are a complete novice, leaving this type of finish to the professionals would be best.
Trim piece: One of the easiest ways to finish an arabesque tile corner is by using a trim piece. Many different types of trim pieces are available, and they can come in a wide variety of materials.
Two of the most common ones are made of stone or metal. You must make sure you pick one that will perfectly complement your arabesque tile design. Make sure that you pick out a color that matches the tile so that the overall effect of the finish appears seamless and smooth.
Grout: Grout is an effortless and practical way to finish a tile backsplash. You will need to choose a grout color that matches the color of your tile. This ensures that you end up with a subtle finish.
On the other hand, if you want to make a statement and go for a bolder look, you can opt for a contrasting color instead. When applying the grout, be sure that you do it evenly. Make a habit of wiping the excess off immediately so that you always keep the finish looking clean and polished.
Bullnose tile: Bullnose tiles come with rounded edges, and they're the perfect types to use in finishing off an arabesque tile backsplash corner. With this tile, you get to create a clean and smooth transition from your wall to the floor with the tile.
Similar to the grouting method, you can pick out a similarly colored tile so that you get to create a smooth, glossy and seamless finish, or you can pick out a contrasting color for a bolder and more dramatic finished look.
Before and After Video of Installing the Tile In a Corner
The arabesque backsplash tile is not just a stunning choice for your spaces at home but also a practical one, especially if you're looking into renovating any time soon. It has unique shapes, intricate designs, and extensive color options.
This type of tile style can really turn an otherwise mundane-looking kitchen or bathroom into a sophisticated and elegant space.
Not only does it bring in tons of visual interest, but it's also very easy to maintain, and it's durable enough to last a long time.
Whether you're looking into updating your home entirely or want to add more personality to your space, you can rest assured that an arabesque tile backsplash can be a timeless and stunning addition to your home design.
It's an inspiring design project to take on at home, and we have no doubt it will be well worth your while.
See more related content in our article about cement tile backsplash on this page.