Here we share the 4″ inch backsplash pros and cons including the most popular questions about installation and removal.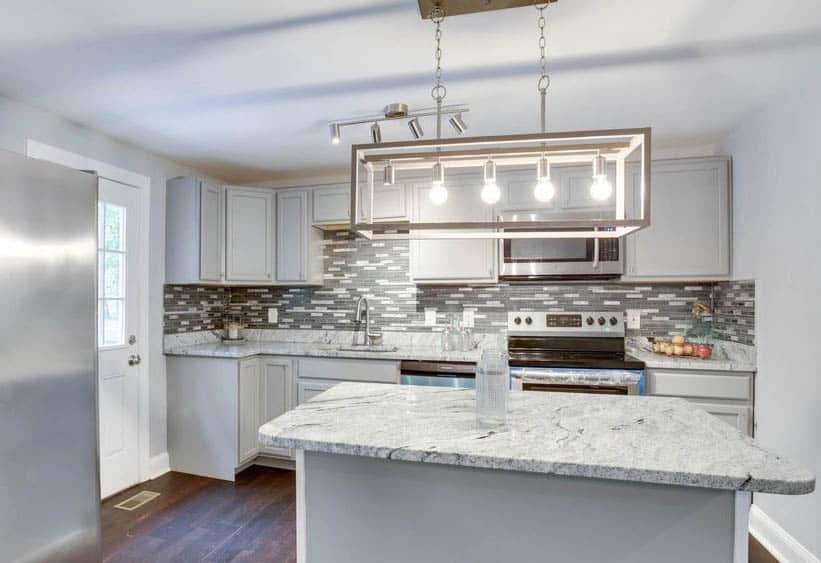 Kitchen backsplashes are popular design features not only for their aesthetic appeal but for their functionality as well. They help to protect the walls of your kitchen from splashing food and grease and make clean up much easier.
The aesthetic appeal shouldn't be understated either. By experimenting with materials, patterns, and height, you can create a unique result that reflects your personal tastes and personality. If you're considering installing a kitchen backsplash in your home, these are the things you need to know.
4-Inch Granite Backsplash with Tile Above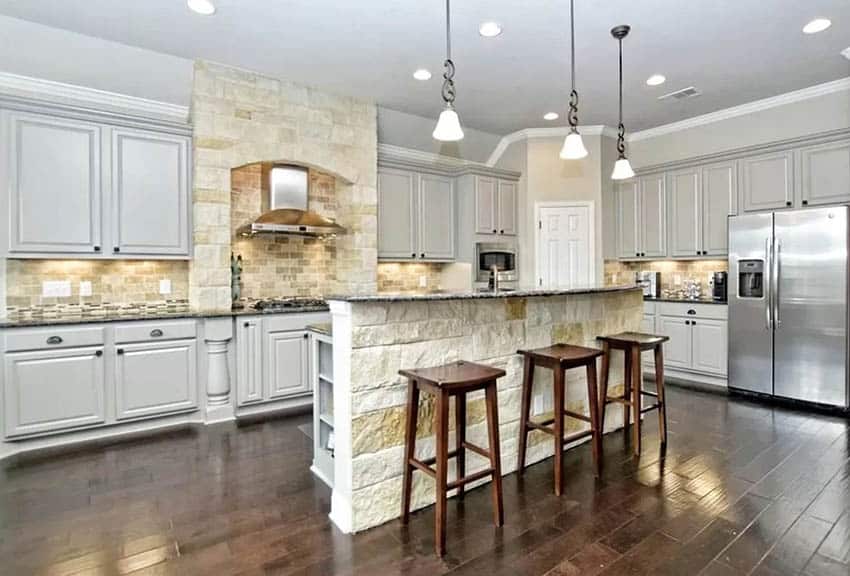 A 4-inch granite backsplash is a classic choice. One of the major advantages to this lower height is that it offers you plenty of room to work with above the backsplash. This can, of course, just be a bare wall that's painted for a little extra flair or it can be something even more creative.
One of the more creative options you have is to use a tile pattern above your backsplash. This is an interesting choice because it allows you to play with multiple dimensions. Instead of being restricted to just changing the color of the tile, this material will also add texture to this space, making it more visually dynamic. Read more about how to install tile backsplash here.
How to Refresh Your 4-Inch Backsplash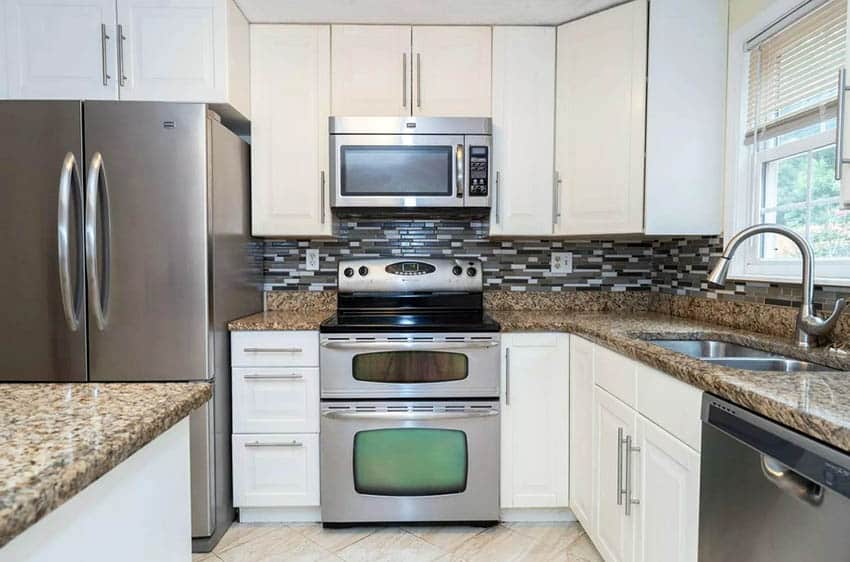 To keep your backsplash looking up-to-date and just as attractive as the day you brought it in, you're going to need to make sure to maintain and occasionally refresh it.
To start, you're going to want to keep up with the regular maintenance of the granite such as keeping the material clean. The good news is that granite is known to be easy to clean, so you don't have to worry about adding to much work to your daily and weekly routine. Generally, you can use warm water with a mild soap mixed in to tackle most messes. It also helps to clean up big messes as soon as they happen. Read more about how to clean granite here.
Adding a different backsplash above the existing 4 inch backsplash is a popular idea. You can go with a contrasting design or try to match what's there. You can also replace your granite backsplash if the current material doesn't fit a changing aesthetic or simply needs updating. We'll get more into how to do this in a moment.
4-Inch Backsplash FAQs
Can You Remove 4-Inch Granite Backsplash?
Yes, you can remove a granite backsplash. Since granite isn't considered a fragile material, the need to remove the material is usually limited to preference changes in the homeowner's tastes or the want to try something new.
Removing granite backsplash isn't a difficult task either. We'll take a closer, step-by-step look into how to remove this backsplash in a moment but it takes very few tools and very little technical skill to complete. This means that it isn't going to take up a lot of time or be an unnecessarily stressful job to tackle.
How Do You Remove Glued Down Granite?
If you've decided to remove or replace your granite backsplash, you're going to need to know how to do that. Luckily, the process isn't as difficult as it might sound at first. However, you're going to want to be careful to ensure that you don't damage the wall underneath.
It's a good idea to start by putting something like newspaper down on the countertop to catch any mess while you work. Then, you'll want to use a tool like a box knife to cut the caulk and trim at the top of the backsplash and in the joint where it meets the countertop.
The backsplash isn't just going to fall away at this point. So, you'll need a putty knife to use pry the backsplash off of the wall. This needs to be done gently. Otherwise, you'll end up tearing and damaging the wall in the process.
It isn't uncommon for even the most careful handiwork to still have a slightly damaged wall after the granite is removed. You can easily fix any holes or visible damage with a drywall patching compound.
Are 4-Inch Backsplashes Outdated?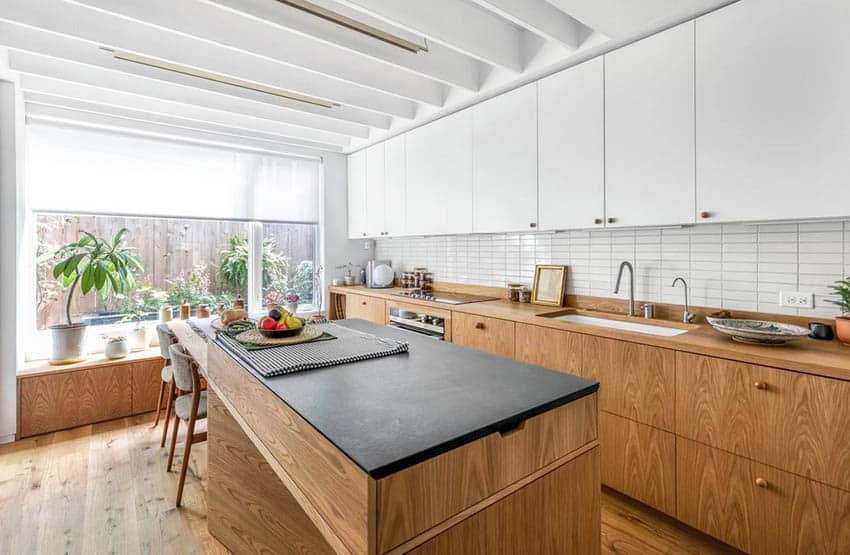 One fear that many have when it comes to a 4-inch granite backsplash is that the concept is outdated. However, this is far from the truth. While the style has come under fire in recent years for its dated appearance, you can easily modernize your backsplash to give it a unique and fresh appearance.
There are a few different ways that you can do this. For example, if you have the extra funds, you could always opt for a luxury countertop. This also means that you could change the material of the backsplash itself from granite to a more modern material such as metal or shiplap.
Alternatively, pair your 4-inch backsplash with sections of full backsplash for a little variation. A popular way to do this is to use a 4-inch backsplash on the countertops and incorporate a full backsplash behind the stove and under the range.
In the end, a backsplash of this style is still perfectly acceptable and isn't a design feature lost to history. It remains an attractive choice for your kitchen.
How High Should a Granite Backsplash Be?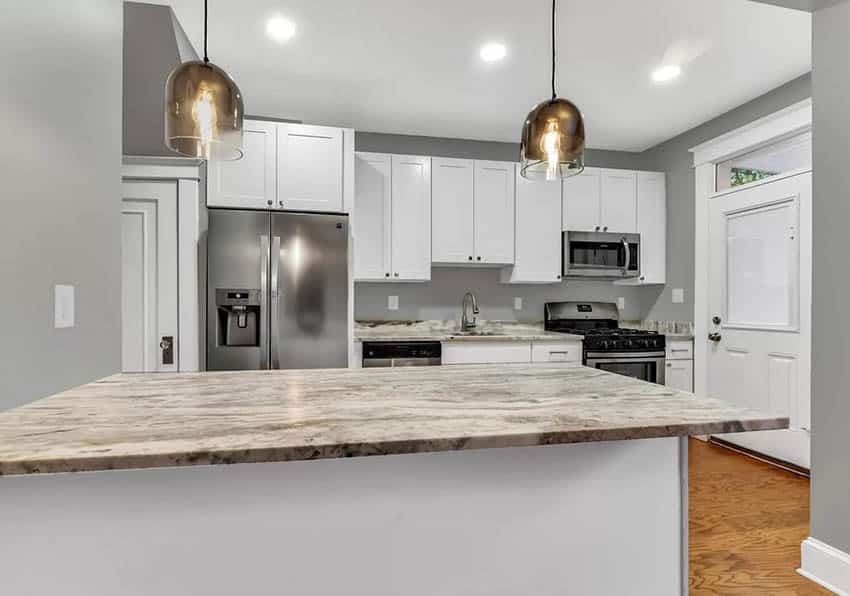 A granite backsplash that is four inches tall is a popular choice in the kitchen but, as previously mentioned, it isn't the only height option that you have. Instead, the choice typically comes down to whether you want a full backsplash or a 4-inch one or possibly a 6 inch one. Sometimes, these choices are even used in tandem to create a dynamic design that stands out from the standard idea of granite backsplashes.
There are pros and cons to using different granite backsplash heights, though. If you use a 4-inch backsplash, for one, you have room to decorate the wall above that backsplash if you want while a full backsplash consumes the whole wall. On the other hand, full backsplashes are more protective. A 4-inch backsplash leaves more space for food or grease to hit the wall. This is a big reason that full backsplashes are popular over stoves.
The biggest downside to a full backsplash is that it's more expensive. After all, it is the use of more material than a shorter backsplash which makes it naturally more costly. For more related designs check out our gallery about subway tile backsplash ideas.