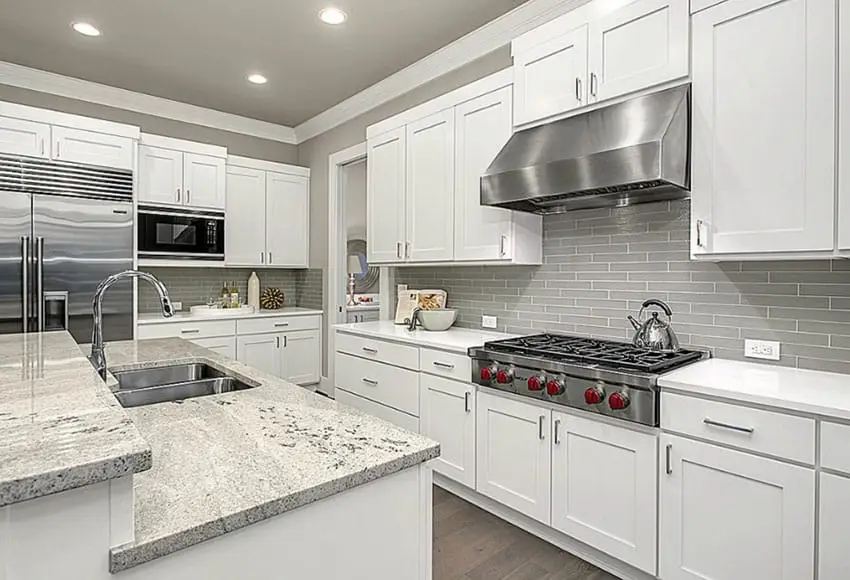 There are many types of kitchen backsplash designs that can help you achieve the exact style you desire in your cooking space. A backsplash is simply the panel at the back of the stove or sink. It serves to protect the wall from splashes and look aesthetically pleasing.
The kitchen backsplash not only protects the wall but it also promotes the style of the room and gives beauty to the atmosphere of the kitchen.
The kitchen shown above features gray ceramic subway tile backsplash. Ceramic subway tile is a great choice for a contemporary look in the kitchen and is currently popular for remodeling projects.
Kitchen Backsplash Design Ideas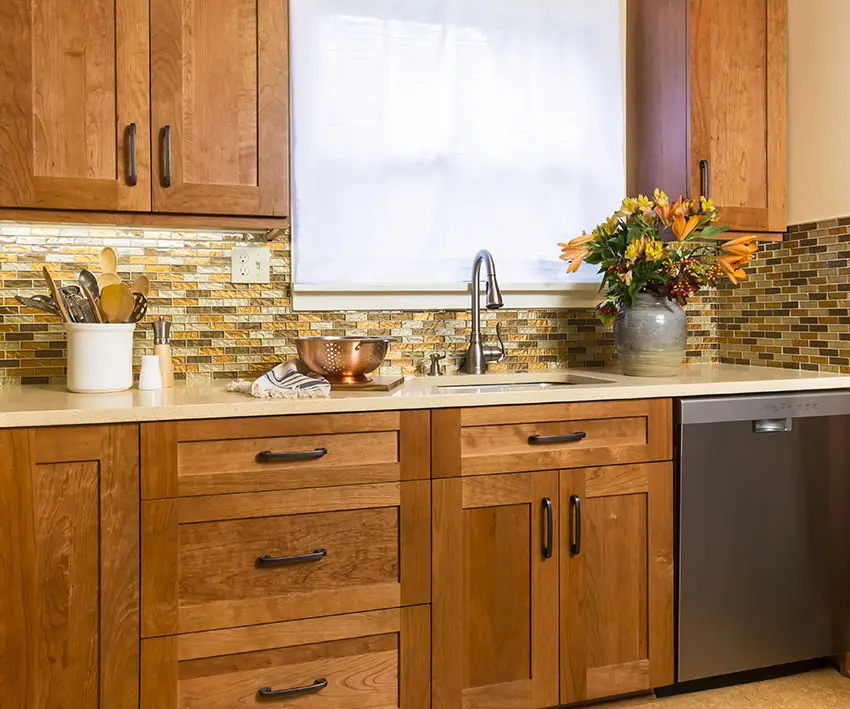 This beautiful contemporary style kitchen features a mosaic crystal glass backsplash. The mini glass tiles resemble little subway tiles with a variety of shades of brown. Since this tile is made from 98% recycled glass tiles it is a sustainable product that's also easy to wipe down and keep clean.
Backsplash Styles for Kitchen Walls
There are many different styles of kitchen backsplashes to choose from:
Mosaic – it has the resemblance of a tiled backsplash however, it is made out of smaller pieces of ceramic, glass, or stone tile. This can be featured in a specific image or scene looking like a puzzle. Geometric patterns that have no particular image can also be used for design.
Mural – is usually created using tiles that reflect a picture or image. It can be similar with the mosaic backsplash but the mural makes use of the bigger tiles. This backsplash can be presented in various ways like hand-paintings and photo image reproduction which are being applied to the tiles.
Panels or sheets – these compose a lot of backsplashes, including plastic laminate or metal and the use of the panels. It is featured in a solid surface wall panel having a wainscot design, a thermoplastic panel resembling the embossed tin appearance, and a glass panel that can be frosted, back-lit, or textured.
Removable or temporary – it can be easily removed and installed making it ideal for temporary designs.
Tile – is regarded as the mainstay for kitchen decoration with various styles including ceramic, porcelain, metal, stone, and engineered stone.
Backsplash Designs and Patterns Ideal for the Kitchen
The design, tile patterns and layouts you select for your backsplash will have a distinct effect on the feel of your kitchen. Whether you want a more modern or contemporary design or rather a traditional feel there's a different style to help you achieve that look.
o Laser-cut – tiles are cut using lasers for the production of amazing designs that are gathered to form like a puzzle.
o Mirror – tiny mirrored-tiles combined to form one design ideal in buffet area or serving station.
o Diagonal – another way of presenting the layout with wonderful design.
o Large-pattern – it makes use of big and bold patterns.
o Subway – features a classic design for a more fresh and modern look.
o Herringbone – this pattern of arranged rectangles provides a lot of texture to the kitchen.
o Specialty-shaped – presented in various shapes and colors for uniqueness.
o Slab – custom designed as one continuous piece of material to provide a luxurious appearance
o Custom mosaic – used for customized design.
There is a variety of kitchen design software to help you try out different tile and backsplash designs. Matching different backsplash with countertops, cabinetry and paint colors can give you a better idea of the overall feel of the space before you go forward with a project, or hire a designer.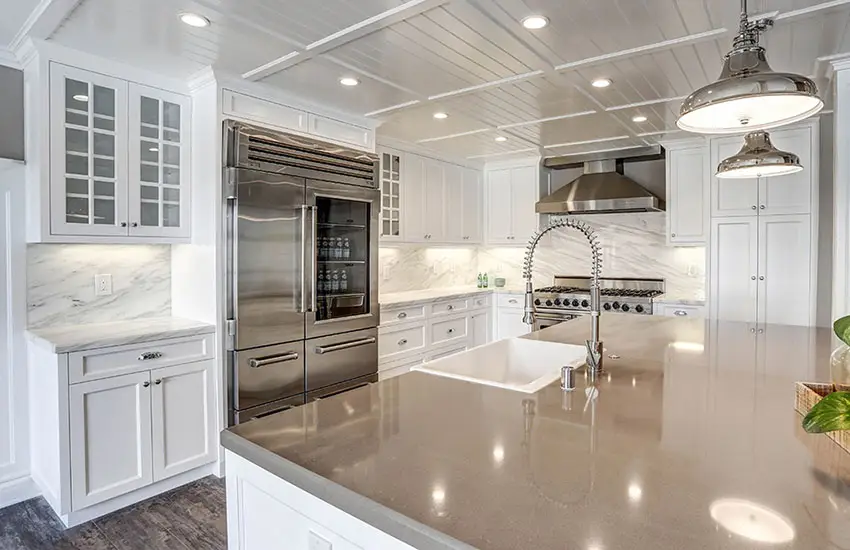 This kitchen showcases a beautiful Carrera marble slab backsplash and matching counter. Solid slab backsplashes can provide a luxurious look and provide the kitchen with a consistent appearance. See more types of kitchen countertops here.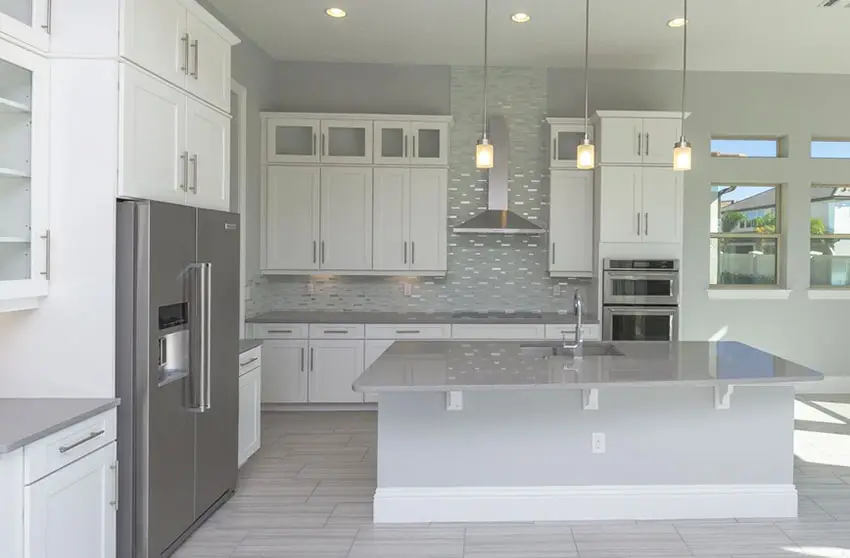 This kitchen uses a adhesive decorative mosaic wall backsplash to bring a contemporary feel to compliment the traditional style of the white shaker cabinets.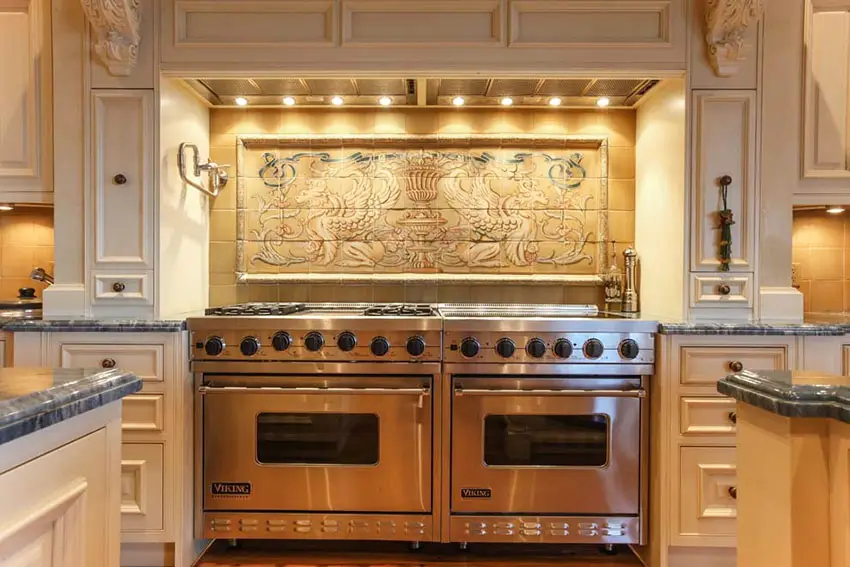 This kitchen has a custom tile mural backsplash with decorative wood cabinet to provide a luxury element to the stove area.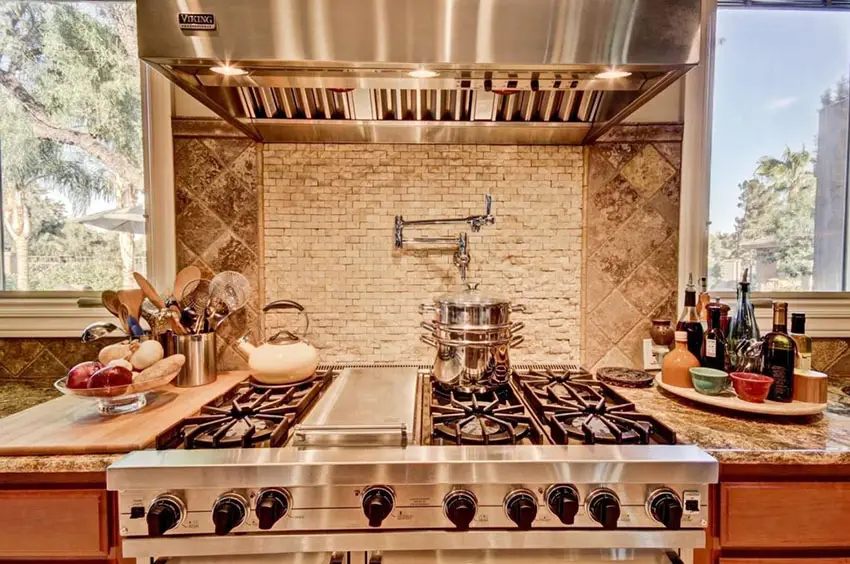 The kitchen picture above features a center section of tumbled travertine mosaic tiles that is surrounded by a darker 6″ by 6″ honed travertine wall tile.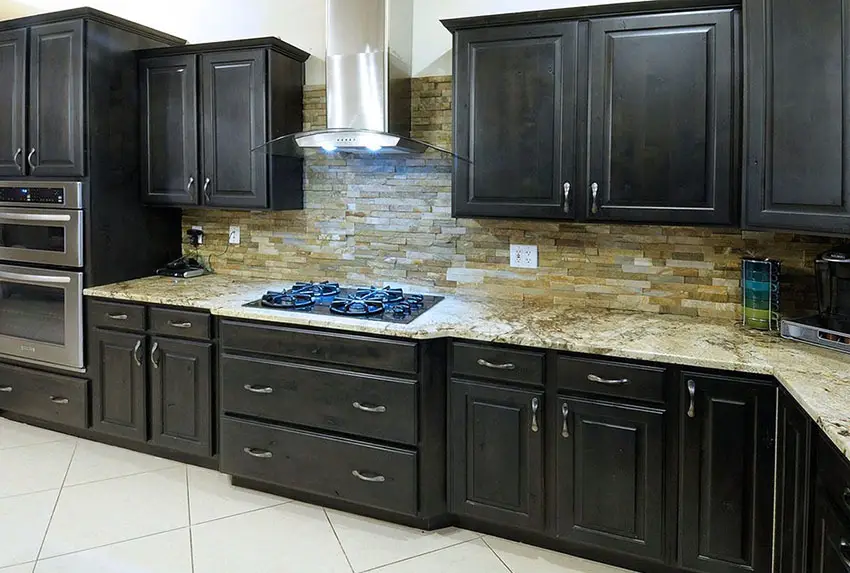 This quartz tile backsplash features real stone with a warm color palette of whites, gray's and gold. This type of back splash is commonly used in the kitchen living room, or around fireplaces.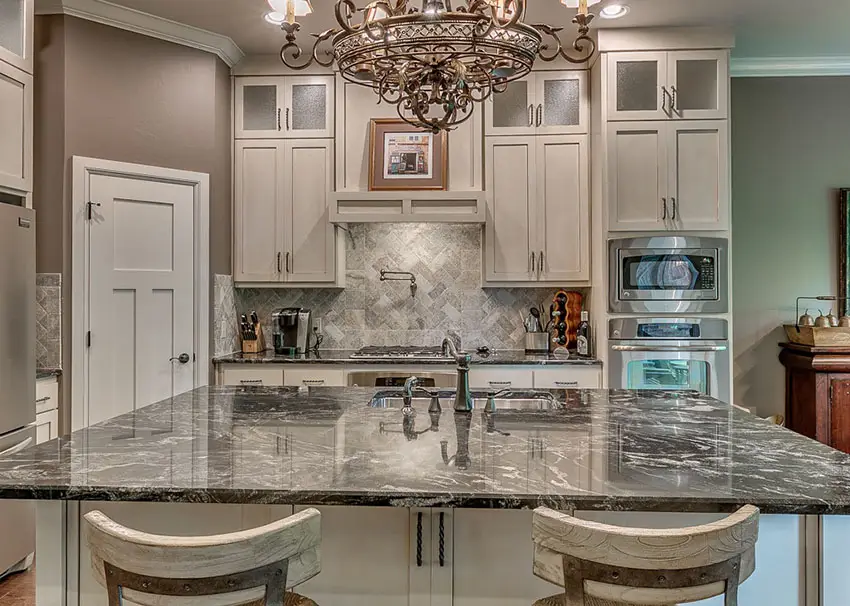 This kitchen has a Carrara Bianco honed herringbone marble mosaic tile with dimensions of 1×3 inches in size.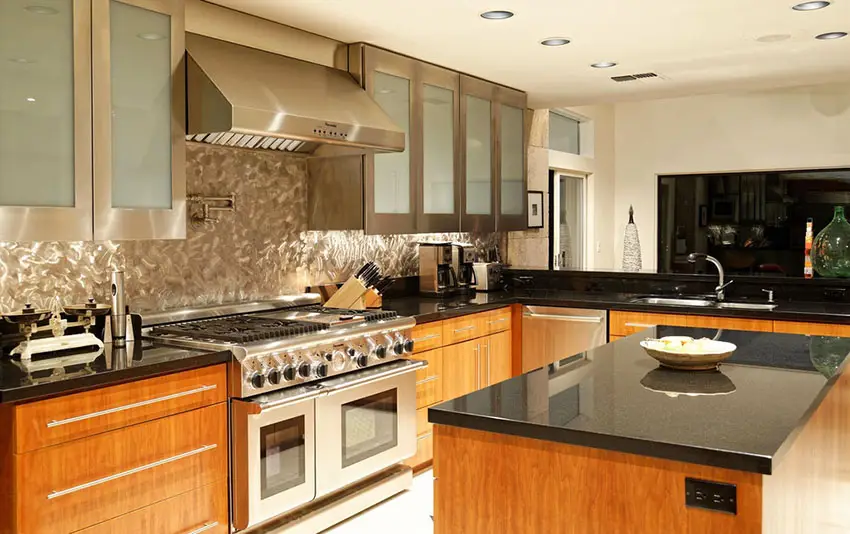 This contemporary kitchen offers a brushed stainless steel backsplash with random swirl pattern for a unique look.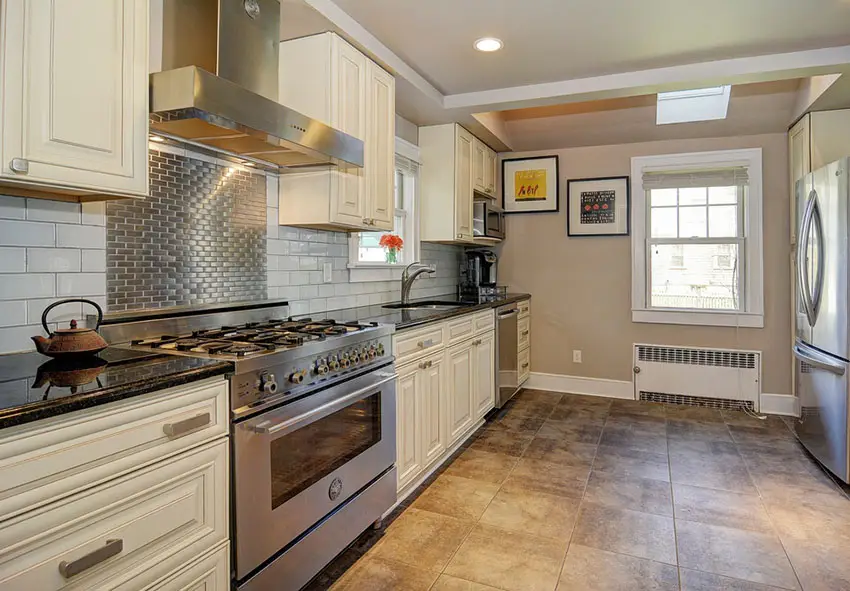 This kitchen has two types of backsplash materials. The first is a popular bright snow white white subway tile, while the second is a more exotic stainless steel over ceramic polished mosaic backsplash over the stovetop.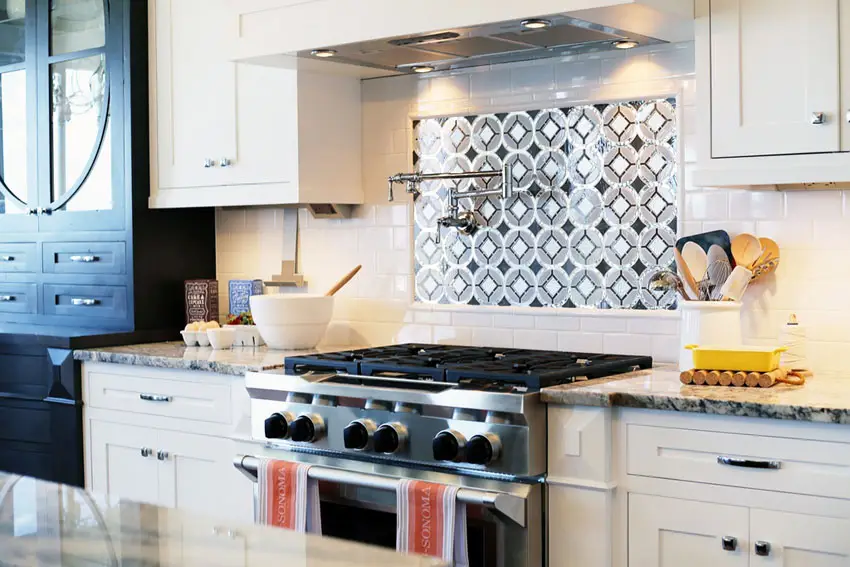 This is another variation of a kitchen with classic white subway tile with a contemporary addition of a black, gray and white inset tile above the range cook top.
Traditional style kitchen with a Tuscany Alabastrino honed travertine tile backsplash. Travertine tile is an elegant design choice for traditional kitchens , however it is a porous stone and can be prone to staining. For these reasons careful attention and maintenance of travertine is recommended to maintain its long life and beauty.
This elegant Mediterranean style kitchen comes equipped with a mosaic tile medallion backsplash surrounded by rough cut stone. A 4 inch backsplash design made from the same granite as the countertops sits below the stacked stone tile with decorative trim border.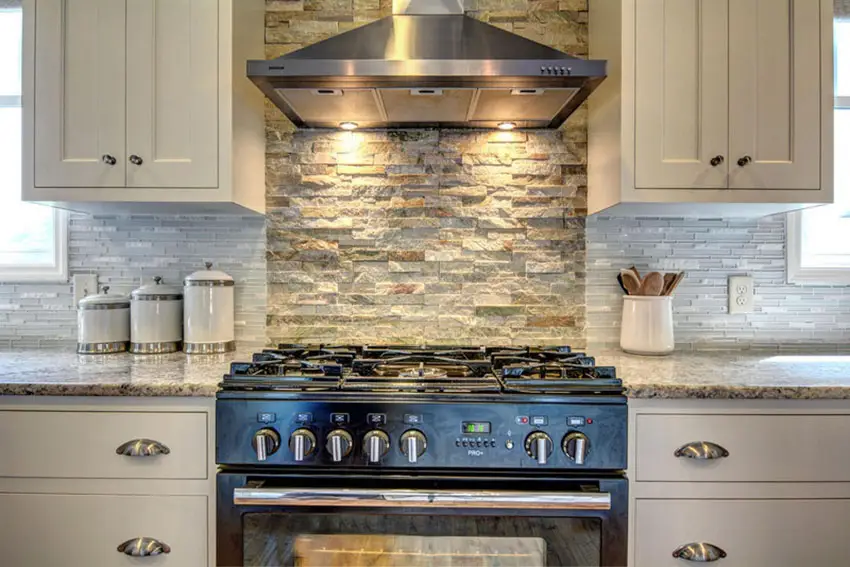 This kitchen has a center range backsplash of rough cut quartz with a rectangular glass tile backsplash to the outer sides.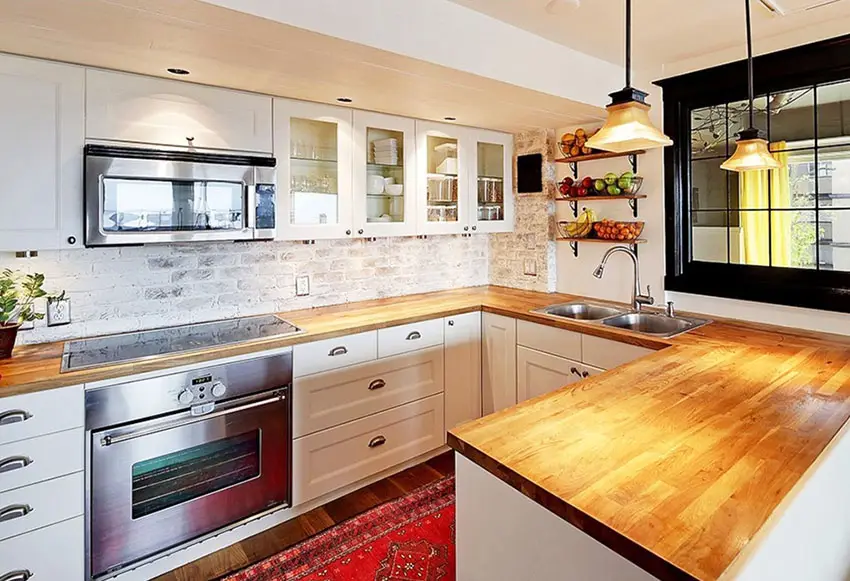 Created to look like real brick, this thin clay brick veneer backsplash provides an old weathered look typical of an Old English countryside style of home.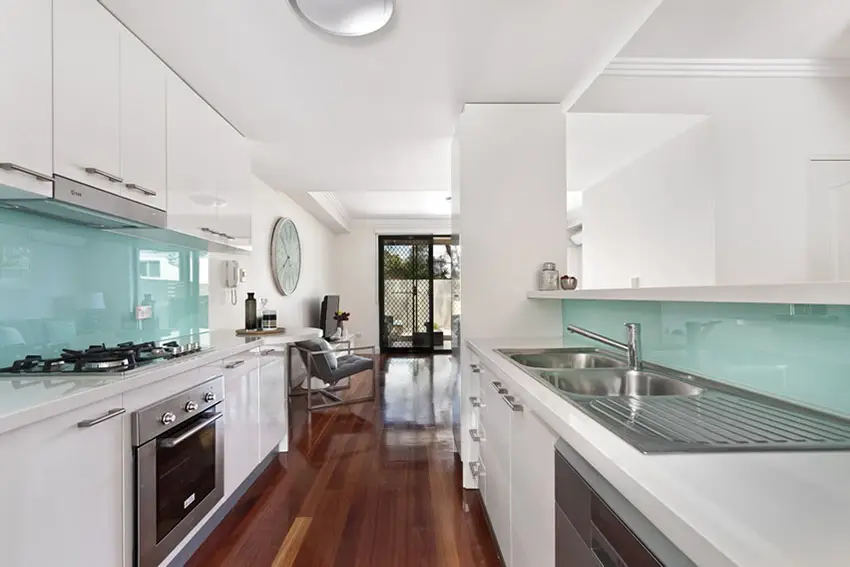 This modern kitchen has an interesting aqua blue back painted glass backsplash. The tempered back painted glass style brings a stylish look to a kitchen that definitely makes an impression.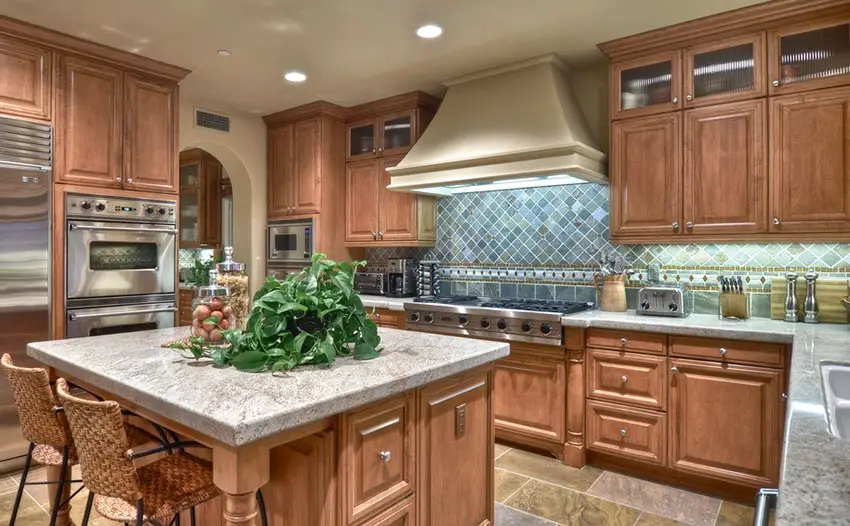 This traditional kitchen showcases a tumbled slate backsplash tile with a decorative tile runner.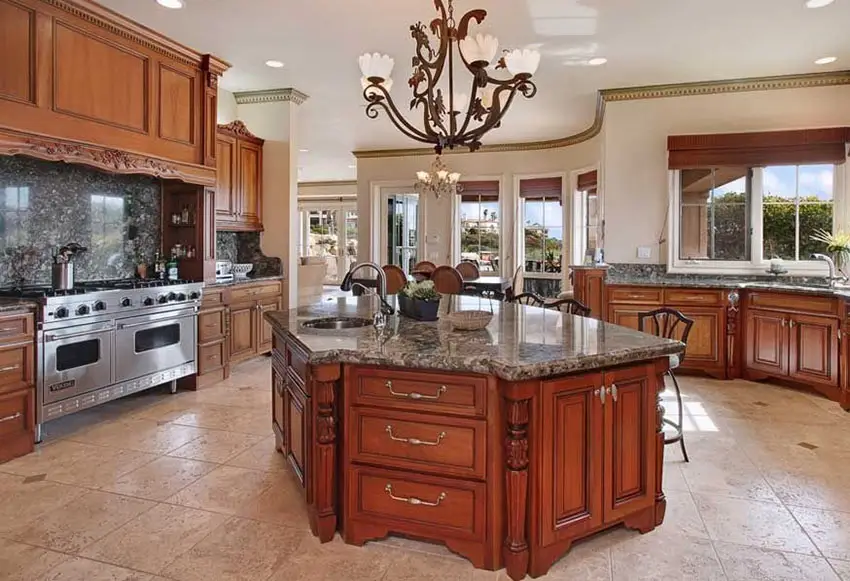 Kitchen with granite slab backsplash that contrasts slightly with the style of the main countertops. The flooring is a large travertine tile laid in a grid pattern. See this page for more types of kitchen flooring for additional ideas.