Welcome to our engineered quartz countertops design guide including their benefits, styles, colors and popular brands.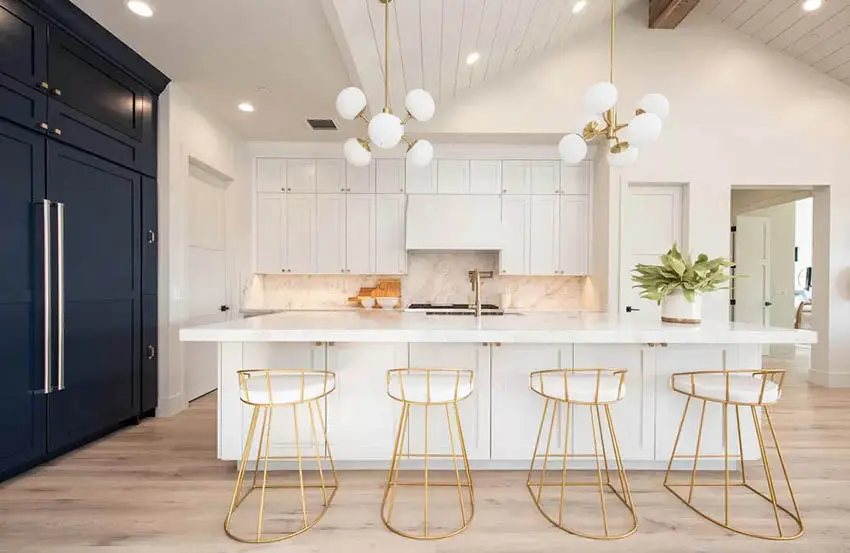 Countertops are an essential part of the room design and layout of bathrooms and kitchens. Engineered quartz countertops are a popular choice as they are durable and can match almost any home design style.
There are many different types of materials that can be used for kitchen countertops. What's important is that they provide you with a durable surface that is easy to clean.
Natural stone – like granite or marble – are considered good countertop materials and are sought after because the colors and patterns of natural stone are visually appealing.
However, one alternative to an all natural stone countertop that is rising in popularity is engineered quartz. Engineered quartz has many of the characteristics of natural stone – including the aesthetic appeal, but also has a few other properties that make it idea material for countertops.
What Is Engineered Quartz?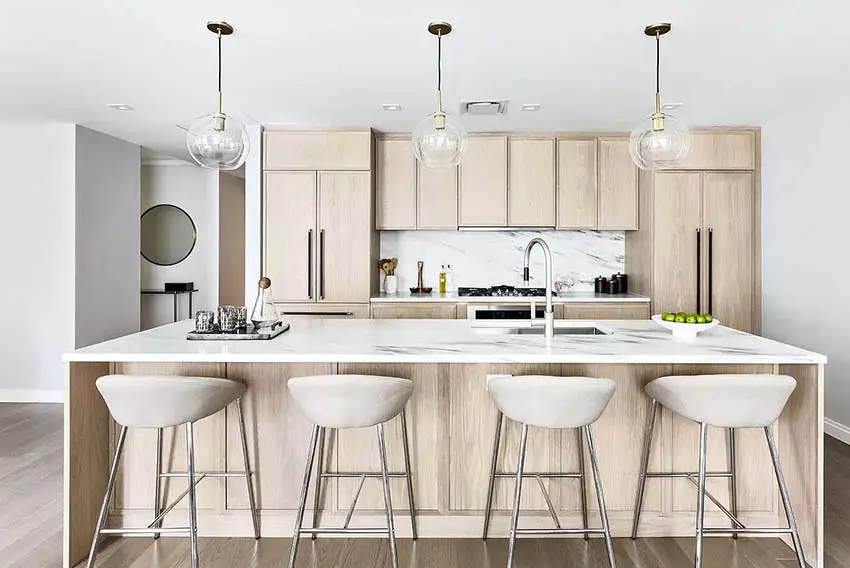 Engineered quartz is a material that is created by mixing quartz with flexible resins and pigments. Quartz is a crystalline mineral; it is actually the most abundant mineral on earth. It is known for its durability and its heat resistance and the vast array of colors that it can come in.
Some varieties of quartz are considered semi-precious gemstones and are prized for their luster, sheen, and color. Examples of semi-precious gemstones that are varieties of quartz are amethysts, rose quartz, agates, jasper, tiger's eye, and onyx.
Engineered quartz is made by mixing ground quartz and resins, plus pigments, to create slabs of material. Most engineered quartz slabs consist of a blend of 90 to 94 percent ground quartz with 6 to 10 percent resins.
Engineered quartz slabs are not made to order, the manufacturer creates slabs of set sizes and thickness. The slabs are made to fit a specific project requirement and are installed in pieces.
This material is easy to maintain and clean – which is an important characteristic of a kitchen or bathroom countertop. Any liquids that you might spill in the course of cooking or while going through your cleansing routine can be quickly mopped up by just wiping the surface of the quartz.
To maintain your engineered quartz countertop, you just have to wipe it down daily. Don't use abrasive cleaners, just take a soft cloth and wipe the counter using warm water and soap. If there's some staining, you can try using a nonabrasive cleaner.
Abrasive cleaners can scratch or wear down the finish of the countertop, but that's the only real thing that can damage the engineered quartz. If you are careful with your engineered quartz countertop, the finish should last as long as the countertop does.
Benefits of Engineered Quartz Composite Countertops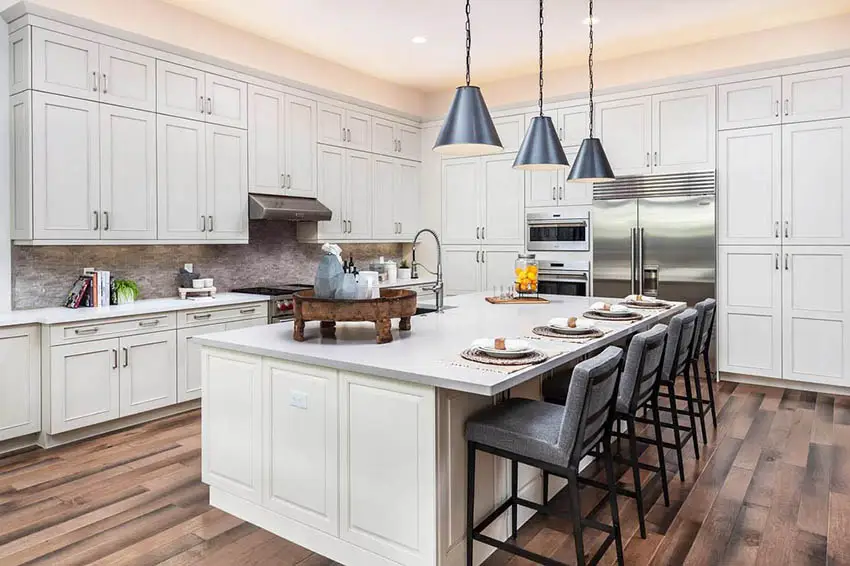 Engineered quartz is considered a composite material because it is a mixture of ingredients: quartz, resins, and pigments.
Engineered quartz composite is a great material to use in countertops because it is stain and scratch resistant. Quartz on its own is already a sturdy material, but the resins used in engineered quartz increases the durability and the lifespan of the material.
They have more consistent colors – Since engineered quartz is a manufactured material, the color and texture is more consistent then plain quartz.
Many manufacturers make engineered quartz slabs that mimic the look of natural stone, but with more even colors and smoother patterns that are found in nature.
They are durable and low maintenance – Since the slabs contain resins, they won't chip or crack easily. Many natural stone countertops require annual refinishing; this is not the case with engineered quartz. These slabs won't require sealing and offer a solid surface, compared to natural stone which are often porous.
It is a non-porous material – Compared to natural stone, engineered quartz is more solid and is actually non-porous. The fact that quartz in non-porous makes it less prone to staining and also leaves you with a surface that is germ-resistant.
Pores in natural stone mean that if you spill liquid on the surface and don't clean it up quickly then it will be absorbed by the stone, staining it. These pores can also provide a place for germs and bacteria to crow.
It is a green building material – If you are concerned about the impact of your activities on the planet, you should consider engineered quartz countertops as they are considered "green". The quartz that is used to create engineered quartz is waste by-products from quarrying. Also, the resins used are usually mostly natural ingredients.
Technically, the resins used in engineered quartz are "biolenic resins" which are a combination of artificial and mostly organic resins. The organic resins are created from non-food vegetable oils.
The Difference Between Quartz and Engineered Quartz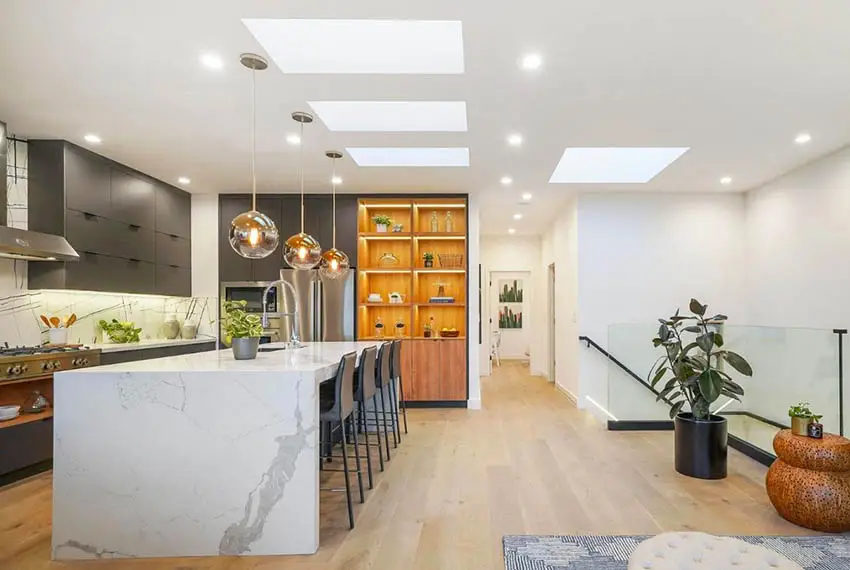 As we mentioned before, quartz is a naturally occurring mineral. Though there is a lot of quartz in the world, it's not really used as a building material on its own. Rather, it's engineered quartz, a composite of quartz and resins that can be shaped and used in building projects.
If someone says that they have quartz countertops, they are not exactly wrong. As we said, quartz is at least 90 percent of what makes up engineered quartz. However, they do not have pure quartz countertops.
What other uses are there for engineered quartz composite materials?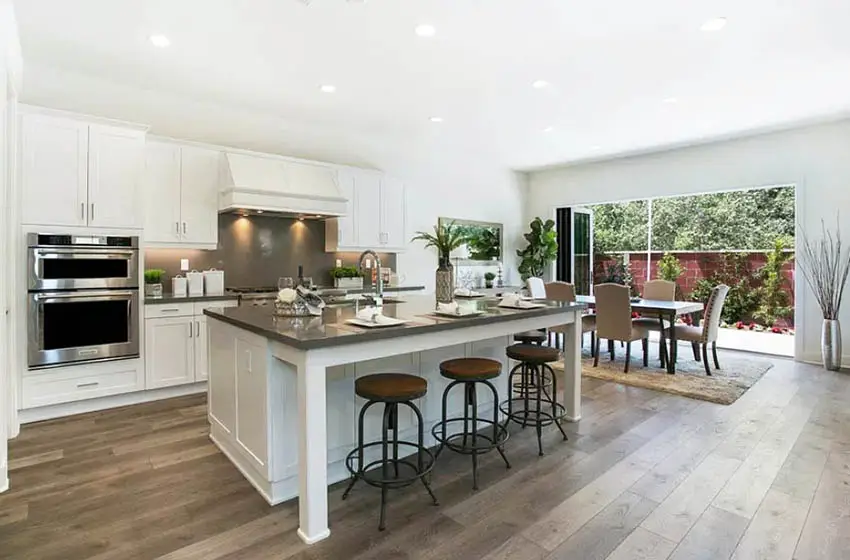 In case you're wondering, engineered quartz are also used as flooring material. Engineered quartz floors are popular in shopping malls and airports because it's easy to source in large quantities and is also durable enough to stand up to all the foot traffic these places get.
Other uses for engineered quartz include backsplashes and even walls. However, engineered quartz can be heavy, so you need to take that in account before you try and hang a large amount of engineered quartz vertically. See pictures of kitchens with quartz backsplash here.
How much do engineered quartz countertops cost?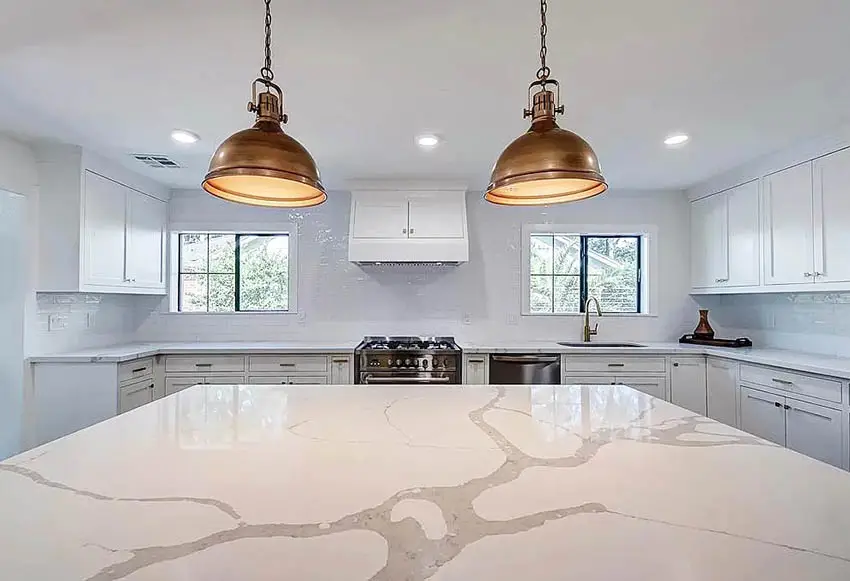 Kitchen with Calacatta quartz countertops
There are several factors that will affect the costs of putting up engineered quartz countertops. The first would be the size and the number of the countertops you want, while the second would be the style.
The size and style of the slabs that you will need will vary according to the manufacturer, but in general the cost should be between $70 to 120 per square foot of engineered quartz to be used.
Is engineered quartz cheaper than granite?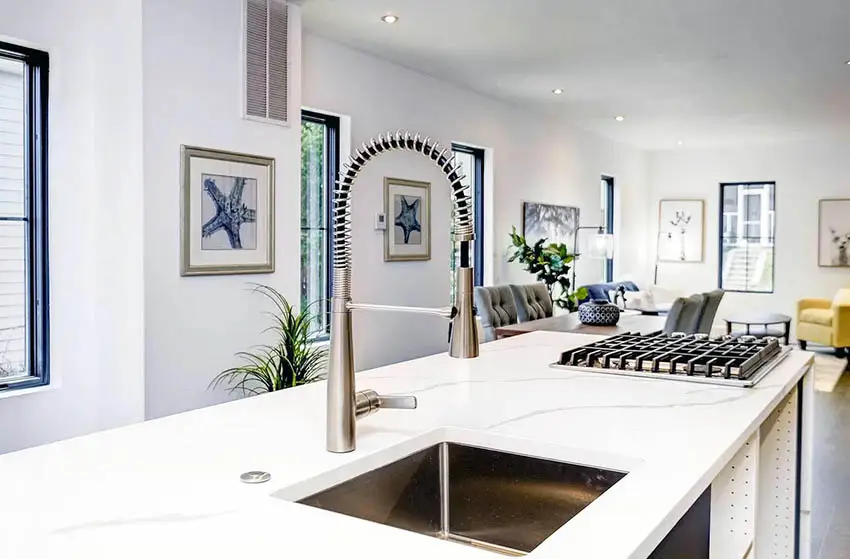 Granite is a natural stone material that is known for its durability and for coming in a variety of colors and patterns. Many manufacturers of engineered quartz make their slabs resemble granite.
Granite will cost you about $80 to $175 per square foot of material, so engineered quartz is slightly cheaper then granite, though many might feel that the difference in price is minimal.
While in the short term, picking between granite vs quartz won't really affect your budget, in the long run, engineered quartz will come off as cheaper.
While granite is a material that is also know for durability, engineered quartz is considered a "better investment" by some as it is easier to maintain. Granite is porous so it is more prone to staining if liquid is spilled on it. You are also going to have a granite countertop resealed at least once a year.
Types of Engineered Quartz Styles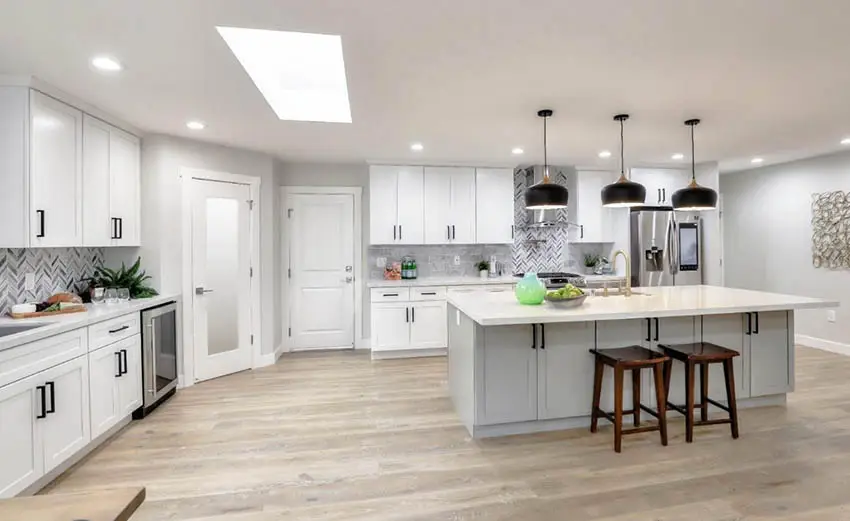 What makes engineered quartz such an attractive material for home improvement projects is the fact that it comes in such a wide variety of styles.
Engineered quartz slabs come in a variety of colors as well as patterns and textures. Take note that, engineered quartz slabs often resemble natural stone, but the color and texture is more consistent than what is found in nature. Some people like this, but others don't, you will have to compare and decide for yourself.
1. Colors
Quartz naturally occurs in almost every color. You can get clear quartz or quartz in shades of white, gray, brown, black, yellow, green, red, pink, or purple. White quartz countertops with veining and marbling is very popular to recreate the look of natural stone slabs.
Some engineered quartz slabs will try and take advantage of natural color, with clear or complementary resins or by mixing in pigments to highlight the quartz's color.
The fact that you can easily add pigments to powdered quartz means that manufacturers can create engineered quartz slabs in almost any color found in nature. The most popular colors then to be earthy tones, but you can find more fanciful and playful shades as well.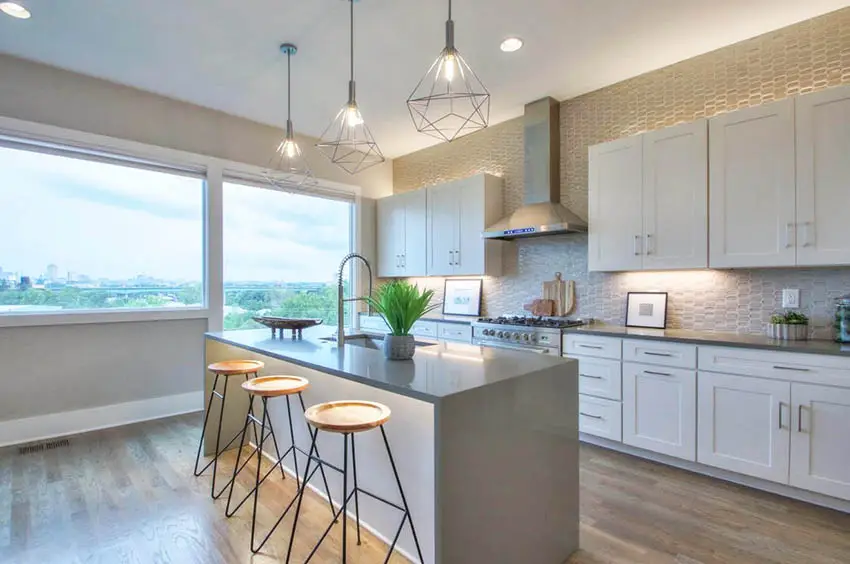 2. Finishes
The most common type of finish for engineered quartz is a polished finish. A polish finished is accomplished by grinding down the surface of the slab using fine abrasives. This leaves you with a slab that has a reflective sheen and looks smooth and glassy.
Engineered quarts can also come in honed or matte finishes. This is achieved by not polishing or smoothing the slab to finish it, leaving you with a less shiny surface.
The advantage to a matte surface is it's less lightly to show smudges, also it allows for deeper shades of color and more defined patterns.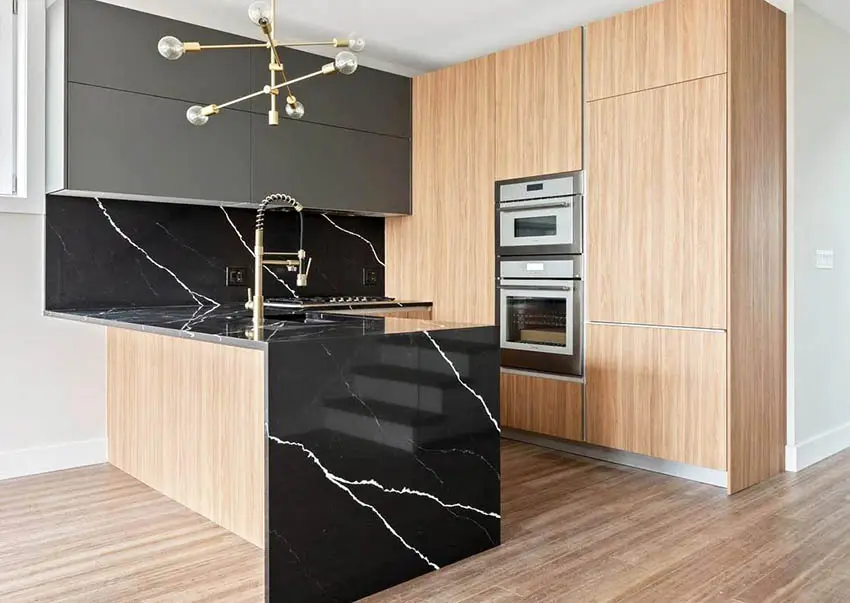 3. Patterns
The patterns in engineered quartz come from the quartz that is used. Depending on how the quartz is ground, you can get a variety of patterns.
For example, coarsely ground quartz will produce a slab that has a flecked pattern while finely ground quartz will produce a smoother pattern. Manufactures will also use colors and textures to create a pattern that mimics the use of natural stones such as marble or granite.
Is engineered quartz heat resistant?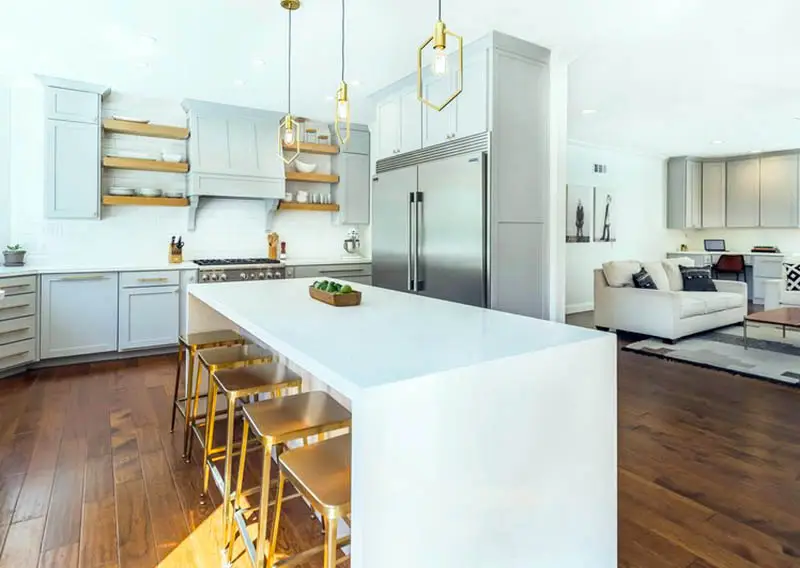 Engineered quartz is a popular material for kitchen countertops because it is durable and resistant to scratching and dents. This makes it a good surface for food prep.
However, even more than its durability, the fact that engineered quartz is heat resistant makes it an idea material for use in the kitchen.
Engineered quartz will not be affected by exposure to temperatures that are less than 300 degrees Fahrenheit. You can put down a hot pot or pan on an engineered quartz countertop without damaging the surface.
While engineered quartz is heat resistant, however, it's not UV resistant. The resins used are not UV stable so it is not recommended that you used engineered quartz outdoors. If you do, make sure that there is some shade so the material is not directly exposed to the sun.
Engineered Quartz Countertops Brands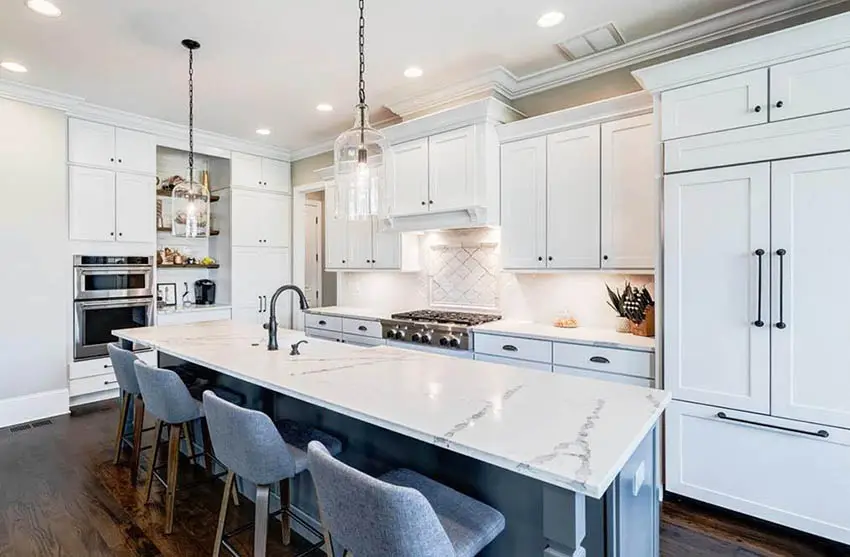 Engineered quartz was first developed back in 1963, by a company called Breton that was based in northeast Italy. They trademarked the process for creating engineered quartz, calling it Bretonstone.
Every company that manufactures engineered quartz today uses Bretonstone technology. The company has licensed the process to more than 50 companies around the globe. While the style and sizes of the slabs manufactured by each company may vary, they all use the Bretonstone process.
The three biggest and most famous manufacturers of engineered quartz right now are Silestone, Cambria, and Caesarstone.
Silestone is based in Spain, but is the flagship brand of the Italian company Cosentino. Silestone quartz countertops are known for providing slabs in vibrant and bold colors. They offer one of the longest warranties, 25-years, for their engineered quartz products.
Cambria is an American company, one of the only big American companies in the business of manufacturing quartz surfaces; they have been based in Minnesota since 1936. See our gallery of Cambria quartz countertops here.
Caesarstone, is relatively new, having been formed in 1987. They are an Israeli company that are known for providing engineered quartz slabs that incorporate semi-precious stones for some beautiful and really unique designs. Caesarstone quartz countertops are made of up to 93% quartz materials.
Other options for popular brands are Daltile, LG Viatera, Pental, DuPont (they offer a line of quartz products under the name "Corian Quartz")