Here we share our drawer dishwasher guide including what it is, the different types, pros and cons, its efficiency, water usage, installation, and manufacturers of drawer dishwashers.

Dishwasher drawers are an interesting choice for kitchen renovations as they are customizable and eye-catching. They are reliable in assisting families, even single people, in maintaining more effective, optimized dish washing movements. Indeed, dishwasher drawers are practicality that so many have come to depend on.
Moreover, each dishwasher drawer model includes several features intended to make everyone's lives easier. Due to their convenience and adaptability, drawer dishwashers are popular among today's homeowners.
However, just like any other kitchen component, dishwasher drawers also have their pros and cons. The drawer dishwasher is generally more appealing, energy-efficient, and space-saving, but it does not have the same capacity as standard dishwashers.
In this article, we will discuss first what exactly is a drawer dishwasher. We will then show you its pros and cons to help you decide if it is a great addition to your kitchen.
What Is A Drawer Style Dishwasher?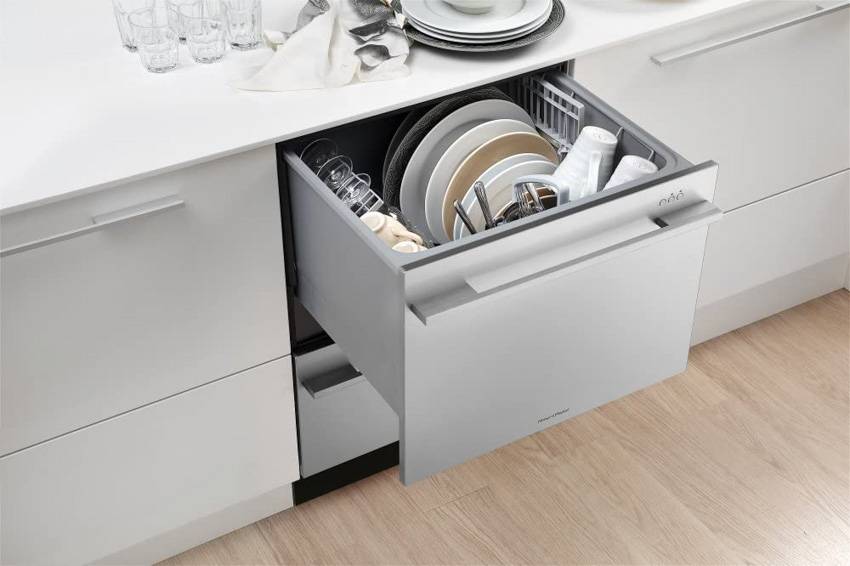 See this drawer dishwasher with stainless steel handle at Amazon [sponsored link]
Drawer dishwashers are mounted in the same way that kitchen cabinets are, with the exception that they expand horizontally. They are available in single or double units, contingent on your tastes, needs, and available space.
The majority of the designs are modern and will look great in your kitchen. The drawer-style dishwasher principle is to use compressed innovations to provide a very space-efficient dishwasher.
Furthermore, they are frequently advertised as either a single drawer for small dwellings or homes or as a double unit with two independent drawers piled together. Because each drawer is self-contained, various wash settings could be used on different loads.
It also enables dishes to be cleaned in one drawer while the other is being filled up. Plus, it is conceivably more energy efficient.
Dishwasher drawers also occupy less room than a standard pull-down door. They could be a perfect solution when a conventional dishwasher door hinders a walkway, stretches into a kitchen aisle, or is too large to expand in a small kitchen.
Another advantage is that dishwasher drawers can be inserted into different kitchen island designs for a minimalist appearance. See the kitchen island size guidelines here.

Single Drawer Dishwasher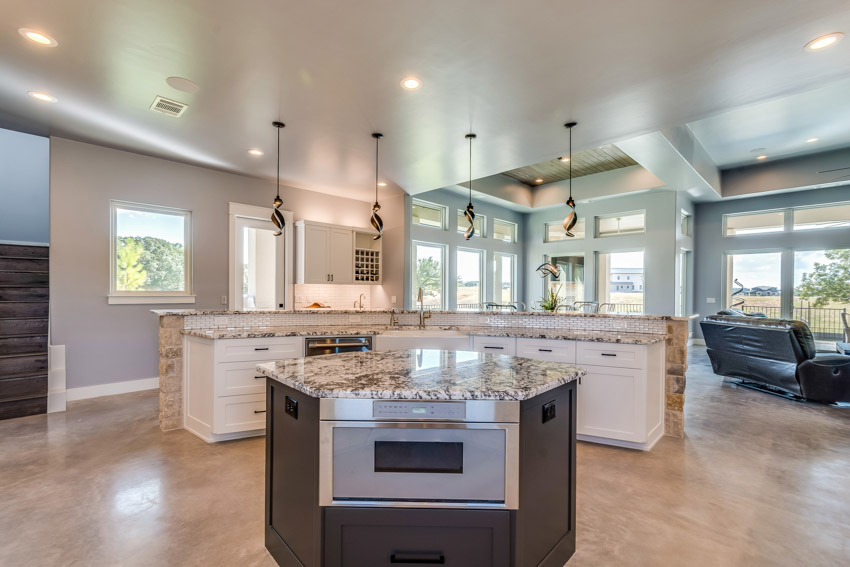 Single dish drawers are among the essential small kitchen appliances you can consider. They are also for those with less high-demand dish washing requirements.
They generally take up a small amount of cabinet space, measuring 23 to 25 inches in width and around 16 to 18 inches in height.
Single drawer dishwashers are as simple to close and open as standard kitchen drawers and can be placed at bench height for simplicity of loading and very little bending.
Single drawer dishwashers typically include a variety of programs such as Rinse, Fast, Heavy, Delicate, Normal, and Eco mode. At the press of a button, the drawer dishwasher can wash it all from delicate glass and crystal to highly stained cookware.
Furthermore, single drawer dishwashers perform their job quietly. The combo of smart technology and simplified mechanics results in greater dependability and superior wash efficiency.
Double Drawer Dishwasher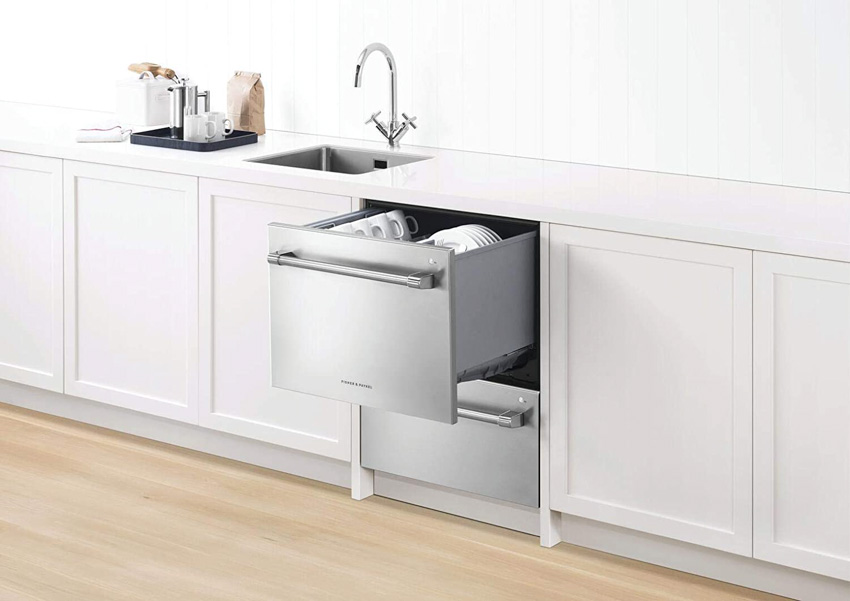 See this fully-integrated dishwasher at Amazon [sponsored link]
It is easy to see how having two separately controlled wash drawers would be beneficial. Containers and cookware can be stored in a single drawer for easy cleaning.
The second drawer can then be designated to handle the milder wash requirements of kitchenware. Double drawer dishwashers are typically 23 to 25 inches wide and 32 to 35 inches tall.
The capacity to wash fewer loads rather than squandering the water and energy required for a complete wash adds even more flexibility. Each drawer has 9 cleaning programs to choose from, each with an eco cycle feature to help save water.
Because both drawers function independently, separate wash cycles can run concurrently to manage a wide range of loads. Before coming into contact with the dish stack, water goes through the detergent first.
To prevent the detergent from ruining the dishes, the watered-down mixture is slowly filtered throughout the process.
Pros Of A Drawer Dishwasher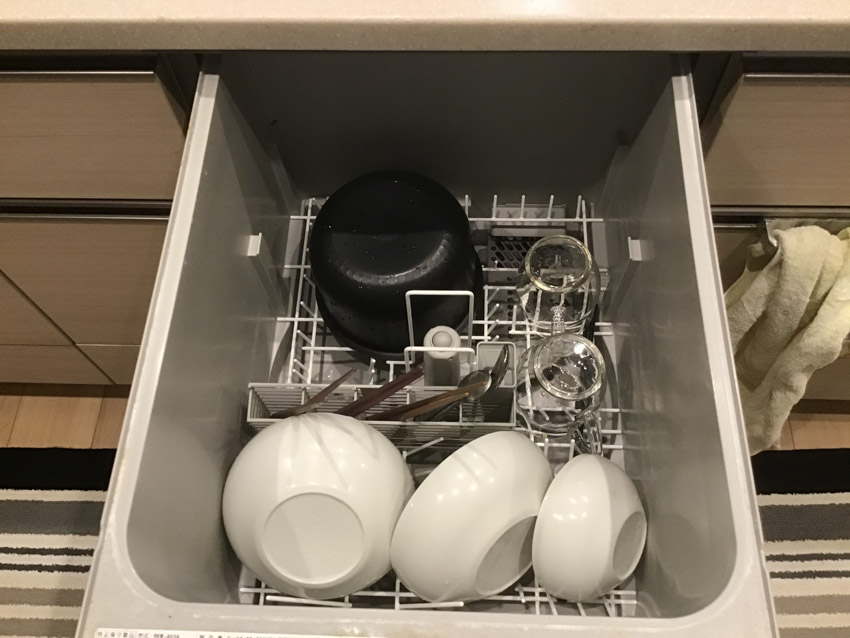 Here we share the advantages of a drawer dishwasher.
• Can control different drawers independently: Drawer dishwashers take up the same amount of space as those of regular dishwasher dimensions, but have a top and bottom drawer that can be controlled individually.
• Easy to access the drawers: Drawer dishwashers can open like regular drawers and could only be opened as far as needed for access.
Loading the upper drawer prevents the need for bending, rendering it to be more practical for those who suffer from back or knee problems. To help handicapped people gain access, two drawers can be installed side by side.
• Best for small or confined kitchens: In kitchen areas with confined space, a single-drawer design would be beneficial. But if you have enough kitchen space, a double-drawer is much more advisable.
For small loads, you can use a single drawer; for larger family dinner parties or gatherings, you can use two drawers. You can separate your dishes by putting more delicate objects in one drawer and some cookware in the other.
• Uses less energy and water than a traditional dishwasher: It can handle either small or massive loads while using less energy and water. Another advantage is that the top drawer is easy to load and unload from the rear.
• Can be placed anywhere in the kitchen: Drawer dishwashers do not need to be close to a sink. They can be placed anywhere as long as they are plumbed in. For a spot apart from the sink, a dishwasher drawer could be a great option.
• Cheaper energy bills: According to numerous customer reviews, drawer dishwashers are arguably more energy-efficient than conventional dishwashers. Hence, you will notice that it will not affect your electricity bill that much.
Cons Of A Drawer Dishwasher
Here we share the disadvantages of a drawer dishwasher.
• Should take care not to overload: You may have the urge to overstuff a single drawer just to avoid operating both drawers at the same time. In this particular instance, your dishes might not be as clean once the dishwasher is done operating.
• More expensive: Depending on the manufacturer and functionalities you choose, drawer dishwashers will be more costly than the majority of regular dishwasher models. In a nutshell, drawer dishwashers are expensive.
Another reason why drawer dishwashers are considerably more expensive than standard dishwashers is that they apply newfangled technology and often have complicated installation specifications.
• May not accommodate large plates or cookware: The primary concern dropped at drawer dishwashers is the restriction on the size of dishes that can be put inside. It is unable to accommodate extra-large dishware. This is expected to be a major disadvantage of drawer dishwashers as they are purely designed to be space-saving.
• Older models were prone to malfunctioning: While these models now provide a lot of functionality, they used to be somewhat prone to damage. However, industry experts say that the drawer dishwashers manufactured today are much better because they use technology that makes them more efficient.
When planning to buy one, you have to ensure that it has good customer reviews.
Are Drawer Dishwashers More Efficient?
Yes. When it comes to double-drawer dishwashers, each drawer operates independently. Small loads can be washed just as cost-effectively as large ones.
Water usage per drawer is significantly lower than that of a standard dishwasher, and so is total energy consumption.
One other benefit of this design is that you can wash a small load with little water and use a huge amount of water for a significantly bigger load. If you are concerned about water consumption, you can take into account purchasing a drawer dishwasher. It will also consume less power.
Furthermore, you can run multiple cycles at once, so you can wash fragile glasses in one drawer while utilizing an impactful wash cycle for kitchenware in the other. When it comes to cleaning efficiency, drawer dishwashers are a must-have.
How Much Water Does A Drawer Dishwasher Use?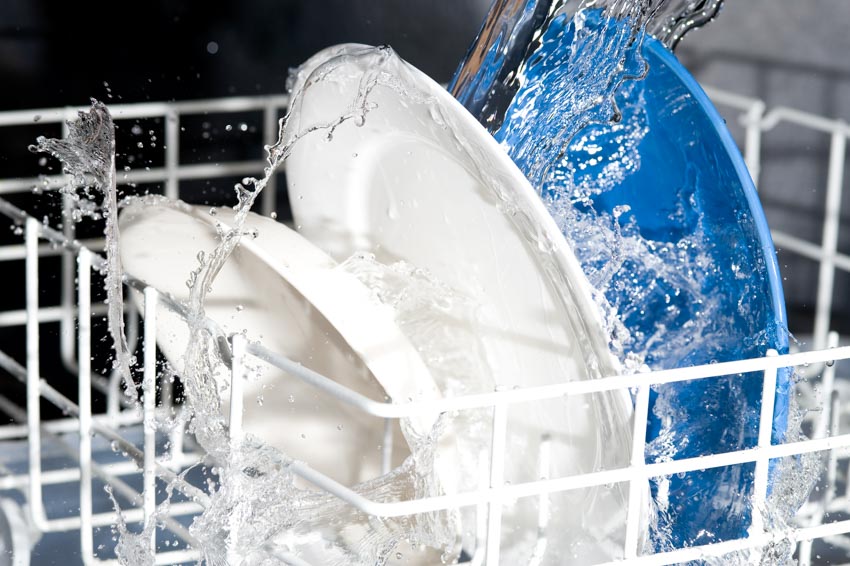 Drawer dishwashers, particularly those manufactured by Fisher & Paykel, are environmentally friendly. It consumes less water, energy, and detergent, resulting in lower energy expenditures.
It implements the economical, guilt-free small load, utilizing as little as 1.98 gallons of water, and an average of 2.4 gallons for regular cycles.
Can Drawer Dishwasher Be Installed Under Sink?
A single-drawer dishwasher can be installed under the kitchen sink, especially in a space that would ordinarily be occupied by a standard cabinet drawer.
In larger kitchen layout dimensions, a conventional or two-drawer dishwasher near the sink and range, and a single drawer on the kitchen island or in the pantry, might be advisable. A two-drawer dishwasher, on the other hand, will not fit under a sink.
The dishwasher has a subtly different structure than a standard one. It lowers in the rear to fit under the sink. The underside rack is identical to that of a standard dishwasher. Another reason it fits is that it requires a sink that is 6 inches (or less) in depth.
Who Makes Drawer Dishwashers?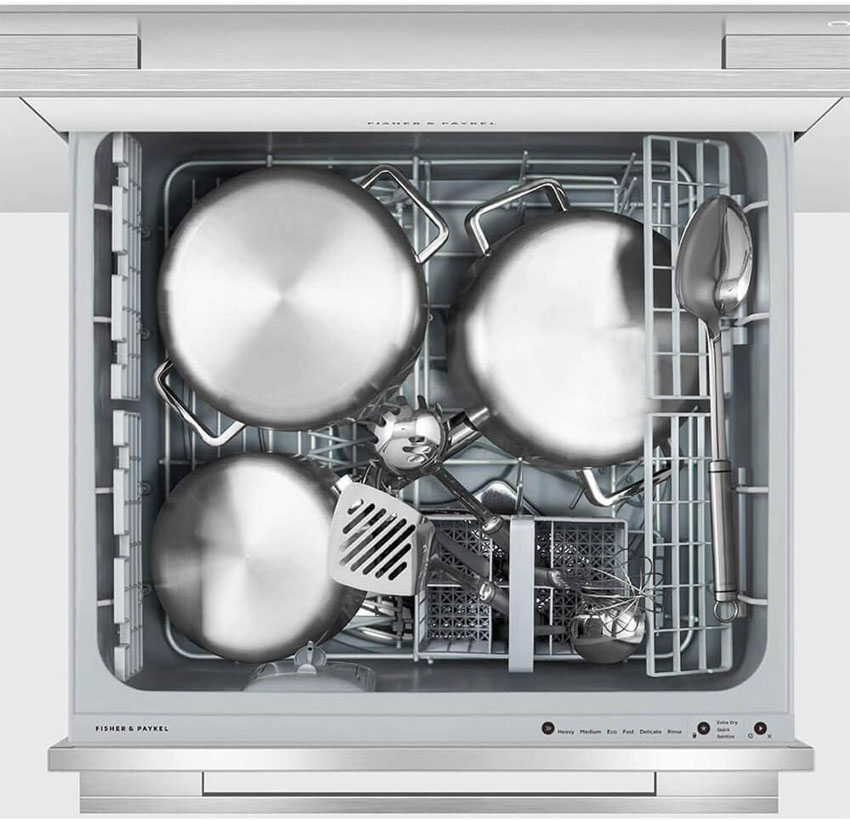 See this drawer dishwasher at Amazon [sponsored link]
Fisher & Paykel is the one and only major manufacturer of drawer dishwashers at the moment. Ever since the mid-2000s, they have been producing innovative types of dishwashers.
They were the earliest company to bring these to the market, and they are still the only company producing these energy-efficient drawer dishwashers.
Nevertheless, there were other attempts to enter this market. Unfortunately, appliance manufacturers such as KitchenAid, Maytag, and Kenmore started to become slow on manufacturing newfangled types of dishwashers. However, all of these companies eventually gave up on drawer dishwashers.
Fisher & Paykel will continue to manufacture these drawers as long as there is a demand for them. Such dishwashers will be here for a long time, and maybe one day they will compete with the conventional dishwasher.
See more related content in our article about the best kitchen appliance storage ideas on this page.