Here we share our guide on kitchen color schemes with black appliances including cabinet colors, kitchen paint shades, and design tips on how to brighten your kitchen with black appliances.

Black appliances are a stylish and functional choice for your kitchen. They hide fingerprints and smudges better than stainless steel, and generally cost a little bit less.
If you're considering black appliances for your kitchen, you may be concerned about how they will integrate with your existing color scheme. Or, you might be in the exciting position of choosing a new color scheme, and wondering how to best show off your black appliances.
Whichever it is, we can help! The trick to a cohesive kitchen color scheme with black appliances is to consider each element individually and make choices that tie the colors together.
Best Kitchen Colors With Black Appliances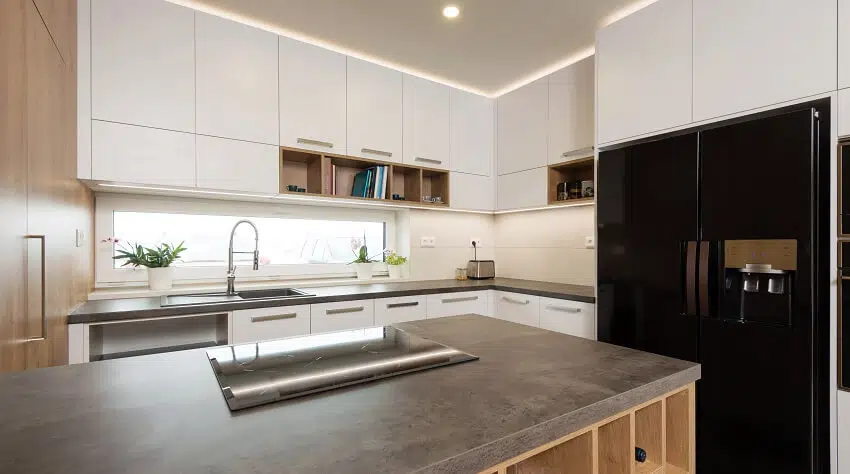 Black is a true neutral. Located outside the color wheel, neutrals can be used to complement any color scheme. A kitchen with black appliances can therefore work well with any color, giving you unlimited options to choose from.
Other neutrals, including white, gray, taupe, and beige, are a safe choice to pair with black appliances.
Warm neutrals work well alongside black appliances. If you choose a cooler shade, introduce depth to the space using textured surfaces.
If you want to choose a non-neutral color, dark hues work best. For a bold look, choose deep orange-red colors for your kitchen and create a fiery, hearth-like feel with charcoal black appliances.
Dark denim blue colors in a kitchen with black appliances are subtly comforting and effortlessly chic.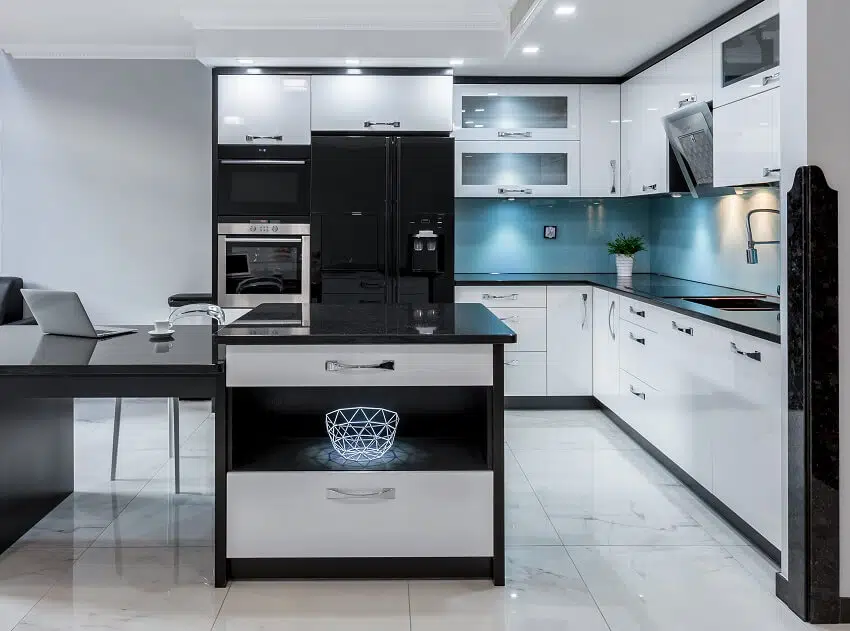 Purple is already a difficult color to use in the kitchen, and pairing it with black appliances adds another layer to the challenge, but it can be done.
Evoke a tropical sunset by silhouetting black appliances against layers of dark purple intermixed with lighter shades of blue and pink. You should also consider the finish of your black appliances when seeking the best colors to use in your kitchen.
High-gloss black appliances paired with brightly colored shiny surfaces can feel overwhelming and harsh. You may need to introduce more subdued colors or use a matte finish to get your desired effect.
What Color Cabinets With Black Appliances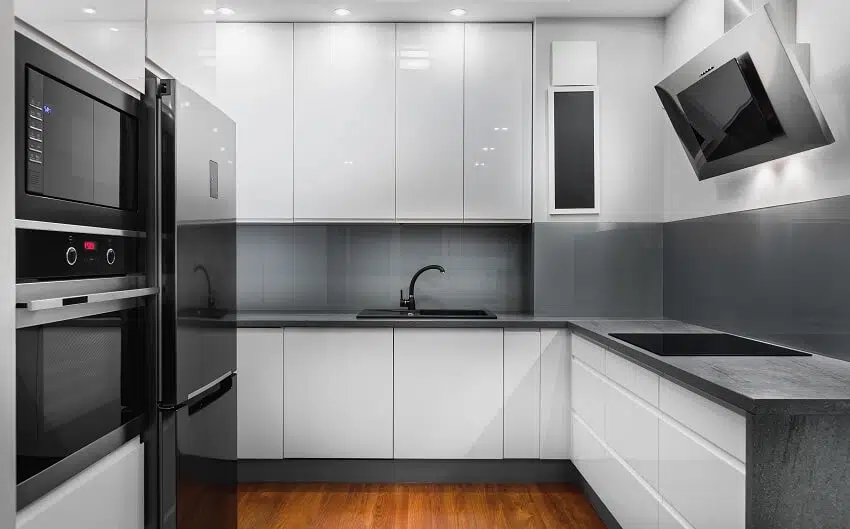 Stark white cabinets have a clean and bright look perfect for the kitchen. When combined with black appliances, though, they can create an intense contrast that may be overwhelming. Soften the effect by pairing the cabinets with soothing gray walls, a textured backsplash, and a neutral floor pattern,
If you're ready to go bold and dramatic in the kitchen, consider pairing your black appliances with black cabinets. This strategy works best in kitchens with open spaces, lots of natural light, and light-colored countertops and floors.
Maybe you're looking to introduce a pop of color into your kitchen. If so, you might love the look of black appliances next to dark blue cabinets. Navy, indigo, or denim-colored cabinets bring a sophisticated feel to the space.
Remember, there's no rule that says upper and lower cabinets have to be the same color. Add balance to a kitchen with black appliances by choosing dark-colored lower cabinets. Cabinets such as dark blue, gray, or even black, with lighter-colored upper cabinets in light gray or white hues work well. Explore more options for what color cabinets go with black stainless steel appliances here.
Kitchen Paint Colors With Oak Cabinets And Black Appliances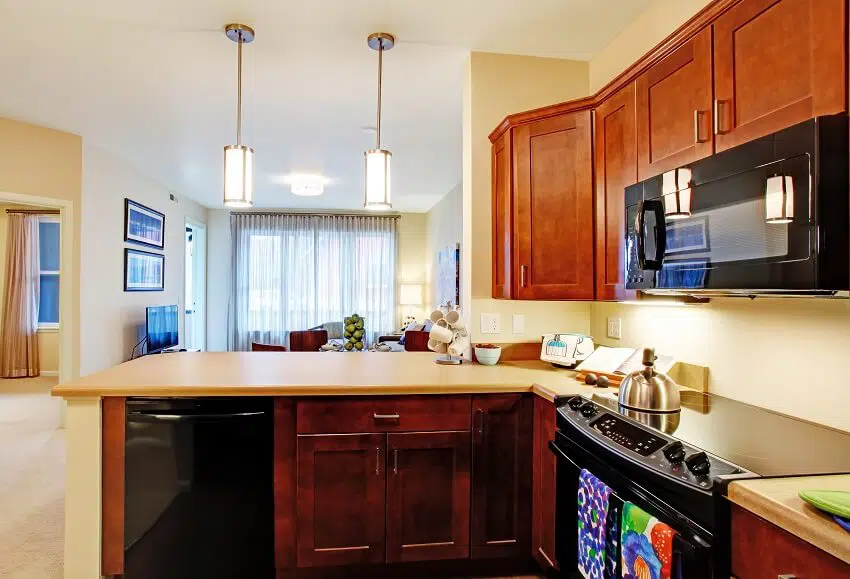 Finding a paint color that plays nicely with your brown oak cabinets and black appliances can seem daunting, but it's easier than you think.
There are plenty of color schemes available that will bring the brown and black into harmony and coordinate with your personal style. When picking paint colors that go with oak cabinets and black appliances, it helps to know what kind of oak you're dealing with.
Oak is a strong, durable, and relatively inexpensive wood, so it is a popular choice for constructing kitchen cabinets.
Red oak is the most common variety used and the color ranges from light to dark brown, with reddish-pinkish undertones. White oak cabinets are usually custom-fit and lighter in color, with a subtler grain pattern. They tend to have yellowish-gold undertones.
One of the best choices to tie together oak cabinets and black appliances is to use light, neutral-colored paint on the kitchen walls.
Cream-colored paints with buttery undertones pair well with white oak cabinets and will bring warmth to your kitchen, balancing out stark black appliances. For red oak cabinets, look for a pinkish-beige or blush-colored paint.
When paired with cement gray paint on the walls, a kitchen with oak cabinets and black appliances takes on a sleek, modern, almost industrial feel.
While it's probably best to avoid overly bright or saturated hues on your walls if you have black appliances and oak cabinets, you can still incorporate these colors into your design scheme through the use of accessories and accents.
How Can I Brighten My Kitchen With Black Appliances?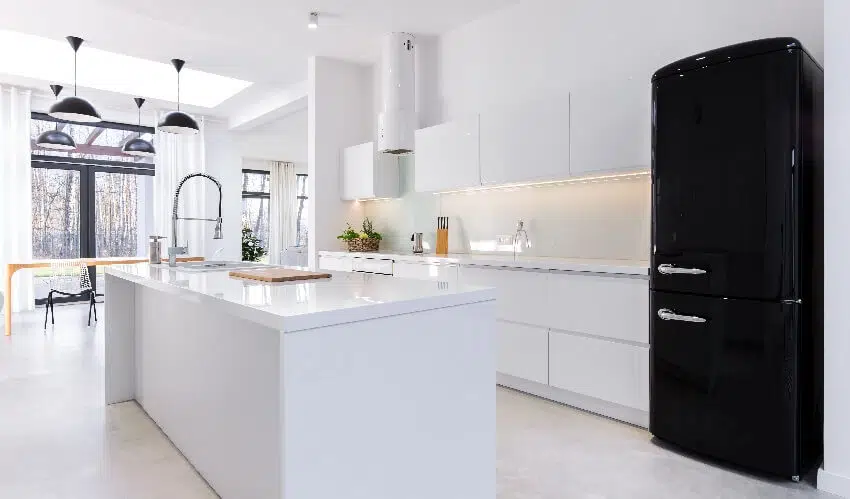 Black appliances may have a sleek, modern look, but if you're not careful, they can leave your kitchen feeling dark and gloomy. Luckily, there are a number of ways to brighten a kitchen that don't involve swapping out your black appliances.
First, let the natural light in. Replace opaque window coverings with translucent curtains or cover the glass with privacy film to let as much sunlight in as possible.
Next, supplement the natural light with artificial light. Pay attention to the times of day when your kitchen feels gloomiest. Brightening up your black-appliance kitchen could be as simple as switching out the bulbs in your overhead lighting.
If your kitchen still feels dominated by a hulking black fridge, consider changing the color of one of the major elements, such as the walls, backsplash, countertop, floor, or cabinet.
Stick to light, barely-tinted colors such as beige, light gray, or any shade of white. Bright white walls can also help reflect light and make your kitchen feel brighter.
For a paint-free way to brighten up a dark kitchen, bring in warm, natural elements, such as a flowering houseplant in a terracotta pot, a wool area rug, or a set of olive wood bowls.
Visit our kitchen appliance storage ideas for more related content.