In this horizontal grain kitchen cabinets guide you'll see what it is, different design ideas, cabinet styles that work best, and comparison to vertical grain cabinets.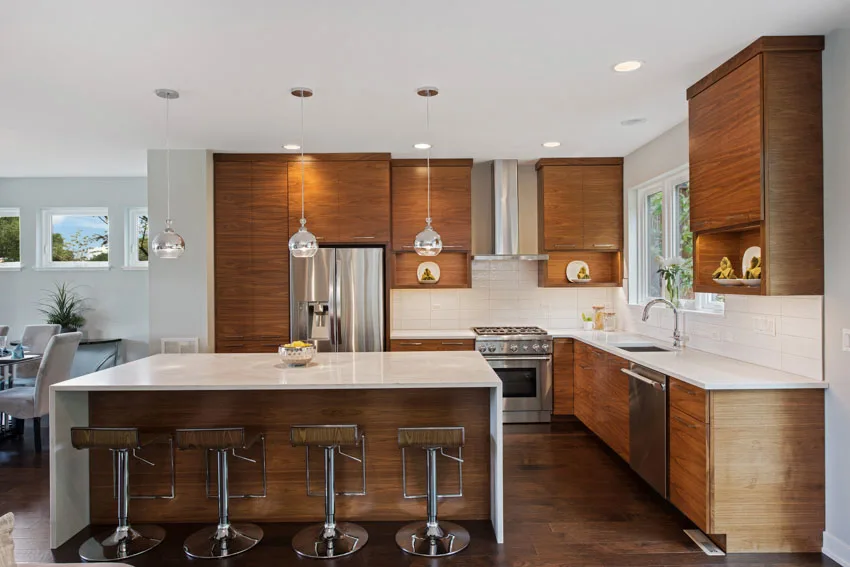 There are two main options when it comes to grain direction for kitchen cabinets wherein the finish features a linear pattern that travel in one direction – the vertical and the horizontal grain pattern.
What Is Horizontal Grain?
The horizontal grain often refers to wood finishes, which feature grain lines running from left to right. Most contemporary design style has incorporated horizontal grain for several years in which the horizontal grain look is becoming more popular such as a bamboo finish with horizontal grain.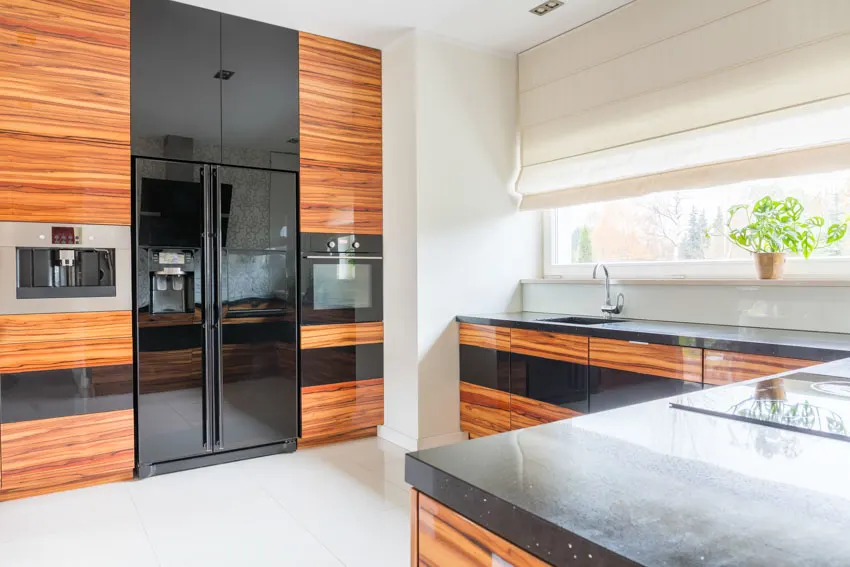 Its natural look features a beautiful grain pattern and texture that translate into a sleek, clean style finish and modern design.
The horizontal grain kitchen cabinets create an intriguing and unique personality to your design concept when used as an accent within the kitchen.
One such idea is to use the horizontal grain only on the hood and island area as an accent to the white-painted cabinetry in the rest of the kitchen layout dimensions. It offers a subtle accent while providing a focal point of the overall design.
Horizontal Wood Grain Kitchen Cabinets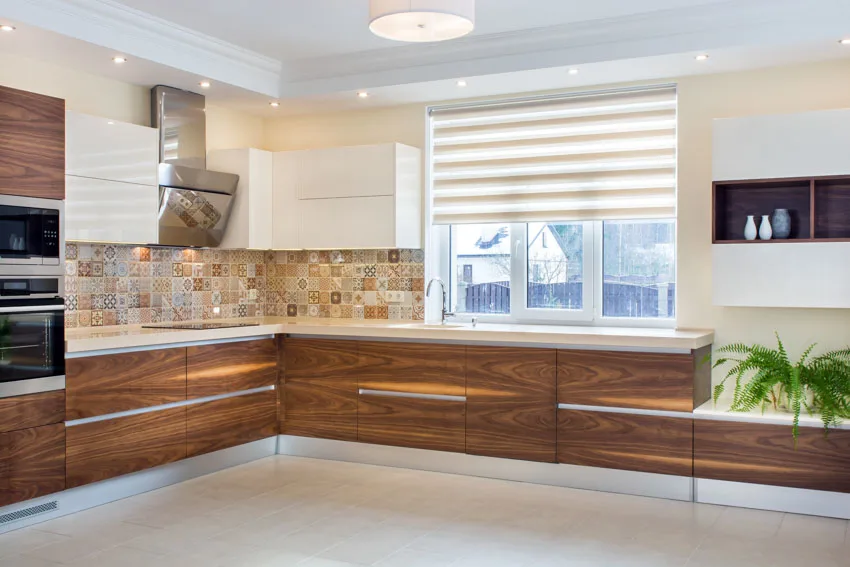 Since wood is flexible, it can be customized and remains the top choice for high-quality kitchen cabinets. Horizontal wood grain cabinets offer a unique design style that is both beautiful and timeless.
Kitchen cabinets with horizontal types of wood grain patterns come into play when cutting cabinets and choosing how each piece will fit on a 4'x8' sheet of material; in which the parts with grain all need to be facing the same direction to maintain a cohesive look.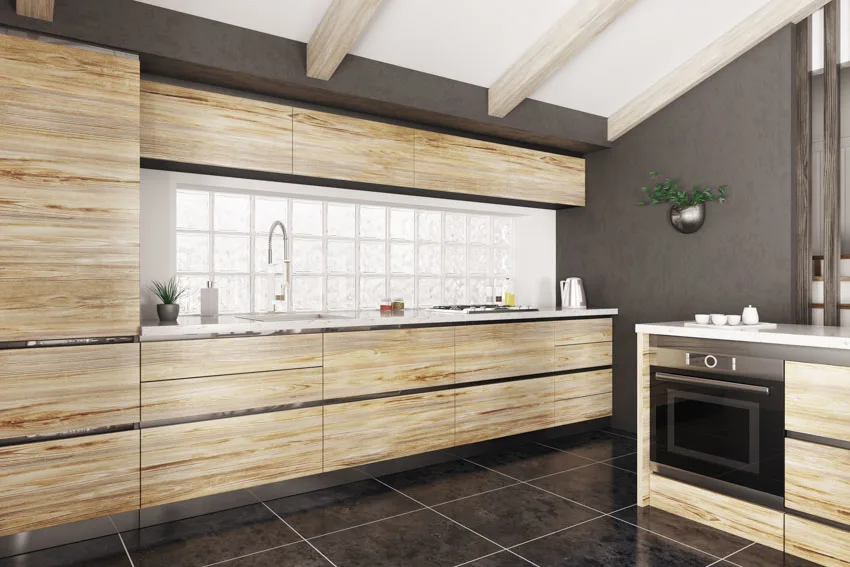 Horizontal grain matching is a system of cutting adjacent doors and drawers from the same piece of material. Grain matching is making sure that the grain spans from left to right for all the cabinet door/drawer front to the door/drawer front of the adjacent cabinet.
Thus, creating a seamless and consistent pattern that spread the natural illusion of texture of the wood across the entire kitchen cabinets.
Horizontal wood grain kitchen cabinets also evoke casual styling which works best in an open floor plan concept since it offers a look that is somehow simultaneously simple yet impressive. Horizontal grains have a widening effect, emphasize the length, and create a new appeal in your kitchen.
What Cabinets Work Best With Horizontal Wood Grain?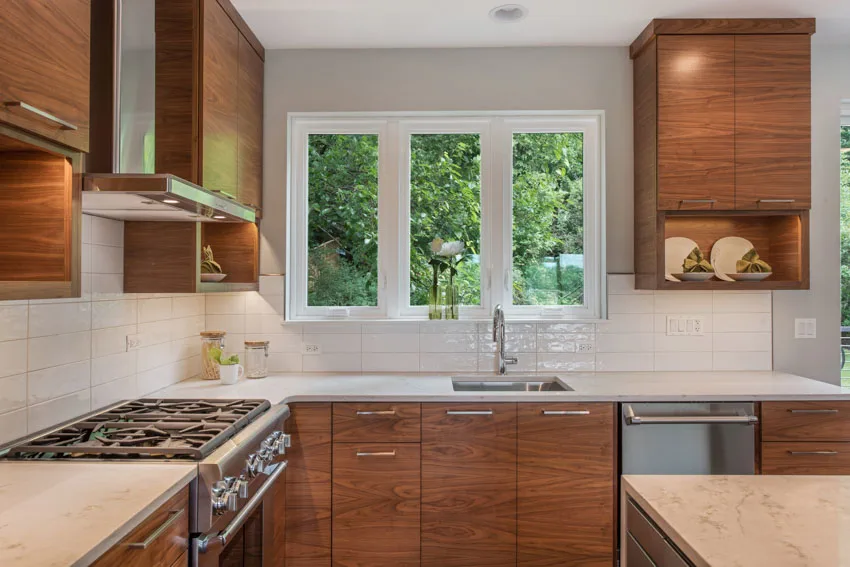 The choice of cabinet style is an integral part of creating the look you desire for your kitchen. The kitchen popular trend nowadays is incorporating uncomplicated cabinetry styles that feature simple, clean, and clutter-free lines.
The cabinet doors and overlay style, hardware choices, finish, materials, and even the color all require specific directions that need to be considered. Horizontal wood grain on a flat center panel door is at the height of popularity now, invoking a casual, yet elegant feel.
Frameless cabinets with flat-panel doors work best for a horizontal wood grain finish since it offers a sleek and continuous look that runs a horizontal axis.
Modern kitchen designs tend to be long, the cabinet layout and fine lines which are visible between flat-paneled cabinet doors prove to be an effective horizontal element. The patterns, color, and visual textures of the horizontal wood grain become the aesthetics focal point of the modern kitchen design style.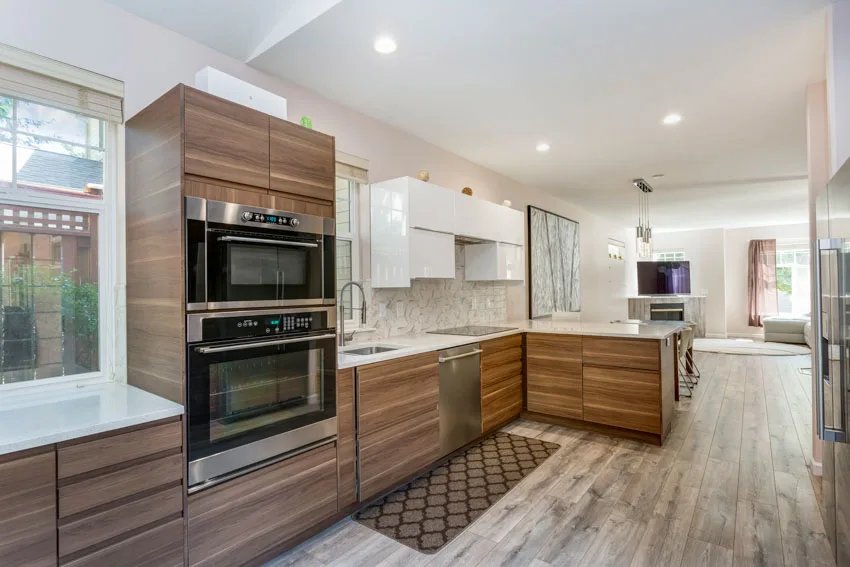 Slab doors offer a more modern feel since they have no ornamentation and an extremely simplistic countenance that allow the room architecture or cabinet finish to take center stage. Simple, sleek, horizontal, stainless-steel pulls that extend the horizontal length of the cabinet parallel to the wood grain also add to the modern linear look.
Shaker cabinets are one of the best choices with horizontal wood grain with a natural wood finish since it brings a classic and simple look that goes well with a traditional, contemporary, or modern kitchen design.
Shaker style cabinets have recessed center panel that works best with a horizontal wood grain for a unique design style and the flat panels can be left plain in the same natural wood finish. The plain flat panels work to achieve visual contrast that would define and highlight every recessed center panel of the kitchen cabinet door.
Kitchen Cabinets With Horizontal Vs Vertical Grain?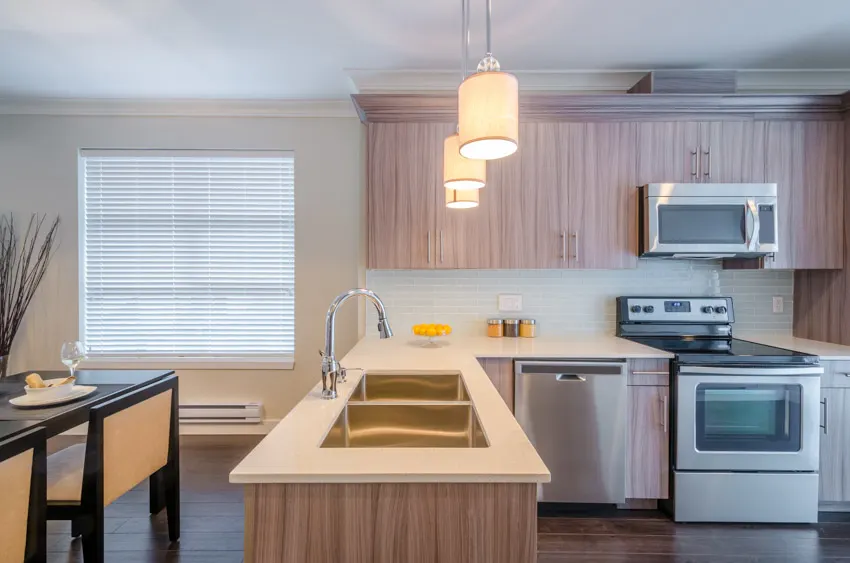 Straight, linear lines and clean, well-defined edges are another essential element of kitchen design concept. Horizontal grain and vertical grain, both play a key role in defining the character of the space.
When using horizontal grain, it creates an impression of more space and makes kitchen cabinets appear larger while vertical ones make an area look less spacious.
It is important that the horizontal lines define the space to line up perfectly from straight, clean lines of the cabinetry and kitchen island to the lines in the tile backsplash and wood flooring.
Horizontal detailing both in cabinetry layout and wood grain direction provides a sleek, sophisticated look and feel. Horizontal grain direction offers a more modern vibe and adds the illusion of texture to the overall design scheme of the kitchen as well.
On the other hand, vertical grain patterns on taller cabinets can create an illusion of height. Kitchen cabinets that go all the way to the ceiling with vertical grain pattern will give your long narrow kitchen better storage and will make the ceiling seem higher.
Combining both horizontal and vertical patterned grain in contrasting color can make a strong style statement and offers a luxurious feel.
Bamboo kitchen cabinets have a unique linear grain, and it is a sturdy, low-maintenance material that is also eco-friendly. Although it is softer than most hardwoods, it is incredibly resistant to chips, dings, and cracks. It tends to have a natural warm or neutral hue that gives your kitchen a fresh yet inviting feel.
Bamboo often shows the distinctive nodes or knuckles of the stalks that accentuate well with its linear grain that can be designed to either be in a vertical or horizontal pattern that creates a one-of-a-kind kitchen aesthetic.
Bamboo kitchen cabinets fit well with contemporary and minimalist kitchen design. A vertical bamboo grain offers a clean and modern look, while a horizontal grain will work best for a kitchen to look more spacious.
See more related content in our article about the bamboo kitchen cabinets on this page.