Here's our guide to the types of benches including different bench styles, room seating designs, materials, dimensions, and the best upholstery for benches.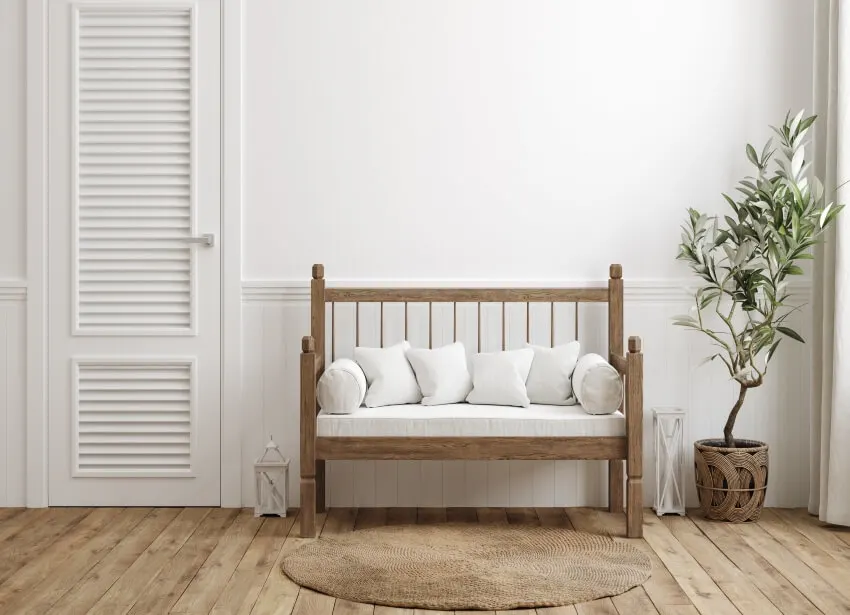 Benches have historically been a popular seating option frequently found in parks, courts, and residences as well. Benches are used for more than just sitting; they are also used for sleeping, changing clothing, and preparing meals to eat.
With the progress of time, benches have evolved into a variety design styles and materials. They are commonly constructed of plastic, wood, metal, or stone. With a wide range of functionality and design styles there are many types of benches to choose from.
This article will serve as your comprehensive guide to the world of benches. It offers practically all types of benches for you to pick from and discover the ideal solution for any indoor or outdoor space.
Bench Styles
Here's the most popular types of bench styles, materials used, and their functions.
Entryway Bench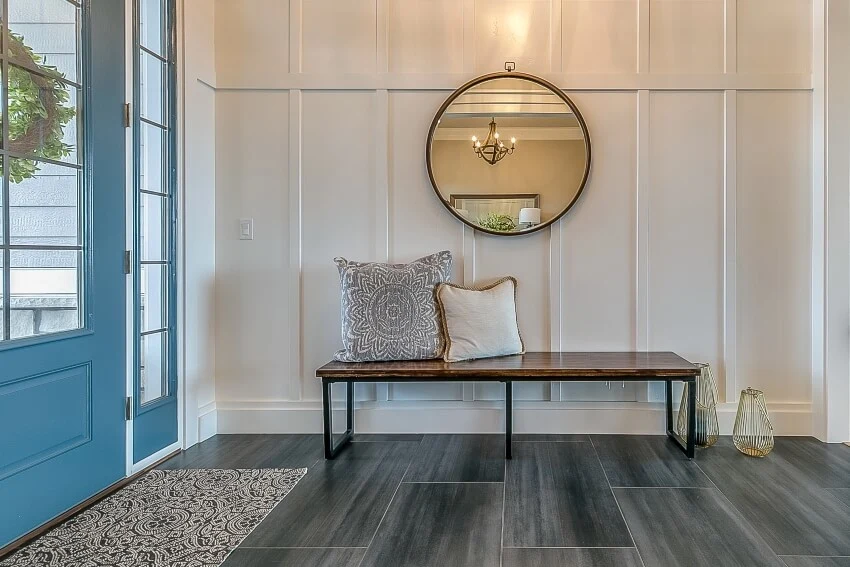 Entryway bench designs can be both stylish and functional. Even though it is a simple and frequently compact piece of furniture, it may nonetheless give design appeal and provide extra space to embellish.
You may sit on them to have your shoes on and remove them, they can be used to hold items such as mail and keys, but most importantly, they will bring attraction to your foyer or entryway. Indeed, most households require a bench near the front door to keep and organize clothing or shoes.
An entryway is an ideal site for a classic wooden bench with various storage possibilities, and wood is the greatest material since it lasts much longer than other bench materials. A bench with a built-in coat rack is a popular method to optimize the entryway area.
Storage Bench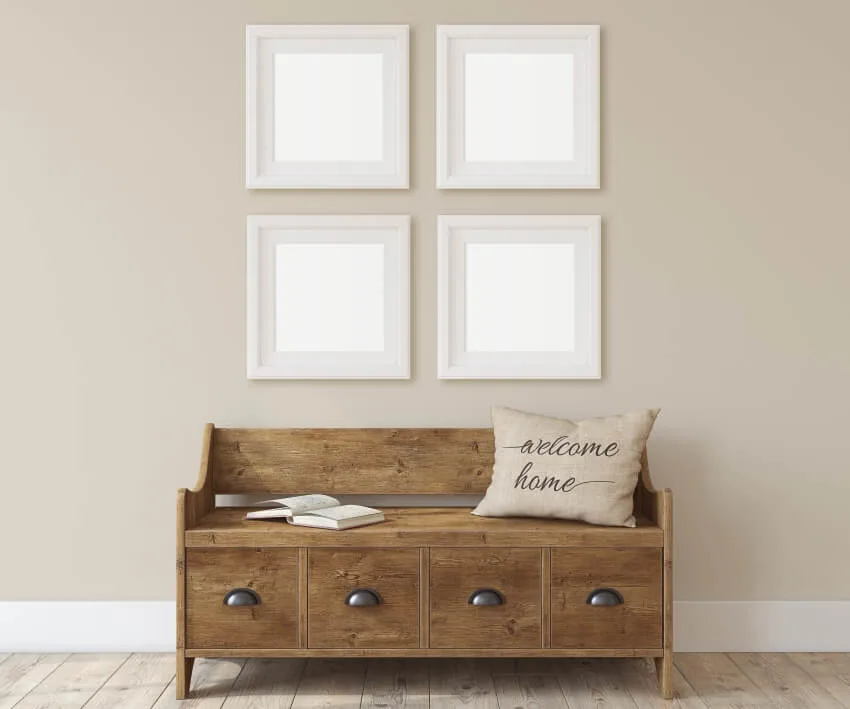 A storage bench typically features 4 solid sides and a base rather than legs underneath the seat, creating a perfect location for holding objects. The seat will be equipped with hinges that will allow it to be dragged up and down to reach the stored objects.
Moreover, storage benches are available for both indoor and outdoor purposes. Indoor storage benches would be perfect for usage in kids' bedrooms since they can be utilized to store toys and other cluttered items in an unnoticed location while simultaneously serving as a comfortable spot for youngsters to relax, draw, and study.
On the other hand, outdoor storage benches are generally manufactured out of plastic as they must be waterproof to protect the stored objects from rain or snow.
An outdoor storage bench would be an excellent spot to keep outdoor cushions whenever they are not being used. This ensures that they are in great shape and available to use when the weather gets better.
Garden equipment or outdoor kids' toys including roller skates, jumping ropes, badminton rackets, shuttlecocks, and balls can also be stored on outdoor storage benches.
These storage benches are not particularly appealing in a garden; yet, they are much more preferable instead of having cluttered objects scattered out on the yard or deck.
They also prove helpful in preventing your belongings from being ruined by inclement weather. This style of bench may be very beneficial if you have a small garage and do not have a shed.
Drawer Bench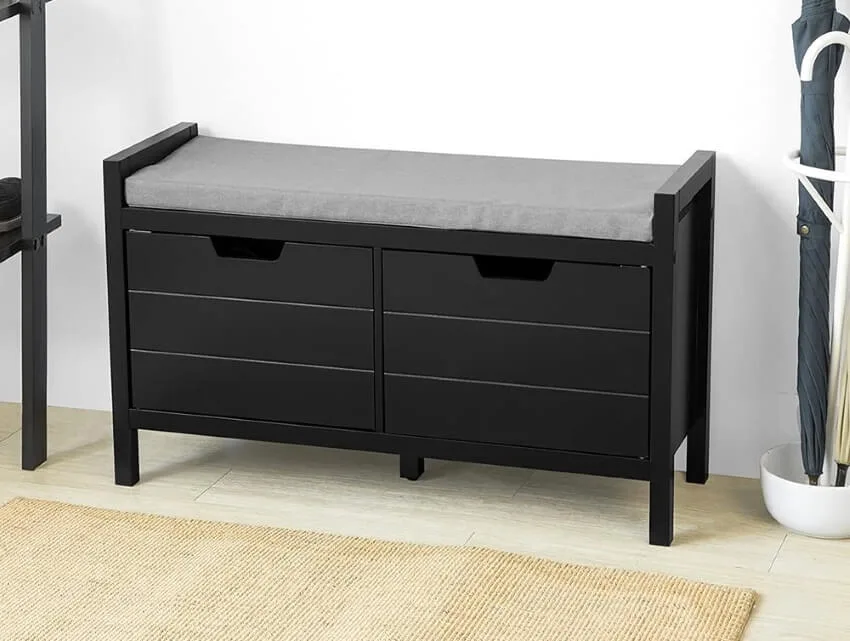 See this drawer bench at Amazon [sponsored link]
A drawer bench, as the name implies, is made out of a drawer with a sturdy framework and pull-out storage that is hidden when not being used.
This bench may not have the same inside capacity as a flip-top type, but it can provide access without affecting anything or anyone who is seated on it.
Ottoman Bench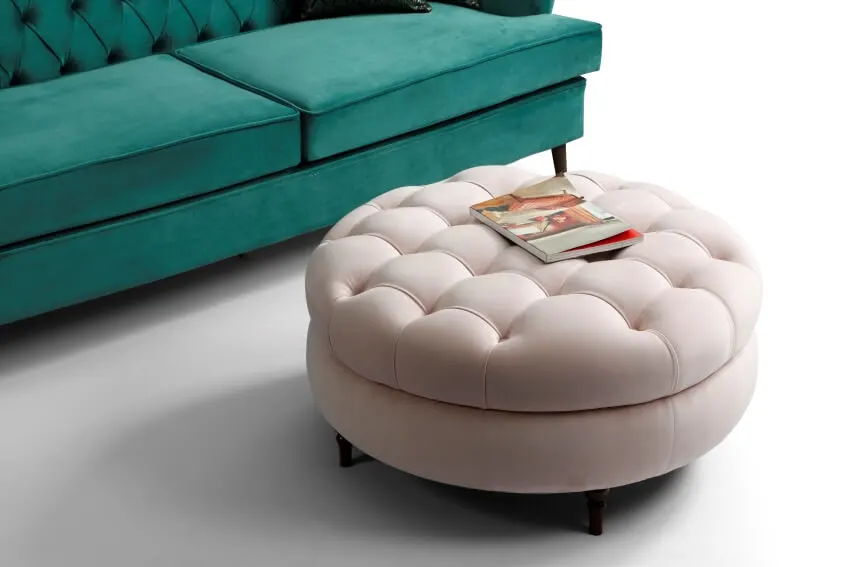 An ottoman bench is a piece of furniture that is often used as a footstool in front of a sofa or recliner, but it can actually be used as a comfy bench.
Ottoman benches are typically found in structured living rooms or beauty salons, but they also perform effectively in guestrooms and any other space where individuals wish to unwind and bring their feet up.
The ottoman sizes for width and depth can vary depending on the model. However, the majority of ottoman benches have a height that is about one inch shorter than the top of the sofa cushion seat.

A covering must always be present on an ottoman bench. It may be tempting to purchase a storage ottoman bench without a cover, but the risk is often not worth taking.
The usage of a single hinged panel with a single open-end ensures that you do not confuse it for an armchair and end up sitting in an open-sided storage box.
Backless Bench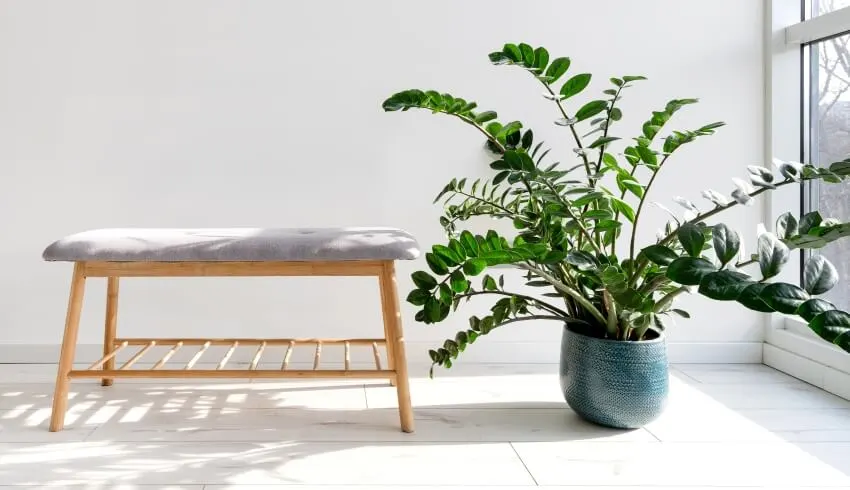 A backless bench is a style of a bench that does not have a backrest. Since it does not have a back, users may sit on it and face it in whatever direction they like. Backless benches are very popular in shopping centers and broad pathways.
Due to their simple design, a backless bench may be used in a variety of settings, and they are also more cost-effective to purchase as they use less material to manufacture. The drawback of a backless bench is that it does not provide a comfortable position to relax since you can lean back on it.
Hence, you are obliged to maintain your posture, which is inconvenient. Backless benches, nonetheless, are useful for giving your legs a little rest after a shopping spree, but they are not ideal for full-body relaxation.
However, if you have a backless bench, you might try to solve the problem by placing it against a wall for lumbar support when seated, although it contradicts the purpose of the bench being backless.
Corner Bench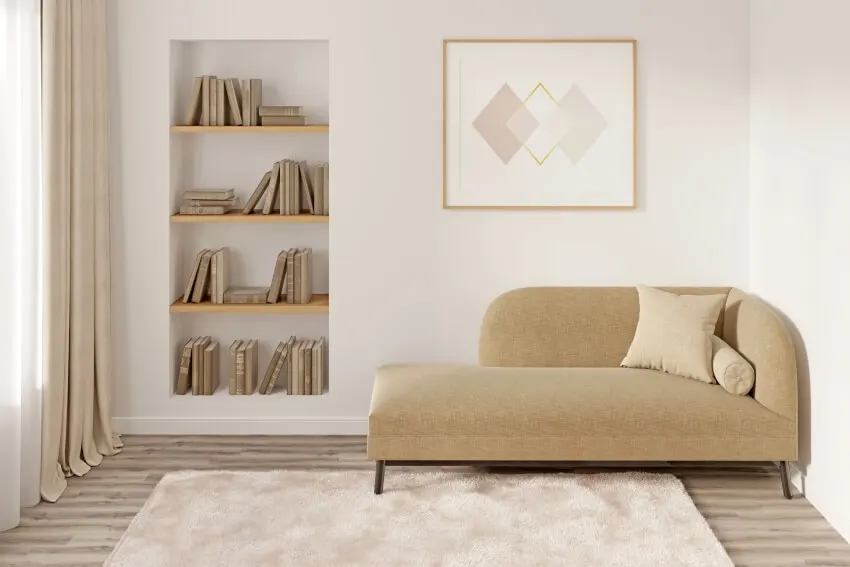 Corner seats are intended to be positioned alongside walls where a conventional bench would not fit. They provide more storage space while allowing consumers to sit conveniently.
Cup holders, racks, and drawers that can accommodate small items are included in certain models. Some have simple designs that are merely intended for sitting.
When it comes to deck décor, a corner bench is a sensible alternative. You can attach it to the wall and allow it to protrude if the design permits it.
Upholstered Bench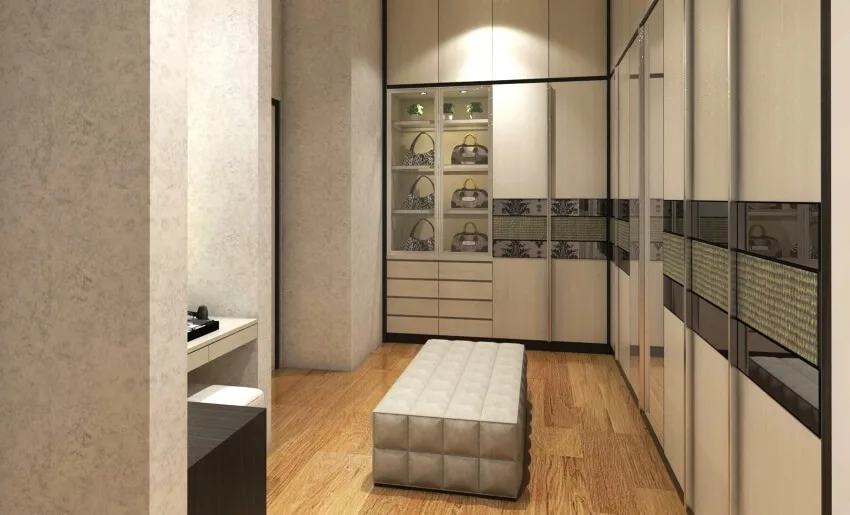 Upholstered benches are basically what their appellation suggests – they are benches with a wood or steel frame and seating surfaces covered in a variety of materials and fabrics spanning from polyester to leather.
With an upholstered bench just outside your front door, you can welcome your guests very well. An upholstered bench would be a relaxing spot for guests to sit for a while and take off their shoes.
Accent Bench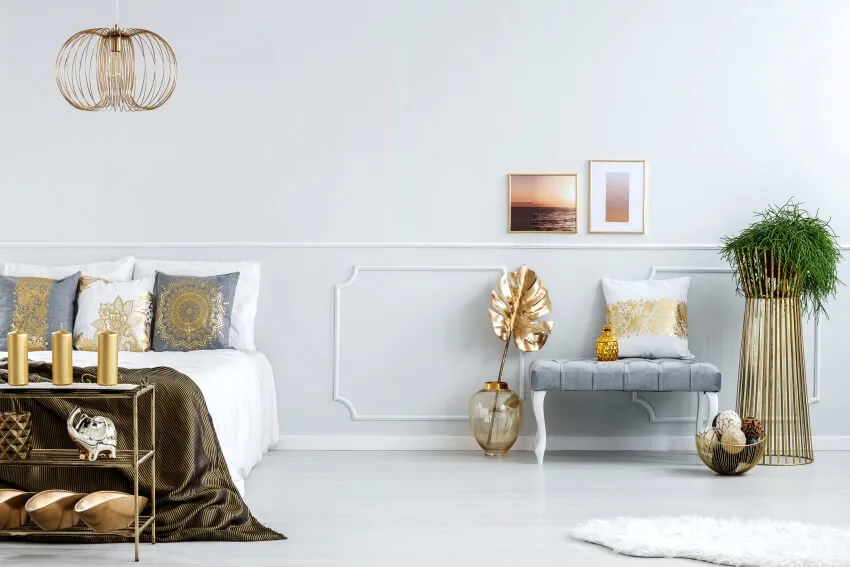 An accent bench does more than just provide a place to sit in your bedroom or family room. It adds a distinctive twist to the remainder of the room's aesthetic.
You could either coordinate it in color to your current furniture or make it a bright, outstanding piece. The accent bench is a piece of furniture that serves both style and functionality.
Furthermore, an accent bench, which is mostly designed as a decorative component, can be found in a variety of shapes, sizes, and upholstery options.
If you are searching for objects to fill an empty wall or flooring space, this could be a simple option. It also adds personality to your surroundings by highlighting your personal taste.
Settee Bench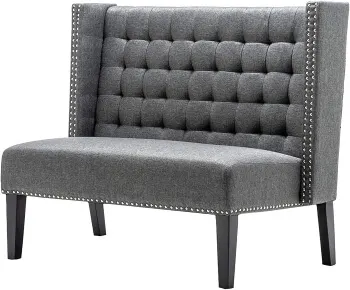 See this settee bench at Amazon [sponsored link]
Settee benches have a thinner and more attractive structure than sofas. These benches are a type of accent seating featuring tall, upright backs, shallow seats, and long, uncovered wooden legs.
Complete upholstery, integrated seat cushions, conservative cushioning, and space for two individuals are some of the important features.
Settee benches, with their compact measurements, can readily adapt to narrow areas such as entrances, bedrooms, discussion zones, and coffee corners, providing a sophisticated appearance and a practical seat for occasional usage.
Such pieces can also be employed as supplementary seating in a bigger living room alongside a couch, and their upright style makes them an excellent choice for a dining area bench.
Settee benches, due to their more stately appearance and feel, might not be a great option for a busy, lived-in lounge room, playroom, or home theater.
They are frequently employed as decorative accents in traditional living rooms or parlors filled with family mementos and collectibles.
Chaise Lounge Bench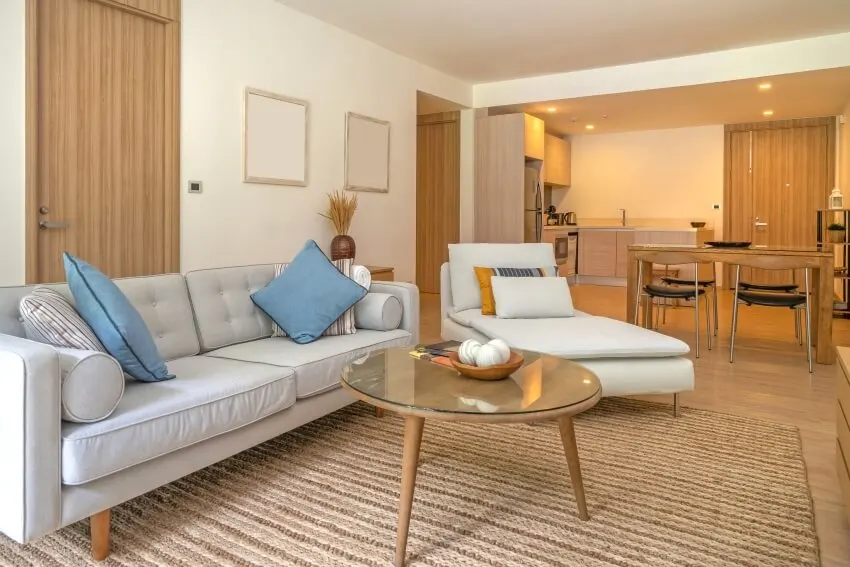 A is a large type of chair or bench that is designed for lounging and resting. It originally comes from 19th-century France and means "long chair" in French.
In today's modern era, it can be a freestanding furniture piece as well as a chaise joined to a sectional for an extra relaxation area. A chaise lounge chair or bench on a sectional can frequently be detached.
Furthermore, they are standalone prolonged chairs when not joined to a sectional, the equivalence of an armchair and an ottoman in one unit.
Occasionally, chaise lounge benches include two arms, but sometimes, they only have one armrest. They are frequently placed in a bedroom, study room, or lounge room.
TV Bench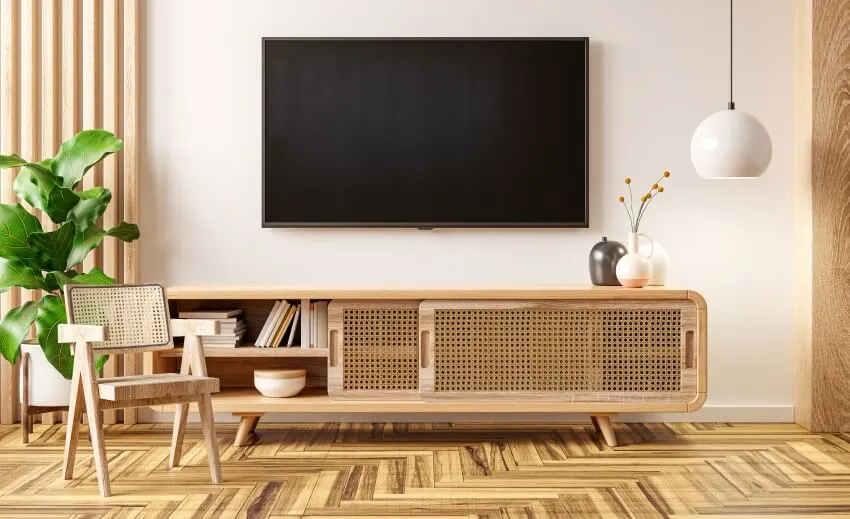 TV benches or sideboards, are basically a long TV stand that resembles a storage bench. However, as the name suggests, TV benches are exclusively designed for TVs; it is not meant for sitting.
However, when searching for a TV bench, you just have to be certain that it is durable and stable enough to manage and withstand the weight of the TV.
This type of TV stand might be a wonderful small space alternative because it will not add much bulk to your space, although you have to keep in mind its height.
Swinging Bench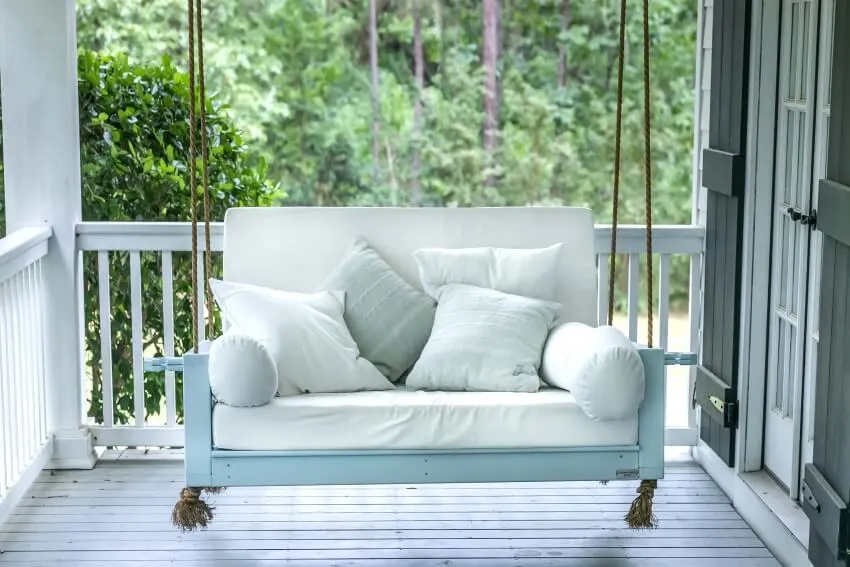 Swinging benches are frequently seen in parks or on porches for relaxation, but they can also be used as indoor furniture. The seats of a swinging bench are normally hung using chains or cords.
Once in movement, a swing will continue to perform oscillation like a pendulum until it is stopped by external interruption or dragging. Swinging benches are also quite prevalent among kids.
Some swinging benches are sometimes strung from common steel or wooden frame, called a swing set, permitting more than one person to indulge in the swing at the same time. Swings of this type exist in a range of sizes and styles.
Curved Bench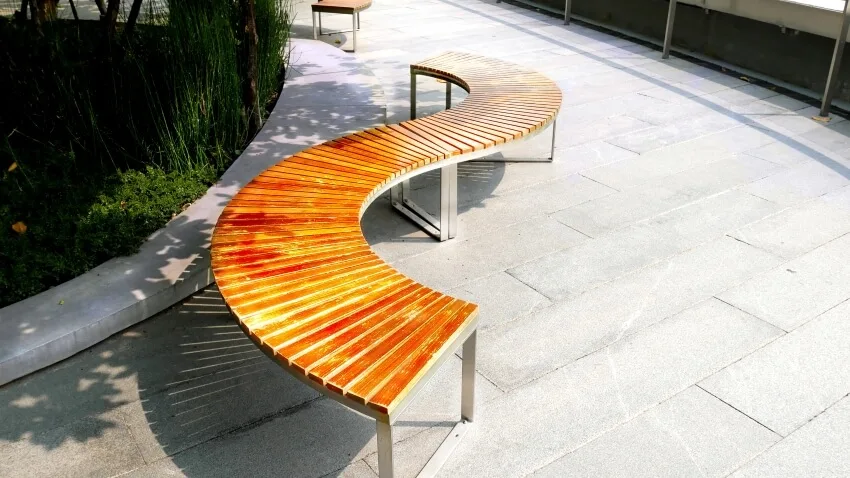 Curved benches are a fantastic addition to nook areas since they allow you to enjoy the entire area rather than just one side when sitting.
Curved benches usually curve at an angle, so individuals sitting on either end are partly oriented with their knees facing one another. A curved bench promotes communication if you wish to use it for socialization.
Moreover, some curved benches bend in the opposite direction, so that the users at either end face oppositely each other. These seats are typically utilized around garden attractions like ponds to create a seating area that spans adjacent to the pond.
Folding Bench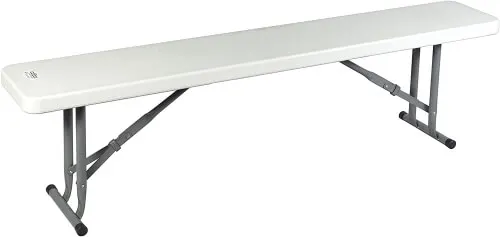 See this folding bench at Amazon [sponsored link]
A folding bench is one of the most ideal options for quick and convenient seating. Plus, they are even better as you can put them away after you are done using them.
They are not only practical to use, but they are also appealing. Simply bring them out, unfold them as needed, and then keep them once they have served their purpose.
Aside from that, you can say that a folding bench is considered a multi-purpose camp necessity. A foldable bench can be used to pleasantly accommodate two persons or to store personal goods or luggage. When not in use, it folds neatly for effortless storage.
Types Of Benches For Rooms
Here are the uses for benches in different rooms of the home.

Bedroom Bench
A sleek and comfy bedroom bench is useful in any bedroom for storage or extra seating when there are more occupants in the bedroom. A backless bench or broad ottoman with an upholstered and padded top can be placed at the foot of your bed for comfort and aesthetic impact.
Aside from that, bedroom benches provide a nice place to sit when putting on trousers or lacing shoes. Whenever it is time to sleep, they are indeed a great spot to toss those pieces of beautiful throw pillows.
Bedroom benches, with their cushioned surfaces, are a great resting point when you need to read emails, check messages, or monitor the weather application before walking outside.
Dining Bench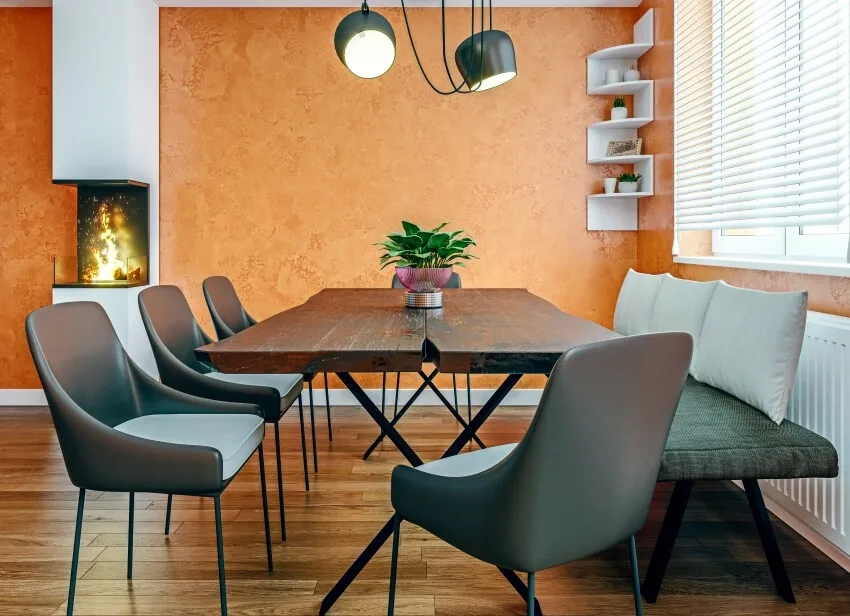 The dining bench has emerged from the shadows of the most unconventional aspect of interior design. Dining benches can either be with or without a backrest.
There are two varieties of dining benches: mobile benches, which are often smaller and lighter, and non-mobile, also known as banquette seats, which are usually larger because more construction effort is necessary. These are great for both adults and children, and they accentuate both professional and informal table settings.
You can consider replacing the standard chairs in your dining room table with a dining bench to create an intimate atmosphere or combine multiple dining chairs with a dining bench for a unique flair.
You can try to search for dining bench sets to make combining wood finishes and upholsteries simpler and achieve a more coherent feel.
Furthermore, a dining bench can be employed as an ornamental component, such as a low-profile table, or as a seating alternative on your terrace to provide an earthy yet exquisite touch.
Dining benches with additional storage can also assist in covering a mess in a breeze and serve as a comfy seat and accessible storage space. When pairing with tables and chairs you can go for a contrasting or matching design depending on the look you like.

Kitchen Bench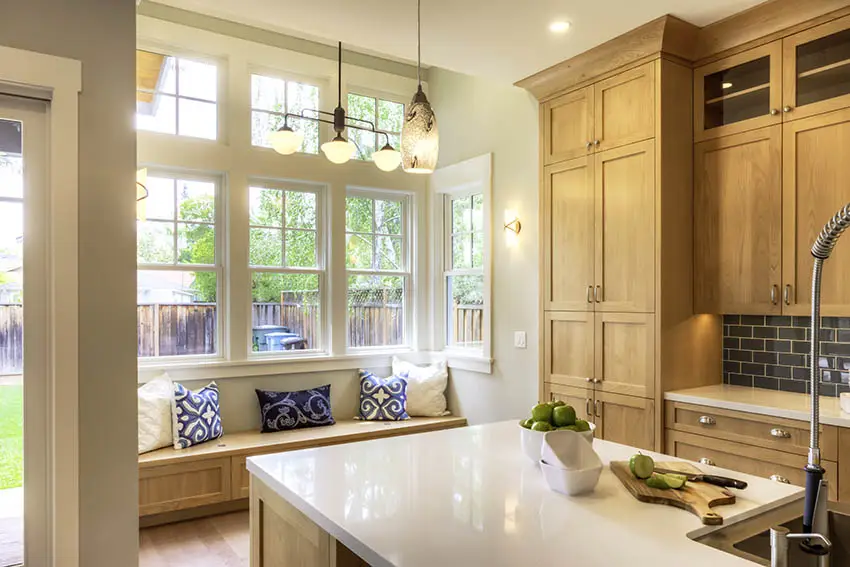 A kitchen bench is a broad term that can be a dining bench pulled up to an island or table, a window seat bench, or a utility bench similar to an island.
Kitchen benches are areas where a substantial portion of kitchen socializing take place. Since the kitchen bench is used for so many critical duties, it must be set at an appropriate height.
Moreover, kitchen benches can function as a socialization table in the kitchen. Families or friends can communicate with each other while preparing meals and sitting at a kitchen bench. See our gallery of kitchen island bench ideas here.
Kitchen benches that are not meant for seating can be used for preparing meals. However, these are generally referred to as a table or a floating countertop depending on the design.
These are a horizontal work surface used as dish preparation spaces, or for meal cleanup. In some instances, cabinets can be used to install and support them.
Breakfast Nook Bench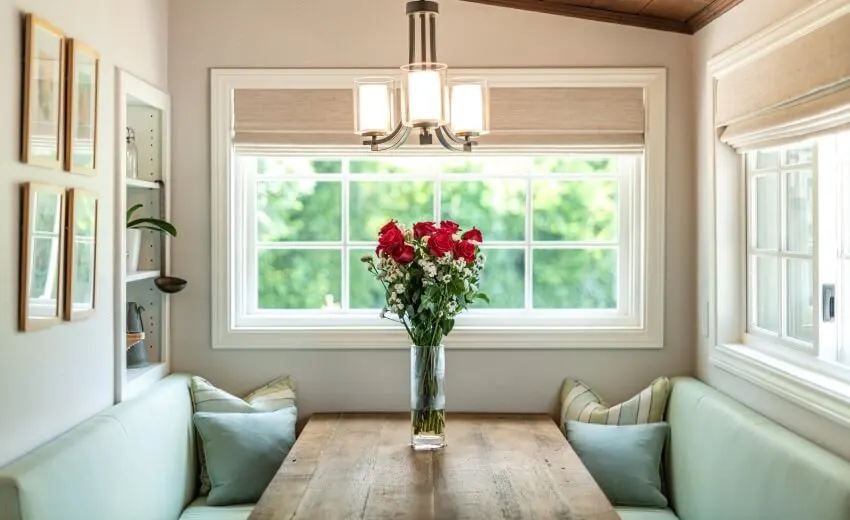 A breakfast nook bench can entirely remodel your dining room or any space in your house and provide you with a new place to dine, study, or work.
A breakfast nook bench is a built-in seating option that can be added to a classic breakfast nook, such as a bench or banquette. It usually has a U-shaped form that fits into nooks.
We may also concur that breakfast nooks are pleasant spots for everything from morning coffee to afternoon schoolwork.
To create this place in your house, all you need is a table, a breakfast nook bench, and a room in your selected room (normally a dining room) to place them.
Counter Height Bench
A counter-height bench with a backrest provides all of the benefits of a classic upholstered dining bench, but with the extra benefit of being able to be utilized at a bar-height table.
Hence, it is ideal for someone who is searching for a comfortable sitting for a kitchen island, bar section, or counter-height dining room table.
Aside from that, a counter-height bench has several pros, including the fact that it is more relaxing than a barstool and can support two or more individuals at the same time.
This design also saves room because you only need to relocate one piece of furniture when necessary. Due to its size, it is proven to be sturdy and durable, and you can experiment with the fabric style and upholstery design.
Window Bench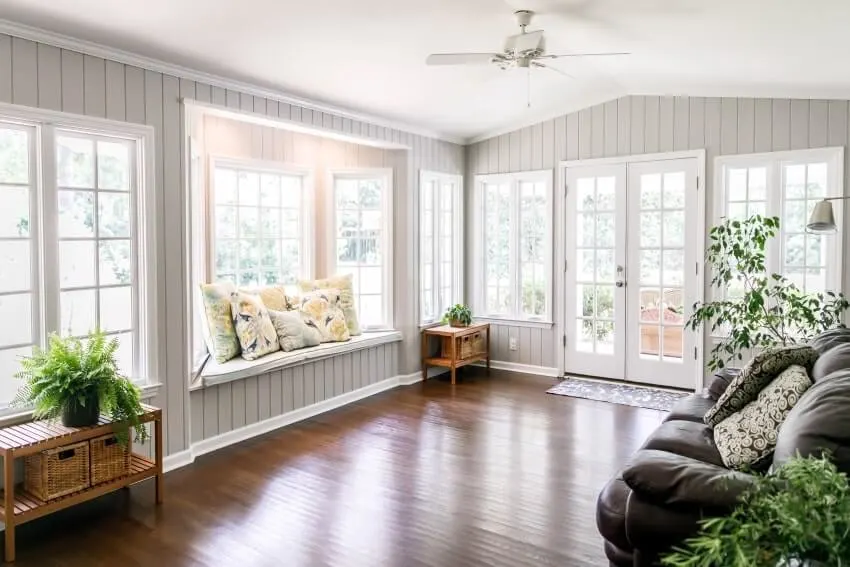 A window bench is generally located against the window glass, surrounded on all edges by narrow-sized walls, and lavishly furnished with pillows and cushions. These benches provide warmth and relaxation while also offering a glimpse of the outdoor environment.
The prevalence of window benches is not really a recent concept. During Britain's Georgian era, small, decorative, backless couches situated in front of towering multi-paned types of windows were all the craze among the affluent.
They have tufted seats that were upholstered in expensive fabrics that were commonly chosen to complement the drapes in salons and sitting areas.
The ageless aesthetic of a comfy seat in front of a window is not confined to that British era; window benches can also be found in traditional, modern, and even primitive American construction designs.
Those incorporated into homes today may be even more enticing than their ancestors, as they are frequently positioned into recessed alcoves, creating a deeper sense of solitude and safety.
Closet Bench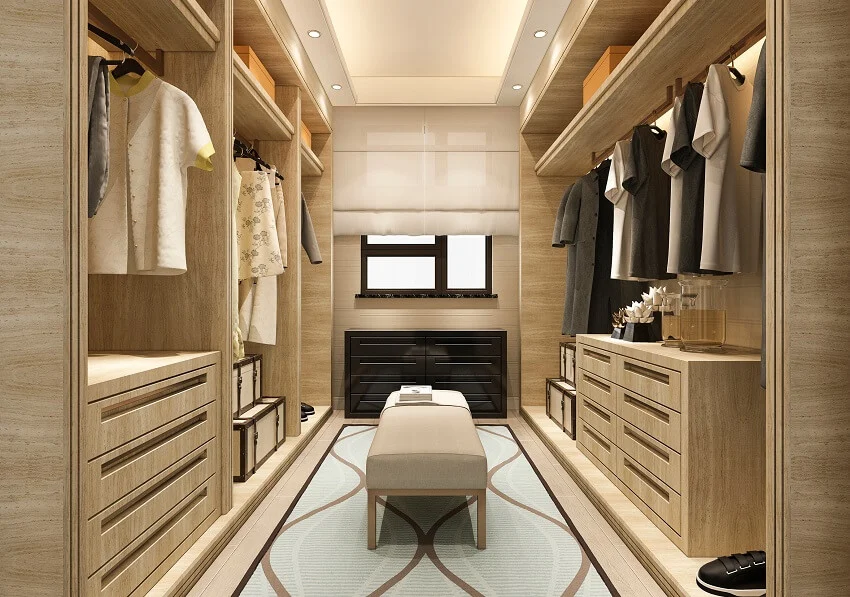 A closet bench is quite similar to a storage bench, except for the fact that closet benches exclusively have closets for more secure storage space. Storage benches only have racks for closet accessories.
But if you wish to have a bench that has drawers and closets for safekeeping your garments and other valuables, you can consider acquiring a closet bench. It can be placed in bedroom walk-in closets, entryways, or home offices.
Shoe Bench
A shoe bench often has an upper and lower rack for storing footwear and increasing storage area in entrances, walk-in closets, and short corridors. The upper portion can be used as a window bench or to store small household goods.
However, there are shoe benches that are constructed with maximum durability. That just means some of them are not only intended for shoe storage, but for sitting as well. You can sit on them while lacing or putting on your shoes.
Bathroom Bench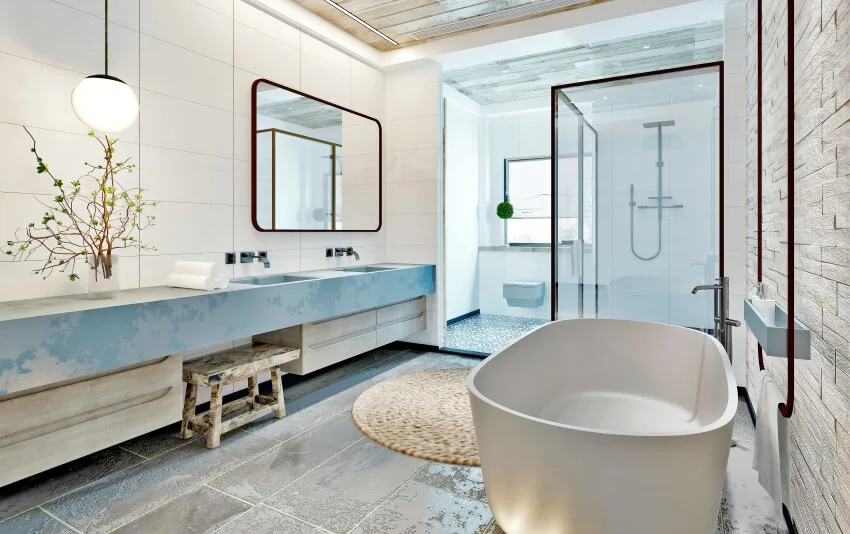 Placing a bathroom bench is an excellent way to bring uniqueness to the surroundings while merging usefulness with design. Whenever we think about bathroom furnishings, we often overlook the utility of a seat or a surface, such as beside a bathtub or a shower.
A bench in the bathroom can be useful for laying a robe or a towel or merely moving more readily while performing everyday tasks in a more convenient manner. Bathroom benches are adaptations of traditional outdoor and indoor benches, but for the bathroom area.
These benches normally lack a seat back, are designed for putting on makeup or quick breaks. They can accommodate one or more individuals, and are frequently modular, allowing them to be connected in series. Moreover, a bathroom bench is usually built if there are handicapped people in your household.

Shower Bench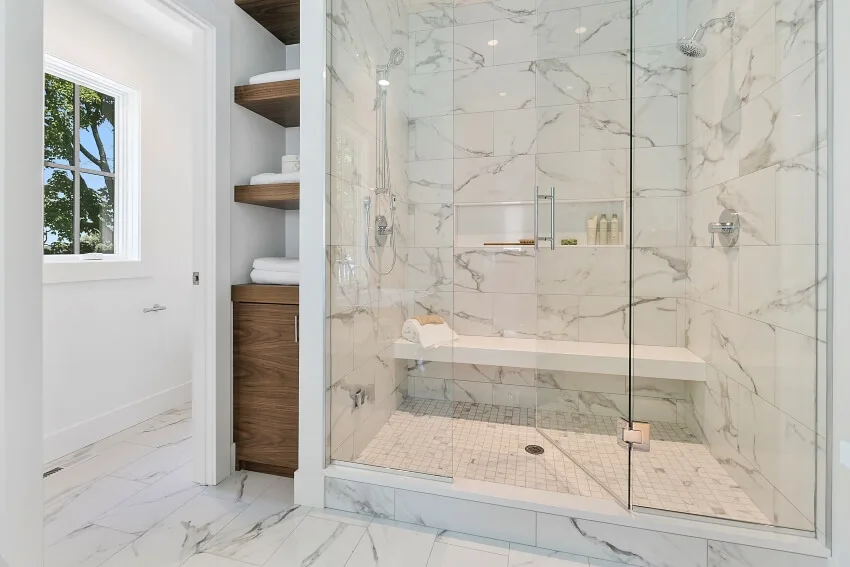 A shower bench is a bathroom safety mobility item that the person sits on whenever entering the shower area and taking a shower. People who have difficulty getting into the shower due to a medical condition or disability use these benches.
Shower benches come in a variety of styles that can be personalized according to the requirements of the patient. Size, height, and width are all factors.
You can buy folding models made from durable wood such as teak, or install a built-in shower bench during a home construction or renovation.

Tub Transfer Bench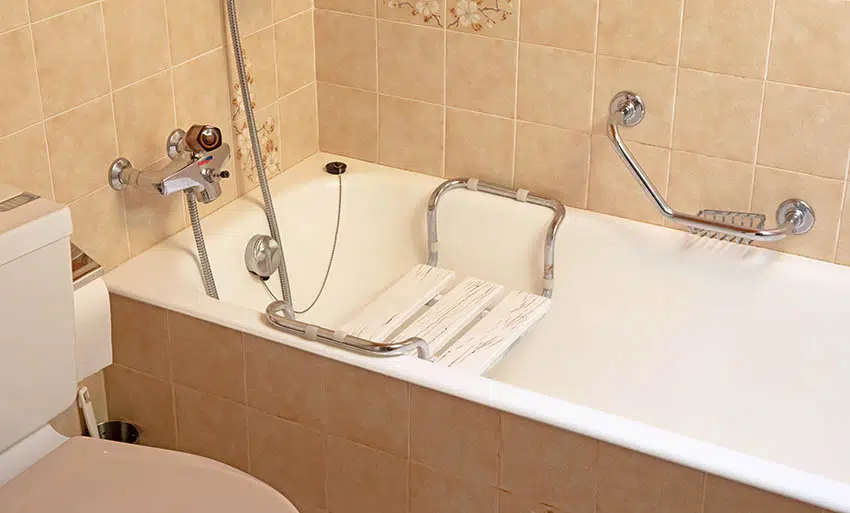 A tub transfer bench is designed for handicapped users. This is the seat where the handicapped person transfers before or after taking a bath in the bathtub.
The user often sits on a tub transfer bench that spans the tub's side and slowly moves either inside or outside the tub. Normally, a tub transfer bench contains a backrest, wide seating, and 4 legs.
Vanity Bench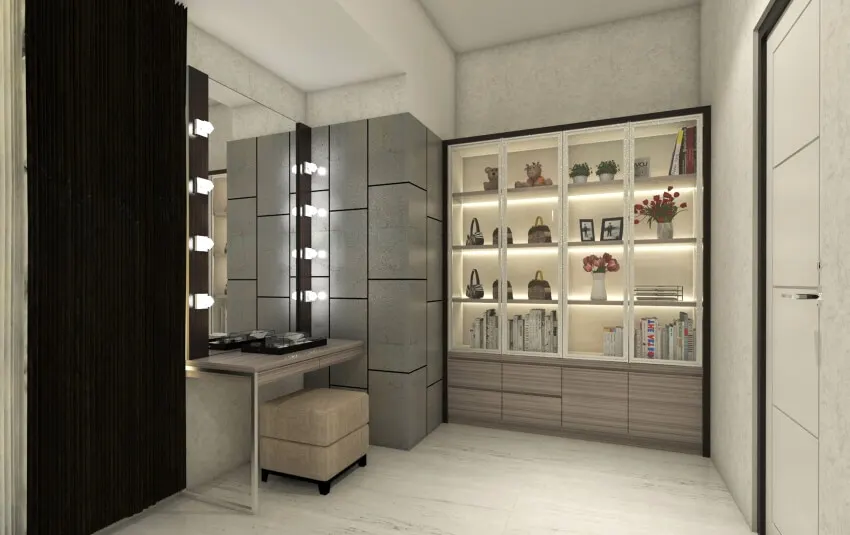 A makeup vanity bench is a compact type of bench that is commonly found in bathrooms but can be placed in bedrooms as well. Vanity benches are designed for one individual to sit on and are frequently butted up against the table that holds the mirror in a room, particularly your bathroom.
A vanity bench can be either a bench with or without a backrest. Vanities and the associated vanity bench are often built to complement as a pair as stand-alone pieces of furniture.
A vanity bench, on the other hand, can be bought individually to fit beneath a vanity in a bathroom where space allows.
In exceptionally big homes, the owner might be granted a dedicated dressing space where a vanity bench can provide other functions, such as sitting down to take on socks or shoes.
A vanity bench, which comes in a multitude of styles, is normally upholstered and may be embellished with brass or other ornamental metallic finishes.
Wooden vanity benches are also obtainable and can be upholstered or not. However, padded vanity benches provide more comfort.
Mudroom Bench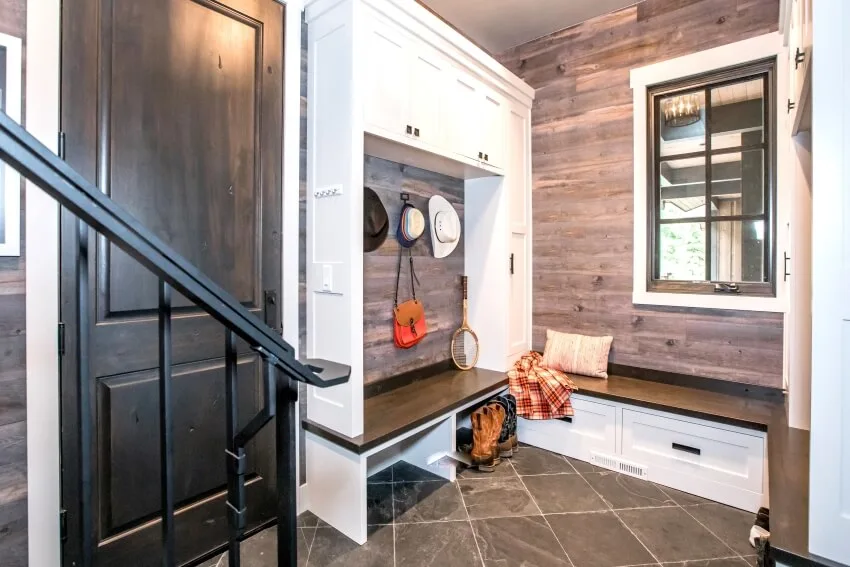 A mudroom bench is essential in your mudroom, not just as a spot to sit on to remove or put on your socks and shoes, but also as a storage area.
Your mudroom bench might be shaped like a hall tree, featuring rods for coats, caps, and umbrellas with compartments beneath designed for footwear storage. You could have a built-in mudroom bench customized for your room if your finances and space permit.
To optimize storage for your jackets, bags, and other belongings, your mudroom design with bench can be created as a portion of a wall unit that incorporates cubbies, cupboards, lockers, and shelving.
Cubby Bench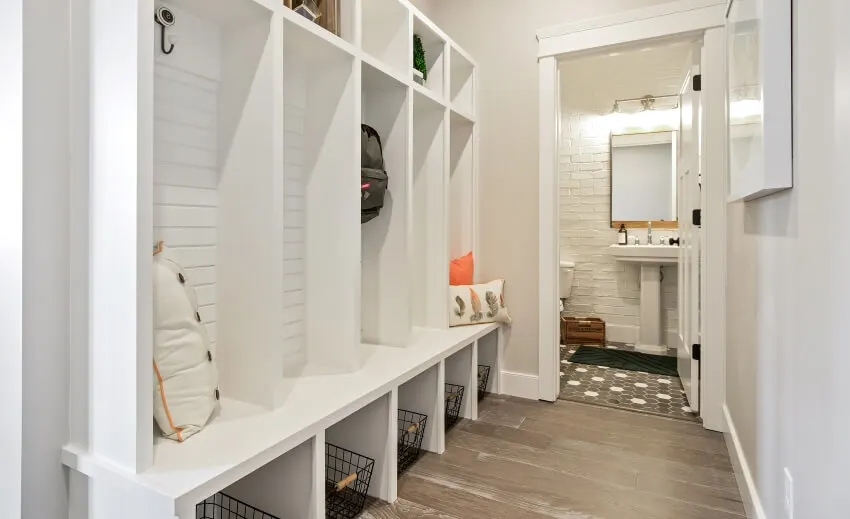 A storage-type cubby bench has an open-front and separate square or rectangular slots for your items.
It's typically constructed of exposed-edge plywood with noticeable edges, as well as metal bases. This type of bench can be placed in a bedroom, kids' room, or entryway.
Bench Designs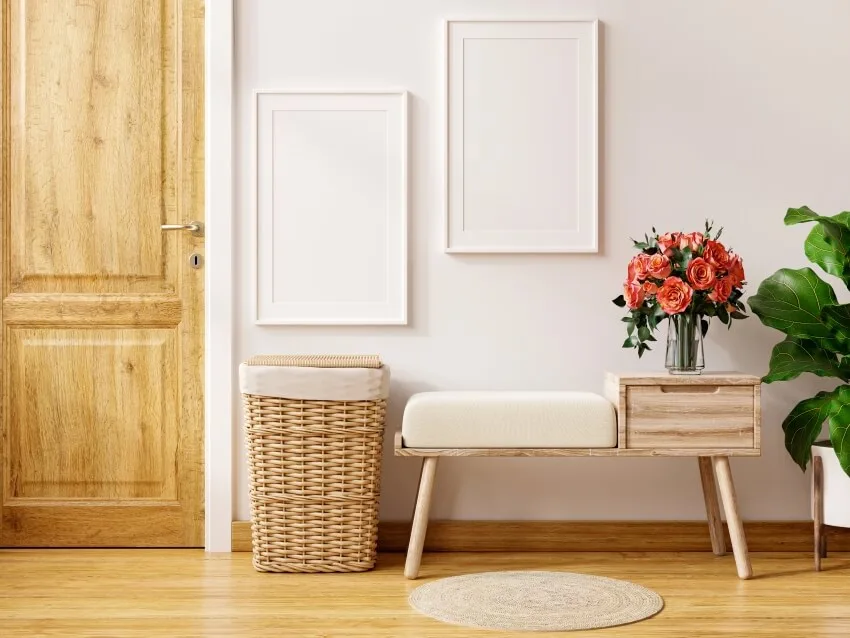 Traditional – A traditional bench is frequently a long, solid seat with legs that can accommodate one or more individuals. It could have a backrest and/or armrests.
Its shape, color, and materials are all conventional and universal rather than distinctively unique. It is intended to blend in with its surroundings rather than shine out.
Contemporary – A contemporary bench differs from conventional styles by its design originality, which is typically defined by streamlined geometric patterns and lines, unique hues and shapes, or innovative functionalities while retaining certain features of traditional benches.
A standard external structure of slats in a steel frame, for instance, might be built of plastic and stainless steel in bright colors to provide a new twist to a classic design.
Modern – The modern bench is one of today's most creative seating alternatives. These benches are a minimalistic and space-saving solution for the modern home, adding a clean and interesting aesthetic to the entryway, dining area, and living room.
A modern bench is often extremely versatile and can be utilized as a standalone item or in conjunction with other pieces. It can be joined together in the same way that a chain is.
A modern style is quite simplistic and inventive, and it has a wonderful combination of sleek lines combined with functionality. Modern benches are available in a variety of colors.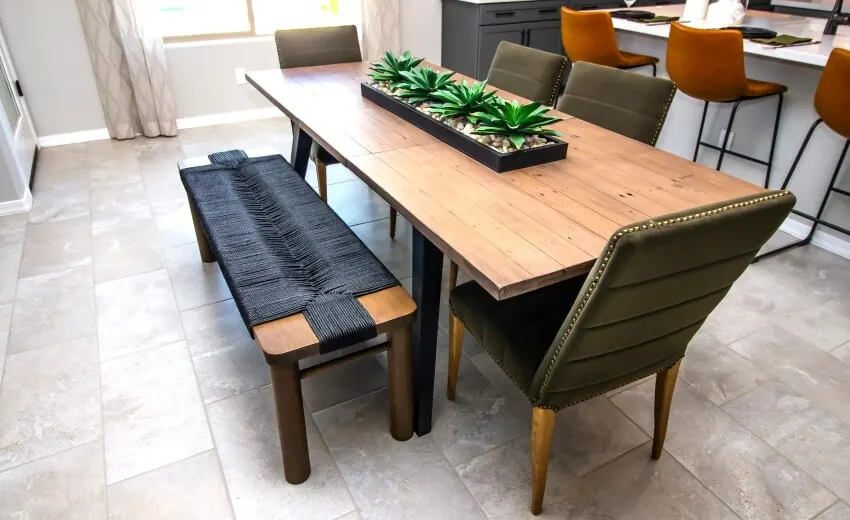 Rustic – Rustic benches offer a lot of uses. They can be employed as outdoor seating in your garden or your dining area rather than chairs with backrests.
It may be utilized as a foldable storage bench with a weathered plank or as a vividly colored patio bench with boldly colored upholstery. With a wooden plank underneath, it can also function as a shelving unit.
Moreover, rustic benches can provide a pleasant, welcoming tone as well as significant functionality. This style has an earthy appearance and an aged appearance. Furniture in the cottage or country design has a natural, rustic appearance.
Industrial – The architecture of an industrial bench takes various things into account, including the capability to carry heavy pressures, endurance, vibration tolerance, and compatibility with types of machinery that are purely for production. The majority of industrial benches are made of stainless steel or alloy.
An industrial bench's working surface must be seamless and strong, as well as impervious to chemicals, solvents, alcoholic, and petrochemical compounds. Small components and testing industrial benches are typically completed with a resin or plastic laminate surface.
Heavy-duty industrial benches, as previously stated, are normally built of metal such as stainless steel or aluminum, along with stainless steel or aluminum-based worktops.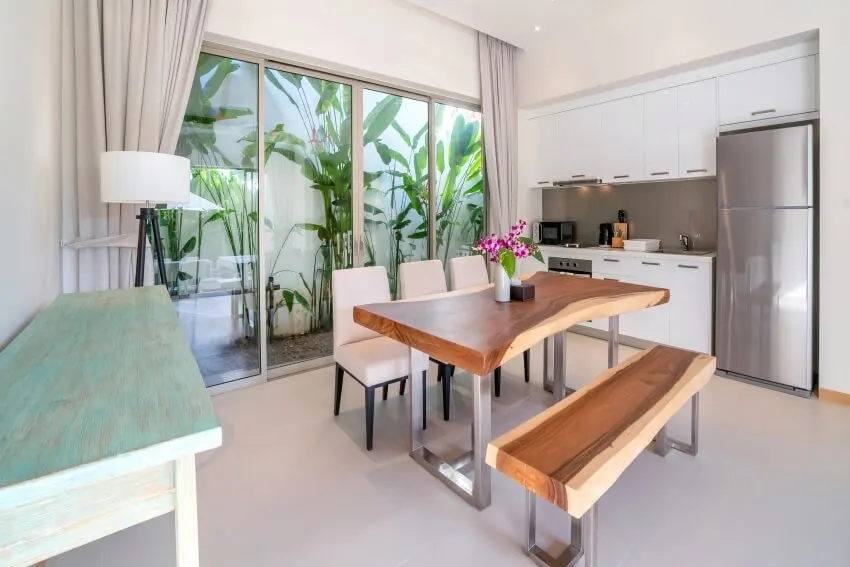 Farmhouse – These days, farmhouse-style benches are fashionable. They have a raw worn appearance with ornate balustrade legs and other details.
The design combines rustic sentimentality with elegant shapes. They are normally made out of wood as well.
Bench Materials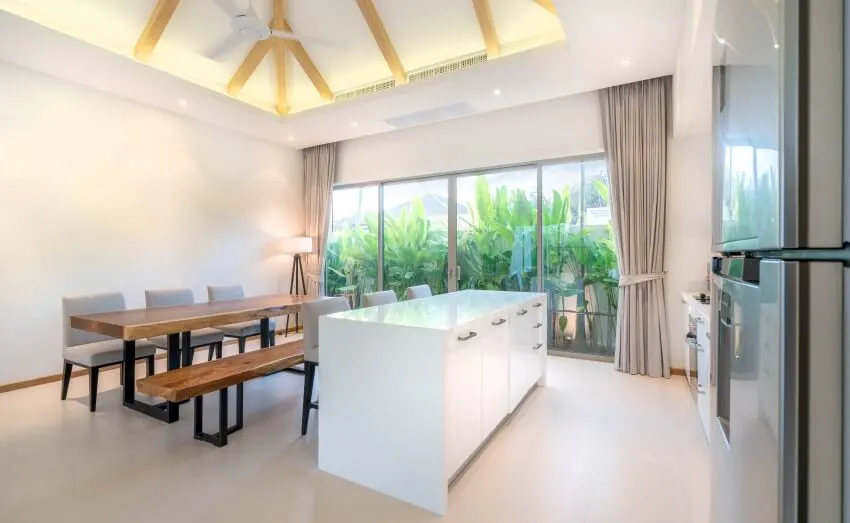 Wood – Wood is undoubtedly the most prevalent material used in the production of benches. Wood-made benches have been present for ages, providing a simple and practical way to create seats. They are also quite easy to construct due to the generally accessible nature of wood.
The disadvantage of wooden benches is their sensitivity to moisture damage. Water will enter into the pores if not adequately coated with a water-resistant coating, enabling it to deform and decay.
Metal – Metal has the qualities that end up making it an outstanding material selection for benches, whether you want a polished, shiny finish or a design that provides aesthetics.
Metal can be produced in a range of shapes and styles, as well as from a multitude of metal types. Metal benches can be built in a streamlined and modern or classic and antique fashion.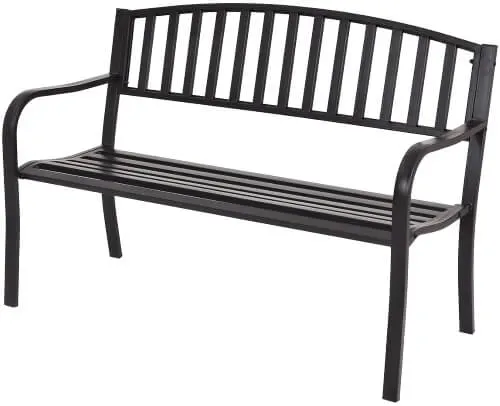 See this metal bench at Amazon [sponsored link]
Metal benches are low-maintenance and durable, making them a long-lasting bench material. They do not reveal noticeable deterioration signs as quickly as wood, rendering them an excellent option for municipal parks, sports facilities, as well as other high-traffic locations.
Metal is indeed an excellent choice for the screws that connect the bench together, particularly ones made of rust-resistant stainless steel.
Plastic – When applied in the manufacturing of benches, plastic features significant benefits – it is inexpensive, lightweight, waterproof, and keeps up strongly under pressure.
These synthetic materials are often used to make high-quality and long-lasting benches. Plastic benches are easy to maintain and repair as well.
Rattan/Wicker – Rattan is a popular material and one of the most popular interior design trends. This solid timber vine material is not only stunning, but it also gives warmth to any environment.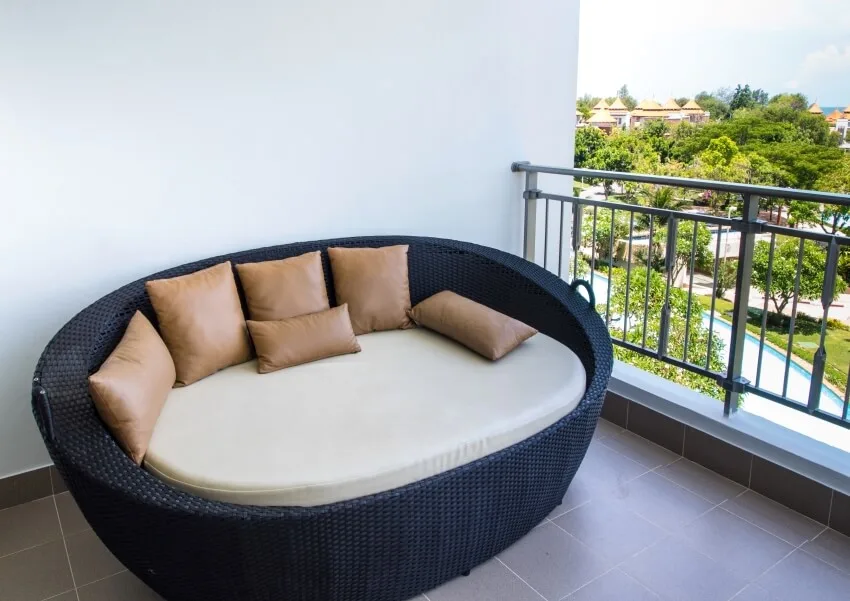 This material works well whether you choose maritime, rustic, or classic farmhouse décor. It would be a nice time to remodel your entryway with a new bench that is both appealing and friendly.
Composite – A composite bench is a wooden bench that has been reinforced with plastic composite. This bench material is created from recycled wood fibers and plastic.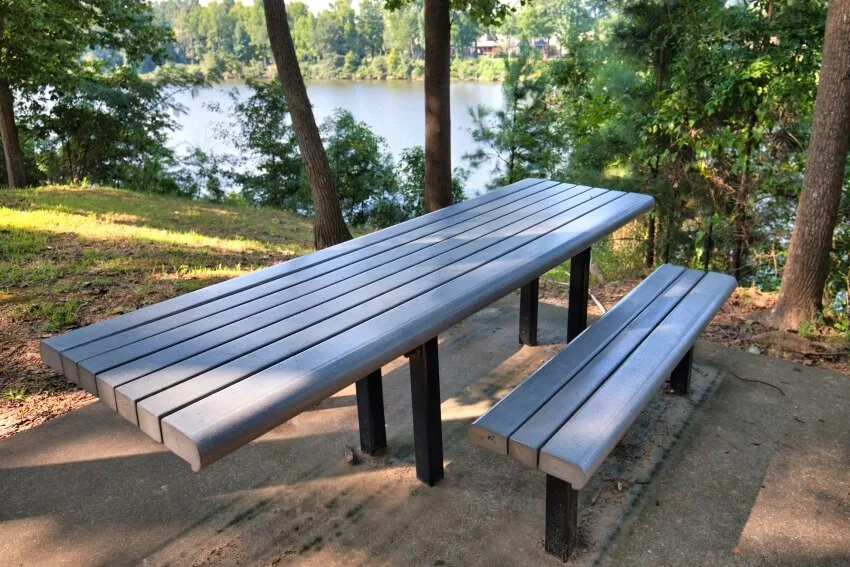 It offers greater competitive benefits than other materials, particularly traditional wooden benches, due to its components. Its composite completely eliminates certain bench durability and maintenance issues.
Leather – Leather benches are most often found in foyers, bedrooms, and living rooms. This bench is both luxurious and functional. Authentic leather benches look great in any setting. Furthermore, it adds a sense of sophistication and efficiency.
Leather can make any area feel more polished since it conjures higher-quality furnishings. This material, in addition to being attractive, lasts much longer than faux leather, which implies these natural leather benches will be used and appreciated for years ahead.
Stone – Stone benches are becoming a more popular option among homeowners. They are normally made of artificial stone, although natural stone can also be used. They are, nonetheless, far more expensive.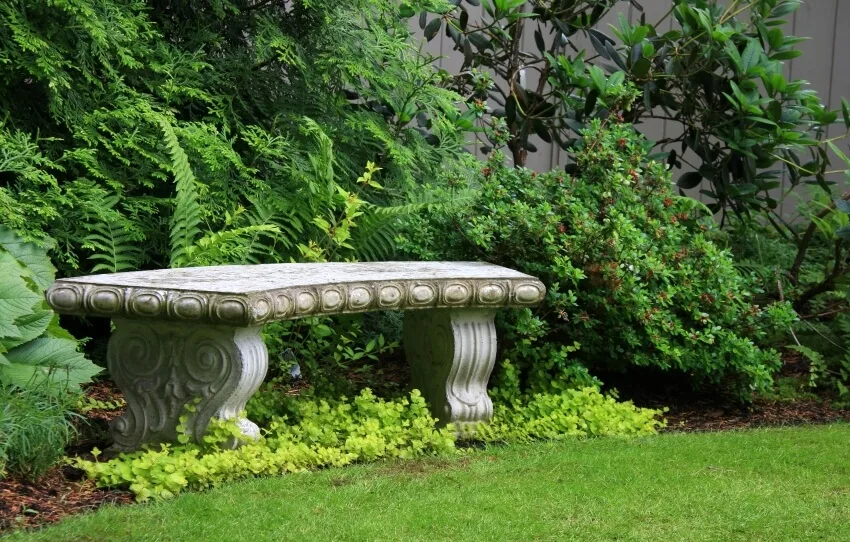 Stone benches are solid and require very little maintenance. They do not scratch easily. The majority of stone-made benches can last for a lifetime.
Outdoor Benches
Here's the different types of outdoor benches and their uses.

Garden Bench
A garden bench can either be made out of wood, metal, or rattan. If you enjoy being outside or spending quality time in your garden, you understand the value of possessing a garden bench. This type of bench makes the garden a much more pleasant location to spend some time in.
Garden benches might be your lifesaver if you are afraid of sitting right on the grass due to the phobia of nasty, creeping insects. Garden benches are ideal for reading, sipping tea in the evening, or staring at the sky at night. Garden benches are indeed a must-have for every garden.
Normally, garden benches can conveniently accommodate two or more individuals. They can be employed as seating on their own, but they can also be used in association with an outdoor dining table to replace standard chairs.
Furthermore, the material of your garden bench will have a large impact on what you are planning to use it for. A plastic bench, for instance, is lightweight and highly portable, making it perfect for relocating, but a solid timber bench will be weighty and more inclined to settle in one fixed spot.
If you have one favorite corner in your garden, this is the excellent location for a seat, where you can savor the views, sound, and fragrances.
Gardening Bench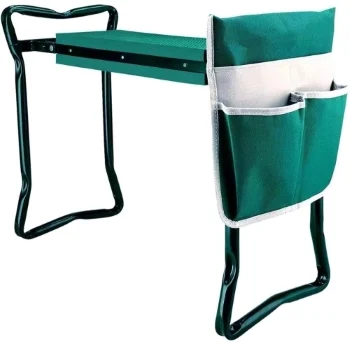 See this gardening bench at Amazon [sponsored link]
A gardening bench is a type of workstation used for various gardening operations like seedling transplantation.
A basic gardening bench contains a bench-height working surface that is suitable for a standing individual, as well as storage for gardening soil, pots, and other planting equipment.
Planter Bench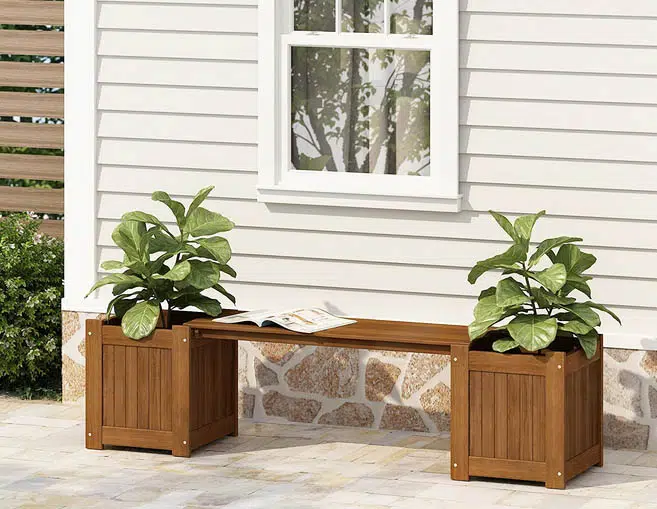 See this wood planter bench at Amazon [sponsored post]
A planter bench can be as simple as a wood bench with planter boxes built-in. This can be purchased new or created as a DIY project from recycled materials.
A storage planter bench is designed with storage space that is normally used by pulling up the bench seat. You can keep the items you need to care for your plants in this accessible seating area including gloves, trowel, shovel, water can, pack of soil, etc.
Porch Bench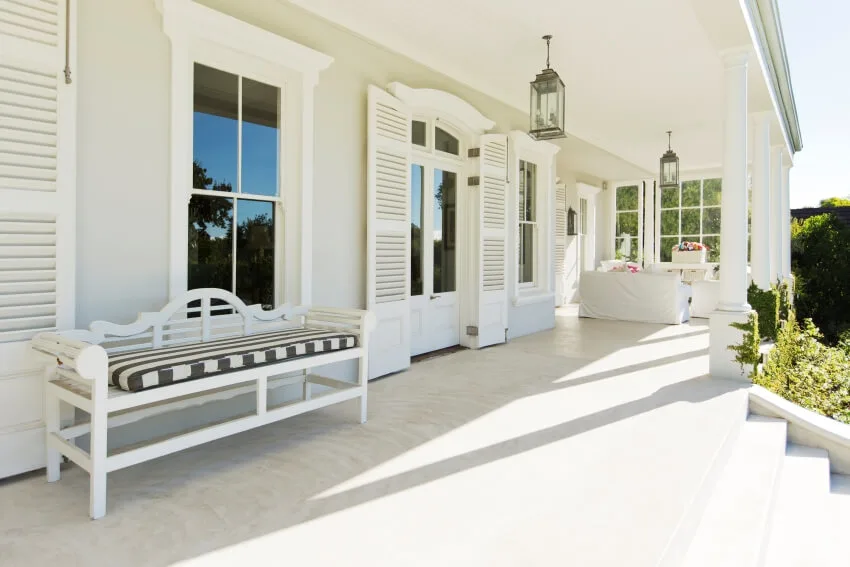 Porch benches seem to be similar to common park benches made of wood (though some are made of metal). They are used by people who want to relax or read on their porches.
Patio Bench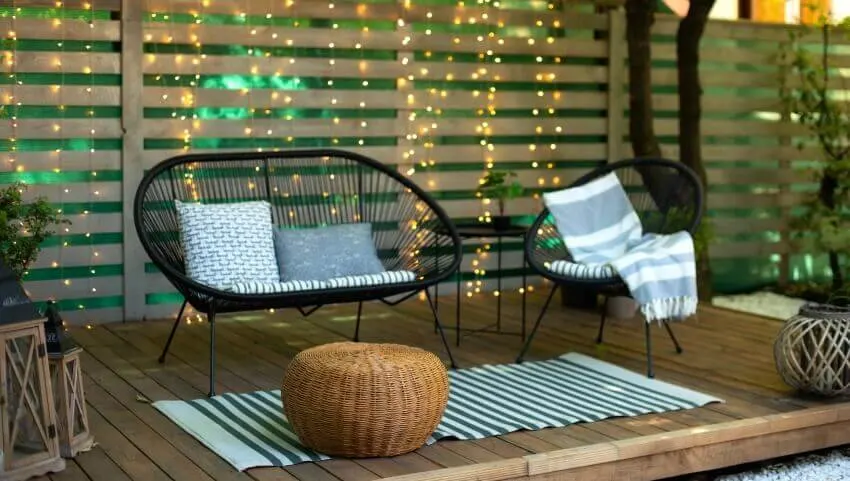 A patio bench is often made of wood, with hard materials like teak being the most prevalent material. Another popular patio bench material mix is timber for the seating and steel or alloy for the framework. Its form can either be curved or straight.
Tree Bench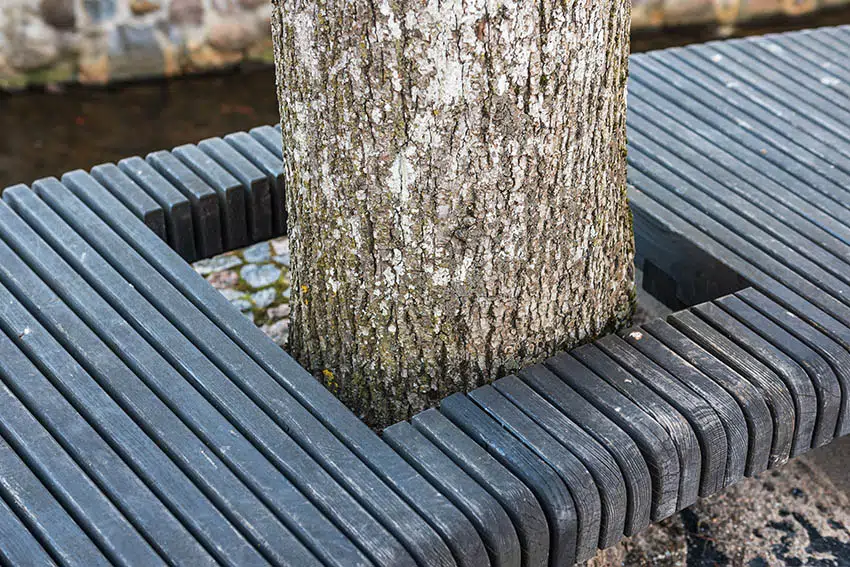 A custom tree bench is normally found built around trees so that people can sit on them while savoring the shelter provided by the trees.
This bench also promotes a culture of community by providing a dedicated location for residents to meet underneath the natural shade of trees. This bench is often made of stone, wood, or concrete.
Park Bench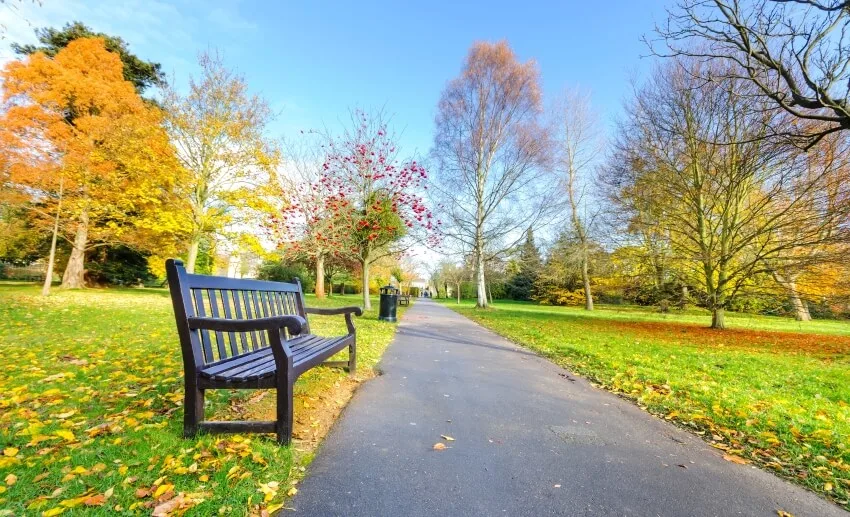 Park benches are positioned as seating areas in community parks and differ in the number of people they can accommodate. They are just traditional benches, which are often made of wood and metal.
Picnic Bench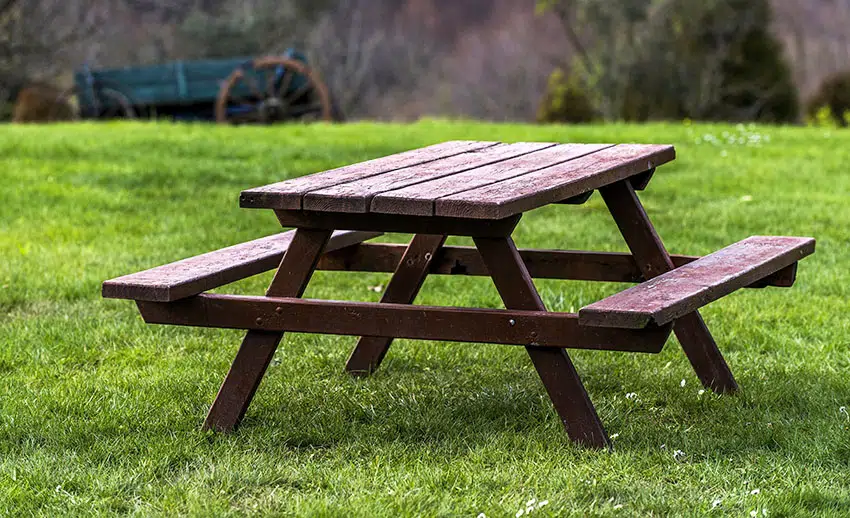 A picnic bench is a picnic table that has been modified to provide bench seating. These are typically seen outdoors and are appropriate for most standard bar or informal restaurant gardens.
Greenhouse Bench
Greenhouse or potting benches are critical to the productivity and effectiveness of any seedling, horticultural, or plant-growing enterprise.
These benches make it simple to maximize growth area and promote a more well-organized planting process. Its framework is often made out of galvanized metal.
Types Of Utility Benches
Here's the different utility benches and their typical uses.
Piano Bench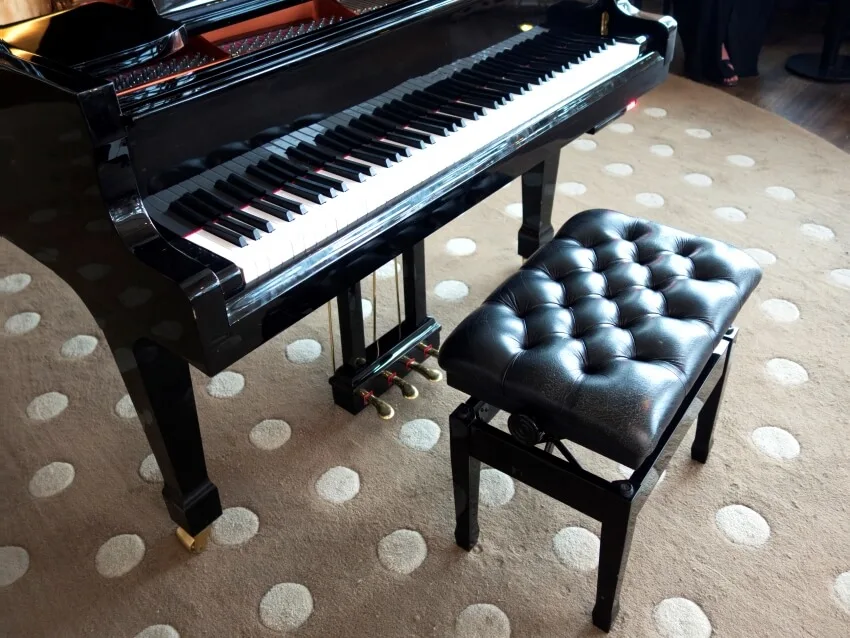 A piano bench is something that pianists and piano learners use to understand how to sit comfortably behind the piano, and it is an important aspect of every pianist's performance. It is a crucial yet sometimes disregarded part of one's playing.
Piano benches are often custom-made to complement the aesthetic appearance of the piano with which they are intended to be paired. As a result, the types of woods, leg forms, and aesthetic themes employed to embellish these pieces are pretty varied.
Weight Bench
A weight bench is a piece of training equipment that looks like a regular bench, but in reality, it is specifically designed for lifting weights.
Weight benches come in a variety of styles, including fixed horizontal, fixed angled, fixed in a folded configuration, with one adjustable component, two or more customizable pieces, racks to carry bars, and so on.
These benches are made by a variety of suppliers and come in a variety of qualities, functionalities, and costs.
Work Bench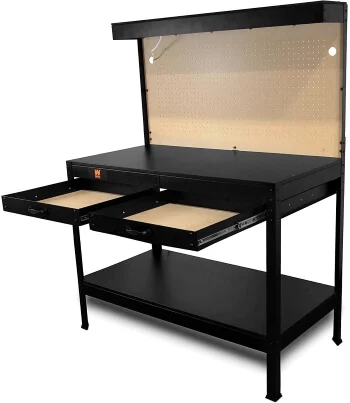 See this work bench at Amazon [sponsored link]
A workbench is a durable table where manual labor is performed. They vary from simple smooth surfaces to extremely sophisticated designs that could be considered tools in their own sense. Workbenches range in size from small jewelry maker's benches to massive staircase builders' benches.
Wood Work Bench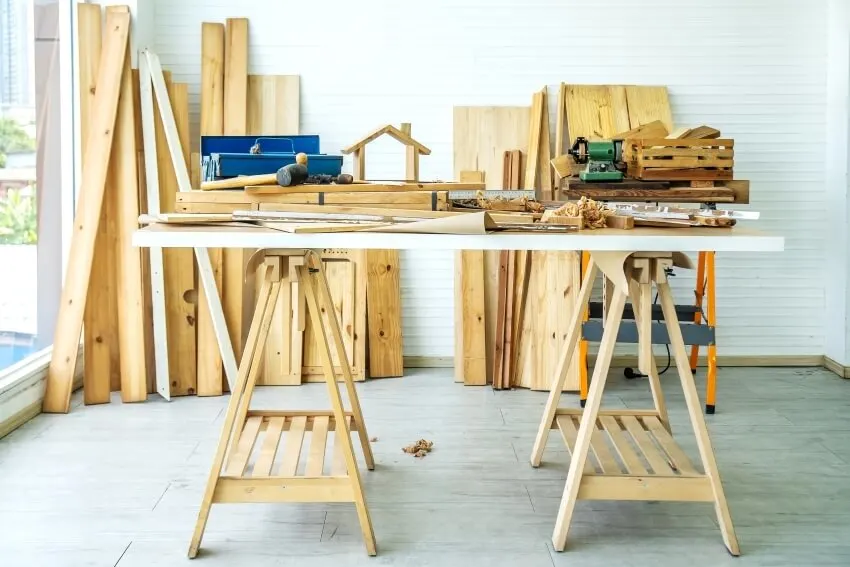 A wood workbench is a customized table that woodworkers use to make their wooden projects. A flat, firm working surface and one or more techniques of retaining work while being tooled are some of its most important qualities.
There are numerous types of woodworking benches, each representing the sort of work that needs to be done or the user's desired method of operation.
Best Type Of Bench Upholstery
Leather is arguably the most durable material for upholstering benches. Leather is a fantastic choice for high-traffic areas, and it is also comfortable to sit on.
For homeowners with pets, leather is indeed recommended. It is very easy to remove fur from it and it is sure to last for a long time. Maintenance with leather is very easy as well.
For another durable alternative a soft polyester microfiber fabric offers stain resistance, is comfortable to sit on and is resistant to daily wear and tear.
This material holds up well for busy households with kids and pets. Two other big pros of microfiber is they're easy to quickly clean and they cost less than leather.
Bench Dimensions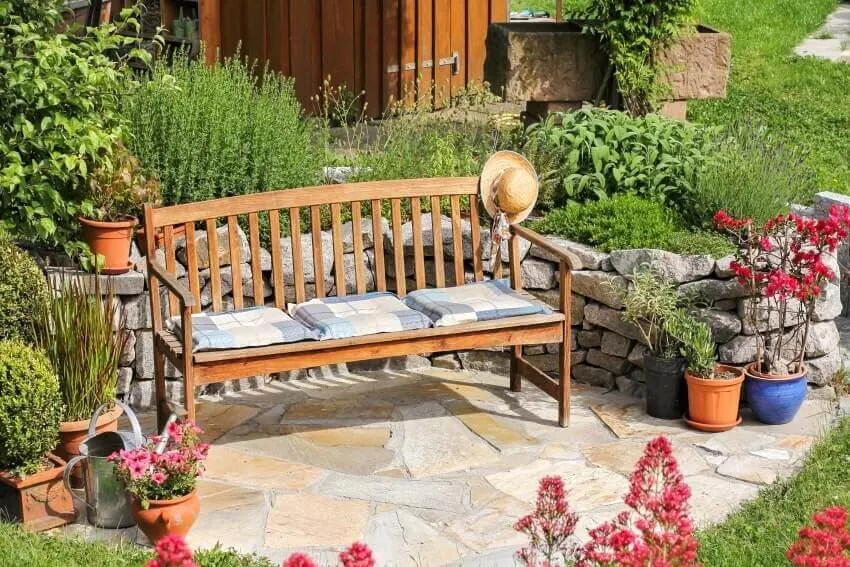 Most bench dimensions range depending on the type and its use. Here's a breakdown of the different measurements.
Height – A bench's height is usually around 18 to 20 inches. Even though this is the standard range, the height of a bench would be determined by its intended usage.
Depth – Benches can range in depth from 15 to 20 inches, with the average bench used for dining is approximately 17.5 inches. A depth (or width) greater than 20 inches will not be convenient and comfy to sit on for an individual.
Length – Bench lengths could range around 42 to 60 inches on average A bench with a width of 42 to 50 inches can accommodate two individuals.
How Much Shorter Should A Bench Be Than A Table?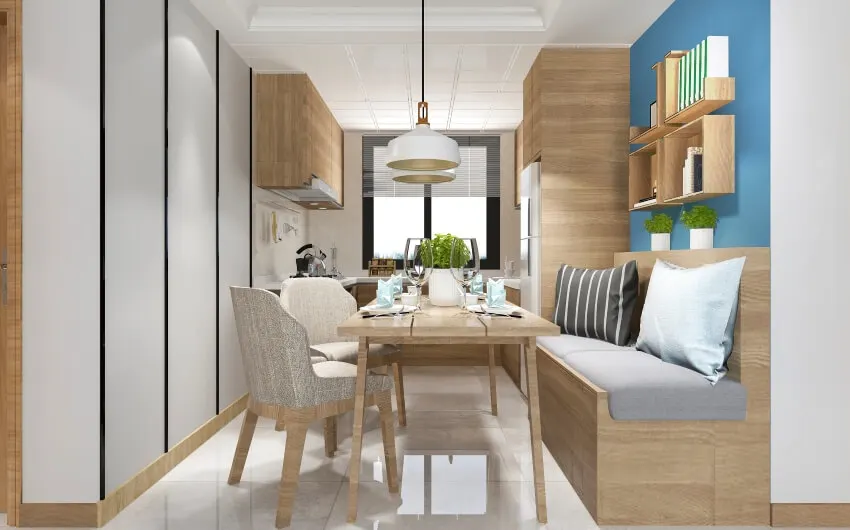 In Terms of Height – To allow appropriate legroom between the bench and table, the bench seat must be 12 inches lower than the tabletop.
In Terms Of Width – The width of the bench should be 2 to 3 inches shorter than the width of the table surface. For example, if the width of your dining table measures 48 inches, then the width of your bench should only be 45 to 46 inches.
However, it will depend on the thickness of the table legs. If the table legs are wider than usual, then the width of your bench should be 4 to 5 inches shorter (approximately).
What Is A Bench With A Back Called?
The bench products that come with a backrest are called a banquette.
What Is A Bench With A Backrest And Arms Called?
The bench that includes a backrest and armrests are called settee benches.
Did you find all the information you were looking for or have some experience to share regarding buying these products? Share your thoughts about which stores and models you prefer in the comment section. Visit our outdoor bench ideas for more related content.